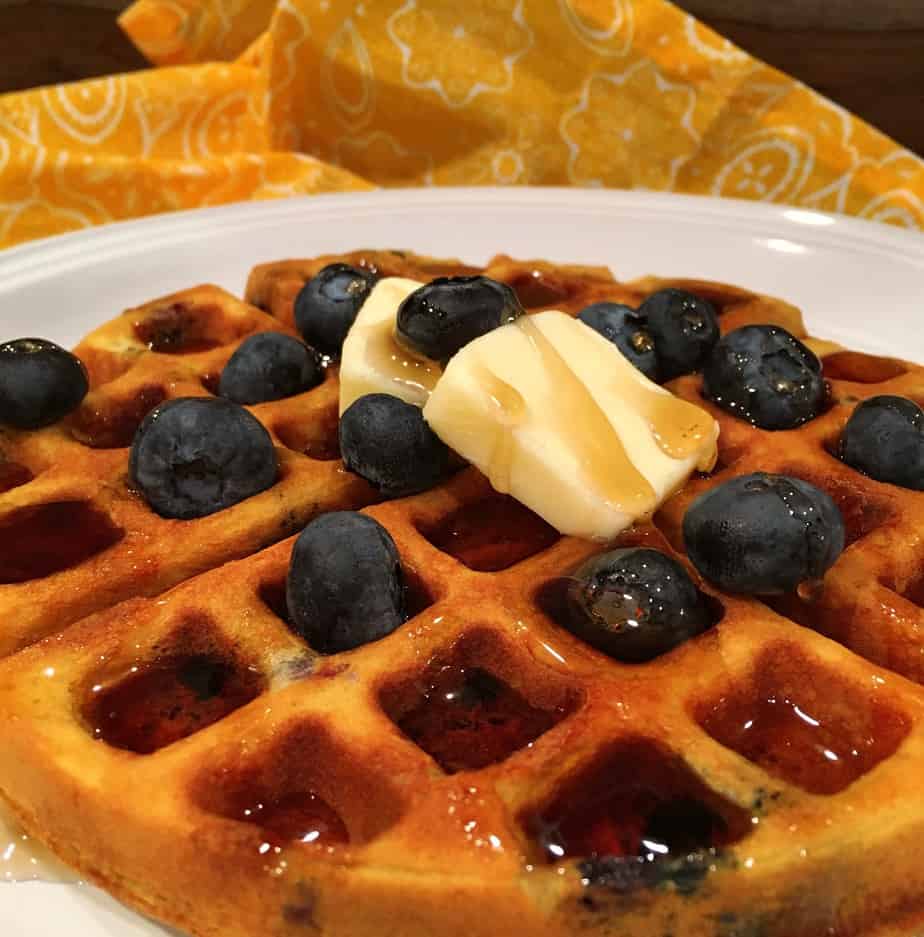 Light fluffy Blueberry Banana Belgian waffles with a hint of banana and fresh warm juicy blueberries. A spectacular and easy breakfast!
*As an Amazon Associate I earn from qualifying purchases. This post may contain affiliate links, which means that I may make a commission from any purchases at no additional cost to you. Thank you for your support!
I had this plan. My plan was to make blueberry banana nut bread. Doesn't that sound wonderful? I thought so too. So I warned "Mars" not to toss out my overly ripened banana's because I had some serious plans for them. (Why does he do that? Can someone please explain this too me? Those bananas aren't pestering him!)
Well…ya know what they say about the "Best laid plans"! What my plan didn't include was how hungry I was going to be one morning. Waiting 50 minutes for bread to come to fruition seemed like an eternity! (At my age that's just too darn long…I could be gone before then!)
Enter the magnificent Blueberry Banana Belgian Waffle! (That introduction was followed by trumpets in case you didn't hear them!)
These waffles are so easy to make and SO deliciously yummy! Don't run away from them because they're "Belgian". I know, in the past I would have run too. However, this recipe has converted me. I have come to realize that beating those egg whites and folding them in is NO BIG DEAL! Hey…we are ROCK STARS in the kitchen. Nothing phases us!
How to Make Blueberry Banana Belgian Waffles
Start out by placing all your dry ingredients, baking powder, sugar, salt and 1 cup of flour, into a medium size bowl. Whisk them together to make sure they are blended.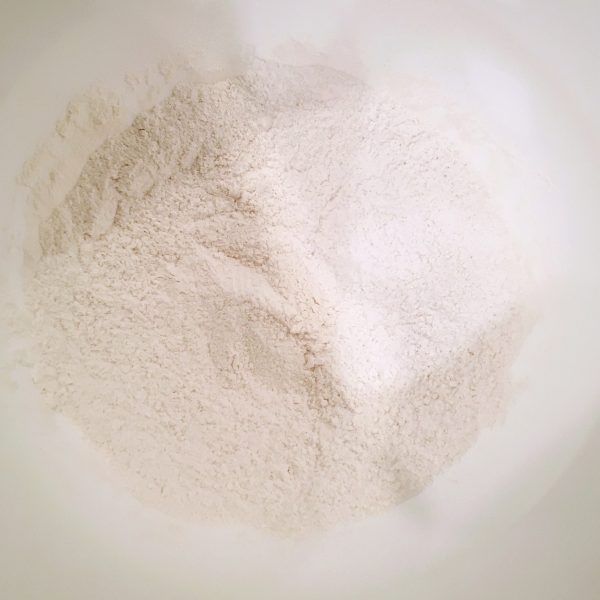 In another bowl place your "wet" ingredients. 2 egg yolks…save the whites, vanilla extract, buttermilk, cinnamon, 1/2 a ripe banana, and 1/4 cup of melted butter. (Don't judge me because I added the cinnamon in with my wet instead of my dry…I had a memory lapse! Again…lol)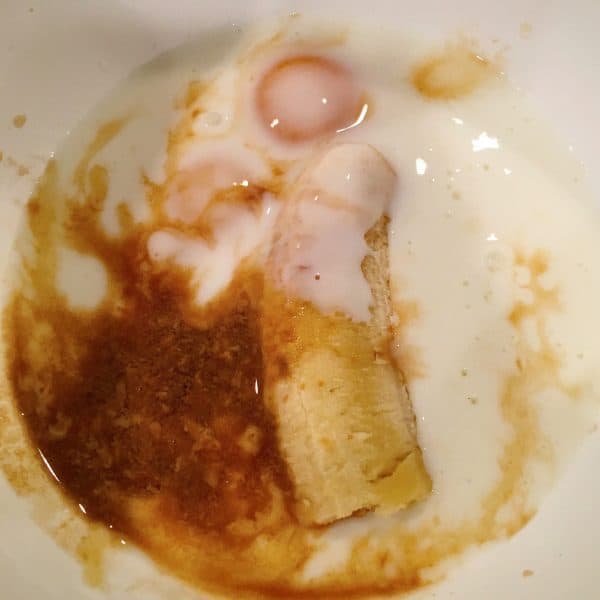 Mix them together really well with a wire whisk. Whip…whip it good! (You're welcome for the 80's flash back!)
Add your wet ingredients into your dry ingredients. Mix until well blended.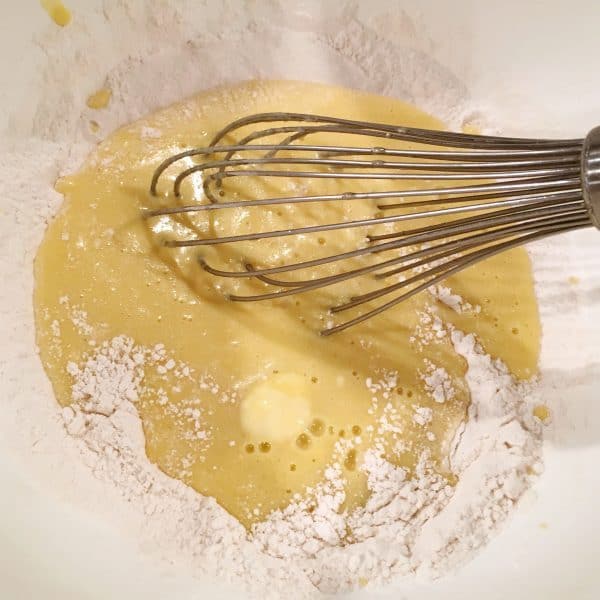 Time to be a ROCK STAR! In a separate small bowl, beat those reserved egg whites until stiff peaks form.
I have seriously allowed this step to stop me in the past from making "Belgian" waffles. Not because I didn't know how to, but to put it simply…because I'm lazy and thought it would be too much effort. Seriously?!!! This took all of 2 minutes.
TIP: The trick…small bowl…electric mixer on high. BAM! Rock Star!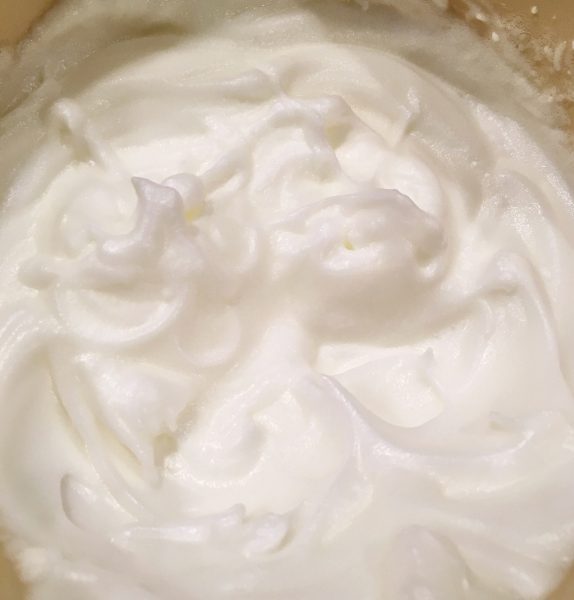 Now for a little fun…Gently fold the egg whites into the batter. (Awww….there's the Christmas Spatula! I'm thinking we need to name her! Any suggestions? Leave me a comment below.)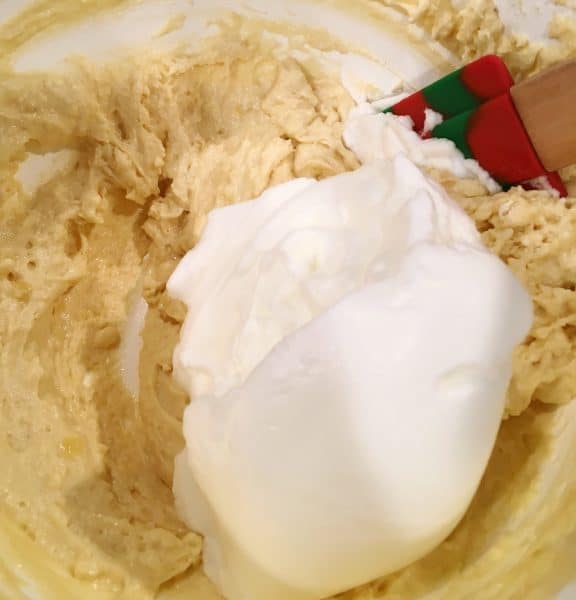 Add those fresh blueberries…gently mixing. You do not want to "undo" the egg white "fluff" factor. (Gordon Ramsey just died with the use of my technical cooking terms! lol)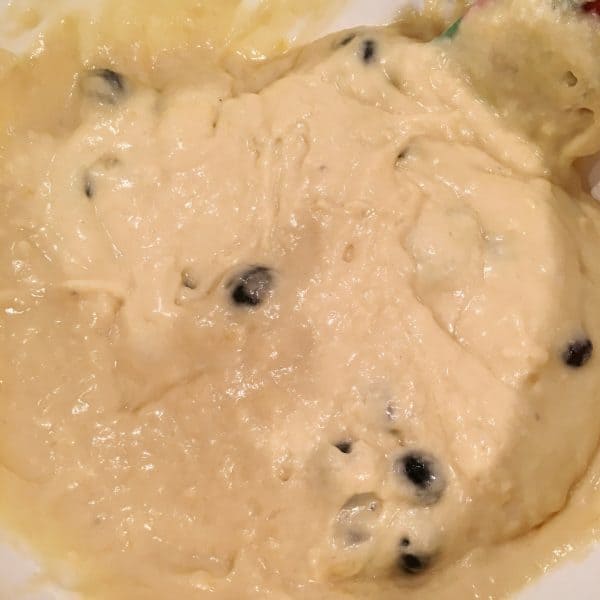 I have a little crispy waffle making tip for you…
TIP: Spray your waffle iron before baking each waffle! It makes them pop out easier and will crisp up each waffle.
Place about 1/2 cup of waffle batter into your preheated hot waffle iron. Gently spread it to cover about 2/3 of the waffle iron.
TIP: I know the makers of waffle irons tell you to wait till the steam disappears. I don't wait until the steam stops…that generally makes them too well done for my taste. I wait till the steam drastically subsides, but not until it stop all together.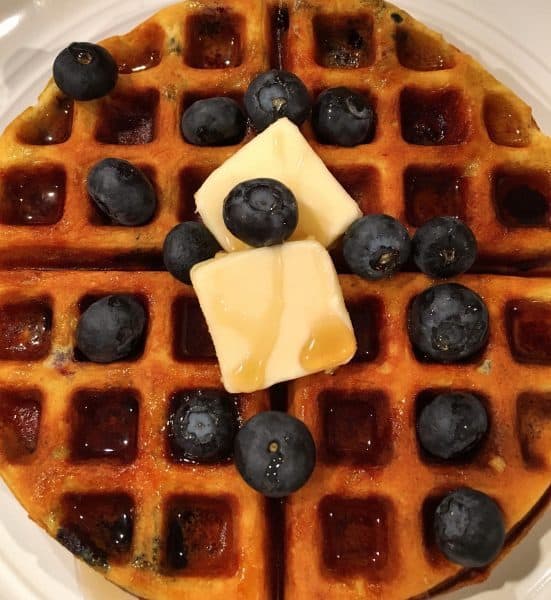 Garnish with a few additional fresh blueberries, butter, and maple syrup! Fill those deep crannies with all the extra mouth-watering toppings you love!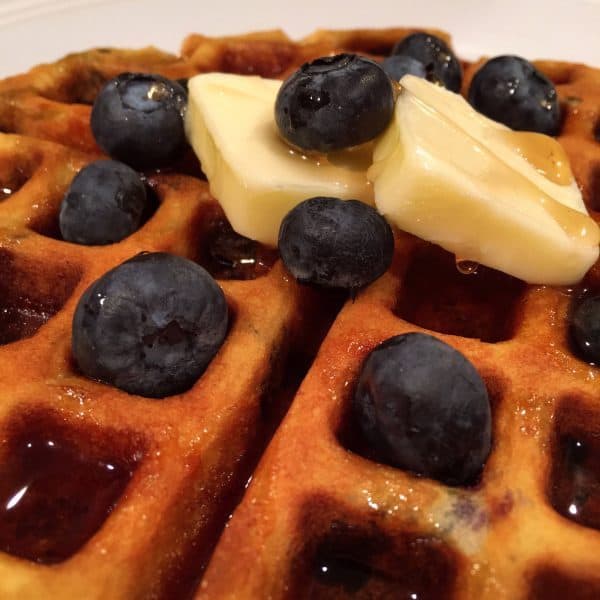 I can hear you! You are asking if they taste as good as they look.
YES! They do…they really do! They are light and fluffy on the inside, with hints of banana and juicy warm blueberries. They are crispy and golden brown on the outside. This recipe came together in about 5 minutes…then it's just a matter of baking them off.
This recipe will make four big 8 inch waffles. Be sure to have an appetite when you sit down to these beautiful delicious waffles. You don't want to miss one bite!
If you enjoyed this recipe you might also enjoy these other Favorite Breakfast Recipes
Remember to follow me on Instagram, Facebook, and Pinterest for all my latest recipes! As always I love to hear from you so leave me a comment or just say "Hi"!
Happy Nesting!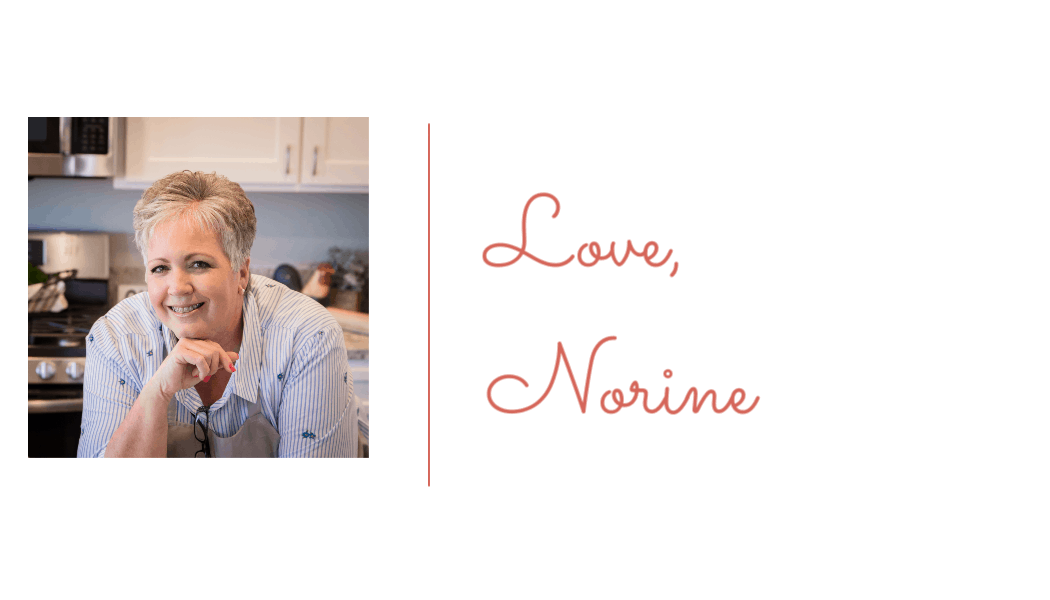 Yield: 4 large waffles
Blueberry Banana Belgian Waffles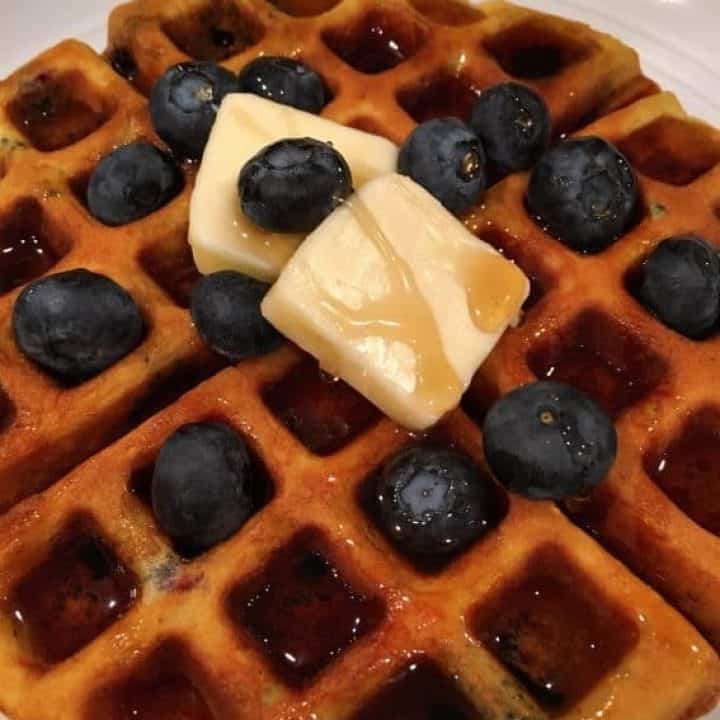 Light fluffy Belgian waffles with a hint of banana and fresh warm juicy blueberries. A spectacular and easy breakfast!
Ingredients
2 egg yolks
1 teaspoon vanilla extract
1 cup buttermilk
1/4 cup butter, melted
1/2 a ripe banana
1 cup all-purpose flour
1 1/2 teaspoon baking powder
1/2 teaspoon baking soda
1/4 tsp cinnamon
1/2 Tablespoon white sugar
1/4 teaspoon salt
2 egg whites
3/4 cup fresh blueberries
Additional blueberries for garnish
Instructions
Preheat your waffle iron.
In a medium bowl, whisk together the flour, baking powder, cinnamon, baking soda, sugar and salt. Set aside.
In another medium bowl mix together your wet ingredients. Egg yolks, vanilla, buttermilk butter, and banana.
Mix your wet ingredients with your dry ingredients. Mix until blended.
In a separate small bowl, whip the egg whites with an electric mixer until stiff.
Fold egg whites into batter.
Add fresh blueberries and gently fold into batter.
Spray waffle iron with non-stick cooking spray.
Spoon batter onto the hot waffle iron. Close and cook until golden brown and steam has subsided.
Garnish with fresh blueberries, butter, and syrup.
Recommended Products
As an Amazon Associate and member of other affiliate programs, I earn from qualifying purchases.
Nutrition Information:
Yield:
4 servings
Serving Size:
1 waffle
Amount Per Serving:
Calories:

316
Total Fat:

15g
Saturated Fat:

9g
Trans Fat:

0g
Unsaturated Fat:

5g
Cholesterol:

125mg
Sodium:

713mg
Carbohydrates:

37g
Fiber:

2g
Sugar:

9g
Protein:

9g