Tender Slow Cooked Cuban Mojo Pork is layered with ham, Swiss cheese, chopped pickles, yellow mustard, all on a buttery crisp pressed Cuban Roll! The perfect pork lovers sandwich!
Earlier this week I shared a delicious recipe for Slow Cooker Cuban Pork and promised that I would share a way it can be used in another yummy dish.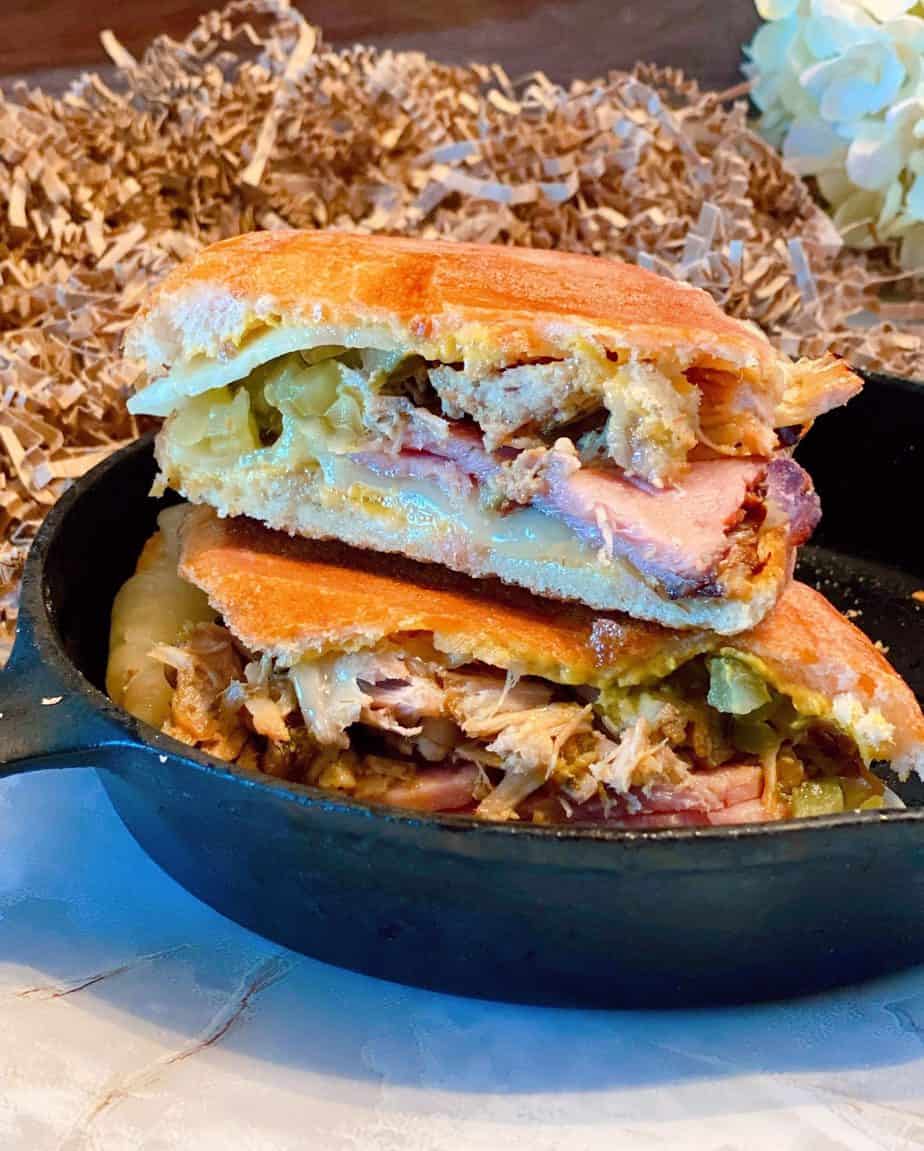 That recipe is for this spectacular Cuban Pork Sandwich. This is not your "typical" sandwich. Layers of ham, slow cooker pork (double piggies come together for this meaty dish), cheese, chopped pickles, and zingy yellow mustard combine to create this traditional hot "Cubano" sandwich!
How did the Cuban Pork Sandwich come in to "existence"…that's a discussion I refuse to get tangled up in. Then you throw Salami into the mix and it get's really messy. Miami vs Tampa…and honestly I just love y'all! Let's just all agree it's a fantastic sandwich! (Whew! Dodged that bullet…maybe not well…but I did!)
How To Make a Cuban Pork Sandwich
In order to create this sandwich you'll need to make Slow Cooker Roasted Cuban Pork. (Click on the link to find the recipe)
This sandwich is generally made on a special Cuban Bread. Not the easiest to find in a rural country town far from Florida and Cuba, but a French roll, or Bolillo Roll, substitutes perfectly for this sandwich. I like Bolillo Rolls. Nice and crispy outside and soft and tender inside.
If using Bolillo Rolls cut the ends off, then slice each roll in half. Butter the outside top and bottom of each roll. Place butter side down on a cutting board. Spread mustard on the inside of each half of the sliced roll.
Top each half with 2 slices of Swiss cheese. Think of the cheese as the "glue" that is going to hold this sandwich together!
TIP: This sandwich does not have mayonnaise on it. The reason being it was a sandwich given to Cuban workers in the 17 and 1800's in the heat of the day. (Mayonnaise + heat = A reaction no one wants to live through!)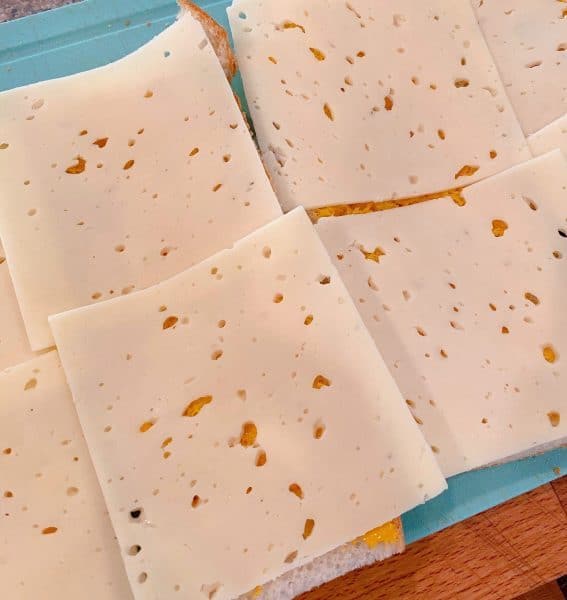 Next up…the pickles! Now before you go "Ewwwwe!" Let's talk!
I'm not the world's biggest dill pickle fan either…but the vinegar in the dill pickles with the mojo pork…it's just a thing! It works! You're gonna have to trust me! The traditional Cuban has pickle slices. However I kicked it up by chopping up the pickles! Makes eating the sandwich a lot easier. (Especially if you're a menopausal woman in braces! Lucky me!)
Chop 2-3 large dill pickles for four sandwiches.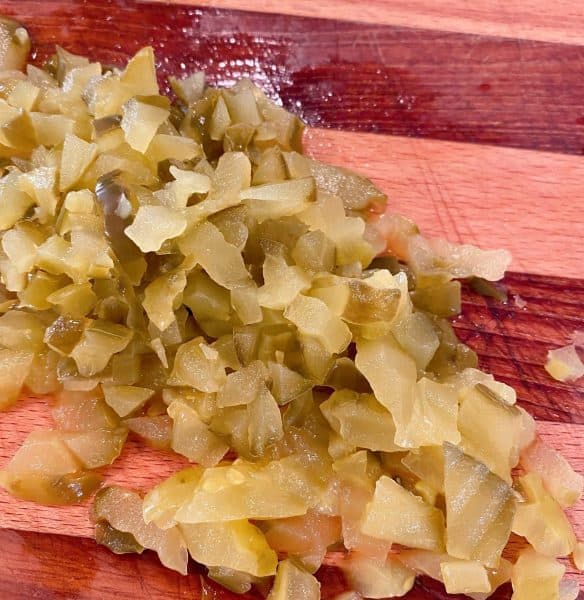 Place chopped pickles on the top half of the sandwich on top of the cheese slices. On the other half layer slices of lightly grilled ham!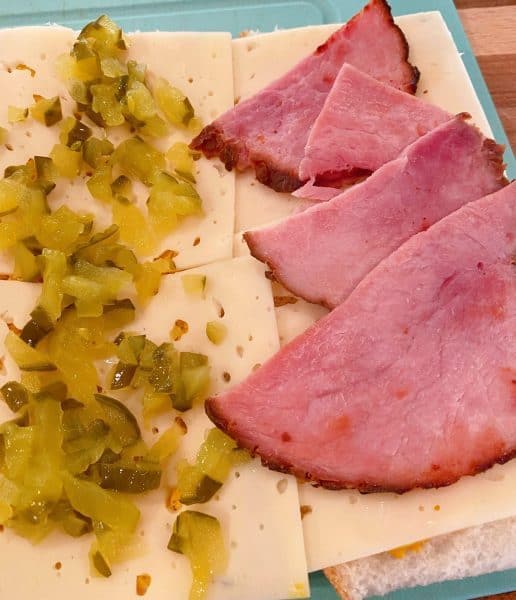 Grill ham in a hot skillet with a little butter. Just to warm it through and add a little extra flavor…cause the flavor police are already on standby for this baby!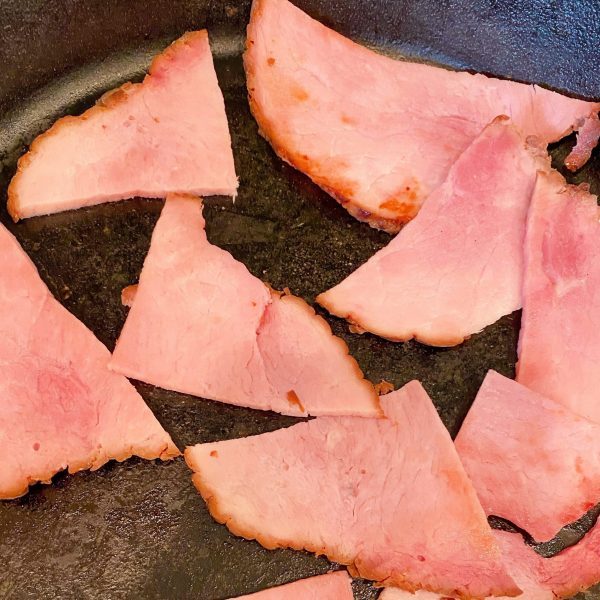 It's time to top it all off with that glorious slow cooked shredded Mojo Cuban Pork. I love the exotic citrus flavor of the pork.
Look at all those luscious layers! Isn't it amazing!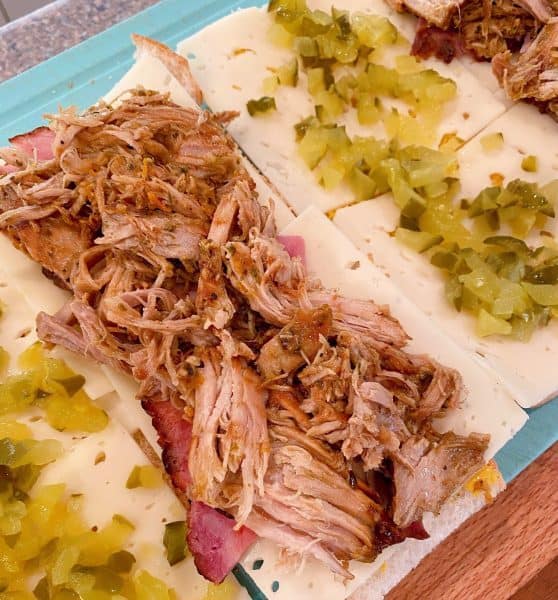 Time to close her up and get grilling! The key to this sandwich is the "press". That's right you're gonna squish that big puffy sandwich roll down. If you own a Panini grill you can press your sandwich for about 5 minutes. Remove after it is golden brown and the cheese is melted.
If you don't own a Panini grill no worries. I've got ya covered. (Wait till ya see this! It's a down on the farm Panini Press!)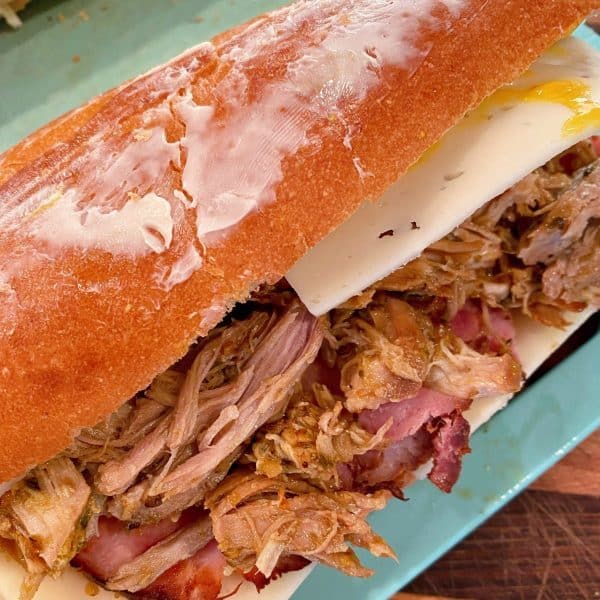 Here's a simple trick to grill Panini style without a Panini grill.
On the burner of your stove place a cast iron skillet and heat until nice and warm. Not too hot…but fairly warm.
When the skillet is ready, place the sandwich on top of a hot griddle. Most stove tops now days have a center grill, if not use an electric grill or a second larger skillet.
Using an oven mitt lift the warmed skillet and place it on top of the sandwiches. Yep, squish that sandwich! You've just created your own sandwich press! Easy peasy right! Grilling both sides of the sandwich at once plus it's pressing the sandwich down just like a Panini grill. Wahoo! (Red Neck Grilling at it's finest! lol Just call me "Red"!)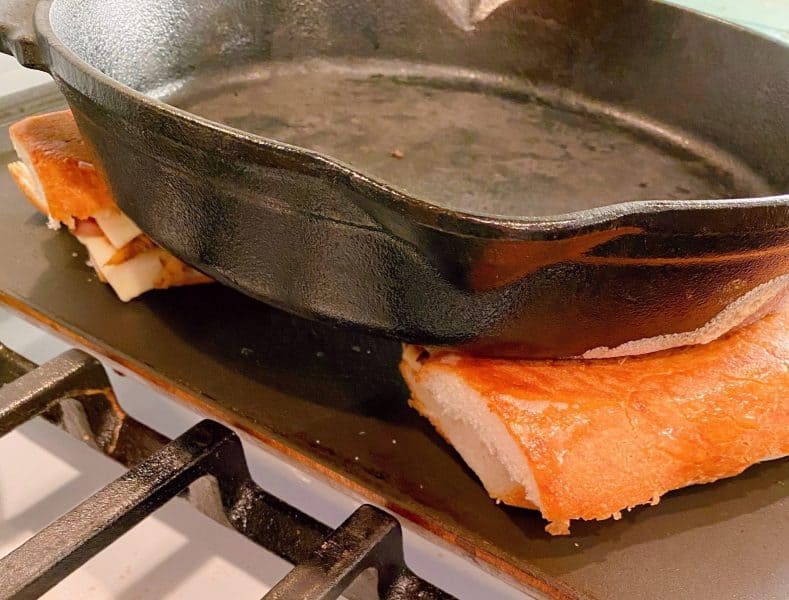 Now that sandwich is pressed you're ready to dig in!
Notice how the bread is squished down and the ingredients all meld together in one delicious pork filled sandwich.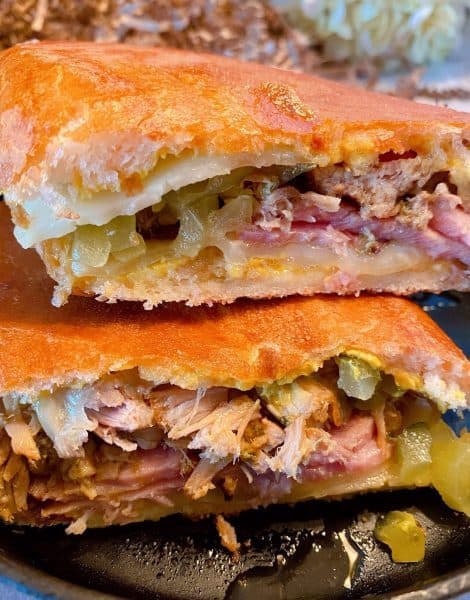 It was love at first bite. I never would have thought to combine ham and shredded pork together let alone the addition of pickles, mustard, and Swiss Cheese. So many wonderfully strong dominate flavors in this sandwich, yet they hold their own in this traditional Cuban meal.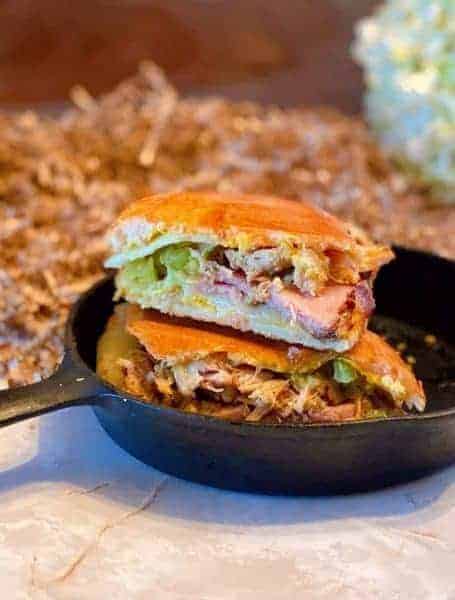 Serve with a side of fries or chips. You really don't need much more! It's a great way to create a second meal with the original Cuban Pork Roast leftovers. These sandwiches reheat in the microwave really well too! Love leftovers at this Nest!
Whether your serving it for lunch or dinner. It's sure to be a new favorite at your Nest too!
Sandwich Recipes Your Family will Love
Thanks so much for stopping by today! Remember to sign-up for my bi-monthly newsletter and I'd love to have you follow me on Facebook, Instagram, and Pinterest.
Happy Nesting!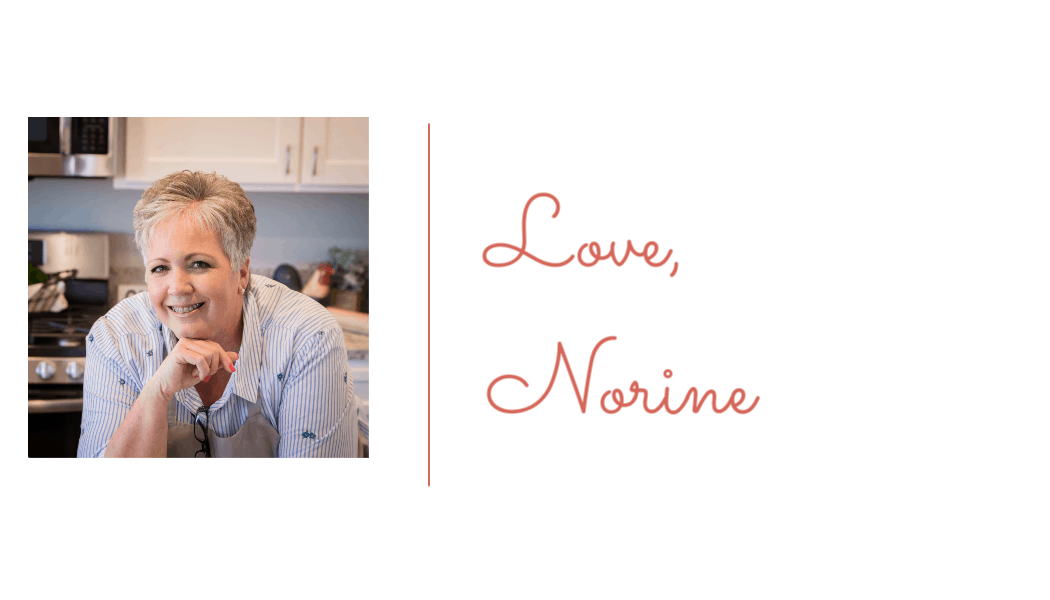 Yield: 4 sandwiches
Slow Cooked Cuban Sandwich Recipe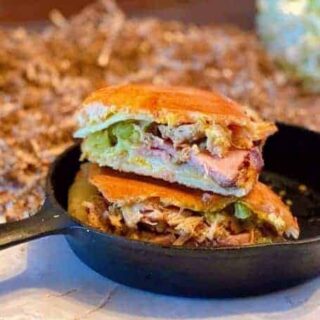 Tender Slow Cooked Cuban Mojo Pork is layered with ham, Swiss cheese, chopped pickles, yellow mustard, all on a buttery crisp pressed Cuban Roll! The perfect pork lovers sandwich!
Total Time
8 hours
15 minutes
Ingredients
4 French Rolls, split in half
16 slices thinly sliced Swiss cheese
1/2 pound sliced deli ham (cooked ham)
4 Cups Slow Cooked Cuban Pork (Recipe & Ingredients Below)
1/2 cup chopped dill pickles
Mustard
Butter
Ingredients for Slow Cooked Cuban Pork Roast
1 bone-in, or boneless, pork shoulder roast (about 4 pounds)
1 1/2 teaspoons salt
1 teaspoon coarse black pepper
Zest of 1 Orange
Zest of 1 Lime
3/4 cup Orange Juice, freshly squeezed
1/2 cup Lime Juice, freshly squeezed
1/2 cup Olive oil
8 cloves garlic, chopped finely
2 teaspoons dried oregano
2 teaspoons ground cumin
1/4 cup chopped cilantro (lightly packed)
Instructions
1. Cut each roll in half lengthwise; flatten slightly. Spread outside with butter; spread both halves inside with mustard. Layer cheese on each half of roll. Layer pickles, pork, and ham over the cheese. Replace tops so buttered side is outward.
2. Cook in batches on a Panini maker or indoor grill for 4-5 minutes or until bread is browned and cheese is melted.
How to make Slow Cooked Pork Roast
1. Place pork roast in the slow cooker.
2. To the slow cooker, add the rest of the ingredients and mix with spoon.
3. Cook on high for 5-6 hours, or on low for 8-10 hours. Remember every slow cooker cooks at different temperatures so watch your roast and adjust cook times as needed.
4. Carefully remove the pork roast from the slow cooker and place on an aluminum foil lined baking sheet with the edges of the foil turned up. Spoon some, not all, of the remaining liquid from the slow cooker on top of the roast.
5. Place in preheated oven set for broil. Broil for 10 minutes or until edges and top of pork roast are golden and slightly crispy.
6. Remove from oven and let the meat rest for 10 minutes before serving. Shred the meat with two forks and top with reserved Mojo liquid in the slow cooker.
Nutrition Information:
Yield:
4 sandwiches
Serving Size:
1 sandwich
Amount Per Serving:
Calories:

1408
Total Fat:

106g
Saturated Fat:

40g
Trans Fat:

1g
Unsaturated Fat:

57g
Cholesterol:

280mg
Sodium:

2294mg
Carbohydrates:

34g
Fiber:

4g
Sugar:

9g
Protein:

82g