Moist Pumpkin Bread is a classic easy Pumpkin bread filled with delicious pumpkin, hints of cinnamon and nutmeg, and will fill your house and soul with Fall!
I'm ready! Absolutely one hundred percent ready for Fall. I know, some may think I'm rushing Summer to the exit door…you're right! I am! I don't even feel guilty about it…not one bit.
*As an Amazon Associate I earn from qualifying purchases. This post may contain affiliate links, which means that I may make a commission from any purchases at no additional cost to you. Thank you for your support!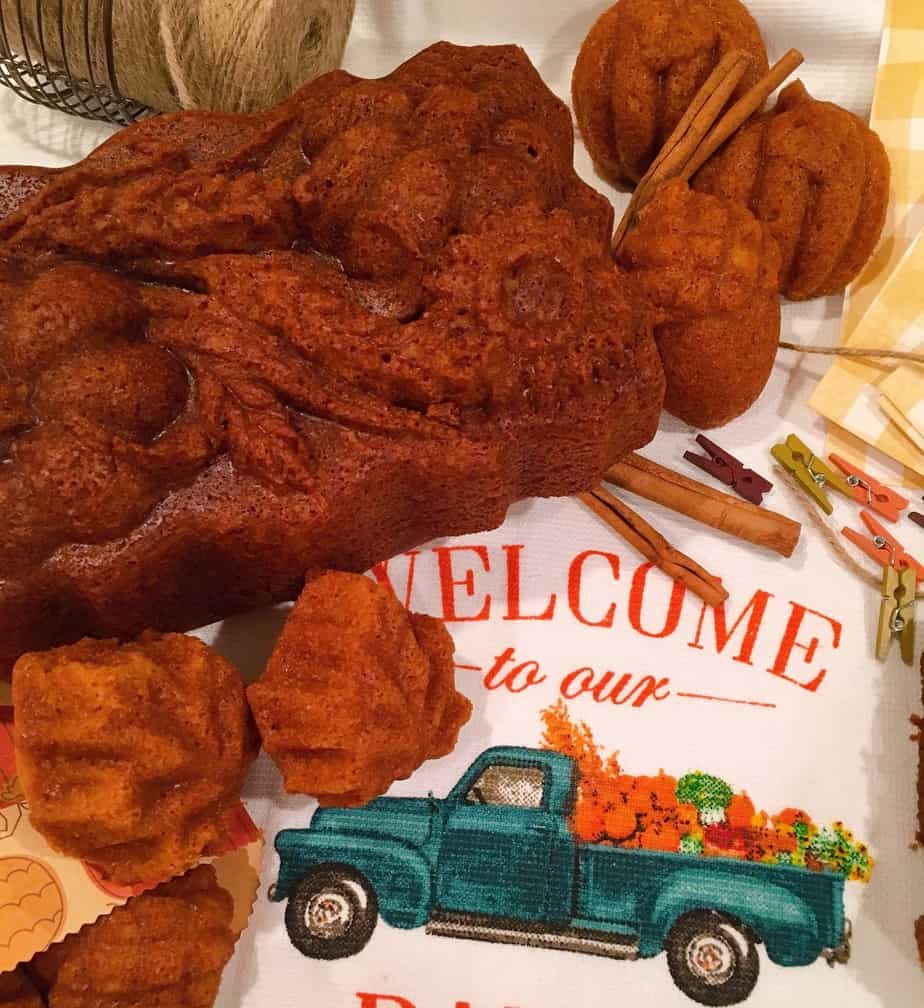 Last week I couldn't help myself…I had to bake something with Pumpkin as the mail attraction. So I went digging through my favorite old family cookbook. The one my Mom made for me when I got married. I ran across her recipe for Pumpkin bread. I'm not a hundred percent where it originated from…it has to be over 40 years old!
Let's face it…at my age I'm lucky to remember what happened yesterday. So hopefully y'all will forgive me for not giving credit to it's origins. I will say this…I forgot how amazing this Classic Pumpkin Bread is! It's moist, tender, full of subtle pumpkin flavor, and loaded with the warm hints of Fall spices.
One thing I love about this particular Pumpkin Bread recipe? You can kick it up with your favorite additions.
Example…if you like Chocolate Chip Pumpkin bread…Hold on to your panties…cause this will make the best you've ever had!!! Want to add fresh cranberries…glue those socks on, cause this recipe with those little red orbs added will knock yer socks off! Make no mistake though…it's amazing just as is! No frills necessary.
So let's get baking …
How To Make Moist Pumpkin Bread
In the bowl of your mixer add 3 cups of sugar (Hey! I didn't say it was low calorie…I said it was good!)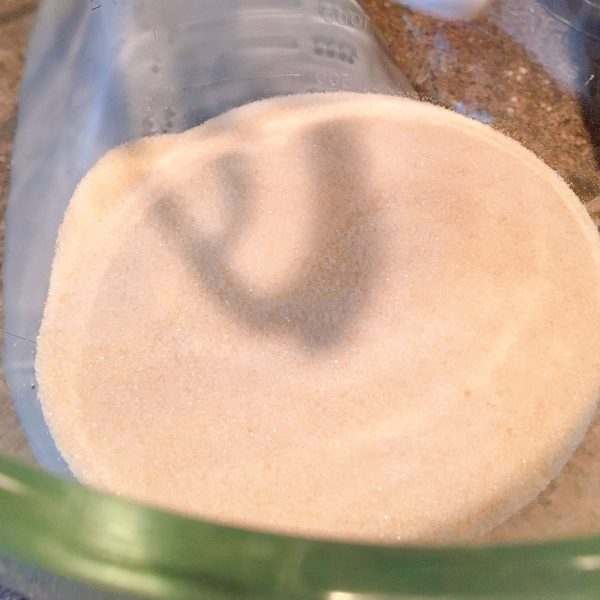 Add 3 1/2 cup flour, 2 teaspoons baking soda, 1 1/2 teaspoon salt, and turn mixer on low to combine.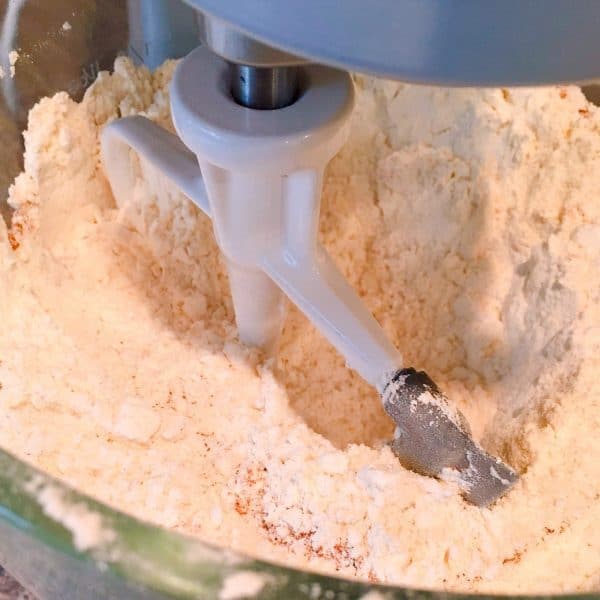 Add 2 Cups Pumpkin, 1 teaspoon cinnamon, 1 teaspoon nutmeg, 2/3 cup water, 4 eggs, and 1 cup of vegetable oil.
Mix until well combined. Scrape down the sides and bottom of the bowl and mix again, just to be sure all the ingredients are mixed completely before pouring into pans.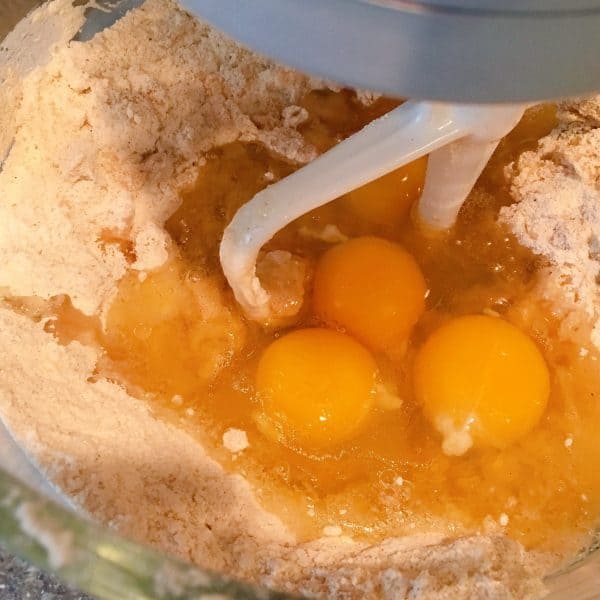 Baking Pumpkin Bread or Pumpkin Muffins
Preheat the oven to 350°. Prepare your bread pans.
This recipe will make 2 large loaves or 48 smaller muffins. The loaves bake for 1 hour 15 minutes to 1 hour and 30 minutes depending on your altitude and the muffins take about 18 minutes. The bread is done when it springs back when touched in the center.
Let's talk bread pans! A good friend sent me a beautiful Nordic Ware Harvest Bounty Bread Pan for my birthday and I wanted to use it so badly…but I'll be honest. Looking at the design in that pan…I was scared to death! It could go so wrong.
I had also purchased a Nordic Ware Fall Muffin pan a couple years ago and hadn't use it either…for the same reason!
TIP: Baking spray is a combination of oil and flour and makes pan preparation for baking a breeze!
It took a huge leap of faith on my part. (Not much scares me in the kitchen…but this did!) I sprayed the pan with non-stick baking spray. Poured the batter and prayed! Fill each muffin tin, and or bread pan two-thirds full.
I decided to start with the muffins first. That way if they didn't work it was only one pan of muffins and not an entire loaf of pan.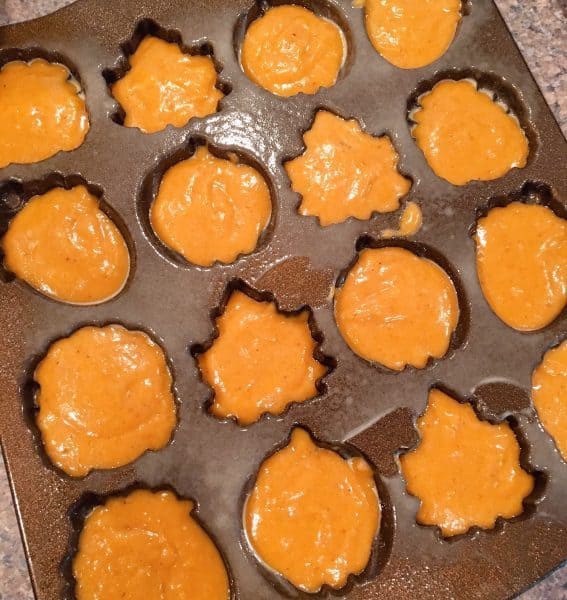 I'm happy to report…everything came out perfectly! I'm in LOVE with my Nordic Ware Pans! The muffins just slid out. Aren't the pretty? Little bundles of Fall happiness! Leaves, acorns, turkeys, and pumpkins.
They would be such a fun Holiday breakfast treat.
The bread came out of the pan as easily as the muffins did.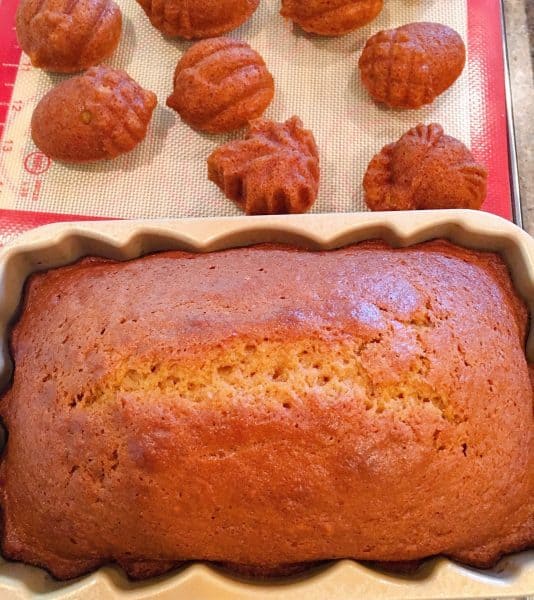 Remove bread, or muffins, from the oven, allow to cool for 5 minutes. Flip them upside down on a silicone mat on top of a cooling rack. This will prevent the bread from sticking to the cooling rack.
This bread is a tad sticky because of how moist it is. The silicone prevents the bread from sticking to the cooling rack.
Look how beautiful this loaf of bread turned out! I wasn't too sure if the details would even show up…but they did.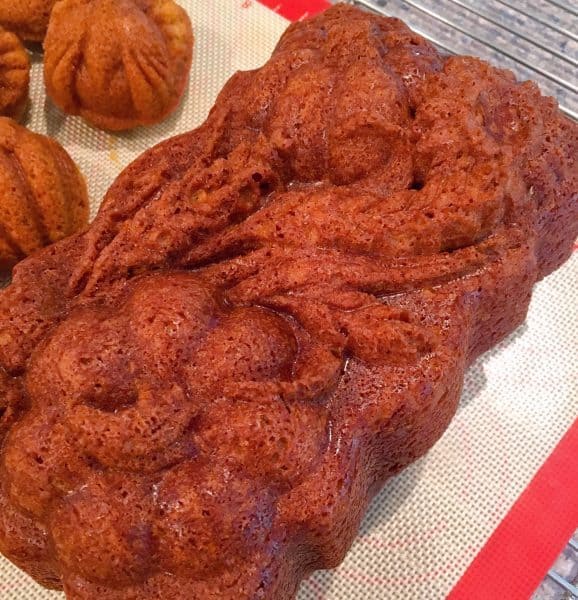 I honestly forgot how delicious and moist this Pumpkin Bread is. It melts in your mouth! (It may have taken three of four slices to remind me…lol, I wanted to be 110% sure!)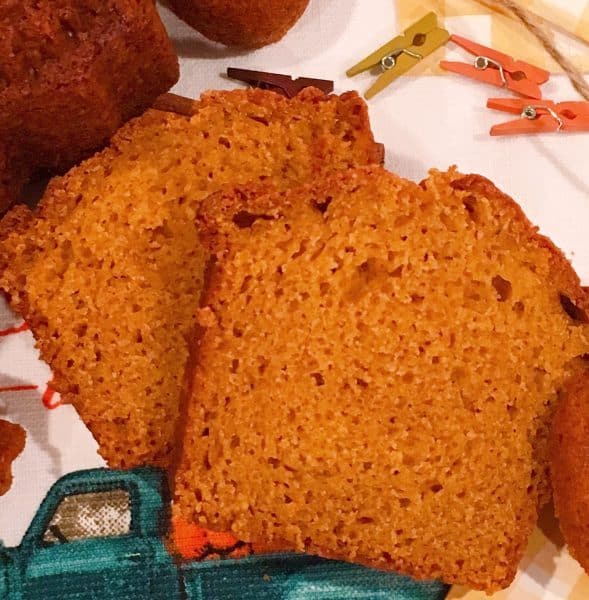 My little granddaughters loved these pumpkin bread muffins! I thought the little one was going to choke she stuffed so much in her mouth!
So of course Grandma made another batch the next day for them. Why? Because Mr. Nest ate all the bread at home! He couldn't stop eating this bread! Remember…he isn't a pumpkin lover!!! (I hate cheesecake too! Whatever sweetheart!)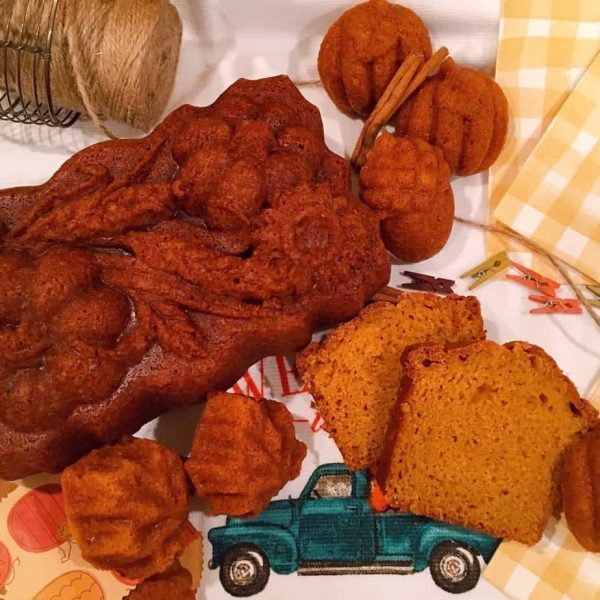 Additions and getting creative!
My favorite part of making this recipe, besides how delicious it is? Everyone who came in the house said "It smells like Fall in here!" That can't be bought in a bottle.
You can add nuts to this bread if you're a nut lover. Add 1 1/2 cup of chopped nuts. Since I was making it to share with little people I skipped the nuts. Remember though…this is a great "add-in" recipe. Chocolate chips, cranberries, nuts…dates. All so good!
This is a recipe you'll want to add to your Fall baking list. It's a wonderful recipe that will be in your recipe collection for years to come!
If you enjoyed this recipe you might also enjoy these other delicious Pumpkin Recipes
Thanks so much for stopping by my Nest!
I'd love to have you follow me on Pinterest, Instagram, and my Facebook page where I share all my latest and most favorite recipes.
Have a Wonderful Day!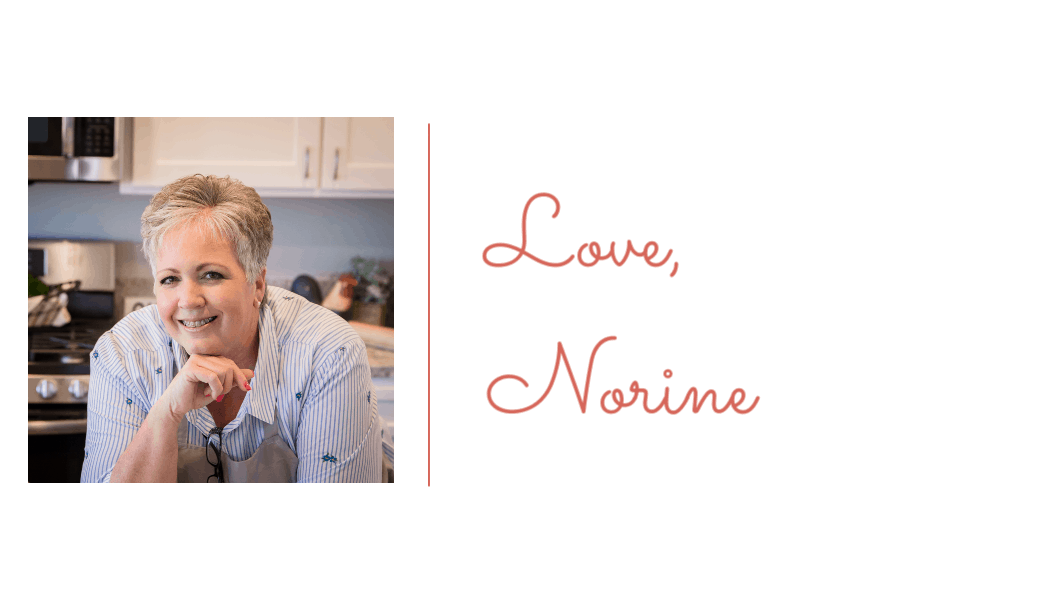 Yield: 20 slices or 2 loaves
Moist Pumpkin Bread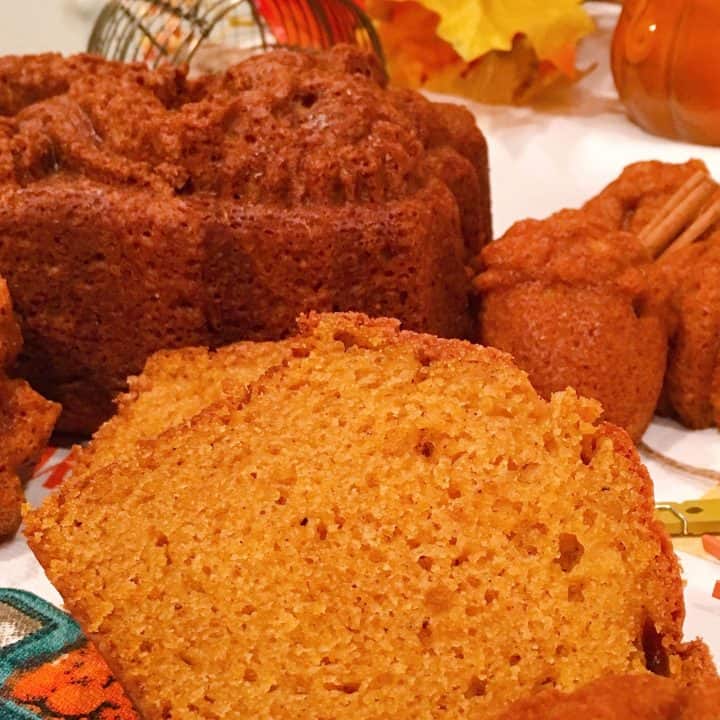 Moist Pumpkin Bread is a tender moist classic pumpkin bread with hints of warm Fall spices and delicious pumpkin. A great Fall Pumpkin Bread recipe.
Cook Time
1 hour
30 minutes
Total Time
1 hour
40 minutes
Ingredients
3 Cups Sugar
4 large eggs
2/3 Cups water
2 Cups canned prepared pumpkin
1 Cup Oil
3 1/2 Cups Flour
1 teaspoon cinnamon
1 teaspoon nutmeg
1 1/2 teaspoon salt
2 teaspoon baking soda
Instructions
Preheat oven to 350° and prepare to loaf pans by spraying with non-stick cooking spray.
In the bowl of your mixer combine, flour, salt, sugar, baking soda. Mix on low until well combined.
Add pumpkin, spices, eggs, water, and oil. Mix until well combined, Scrape down sides and bottom of bowl and mix again until everything is mixed together.
Pour batter into two prepared loaf pans and bake at 350° for an hour and fifteen minutes to an hour and half. Bread is done when center springs back when pressed down with your finger.
Remove bread from oven, allow to cool for 5 minutes and then flip upside down on silicone mat turn bread right side up until cool.
Recommended Products
As an Amazon Associate and member of other affiliate programs, I earn from qualifying purchases.
Nutrition Information:
Yield:
20 slices
Serving Size:
a
Amount Per Serving:
Calories:

315
Total Fat:

12g
Saturated Fat:

1g
Trans Fat:

0g
Unsaturated Fat:

11g
Cholesterol:

37mg
Sodium:

300mg
Carbohydrates:

48g
Fiber:

1g
Sugar:

31g
Protein:

4g