Tender moist pumpkin spice muffins with chunks of tart apples and a scrumptious cinnamon streusel crumb topping! The perfect Fall breakfast treat!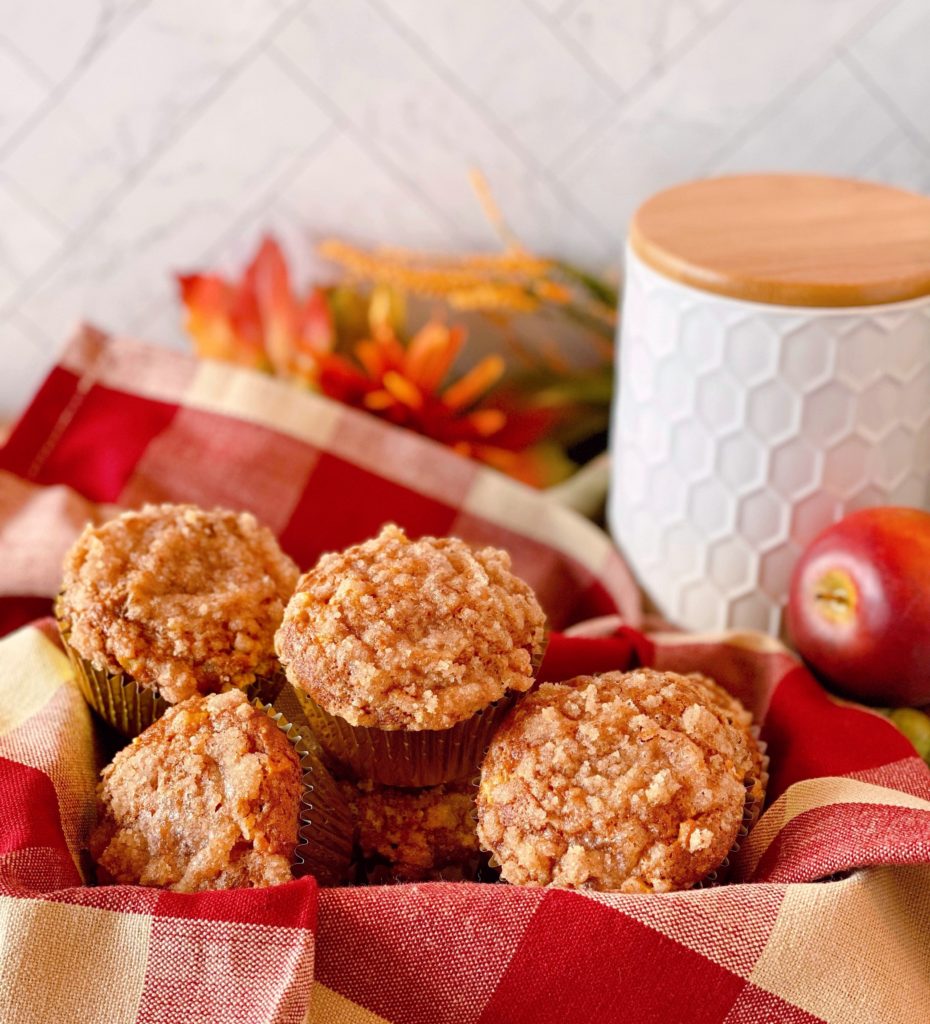 It's "Officially" Fall! I saw a red leaf yesterday! Today there's a chill in the air! That's all I need to decree it's Fall! (Bet you didn't know that's my official job…declaring when Fall starts!) My soul loves this time of year!
*As an Amazon Associate I earn from qualifying purchases. This post may contain affiliate links, which means that I may make a commission from any purchases at no additional cost to you. Thank you for your support!
When it's Fall, I bust out the pumpkin and apple recipes at this Nest! Nothing speaks to my seasonal soul like pumpkin breads baking in the oven filling my home with it's luscious scents. Top those breads or muffins with a fantastic cinnamon spiced crumbly streusel and I'm ready for sweater weather! (Actually I'm always ready for the cooler temps of Fall! We can skip the sweaters too! Can I get an "Amen! Praise the Lord!" Nothing better than outdoor air conditioning!)
You can have Pumpkin Muffins or you can have Apple Muffins…but when I ran across this recipe on Allrecipes.com I was so intrigued. The combo of two of my favorites…apple and pumpkin… was just too good to be true. As always… I've changed a few things…like reducing the amount of oil by substituting applesauce. Not only does it add extra flavor and moisture, it's healthier, with less fat. I love the tart little chunks of apples mixed in with the pumpkin bread! You're going to love this recipe too!
How To Make Pumpkin Apple Muffins
Preheat oven to 350°. Grease, or line 24 muffins cups, with muffin liners.
TIP: I recommend using parchment or foil liners. The muffins are less likely to stick.
In a large bowl, combine 2 1/2 cups All-purpose flour, 2 cups granulated sugar, 1 teaspoon baking soda, 1 Tablespoon of that seasonal favorite…Pumpkin Spice, and 1/2 teaspoon salt. (I think poor Pumpkin Spice get's a bad rap! I love the smell! Don't you?)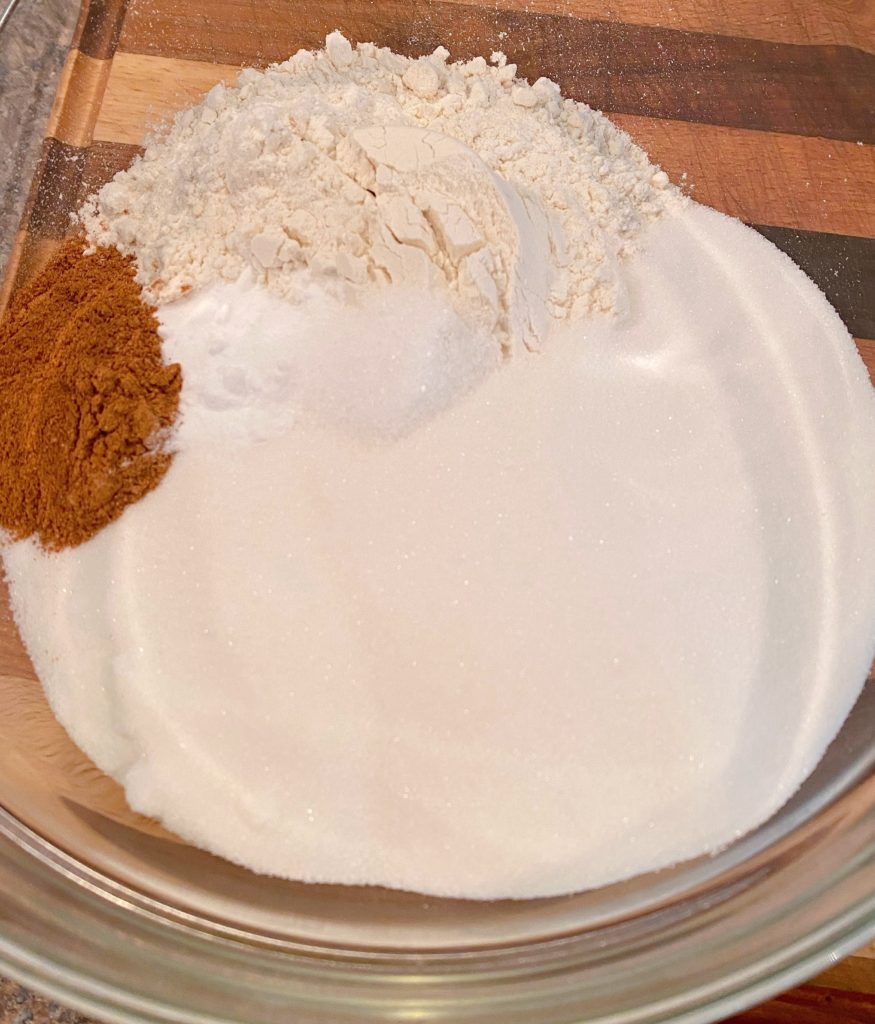 With a wire whisk blend dry ingredients.
TIP: Using a wire whisk replaces the need to "sift" the dry ingredients and removes any lumps from the flour. It's so much easier than actual "sifting".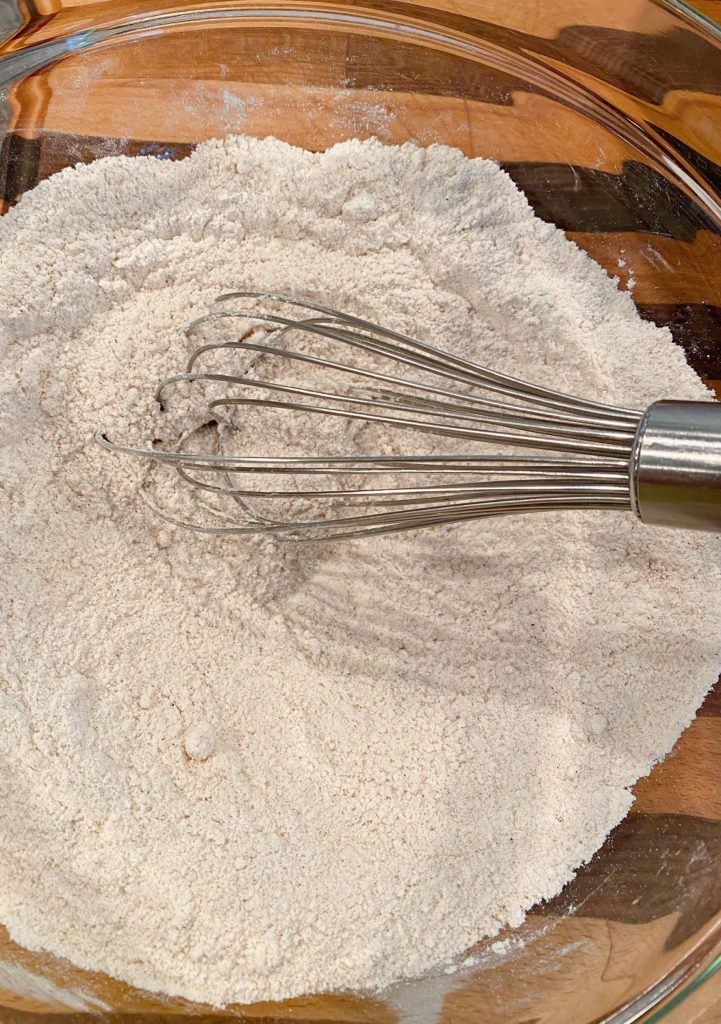 Add 1 1/4 cups Pumpkin Puree and 2 large eggs, one at a time.
TIP: Always crack your eggs in a separate bowl to prevent egg shell from dropping into your batter. Tilt the bowl slowly and the eggs will drop into the batter one at a time. (Feel free to skip this step if you are secure in your egg cracking skills…or if you're really good at finding tiny pieces of hard egg shell in thick pumpkin batter!)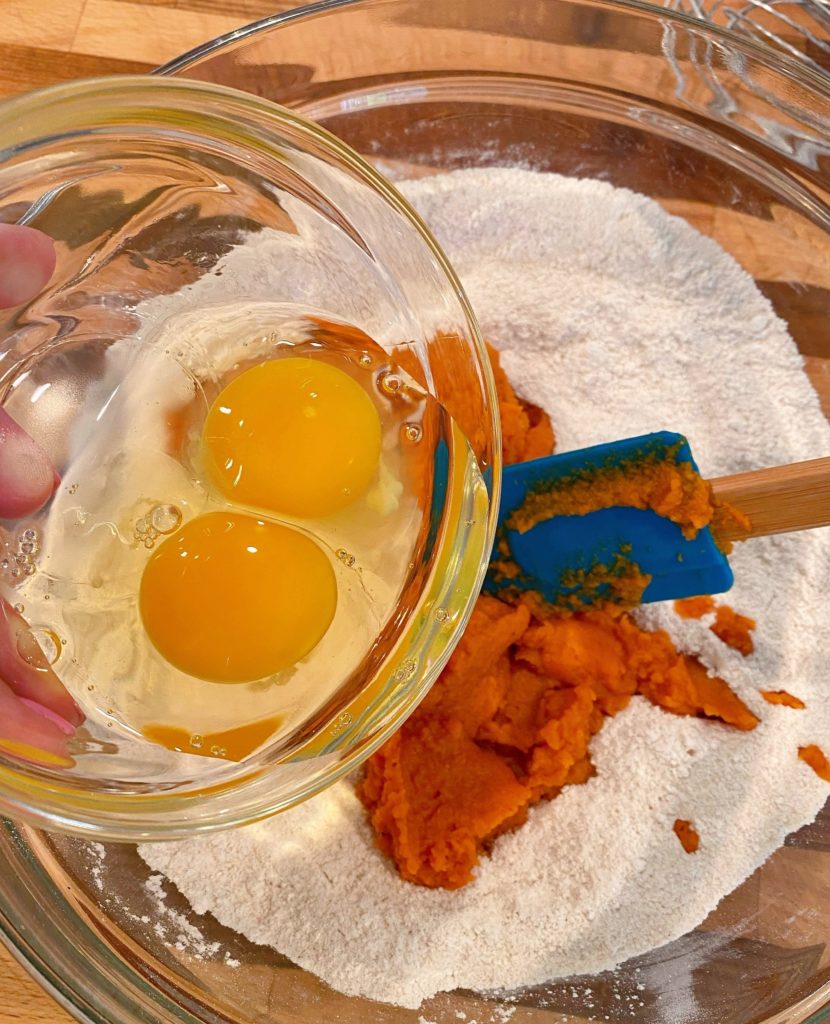 I substituted 1/4 cup applesauce for half the vegetable oil. It really is a great way to cut back on the fat of your baked goods. I recommend doing half and half in your muffin recipe. 1/4 cup vegetable oil and 1/4 cup applesauce.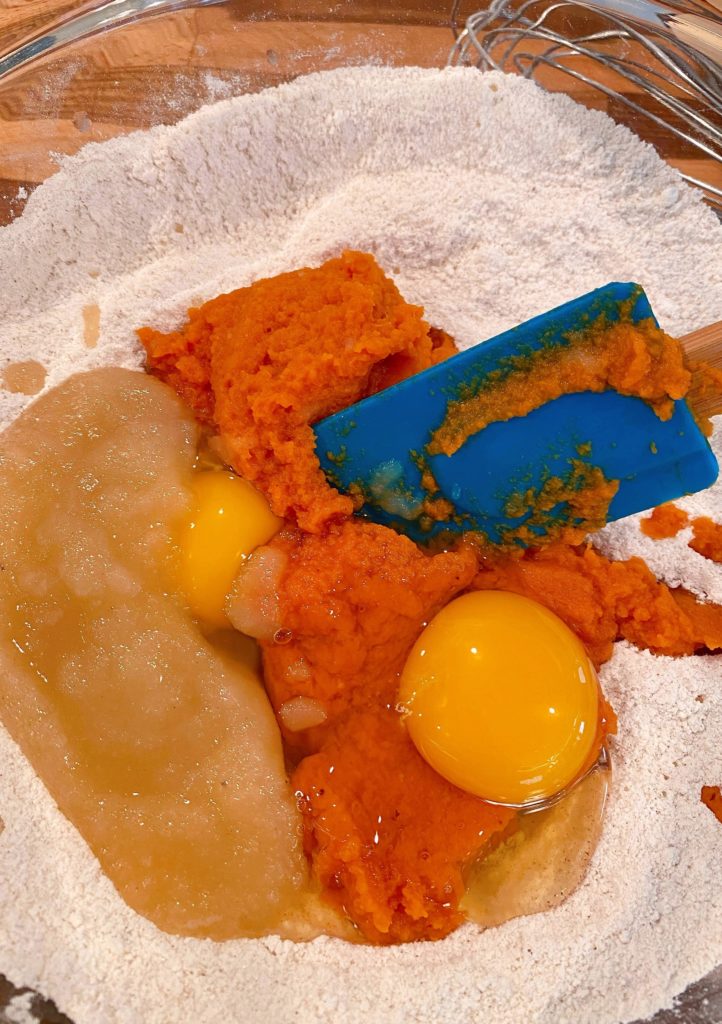 Stir wet ingredients into the dry ingredients just until moistened. It creates a beautiful thick batter loaded with the flavors of Fall. Such a fantastic color and texture for this batter.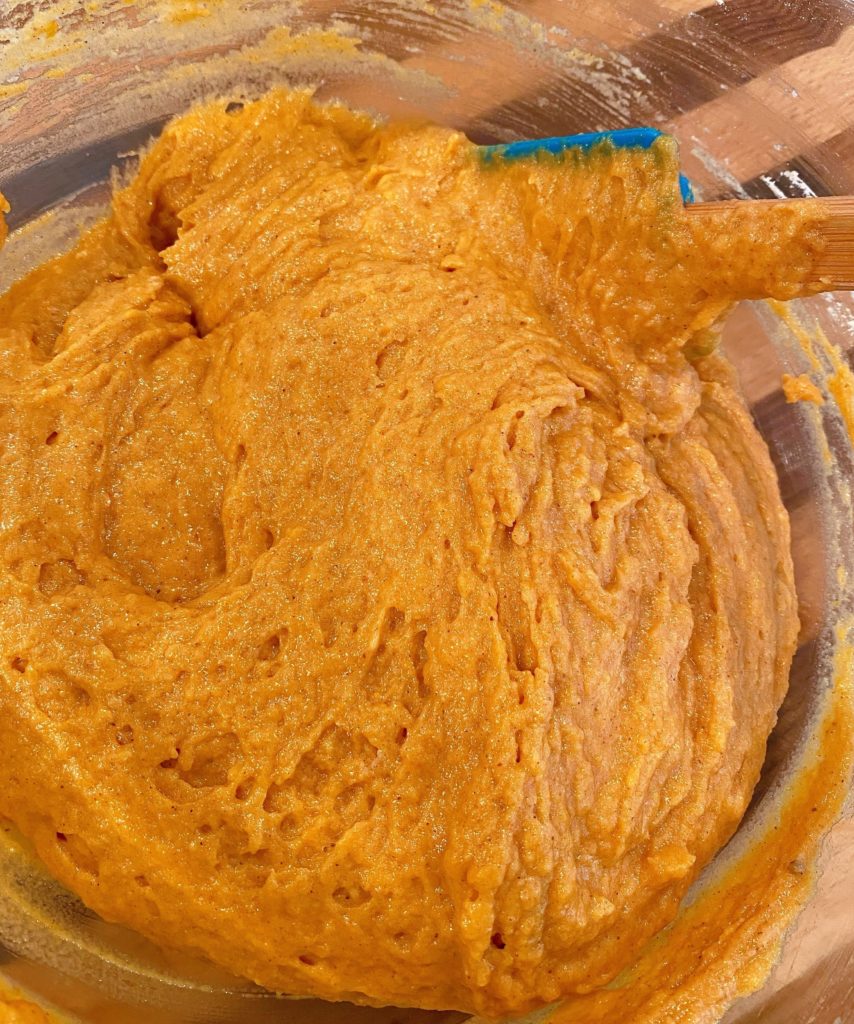 Adding Fresh Chopped Apples to Muffins
Adding fresh fruit to breads and muffins can be a little tricky sometimes. Fresh fruit contains a lot of moisture that can change the texture of breads and muffins. Make sure you follow the instructions in a recipe for adding fresh fruit.
If a recipe calls for the fruit to be coated in flour be sure to follow those instructions. Be sure to use exact measurements. Adding more fruit than called for, can cause the breads to be undercooked, and raw in the center.
Stir in 2 cups peeled, finely chopped apples. I recommend using Granny Smith, Pink Lady, or any other firm tart baking apple. I just happen to love the combo of the two mentioned above. However, you do you! Honestly I think any apple would work, some just have a better texture after baking.
Chop the fresh apples (about 2 medium apples) into small bite size pieces! The smaller the pieces the better. Little bits of flavor in every bite is always a good thing.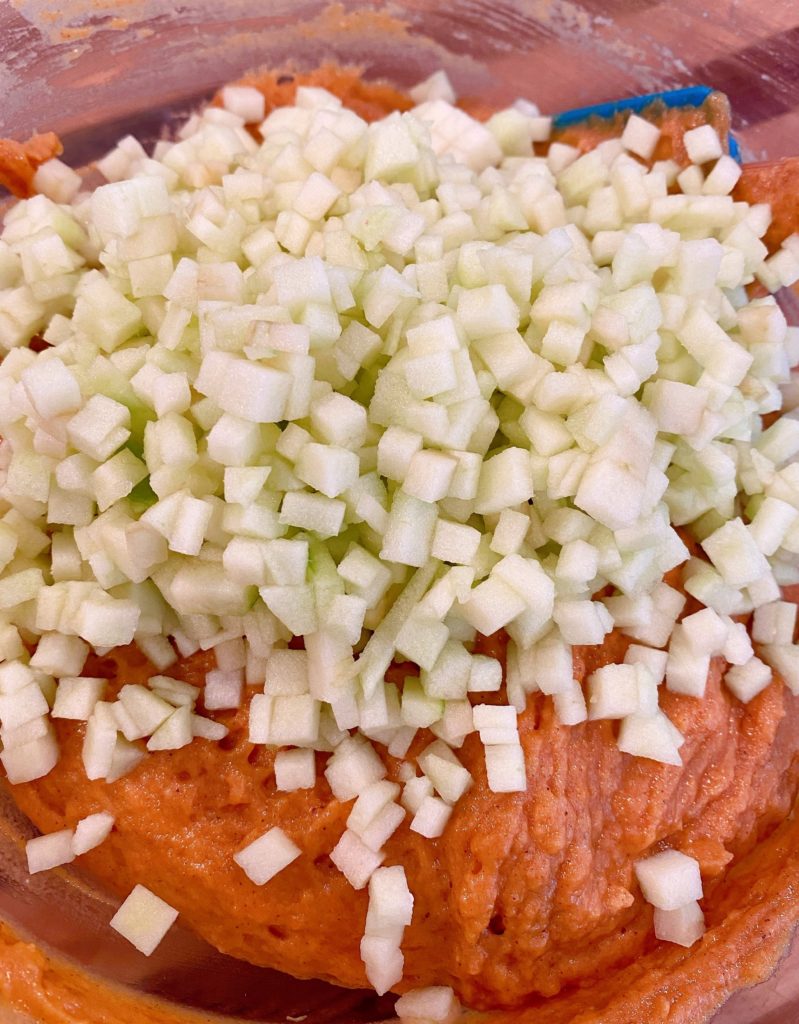 Using a cookie scoop, or a large tablespoon, place batter into prepared muffin cups, filling them 3/4 of the way full. Be careful not to over fill the muffin cups. Remember you still have to add the crumb topping!
How To Make Streusel Cinnamon Crumb Topping
Time to make that scrumptious cinnamon streusel topping!
In a small bowl combine 1/2 cup granulated sugar, 2 Tablespoons All-purpose flour, and 1/2 teaspoon ground cinnamon, and 2 Tablespoons butter. Cut the butter in with a pastry blender…or you can just get in there with your fingers and blend it together. I love using my hands. It crumbles beautifully!
TIP: If your streusel is not forming the type of "crumb" you'd like, add 1/2 Tablespoon of flour at a time until you reach the perfect crumb!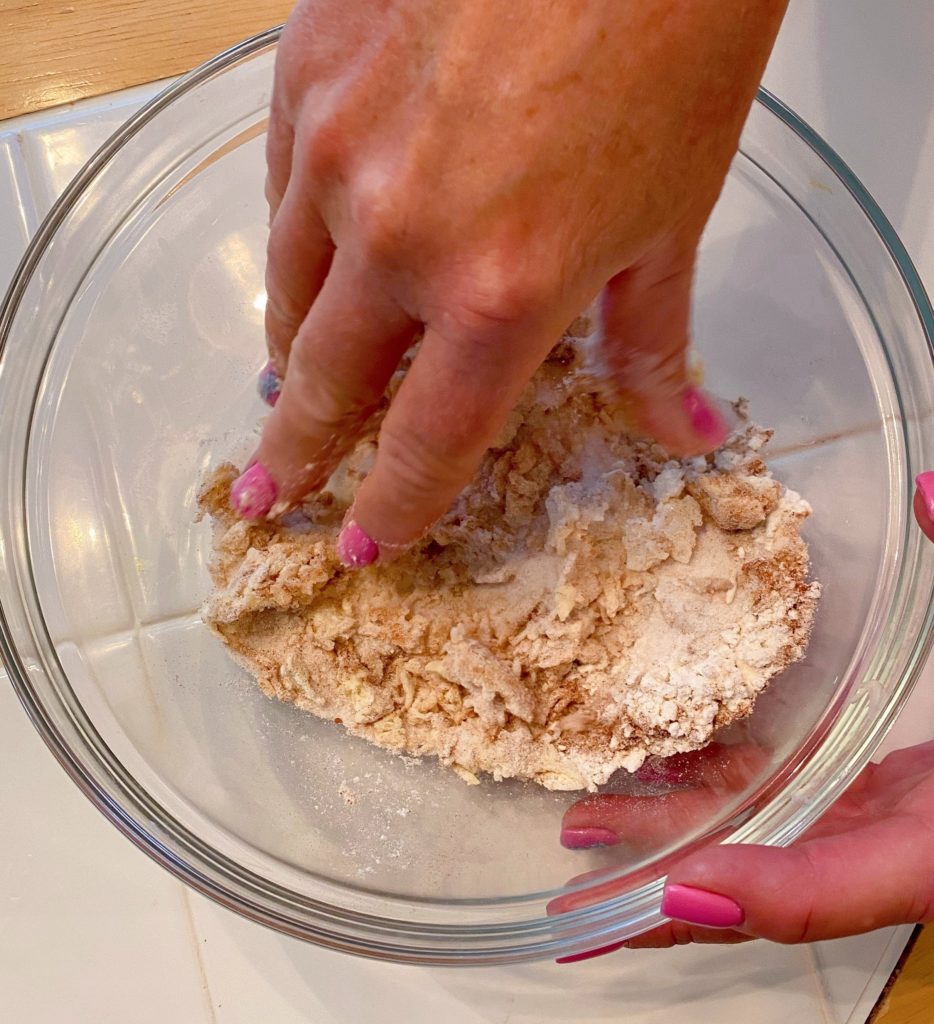 Continuing mixing until mixture becomes a fine crumb. You can do a fine crumb or a larger crumb. It's really about personal taste.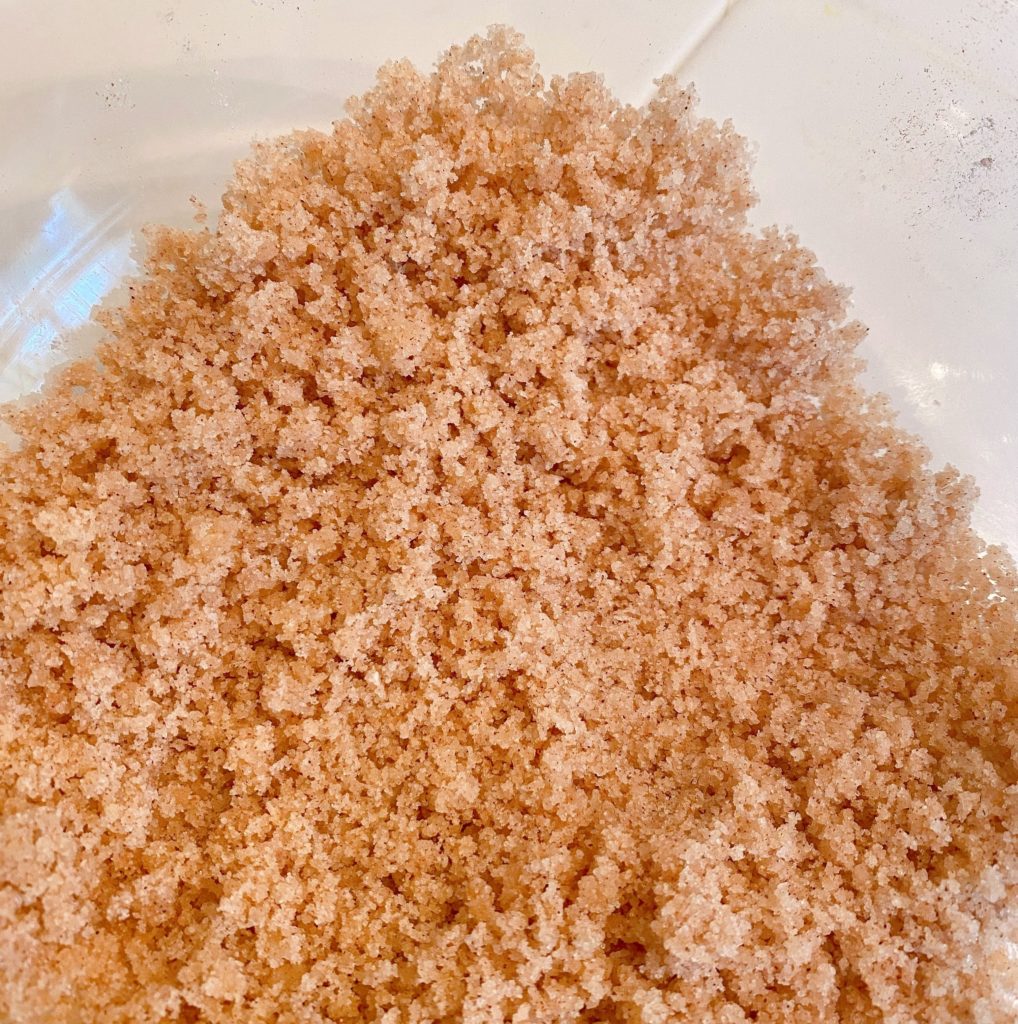 Baking Pumpkin Apple Muffins with Crumb Topping
Place 1-2 Tablespoons of crumb streusel on the top of each muffin.
Place each muffin tin in preheated oven and bake for 30-35 minutes, or until a wooden toothpick inserted in the center comes out clean.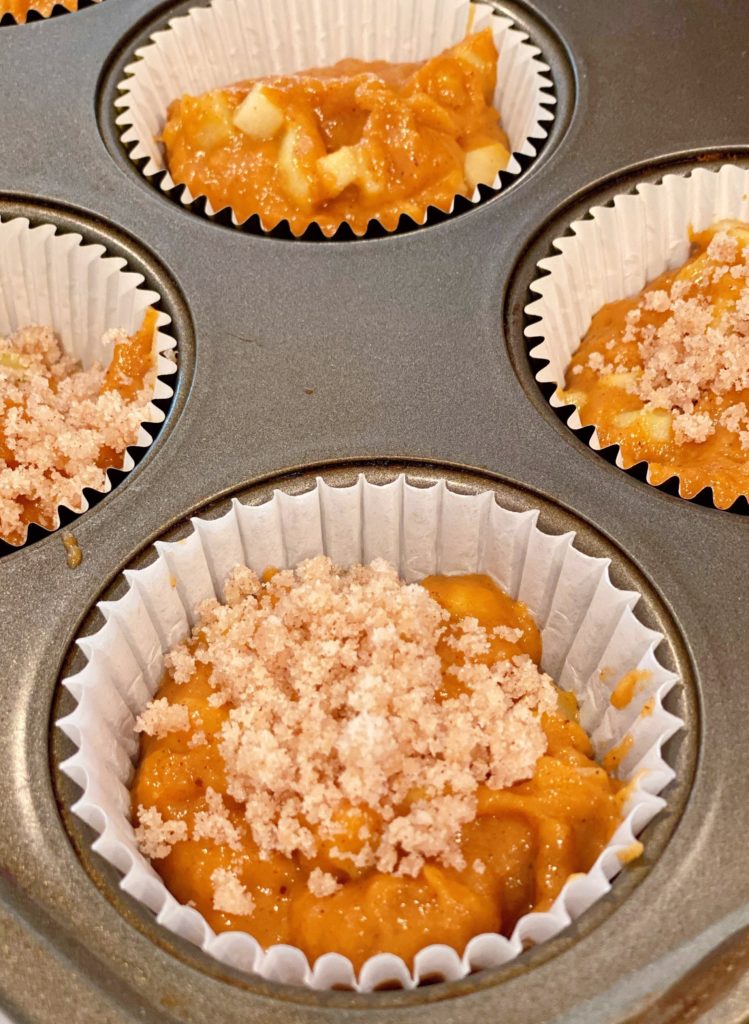 Cool muffins in tins for 5 minutes before removing to cool slightly.
Serve Muffins warm, or cold. I prefer them warm!
Each muffin is perfectly moist thanks to the pumpkin and applesauce. Each muffin is loaded with tiny bits of soft baked apples. I love the hint of Pumpkin Pie Spice in each bite. It's like pumpkin and apple pie coming together to create the perfect Fall treat!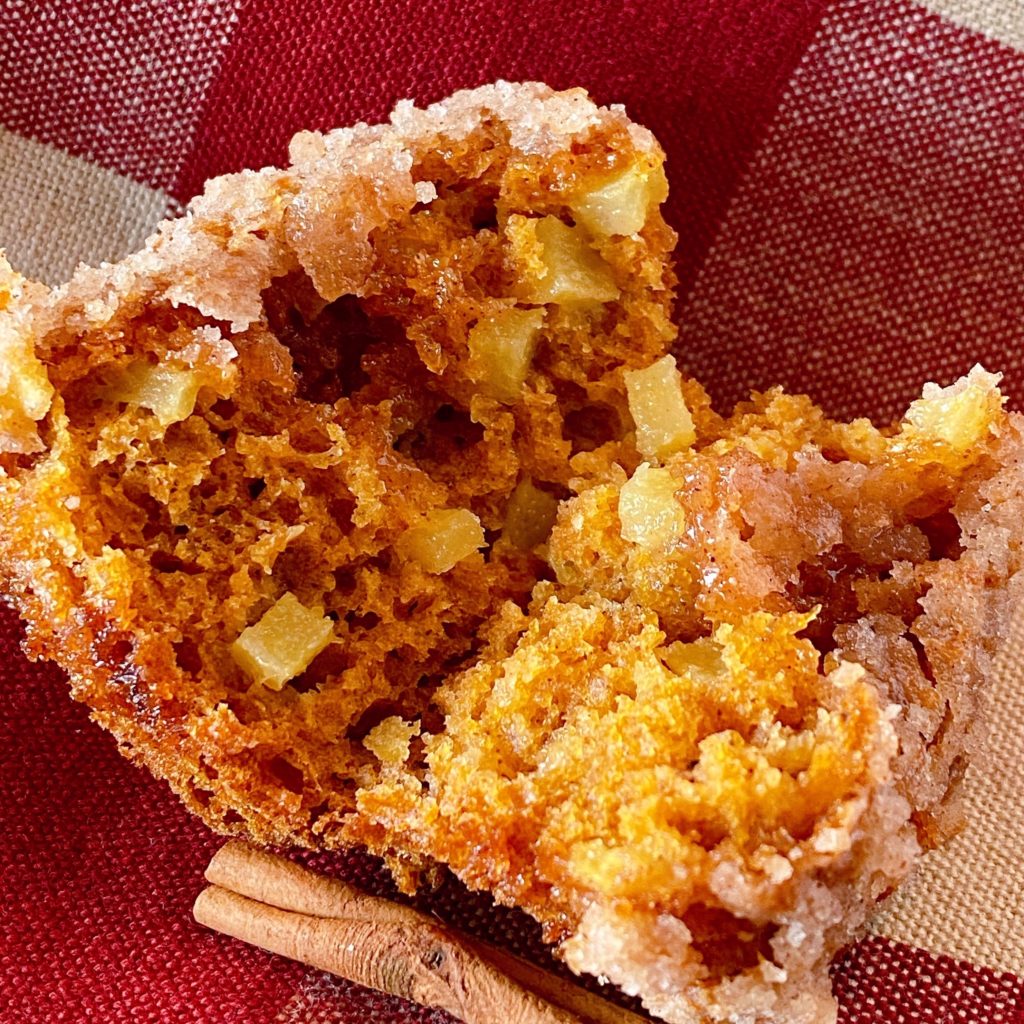 That crumb topping adds the perfect "crunch" on top. Can you see how it also creates a wonderful caramel drizzle down the sides of each muffin? Genius huh? (Let me go dust off my Nobel Prize for Baking…lol)
No one cares about awards! We just want ALL the Fall Treats!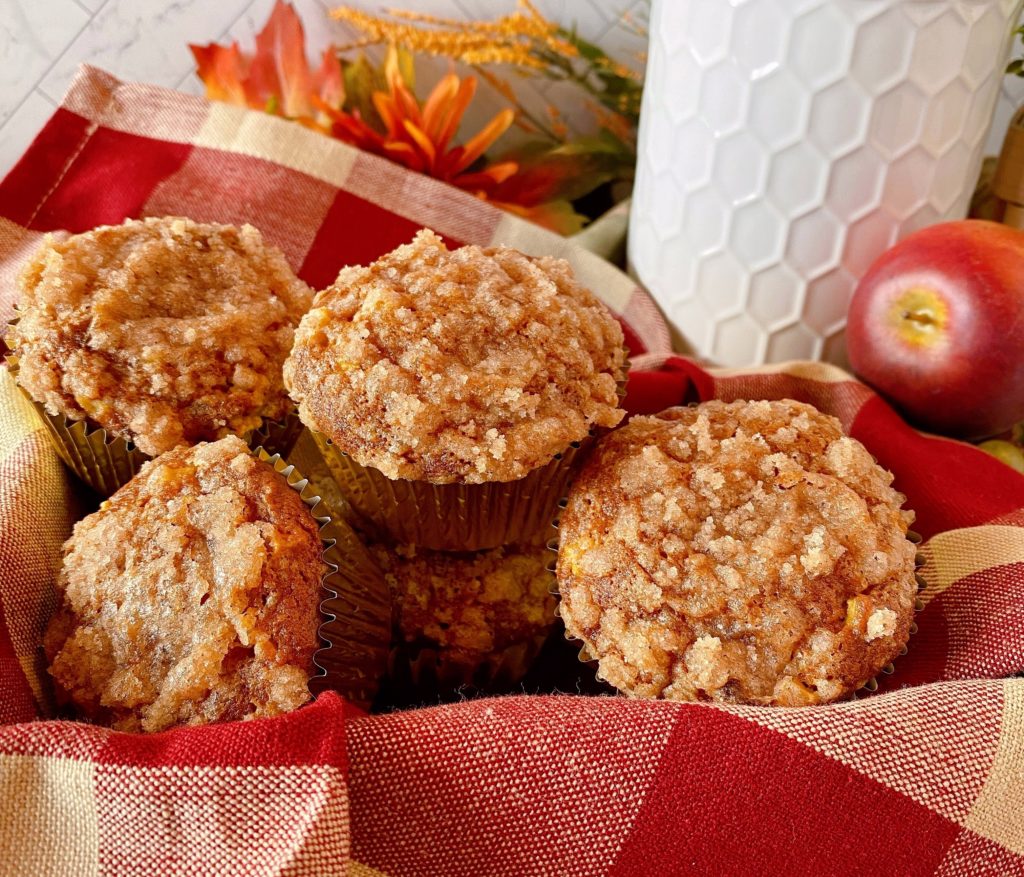 Other Fall Favorite Muffins and Quick Breads
I hope you enjoy this scrumptious Muffin Recipe! It's sure to bring all the smells and flavors of Fall to your Nest!
Happy Nesting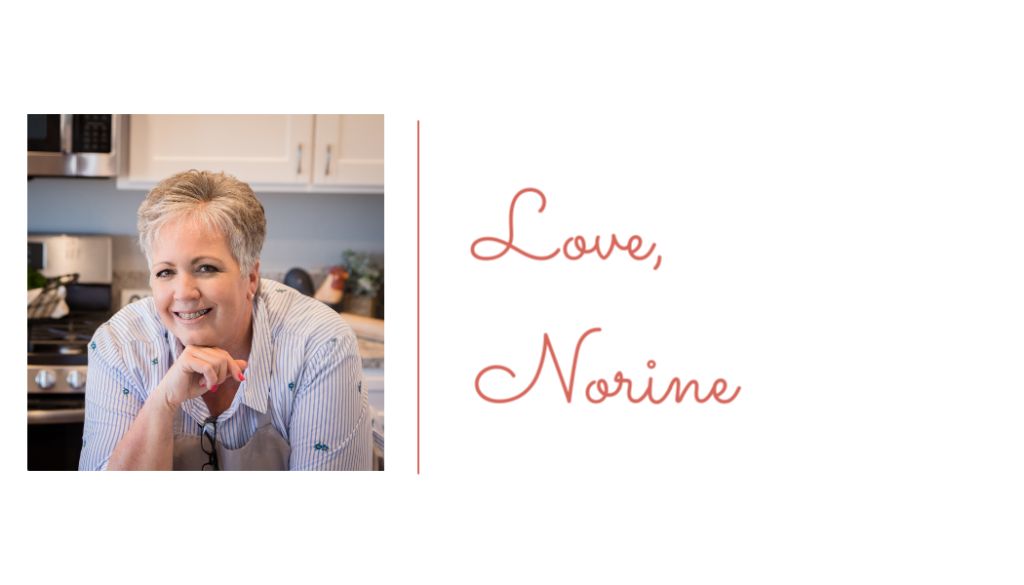 Yield: 24 servings
Pumpkin Apple Streusel Muffin Recipe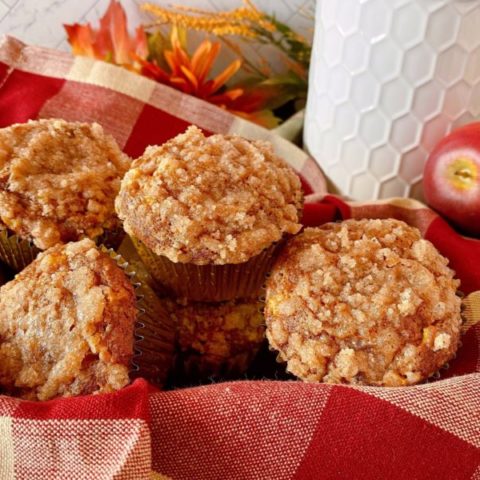 Tender moist pumpkin spice muffins with chunks of tart apples and a scrumptious cinnamon streusel crumb topping! The perfect Fall breakfast treat!
Ingredients
2 1/2 Cups All-purpose Flour
2 Cups granulated sugar
1 Tablespoon Pumpkin Pie Spice
1 teaspoon baking soda
1/2 teaspoon salt
1 1/4 cups pumpkin puree
2 large eggs
1/4 cup vegetable oil
1/4 cup apple sauce
2 cups, cored and finely chopped baking apples
Streusel Topping
1/2 cup granulated sugar
2 Tablespoons All-purpose flour
1/2 teaspoon cinnamon
2 Tablespoons butter
Instructions
Preheat oven to 350°. Grease or paper-line 24 muffin cups.
Combine flour, sugar, pumpkin pie spice, baking soda, and salt with a wire whisk in a large bowl.
Add pumpkin puree, vegetable oil, apple sauce, and eggs to the dry ingredients. Mix well.
Stir in apples. Spoon batter into prepared muffin cups, filling 3/4 full.
For the streusel topping in a small bowl combine sugar, flour, and cinnamon. Cut in the butter with a pastry blender or two knives, or your fingers, until mixture is crumbly. Sprinkle 1-2 Tablespoon of mixture over the top of each muffin.
Bake in preheated oven for 30-35 minutes, until a wooden toothpick inserted in the center comes out clean. Cool in pans for 5 minutes; remove to wire racks to cool slightly.
Nutrition Information:
Yield:
24 servings
Serving Size:
1 muffin
Amount Per Serving:
Calories:

176
Total Fat:

4g
Saturated Fat:

1g
Trans Fat:

0g
Unsaturated Fat:

3g
Cholesterol:

18mg
Sodium:

111mg
Carbohydrates:

34g
Fiber:

1g
Sugar:

22g
Protein:

2g