Ultimate Berry Cobbler has a filling of plump blackberries, juicy raspberries, and big round blue berries… all topped off with big fluffy tender biscuits sprinkled with cinnamon sugar and baked to a golden crisp!
Cobblers! They're like upside down shortcakes with thick juicy fruit filling! Such a great dessert and so easy to make. What more could you want? (Well…besides a few million dollars and a great body! However…I'm just a recipe creator…not a genie in a lamp! We have to work with what we have! lol)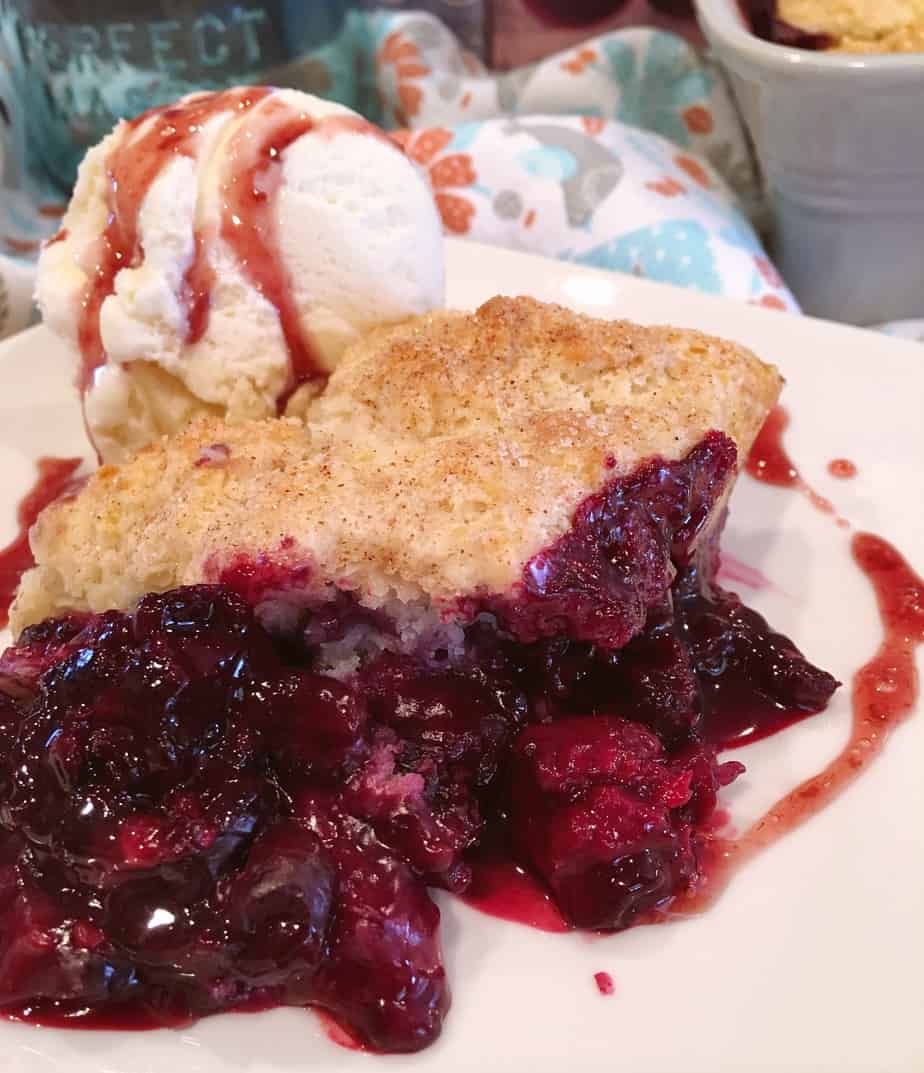 I was craving a fruity dessert the other day. All I had on hand was a great big bag of frozen Mixed Berry Blend from Costco! I didn't want to make a pie…that was WAY more work than I was willing to exert! I could have made my Skillet Berry Cobbler...which is really a crisp (we'll get into that later!) but, that wasn't hitting the mark either? I had a real dilemma on my hands. (My life is tough! Please feel badly for me!)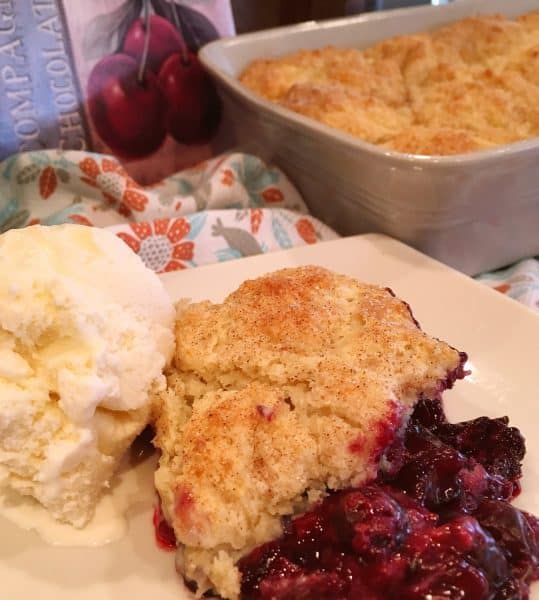 Then I thought of a true cobbler, big ol' flaky biscuits on top creating a cobble stone path to yum! Yep! That was exactly what I wanted! So I went to work creating the most delicious cobbler I've ever sunk my teeth into…even Mr. Nest gobbled this one up!
Cobbler Fruit Filling
You can make cobbler with lots of different fruits. Apples, Peaches, and Berries. I went with my frozen Mixed Berry Blend from Costco. I partially thawed it. You'll notice the ice crystals still clinging to some of the berries. (It's winter…it's cold in this house! There's crystals sticking to everything around here!)
You can use fresh or frozen! Either will work. You'll want 4 cups of either fresh or frozen fruit.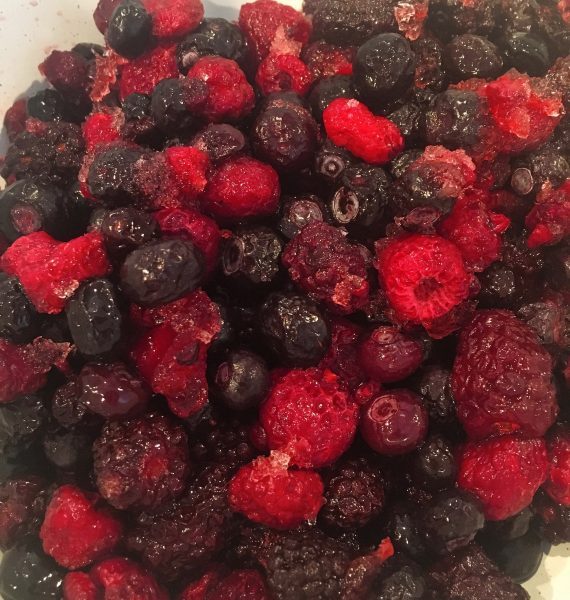 Add 1/2 cup of sugar, 1/2 cup of flour, 1 Tablespoon Corn Starch, 1 teaspoon vanilla, and 1/2 teaspoon cinnamon. You're gonna have to trust me on the vanilla and cinnamon! It enhances the flavors of the fruit!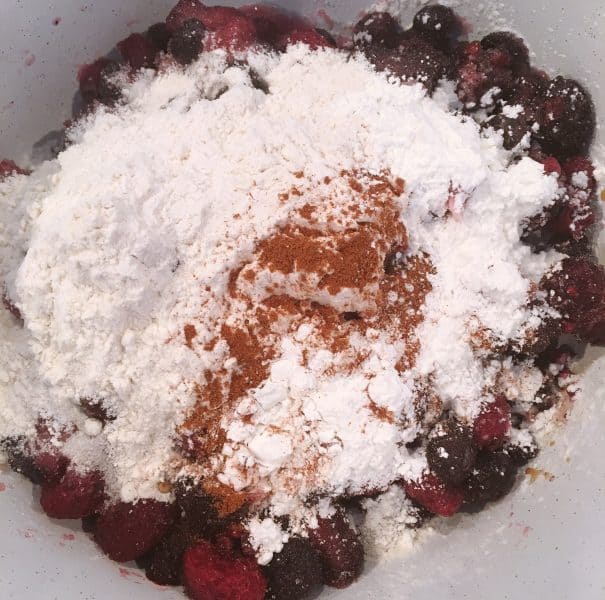 Use a spatula and mix carefully! Try really hard not squish those beautiful berries!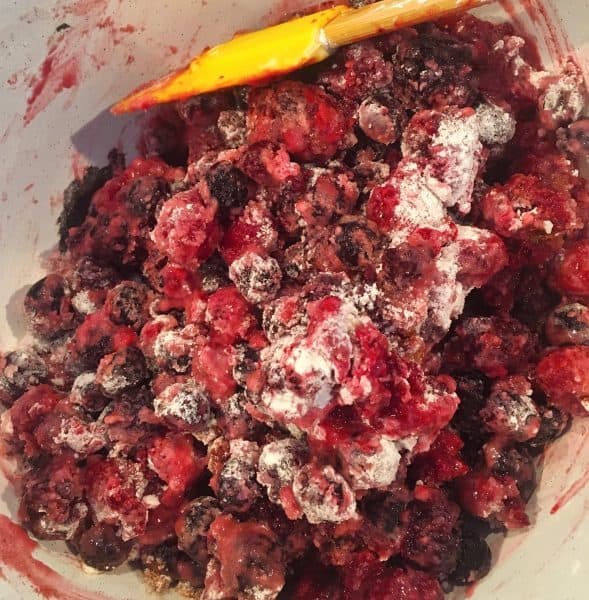 Grease an 8 x 10 baking dish. Pour filling into the bottom of the baking dish. I had a handful of fresh blueberries on hand so I tossed in a few on top to use them up. Why not? You can never have too many berries!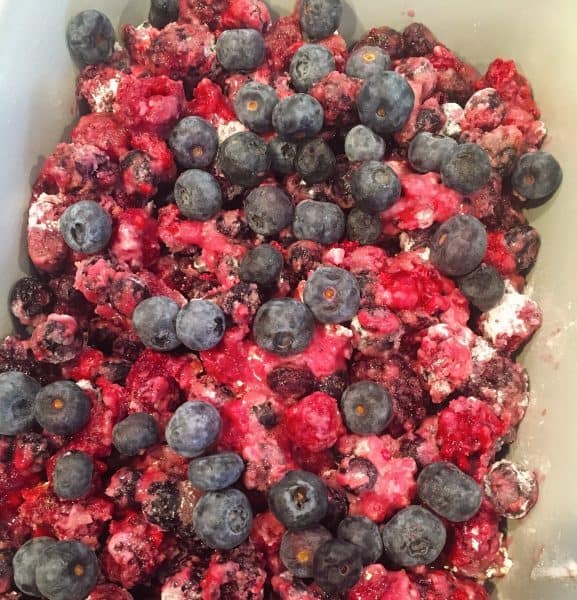 Let's Talk About Cobblers, Crisp, Crumbles, Slumps, and Buckles!
So what makes a cobbler different from all the above mentioned desserts? I've wondered that for years. I'm sure any good Southern woman worth her salt can tell you…but for those of us without a beautiful southern drawl…let me clarify the difference for y'all!
Crisp: Is baked fruit topped with a mixture of flour, nuts, oatmeal, butter, and sugar. The topping is similar to a streusel, and completely covers the fruit. It's also sometimes referred to as a "crumble".
Slump or a Grunt: (No they aren't nicknames for your teenagers!) As the biscuit-topped fruit filling cooks on the stove, it supposedly makes a grunting noise. (At our Nest it's hard to tell if it's one of us getting out of the chair or the steam escaping from the vents between the biscuits!)
Buckle: (This is not a term referring to what you have to loosen after you've eaten the cobbler) Buckles are generally made with blueberries. The streusel topping on this moist fruit cake make the top look buckled. A buckle is similar to a coffee cake like dessert.
Cobbler: Baked fruit topped with a batter or biscuit crust. The topping is often "cobbled" like the lovely English roads of yore (Ha! I found a way to use that word in a post!)...rather than smooth. The topping is generally dropped or spooned in small clumps over the fruit…allowing the filling to peek through.
How To Make
Cobbler Topping
In a small bowl add 1 3/4 cup all-purpose flour, 4 teaspoons baking powder, and 6 Tablespoons sugar. Blend with a wire whisk.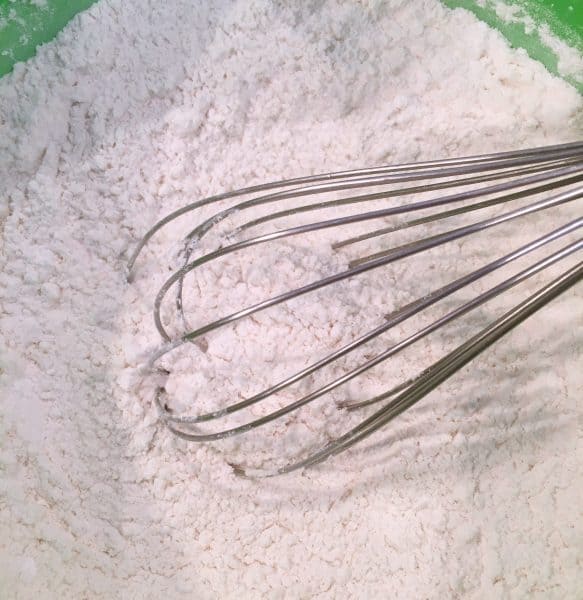 Add 5 Tablespoons cold butter, cut into small cubes. Cut butter into flour using a pastry blender. I'm sharing my favorite one below in the recipe card. I'm truly in L.O.V.E. with this new pastry blender!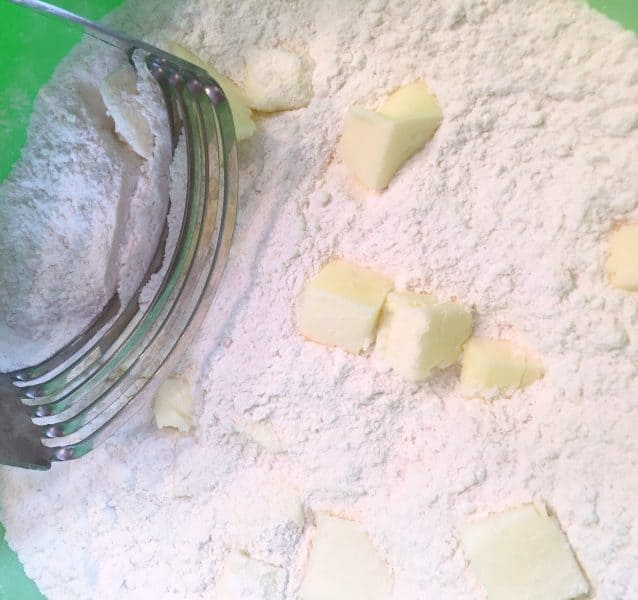 Cut in the butter until you have small pea size pieces.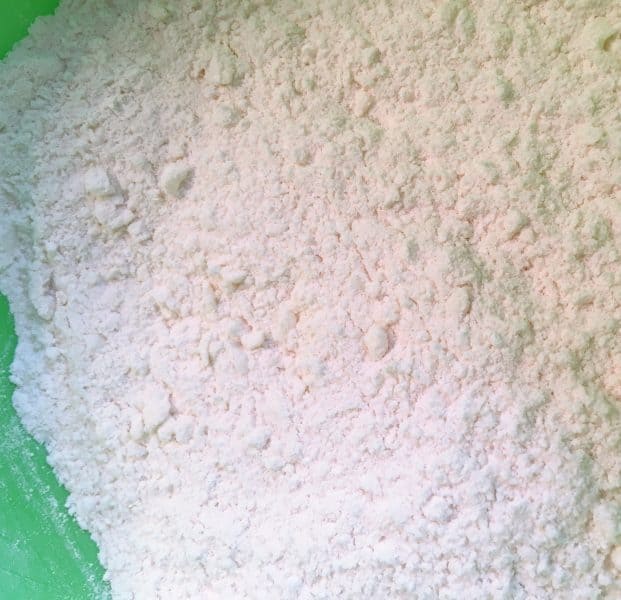 Make a well in the center of the flour mixture.
TIP: This works well for all biscuit type dough.
Add one cup of milk into the center of the well.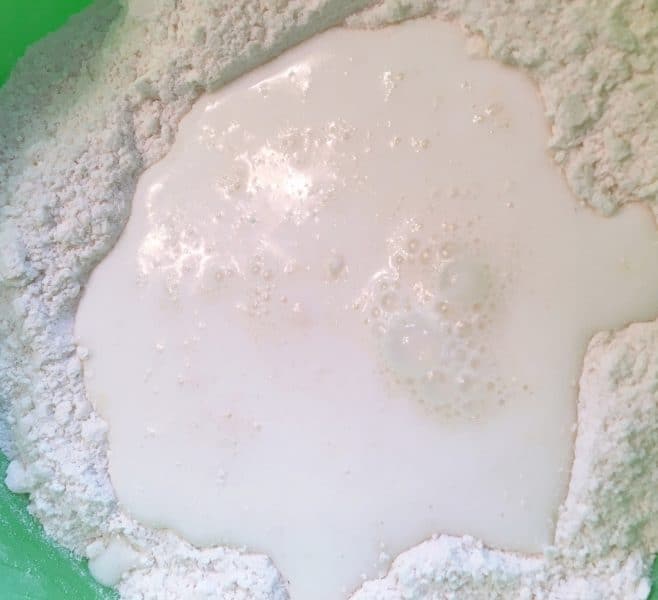 Using a spatula or spoon, gently mix the dough together just until combined. Dough will be thick, very wet, and sticky! You may need to add a splash more milk if too dry. Cover and let dough rest for 10 minutes. This will allow the baking powder to activate.
DO NOT OVER MIX THE DOUGH! The biscuits with be more tender if you don't over handle the dough.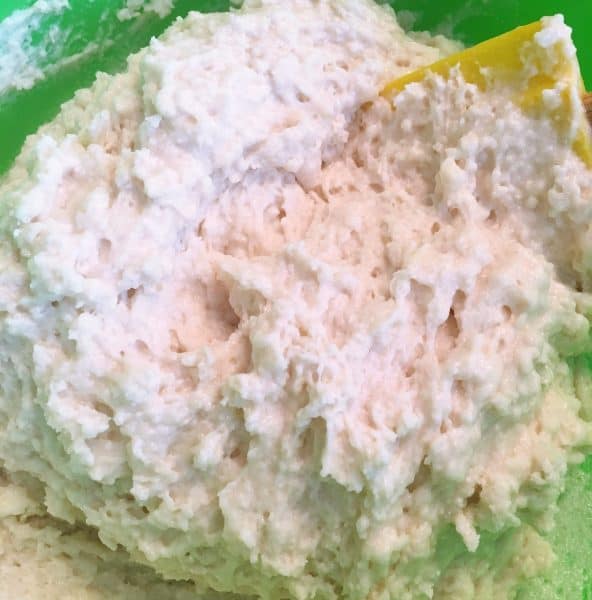 While the dough is resting, preheat the oven to 375°.
Spoon the batter over the berry filling, leaving only a few small holes for the berries to peek through.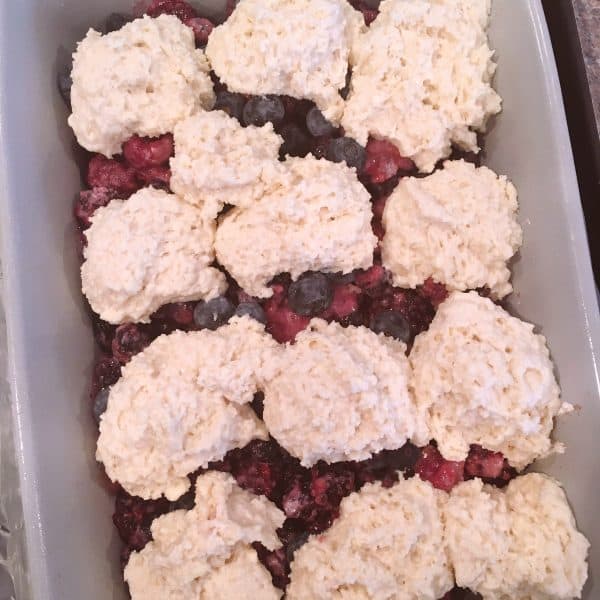 Mix together 2 Tablespoons sugar with 1/2 tsp cinnamon. This will be a little more cinnamon sugar then you'll need…but you can make the kids a few slices of cinnamon sugar toast! Two desserts for the price of one! lol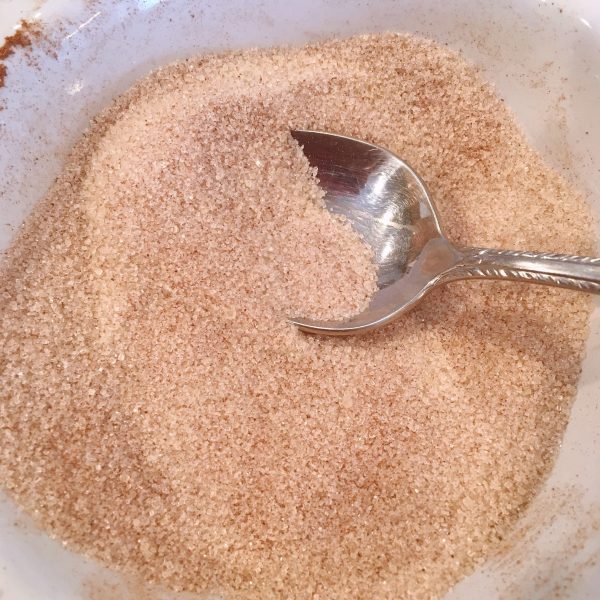 Sprinkle the cinnamon sugar on top of the cobbler dough.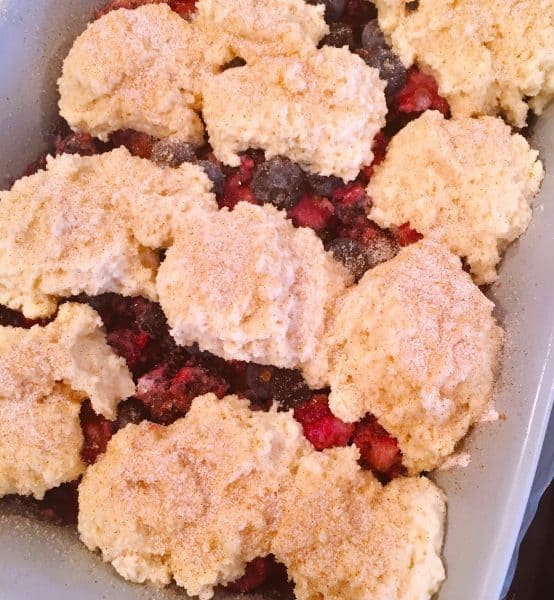 Baking Cobbler
Place cobbler in preheat oven. Bake for 20-25 minutes, or until the top is golden brown.
Look at those big fluffy biscuits on top of that fruit filling! Crispy, tender, and perfect! It truly resembles an old English cobblestone street! Thankfully the only thing that will be driving across the top of this cobble stone top is a spoon scooping it up to eat!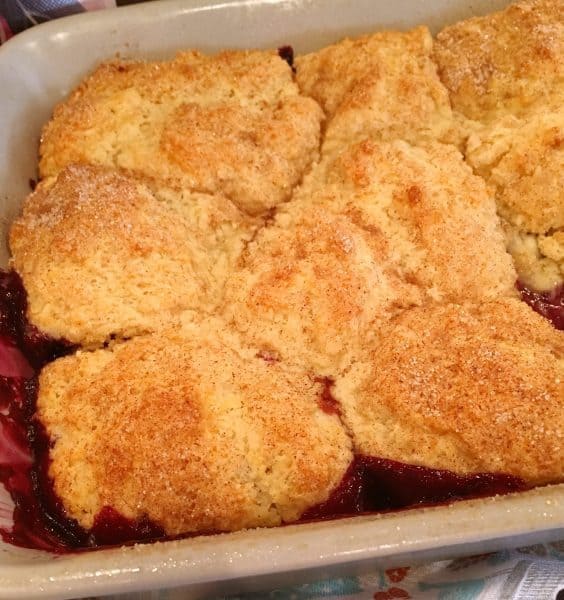 Let cool until just warm before serving.
It's great on its own…but toss in a side scoop of creamy vanilla ice cream…and it's HEAVENLY! Choirs of angels sing…the neighbors dogs bark…you get the picture!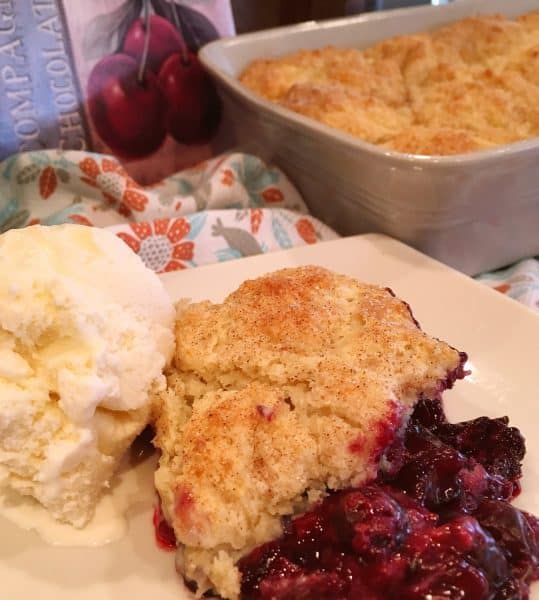 Let's get up close and personal with that filling!
Big juicy berries in a thick slightly sweet filling with hints of cinnamon! Combined with those tender biscuits…it's a great dessert combo!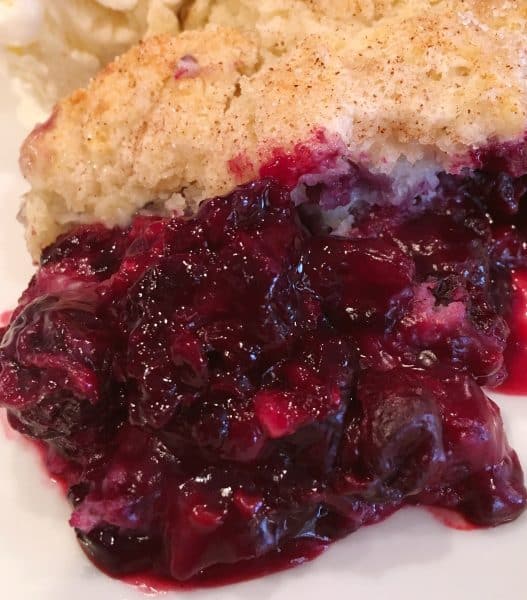 Need a great finish?!! Drizzle a little raspberry syrup over the ice cream and plate to just tie it all together!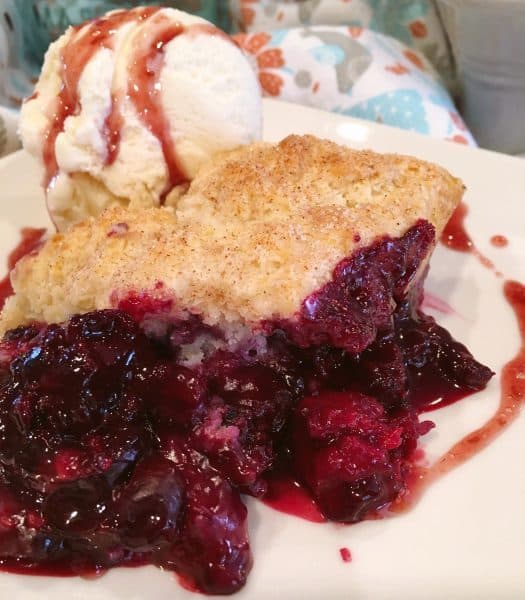 Delicious Dessert Recipes we love at this Nest
There ya have it my friends! The perfect Ultimate Berry Cobbler!
Enjoy!
Remember you can always find my favorite recipes on Facebook, Pinterest, and Instagram! I'd love to have you join me!
Happy Nesting!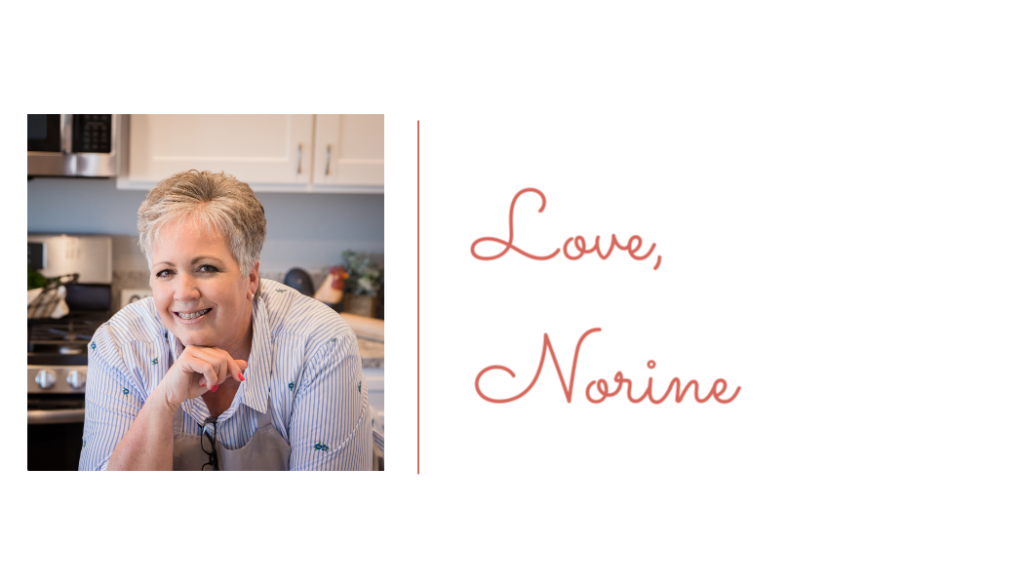 Yield: 8 servings
Ultimate Berry Cobbler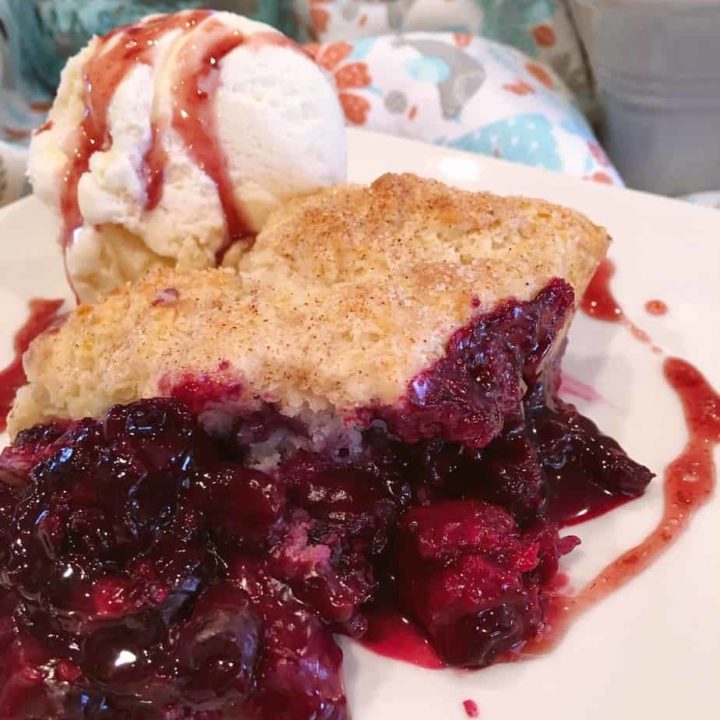 Big plump juicy berries in a slightly sweet filling with hints of cinnamon and vanilla topped with tender flaky biscuits sprinkled with cinnamon sugar and baked until golden brown.
Ingredients
4 cups fresh or frozen, thawed triple berry blend
1 teaspoon vanilla
1/2 cup granulated sugar
1/2 cup flour
1 Tablespoon corn starch
1/4 teaspoon cinnamon
1 3/4 Cups All-purpose flour
4 teaspoons baking powder
6 Tablespoons sugar
5 Tablespoons cold butter, cut into cubes
1 Cup Milk
2 Tablespoons sugar
1 teaspoon cinnamon
Instructions
1) Lightly grease an 8 x 10 inch baking dish.
2) In a large bowl, add berries, flour, sugar, corn starch, cinnamon, and vanilla. Mix gently and place in bottom of prepared baking dish.
3) Set aside
4) Preheat oven to 375°
5) In a medium bowl, stir together 1 3/4 cups flour, baking powder, and 6 Tablespoons sugar. Add in 5 Tablespoons of cold butter cut into cubes.
6) Cut in with pastry blender until pea size pieces form. Make a well in the center for the flour mixture.
7) Add 1 cup milk to center of well, quickly stir in the milk with a spatula until batter is just moistened. You should have a very thick batter, or wet dough. You may need to add a splash more milk if too dry. Cover, and let batter rest for 10 minutes.
8) Spoon batter over berry filling, leaving only a few small holes for the filling to peek through.
9) Mix cinnamon and sugar together. Sprinkle over top.
10) Bake for 20 -25 minutes in preheated oven, or until the top is golden brown. Let cool until jut warm before serving.
Notes
This can be stored in the refrigerator for 2 days.
Recommended Products
As an Amazon Associate and member of other affiliate programs, I earn from qualifying purchases.
Nutrition Information:
Yield:
8 servings
Serving Size:
1 cup
Amount Per Serving:
Calories:

344
Total Fat:

9g
Saturated Fat:

5g
Trans Fat:

0g
Unsaturated Fat:

3g
Cholesterol:

22mg
Sodium:

319mg
Carbohydrates:

63g
Fiber:

5g
Sugar:

28g
Protein:

6g
Norine's Nest in no way provides any warranty, express or implied, towards the content of recipes in this website. It is the reader's responsibility to determine the value and quality of any recipe or instructions provided for food preparation and to determine the nutritional value, if any, and safety of the preparation instructions.