Fried Eggplant, a rich savory meat sauce, and loads of cheese combine to make this incredible Eggplant Parmigiana! An Italian dish that is a favorite at this Nest!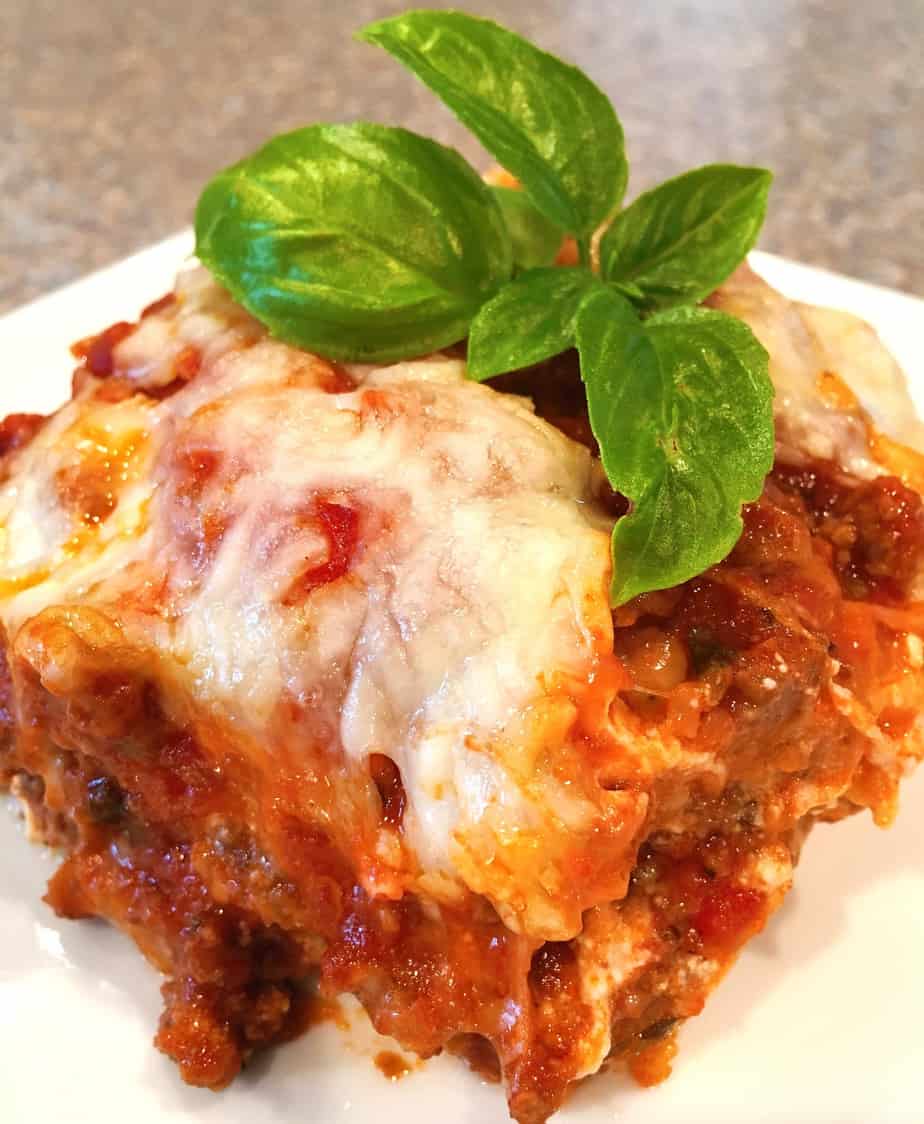 Warning… meatless dishes…yeah…not so much in this house! This is my very own interpretation of Eggplant Parmigiana.
*As an Amazon Associate I earn from qualifying purchases. This post may contain affiliate links, which means that I may make a commission from any purchases at no additional cost to you. Thank you for your support!
I realize that generally this dish is meatless. I make mine with a meat sauce BUT…you can make it meatless! (I will always let you know what you can "tweek" that won't ruin a recipe I'm sharing. I'm also going to tell you how you can make it easier than the way I make it.)
This is not a hard recipe! It is a little more involved and time consuming but, it is SO worth it! My Eggplant Parmigiana is like no other…even if you don't like eggplant…you'll love this!
How To Make Eggplant Parmigiana
Let's start with the sauce. You are going to brown one pound of ground beef. I added a little dried onion flake because I didn't have a fresh onion. You can do either! There's a big hit of minced garlic in there too!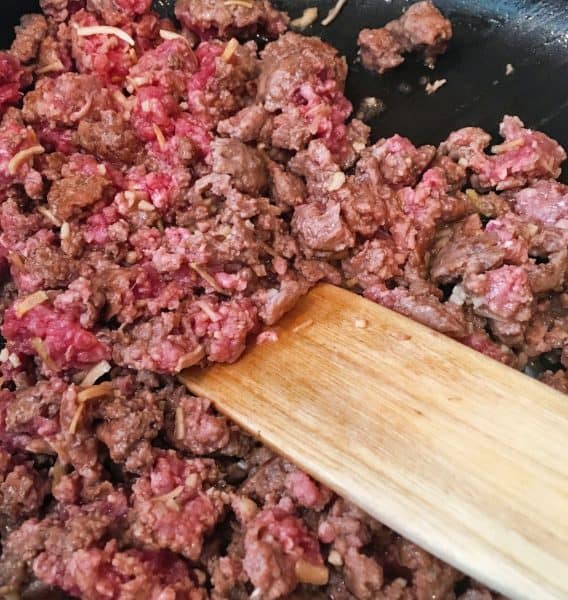 Next, add diced tomatoes, tomato paste, tomato sauce (gotta love those cans of tomatoes…keep'em coming!), water, sugar, spices and garlic.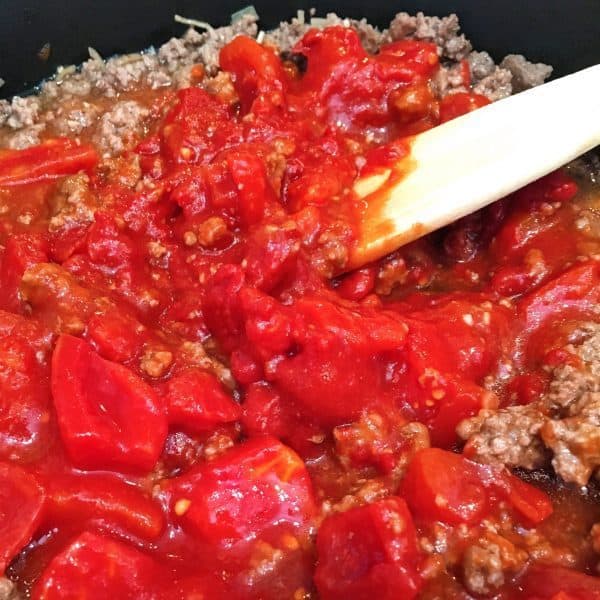 Mix that all together, cover and let simmer about 45 minutes.
TIP: If you don't want to hassle with making your own sauce crack open a bottle of store bought sauce and mix it together with your meat and let it simmer for about 20 minutes OR don't add meat and just have a couple of bottles of your favorite sauce ready to go! (I'm easy like that!)
How To Prepare Eggplant for Eggplant Parmigiana
Let's get started on the eggplant. I love eggplant! I get so excited when I start seeing rich deep purple in the markets this time of year! I think it's one of those veggies people are scared of but, don't be! They are our friends!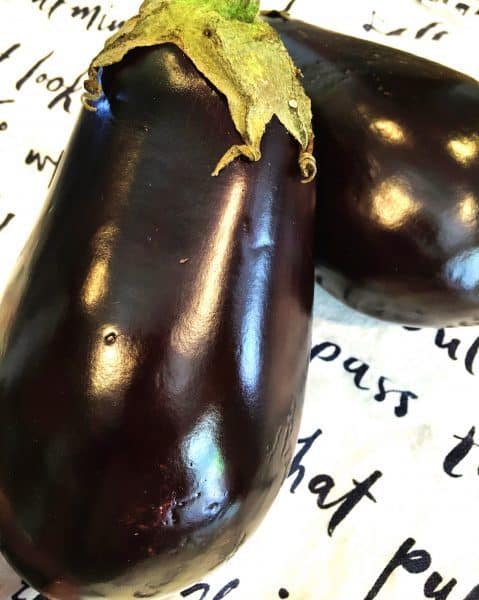 Using a knife to trim the purple skin off the eggplant! Why? Because I don't like it and it's bitter! (This is all about me right? lol)
I realize a lot of chef's leave it on for the color and I'm sure it has a million nutrients in it but, I don't like it. So…off it goes! (It's not like this a low fat dish…it's a cardiologist nightmare!)
I'm also not a fan of "sweating" the eggplant. (Frankly, I'm a little sick of all the sweating going on around here right now! lol) That's just one step we can toss aside. Now, slice it into 1/4 inch slices like so…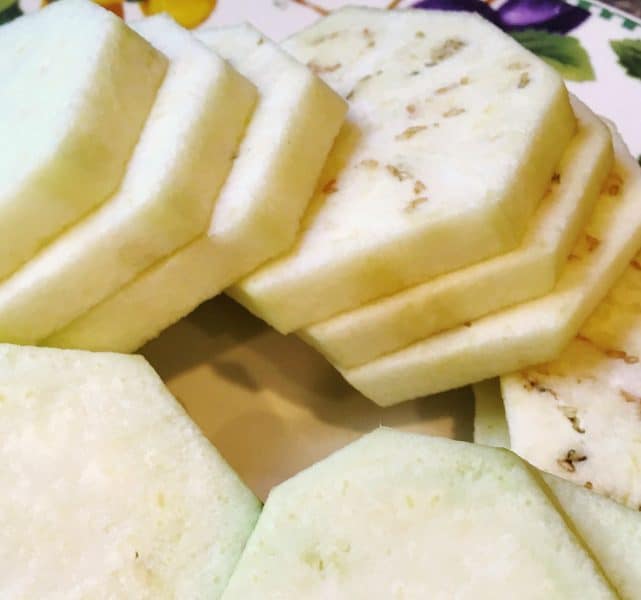 Frying Eggplant
Next place a big fry skillet on the stove top and get that heating up with some oil. (Where does a fry pan with hot oil go? It goes on the back of the range so that little hands won't reach up and grab it causing a horrible horrific accident! Please…with sugar on top!)
Crack eggs and place them into a shallow pie plate. Whip them up and add a tablespoon of water and whip again.
Place your seasoned bread crumbs in another pie plate or shallow dish. Dip the eggplant into the egg wash and then into the crumbs. Making sure both sides are well coated.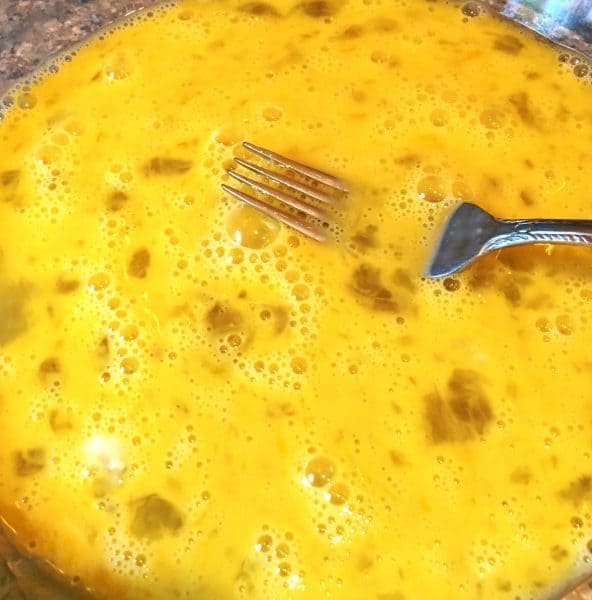 Next carefully place the breaded eggplant into the oil in your large fry pan.
Watch them carefully…(they do tricks…not really), they will cook fairly quickly and should be tender when poked with a fork. Turn them as they begin to turn a golden brown. Once done cooking, place them on a paper towel lined plate so that the excess oil can drain off. Aren't they beautiful?!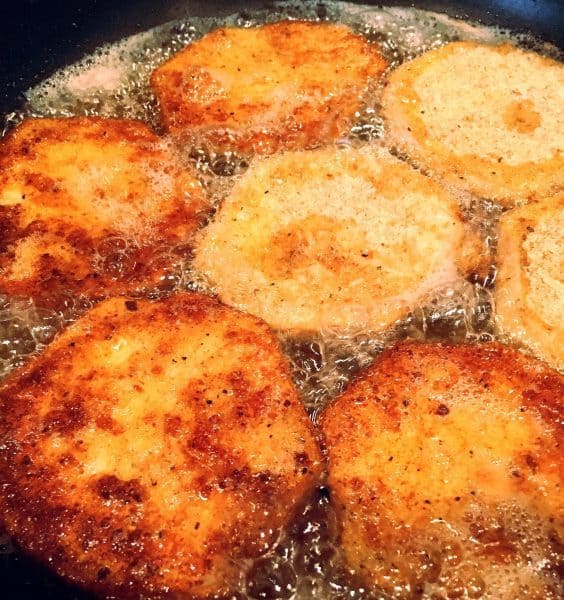 The meat sauce should be done by now and the house should smell like little Italy! Your welcome! (hee, hee)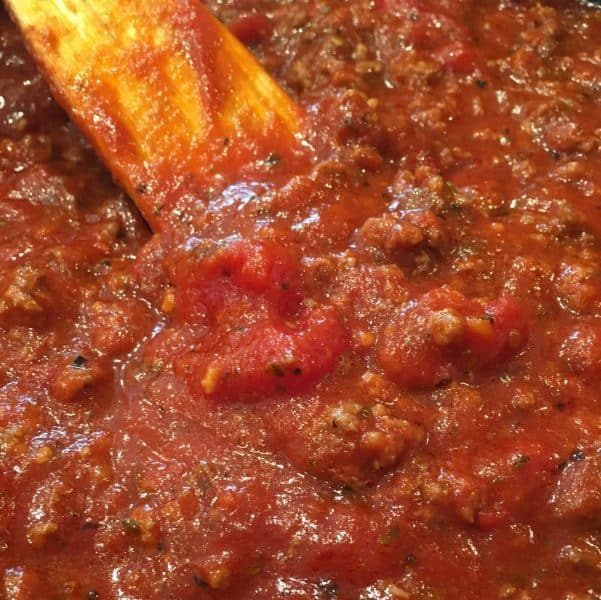 Layering Eggplant Parmigiana
Time to bring all the elements together.
TIP: Have the grated mozzarella cheese, grated Parmesan cheese, and your Ricotta cheese handy dandy and ready to go!
Begin with a layer of your breaded eggplant in the bottom of a casserole dish. You can cut some of the pieces up to fit into the bare spots. (A stray piece may end up in your mouth! Whatever works!)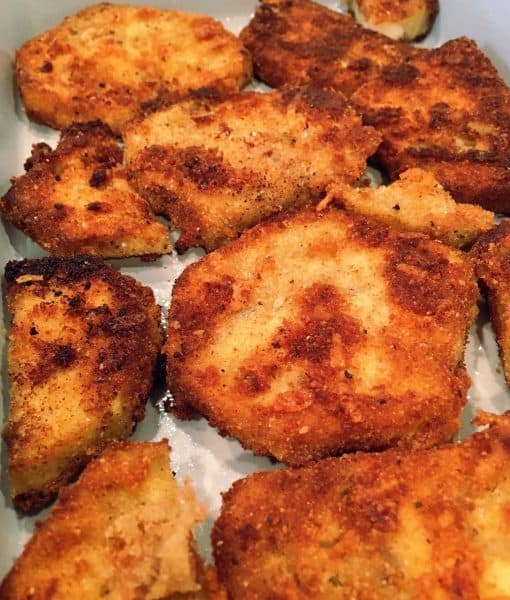 Drop the Ricotta cheese by the spoonful on top of the eggplant. Sprinkle with Parmesan and a layer of mozzarella cheese.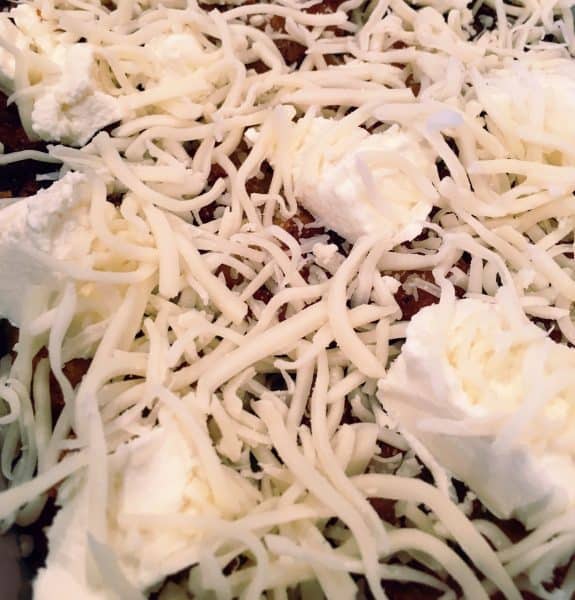 Next… spoon a layer of sauce on top of the cheese's. Repeat the entire process again. Layer of Eggplant, then ricotta, then Parmesan, mozzarella, and then sauce. Finish with another sprinkling of mozzarella. (Yes, I realize there is no picture of that final step…I got excited about eating it! Pictures were not on my mind…sorry! Epic fail!)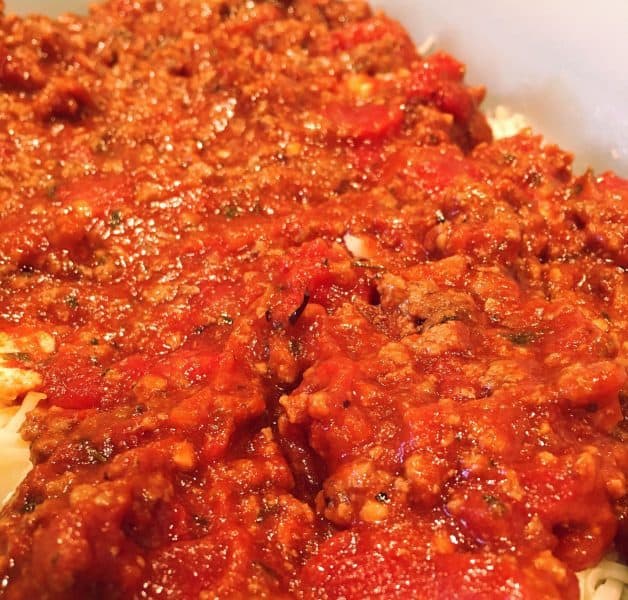 Pop it into the oven and bake for 30-45 minutes at 350 degrees until the cheese is bubbly and melted!
TIP: If you want your cheese a little brown place it under the broiler for a few minutes but, be sure to watch it!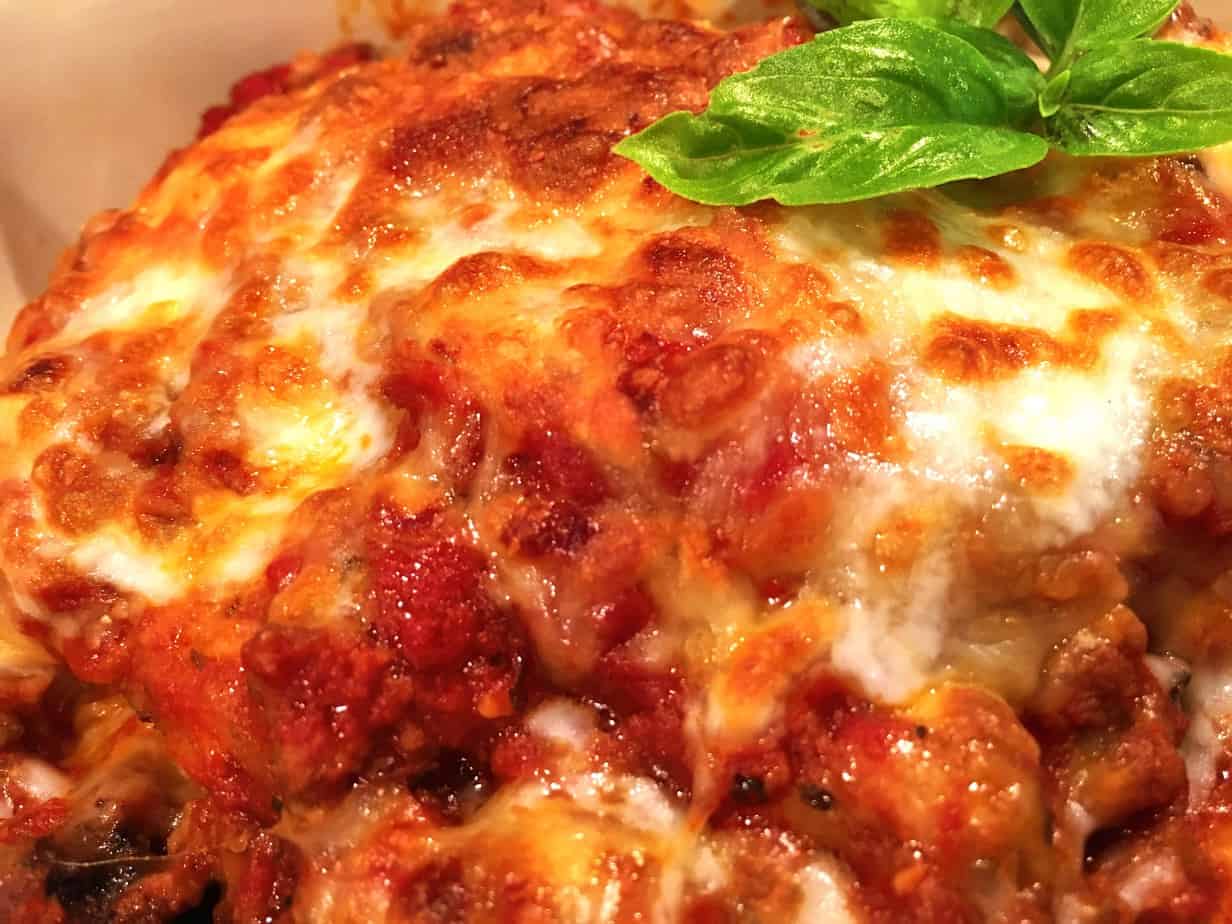 I like to cut mine into squares. It makes serving easier.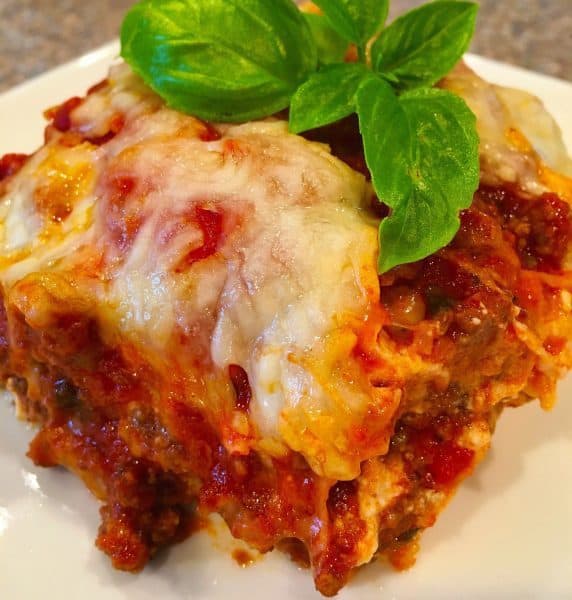 The layers of breaded eggplant with the cheese and meat sauce is just out of this world!
This is not something that is on the "weekly" menu planner, for calorie and cost sake, but it is straight up comfort food full of rich robust flavor.
The eggplant is never bitter and it is never watery. It's just down right delicious! It's one of those "special" dishes that brings family together! I serve mine with cheesy garlic bread (We are already off the cheese scale here so we might as well keep on going!) and a nice healthy green salad to wash all the guilt down with!
If you like this Italian dish you may like these other recipes
The printable recipe is down below for ya'll. I hope you love this dish as much as we do. Is it possible not to love? (wink, wink) Thanks for popping by!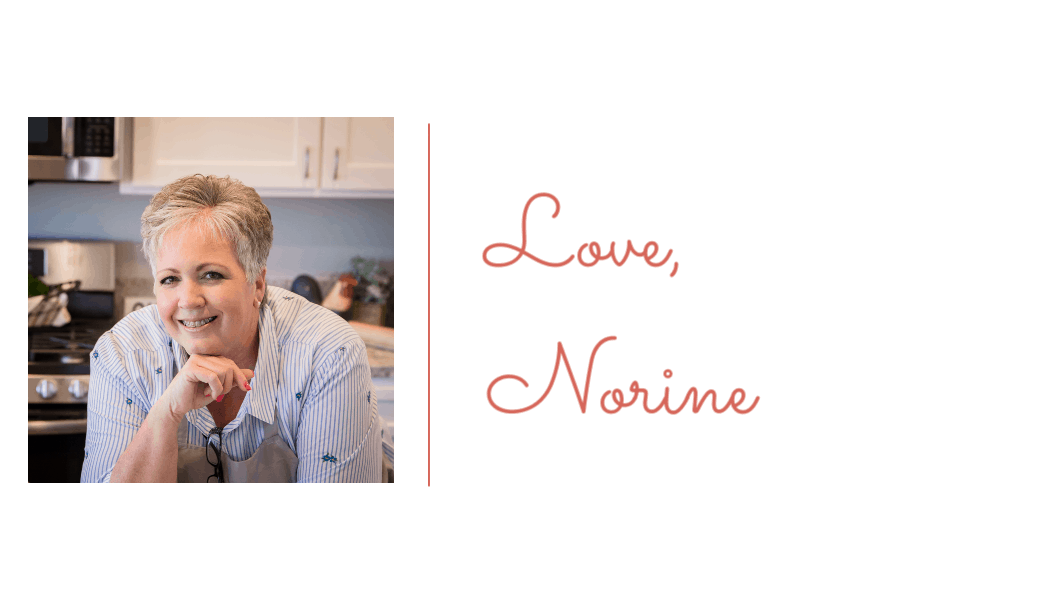 Yield: 8 servings
Eggplant Parmigiana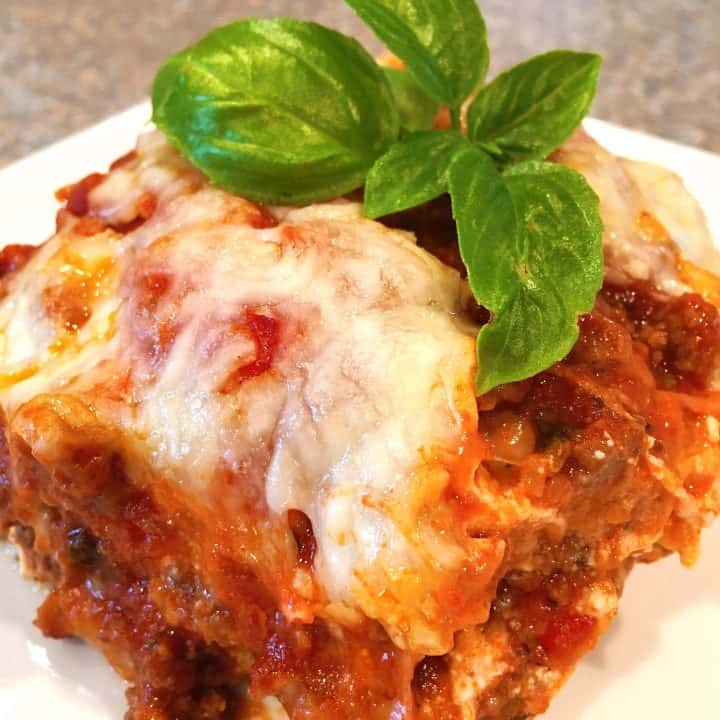 This is an amazing flavorful Eggplant Parmigiana with a rich robust meat sauce, Ricotta cheese, Parmesan Cheese, and Mozzarella Cheese!
Total Time
1 hour
45 minutes
Ingredients
Sauce
1 lb. ground beef
1/2 cup diced onion or 2 tablespoons of dried onion flakes
2 cloves minced garlic
1- 14.5 oz can diced tomatoes
1- 8 oz. can tomato sauce
1- 6 oz. can tomato paste
1/2 cup water
1/2 Tablespoon sugar
1 teaspoon each of basil, oregano, and crushed rosemary
1 Tablespoon dried or fresh parsley
1/2 tsp garlic powder
1/4 teaspoon red chili pepper flakes
1/4 teaspoon black pepper
Eggplant
2 egg plants,cut off top and bottom, peeled and sliced
2 large eggs
3 Tablespoons water
1 1/2 cup bread crumbs
1/2 teaspoon garlic salt
1/4 teaspoon coarse black pepper
1/3 cup grated Parmesan cheese
Oil for frying
Additional Toppings
2 cups shredded mozzarella cheese
1 cup shredded Parmesan Cheese
1 cup Ricotta Cheese
Instructions
Sauce
In a large deep skillet brown the grown beef with the onions and minced cloves of garlic. Drain off any excess fat. Add all the remaining ingredients and simmer, covered, for 45 minutes, stirring periodically.
Eggplant
Heat a large skillet over medium high heat with about 1/2 inch of vegetable oil. (Be sure to place pan on the back burner!)
Peel and slice eggplant
In a shallow dish or pie plate, crack the eggs and whisk till fluffy. Add in 3 Tablespoons of water and whisk again.
In another shallow dish mix bread crumbs, Parmesan cheese, garlic salt, and pepper.
Dip eggplant into the egg wash and then dip into the bread crumbs being sure all sides are coated.
Place sliced, coated eggplant into the frying pan. Cook until light golden brown. Flip and cook on the other side. Once cooked, remove and place on dish covered with a paper towel to drain off any excess oil.
Cook remaining eggplant till it is all cooked.
Bringing it all together
Spray a casserole dish with Pam non-stick cooking spray. Starting on the bottom, place a layer of the breaded fried eggplant. You can cut a few up to fill in the empty spots. Place a large tablespoon of ricotta cheese on each large piece of eggplant. Then sprinkle with a layer of Parmesan cheese and a layer of Mozzarella Cheese. Next spoon a layer of meat sauce on top. Repeat the layers again...eggplant, ricotta, Parmesan, Mozzarella and Meat Sauce. Top with a sprinkling of mozzarella and place in a 350 degree oven for 35-40 minutes until cheese and sauce are bubbling. You can put the dish in the broiler for 3-5 minutes to brown the cheese if desired. Just keep a close eye on it. Cut into squares and serve.
Notes
This is a very flexible recipe. If you don't want to make a meat sauce you can just use 2 jars of your favorite store bought sauce or make the sauce above without using the meat. You could also brown the meat and add canned sauce to cut down on time. You also can leave out the Ricotta Cheese if you don't like it.
Recommended Products
As an Amazon Associate and member of other affiliate programs, I earn from qualifying purchases.
Nutrition Information:
Yield:
8
Serving Size:
1 sqaure
Amount Per Serving:
Calories:

499
Total Fat:

26g
Saturated Fat:

11g
Trans Fat:

1g
Unsaturated Fat:

12g
Cholesterol:

178mg
Sodium:

906mg
Carbohydrates:

30g
Fiber:

4g
Sugar:

8g
Protein:

37g