Brioche Cinnamon Bread is dipped in an egg batter and fried then topped off with freshly sautéed apples in caramel sauce. It's how every day should begin!
There are so many wonderful things to love about this time of year! The music, the beautifully decorated tree's, cards from friends and family, bright colorful gifts, and…of course…the FOOD!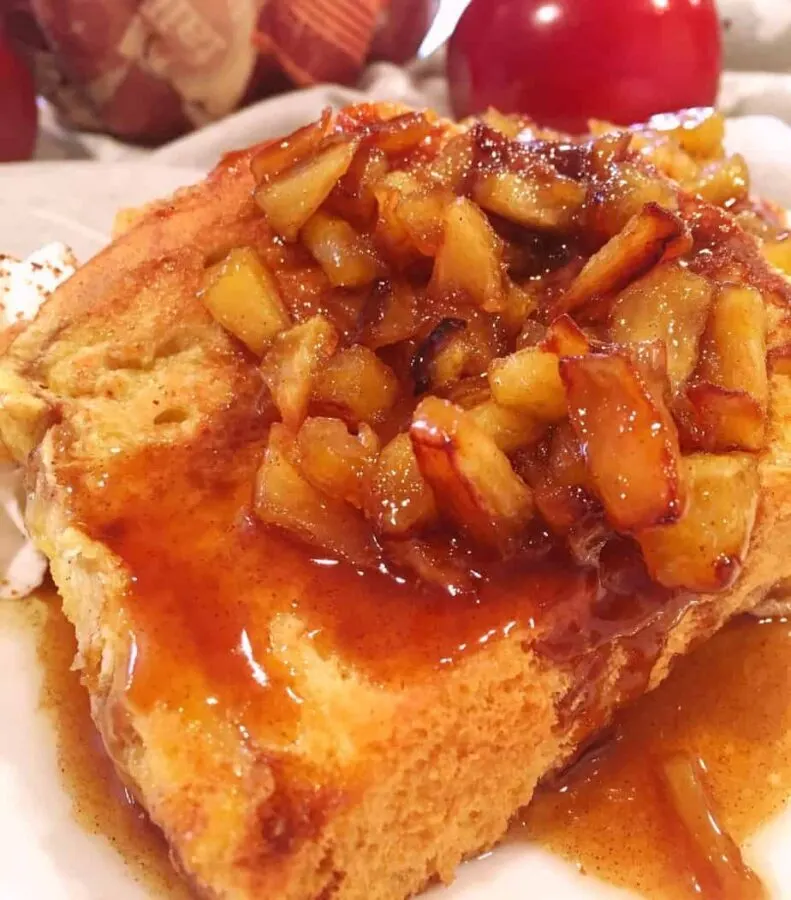 Every meal during this festive season is filled with specialty dishes… and family favorites! So why should breakfast be any exception? It's the most important meal of the day! (Pretty sure whoever decided that…wasn't thinking of this decadent calorie laden dish! On the other hand…maybe they were!)
With that in mind…when I stumbled upon a yummy looking loaf of Cinnamon Apple Brioche Bread at my local "Walmart" I decided to snap it up and create this Caramel Apple Brioche French Toast topped off with freshly fried apples in a caramel sauce!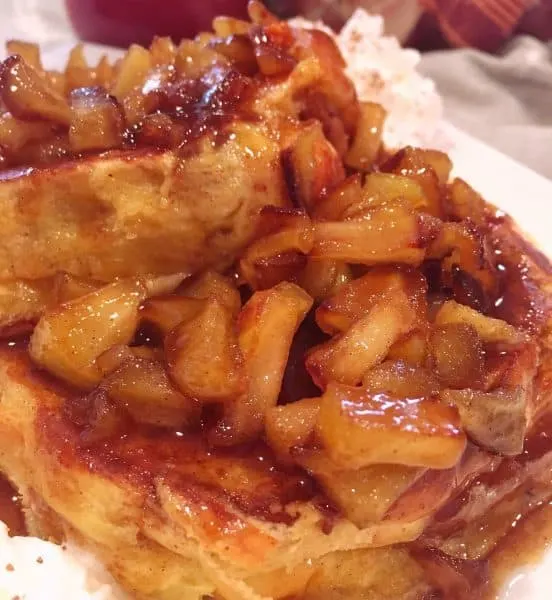 From the first bite to the last the "Mister" at this Nest kept saying "This is as good as any dish you'd get at a 5-star restaurant!" (How he'd know this escapes me since we don't have a lot of 5 star dinning places here in the country…as in NONE!) I just soaked in the compliments as I munched on my own plate of this delicious dish!
Please don't let this recipe scare you! It's VERY simple! It only looks complex!
How To Make Caramel Apple Brioche French Toast
This dish starts with the topping by peeling, slicing, and chopping 2 – 3 Large Granny Smith Apples.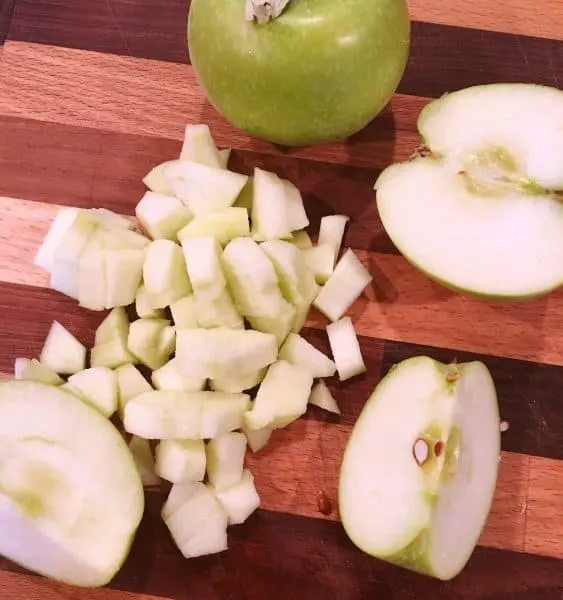 In a large skillet, over medium low heat, add 4 Tablespoons of butter. Melt butter. Add chopped apples.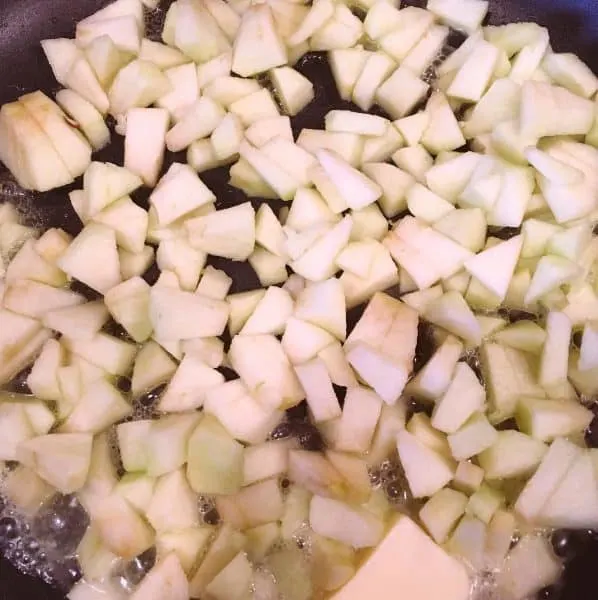 Sauté until tender and slightly golden brown.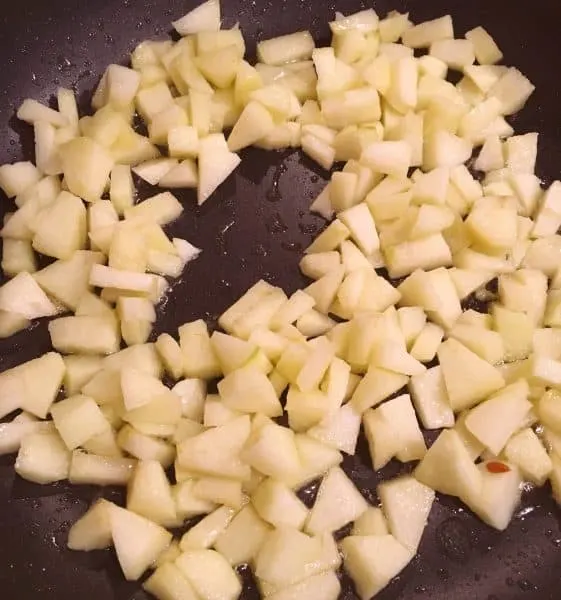 Add 4 more Tablespoons of butter, and 1/3 cup brown sugar.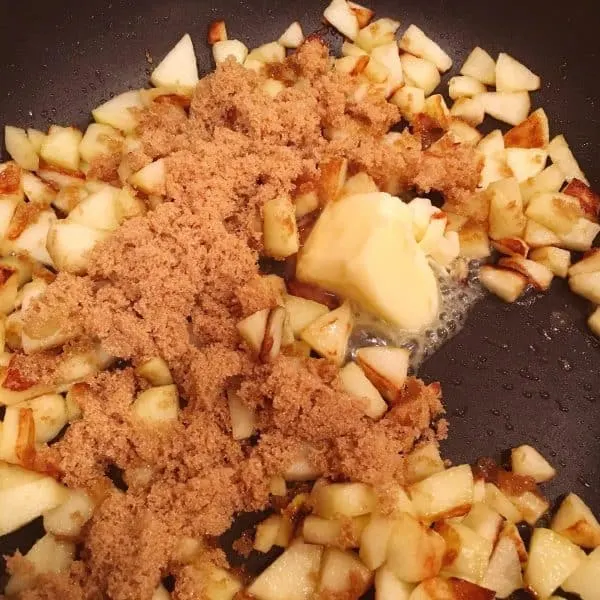 Stir constantly, over low heat, until sugar has dissolved. Add 1/4 teaspoon cinnamon. Stir until well combined.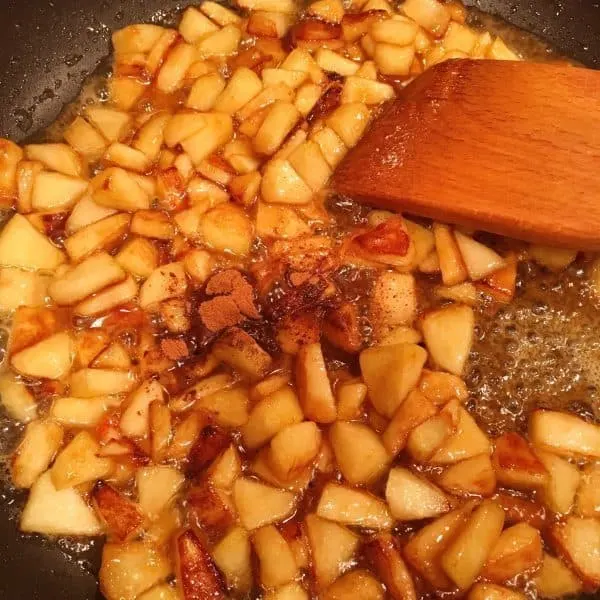 Continue to cook over low heat until sauce thickens to desired consistency. Turn off heat and allow apples to rest! (They've just had a hard workout!)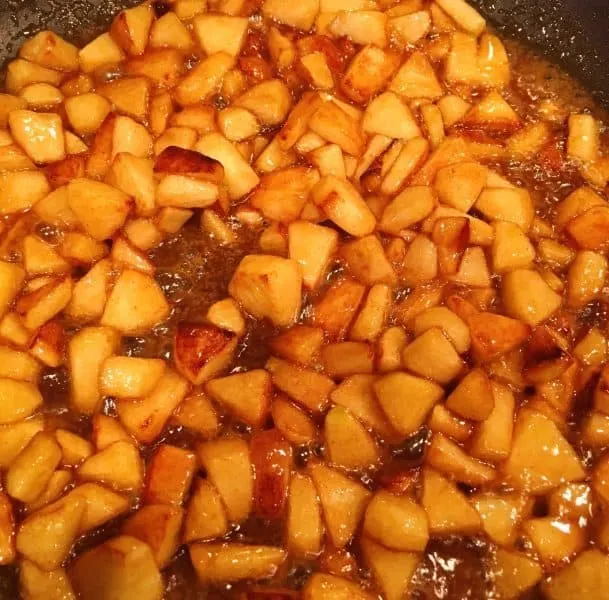 Time for the French Toast portion of this dish!
Begin with a loaf of Brioche Bread. Like I mentioned, I found mine at Walmart in their bakery section.
What is Brioche? It's a golden, soft, and billowy sweet French Pastry! It has all the same ingredients found in regular bread…only with LOTS of eggs and butter! (Come to Mamma!)
It makes the most luxurious French Toast, which is why I'm using it in this Holiday Breakfast Recipe!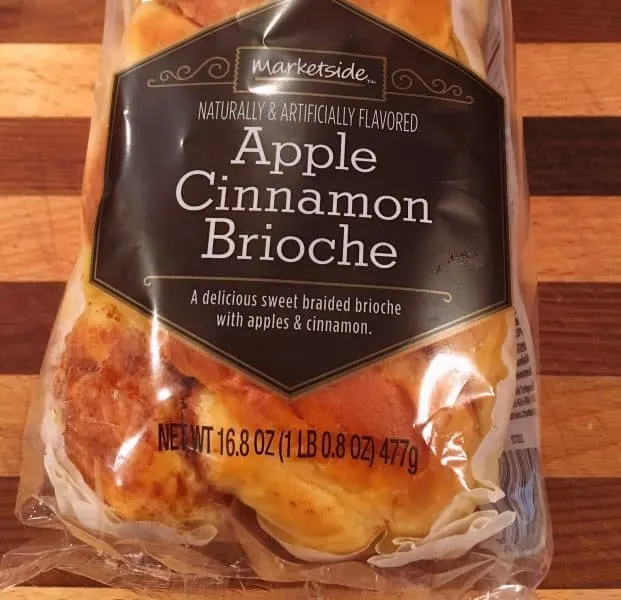 Remove the baking wrapper. (If you've followed me for any amount of time…you know I thrive on stating the obvious!)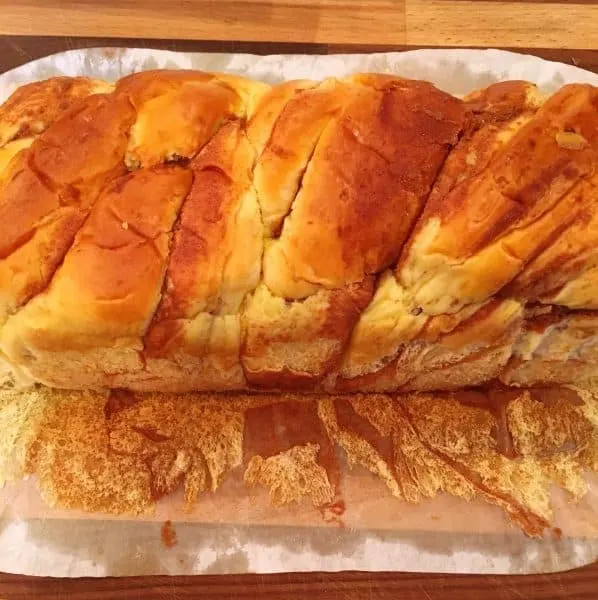 Slice into 1 inch thick slices.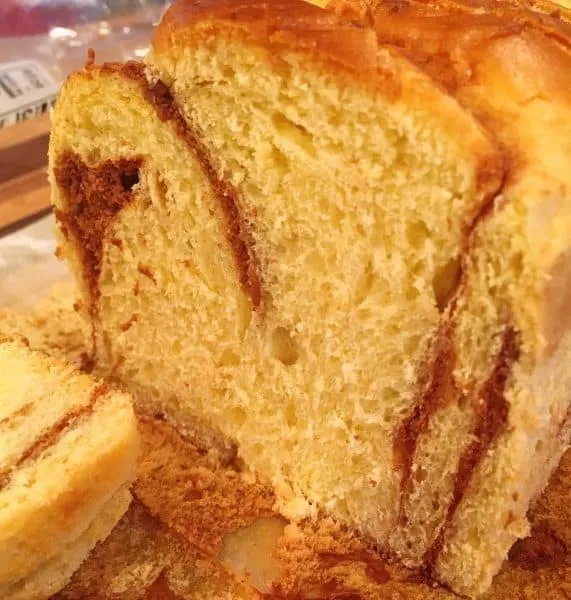 In a shallow dish, add three large eggs! I suggest cracking them first. Again…just a suggestion! It does make for a tastier dish!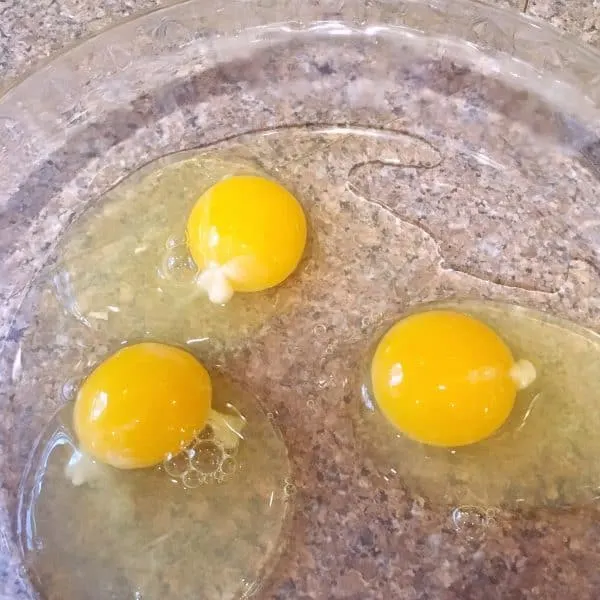 Add 1/4 cup of sugar plus 2 Tablespoons. Add 1/2 teaspoon of cinnamon, 1/2 teaspoon of vanilla, and a pinch of salt.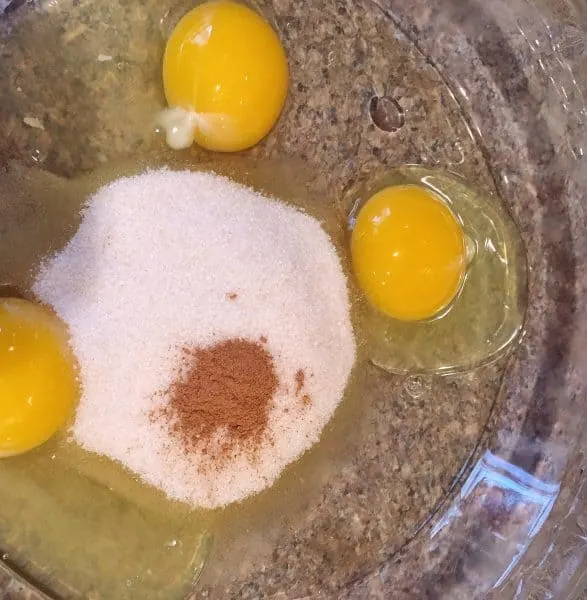 Mix well with a wire whisk!
TIP: If you mix the sugar and cinnamon with the eggs first BEFORE adding the milk or cream, you will have a smooth batter free of cinnamon chunks! Works every time!
I know…YOU WANT THAT WHISK! I get asked all the time, where I got my whisk! This is a Swedish Flat Whisk and truly one of my favorite kitchen tools! You can find one by clicking HERE! Hurry…they sell out fast!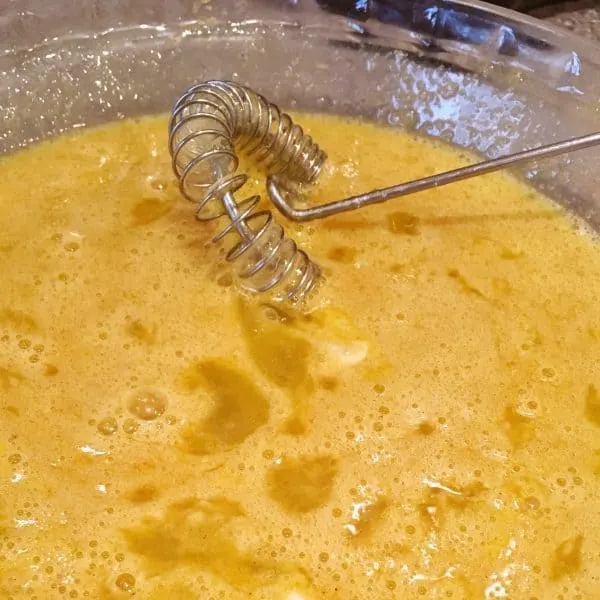 Add 1/2 cup of Heavy Whipping Cream. If you don't want to add the Heavy Whipping Cream… I'll cry! No! You can add whole milk, or you could even use Almond Milk! I leave it to you! I love the thicker batter that the Heavy Whipping Cream creates.
Whisk until it is completely incorporated.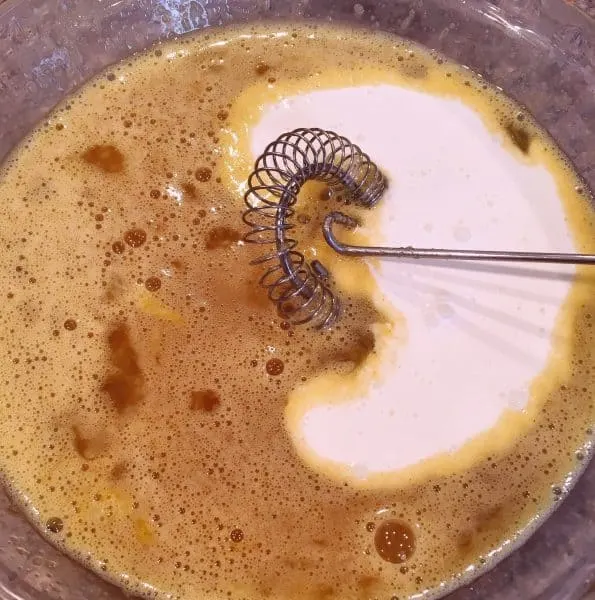 Heat your griddle. Spray with non-stick cooking spray or brush with butter.
Dip one slice of brioche bread into the batter, and quickly turn it over to coat the other side.
TIP: DO NOT LET THIS BREAD SOAK! Because it is a"pastry" bread rather than a dense bread, it will fall apart if left in the batter! Pretend you're giving your 3-year-old a bath…in and out! ("Mommy I got hit with the sprinkler!" Awesome! Bath Time is done for tonight!)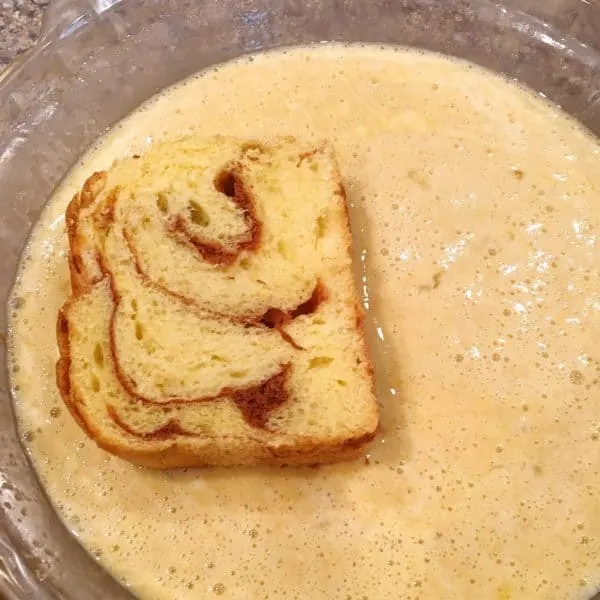 Place on hot griddle! Cook for 2–3 minutes per side, or until batter has turned golden brown.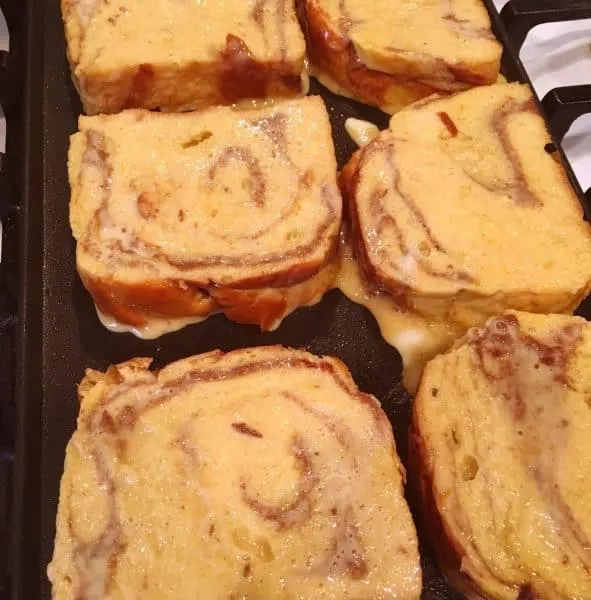 Carefully flip bread over and grill other side until golden brown. See how golden crispy brown that Brioche French Toast is?!!! It truly is luxurious!
Reheat apples and caramel sauce.
NOTE: If it has thickened…add a little butter.
Spoon apples and caramel sauce over that beautiful Brioche French Toast. Serve with dollops of whipped cream sprinkled with nutmeg!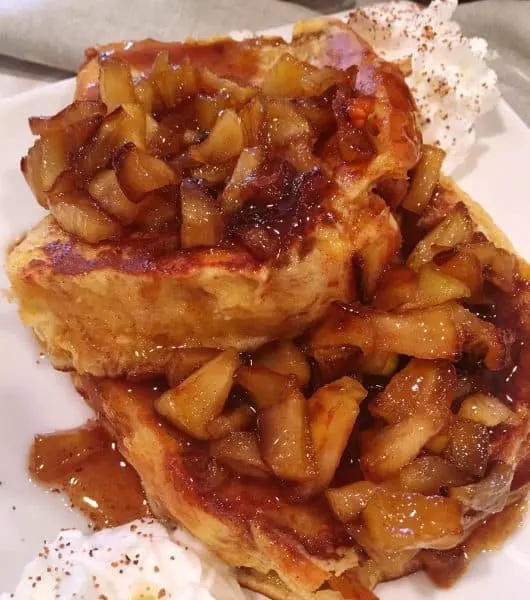 The Mister wants you to know…it's crucial that you snag a little bit of whip cream on your fork before spearing a piece of that French Toast drenched in Caramel Apples! It's important every bite be spectacular and FIVE STAR! Lol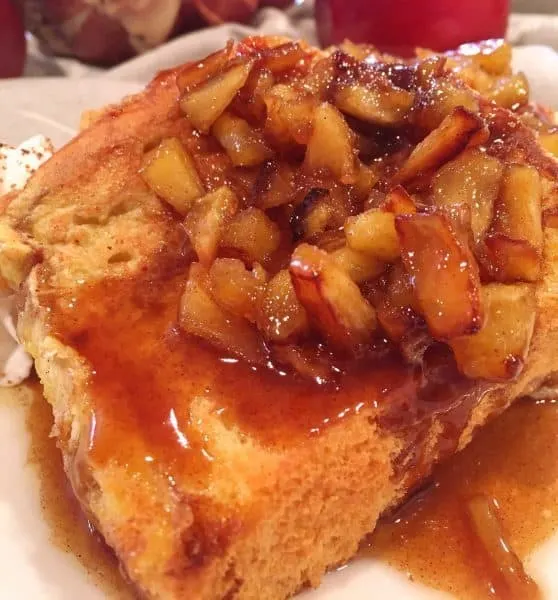 There you have it my friends! My version of the perfect Fall Holiday Breakfast!
It's such a taste treat and is so easy to make for your family and friends! It's also a great Brunch recipe served with a beautiful Quiché!
Other Favorite Breakfast Recipes
The Printable Recipe is below! Remember I'd love to have you join me on Facebook, Twitter, Instagram, and Pinterest!
I hope you all have a wonderful Thanksgiving surrounded by those you love! I'm looking forward to another wonderful Turkey Day! Remember my motto…
Stuff till you puff!
Happy Nesting!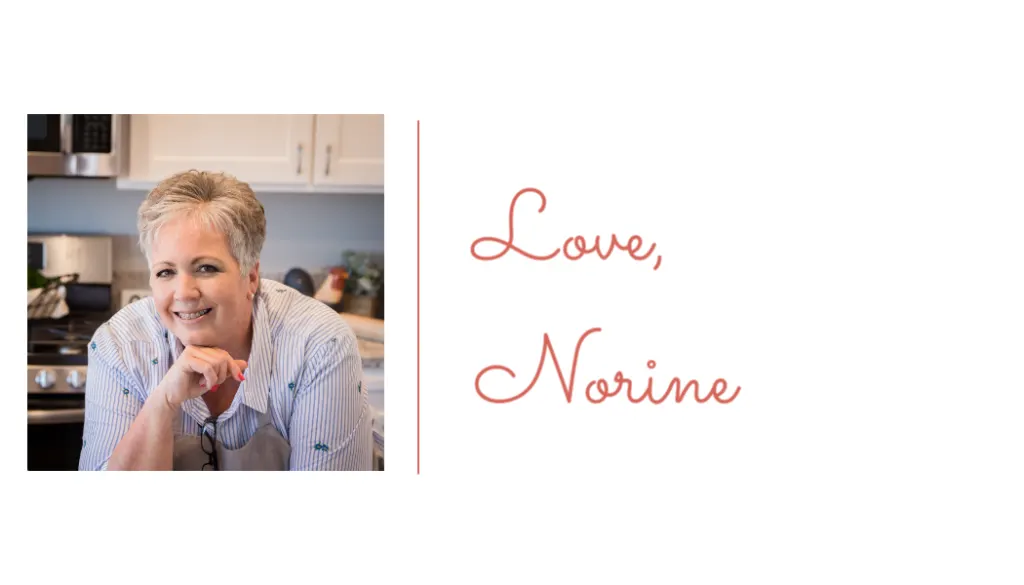 Yield: 4 servings
Caramel Apple Brioche French Toast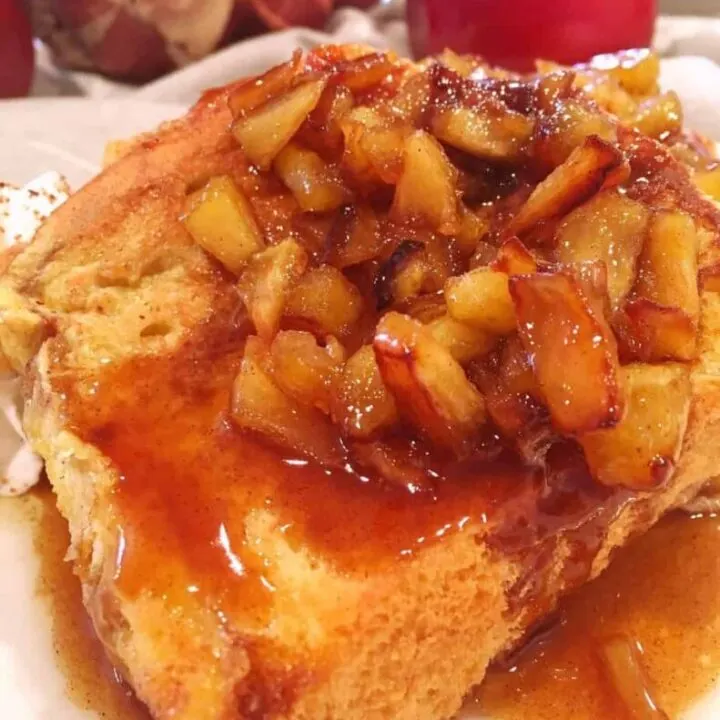 Thick slices of Apple Cinnamon Brioche Bread are dipped in a creamy batter and grilled until golden brown and topped with a Fresh Apple Caramel Sauce.
Ingredients
Caramel Apple Sauce
2-3 Large Granny Smith Apples
8 Tablespoons butter
1/4 teaspoon cinnamon
1/3 cup brown sugar
French Toast
1 loaf Apple Cinnamon Brioche Bread
3 large eggs
1/4 cup plus 2 Tablespoons granulated sugar
1/2 teaspoon cinnamon
1/2 teaspoon vanilla
pinch of salt
1/2 cup heavy whipping cream
Whip cream for garnish
Instructions
Wash, peel, slice, and chop apples.
In a large skillet, over medium heat, melt 4 Tablespoons of butter. Add chopped apples. Saute until tender and slightly brown.
Add 4 additional Tablespoons butter. Melt with apples. Add 1/3 cup packed brown sugar. Stir continually until brown sugar has dissolved. Add 1/2 teaspoon cinnamon. Stir until incorporated, and sauce has thickened. Set aside. Allow to rest while preparing French Toast.
Slice Brioche Bread into 8, 1 inch thick slices.
In a shallow dish add 3 large eggs, sugar, and cinnamon. Mix until well blended. Stir in vanilla.
Add 1/2 cup heavy whipping cream until well incorporated.
Spray griddle with non-stick cooking spray, or brush with melted butter.
Dip sliced Brioche bread into batter, quickly turning to coat other side. DO NOT ALLOW BREAD TO SOAK in batter. It will fall apart.
Place battered bread slices on hot griddle and cook 2-3 minutes per side or until golden brown.
Reheat sauce. If it has thickened too much, add extra butter to thin it out. Spoon warm caramel apple topping over French Toast. Serve with a scoop of whip cream.
Recommended Products
As an Amazon Associate and member of other affiliate programs, I earn from qualifying purchases.
Nutrition Information:
Yield:
4
Serving Size:
2 slices
Amount Per Serving:
Calories:

774
Total Fat:

45g
Saturated Fat:

26g
Trans Fat:

1g
Unsaturated Fat:

15g
Cholesterol:

294mg
Sodium:

641mg
Carbohydrates:

86g
Fiber:

8g
Sugar:

64g
Protein:

11g