Layers of cut up tortillas, chicken, cheese, and a creamy sour cream sauce combine to create this delicious family favorite…Chicken Tortilla Casserole!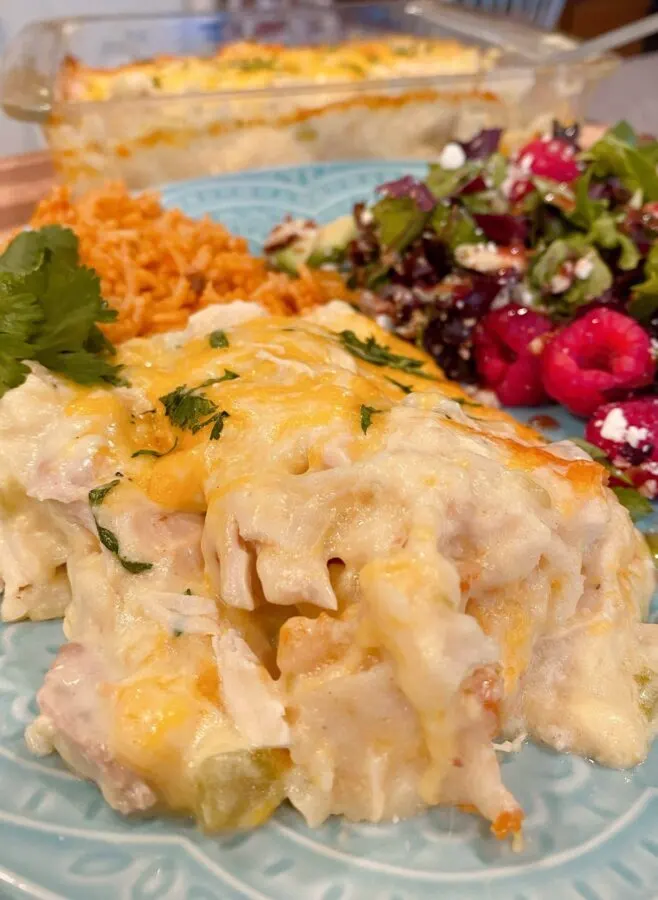 The closer we get to Fall and Winter, the more I crave old-fashioned "comfort foods"! I know, I know, I keep blathering on about comfort foods! Sorry I can't help it! They're the BEST!
One of my favorite comfort foods? Casseroles. I love casseroles. Not all casseroles! I wanna be clear about that. There are some questionable duds out there! I'm sure you've seen them at a potluck or two! (They're like the kid who doesn't get picked for dodge ball!)
Aside from the rare "dud", there are a lot of really great, warm, tummy pleasing, budget friendly casseroles. Nothing spreads a dollar, fills a tummy, or say's "home cooking" like a casserole! I realize there are "non-casserole" loving humans but, I'm pretty sure they have to live on a different planet! (It's a rule or something right? lol)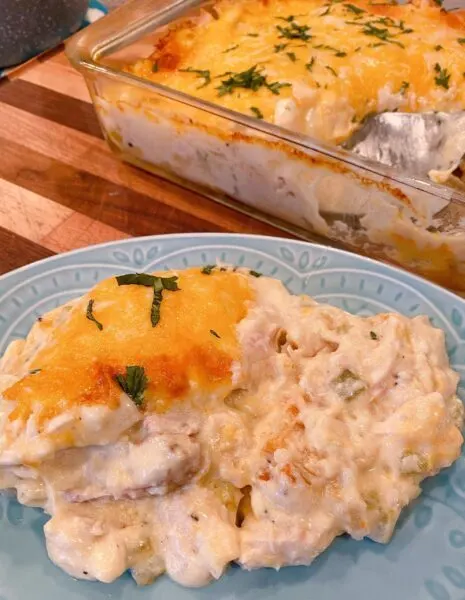 Anywho…back to my love of casseroles! Chicken Tortilla Casserole has been one of my favorites for as long as I can remember!
How To Make Chicken Tortilla Casserole
Start out by cutting white corn tortillas into 1 inch squares. You can use yellow…I'm just not a huge yellow corn tortilla fan. (Sorry yellow tortillas! It's nothing personal. Well….maybe it is?) I lay mine in one stack, with a large sharp cutting knife, I cut strips in one direction and then in another. Creating one inch squares.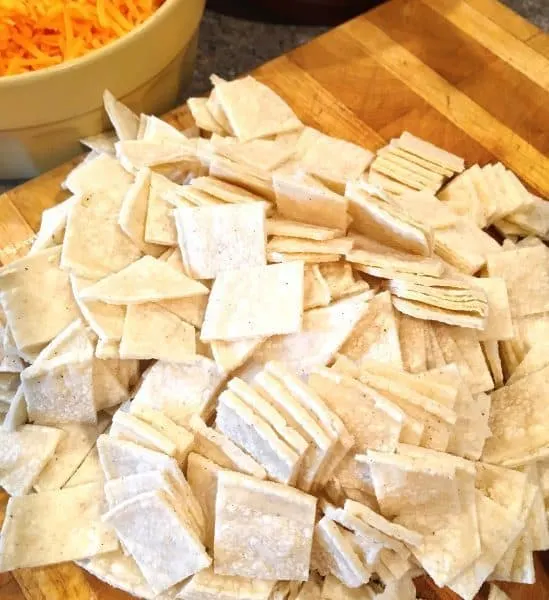 TIP: This casserole assembles very quickly if you have all the ingredients prepared beforehand. You will need one dozen cut up tortilla's (check), 1 pound grated cheese, a 9 x 13 casserole dish, shredded chicken
Tip: Remember, if you're a regular of my blog you know that I always tell you that you can boil and debone one huge Costco Chicken and divide it between two meals (my personal choice), you can also use a Rotisserie Chicken and shred it.
In a separate bowl combine 2 cans cream of chicken soup, 1 small onion chopped finely.
Tip: You can use dried chopped onions and not walk around smelling like a Carl's Jr. Hamburger all week but…maybe you like that? Hmmm? )
1 pint or 1 cup sour cream, 1 can chopped mild green chili peppers, 1 cup milk. Mix it all together. Now you are ready to begin assembling the casserole.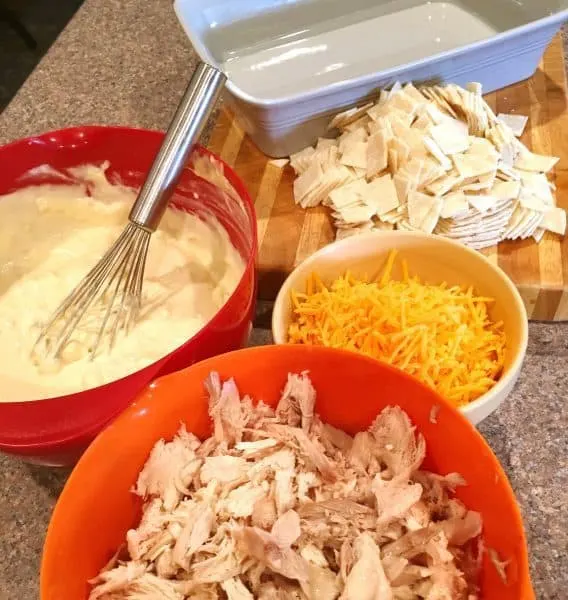 Start with a layer of your cut up tortilla's. Spread them over the bottom of your baking dish.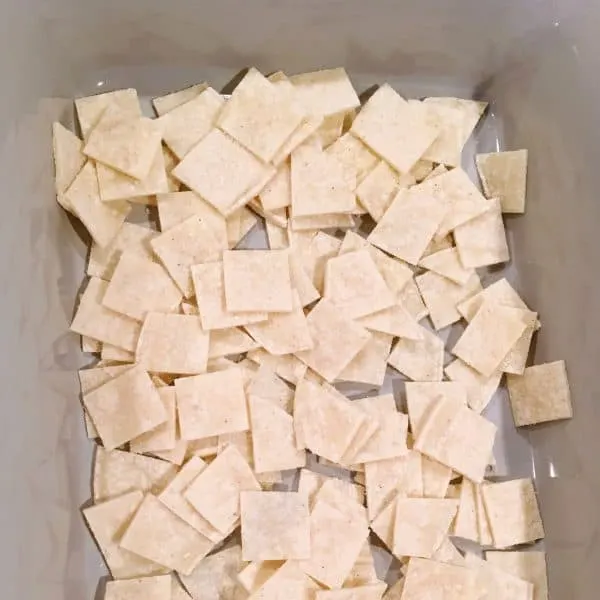 Next add a nice healthy layer of shredded chicken. (Why am I always blogging when I'm hangry!?)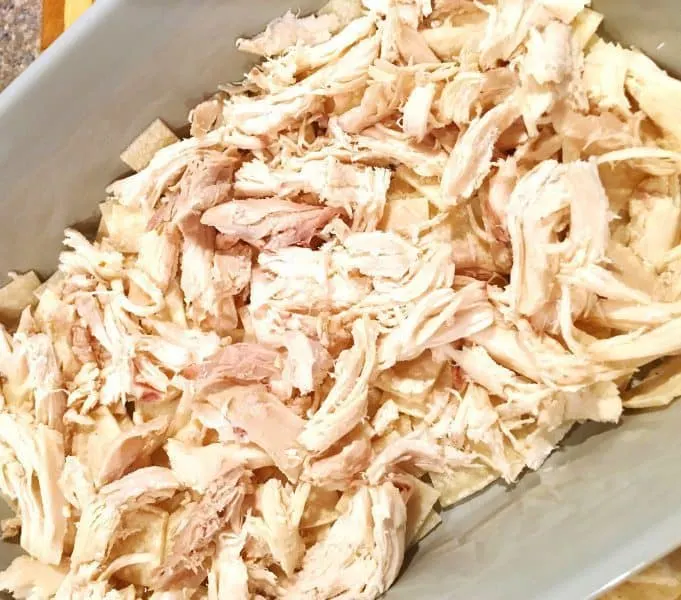 Pour half of your wonderful creamy liquid mixture over the chicken. Hang in there! It's starting to look like dinner!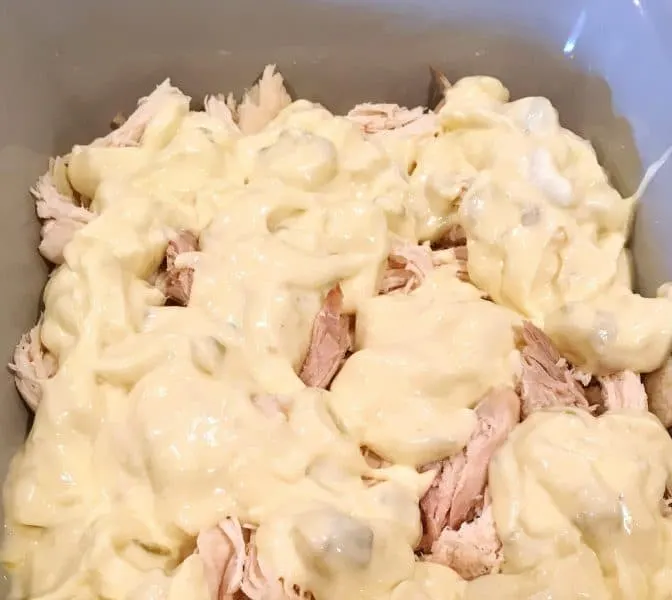 Time to add a nice thick layer of mild cheddar cheese! Sigh! (I love cheese! I think we've established that fact!)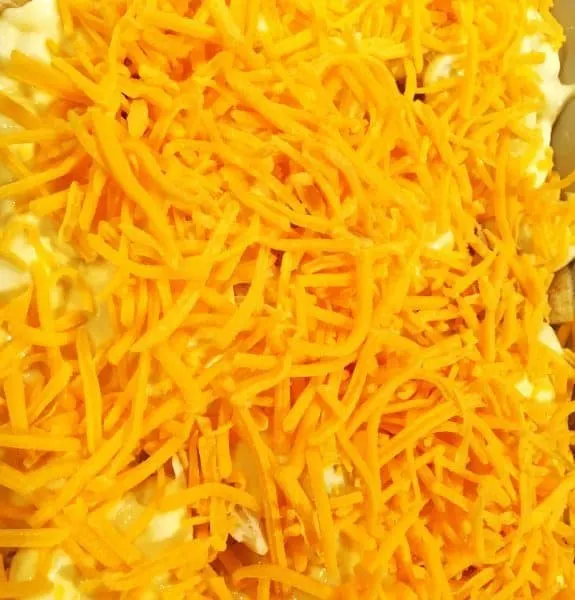 Repeat the process with a layer of tortillas, chicken, sauce and top with a layer of cheese.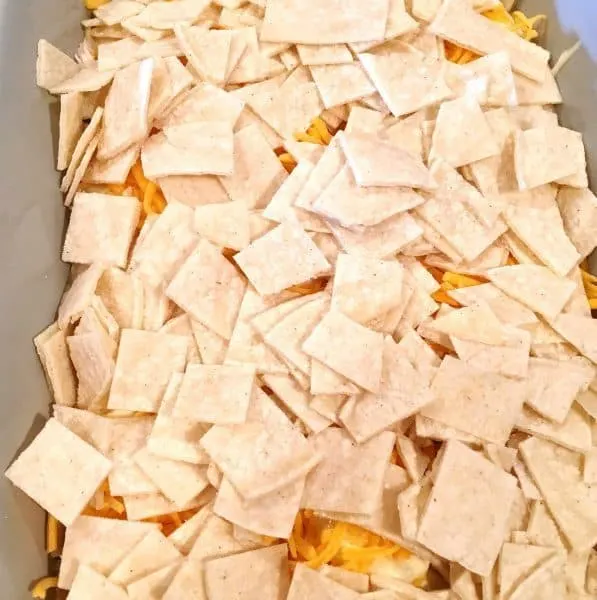 Cover loosely with foil and bake for 1 hour at 350 degrees. I remove the foil for the last 5-10 minutes of cook time. When the sauce is bubbling around the edges and you have established gooey cheesiness (Did you hear that? Julia Child just rolled over in her grave!), it's time to remove it from the oven and allow it to sit for about 10 minutes, to cool.
This casserole can be made up a day ahead of time and stored in the refrigerator over night. It's even better when it's allowed to sit and soak up all the rich flavors of that sauce. Look at all those beautiful layers combining to make one luscious creamy mouth-watering casserole!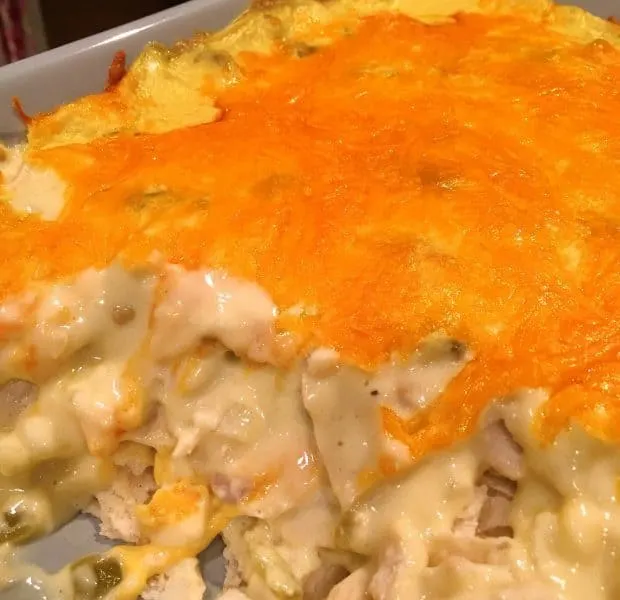 I love to serve mine with a side of Mexican Rice or Corn, and Green Salad. It's a great week night meal that the entire family will enjoy! So grab your plate and let's scoop ya up a big hot helping of Chicken Tortilla Casserole tonight!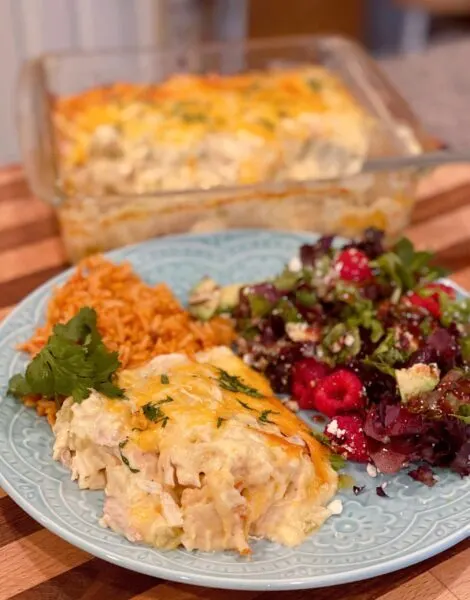 The printable recipe is below to help make it easier on you. Remember you can make this up ahead of time. You could even make it on Saturday and store it in the refrigerator for one of those busy weeknight's coming up.
Favorite Chicken Casserole Recipes
With school back in session life is just bound to get a little bit more crazy! Having dinner checked off the "to do" list is so nice and relieves so much stress off Mom. Enjoy! Thanks for stopping by!
Happy Nesting!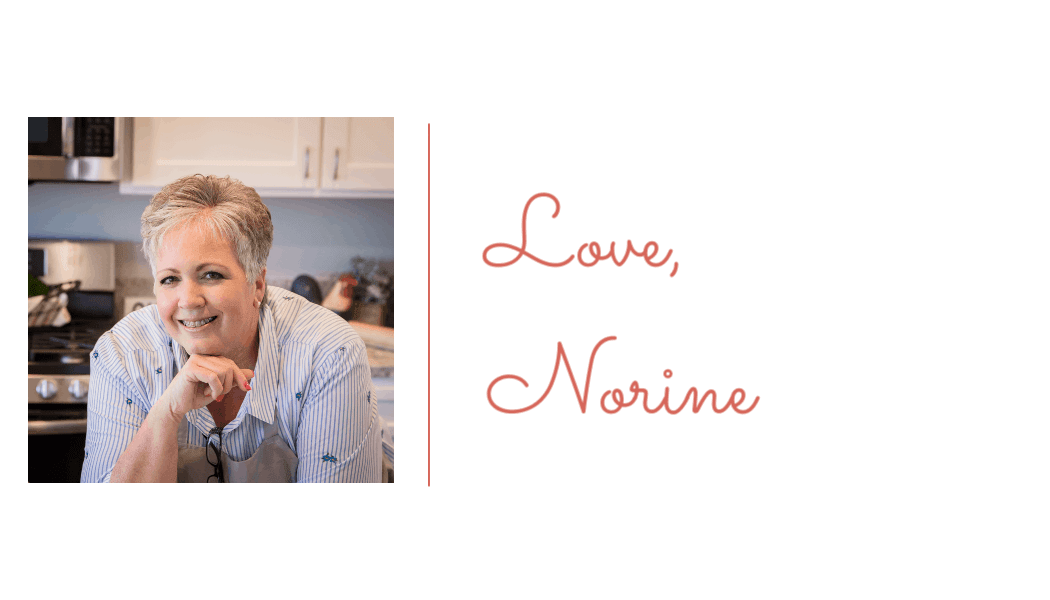 Yield: 8-10 servings
Chicken Tortilla Casserole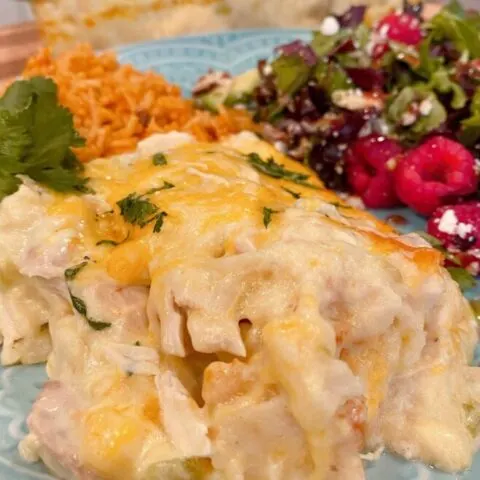 A flavorful and easy chicken tortilla casserole that reminds you of rich creamy chicken enchiladas! A great weeknight meal for the entire family and it can be made ahead of time!
Total Time
1 hour
20 minutes
Ingredients
1 whole chicken cooked and deboned
2 cans cream of chicken soup
1 small onion chopped finely, or 1/4 cup dried onion flakes
1 pint sour cream
1 pound grated mild cheddar cheese
1 can mild green chili peppers
1 package (12 count) corn tortillas cut in 1 inch squares
1 cup milk
Instructions
In a large bowl combine the soup, chopped onion, sour cream, green chili peppers and milk. Mix till well blended and creamy.
In a 9 x 13 casserole dish layer tortillas, chicken, cheese and liquid mixture. Do a second layering but ending with cheese on top.
Cover loosely with foil, bake for 1 hour at 350 degrees. Remove foil for the last 5-10 minutes of cooking to lightly brown cheese.
Recommended Products
As an Amazon Associate and member of other affiliate programs, I earn from qualifying purchases.
Nutrition Information:
Yield:
10
Serving Size:
1
Amount Per Serving:
Calories:

502
Total Fat:

36g
Saturated Fat:

17g
Trans Fat:

1g
Unsaturated Fat:

14g
Cholesterol:

129mg
Sodium:

823mg
Carbohydrates:

14g
Fiber:

0g
Sugar:

3g
Protein:

31g