Grilled London Broil is a delicious easy to prepare main dish. The marinade for this recipe is made with ingredients found in your pantry! The big bonus? It's so full of flavor you'll forget about the steak sauce.
When I got married I'd never had London Broil. (I know…I lived life under a rock!)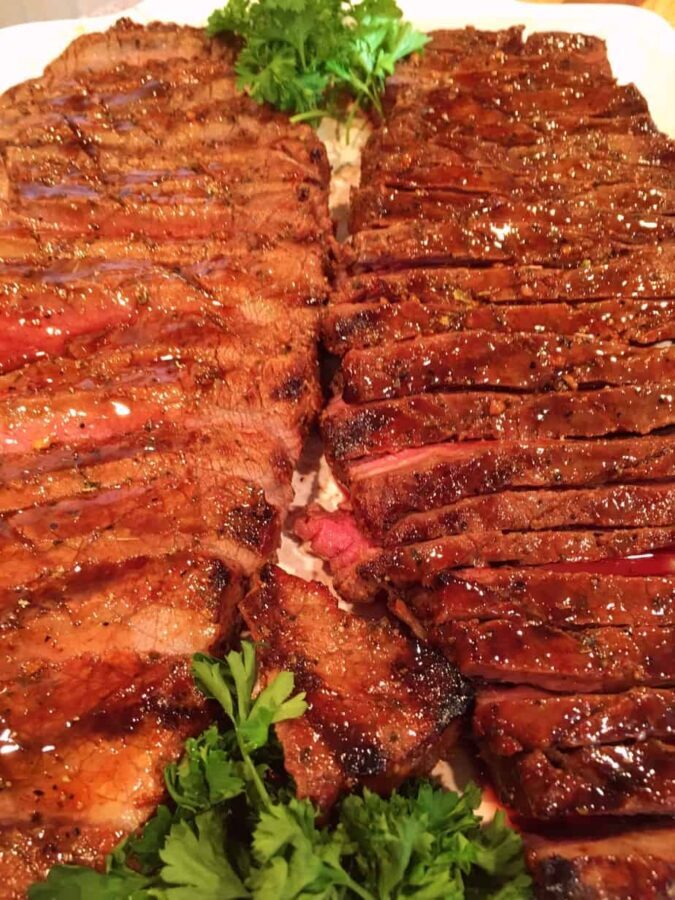 Then the hubs and I were invited over to a friend's house for dinner and they served these tender slices of beef that made my taste buds stand up and salute! What was this magnificent dish I asked? "London Broil" they replied! From that day till now I've been a HUGE fan!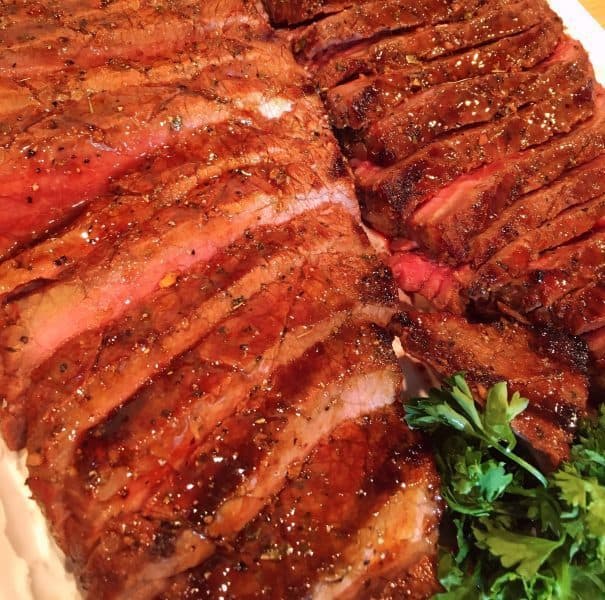 Over the years I've tried different marinades. I was searching for one that would create so much flavor you wouldn't even ask for Steak Sauce. (Which in this house is RARE! A-1 and 57 pay rent for refrigerator space!)
I'm super excited to share this delicious recipe with y'all! Let's do this!
How To Make Grilled London Broil and Marinade
Start with one 4 pound flank steak. The more marbling the more tender this cut of beef will be. Flank Steak is usually a tougher cut of meat so the more marbling, the more tender it will be.
I made two because I had a lot of company coming over for dinner.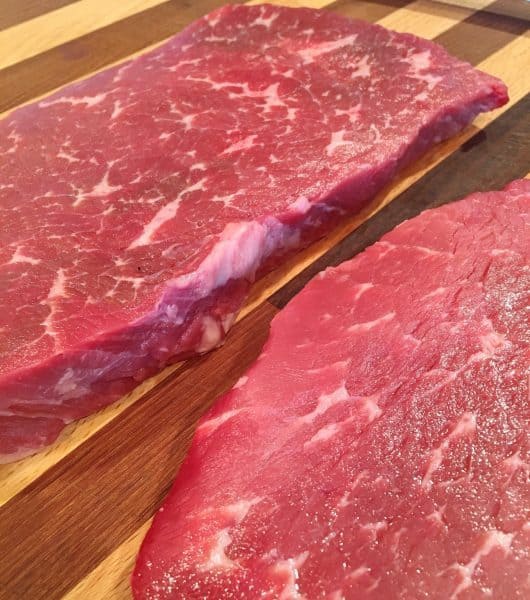 How To Prepare London Broil for marinade
Using a sharp knife score the meat, diamond cut, about 1/8 inch deep across the top. I like to make them about 1 inch apart. This will allow the marinade to seep down into the meat.
You'll do this on both sides of the flank steak.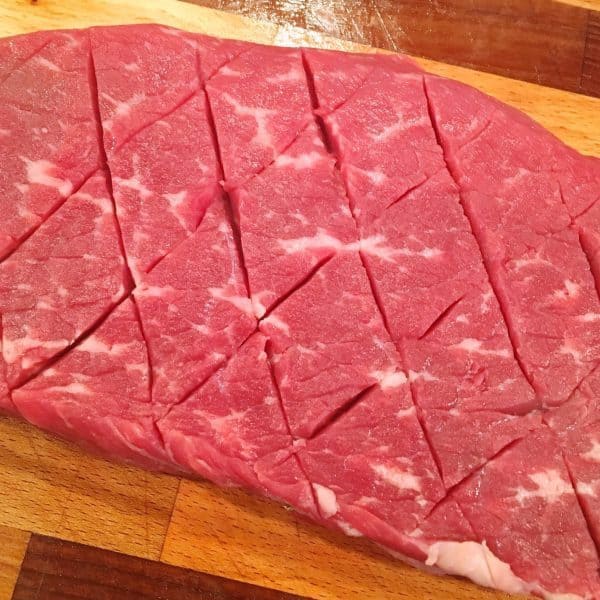 Marinade for London Broil
For the marinade, in a small bowl mix together 1 clove of minced garlic, 1 teaspoon salt, 3 Tablespoons of soy sauce, 1 Tablespoon Ketchup, 2 Tablespoons of vegetable oil, 1/2 teaspoon coarse ground black pepper, and 1/2 teaspoon dried oregano.
I L.O.V.E. this marinade and it's simplicity! I know. It seems like it should have more ingredients to kick up the flavor. Trust me…this marinade is LOADED with fantastic drool worthy flavors! Sometimes simple is best! (I need reminding of this often. I create projects that get a tad out of hand!)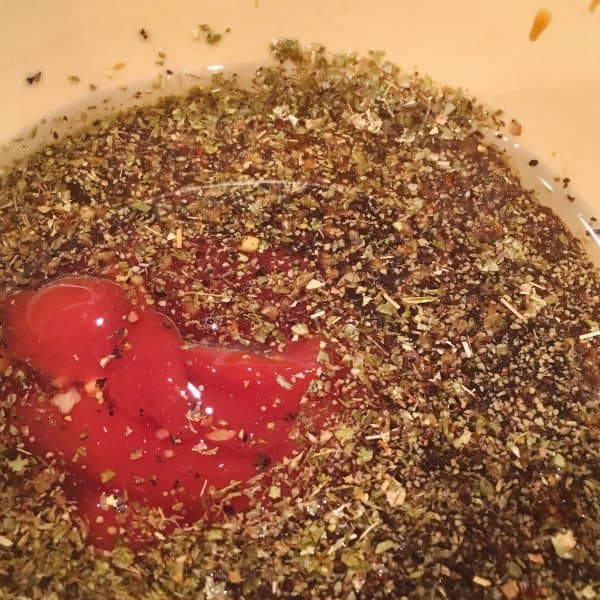 Mix together with a whisk until well blended. Come on…whisk, whisk, whisk. (Cardio done for the day! High Five!)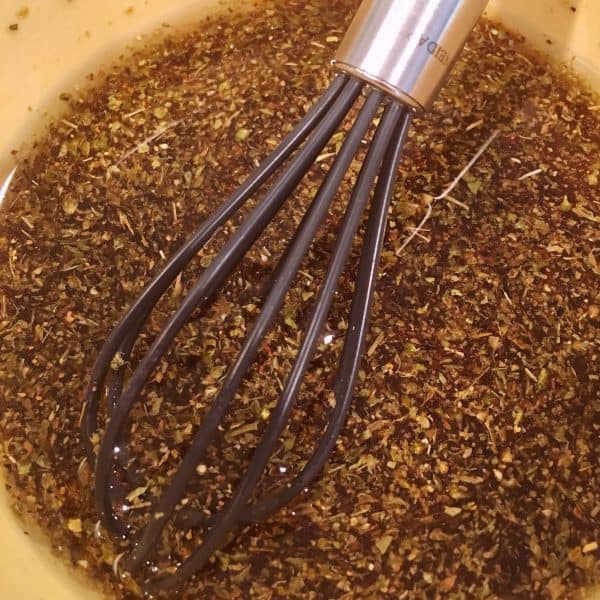 Lay down a piece of aluminum foil large enough to wrap around the flank steak. Place prepared flank steak on the foil.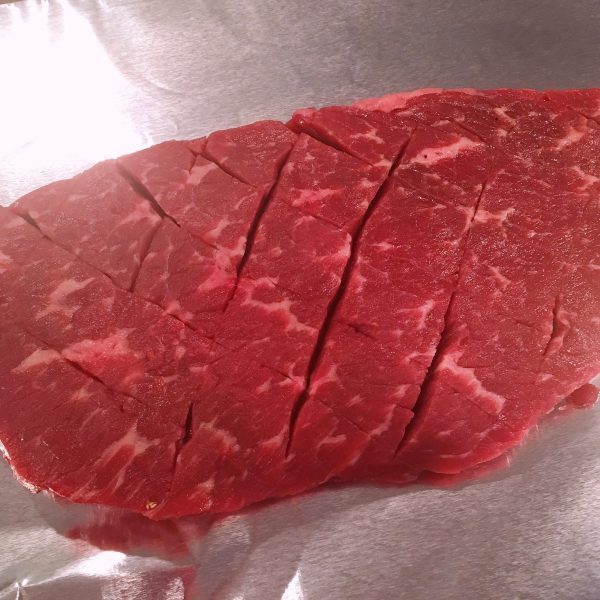 How To Marinade London Broil for Grilling
Pour marinade over one side of the steak and rub it in. (Now try not to get jealous of the flank steak. I found myself resenting the massage it was receiving with herbed oils.)
TIP: I reserve several Tablespoons to pour over meat once cooked and sliced.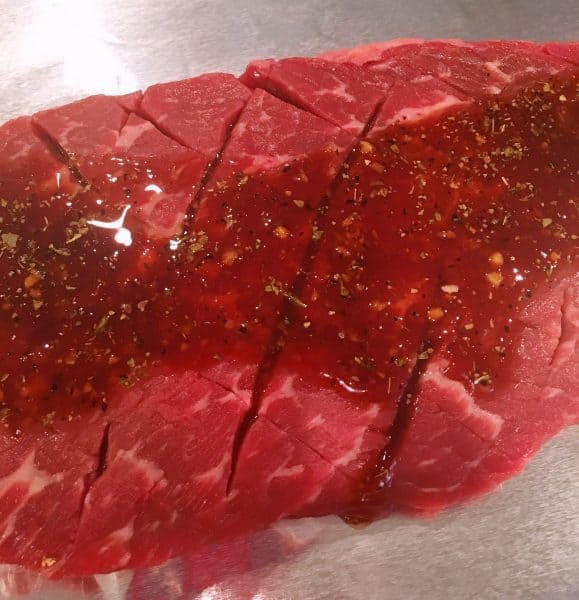 Flip Flank Steak Over. (I may have slammed it down out of my growing resentment. lol) Drizzle with more marinade and repeat the massage! (Lucky piece of meat!)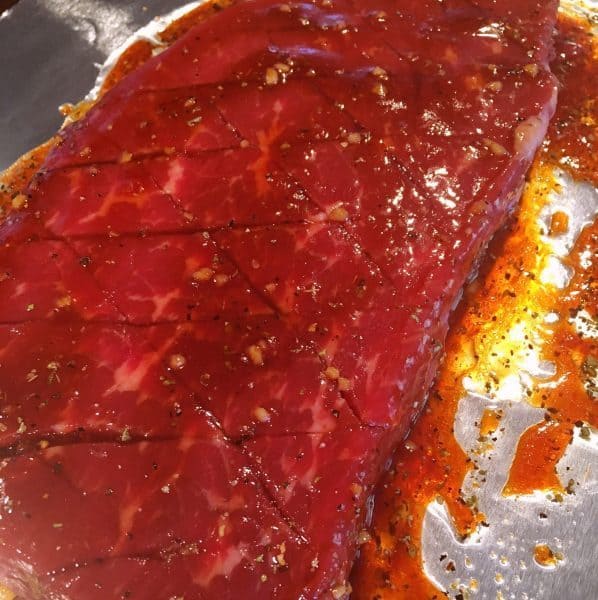 Wrap foil tightly over the flank steak and place in the refrigerator until ready to grill. Marinade at least 5-6 hours, or over night. Flip meat every few hours.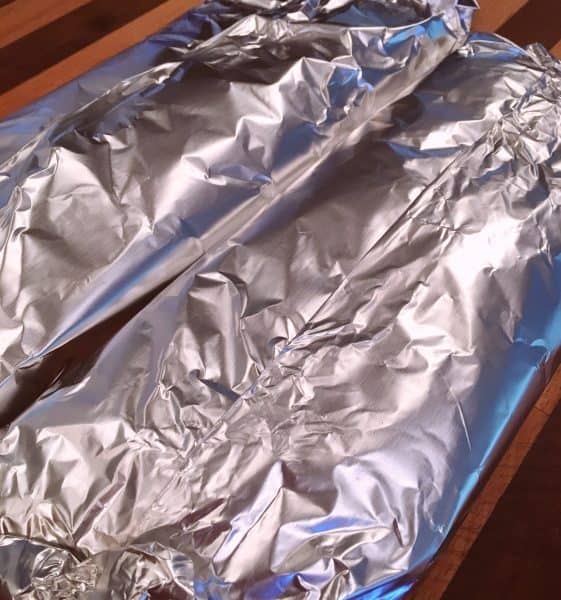 How To Grill London Broil
Take meat out 30 minutes before grilling.
Preheat an outdoor grill for high heat, and lightly oil grate. I prefer to oil the grate before I heat the grill…I'll leave that up to you.
Place meat on the prepared grill. Cook for 3-7 minutes per side, or to desired doneness. I leave mine a little red in the center. This is 100% a personal choice.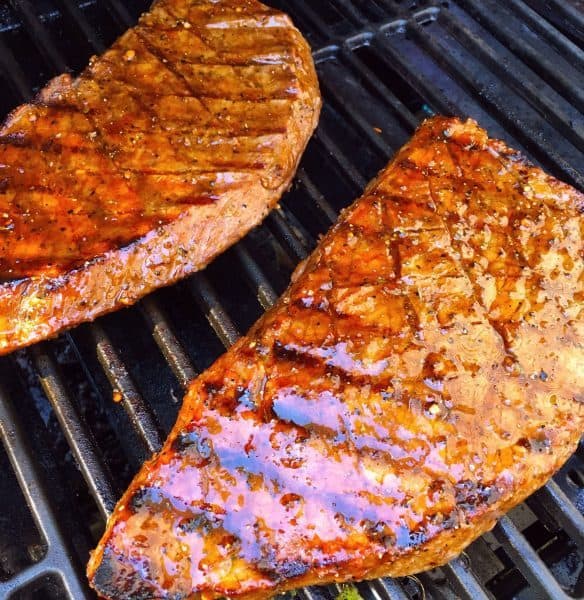 Allow meat to rest 5-10 minutes before cutting. (See…one more reason to harbor resentment…lol)
Start cutting the London broil into 1/8-inch to 1/4 inch strips against the grain at a 45-degree angle. This is a slight angle, which will create diagonal cuts in the steak. Continue cutting until only steak strips remain.
Drizzle with remain marinade. Serve immediately.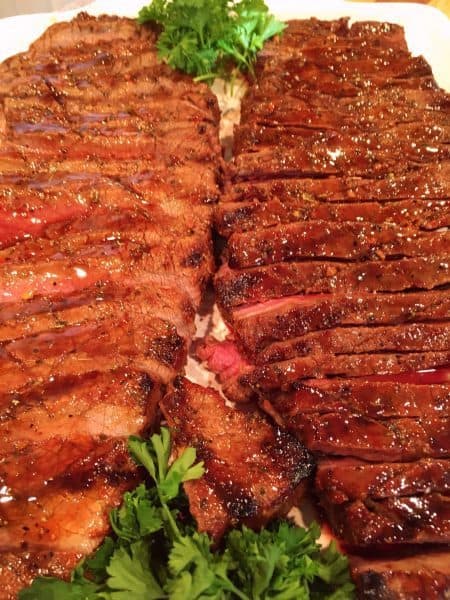 This delicious cut of meat is as tender and juicy as it appears in the photo. It's fantastic! Plus it's so EASY to make.
Great Sides Dish Recipes that go with London Broil
It was an outstanding meal!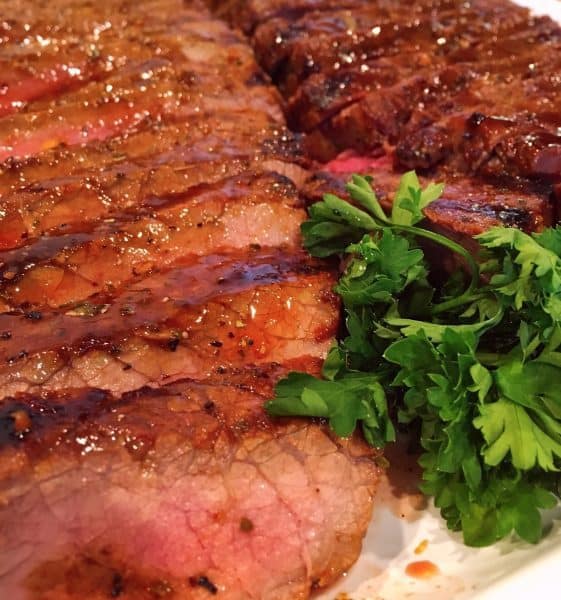 Try this fabulous Grilled London Broil at your next Family BBQ! It would be FANTASTIC for Father's Day! What Dad wouldn't love to sink his teeth into the amazing rich full flavored flank steak? It's sure to be the star of the show!
Remember you can always follow me on Pinterest, Facebook, Instagram, and Twitter!
Happy Grilling and Happy Nesting!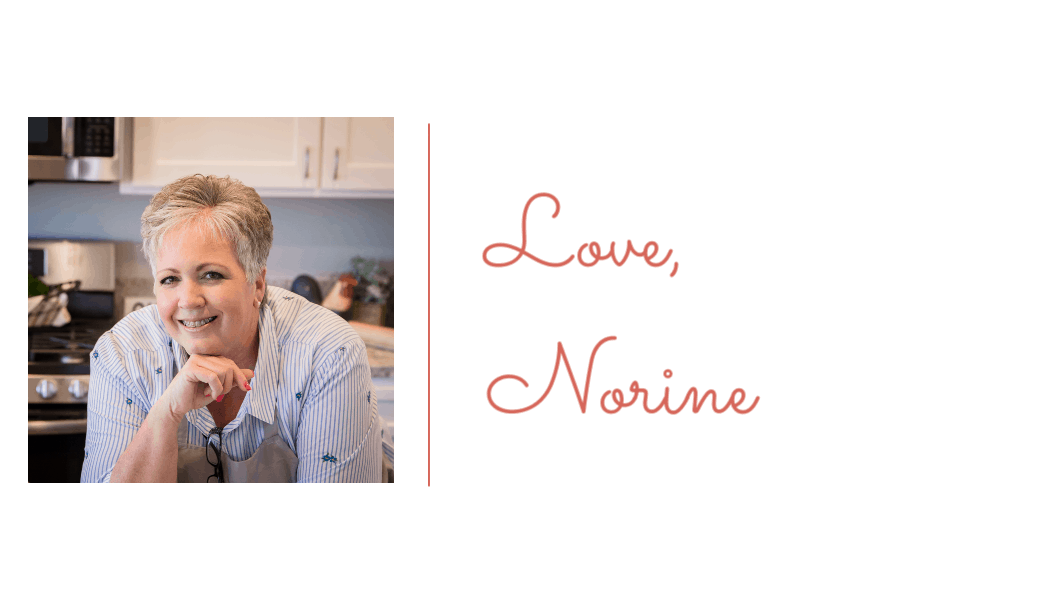 Yield: 8 servings
Grilled London Broil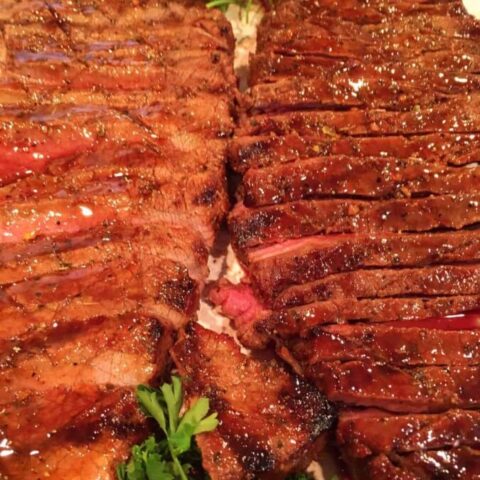 The marinade for this Flank Steak is so flavorful you'll skip the steak sauce. It's perfection!
Prep Time
5 hours
30 minutes
Total Time
5 hours
45 minutes
Ingredients
1 clove garlic, minced
1 teaspoon salt
3 Tablespoons of Soy Sauce
1 Tablespoon Ketchup
2 Tablespoons of Vegetable Oil
1/2 teaspoon coarse ground black pepper
1/2 teaspoon dried oregano
4 pounds flank steak
Instructions
In a small bowl, mix together garlic, salt, soy sauce, ketchup, vegetable oil, black pepper, and oregano.
Score both sides of the meat, diamond cut, about 1/8 inch deep about 1 inch apart. Rub garlic mixture into both sides of the meat. Wrap tightly in aluminum foil, and refrigerate for 5 to 6 hours, or overnight. Flip meat every few hours.
Preheat an outdoor grill for high heat, and lightly oil grate.
Place meat on the prepared grill. Cook 3 to 7 minutes per side, or to desired doneness.
Notes
Time includes 5 hours marinade time.
Recommended Products
As an Amazon Associate and member of other affiliate programs, I earn from qualifying purchases.
Nutrition Information:
Yield:
8 servings
Serving Size:
1 cup
Amount Per Serving:
Calories:

472
Total Fat:

22g
Saturated Fat:

8g
Trans Fat:

0g
Unsaturated Fat:

11g
Cholesterol:

179mg
Sodium:

738mg
Carbohydrates:

1g
Fiber:

0g
Sugar:

0g
Protein:

63g