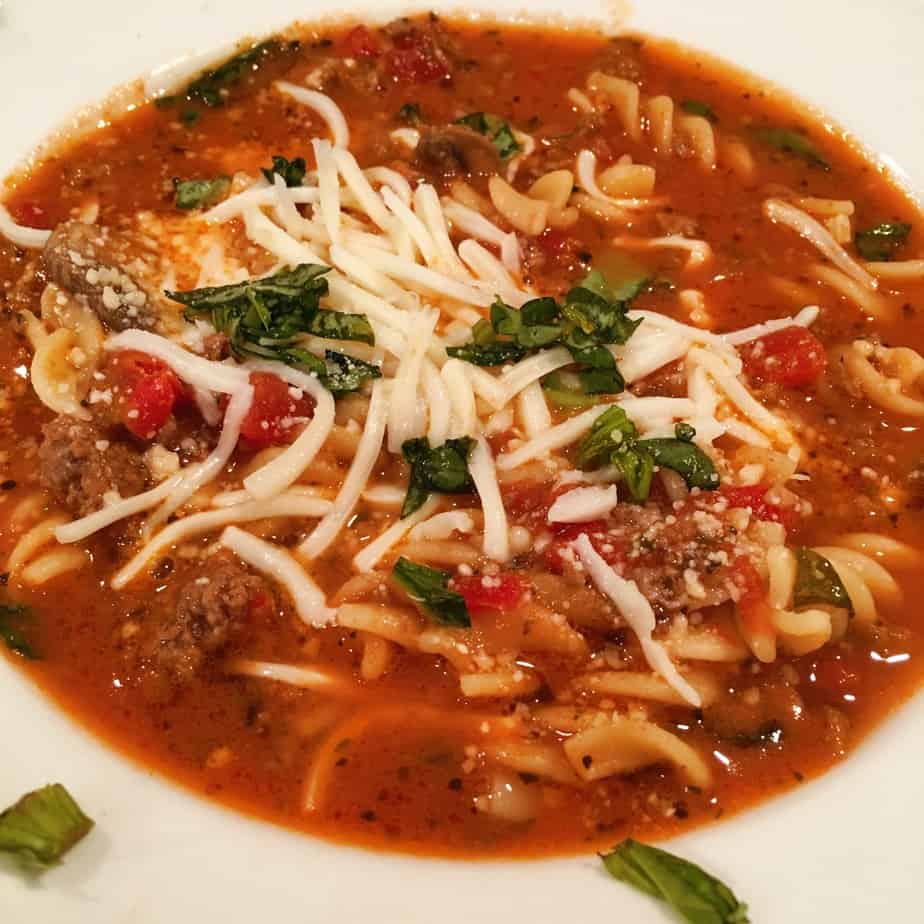 Italian Beefy Noodle Soup is kid approved, family friendly, and budget friendly! Made with ground beef, a delicious Italian broth, and curly noodles! It's absolutely delicious and so easy!
*As an Amazon Associate I earn from qualifying purchases. This post may contain affiliate links, which means that I may make a commission from any purchases at no additional cost to you. Thank you for your support!
I honestly can't believe that I'm posting another soup recipe! Not because it isn't good… sadly…it isn't! It's GREAT! (Which is so much better than good! Right?) Truth is…I've just never been much of a soup "fan". I'm not really sure why? What ever the reason, I seem to have found my soup mojo! Hallelujah!
So, since I've found my "mojo"… I decided, last week, to try my hand at an Italian soup. I didn't exactly want a minestrone…nothing against minestrone soup…I just wanted something more beefy! Mainly because I didn't have a lot of veggies on hand.
So I just started cooking, throwing things in here and there, and this was the result! Yes! It is as great as it looks. This is a soup the whole tribe at your nest will love. It's hearty and filling.
In a large pot, over medium heat, add 1 Tablespoon Olive Oil. Saute garlic and fresh chopped onion for about 3-4 minutes. Add ground beef. Brown one pound of ground beef with diced onion and garlic till crumbly.
Drain off excess fat, and add one can of beef broth. Add in 2 cups of fresh sliced mushrooms. (optional) By now you should know I may say "optional"…but what I'm really saying is "Don't SKIP the mushrooms!" They're divine in this recipe!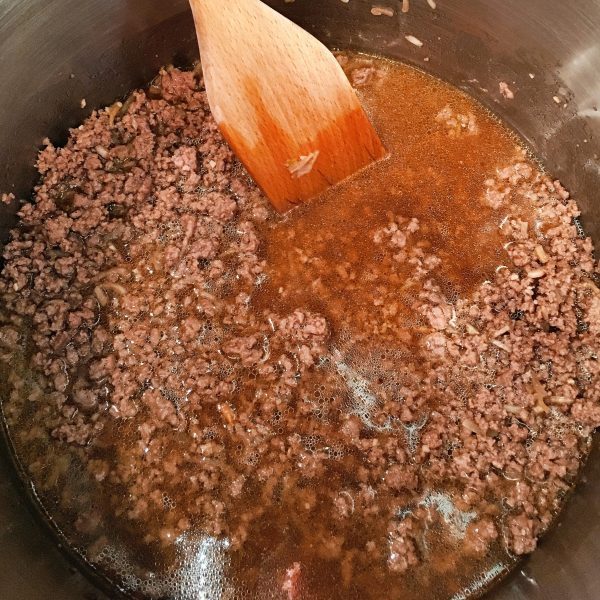 Next add 2 cans diced, petite cut, tomatoes with juice. 1 small can of tomato sauce. 2 cups water.
Add in 1 tsp crushed dried rosemary, 1 tsp dried oregano, 1 tsp dried basil, 1 1/2 tsp salt or more to taste, 1 tsp. coarse black pepper, 1 tsp paprika, 1/2 tsp garlic powder, 1 Tablespoon dried parsley, and a partridge in a pear tree. (Okay… do NOT add a partridge in a pear tree! I was just testing to see if you're paying attention or if I lost you in all those yummy spices!)
Stir till well mixed.
Add in 1/2 cup of Merlot or red cooking wine. Allow to simmer on low for 30 minutes. You don't have to add the Merlot…but, the flavor it adds to this soup is out of this world AMAZING!!!
I'm of the humble opinion that all wines and alcoholic beverages were made specifically for cooking. Seriously the chemical reactions with meats and sauces can not be replicated any other way.
While that is simmering cook your rotini pasta al dente per instruction on the box. Rinse and drain.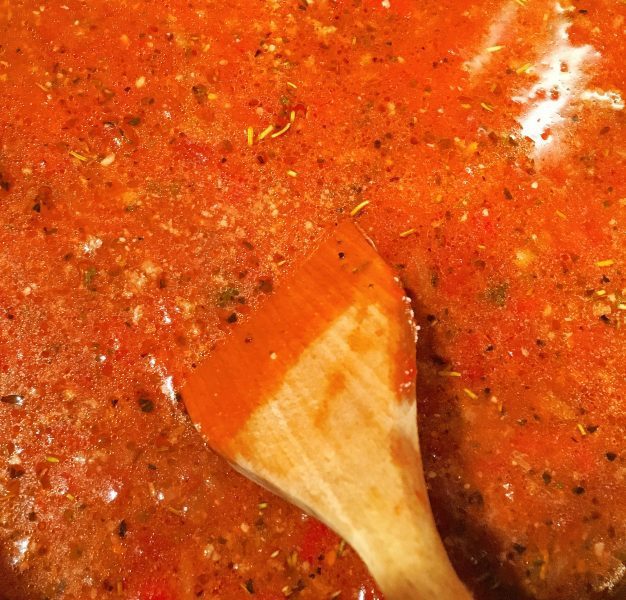 Add in 3/4 cup grated Kraft Parmesan Cheese. Yep… that one in the green shaker! Stir and allow to simmer for another 15 minutes.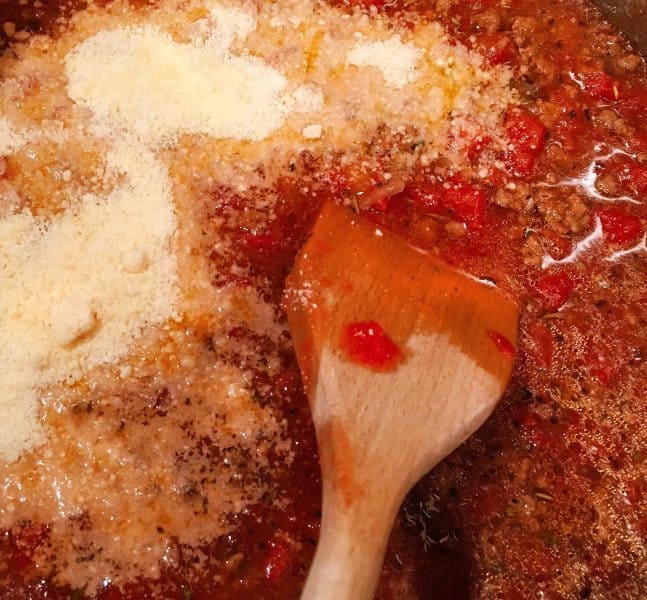 Add in 3 Tablespoons of heavy whipping cream. (You can omit this step if you don't have heavy whipping cream. I just love the richer color and flavor it added)
Chop 3 Tablespoons of fresh basil. Add 2 Tablespoons into the soup base. Reserve the remaining for garnish on top of soup when served.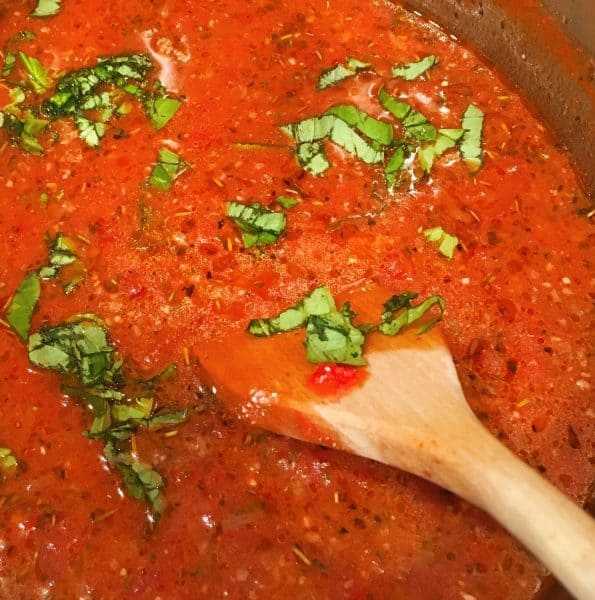 Add in your drained rotini pasta and stir. If it doesn't have enough broth for your liking, add additional beef broth or water. The noodles will absorb a lot of the fluids quickly. So serve immediately.
Ladle into large bowls. Top with grated mozzarella cheese, fresh basil, and sprinkle with additional grated Parmesan cheese.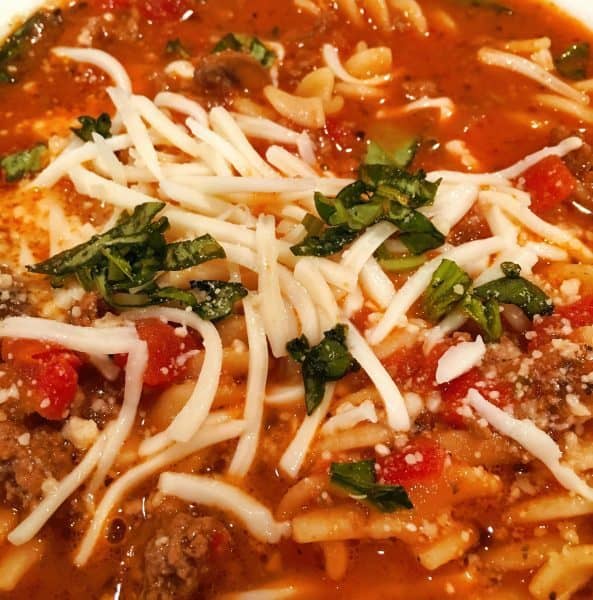 I served this amazing soup with garlic Parmesan rolls and a big green salad. It is so delicious and tastes as fantastic as it looks. Such a wonderful meal!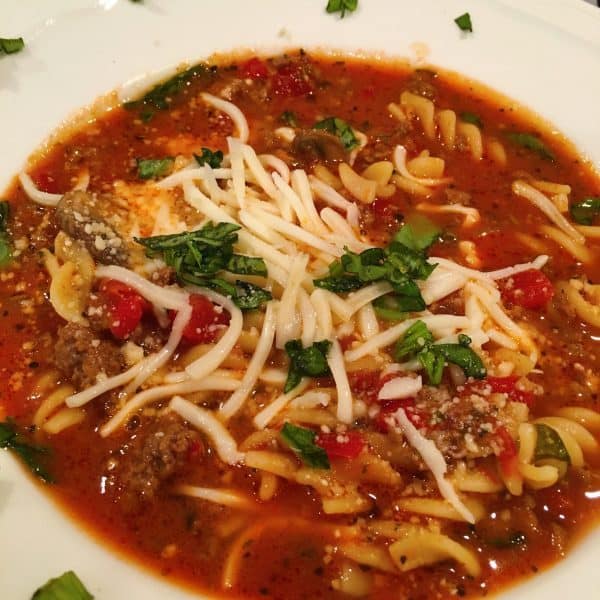 This Beefy Italian Pasta soup comes together quickly and is super easy to make. Most of the ingredients can be found in your pantry. If you're like me that is always a huge plus! It's a nice change from heavier Italian dishes, yet full of the same wonderful flavors.
All you need now is a great big spoon! Mangia! (That's all the Italian I got folks! But it's the only one that counts!)
Thanks for stopping by my nest! It's always great to have you visit! What are some of your favorite soup "main dish" meals? I'd love to know! I mean… I have finally found my soup "mojo" after all.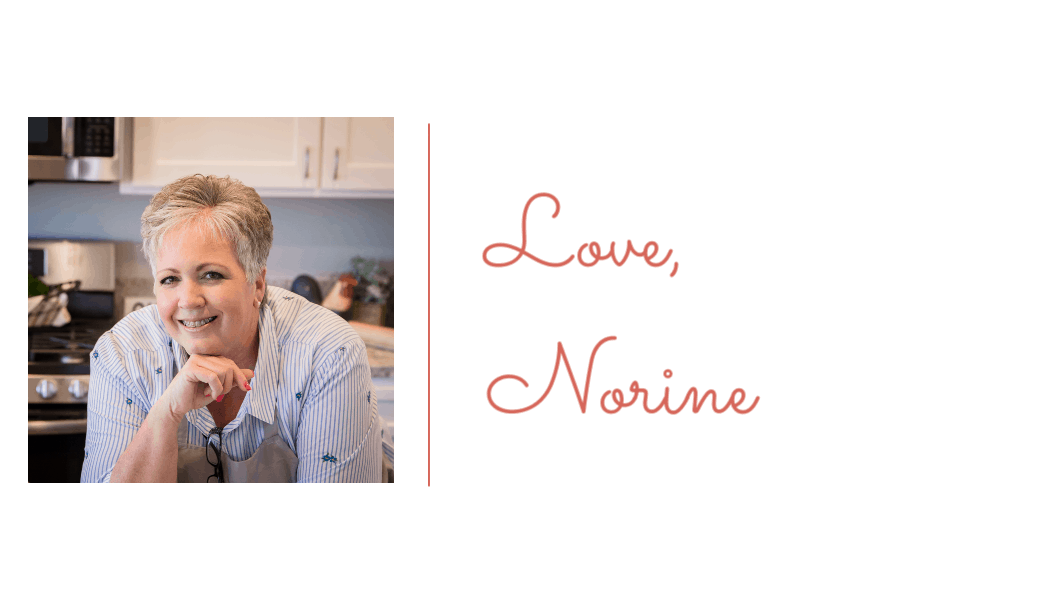 Yield: 4-6 servings
Italian Beefy Noodle Soup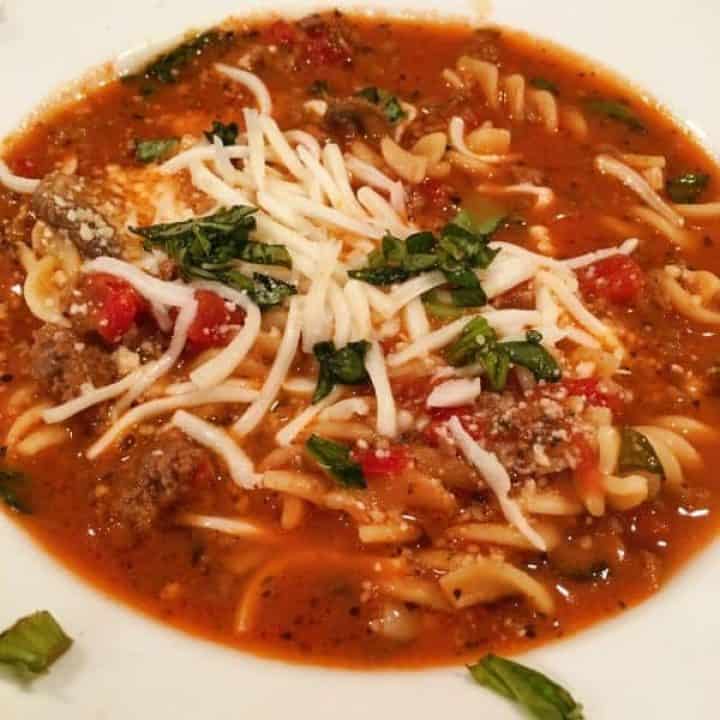 This flavorful Italian beefy noodle soup is a hearty rich soup perfect for all the Italian food lovers in your homes!
Ingredients
1 Tablespoon Olive Oil
2 tsp minced garlic
1/2 cup diced onion
1 pound ground beef
2 cups sliced, fresh mushrooms
2 (14.5 oz) cans of petite diced tomatoes
1 (6 - 8 oz) can tomato sauce
2 cups water
1 tsp crushed rosemary
1 tsp dried oregano
1 tsp dried basil
1 1/2 tsp salt (may want to add more to personal taste)
1 tsp coarse black pepper
1 tsp paprika
1/2 tsp garlic powder
1 Tablespoon dried parsley
1/2 cup Merlot or Red cooking wine
3/4 cup Kraft grated Parmesan Cheese
3 Tablespoons heavy whipping cream
3 Tablespoons fresh chopped basil
4 cups cooked al dente rotini pasta
1 cup grated mozzarella cheese (for garnish)
Sprinkle Parmesan Cheese (for garnish)
Fresh Basil (for garnish)
Instructions
In a large pot add Olive Oil. Saute onion and garlic. Add in one pound ground beef.Brown till crumbly and drain.
Add in one can of beef broth.
Add in two cups of mushrooms.
Add in petite diced tomatoes, one small can of tomato sauce, 2 cups of water, and all of the following spices: Crushed rosemary, dried oregano, basil, salt, coarse black pepper, paprika, garlic powder, dried parsley. Stir until well blended.
Add in 1/2 cup of Merlot or red cooking wine.
Allow to simmer for 30 minutes over low heat.
While soup base is simmering cook rotini pasta, per box instruction, al dente. Drain and set aside.
Add in 3/4 cup grated Kraft Parmesan cheese to soup base, heavy whipping cream, and fresh basil. Allow to simmer another 15 minutes.
Add in cooked pasta.
Ladle into large bowls and garnish with grated mozzarella cheese, basil, and sprinkle with grated Parmesan cheese.
Recommended Products
As an Amazon Associate and member of other affiliate programs, I earn from qualifying purchases.
Nutrition Information:
Yield:
6
Serving Size:
1 1/2 cups
Amount Per Serving:
Calories:

568
Total Fat:

27g
Saturated Fat:

12g
Trans Fat:

1g
Unsaturated Fat:

12g
Cholesterol:

102mg
Sodium:

1152mg
Carbohydrates:

37g
Fiber:

4g
Sugar:

5g
Protein:

36g