Easy Mock Lemon Chiffon Cake is the perfect, easy to make, beautiful spring dessert! Layers of French Vanilla Cake with a light creamy lemon chiffon filling and fresh sliced strawberries. You're gonna love this cake!
I adore what I call "cheater desserts"! Desserts that look spectacular… like you spent all day in the kitchen…but ya didn't!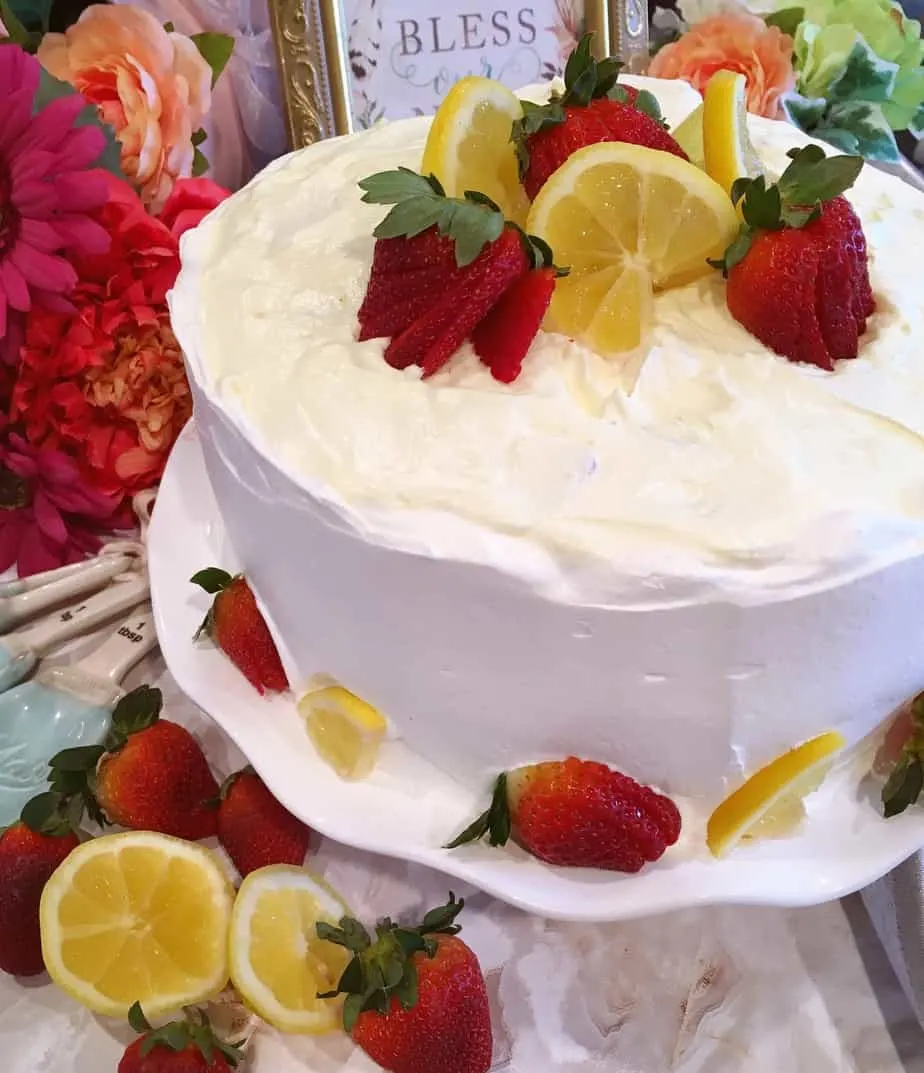 This Mock Lemon Chiffon Cake is THAT dessert! It begins with a French Vanilla Cake Mix with a few secret ingredients added to make it ultra moist. Then we move to the filling. It's 100% cheater too…thanks to a big ol' container of Cool Whip and one little package of Instant Lemon Pudding! This cake is so easy I'm almost embarrassed to share it…but it's so good I can't, not share it! So let's get baking!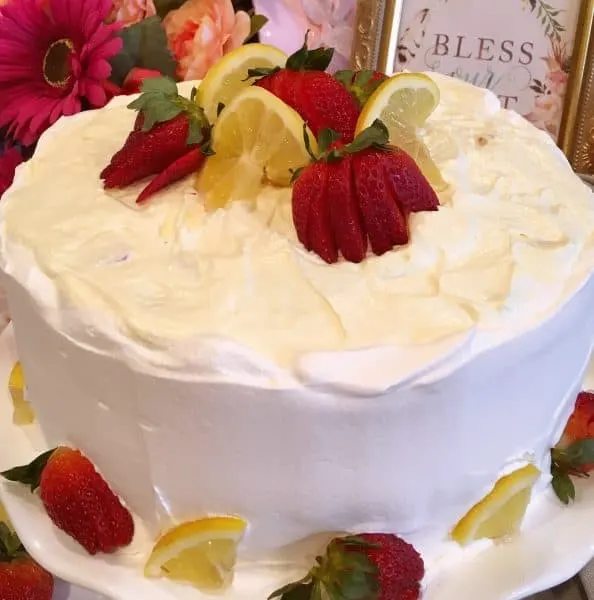 How To Make Mock Lemon Chiffon Cake
Preheat oven to 350°.
Prepare two 9 inch round baking pans with non-stick baking spray.
What is baking spray? Baking spray has flour mixed in. So be sure you are using the "Baking" non-stick spray. I love either Baker's Joy or Pam, both are great products.
TIP: I love to line the bottom of my baking pans with parchment paper. It creates a nice smooth bottom for your cakes and holds the cakes together when you remove them from the pans.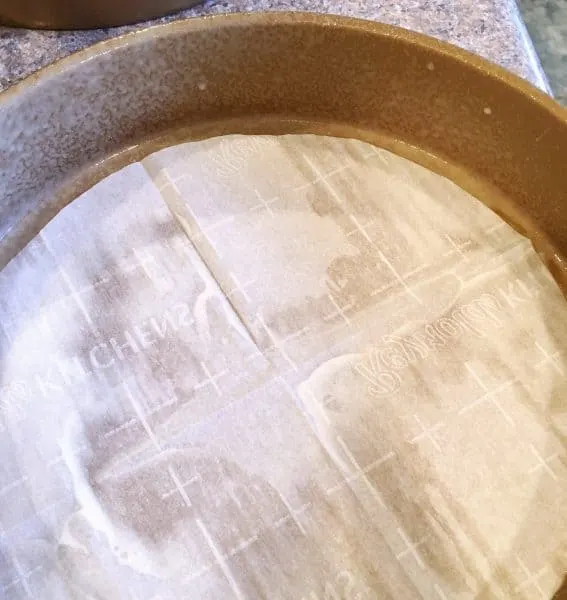 In the bowl of your mixer add 1 Duncan Hines French Vanilla cake mix. I'm a huge Duncan Hines fan. You can use any white cake mix., but if you want a GREAT cake… I highly recommend Duncan Hines…and no this is not a paid post. Lol
Add 1 (3.4 ounce) package instant vanilla pudding mix, 1/3 cup mayonnaise, 3 large eggs, and 1 cup of water.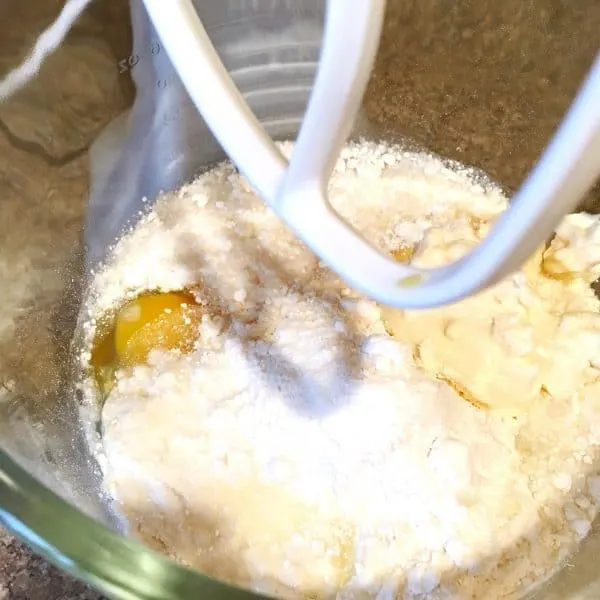 Mix on medium speed until well combined.
Tip: If you run a whisk through your cake mix before adding in the wet ingredients….you can eliminate those pesky little lumps you see in my mix below. (I was in a hurry…story of my life!) Either way the cake will turn out.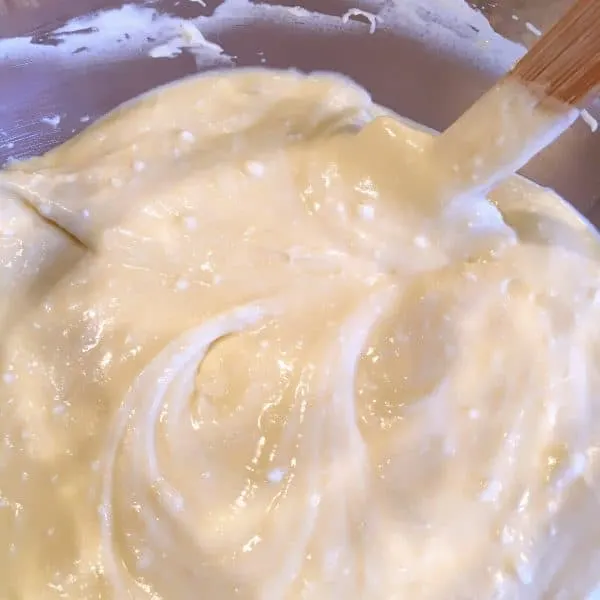 Divide batter in half. Pour into prepared baking pans. Gently shake the pans to even out the batter. This will help the cakes bake nice and even.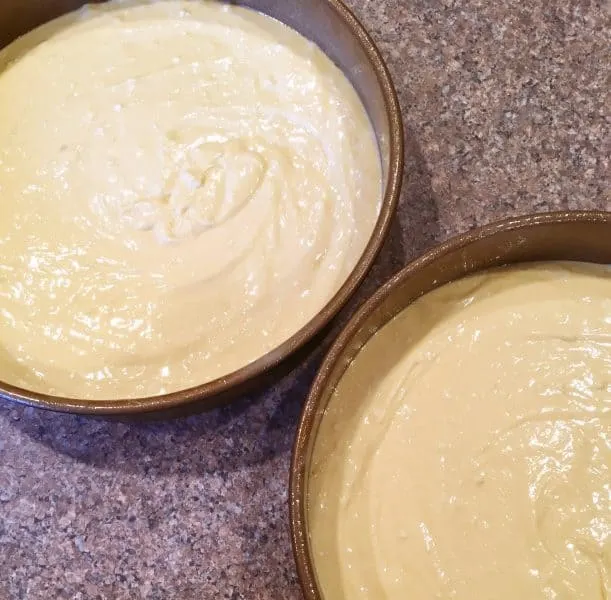 Bake cakes as directed for two 9 inch baking rounds, about 25–30 minutes, or until cake springs back in the center when gently pressed.
Allow cakes to cool completely on a cake rack. Should take about 1 hour.
How to make Mock Lemon Chiffon Filling
In a medium bowl combine instant lemon pudding mix with 1 cup of milk…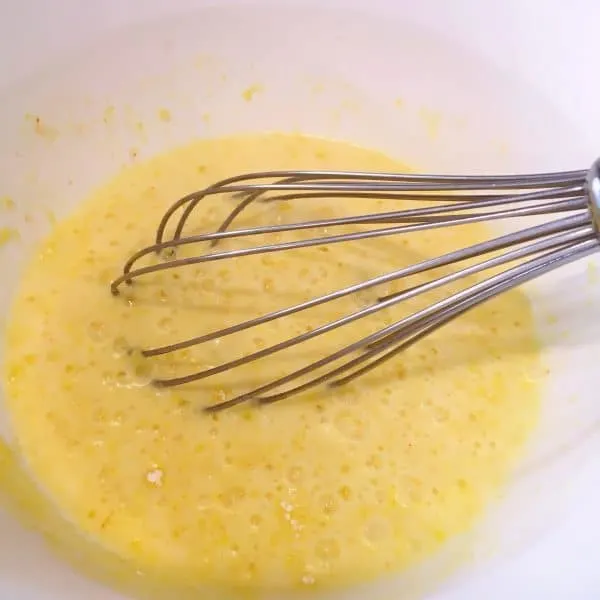 Mix until pudding thickens…(I think I just realized I'm pudding… I've certainly thickened in certain areas…lol)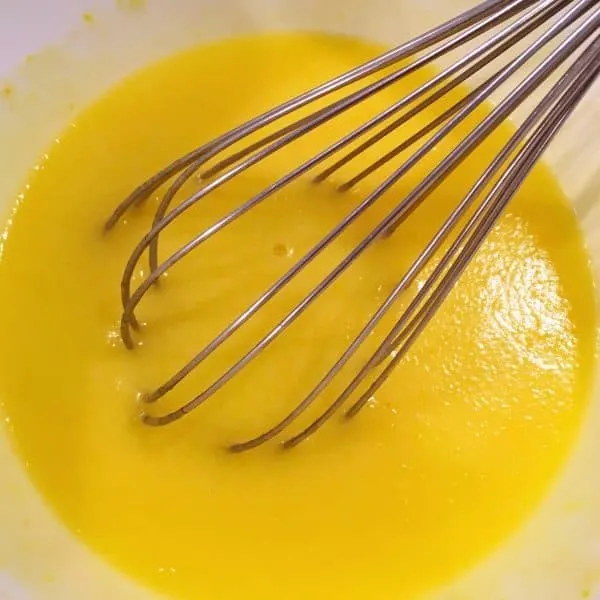 Add 8 ounces of cool whip to lemon pudding…and try not to sneak too many tastes! Who knew two simple ingredients mixed together create the most heavenly filling!!!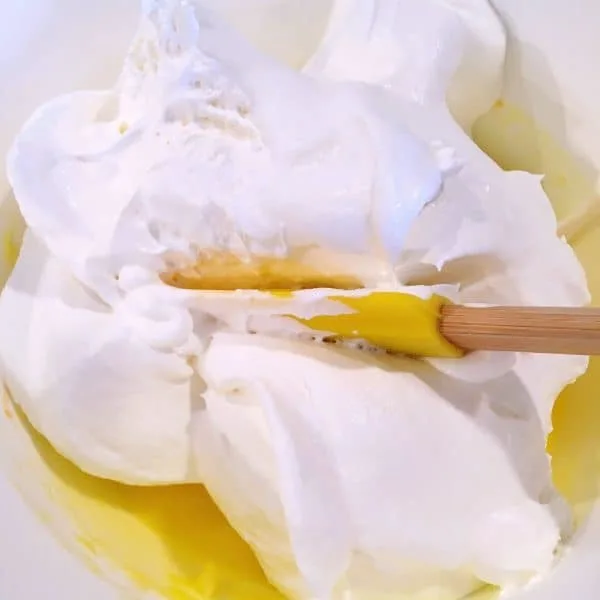 Fold cool whip into lemon pudding! Note I did not say "stir"…if you stir these two ingredients together you will have a really nice semi-thick smoothie. (Now might be a good time to remind you this is a cake recipe and not a smoothie recipe…just in case. I can't be the only who forgets what she's doing?)
Folding is gentle…up and over…not round and round. This will keep the filling nice and thick!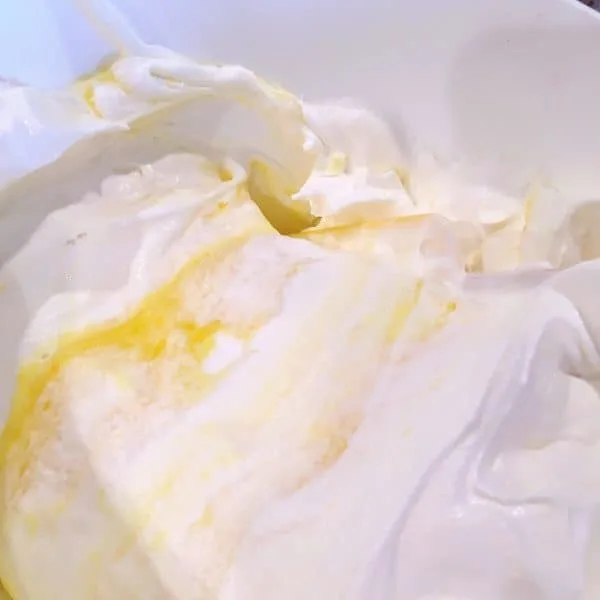 In another bowl slice 1 pint of fresh strawberries. They don't have to be sliced perfectly. Just slice 'em up!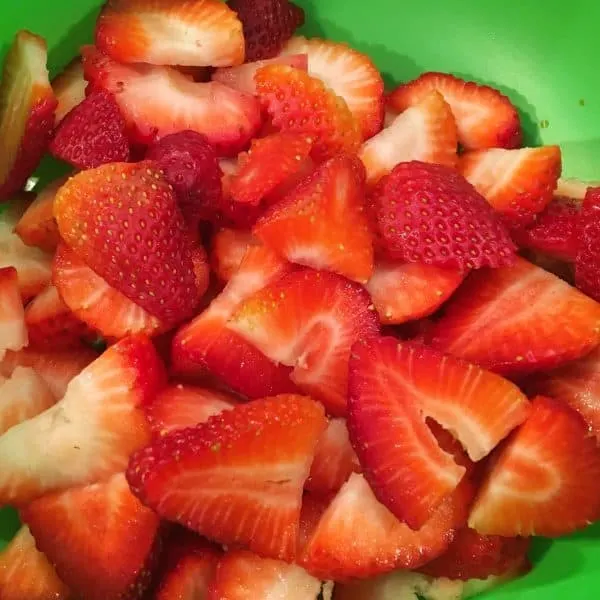 Let's Bring the Cake and the Filling Together!
It's time to make magic! Start by turning the first cake upside down on cake pedestal or plate.
Carefully pull off parchment paper. (You could leave it on…makes cutting the cake a tad more difficult…but interesting! We won't even discuss the chewing involved if the paper is left on!)
Look at that stunning golden cake! Isn't it purty!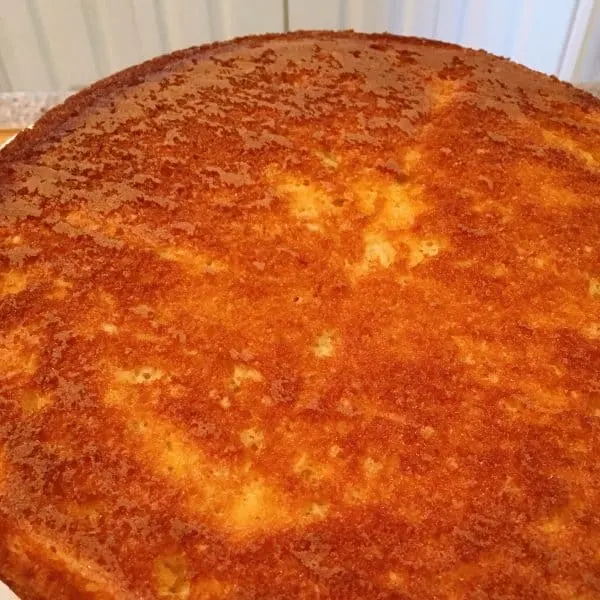 Spread half the fluffy luscious lemon pudding mixture over the top of the first layer of cake.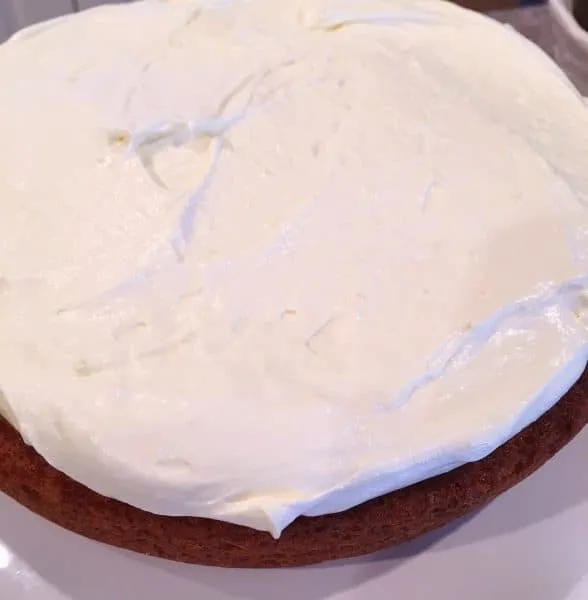 Top with sliced strawberries. (If you're a jig-saw puzzle master…this is your time to shine!!!)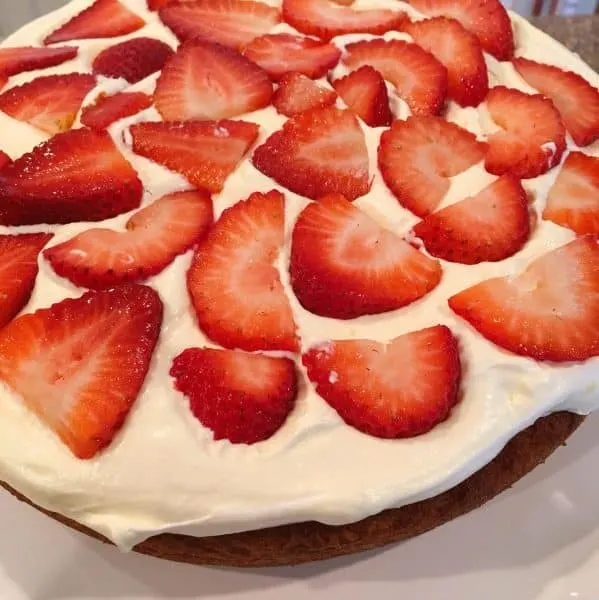 Carefully add the second layer of cake. Again… I highly recommend you peel off the parchment paper! I'm not gonna force you…it's just a small suggestion!
Seriously… Note how smooth and crumb free the cake is…that's why we use parchment paper!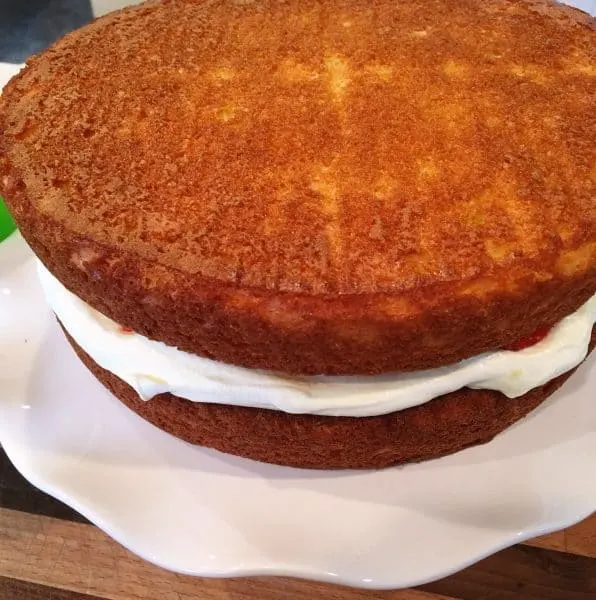 Now you have two different options on how to finish this cake off.
Option A… You put the entire other half of the pudding mixture on top of your cake and top it off with the remaining sliced berries.
Option B… You lay down a very thin layer of the lemon pudding mixture, top with the remaining sliced strawberries…and cover the berries completely with the rest of the lemon pudding mixture.
As you can see… I went with "Option B"! I wanted my berries to stay fresh and not dry out. So I spread a very thin layer of the pudding mixture, so the sliced berries would stick, then I added my mosaic strawberry topping. (My 8th grade art teacher would be so proud… I just said Mosaic!)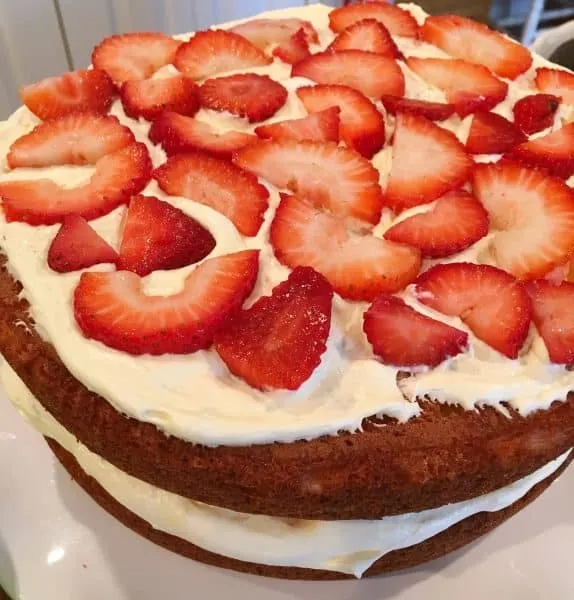 Top with remaining lemon pudding mixture. Scrape out every last drop. Carefully spread over the top of the berries.
Don't worry about the sides! We've got that covered! (No pun intended…well maybe just a little!)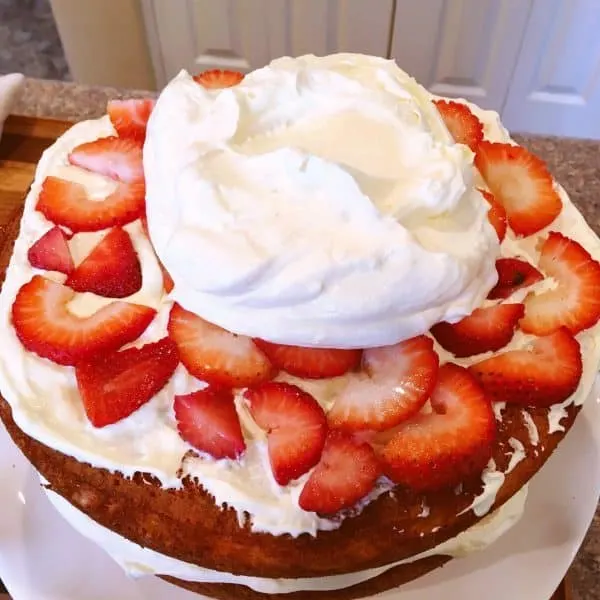 Frost the sides of the cake with the remaining Cool Whip. It doesn't have to be fancy…just spread it carefully all over the sides. (Okay I'll admit I licked the cool whip lid! I was proud of myself for waiting this long! I love cool whip…yep… I own it!)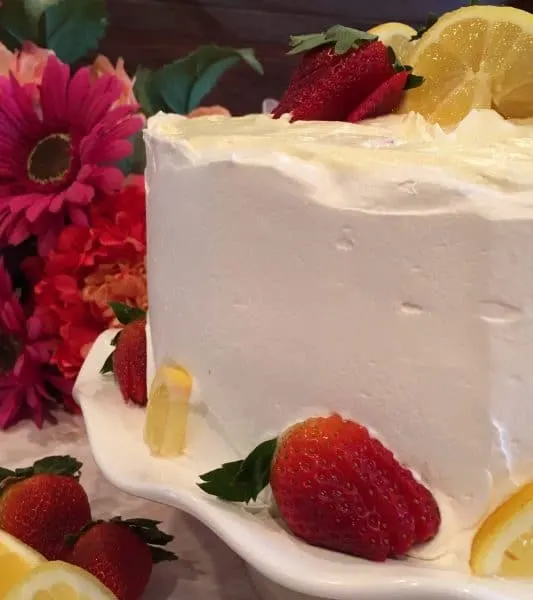 Garnish the cake with lemon wedges and whole strawberries. I sliced the strawberries to fan out. They look so pretty when they are all fanned out like a peacocks feathers!
Easy right?!!! It looks super fancy…but SO easy! That's what I love about this dessert!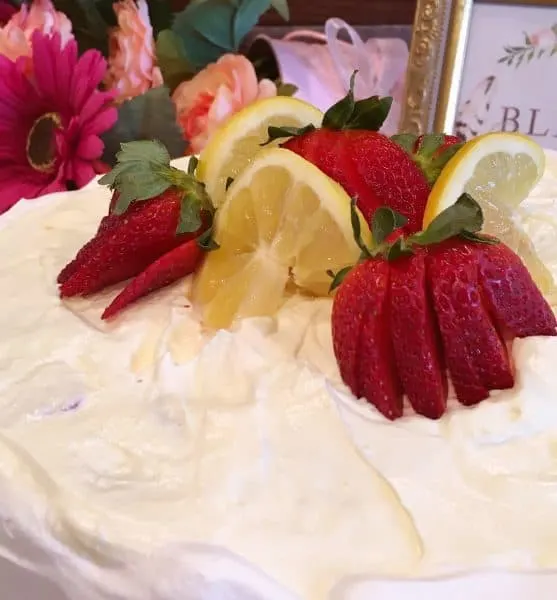 It looks fancy schmancy! But it's not….it's just simple easy ingredients…fresh toppings…and WHAM!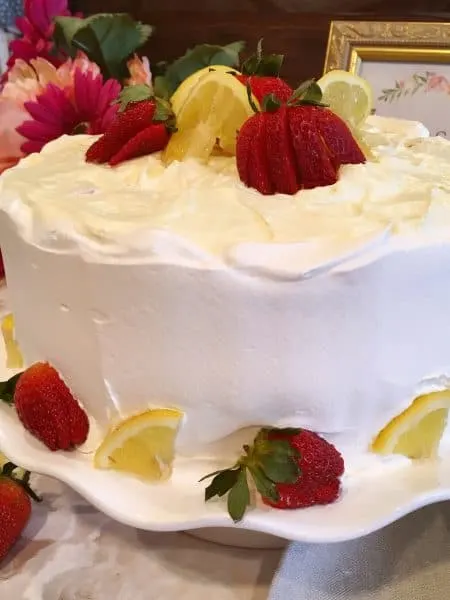 You have a spectacular dessert that will impress any guest…or the family! (If you're one of those still holding out that you can impress your kids… I let go of that dream when they hit 7th grade!) This cake is so moist and combines so beautifully with the lemon and strawberry filling! Every bite is Spring sunshine! We can all use a little Sunshine right?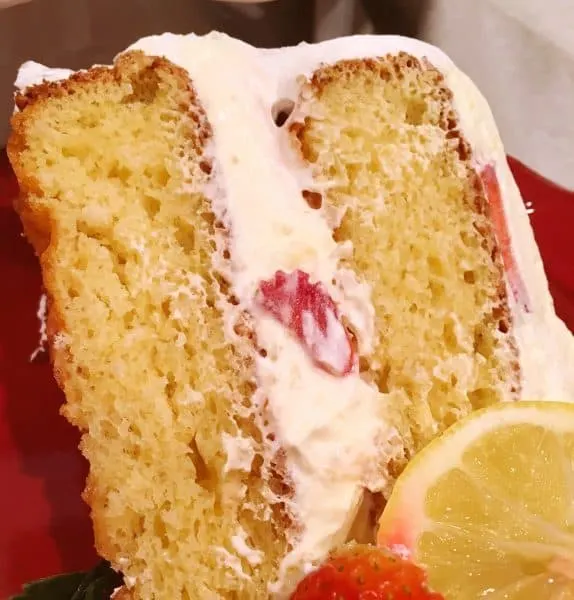 I hope you enjoy this delicious sunny cake as much as the birds at this Nest! It's the perfect Easter dessert, in my ever so humble opinion, and would be great for summer gatherings as well!
Other Favorite Spring Time Desserts you may enjoy!
The printable recipe card is below. I'd love to have you follow me on Pinterest, Facebook, and Instagram where I share more of my favorite recipes every day!
Happy Nesting, and Thanks for stopping by!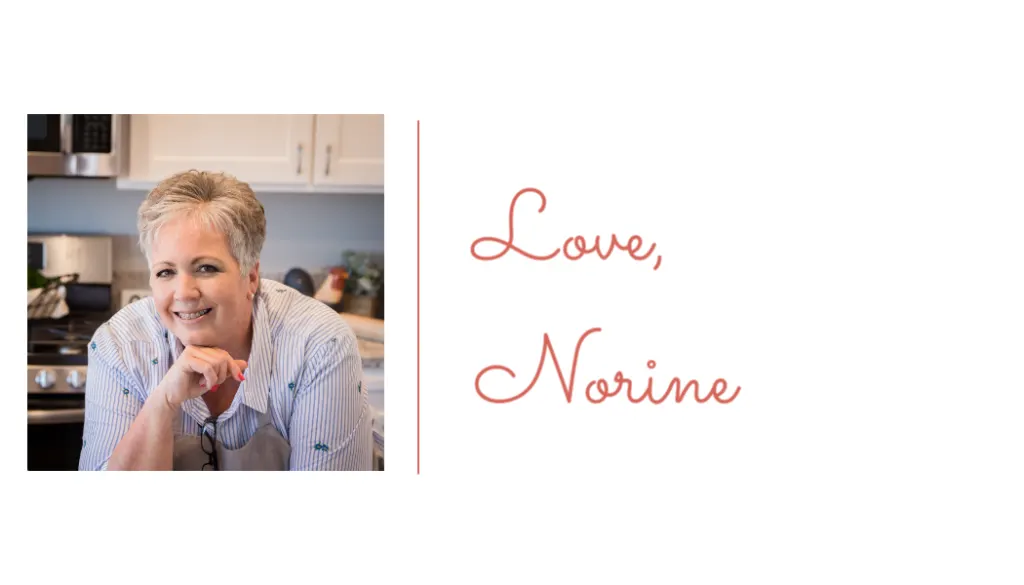 Yield: 16 servings
Easy Mock Lemon Chiffon Cake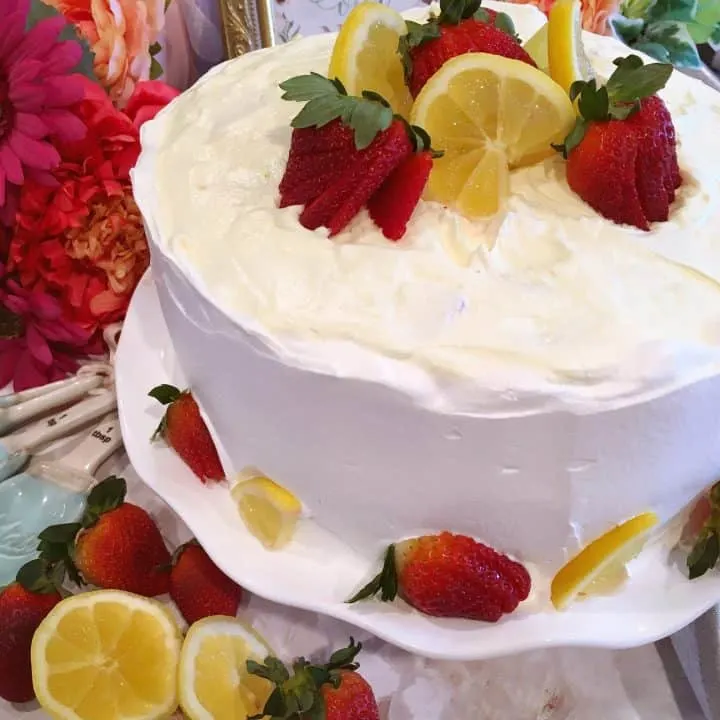 Moist French Vanilla Cake is layered with light flavorful fluffy Mock Lemon Chiffon filling and frosted with whipped cream. The perfect Spring Dessert.
Ingredients
1 (18.25 ounce) French Vanilla Cake Mix or any White Cake Mix
3 large eggs
1/3 cup mayonnaise
1 Cup water
1 (3.4 ounce) package instant vanilla pudding mix
1 (3.4 ounce) package instant lemon pudding mix
1 Cup Milk
1 (16 oz.) package frozen whipped topping, thawed, divided in half
1 pint fresh strawberries, sliced
1 lemon, sliced for garnish
Instructions
1) Preheat oven to 350°
2) Spray 2 - 9 inch baking pans with non-stick baking spray and line bottoms with parchment paper.
3) In the bowl of your mixer add cake mix, vanilla pudding mix, eggs, mayonnaise, and water. Mix on medium speed until well incorporated.
4) Divide cake batter between the two prepared cake pans.
5) Bake for 25-30 minutes until cake is golden and springs back when gently pressed in the center.
6) Allow cakes to cool completely.
7) To make filling mix together instant lemon pudding mix with milk until thickened. Fold in 8 ounces of the whipped topping. Spread half the lemon pudding mixture on the bottom layer of the cake and top with sliced strawberries.
8) Add second cake layer. Spread a very thin layer of lemon pudding mixture on top and top with additional strawberries. Add the remaining lemon pudding mixture on top of the strawberries to cover them completely.
9) Frost sides of cake with remaining 8 ounces of whipped topping. Garnish with additional strawberries and lemon slices. Refrigerate until ready to serve. Store in refrigerator.
Notes
Additional Time is to allow the cake to cool completely.
Recommended Products
As an Amazon Associate and member of other affiliate programs, I earn from qualifying purchases.
Nutrition Information:
Yield:
16 servings
Serving Size:
1 slice
Amount Per Serving:
Calories:

267
Total Fat:

8g
Saturated Fat:

2g
Trans Fat:

0g
Unsaturated Fat:

5g
Cholesterol:

42mg
Sodium:

492mg
Carbohydrates:

46g
Fiber:

1g
Sugar:

23g
Protein:

4g
Norine's Nest in no way provides any warranty, express or implied, towards the content of recipes in this website. It is the reader's responsibility to determine the value and quality of any recipe or instructions provided for food preparation and to determine the nutritional value, if any, and safety of the preparation instructions.