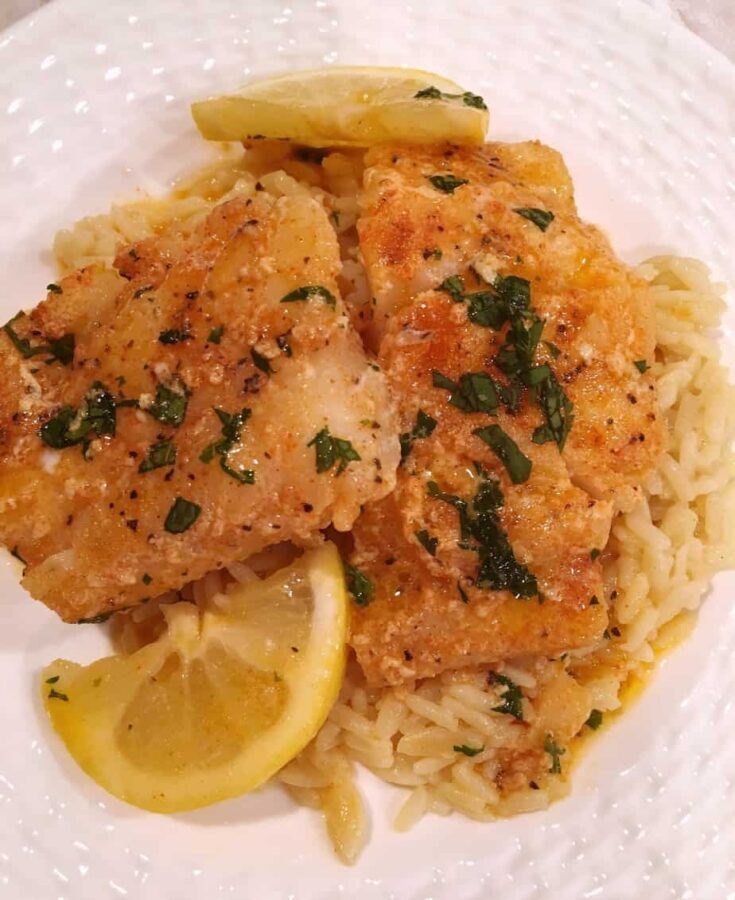 Season cod fillets are pan seared in butter and lemon to create a delicious easy fish main course that is delicious served over rice.
*As an Amazon Associate I earn from qualifying purchases. This post may contain affiliate links, which means that I may make a commission from any purchases at no additional cost to you. Thank you for your support!
You might say this Buttered Cod was last Years New Years resolution!
Yep…Last year I decided I wanted to work more fish into our diet! Something that didn't come from a can! (Notice I said "diet" and not "life"… when you're married to an avid "fisherman" you NEVER need more fish in your life! Stocking reports become a daily event! Yawn!)
I love "seafood" over "lake food"! I'm just not a huge "trout and bass" fan. (I know…my husband doesn't get it either!) I don't mind it… I just prefer seafood critters!
Cod and Halibut are two of my favorites! Thankfully Mr. Nest loves seafood as much as I do! So he loved this Pan Seared Buttered Cod! LOVED IT!
It's a super quick, easy, and tasty main dish that even the pickiest fish eater will love! It's packed with flavor (thanks to all the butter, seasonings, and lemon) and melts in your mouth!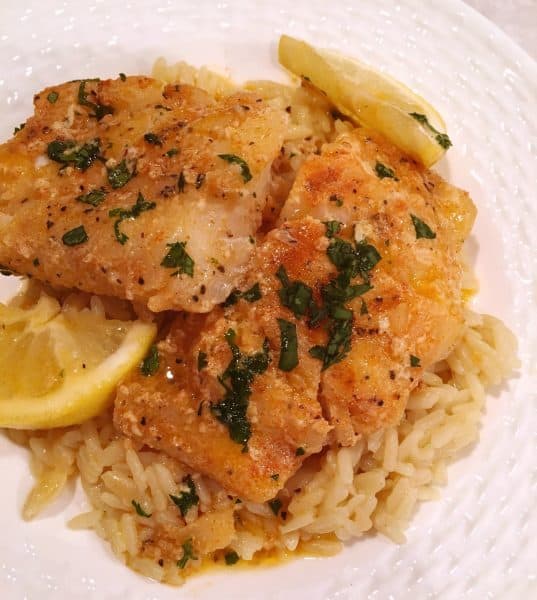 Seasoning Mix
Like any great recipe with meat as it's main ingredient…it starts with the seasonings.
This recipe is no exception. It begins with a simple seasoning mix that can be made from ingredients found in your pantry. This is a GREAT basic Seasoning mix for fish, so I made up a big batch to have on hand. You, however, can just mix up what you need for this recipe.
In a small bowl mix together the following ingredients:
1/4 teaspoon garlic powder
1/2 teaspoon salt
1/4 teaspoon ground black pepper
3/4 teaspoon paprika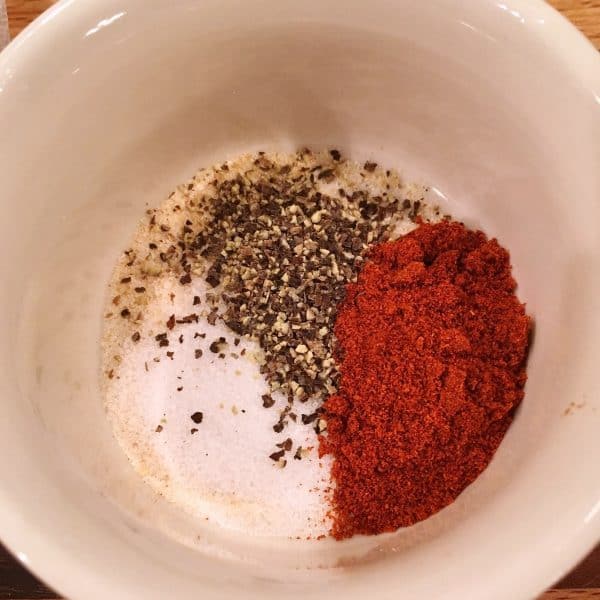 How to make Buttered Cod in Skillet
Before you begin, and to make life easier…cause I'm all about making life easier when it comes to dinner…prepare the remaining ingredients you'll need for this dish. It comes together quickly and you won't have time to stop during cooking to get what you need.
In small individual bowls place the butter in 1 Tablespoon sliced increments, lemon wedges, and either chopped parsley or cilantro. I happen to like the cilantro…but you can certainly use parsley. I loved the depth of flavor the cilantro adds.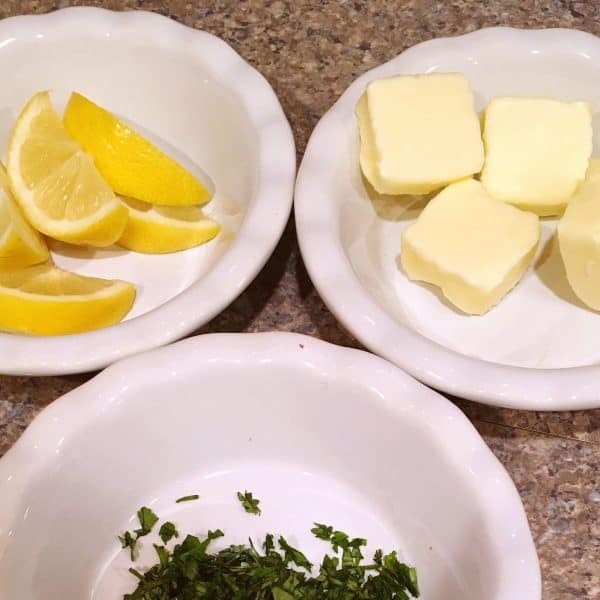 Let's Get Cooking!
You can use either fresh or frozen, thawed, cod. I purchase mine from that fine upscale fish market…Wal-Mart! In all fairness I've purchased frozen cod there a lot this past year and have been pleasantly surprised every time at how good it is.
Cut the Cod into smaller pieces. Nothing a fisherman's wife likes more than to hack away at fish! (Cheap Therapy my friends!)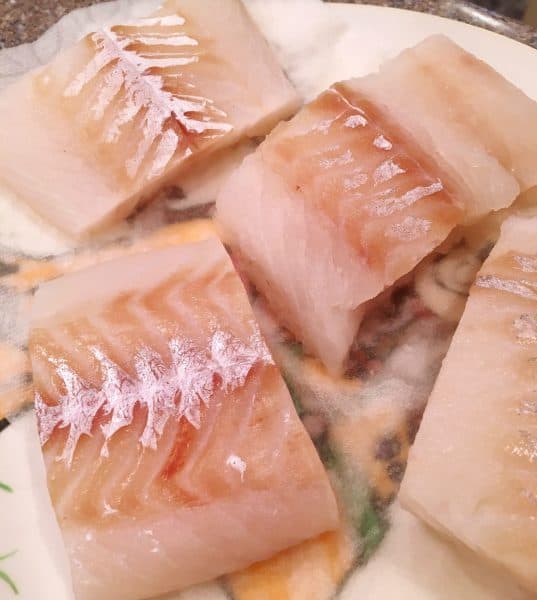 Season all sides of the cod with that easy seasoning mix you made above! Give it a good sprinkle all over…don't be shy! Pretend you're a teenager putting body spray on for the first time! (You know you put too much on! We all did! A blind dog could sniff out a 13-year-old boy coated in "Axe" at a fish market! lol)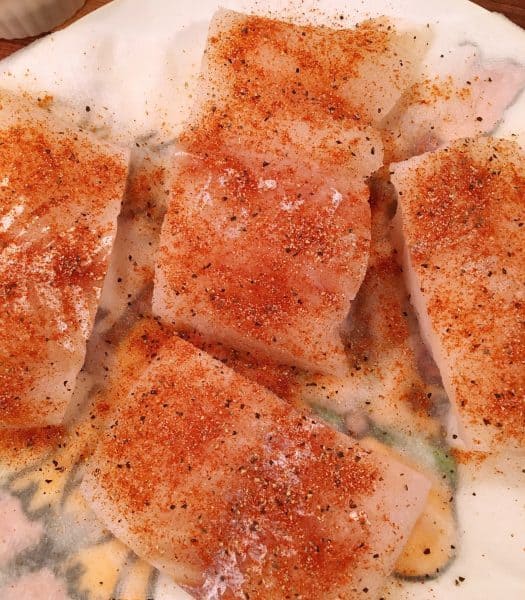 It's butter time!
Yep… time to get ready to let those well seasoned portions of cod slip into a big ol' skillet filled with hot buttah! Let's get your sizzle on!
Melt 2 Tablespoons of butter in a wide skillet over medium-high heat.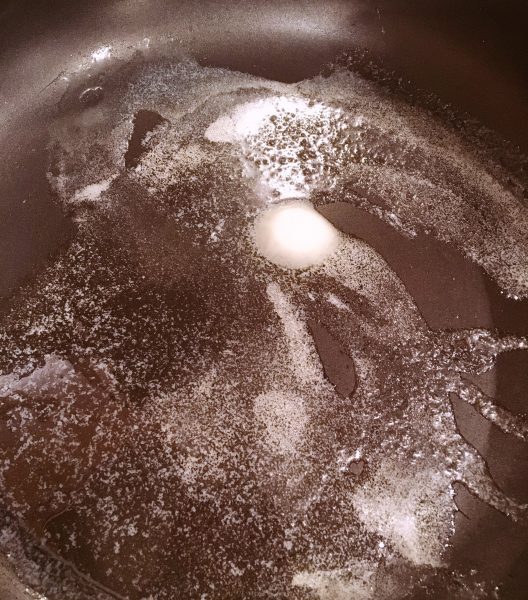 Once the butter has melted…add the seasoned cod to the skillet, stand back and take in the sizzle! We want the fish to get a quick golden brown sear on it. Cook for 2 minutes.
TIP: Remember…lighter fish like Cod and Halibut cook quickly! You don't want to over cook them or you'll have fish mush! YUCK!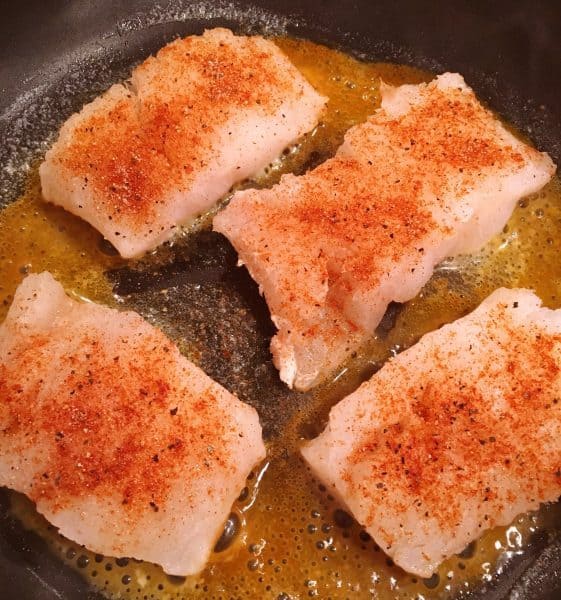 Turn heat down to medium. Carefully turn cod over and top with remaining butter and cook another 3-4 minutes. YES! ALL THE REMAINING BUTTER! Slap it on there! This is after all…"Buttered Cod"!
Butter will completely melt and fish will cook through. Remember…you don't want to over cook the fish or it will become mushy and completely fall apart. (Trust me…I'm mushy and I'm completely falling apart! I don't recommend it!)
TIP: When fish is completely cooked it will become white rather than translucent and gently flake.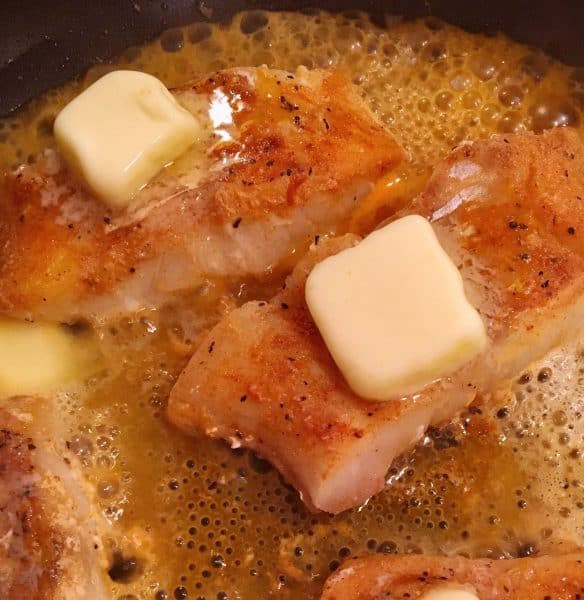 Drizzle cooked cod with fresh lemon juice and top with preferred chopped fresh herbs if desired.
Isn't that a spectacular dish?!! It's such a stunning Cod dish… and it only took a matter of minutes to make it!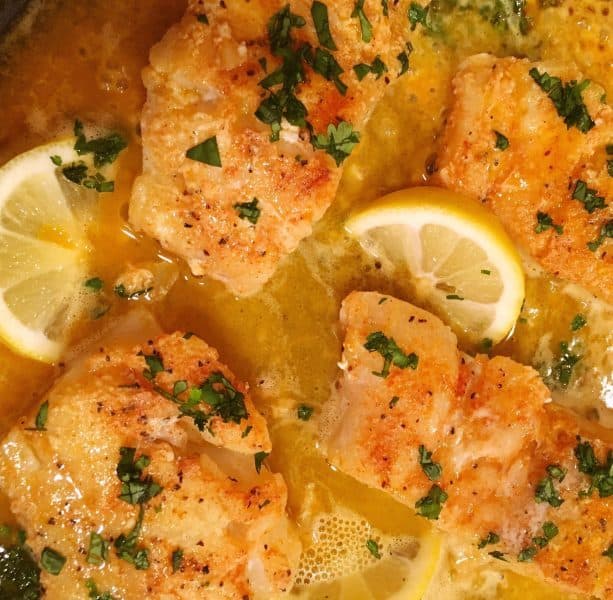 I served mine over Rice-a-roni Rice Pilaf…because I was going for a quick easy dish. Why rice? I wanted rice because I wanted a side dish that was going to soak up all that glorious butter sauce!
The sauce makes ya want to lick your plate clean! I kid you not! It has all the subtle flavors from the cod, lemon, and seasonings. In a word…Heavenly!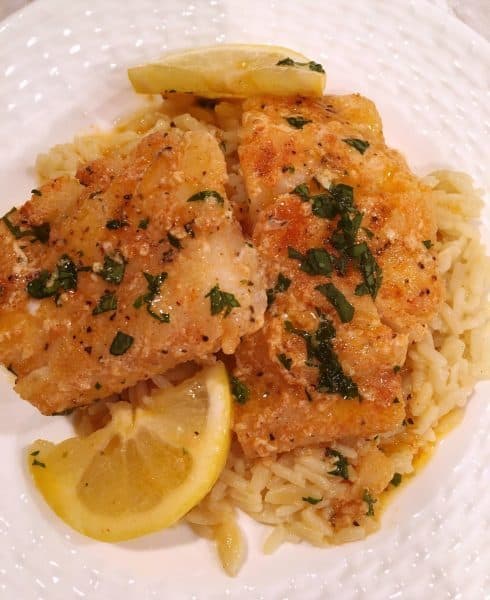 Let's take a closer look…just cause it's so pretty…and because I live with a "fisherman"!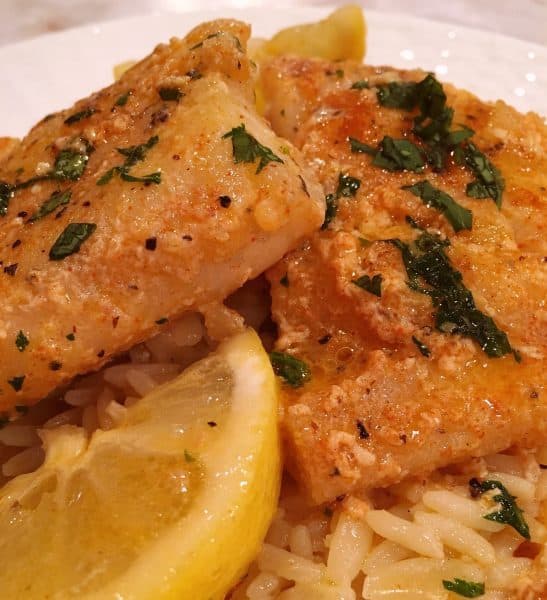 It almost looks like you've dredged this fish through flour…but nope! It's just all those delicious seasonings and of course…the Butt-ah!
Throw in a garden salad and a few slice of crispy sour dough bread to chase that butter sauce around on your plate, and you've got a fantastic meal in minutes! Plus it's a great recipe for adding more fish into your diet this year!
If you're looking for other wonderful fish dishes I have several other family favorites like my lip smacking Classic Fish and Chips, or maybe you're a shrimp lover…if so you'll love this Easy Marinated Grilled Shrimp!
If you try this recipe please let me know. I always love hearing from my followers!
Remember to sign-up for my bi-weekly Newsletter…I promise to work harder on getting it out on time this year! Sigh! I really need an assistant…and soon! (I've actually needed one for 32 years…right after the first baby appeared on the scene! lol)
Happy Nesting…and Fishing!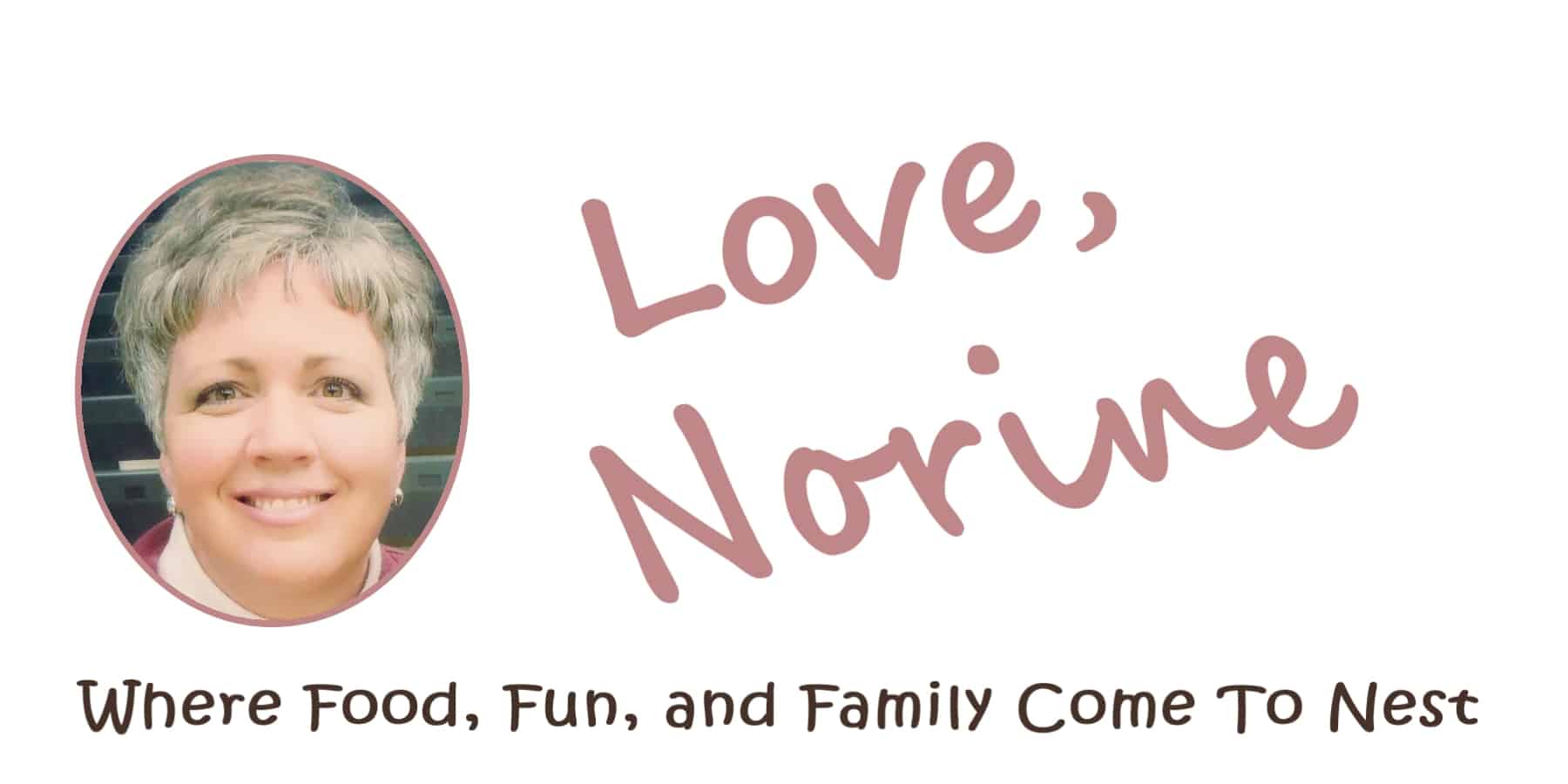 Yield: 2 - 4 servings
Buttered Cod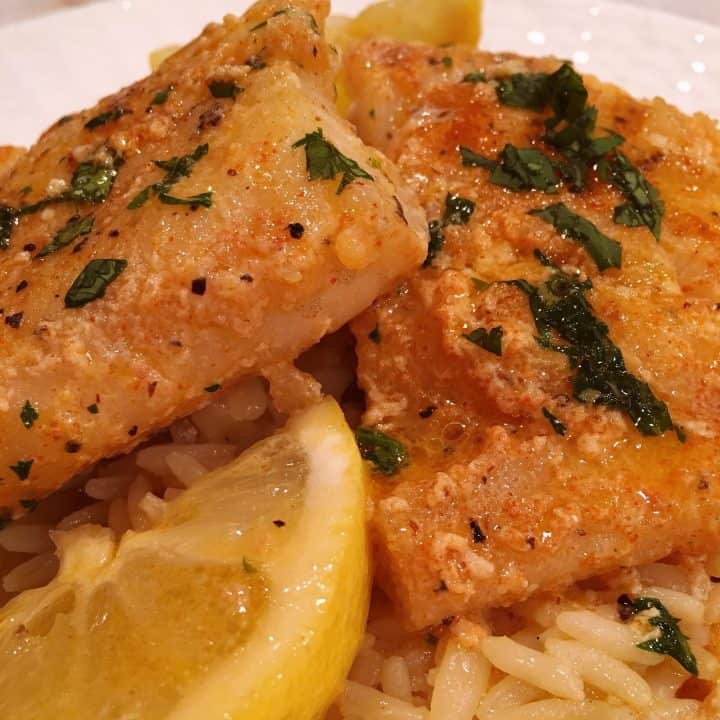 Tender flaky pieces of cod seasoned and pan seared in butter creates a quick, easy, and delicious dinner time meal.
Ingredients
1 1/2 - 2 lbs cod *fresh or frozen-thawed
6 Tablespoons unsalted butter sliced
1/4 teaspoon garlic powder
1/2 teaspoon salt
1/4 teaspoon black pepper
3/4 teaspoon paprika
4-6 lemon slices
Fresh Parsley or Cilantro
Instructions
In a small bowl, stir together garlic powder, salt, black pepper, and paprika. Mix well.
Cut cod into smaller pieces. Rinse and pat dry. Season all sides of the cod with the seasoning mix.
In a wide skillet, heat 2 Tablespoons of butter over medium-high heat until melted. Add cod to skillet. Cooke 2 minutes.
Turn heat down to medium. Carefully turn cod over, top with remaining 4 Tablespoons of butter. Cook another 3-4 minutes. Butter will completely melt and fish will cook through. Do NOT overcook cod as it will become mushy and fall apart.
Drizzle cod with fresh lemon juice. Top with freshly chopped herbs, if desired.
Serve immediately.
Recommended Products
As an Amazon Associate and member of other affiliate programs, I earn from qualifying purchases.
Nutrition Information:
Yield:
2-4 servings
Serving Size:
1
Amount Per Serving:
Calories:

1031
Total Fat:

41g
Saturated Fat:

23g
Trans Fat:

0g
Unsaturated Fat:

14g
Cholesterol:

466mg
Sodium:

1067mg
Carbohydrates:

3g
Fiber:

1g
Sugar:

1g
Protein:

156g
Norine's Nest in no way provides any warranty, express or implied, towards the content of recipes in this website. It is the reader's responsibility to determine the value and quality of any recipe or instructions provided for food preparation and to determine the nutritional value, if any, and safety of the preparation instructions.