An Easy Retro Recipe loaded with tender chunks of chicken, or turkey, with celery, slivered almonds, a creamy sauce and topped off with crushed potato chips and shredded cheese. A delightful dish served at Church Potlucks and family gatherings for years and always a crowd pleaser.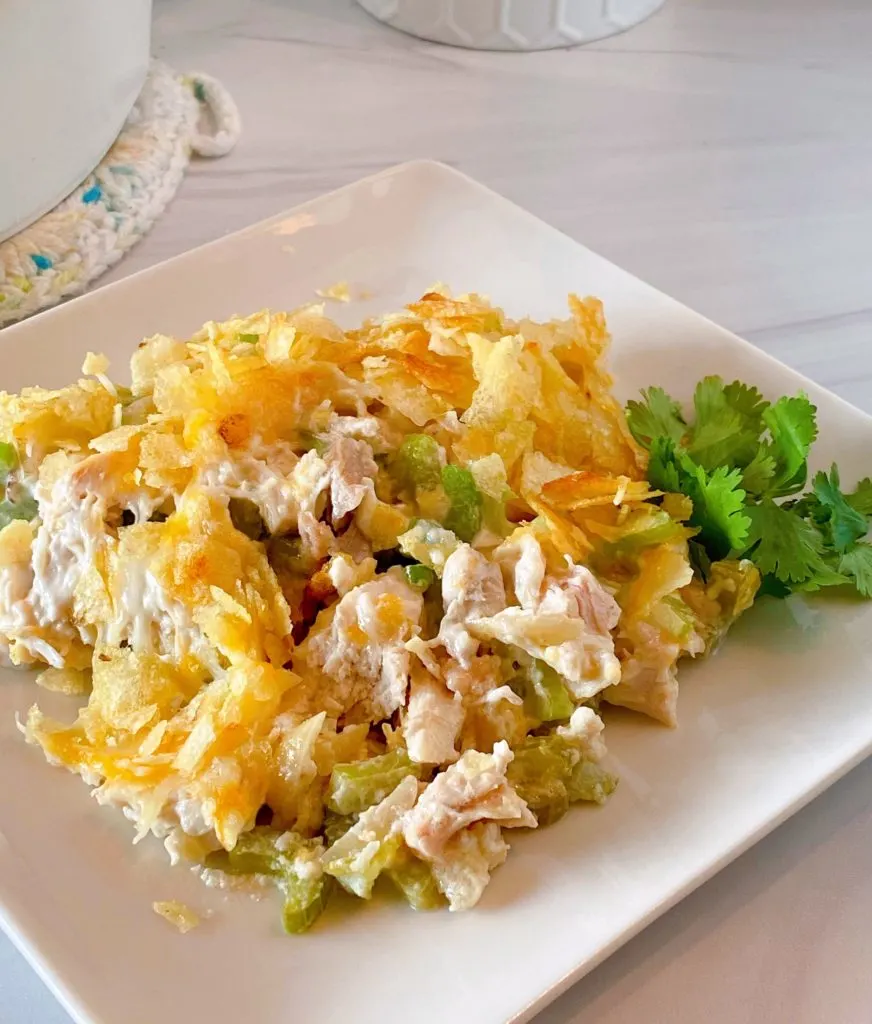 Have you ever had "Hot Chicken Salad"? It's a classic retro dish that Mom's and Grandmother's have been taking to Church Potlucks and Bazaars' for years! (I know… I'm dating myself! Everyone under the age of 35 is now scratching their heads asking "What's a Bazaar?")
I remember Mom making this recipe to take to church gathering the ladies were having. The might have been finishing a quilt… or doing some other type of service for others. Whatever the occasion, there was always food, and everyone always brought their best dish!
As a young girl I thought anything with crumbled potato chips on top just HAD to be good!! Back then potato chips weren't a common pantry staple. They were a treat!
With a few simple ingredients you can enjoy this yummy dish! I love using rotisserie chicken for this recipe to make it even easier to whip up this long time favorite Chicken Chip Bake Casserole. Some call this "Hot Chicken Salad". Either way you look at it…it's a Classic!
How To Make Classic Hot Chicken Salad Casserole
As with any recipe, I highly recommend having all the ingredients measured out and ready to go! (Okay fine…I do it because I'm old, and I forget where I put my car keys half the time…but it's still a good cooking habit to get into!)
The recipe starts out with two cups of cubed cooked chicken!
TIP: You can substitute Turkey and make this a Turkey Chip Bake, or Hot Turkey Salad. It's a great way to use up some of that leftover Thanksgiving meat. I love to buy several Costco Rotisserie Chickens, remove the meat, and freeze it in individual bags for casseroles.
Place the cubed chicken and 2 cups of sliced celery in a large mixing bowl. If you're not a huge celery fan you can reduce the amount of celery in this dish without any issues to the overall taste. (Note I said "reduce" not omit)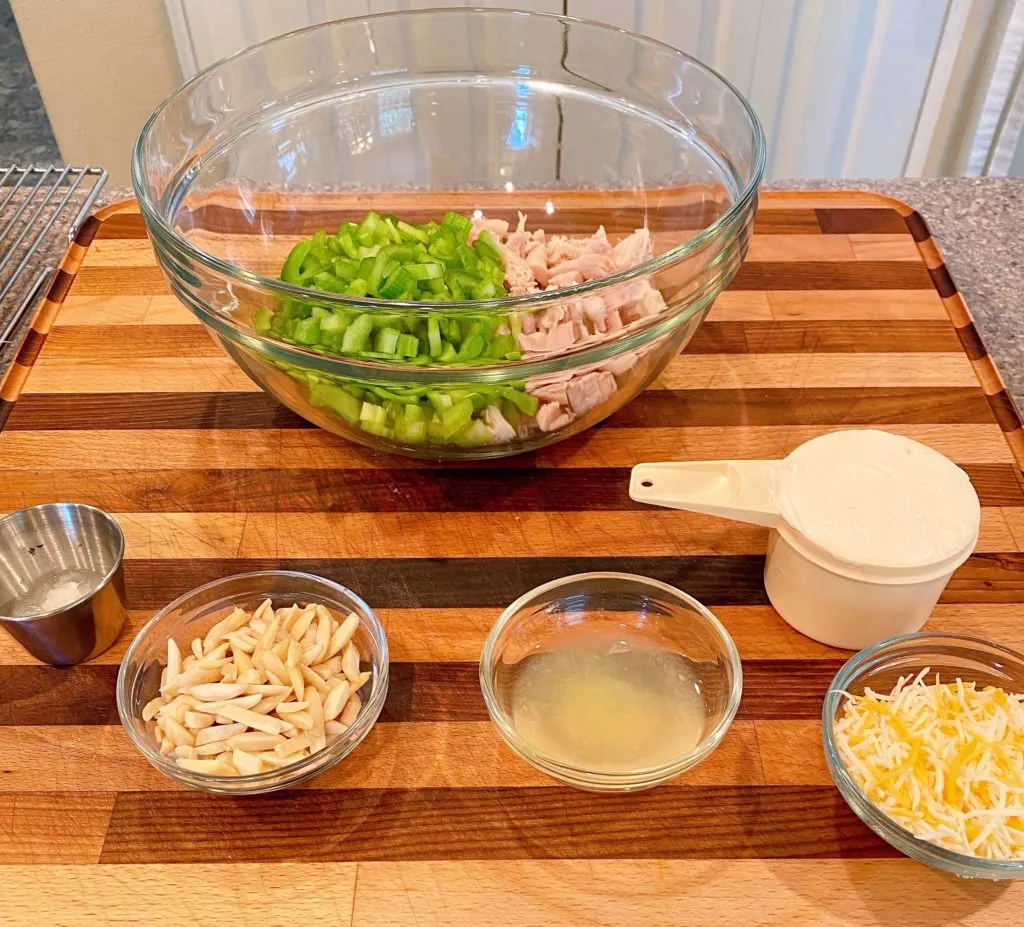 Add 1/2 cup shredded cheddar cheese, 1/3 cup toasted slivered almonds, 2 teaspoons grated onion, 2 Tablespoons lemon juice, and 1/2 teaspoon salt.
I know all the Mom's and Grandma's are yelling "Hey! We didn't put cheese IN the casserole!" I know you didn't! That's why I'm the Food Blogger! lol I do crazy stuff like that! I go Cheese Cray-Cray and add it TO the casserole AND on top of the casserole! (Just call me "Wild Thang"!)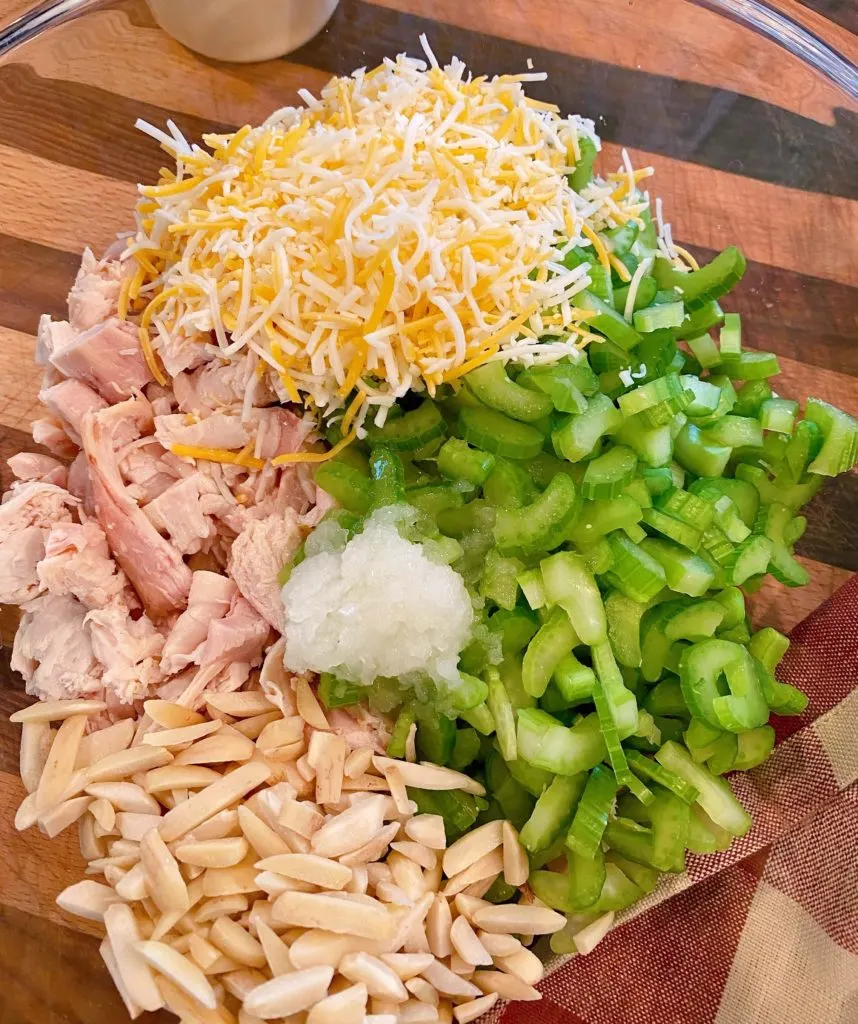 Add 3/4 cups Mayonnaise.
Time for an important cooking tip!
Raise your right hand and repeat after me "I will NOT under any circumstances use Miracle Whip in this recipe so help me Norine!" (Are we clear here how I feel about using Miracle Whip in this recipe? In fact if you love me…just file that jar in the circular file!)
Okay let's move along, now that we've got that out of the way! (Whew…I just saved y'all! Your taste buds will thank me!)
Combine the mayonnaise with the salad ingredients. Mix until everything is well incorporated. Place in a 1-1/2 or 2 quart baking dish sprayed with non-stick cooking spray! Spread the casserole evenly in the baking dish.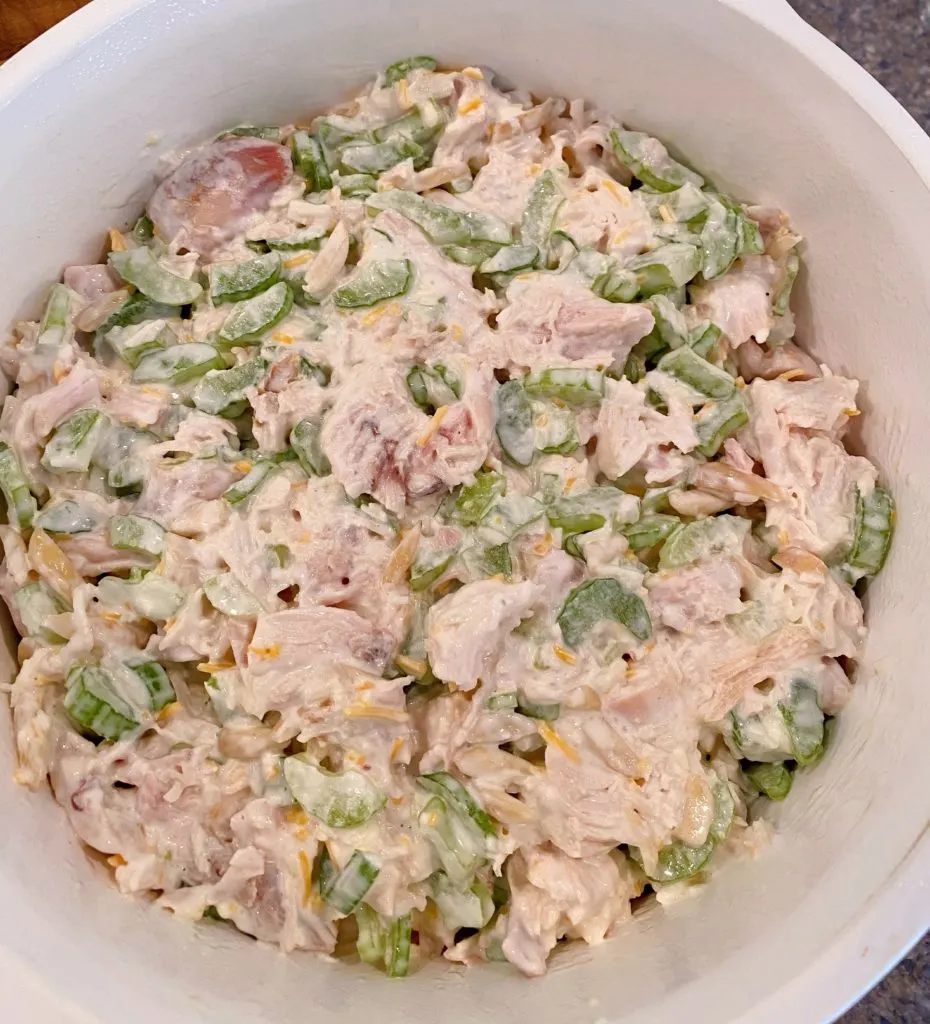 Sprinkle with the other 1/2 cup of grated cheddar cheese (We're wild women!) Top with 1 cup crushed potato chips!!! I highly recommend using a lightly salted chip to watch the sodium levels in this recipe! Just a suggestion though. You do you!
*Note this is a fantastic recipe for using up those potato chip crumbs at the bottom of the bag! However, it's also a great excuse to beat the heck out of a bag of chips! No judgments from this Menopausal woman! (I recommend a heavy wooden rolling pin…Just sayin'!!)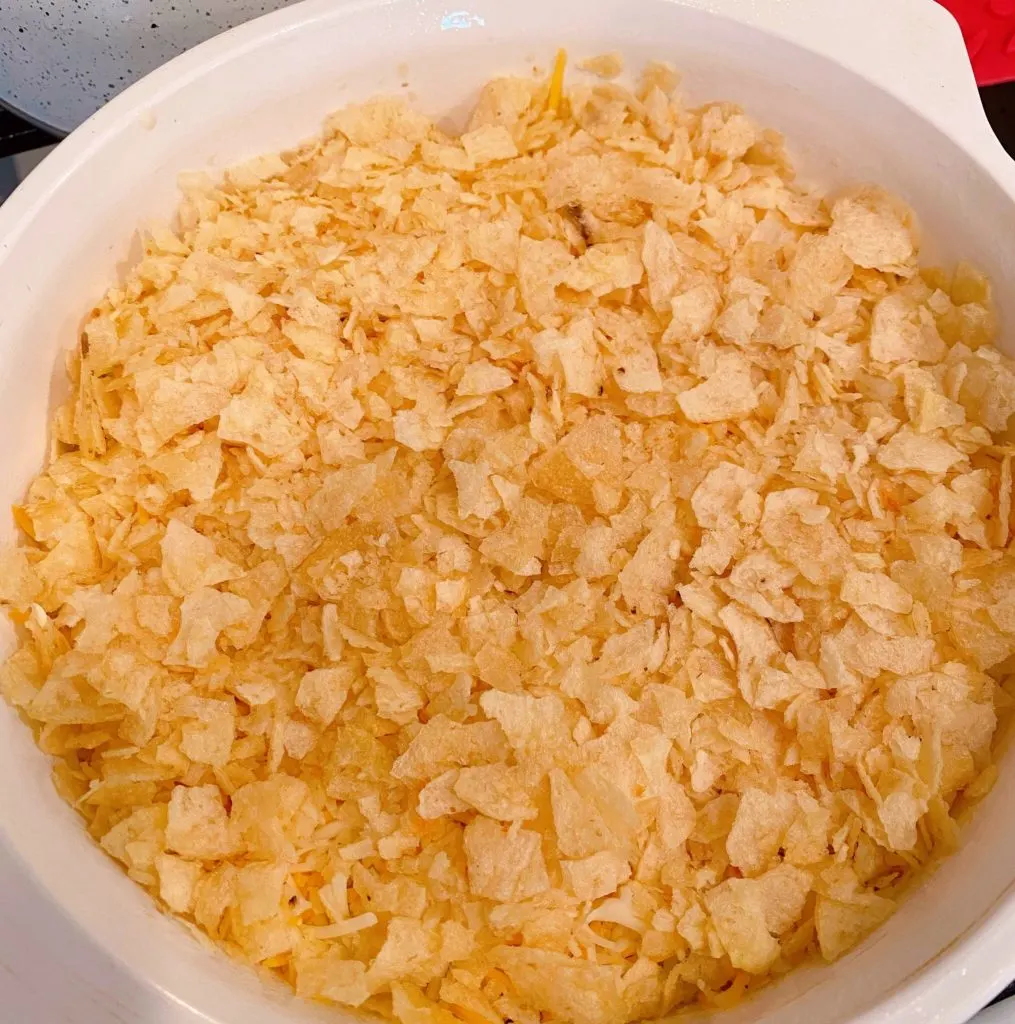 Place the casserole in a preheated 425° oven in the center of the rack. Bake for 20 minutes, or until completely heated through, and the chips have turned a nice golden brown.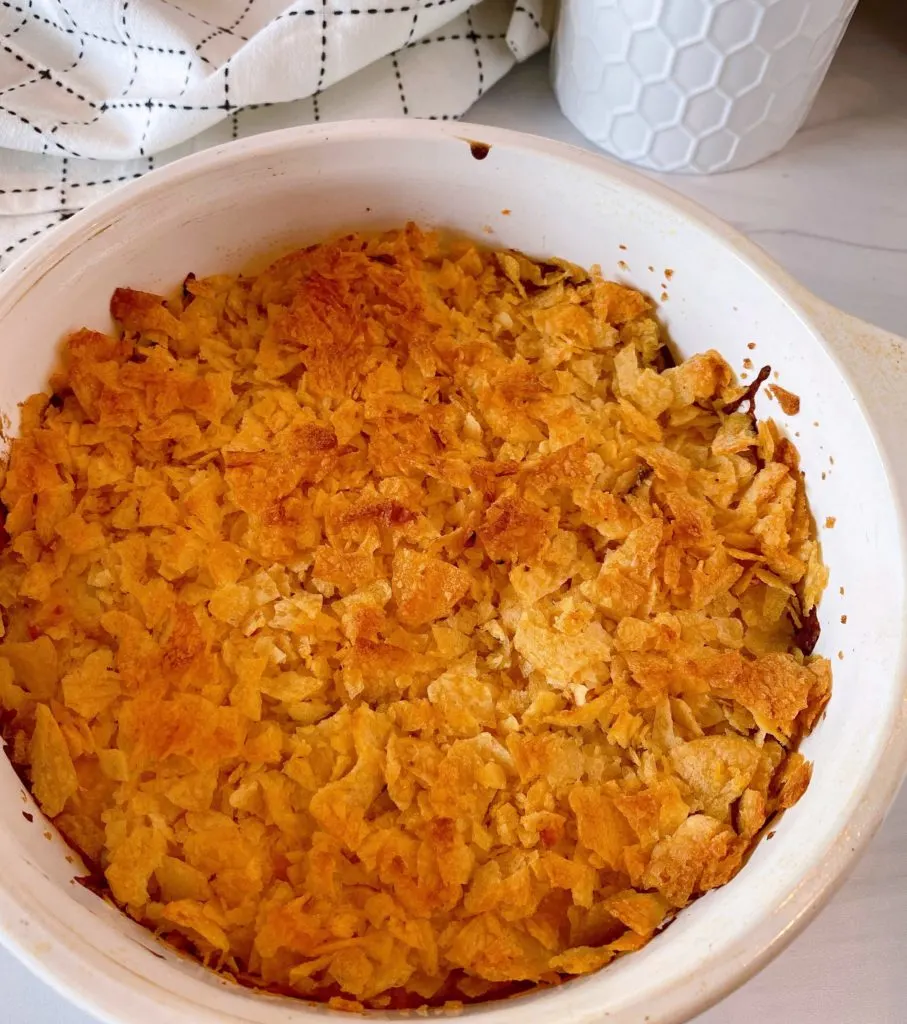 Serving Classic Hot Chicken Salad
Once this casserole is completely heated through you may want to allow it to cool for just a minute or two.

When serving this delicious casserole to family or friends, I love to pile a big scoop onto each plate, making sure I get a lot of those beautiful crispy chips and melted cheese! Do you see the crispies?!!! YUM!!!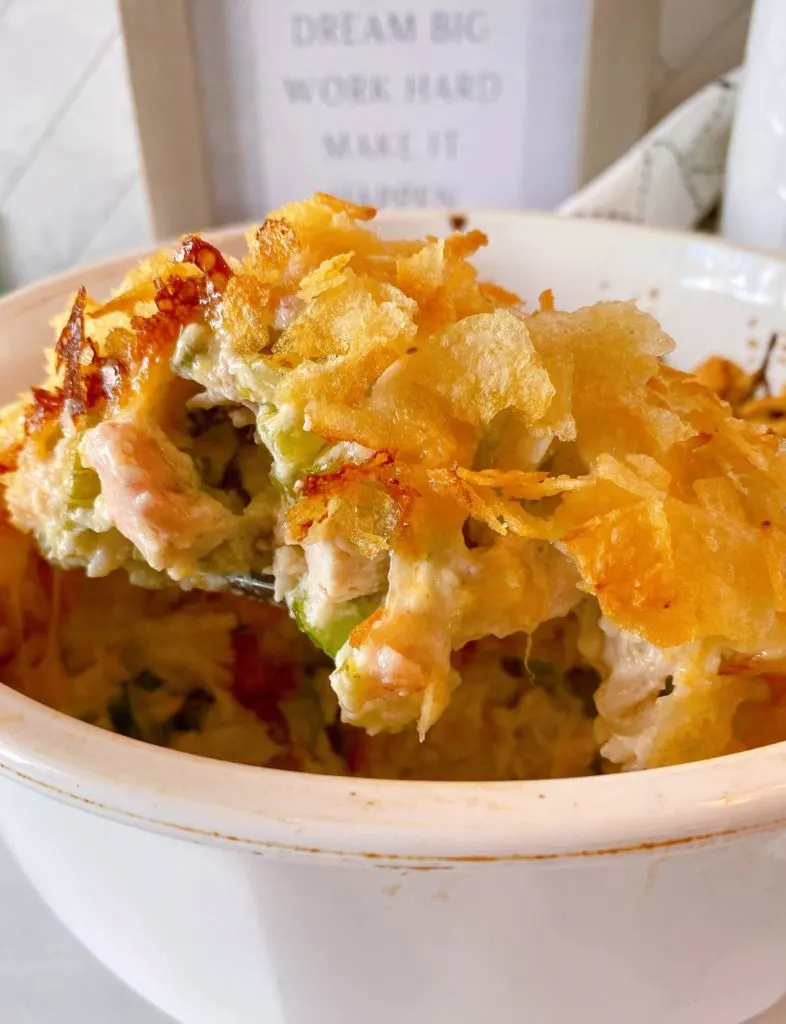 Every single bite of this casserole is perfection!
The crunchy chips and tender chicken, with the crispy slivered almonds…such a great combination! Secretly I think this would even make a perfect dip served on crackers or thick slices of toasty buttery baguette slices. However, it's also a wonderful dinner!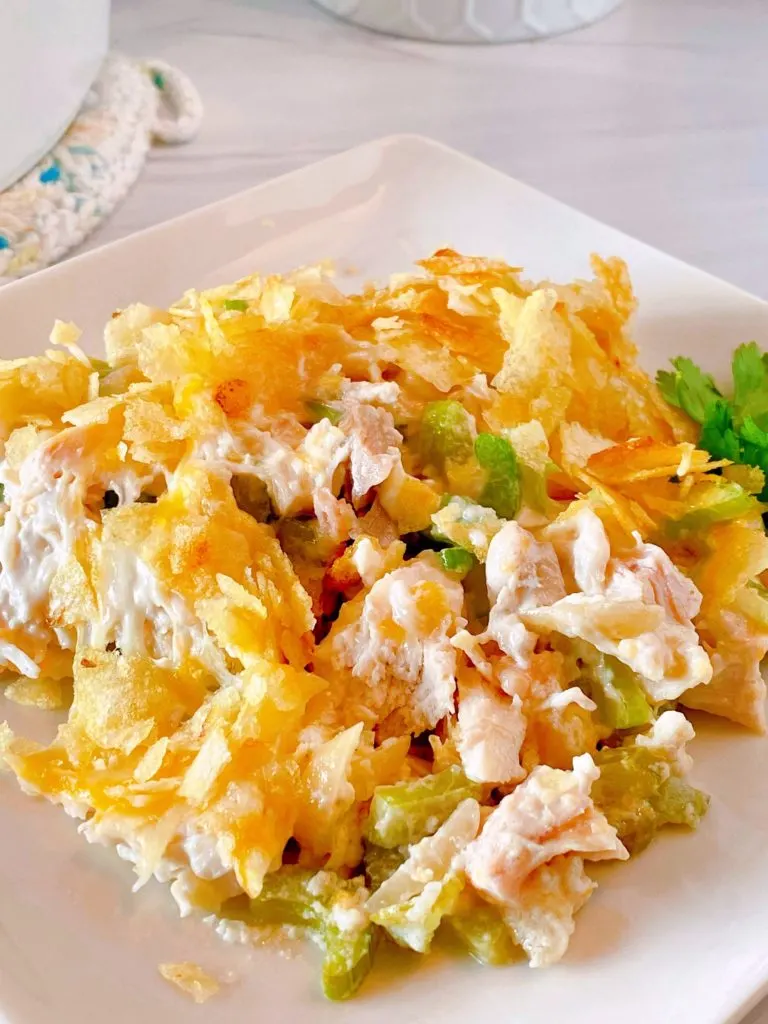 I suggest serving this dish with a fruit salad, or a big beautiful garden with a side of home grown fried squash! Maybe even some thick slices of fresh garden tomatoes! It's a great comfort dish!
From the first bite to the last, you'll know why Mom and Grandma took this dish to all those Church gatherings and why every woman had it in her "special" recipe book!
It's recipes like this that remind me how amazing our cooks of the past were! They knew how to take a few ingredients and create a whole lot of budget friendly, mouth-watering goodness!
Other Favorite Chicken Casserole Recipes
Thanks for stopping by and visiting with me today! As always I love having you here and I hope you'll come back soon!
Happy Nesting!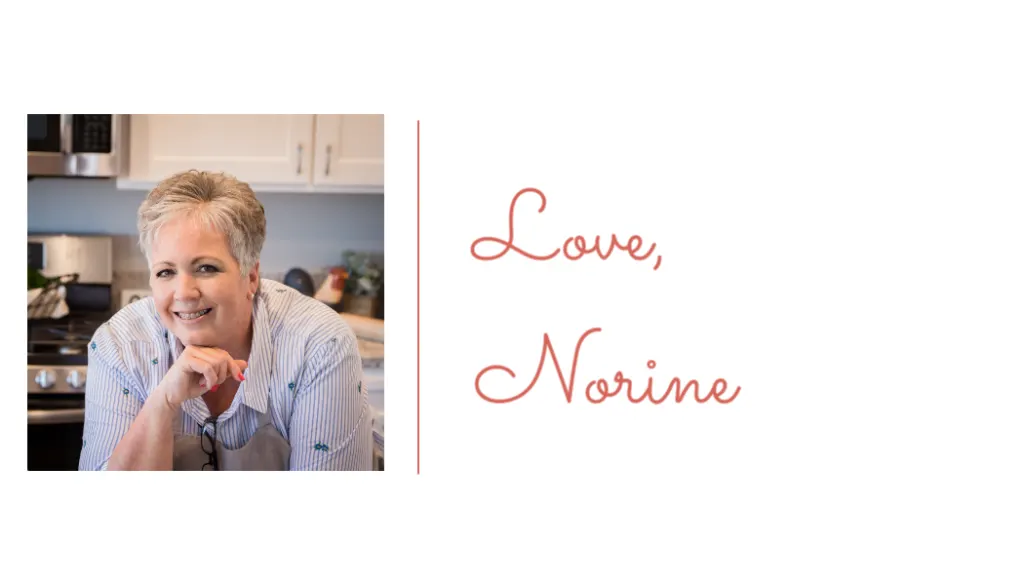 Yield: 6 servings
Classic Hot Chicken Chip Bake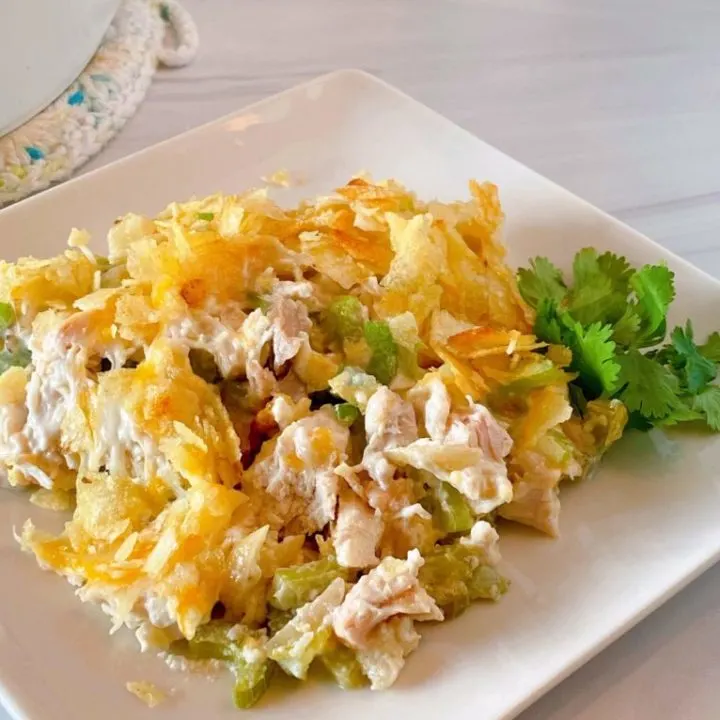 An Easy Retro Recipe loaded with tender chunks of chicken, or turkey, with celery, slivered almonds, a creamy sauce and topped off with crushed potato chips and shredded cheese.
Ingredients
2 cups cubed cooked chicken
2 cups sliced celery
3/4 cup mayonnaise
1/3 cup toasted slivered almonds
2 teaspoons grated onion
2 Tablespoon lemon juice
1/2 teaspoon salt
1 cup (divided in half) shredded cheddar cheese
1 cup crushed potato chips
Instructions
Preheat oven to 425°. Spray a 2 quart baking dish with non-stick cooking spray.
In a large bowl combine all ingredients except 1/2 cup of grated cheese and potato chips.
Pile chicken mixture in prepared baking dish and spread evenly.
Top with additional 1/2 cup of grated cheese and sprinkle with crushed potato chips.
Bake, uncovered, in preheated oven for 20 minutes or until heated through, and chips are golden brown.