Thick Juicy Hamburgers are stuffed with cheese and bacon to create this "Inside Out" Bacon Cheese burger! Perfect for your summer dinner table or next BBQ!
Hamburgers! They're so "All-American"! Right? Even if their origins are from "Hamburg" Germany! I'm pretty sure we perfected this sandwich delight! (Also…I obviously can't photograph a good burger…sigh…but I sure do love'em!)
*As an Amazon Associate I earn from qualifying purchases. This post may contain affiliate links, which means that I may make a commission from any purchases at no additional cost to you. Thank you for your support!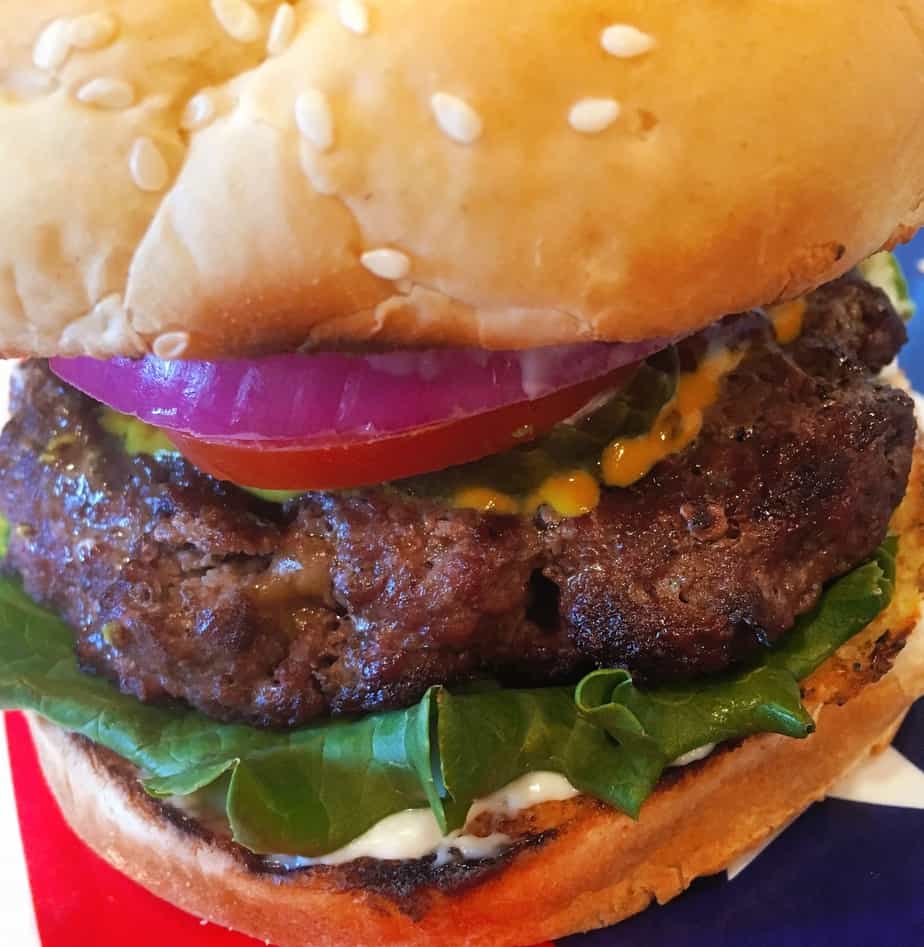 I wanted to create an awesome burger for Memorial Day! Something a little more than the average grilled patty. I can't think of anything to kick summer off any better than a delicious thick juicy burger. One you have to grip with both hands and smoosh a little to get it into your mouth!
I had fun creating this burger! Start out with top quality ground beef and stuff it full of shredded cheese and bacon crumbles! Say it with me…."Mmmmmmmmmmmm"! You'd be exactly right!
You don't have to worry that the cheese or bacon are going to slide off the burger and jump ship! They can't! They're trapped inside all that juicy grilled beef! (I'm taking pathetic pride in the fact that I'm smarter than a hamburger patty! Hooray Me!!!)
I did not want to over complicate this burger. Easy is my party motto. So let's keep it simple and enjoy the holiday. Start with 1.5 pounds of top quality ground beef. You want it to have some fat. Fat is where your flavor and juices come from. A super lean ground beef will give you a dry burger. 80-20 or 85-15 is perfect. Tell your arteries they're on vacation!
How To Make Inside Out Bacon Cheeseburgers
Sprinkle with coarse ground pepper, garlic powder, and seasoning salt. This is totally up to your taste preference. I used about 1/8 of tsp of ground pepper and garlic powder and about 1/4 teaspoon seasoning salt.
Using your hands…dig in…and mix that all together. I'm weird. I love digging my hands into ground meat and taking out all my aggressions! So much better than an orange jumpsuit! lol Just sayin'….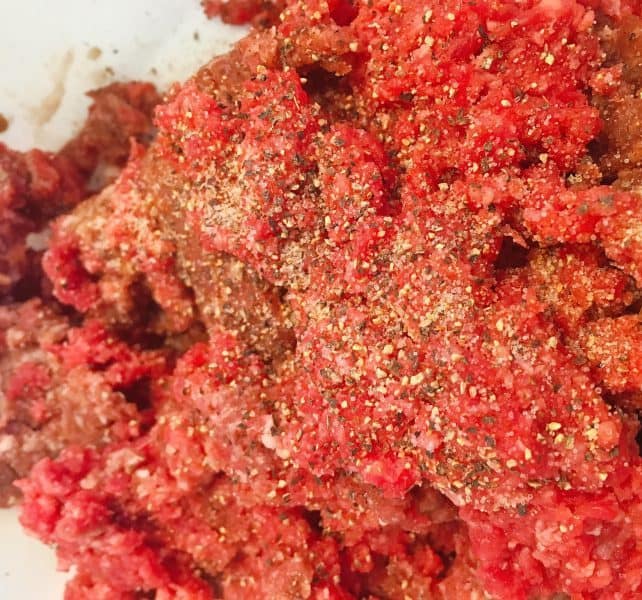 Grab a nice big handful of the mixed ground beef. Shape it into a large ball. Using your thumb press a large hole into the center that does not go all the way through. Your basically making a meat "bowl". Just like you did in first grade with that grey blob of clay they handed you. Remember that?
How many non-smoking parents in the 70's had big clunky ash trays made by their first graders? My parents did! They were SO lucky! lol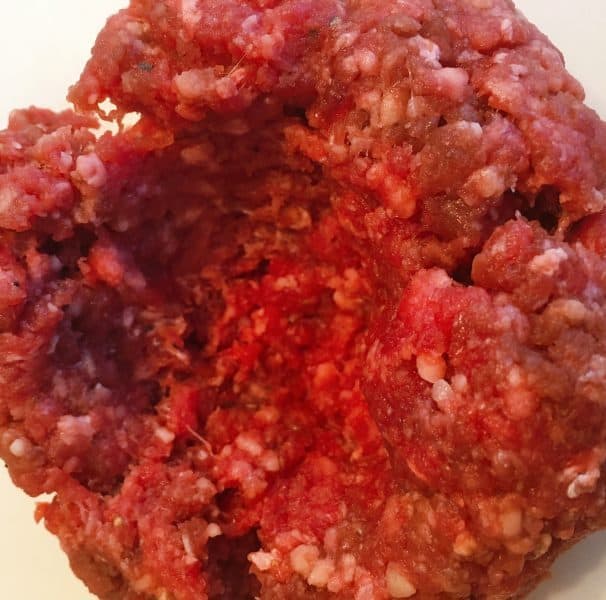 Now that you have a beautiful meat bowl…it's time for the "stuffing"! In a separate bowl mix together 3/4 cup grated cheese and 2 cut up pieces of crispy cooked bacon.
Grab a heaping Tablespoon of the mixture and place it in the hole. Push it down. Gently fold the outer edges of the hamburger bowl over the top of the cheese and bacon mixture to create a large ball.
Then flatten it down with the palm of your hand. Shape into a hamburger patty making sure the stuffing mixture stays UNDER the burger.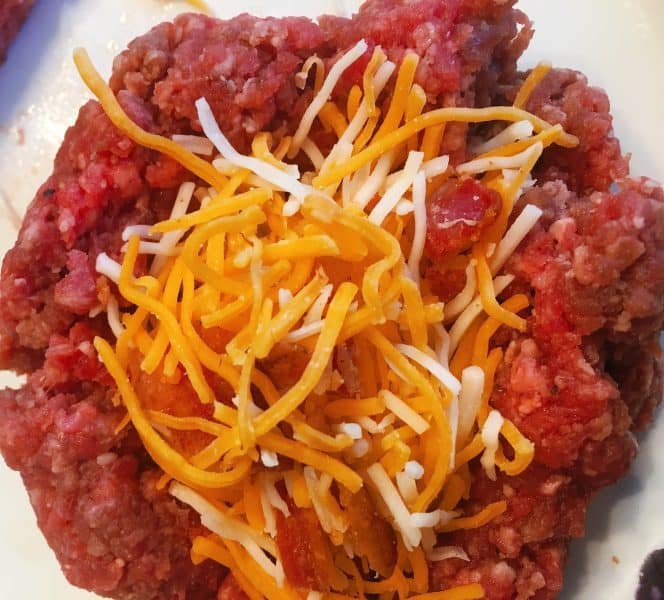 Pre-heat your BBQ grill to medium heat.
Tip: Treat your BBQ just like you would your oven! Allow it to "preheat" and rise to the baking temperature you desire. This will give you the instant sear you want on your meat. That will lock the juices into the meat. Repeat after me…"ALL the flavor is in the juices!" I can't think of anything worse than gagging down a dry flavorless burger. (Okay! I can think of WORSE things…but ya get my point!)
Place burgers directly over the heat and listen for that sear sizzle. Once it dies down…flip and do the same thing on the opposite side. Now you have sealed in all those juices and you can turn the heat down allow them to cook at a lower temperature. Cook for an additional 5-8 minutes per side to be sure they are cooked all the way through.
If you notice in my picture the burger in the lower right hand corner…that cheese and bacon…they were trying to escape! I don't think so!!!
Be sure to toast your buns too. NO! I don't mean stand too close to the fire and "toast yer' buns"…I mean toast the hamburger buns! And please…PLEASE…Lawdy…buy a good quality bun!
Walk away from the .99 cent buns. Those are saved for the paper-thin premade frozen burgers you buy when your feeding the entire neighborhood, or the entire church congregation. (Did she really say that? Yes, she did! Gasp!)
These are… "I'm a SUPER SPECIAL burger and deserve a magnificent pair of buns!" burgers! No cheap buns for these babies!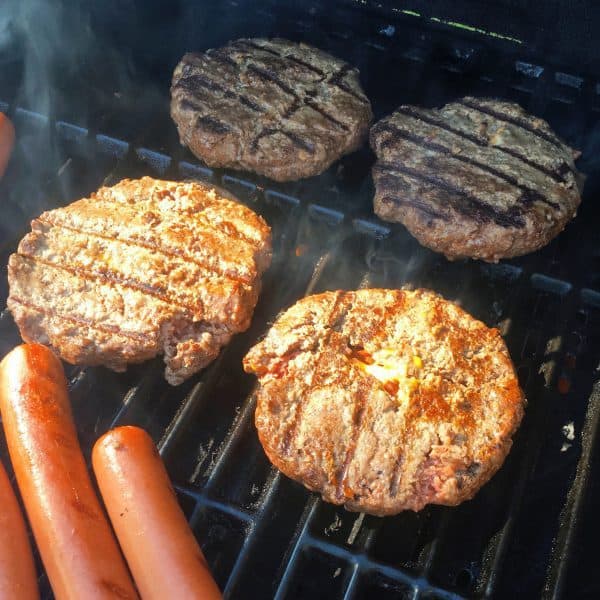 Do you see the melted cheddar cheese and bacon in the center of the burger? (Oh…you did…I see the drool!)
The additional flavor those two ingredients add to this burger is insane. Who would have thought? Not me. Seriously… I knew they'd be good…I mean how do you go wrong with cheese and bacon? What I didn't expect was how juicy, tender, and flavorful they would be. They are my new fave!
Load that thick mouth-watering burger with all your favorites! For me it was ketchup, mustard, pickles, fresh ripe tomato, purple onion (It's not red…they are purple! Did a color blind person name that poor vegetable?), green leaf lettuce, and creamy slices of avocado!
I like to make a tray loaded with all the yummy hamburger toppings I can think of…then let everyone choose their own!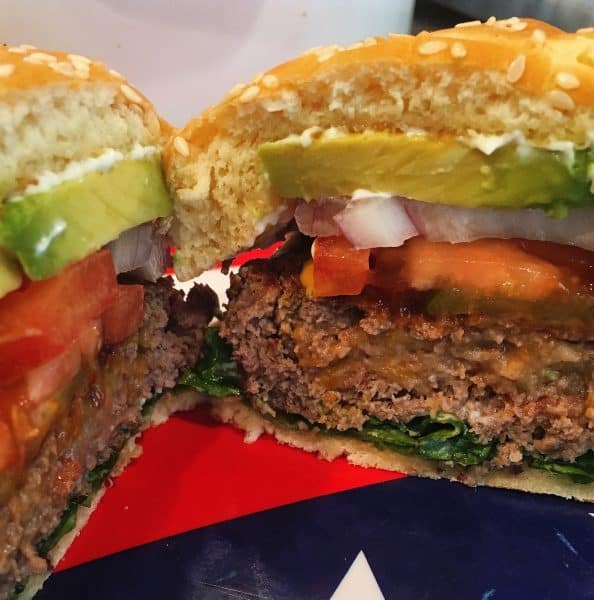 This is one "Smoosh" worthy burger my friends! You're gonna need lots of napkins and a healthy appetite! We were weaklings and none of us could even finish an entire burger.
However, we all agreed…BEST BURGER that's come off our grill! I wish my photos did it justice. I just haven't figure out that technique yet. It didn't help that all I wanted to do was EAT IT!!!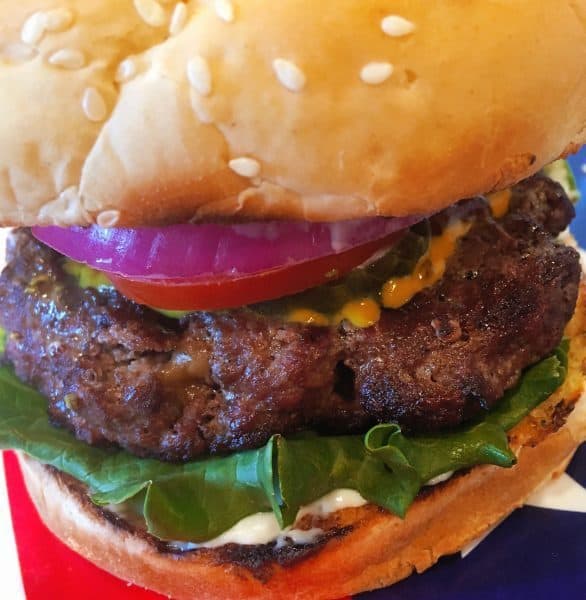 There you go… an "Inside Out" Bacon Cheese Burger! A Norine's Nest Original. It's so fun and so sumptuously tasty! It's just my little way of saying "Howdy Summer! Welcome Back!"
These great Side Dish Recipes go great with grilled burgers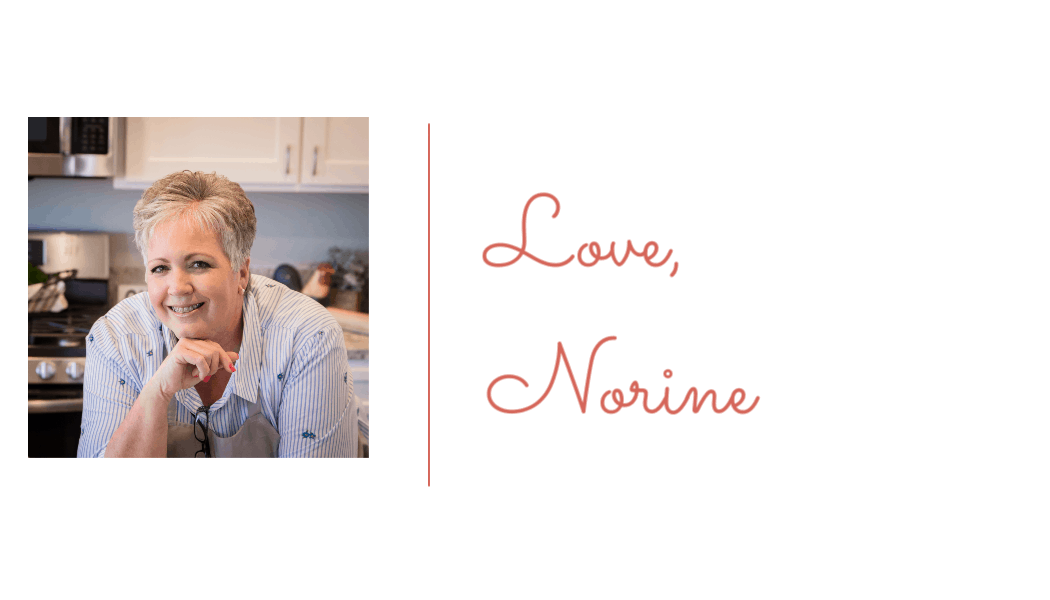 Yield: 4 large hamburgers
Inside Out Bacon Cheeseburgers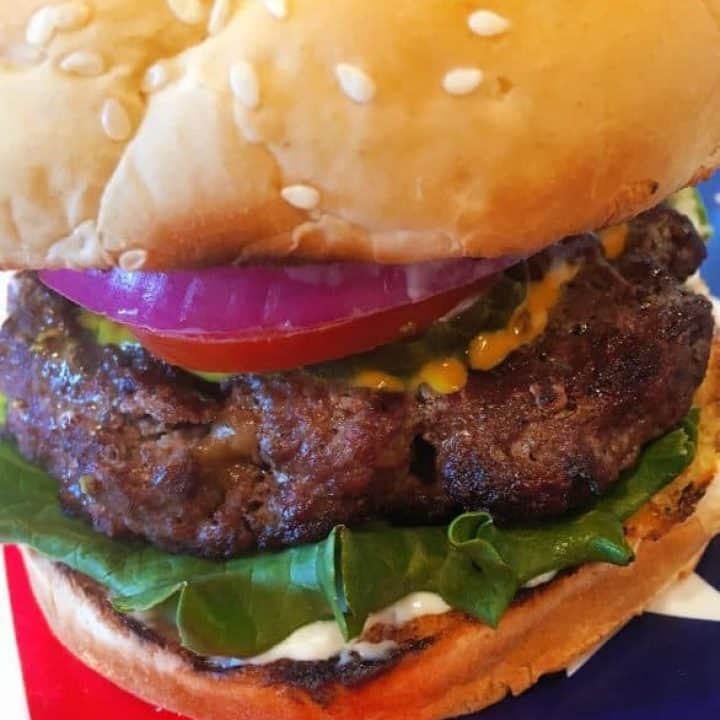 Thick Juicy Hamburgers are stuffed with cheese and bacon to create this "Inside Out" Bacon Cheese burger! Perfect for your summer dinner table or next BBQ!
Ingredients
1.5 pounds of lean ground beef
1/8 tsp Garlic Powder
1/8 - 1/4 tsp. coarse black pepper
1/4 tsp. seasoning salt
3/4 cup finely grated cheddar cheese
2 slice crispy cooked bacon, crumbled
4 hamburger buns
Hamburger toppings...lettuce, tomato, pickles, ketchup, mustard, mayo, onion, etc.
Instructions
In a medium bowl mix together ground beef and spices.
Grab a large handful of the meat mixture. Form it into a large ball.
Using your thumb hallow out a hole in the center of the hamburger ball making a small bowl.
In another bowl mix together the grated cheese and crumbled bacon.
Place a large heaping Tablespoon of cheese and bacon into the center of your hamburger bowl hole.
Press down. Carefully bring edges of the meat "bowl" over the top of the cheese and bacon. Form into another large ball.
Using the palm of your hand gently press down to form a patty making sure the cheese and bacon remain inside the hamburger patty.
Preheat your grill to medium. Place hamburger patty on hot grill and listen for the "sear". Flip and sear the other side.
Lower grill heat to low and cook another 5-8 minutes per side...flipping once again until burger is done.
Toast your buns.
Allow to rest for a few minutes to lock in the juice.
Assemble the burger per personal topping choices.
Recommended Products
As an Amazon Associate and member of other affiliate programs, I earn from qualifying purchases.
Nutrition Information:
Yield:
4 servings
Serving Size:
1 hamburger
Amount Per Serving:
Calories:

817
Total Fat:

41g
Saturated Fat:

16g
Trans Fat:

1g
Unsaturated Fat:

20g
Cholesterol:

210mg
Sodium:

1052mg
Carbohydrates:

40g
Fiber:

2g
Sugar:

7g
Protein:

69g