Toasted baguette slices layered with flaked grilled salmon, topped with an incredible apricot & feta cheese bruschetta in a balsamic dressing, combine to create the perfect summer appetizer in this Grilled Salmon With Apricot Bruschetta Recipe.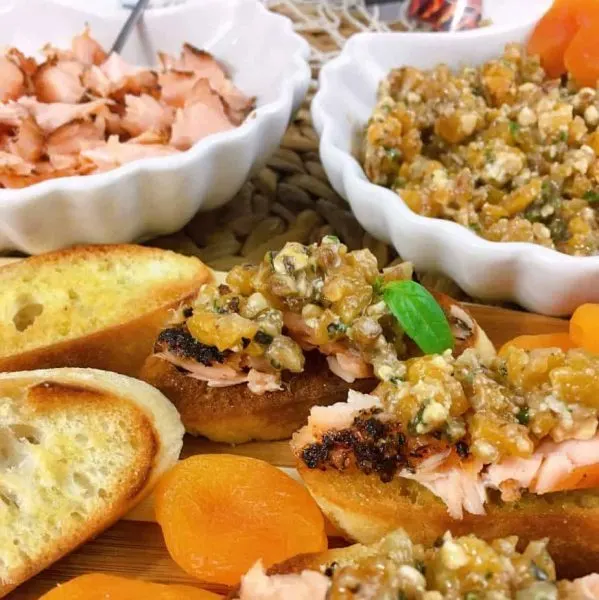 I've been sharing the dishes I've created for the Cedar Bay Grilling Company Recipe contest this month. The first recipe I knew I wanted to make was an appetizer combining grilled salmon and diced dried apricots.
I wasn't sure what else I was going to add to create this remarkable recipe… I just knew that grilled salmon and apricots would go together. (This speaks volumes about my brain, doesn't it? Lol)
Over the next few weeks I pondered over a list of ingredients, some made the cut…some didn't. Those that did…I'm happy to say, came together beautifully!
What I created was a truly magnificent Apricot Bruschetta that pairs with grilled salmon so well it's like they were meant for each other!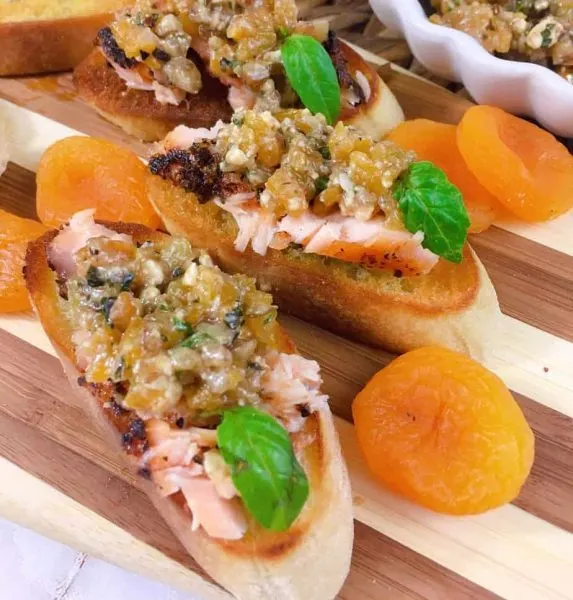 Here it is… Grilled Salmon with Apricot Bruschetta Recipe on toasted baguette slices! It is the perfect beginning when hosting a dinner party, holiday event, or an evening of appetizers and drinks with friends! It's a solid FIVE stars! My guest loved this Hors d'oeuvre!
This recipe has three parts different easy to make components. The toasted baguette, the grilled salmon, and the apricot Bruschetta. Let's start with the Bruschetta!
How To Make Apricot Bruschetta
This scrumptious bruschetta begins with dried apricots! Golden gems of sweetness. YUM! (I used to tell my kids they were dried monkey ears! That way they wouldn't want to eat them…more for me! A Mom's gotta do what a Mom's gotta do!)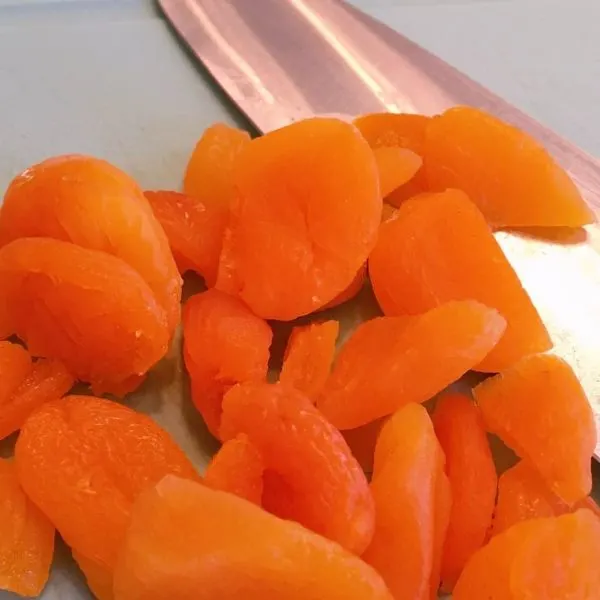 Start by finely chopping 1/2 cup dried apricots. It can be a little tricky cause they're a little sticky! (I worked hours on that rhyme! Let's take a moment to savor it! Let it roll off your tongue a few times…. Okay let's get back to work!)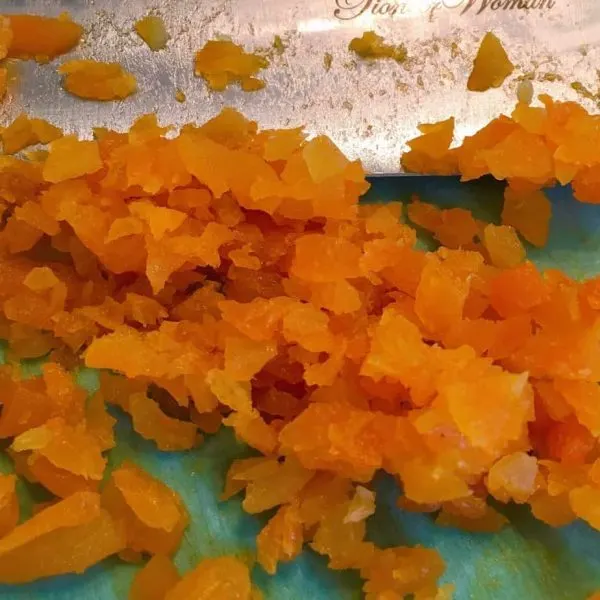 Place the chopped dried apricots in a medium size bowl. Next, chop two tablespoons fresh basil.
I grow my own basil during the summer in a planter. I love having fresh herbs around! This year I found a deep purple basil. The flavor is a tad stronger than regular basil. I used a little of both types. However, you can use regular fresh basil.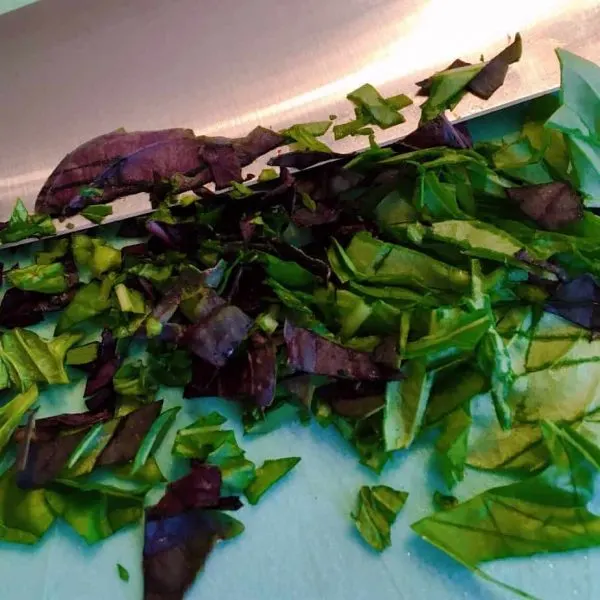 Add the freshly chopped basil with the apricots. Next up…toasted pecans! Chop 1/3 cup pecans. In a small skillet over medium heat toast the pecans.
TIP: Toasting nuts is easy when you use this method. Simply use a spatula to constantly stir the pecans around in the hot skillet until they begin to turn slightly darker and begin to smell roasted. Remove immediately from the pan and cool on a paper plate.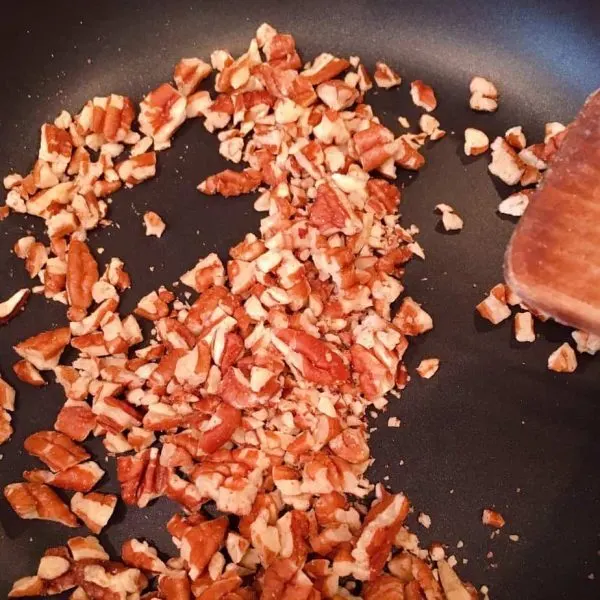 Add 1/3 cup crumbled feta cheese to the apricots and basil.
Why feta cheese? I love feta cheese! I love the creamy tartness of feta, it goes perfectly with the sweetness of the dried apricots, and the smooth exhilarating flavors of basil. It's also a great way to bind the ingredients in this bruschetta together.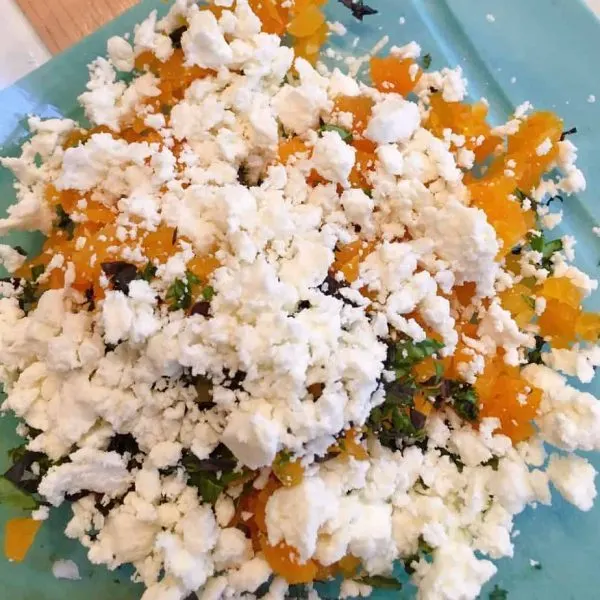 Once the pecans have cooled, add them to the other ingredients in the bowl. Adding the pecans before they have cooled will cause the cheese to melt and ruin the bruschetta!
The beauty of Bruschetta is allowing each individual ingredient to shine, all while coming together. It's a food love thing!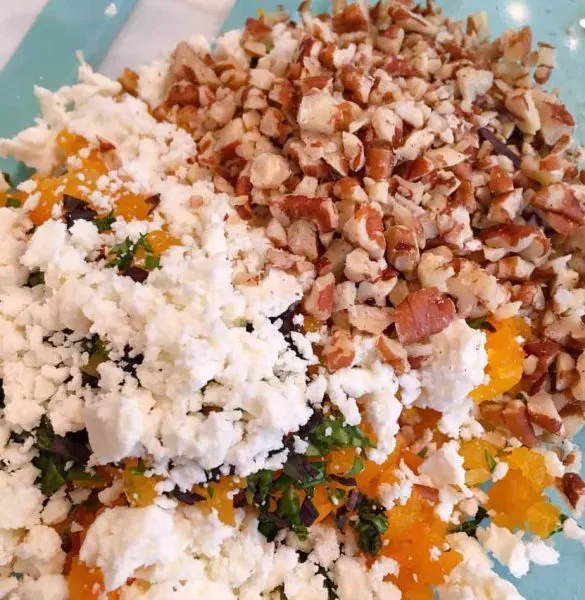 To bring this bruschetta all together, and to keep it simple, add 6 Tablespoons of Kraft Balsamic Vinaigrette dressing, or your favorite balsamic dressing.
I could have added all the ingredients in this dressing, but why go to all that trouble when this dressing has everything in it we need for that additional "pop" of flavor! (I'm all about keeping it simple! That's why I named my kids A, B, & C! Just kidding!)
Gently stir everything together. This is a gentle "stir" kinda recipe. It's important to keep each ingredient intact…and yet bring them together. Isn't it beautiful! I love the sunny warmth of this Apricot bruschetta! Such a stunning change from the classic tomato bruschetta!
Cover and chill at least 2 hours or until ready to serve.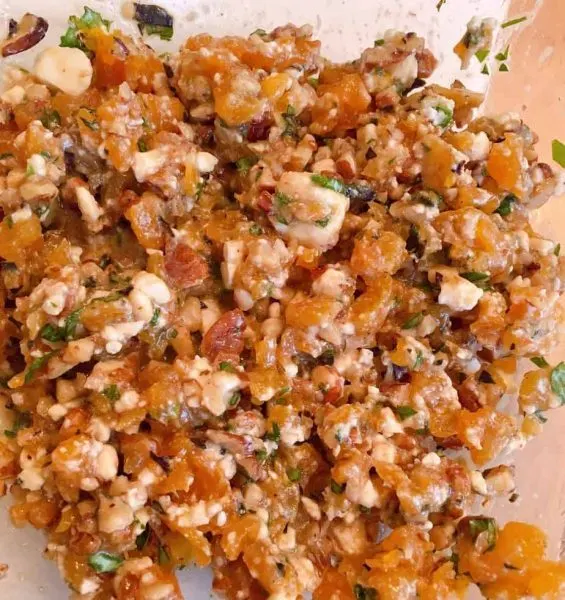 How To Grill Cedar Bay Grilling Company Salmon
I sound like a broken record (that was a big black vinyl disc they used to record music on…back in the dark ages), but this Cedar Bay Grilling Company Salmon is a truly remarkable product!
It comes pre-seasoned and ready to be placed directly into the oven or on the BBQ. They keep it simple! Who doesn't love simple? I know I do! (Remember… A, B, C…)
They use only the best grade of Atlantic Salmon, hand-selecting every piece that makes it into their production process. Even my non-salmon loving friends LOVE this Salmon!
They seriously couldn't stop talking about this King of fish! I'd like to think it was my outstanding recipe…but the Salmon is the star of the show, and it's obvious!
Cedar Bay salmon is available in retail stores across Canada, the U.S. and the United Kingdom. You can visit their site to find a location near you!
It's so easy to prepare! Start off defrosting the Salmon. I used the Cedar Bay Grilling Company Cedar Planted Atlantic Salmon Sugar and Spice. I'm sure any of their flavors would work well with this recipe.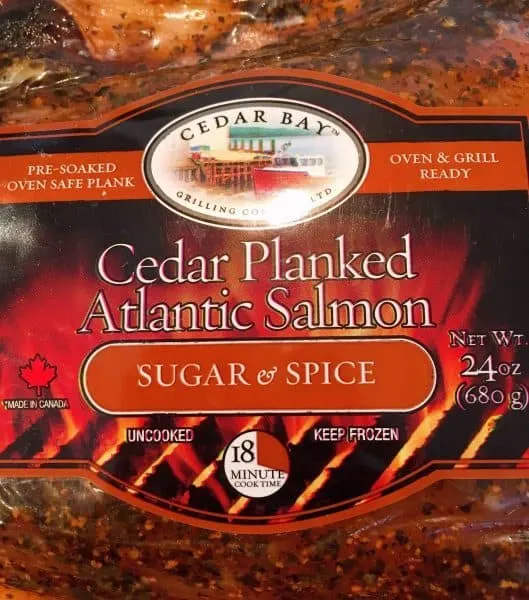 Remove the packaging, leaving the Salmon on the cedar plank. Place in the oven or on a grill that has been preheated to 425°.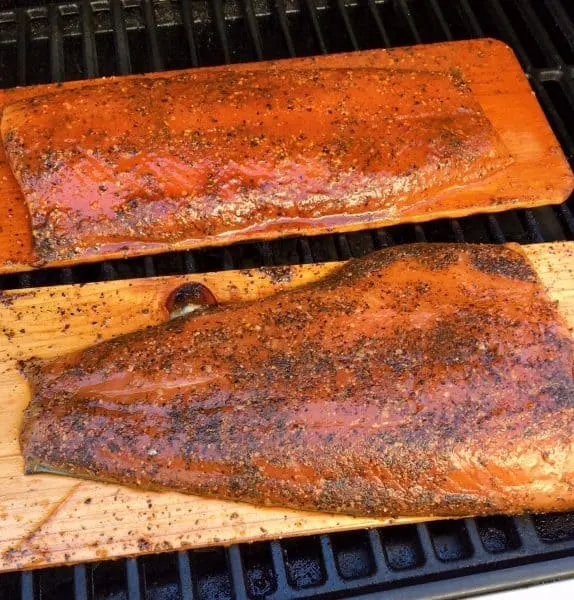 Cook for 12–15 minutes or until the core temperature reaches 158°. Remove from grill or oven. Allow to rest 5–10 minutes and serve directly off the plank. How easy is that?!!!
Basically open, cook, and eat! Dinner is ready in 15 minutes! Amazing!!! The flavors are out of this world too!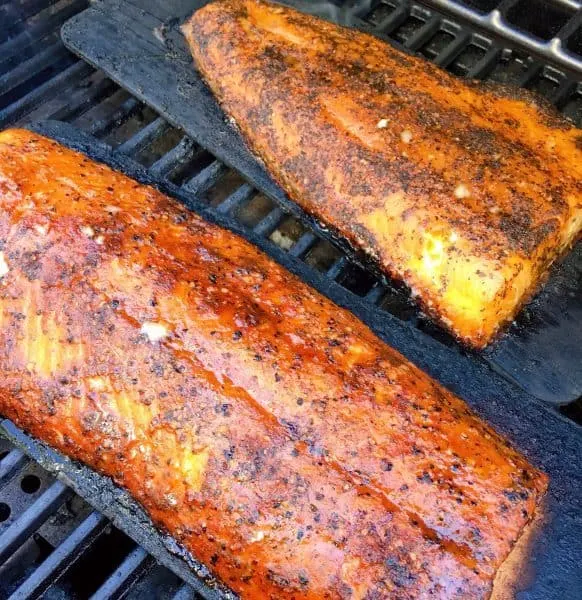 For this appetizer I used about 1 cup grilled Salmon that I flaked into chunks! Place the chunked Salmon into a serving dish. Serve warm or cold. I prefer it at room temperature for this appetizer.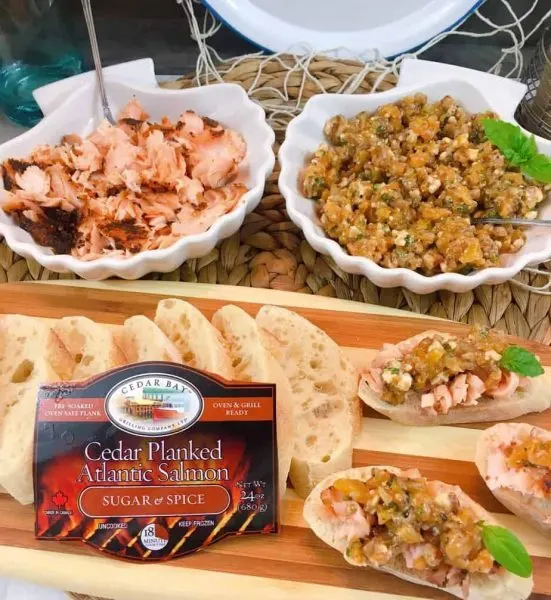 The final step for this recipe…the baguette! The Grilled Salmon and Bruschetta need a landing place! You have two options…you can slice the baguette soft, or you can toast the slices. I like it toasted and highly recommend toasting it. Some stores carry toasted Bruschetta slices in their bakery section. Which makes this recipe even easier to make.
TIP: If your store doesn't carry toasted baguette slices…it's easy to toast them yourself, and you can do it beforehand!
How To Toast Baguette Slices for Appetizers
Preheat oven to 400°Slice a loaf of baguette bread on an angle. Butter both sides of each slice. Place the baguettes on a baking sheet.
Bake for 5–8 minutes. Check bread slices to see if bread is golden brown on the bottom. If so turn slices over and toast the other side.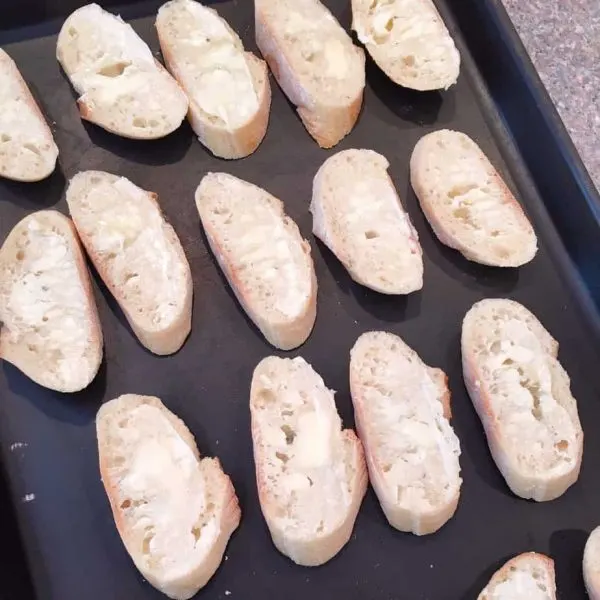 Remove baking sheet from the oven and allow baguette slices to cool. Store in airtight container until ready to serve.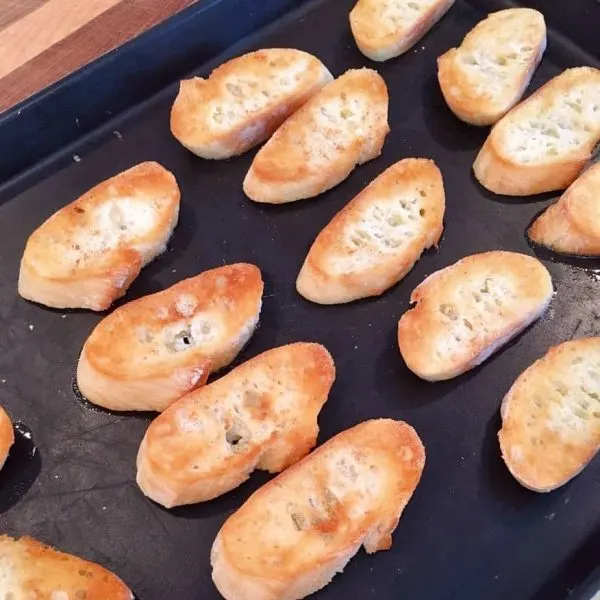 When ready to serve…place grilled salmon in one serving bowl, chilled apricot bruschetta in another, and toasted baguette on a serving tray or board.
To keep it simple…allow your guests to assemble their own appetizer! Begin with a slice of toasted baguette. Top with chunks of grilled salmon, and a heaping Tablespoon of Apricot Bruschetta! Then prepare for a taste of heaven!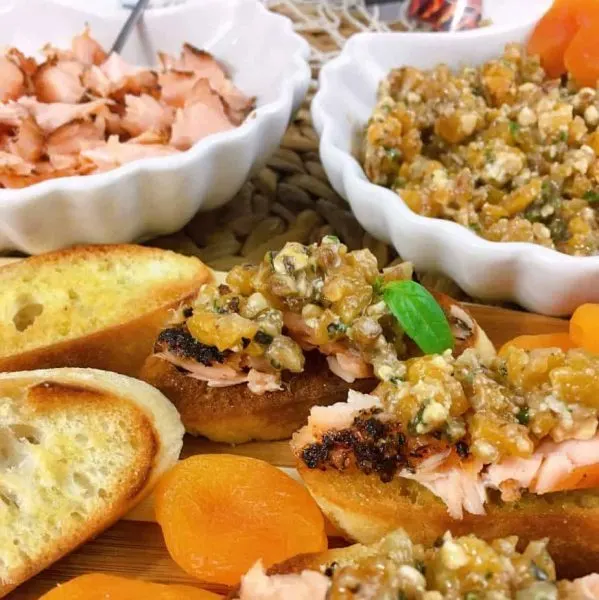 You can also make up the appetizers yourself. So you have options. I love the idea of my guests making their own. That way they can add as much grilled salmon or apricot Bruschetta as they like!
Plus it makes a beautiful meal starter board! Isn't this a festive and inviting beginning to any meal or evening of entertaining!
I had one guest who couldn't pry themselves away from this delicious board…and she doesn't like seafood…at all! She raved on and on about the combination of these flavors and textures! My daughter and husband loved this recipe too!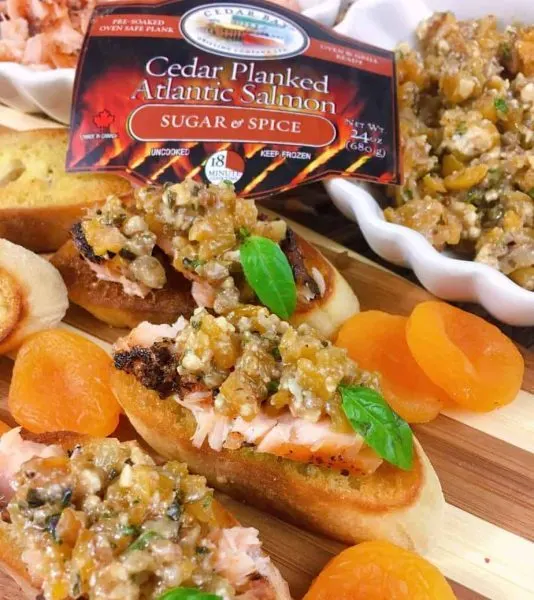 I hope y'all enjoy this recipe as much as we did. It's a great way to use extra Salmon from your main dish, and it's a fantastic starter to your favorite summer meals.
A Special "Thank You" to Cedar Bay Grilling Company for this awesome opportunity! I've had so much fun creating these delicious recipes! I hope everyone will give them a try. This Salmon really is a new favorite at this Nest!
Other Great Salmon Recipes
Thanks so much for stopping by…and Cheers! You can find the printable recipe card below.
Happy Nesting!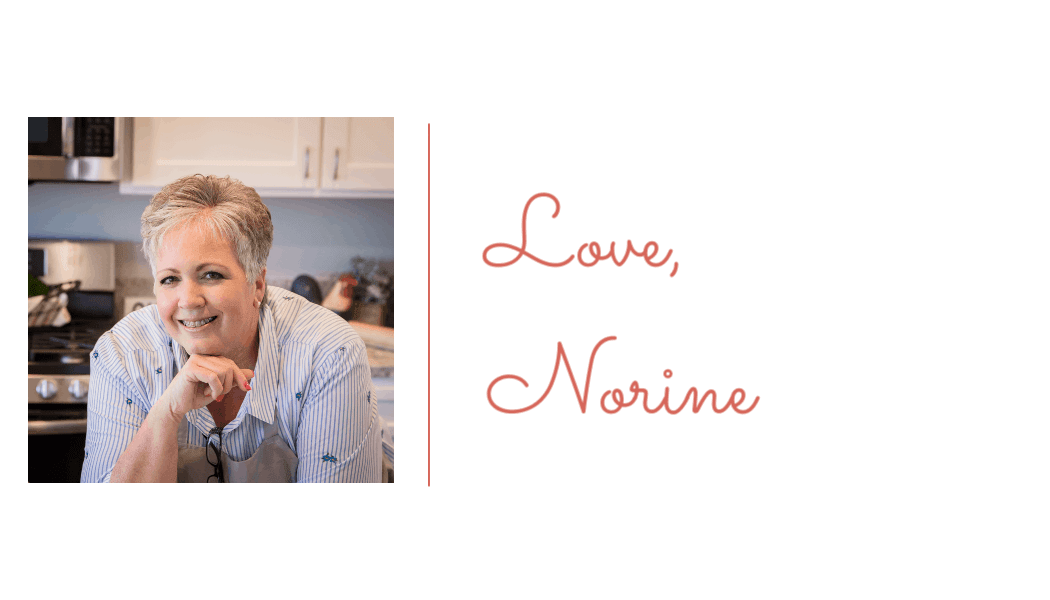 Yield: 12 servings
Grilled Salmon With Apricot Bruschetta Recipe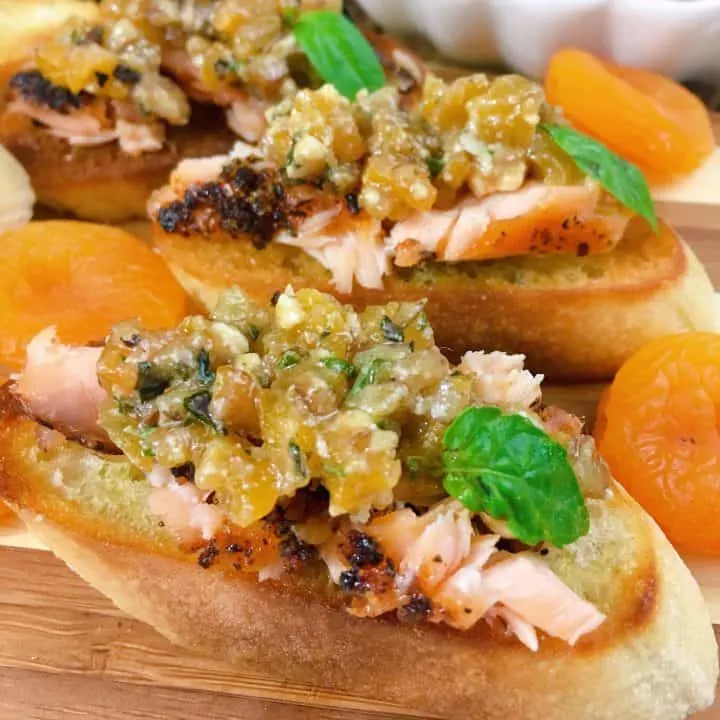 Crispy toasted baguettes topped with chunks of grilled salmon and a heaping scoop of Apricot Bruschetta loaded with diced dried apricots, feta cheese, toasted pecans, chopped fresh basil and a balsamic dressing. A fantastic summer or fall appetizer!
Total Time
2 hours
30 minutes
Ingredients
1/2 Cup chopped dried apricots
2 Tablespoons fresh chopped basil
3 Tablespoons crumbled Feta Cheese
1/3 Cup toasted chopped pecans
6 Tablespoons Kraft Balsamic Vinaigrette Dressing or your favorite Balsamic dressing
1 loaf, sliced and toasted baguette bread
2 cups flaked, Grilled Cedar Bay Grilling Company Sugar & Spice Salmon Fillet
Instructions
In a small bowl add apricots, basil, feta cheese, and toasted pecans. Add balsamic dressing and mix gently. Cover and chill for at least 2 hours.
30 minutes prior to serving, grill pre-seasoned Salmon in preheated 425° BBQ on the cedar plank, for 12-15 minutes. Remove from heat and allow to rest for 10 minutes. Flake 1 cup of salmon into bite size chunks. Place in a serving bowl.
Remove Apricot Bruschetta from refrigerator and place in serving dish. Place the salmon, bruschetta, and toasted baguettes on a serving platter.
To make a single serving, layer a slice of toasted baguette with a heaping forkful of grilled salmon. Top with a spoonful of apricot bruschetta. Garnish with small basil leaves if desired.
To Toast Baguette Slices
1. Slice one baguette loaf at an angle into 1/4 inch slices. Butter both sides of each slice. Place slices on large baking sheet.
2. Place baking sheet in preheated 400° oven and bake for 5 minutes until bottoms are golden brown and toasted. Turn each slice over and brown other side an additional 5 minutes. Remove from oven and cool. Store in air tight container until read to serve.
Notes
Additional Time is to chill the Bruschetta.
Recommended Products
As an Amazon Associate and member of other affiliate programs, I earn from qualifying purchases.
Nutrition Information:
Yield:
12
Serving Size:
1 slice
Amount Per Serving:
Calories:

246
Total Fat:

7g
Saturated Fat:

1g
Trans Fat:

0g
Unsaturated Fat:

5g
Cholesterol:

14mg
Sodium:

160mg
Carbohydrates:

41g
Fiber:

1g
Sugar:

38g
Protein:

6g