A delicious easy to make Casserole this scrumptious Chicken Bubble Biscuit Bake is loaded with tender juicy chicken in a creamy ranch and bacon filling, topped with refrigerator biscuits and golden crispy cheese!
Last summer the girl's youth group from our church needed help with their dinner menus for their yearly girls camp.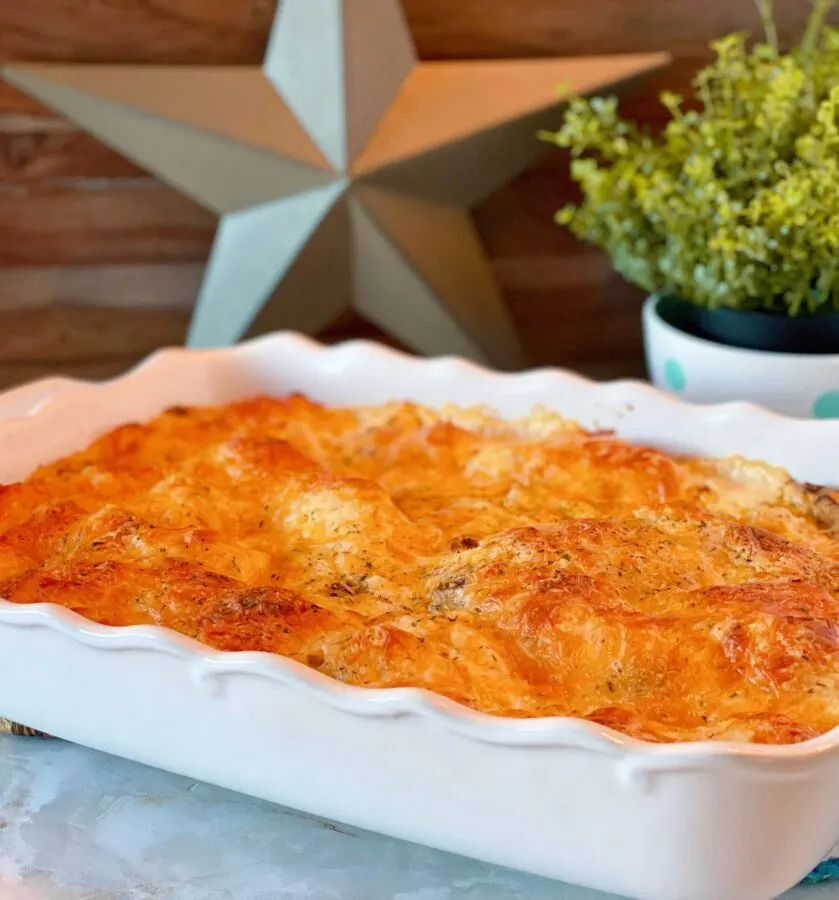 I took to Instagram and asked y'all what recipe you wanted me to post next. This Chicken Bubble Biscuit Bake was the overwhelming favorite! Y'all have the best taste. That's why you're my friends!
They wanted the wonderful Chicken pocket dinner made with store bought crescent dough stuffed with chicken filling and baked. It's a great recipe, but not super practical for a camping situation.
I love a good challenge though and knew there had to be a way I could help them out.
I found this delicious recipe that could be made and baked in Dutch ovens. It had the same elements as the stuffed chicken pockets just in casserole form.
Rumor has it that the girls loved it and there were no leftovers! I'll admit I get it! It's become a favorite at this Nest and is such a great comfort dish.
This is a recipe your littles can help you make or one that your teenagers can certainly make on their own. Except for the refrigerator biscuits and cheese, it is a great pantry casserole.
How To Make Chicken Bubble Biscuit Bake
You will love how easy this recipe is to make. It's your basic "dump it in the bowl and mix" dish!
A few HELPFUL Tips before beginning…
I'm hearing from so many of you that you can't find the "Grand's Jr Biscuits". If that is the case you can use the regular 16 ounce can of Grands with a few minor modifications. Don't use the entire can! Leave two or three out. Bake the casserole at 375° for 45 minutes instead of the suggested 350° for 30 minutes for the Grands Jr Biscuits.
If you prefer a lower sodium version of this casserole reduce the amount of dry Ranch Dressing to 1 Tablespoon.
If you like your biscuits "crispy" rather than a little softer, place the chicken filling in the bottom of the dish and sprinkle the cut biscuits over the top of the chicken mixture rather than mixing it in with the filling. Remember to top the biscuits with a little extra grated cheese.
Place the casserole dish on top of a baking sheet in the event the casserole should bubble over your baking dish. This helps keep your oven nice and clean. I've never had an issue with this casserole bubbling over, but you can never be too careful!
You can use pre-cooked bacon, or you can cook your own bacon. If you decide to cook your own bacon cut the bacon into bite size pieces before cooking. It will cook quicker and eliminates the step of chopping the bacon.
Preheat your oven to 350°. Lightly spray a 9 x 13 inch pan with cooking spray and set aside. (How we doing so far? Sorry being cooped up tends to make me a tad on the sarcastic side…we'll get through this right?)
The first time I made this casserole I realized I wanted more of the filling to go with the biscuits. So I've revamped this from the original and now it's perfect! I also recommend using the flaky layered biscuits.
In a large bowl combine 3 cups cooked chopped chicken. You can use rotisserie chicken or even canned chicken. 2 cans cream of chicken soup, 1 1/2 cups sour cream, 1 cup shredded cheddar cheese, 2 tablespoons ranch dressing mix and 1/4 cup cooked, chopped bacon.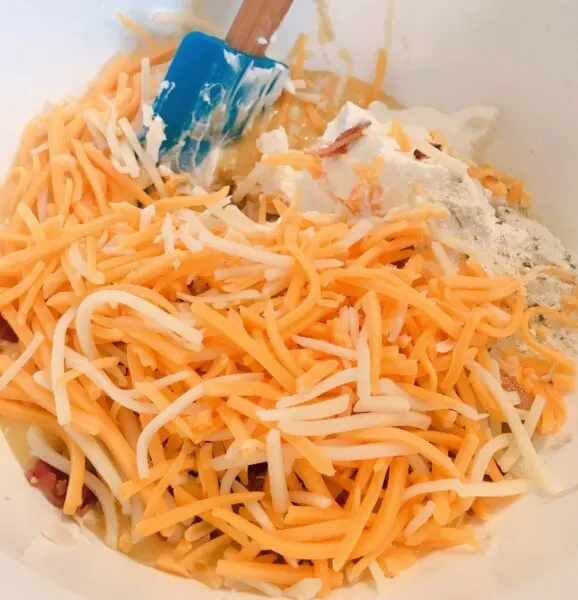 Cut one (12 oz) can refrigerated Grands Jr Biscuits into quarters. (Make sure you use the Junior biscuits and not the GRANDS…unless ya want to clean casserole off the bottom of your oven…cause your bored or something!)
TIP: You can make your own biscuits if refrigerator biscuits are not available. Only use half the biscuit recipe in this casserole. Homemade Baking Powder Biscuits.
Toss with chicken mixture. (Don't really toss 'em…no need for violence. Lol I know y'all been locked down with kids for weeks now…but don't blame the biscuits! Just gently place them in there and then carefully mix it all up.)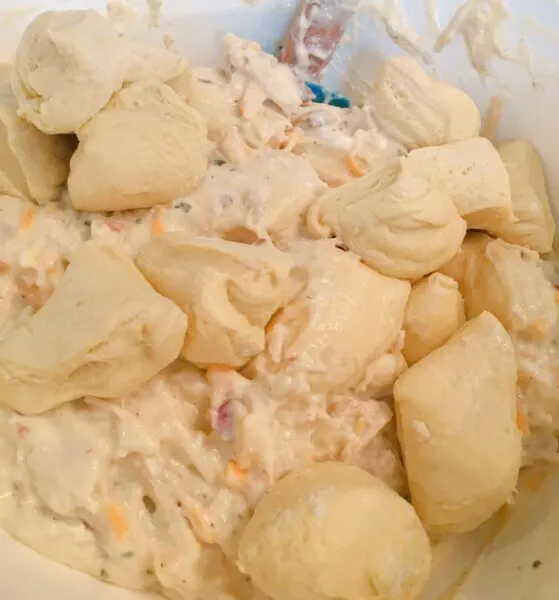 Pour chicken mixture into prepared baking dish and spread around evenly.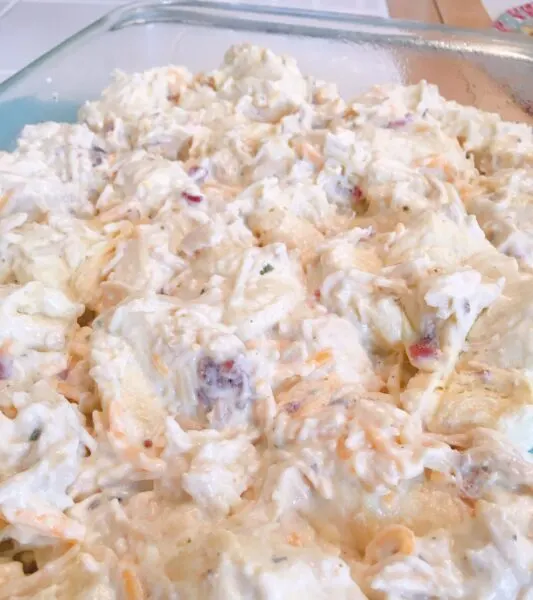 Y'all know me. I kicked this up just a tad more by adding another cup of grated cheese on top! The cheese makers of the world love me!
Baking Chicken Bubble Biscuit Casserole
Place casserole in preheated oven and bake for 30 minutes, until bubbly and biscuits are golden brown and the extra cheese has melted and is lightly brown. Remember… if you are using the regular Grands to bake this casserole at 375° for 45 minutes!
The delicious filling is popping out from under those perfect bubble biscuits! Isn't it divine! You just want to dig in and get to eating!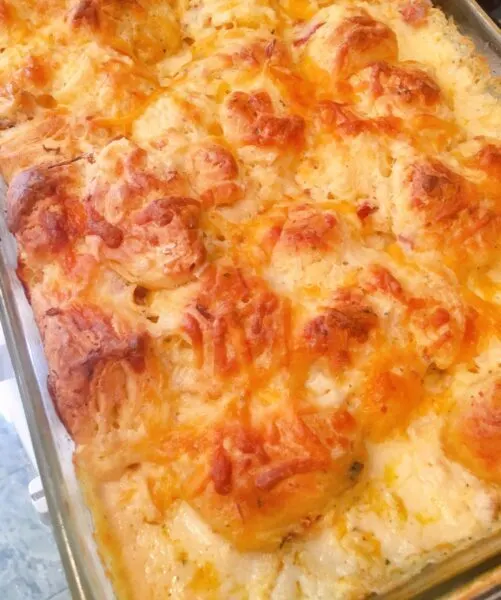 This is a magical casserole. I have to admit the first time I made it, I wasn't too sure about tossing those little biscuit balls in with the filling! Wasn't sure it was going to turn out with a bubbly top…but it does!
I know what you're thinking? Is it really as good as it looks? YES! It is! The flavors in this dish are out of this world thanks to that ranch dressing! It's like fairy dust for chicken casseroles.
You're going to want to face plant in that baking dish and lick up every last morsel! (You can, I won't judge!)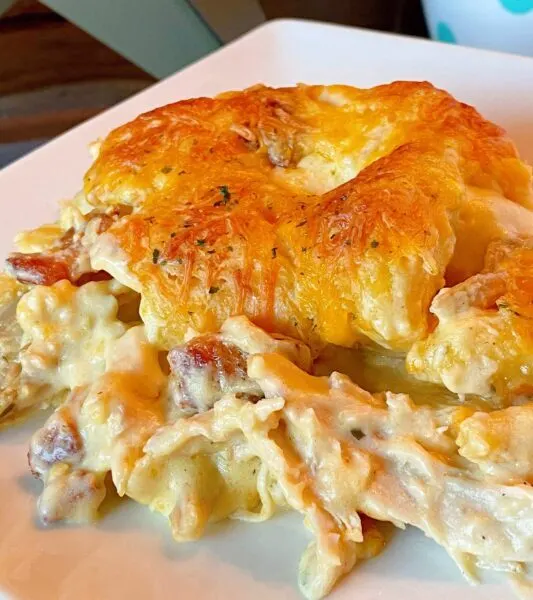 Like I said at the beginning of this post, this is a super easy casserole to make and one that would be a great beginner casserole for the young cooks at your Nest!
Serve with a big green salad, or a side of fresh or frozen veggies, and you've got dinner my friends!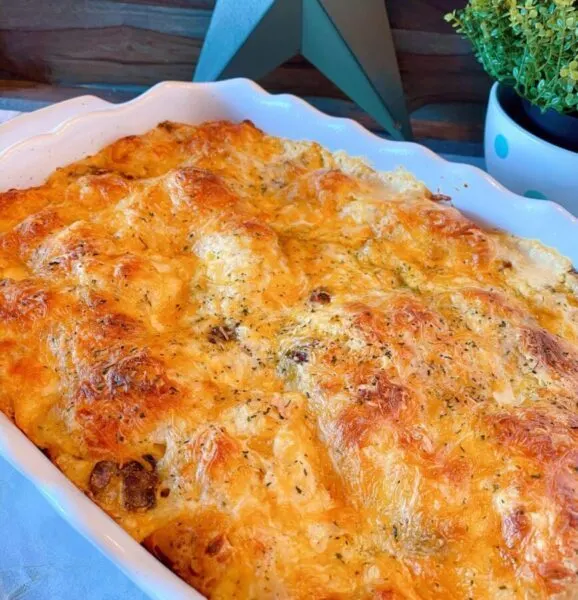 Other Great Pantry Casserole Recipes
Thanks so much for stopping by today and for all your help picking this casserole as today's post! Y'all are the BEST! The printable recipe is below.
Remember you can follow me on Facebook, Pinterest, and Instagram where I share all my favorite recipes every day! I'd love to have you join me!
I wish you and yours a wonderful day and as always…
Happy Nesting!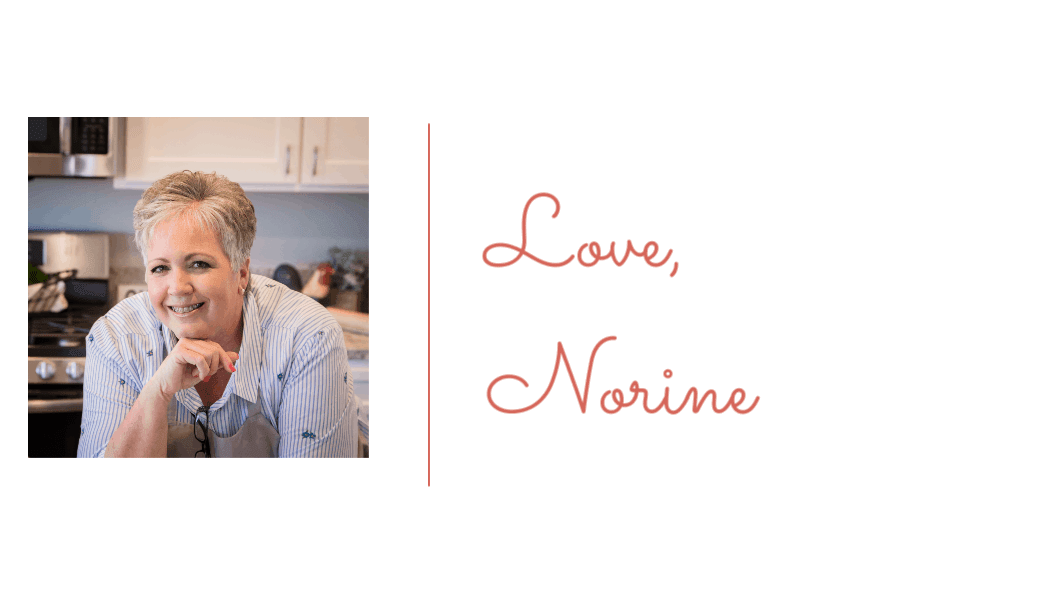 Chicken Bubble Biscuit Bake Casserole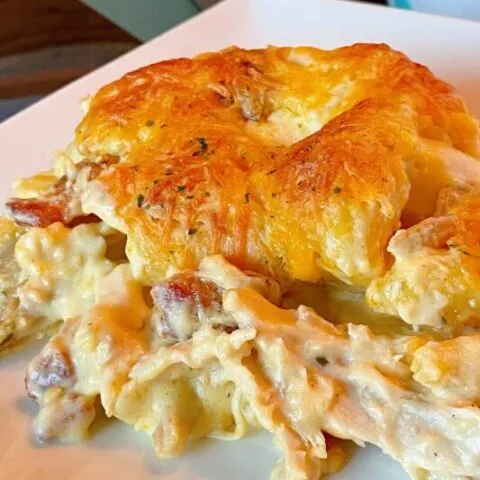 A quick easy main dish casserole is found in this Chicken Bubble Biscuit Bake. Loaded with chicken, bacon, hints of ranch, tender store bought biscuit dough. Topped off with cheese it's a wonderful comfort dish your family will ask for again and again.
Ingredients
3 cups cooked chopped chicken, or canned chicken
2 cans cream of chicken soup
1 1/2 cups sour cream
1 cup grated cheese
2 Tablespoons Ranch dressing mix
1/4 cup cooked, chopped bacon
1 (12 oz) can refrigerator Grands Jr Biscuits
1 additional cup grated cheese for top of casserole
Instructions
Preheat oven to 350°. Lightly spray a 9 x 13-inch pan with cooking spray. Set aside.
Combine chicken, soup, sour cream, 1 cup grated cheese, Ranch dressing mix, and bacon. **Cut each biscuit into 4 pieces. Toss with chicken mixture.
Pour chicken mixture into prepared pan. Top with remaining cup of grated cheese.Bake for 25-35 minutes, until bubbly and biscuits are golden brown.

** Please note if you do not like biscuits that are "doughy" like a dumpling then place the chicken mixture on the bottom of the dish and top it off with the biscuits!
Notes
You can use canned chicken in this recipe and you can also make your own homemade biscuits if trying to keep this a pantry recipe.
Nutrition Information:
Yield:
6 servings
Serving Size:
1 cup
Amount Per Serving:
Calories:

633
Total Fat:

42g
Saturated Fat:

16g
Trans Fat:

1g
Unsaturated Fat:

20g
Cholesterol:

170mg
Sodium:

1514mg
Carbohydrates:

22g
Fiber:

0g
Sugar:

4g
Protein:

41g