Baked Crumb Donuts are like hand held Coffee Cakes with holes! So moist and tender and all that yummy crumb topping!
I'm a little late to the "baked" donut scene. However, ya gotta admit even though I'm late to the party I brought a really good showing! I can't take claim for this recipe. It's from Ashley at Better Baker! I did "tweak" it a tad. (I just can't help myself… I do it all the time to every recipe.)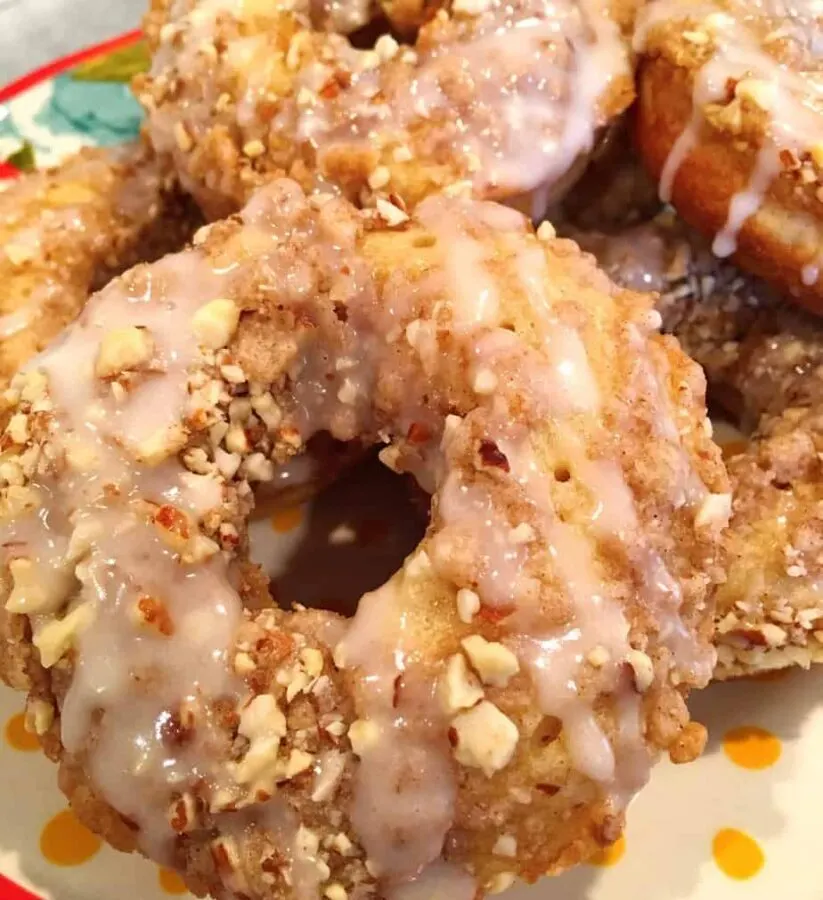 I have to admit…this recipe made me a fan of baked donuts. I love how easy they are to make and how outrageously delicious they are! A winning combination to be sure.
How To Make Baked Crumb Donuts
Preheat oven to 350° degrees and spray your donut pan with non-stick cooking spray.
Next mix the crumb topping by combining all the crumb ingredients in a small bowl and adding the toasted chopped almonds. Set aside.
This was the change I made. I used my crumb topping recipe after the first batch because I like a fine crumb better. It's just a personal preference.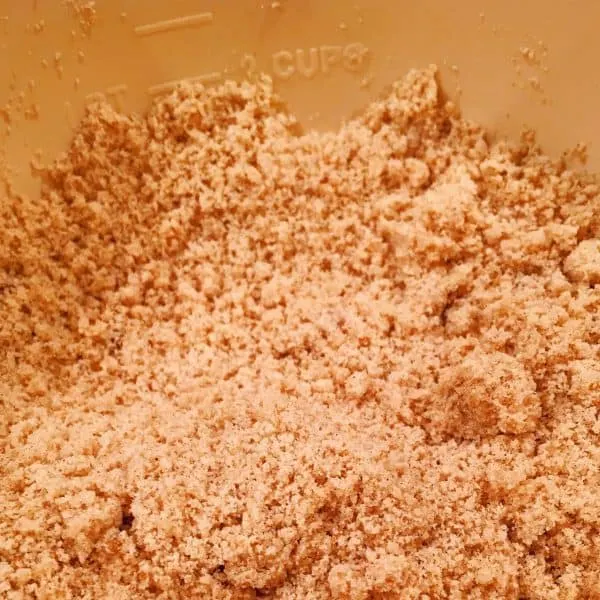 In a medium bowl mix together all the dry ingredients. Whisk together until well blended.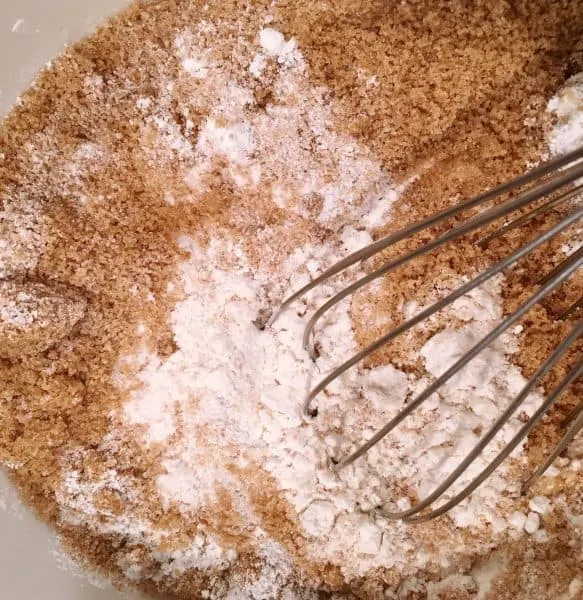 Add the wet ingredients and gently mix in until combined. Do not over mix the dough. The original recipe calls for mixing the wet ingredients in a separate bowl and then folding them into the dry ingredients. I just gently whisked them together and they turned out perfect.
TIP: This is a stiff dough so do not panic if it is thicker than you were expecting.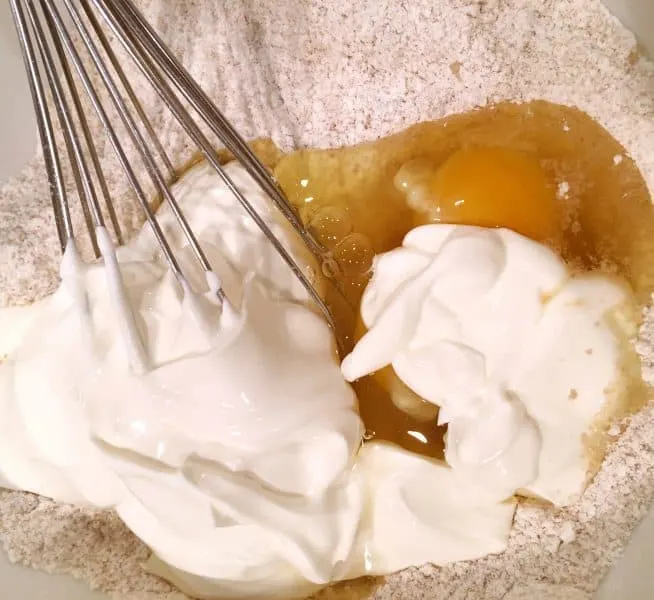 TIP: I placed the mixed dough into a large plastic zip lock bag and cut off the one corner to pipe the dough into the prepared doughnut baking pan. Made it so easy to fill the donut pan and SO easy to clean up! (Seriously ANY day I can toss a dirty cooking utensil into the trash rather than washing it…SCORE…GOOD DAY!)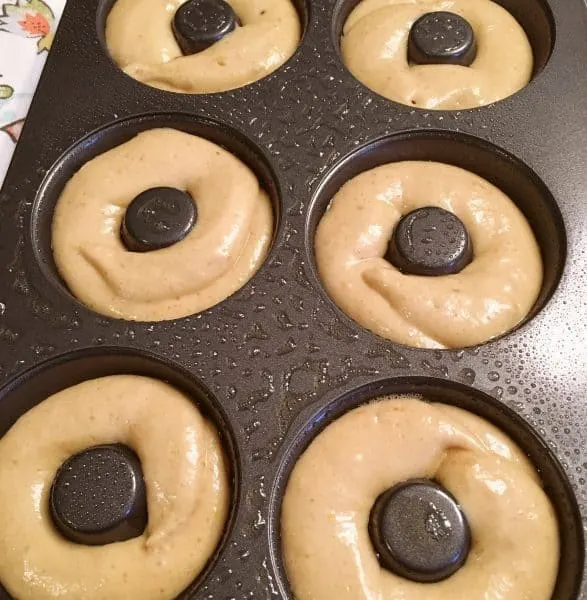 Sprinkle tops with the crumb topping. Do NOT panic if your crumb looks different. It should! This photo was taken before I adjusted to my crumb recipe.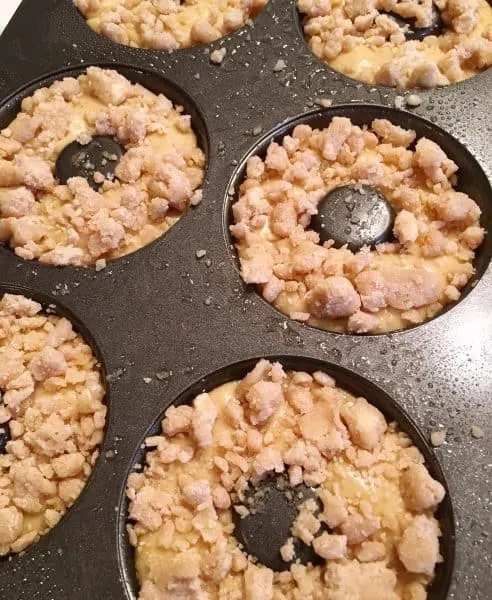 Place in preheated oven, and cook for 10–11 minutes. Donuts will rise and may even cover the hole. Don't worry about that either. We're gonna fix that. (Cause I'm a Mom and I can fix anything…don't believe me… I'm the master of hot gluing on merit badges before a scout court of honor! That's right… I ROCK the glue gun too! Lol)
While the donuts are cooling in the pan take a butter knife and gently push the dough back creating the hole in the center. Ta-da! You are an official donut hole fixer! (Mad skills ladies and gents. We've got MAD skills!)
Allow the donuts to cool in the pan for 10 minutes before removing to a wire rack to cool. (Unless you enjoy playing toss the donut and watch it fall apart…then by all means…remove that hot donut and have at it! Just please send me pictures!)
Prepare the vanilla glaze while the donuts cool, or look for the first aid kit…depending on which route you went with.
Drizzle over cooled donuts. If you're not planning on serving the donuts right away hold off on the glaze as it can tend to make the donuts a little soggy.
TIP: Place a sheet of wax paper under your cooling rack to catch the drips from the glaze. This makes cleaning up a breeze, and it is also a great way to collect the extra glaze in case you run out.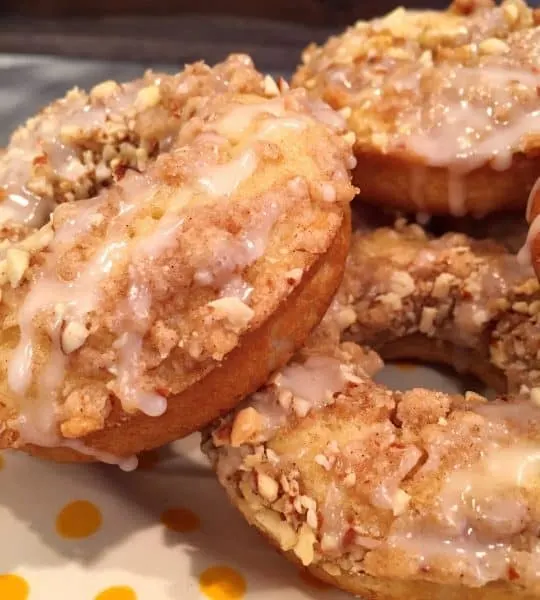 Don't those donuts look delicious! So simple and no frying. I love cake donuts so for me these were AH-Mazing! (There's that word again… I know I over use it…can't be helped!)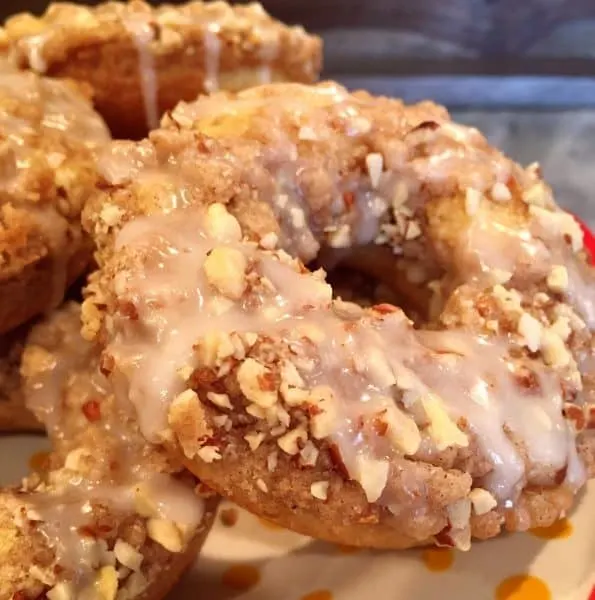 These donuts are tender, moist, and delicious. The crunchy cinnamon almond topping is to DIE for! Top it off with the vanilla glaze and you've got the perfect baked donut!
If you like this recipe you might also like these Donut Recipes
If you make these donuts please let me know by leaving a comment below! I'd love to hear from you!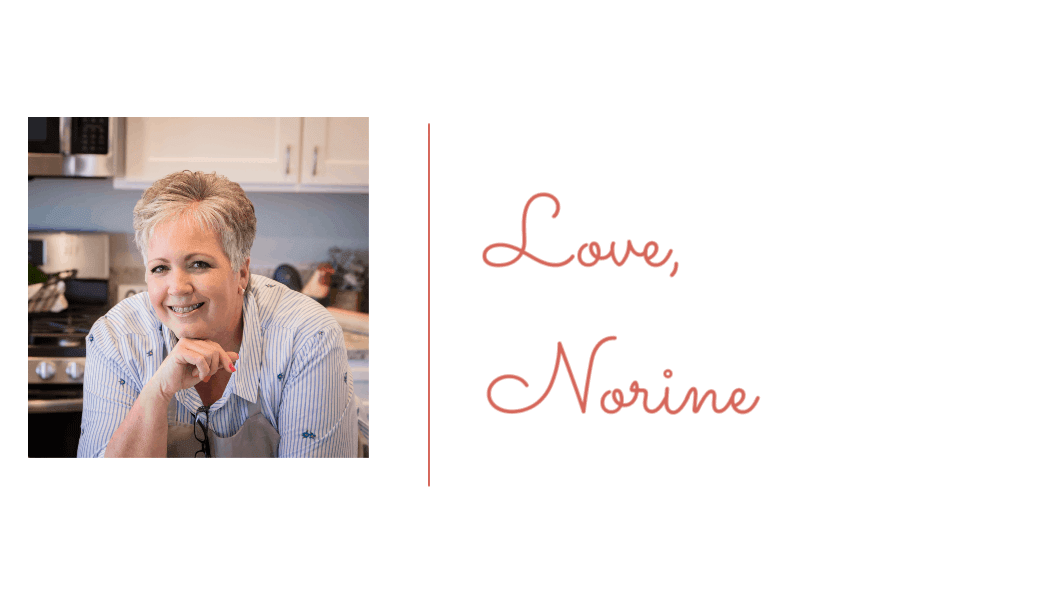 Yield: 6 baked donuts
Crumb Baked Donuts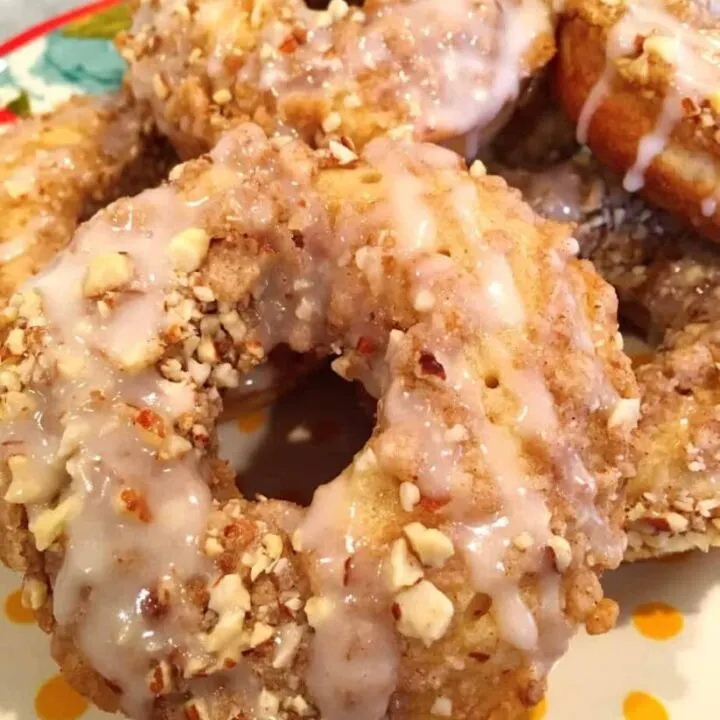 Baked Crumb Donuts are like hand held Coffee Cakes with holes! So moist and tender and all that yummy crumb topping!
Ingredients
Crumb Topping
1 Tablespoon Brown Sugar
1 Tablespoon Refined Sugar
1/4 teaspoon of cinnamon
2/3 cup of all-purpose flour
3 Tablespoons chopped almonds (optional)
1/8 cup of unsalted butter, melted.
Donuts
1 cup all-purpose flour
1/2 cup light brown sugar, packed
1/2 teaspoon of salt
1 teaspoon of baking powder
1/2 cup Full-Fat Sour Cream
3 Tablespoon Buttermilk
2 1/2 Tablespoons butter, melted
1 large egg, at room temperature
Vanilla Glaze
1/2 Cup Confectioners sugar
1/2 Tablespoon Whole Milk
1/2 teaspoon vanilla extract
Instructions
Preheat oven to 350° and spray donut baking pan with non-stick cooking spray.
Crumb Topping
In a small bowl mix together 1 Tablespoon of brown sugar, 1 Tablespoon refined sugar, 1/4 tsp. cinnamon, almonds, and 2/3 cup all-purpose flour. Mix well. Add in 1/8 cup unsalted melted butter. Mix with fingers till crumbly.
Set aside.
Donuts
In a medium size bowl add 1 cup all-purpose flour, 1/2 cup light brown sugar, packed, 1/2 teaspoon salt, 1 teaspoon baking powder. Use a wire whisk to blend together.
Add to dry mixture, 1/2 cup full-fat sour cream, 2 1/2 Tablespoons melted butter, 1 large egg, and 3 Tablespoons of Buttermilk.
Carefully mix ingredients together being careful not to over mix.
Place donut mixture into a large plastic zip lock bag. Snip off bottom corner and pipe dough into the prepared donut baking sheet.
Top each donut with 1 1/2 Tablespoons of crumb topping.
Bake at 350° for 10-11 minutes or until lightly brown.
If dough has covered the hole in the baking pan take a butter knife and carefully push the dough back towards the donut while in the baking pan.
Allow donuts to cool in baking pan for 10 minutes.
Remove donuts from baking pan and place on a cooling rack. Allow to cool until at least lukewarm.
Drizzle with Vanilla Icing.

Vanilla Icing
Mix 1/2 cups of confectioners sugar with 1/2 Tablespoon whole milk and 1/2 teaspoon vanilla extract. Mix until smooth and creamy. Drizzle over cool donuts.
Recommended Products
As an Amazon Associate and member of other affiliate programs, I earn from qualifying purchases.
Nutrition Information:
Yield:
6
Serving Size:
1 donut
Amount Per Serving:
Calories:

385
Total Fat:

15g
Saturated Fat:

8g
Trans Fat:

0g
Unsaturated Fat:

6g
Cholesterol:

65mg
Sodium:

339mg
Carbohydrates:

57g
Fiber:

1g
Sugar:

29g
Protein:

6g
Norine's Nest in no way provides any warranty, express or implied, towards the content of recipes in this website. It is the reader's responsibility to determine the value and quality of any recipe or instructions provided for food preparation and to determine the nutritional value, if any, and safety of the preparation instructions.