Slow Cooker Beefy Gravy & Noodles is a delicious dinner with loads of big chunks of tender beef, a rich creamy gravy over egg noodles. It's a fantastic dinner idea.
One of the hardest parts of this job, for me, is naming my recipes!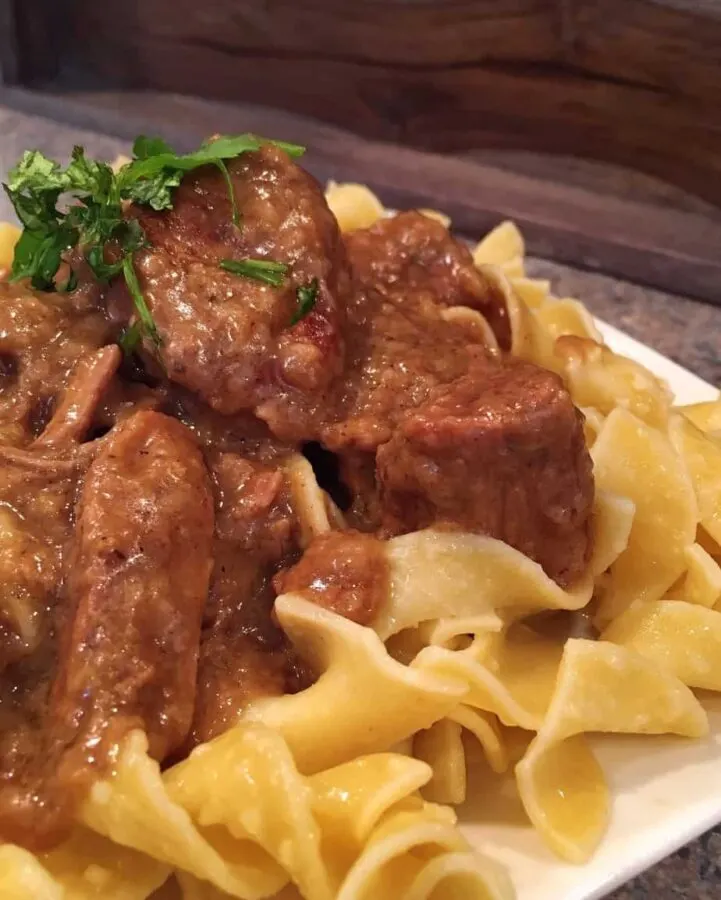 I can't tell you how many times my husband comes home from work and asks me "So what is that you're making?" My reply is generally a blank stare, interrupted by an occasional blink of my eyes. (There's no end to my creative talent friends!)
Which takes us to this new dish, and it's overwhelmingly creative name… Slow Cooker Beefy Gravy and Noodles. I really stretched the ol' gray matter on this one! I'll be here all week if ya need my talents.
I wanted a quick, comforting Sunday Supper and this hearty meaty dish is what we ended up with. I love the simplicity of this dish and its robust flavors. It's not cluttered with a lot of ingredients or fan fare.
How To Make Slow Cooker Beefy Gravy & Noodles
To make this dish start by adding one cup of flour, 1/2 tsp onion powder, 1 tsp garlic salt, 1/2 tsp. black pepper in a large zip lock bag. Shake it all up.
TIP: I'm a huge fan of Costco Meats. I just feel you're getting amazing quality for the price. One of my favorite things to buy is their huge package of stew beef. I can bring it home and break it down easily into smaller quantities for the freezer. I used about 2 lbs to 2.5 lbs of stew meat. Rinse it off. This will allow the flour to stick to it better.
Then throw it in the bag and shake, shake, shake. (Ya may want to put a little music on for this part and just have a good ol' time! Remember we're not killing it. Just coating it!)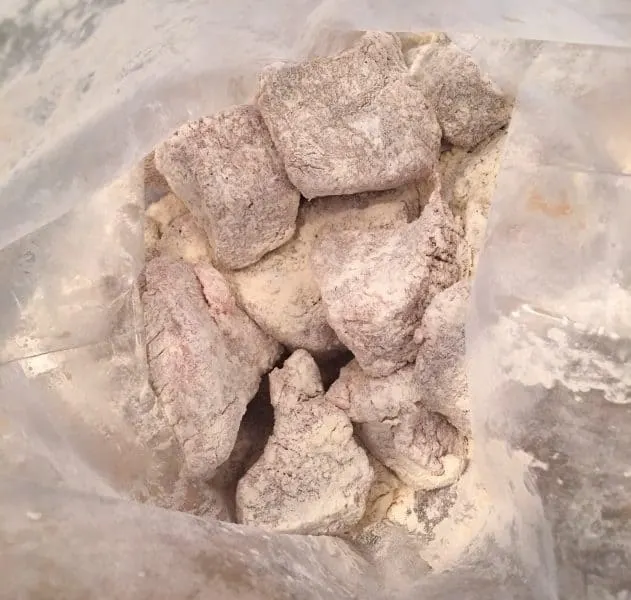 Place 2 – 3 Tablespoons of Olive Oil in a large skillet over medium high heat. Preheat the oil. You're going to quickly sear the meat to get a nice golden crisp on the outside.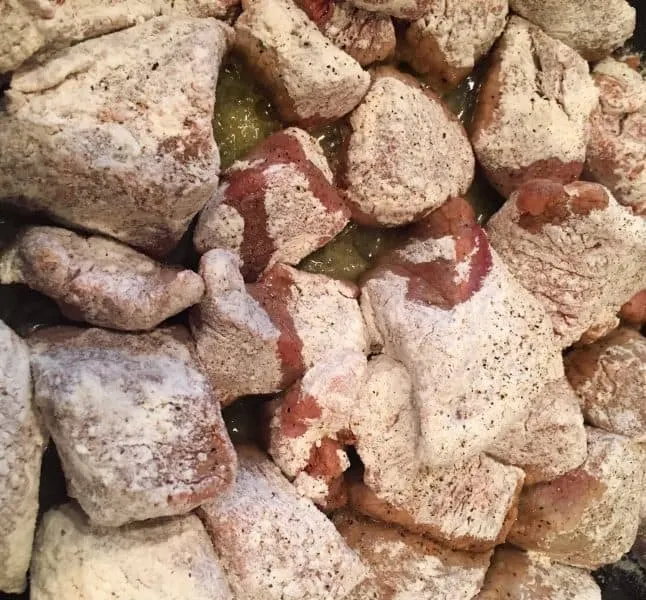 Turn the meat over and cook on the other side. The meat will still be raw inside. That's okay. Remember this is all going in the Crock Pot!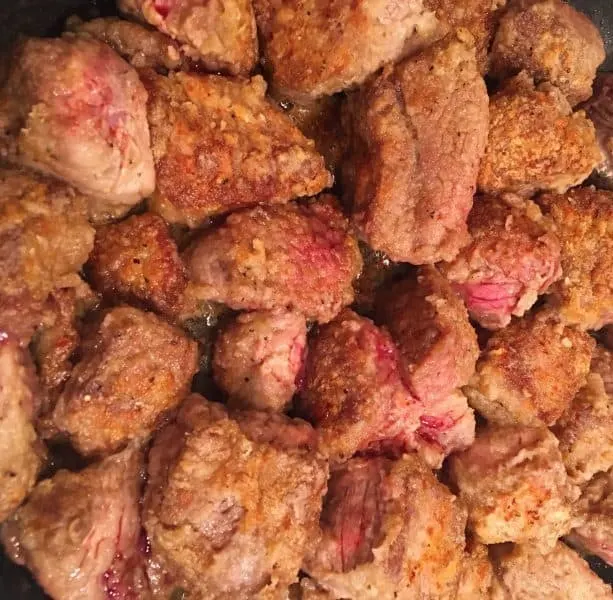 Sooooo…ya might be asking "Why are we coating, and essentially frying, the beef before we dump it into the Slow Cooker?"
That's a GREAT question! The reason for that is twofold…one it will hold the flavor in the meat and two it is going to act as our "thickening" agent for the "gravy" portion of this meal!
Once you have both sides seared scoot it all into the Slow Cooker. Add 2 cups of Beef Broth, 1 cup of water, and 1/2 cup of Merlot or Red Cooking Wine. (Note: If you do not have cooking wine you can substitute additional water or beef broth.)
Set it to high and let it cook for about 4 hours. Give it a little "check" at two hours and gently stir it if you are available to do that. If not…it's not a big deal.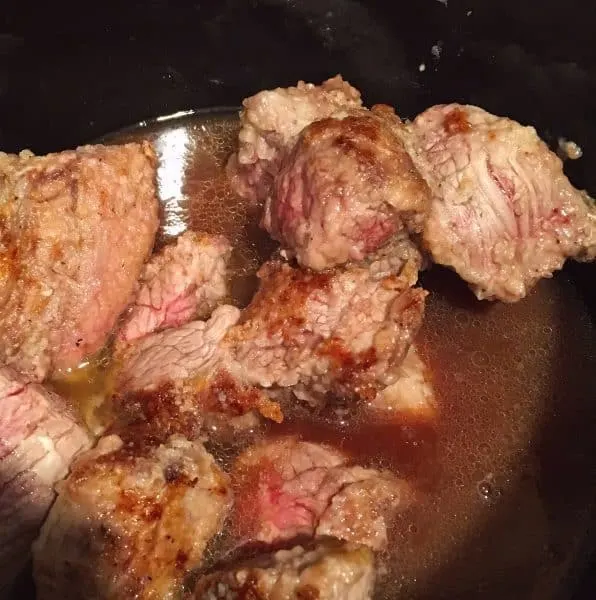 After 4 hours all that liquid will be a nice thick creamy gravy! It's like magic! Give it a good stir making sure to scrape up the "bits" from the bottom of the crock pot.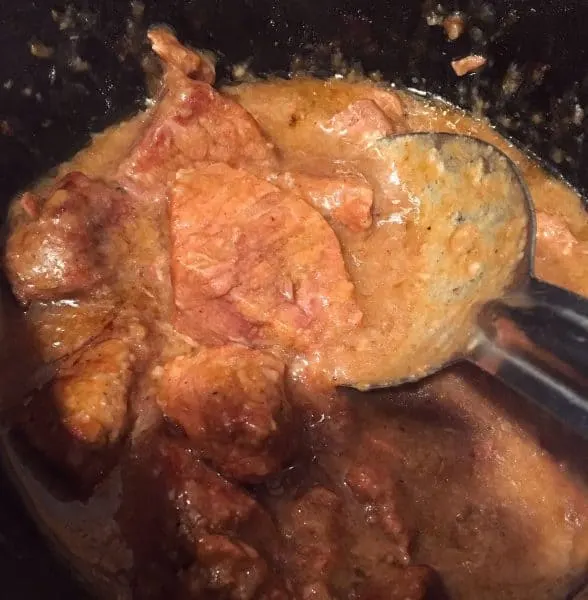 Time to make the Parmesan Noodles!
Fill a large pot with water and 1 tsp salt. Bring to a boil. Add one package of Wide Egg Noodles. Cook per package instructions. I boiled mine for about 10 minutes. Drain.
In a large bowl add 4 Tablespoons of real butter and 1/4 cup finely grated Parmesan Cheese. Toss to coat.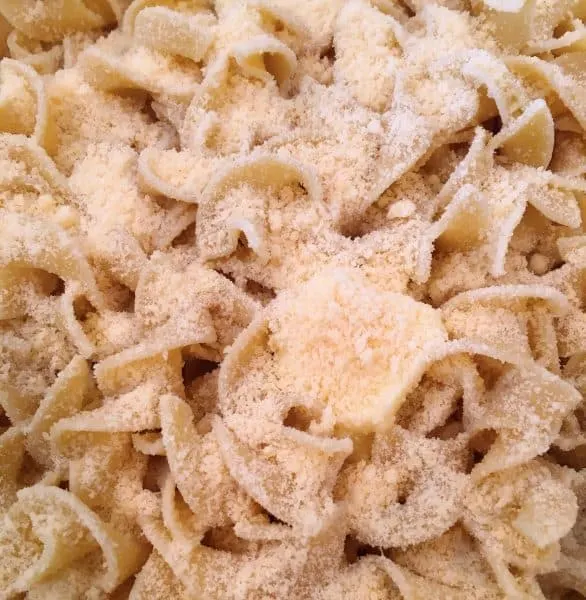 On a large platter or deep serving bowl, plate the Noodles. Spoon the Rich Creamy Beefy Gravy over the top and sprinkle with fresh chopped parsley…or if you're like me and have no parsley, you fake it and use "Cilantro", and praise the herb God's who made them look so much a like! (Hey! Food photography is a lot like baby photography…ya gotta take the shot when it's ready!)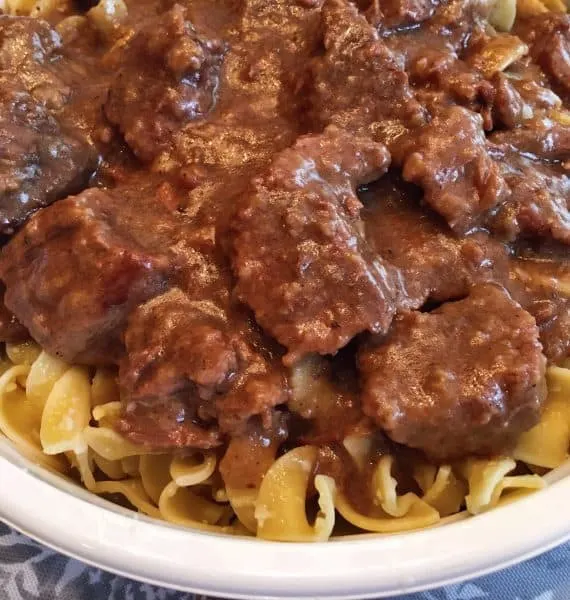 Look at that beautiful "Parsley"! Lol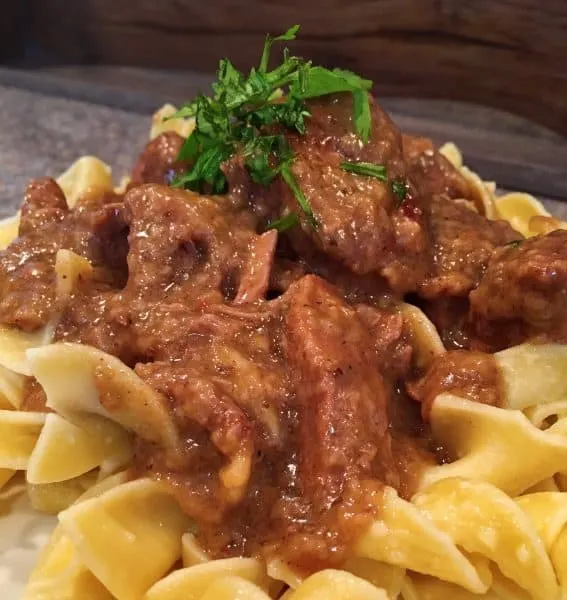 A little side note…if your gravy is a little thicker than you like …you can thin it out by adding a little bit of water while the Beef and Gravy is still in the crock pot and stirring until you have the consistency you like.
The birds at this Nest love thick gravy, so I left mine thick.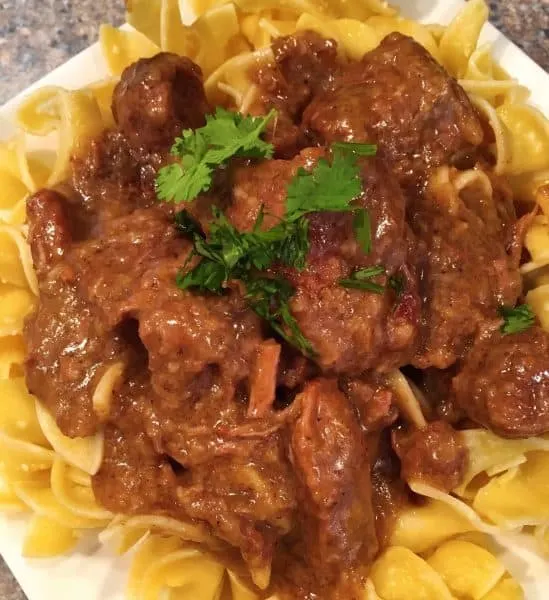 This is true down home "comfort food" The noodles are a yummy side dish just the way they are, but top them with that Rich Beefy Gravy and… Swoooon! They are scrumptious!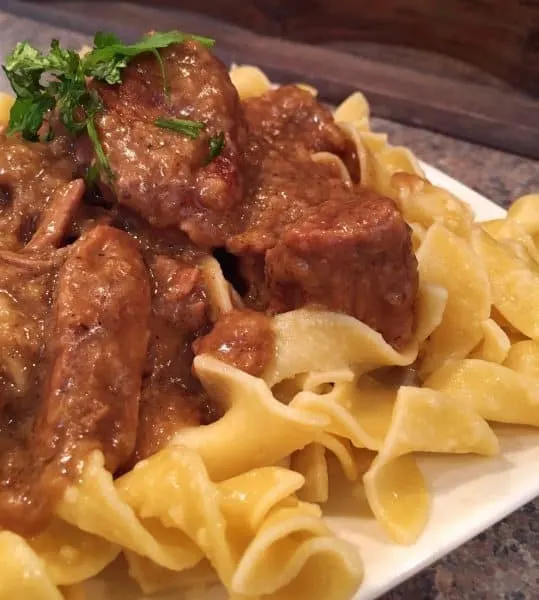 As Julia would say…."Bon Appetit"
If you've enjoyed this recipe you may also enjoy these other Slow Cooker Recipes
Please be sure to follow me on my Facebook Page, Pinterest, Instagram, and Twitter. We have a lot of fun and interaction each and every day on my Social Media pages and I love to have you join me and get to know you better!
Happy Nesting ~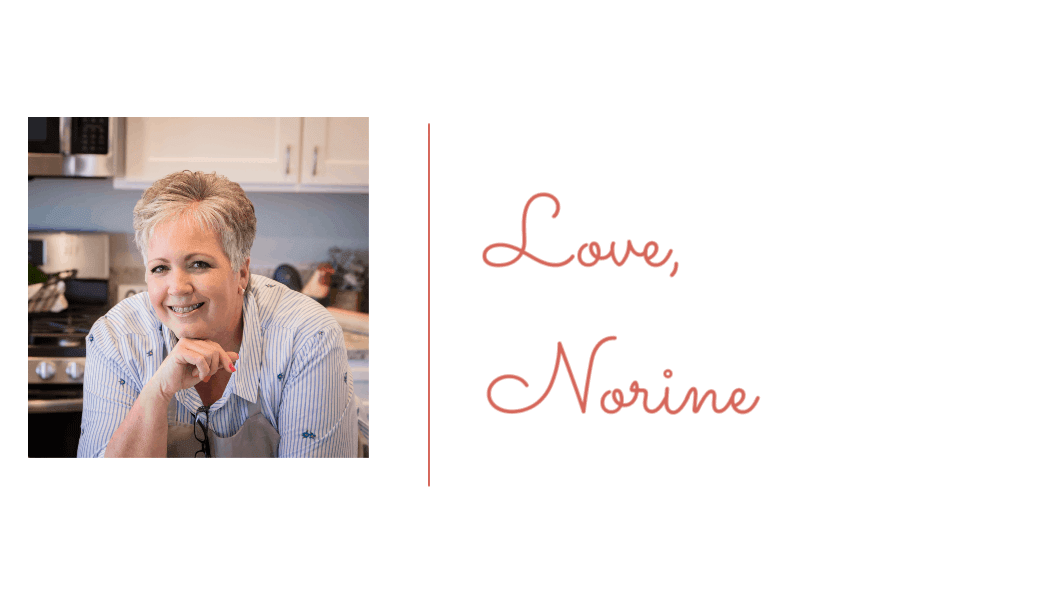 Yield: 6 servings
Slow Cooker Beefy Gravy & Noodles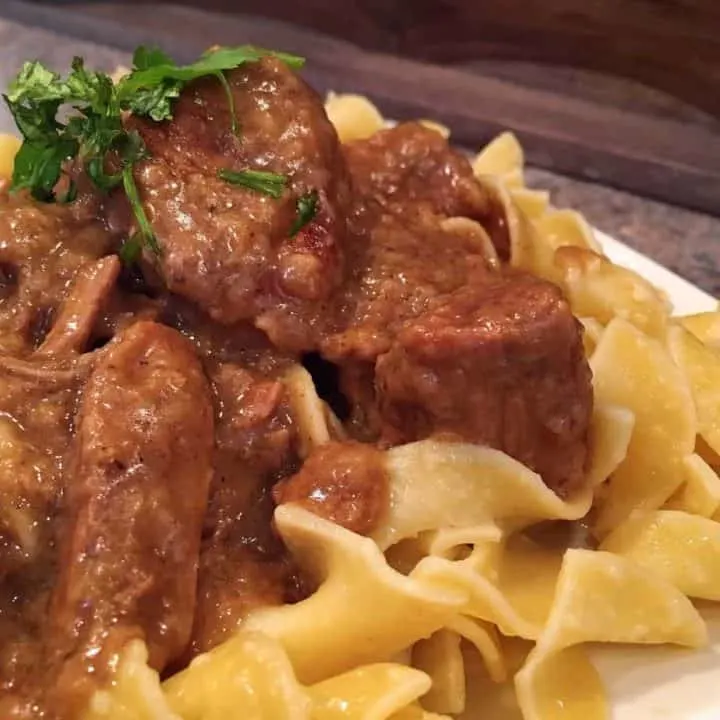 Tender buttery Parmesan Noodles are covered in a slow cooked Beefy Gravy and garnished with fresh parsley for an amazing comforting dinner dish.
Cook Time
4 hours
20 minutes
Total Time
4 hours
30 minutes
Ingredients
2 - 2.5 lbs of Beef Chunks
1 Cup All-purpose flour
1 tsp garlic salt
1/2 tsp onion powder
1/2 tsp coarse black pepper
2-3 tablespoons olive oil, for cooking
2 cups beef broth
1 cup water
1/2 cup of Merlot or any red cooking wine
1 package wide egg noodles
4 Tablespoons real butter
1/4 cup Grated Parmesan Cheese
Parsley for garnish
Instructions
In a large Zip Lock bag place 1 cup of flour, 1 tsp garlic salt, 1/2 tsp onion powder, 1/2 tsp coarse black pepper. Shake well to mix.
Rinse Beef chunks.
Place rinsed beef chunks in the zip lock bag with the flour mixture and shake to to coat.
In a large skillet, over medium high heat, add 2-3 tablespoons of olive oil. Allow to preheat.
Add coated chunks of beef into the hot oil and sear on each side until golden brown. Note: Meat will still be red in the center.
Place seared meat into your slow cooker.
Add 2 cups of beef broth, 1 cup of water, and 1/2 cup Merlot. Cover and cook on high for 4 hours. Stirring once or twice during cooking if possible.
Fill a large pot with water and 1 tsp of salt. Bring to a boil.
Add wide egg noodles and cook per package instructions or until tender.
Drain.
Place cooked, drained noodles in a large bowl. Mix with 4 Tablespoons of butter and 1/4 cup of grated Parmesan Cheese.
Spoon Beefy Gravy over noodles and garnish with fresh chopped parsley.
Notes
If you do not want to use cooking wine substitute with additional water or beef broth.
Recommended Products
As an Amazon Associate and member of other affiliate programs, I earn from qualifying purchases.
Nutrition Information:
Yield:
6 servings
Serving Size:
1 serving
Amount Per Serving:
Calories:

1024
Total Fat:

42g
Saturated Fat:

17g
Trans Fat:

2g
Unsaturated Fat:

24g
Cholesterol:

406mg
Sodium:

956mg
Carbohydrates:

25g
Fiber:

1g
Sugar:

0g
Protein:

128g