Fresh tender asparagus pieces, mushrooms, onions, applewood bacon, and gouda cheese come together in a symphony of flavor in this creamy Quiche that's perfect for Easter brunch!
It's snowing today…but in my heart I know Spring is just around the corner! (My heart is more dependable than that rodent looking for his shadow!)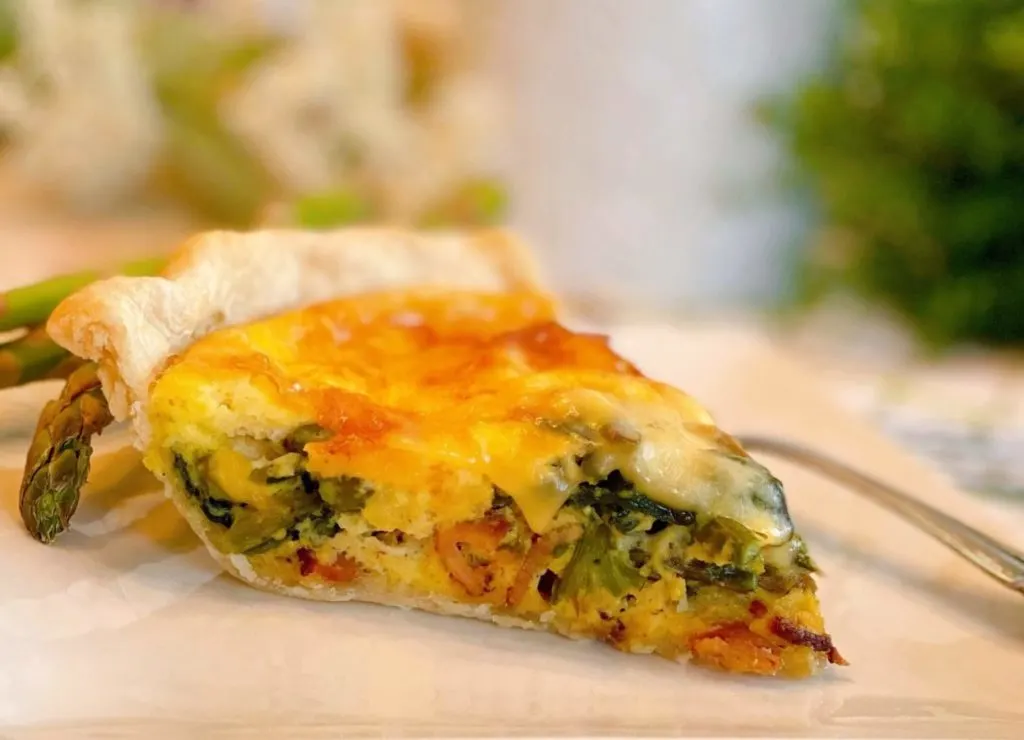 How do I know? Asparagus! The markets are loaded with tender spears of my favorite springtime vegetable!
I know not everyone is "team asparagus"! (A few non-team members live at this nest! It's heartbreaking, but we try to love 'em anyway.) I'm the team captain! I love those tender green spears of delight! Especially roasted or grilled asparagus! I also enjoy using it in recipes…which is why I used it for this absolutely scrumptious Spring Quiche.
In addition to the asparagus, this quiche is loaded with thick sliced smoked applewood bacon crumbles, fresh sautéed mushrooms, onions, and spinach and topped off with creamy Gouda. Every ingredient compliments each other.
How To Make Asparagus Quiche
Let's talk Quiche!
Quiche recipes are savory custards that contain bits of vegetables, meats, and/or cheese baked into the tart. The texture of custard depends on the proportions of eggs to liquid. More whole eggs or egg whites, create a firm, well-set custard, while extra liquids, creams, half-and-half, or additional yolks give a softer, creamier custard. I love creamier quiches which is why this recipe has four whole eggs.
Quiche is traditionally prepared in a prebaked pie shell brushed with egg yolk…however, I'm a rule breaker, so I bake mine in an uncooked pie shell. It works beautifully. No soggy bottom either!
Now that we have that all taken care of…let's get going on this savory and satisfying Quiche!
Cook 4 slices of thick applewood bacon in a large skillet over medium-high heat. Carefully remove bacon from skillet and drain on a plate lined with paper towels.
TIP: I precut the bacon into smaller pieces and fry them up until nice and crispy.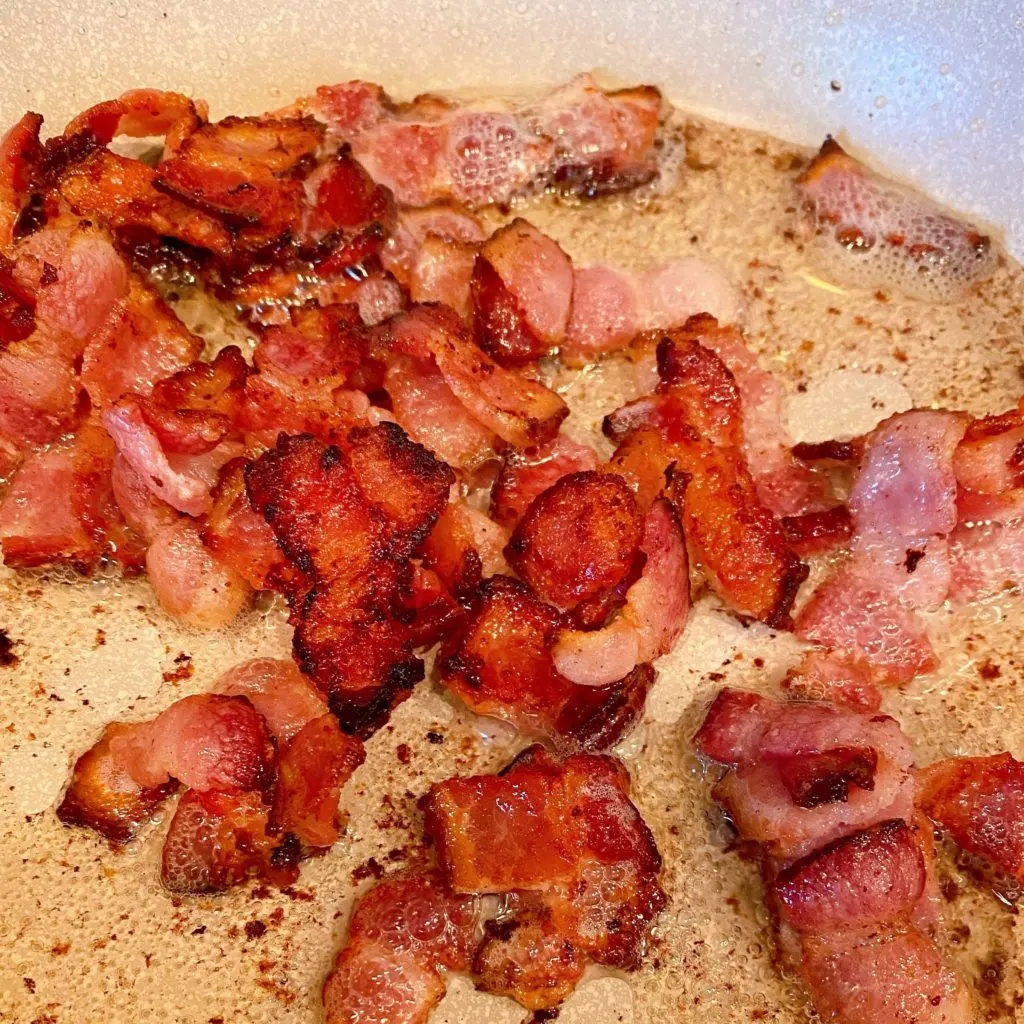 You'll need one 9-inch pie shell. You can make your own by following my pie crust recipe or you can purchase premade pie dough. Place the pie dough in a deep 9-inch pie or tart pan.
Sprinkle drained bacon crumbles, evenly, to bottom of the pie crust shell.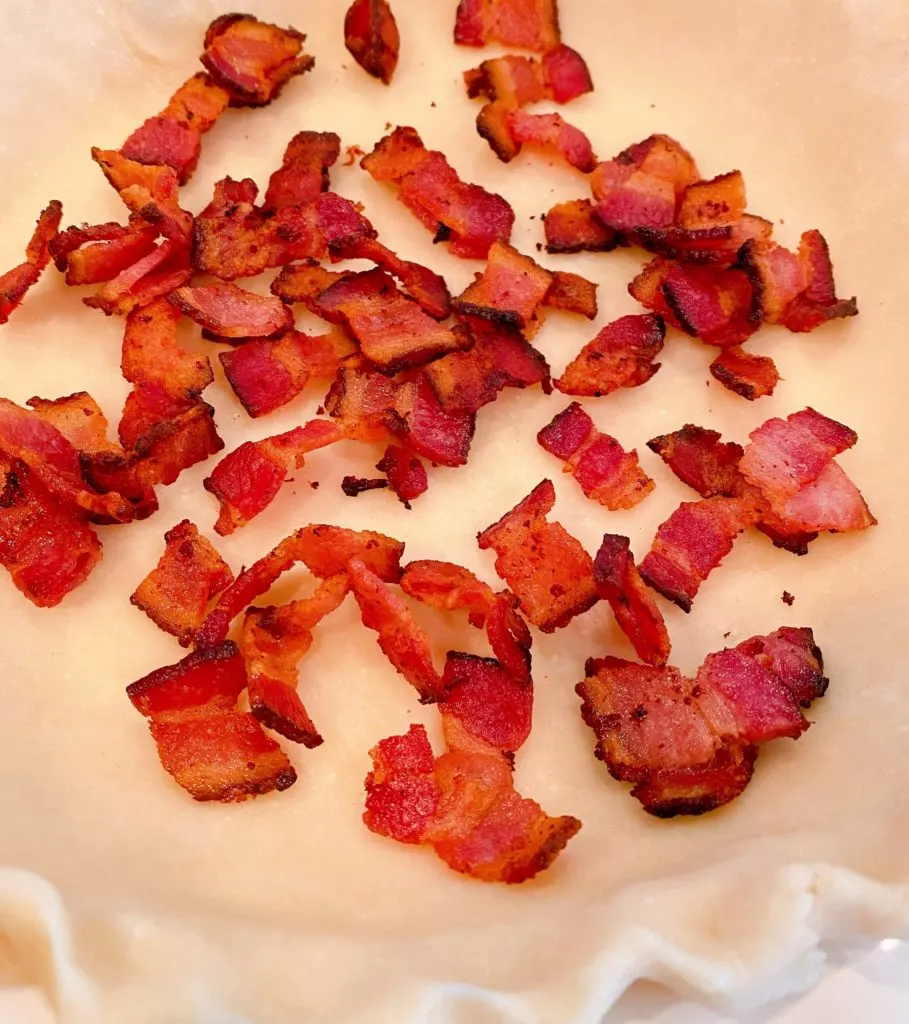 Reserve 2 Tablespoons of bacon grease to sauté the vegetables, it adds extra flavor.
Add 1 cup chopped, bite size pieces, about 1/4 inch long, of fresh asparagus, chopped onions, and 1 cup sliced fresh mushrooms.
Cook vegetables until tender crisp. Remember you'll be baking this quiche, so we don't want the veggies too cooked, just tender.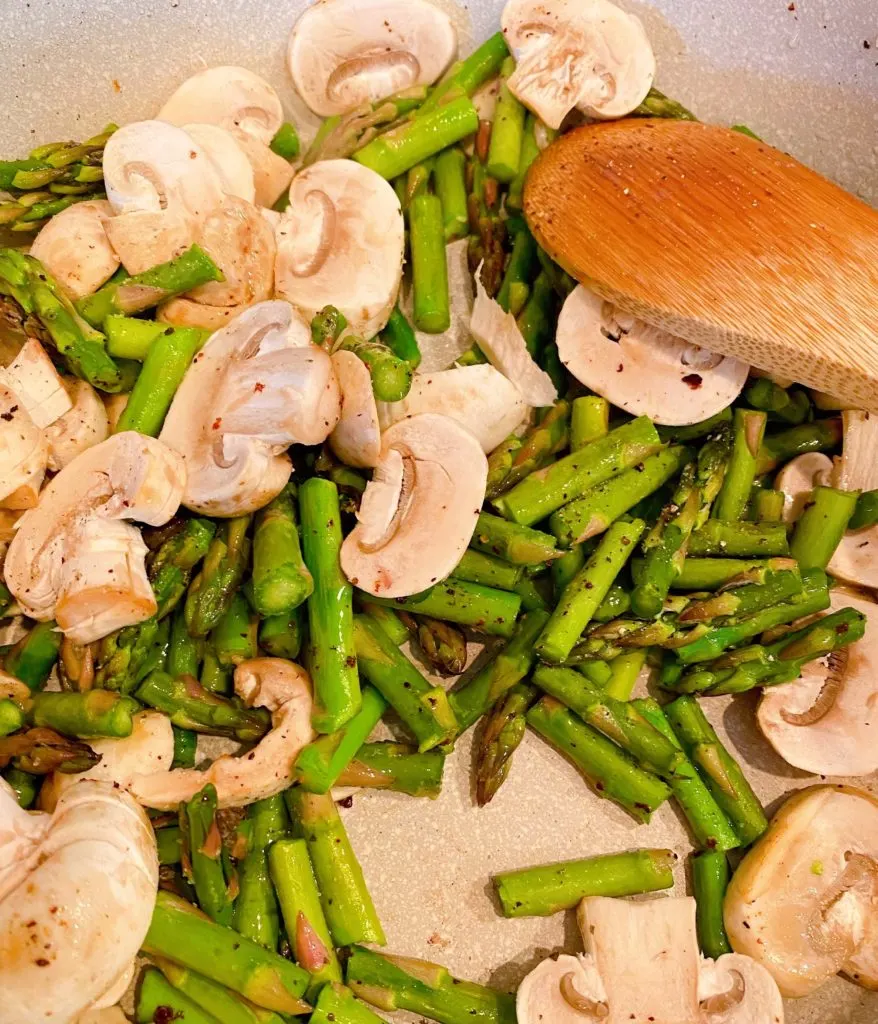 Add a handful of fresh spinach, about 1 cup, and continue to cook until slightly wilted. If you're not a spinach fan feel free to leave it out! It's 100% optional unless you're a sailor and smoke a corn-cob-pipe! (If you don't get that…we are nowhere near the same age! lol)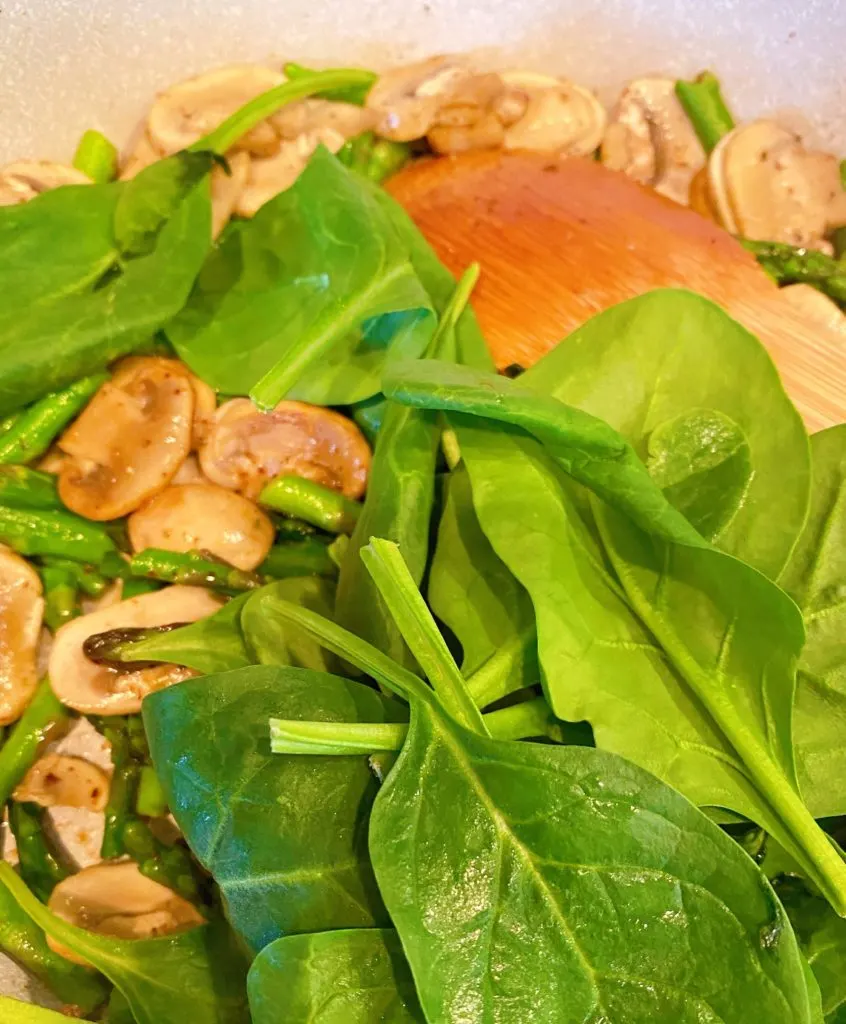 Spread vegetables evenly on top of bacon in the pie shell.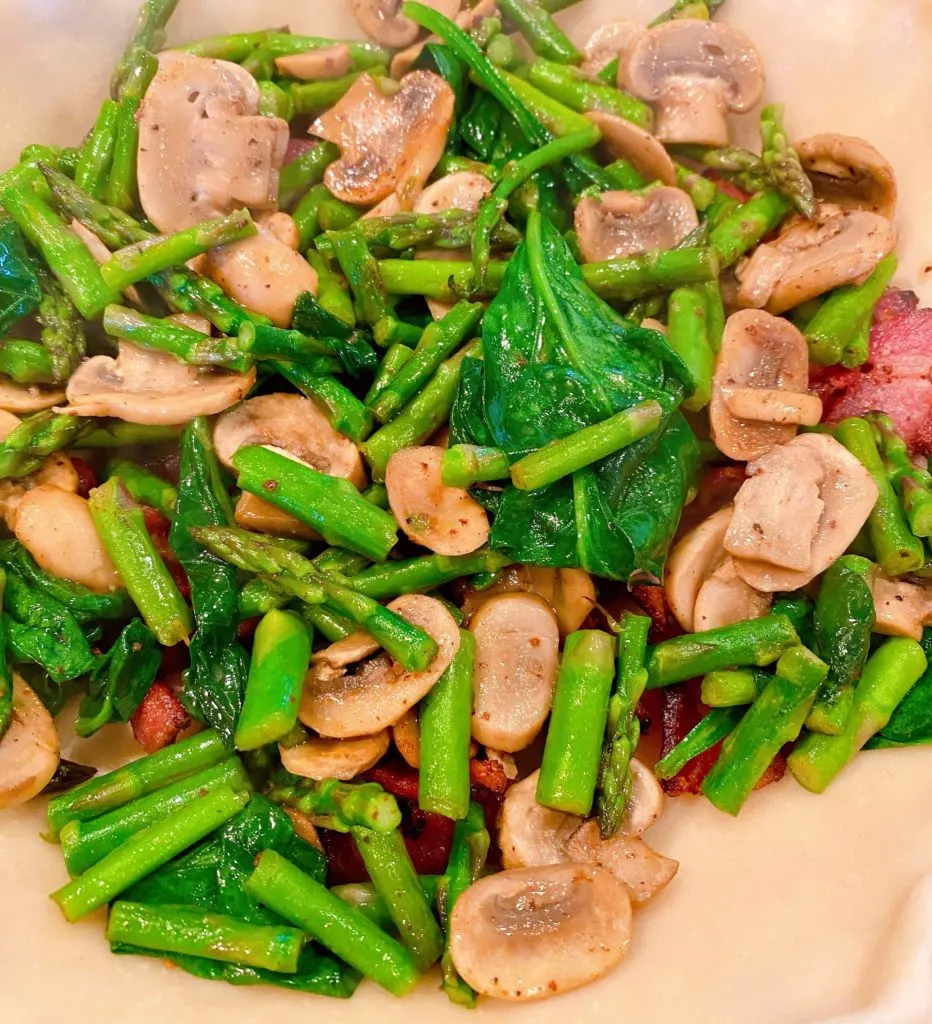 Next up…the cheese! On top of the veggies and bacon, add 1 cup shredded Gouda.
TIP: If you're not a fan of Gouda you can substitute it for Pepper Jack or Swiss.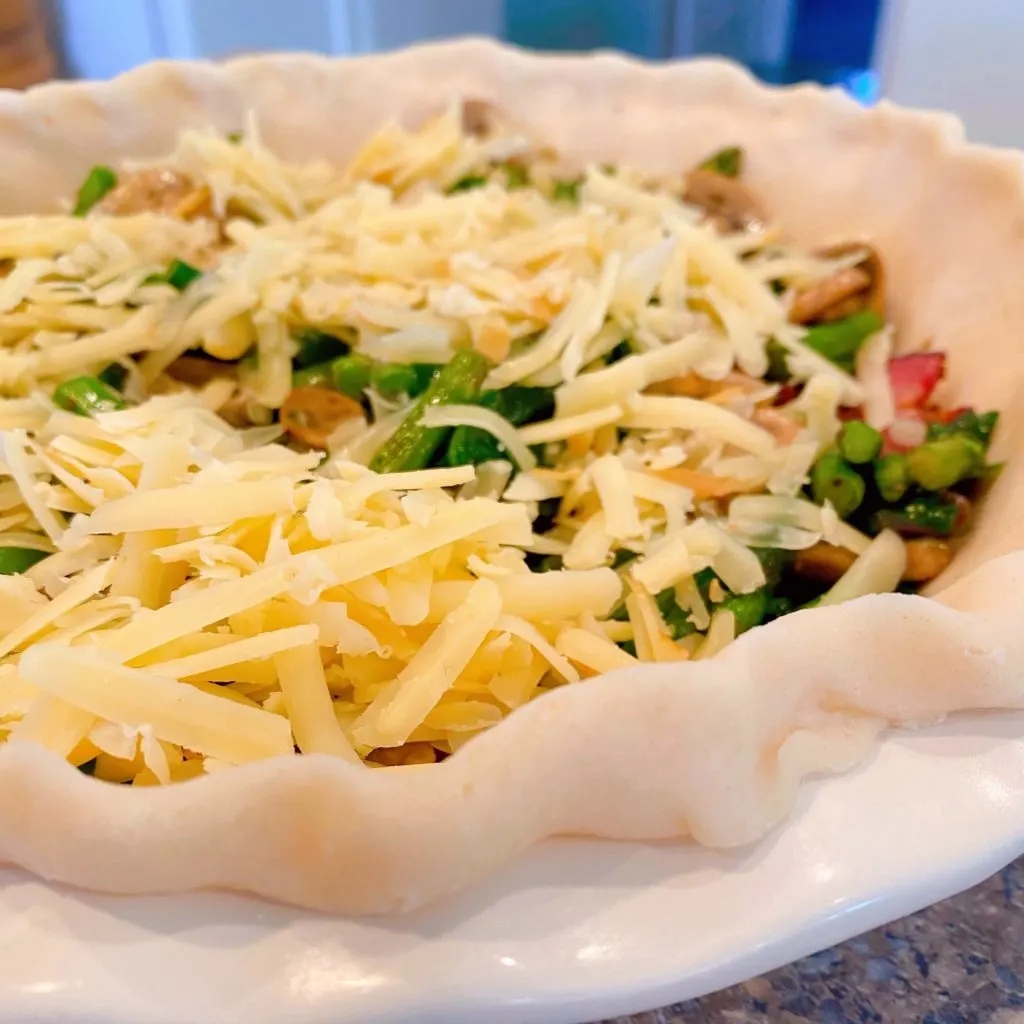 In a medium bowl, or large measuring cup, combine 3/4 cup half-and-half, 4 large eggs, 1/8 teaspoon onion powder, 1/8 teaspoon garlic powder, salt and pepper to taste. Mix with whisk until well combined.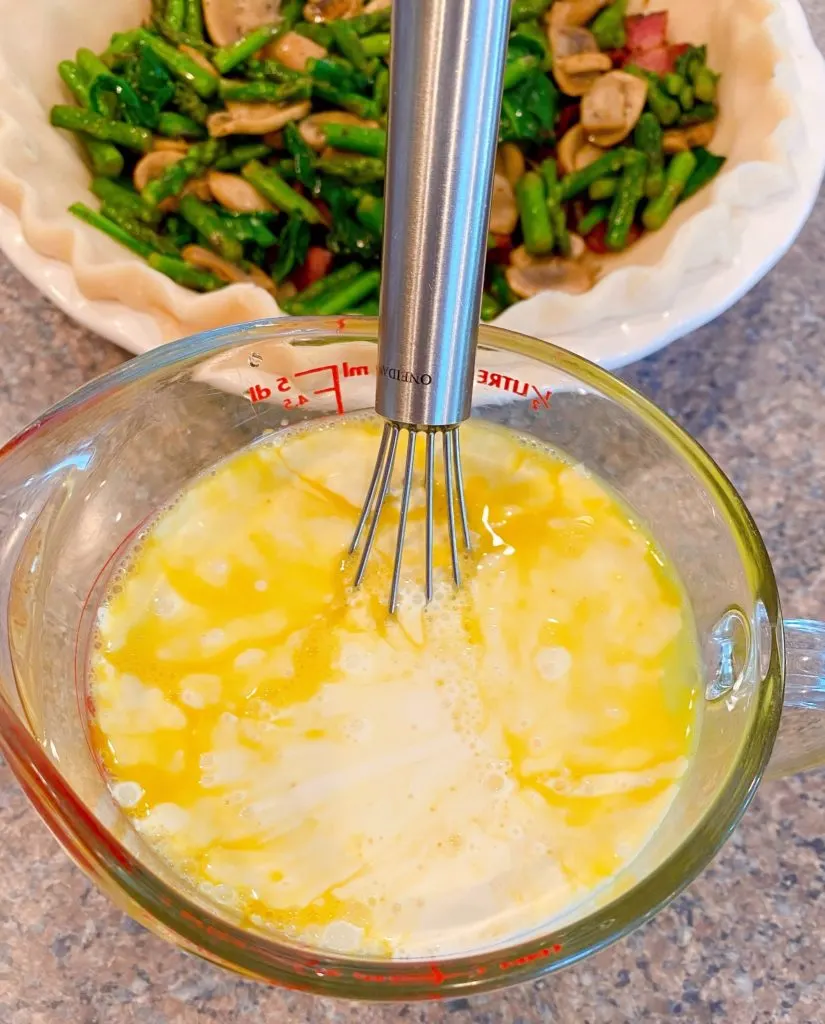 Pour egg mixture, evenly, over the top of the vegetables, bacon, and cheese. Don't worry if some of the cheese is peeking out. The egg mixture will puff up during baking.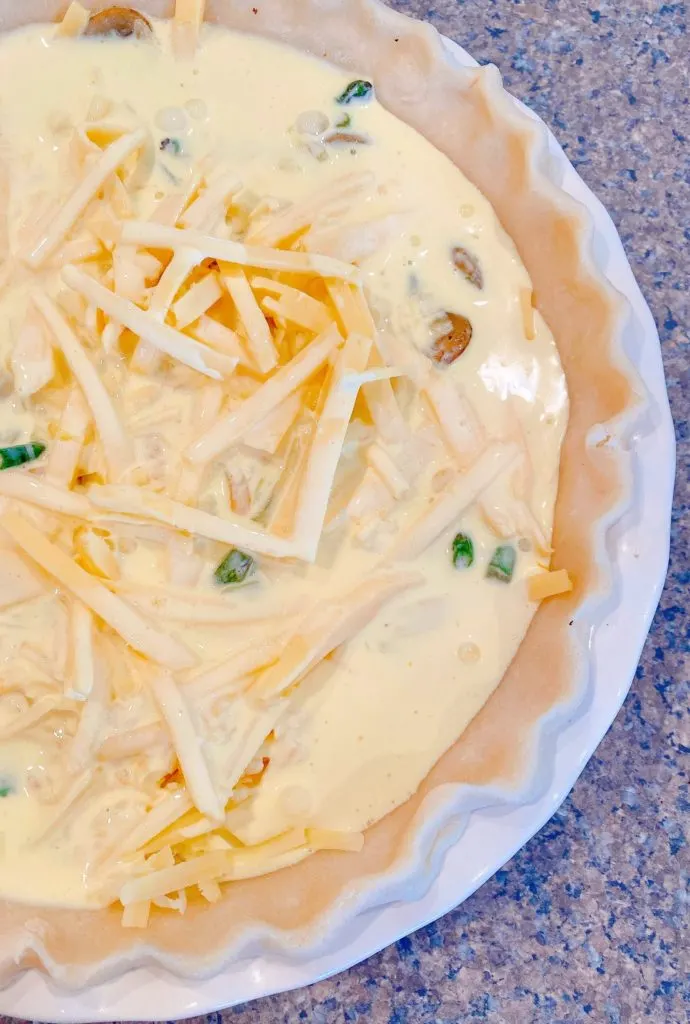 Place quiche on a baking sheet to make it easier to remove from the oven and prevent any spillage in your oven.
Bake in preheated 350° oven, uncovered for 45 minutes, or until firm and lightly browned on top.
TIP: You can test the quiche by inserting a sharp knife into the center of the quiche, if it comes out clear, without any creamy egg mixture on it, it's done.
Remove baked quiche from the oven and set the quiche on a cooling rack to cool 15–20 minutes before serving. You can completely cool the quiche and reheat when ready to serve.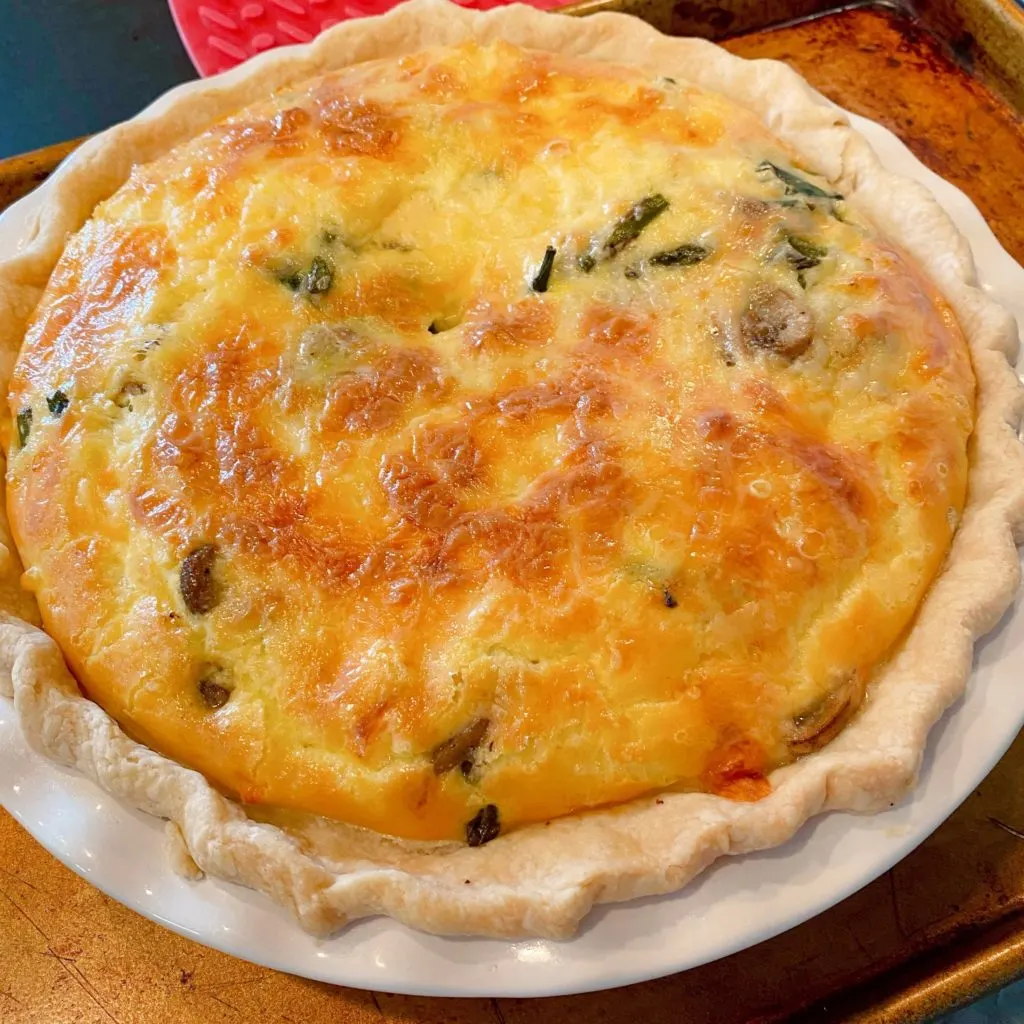 Slice the Asparagus Mushroom Quiche into single serving pie slices.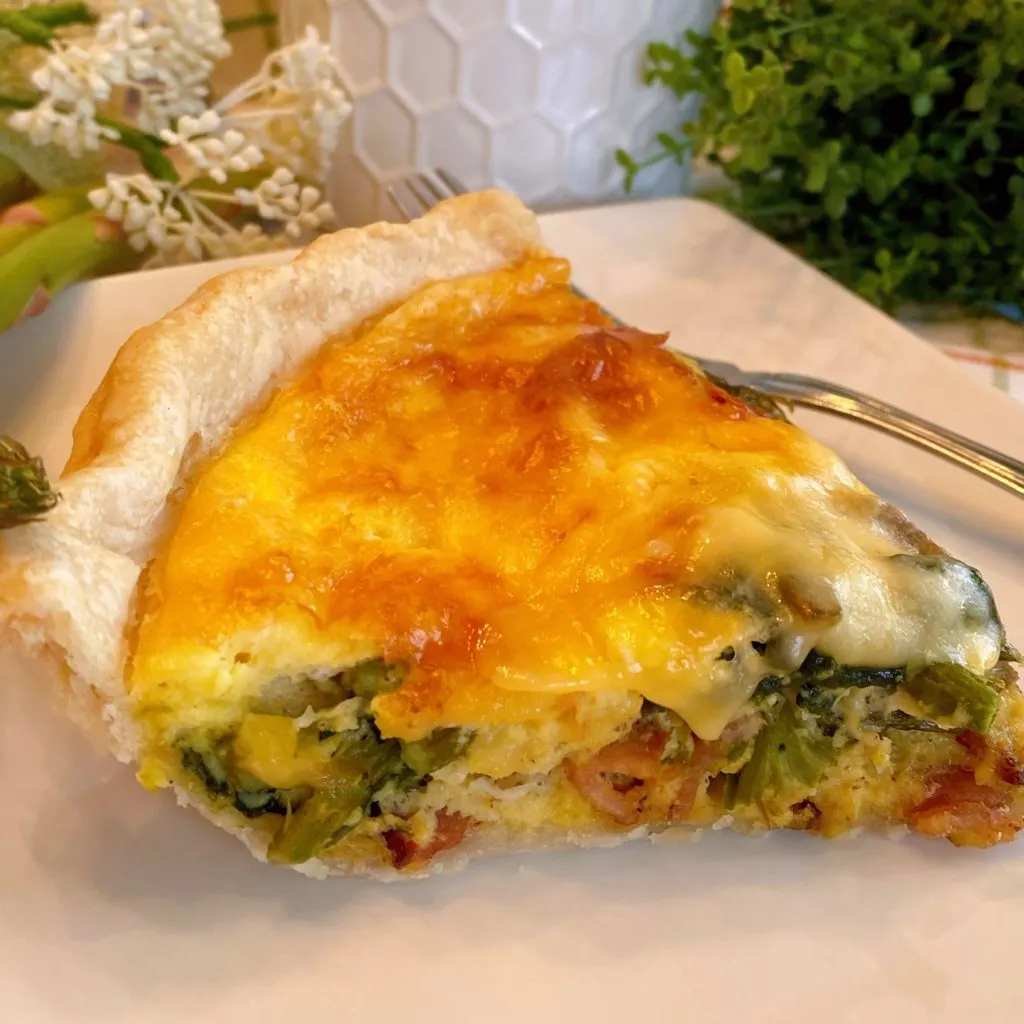 Quiche is perfect for breakfast, brunch, lunch or dinner. This recipe comes together quickly. The creamy texture and savory flavors will leave you hungry for more!
Pair this mouth-watering quiche with my Blueberry Brioche French Toast Bake and Honey Poppy Seed Fruit Salad for an AMAZING Easter Brunch that is sure to have your family "hoppy"! (Yep it's time for bunny puns!)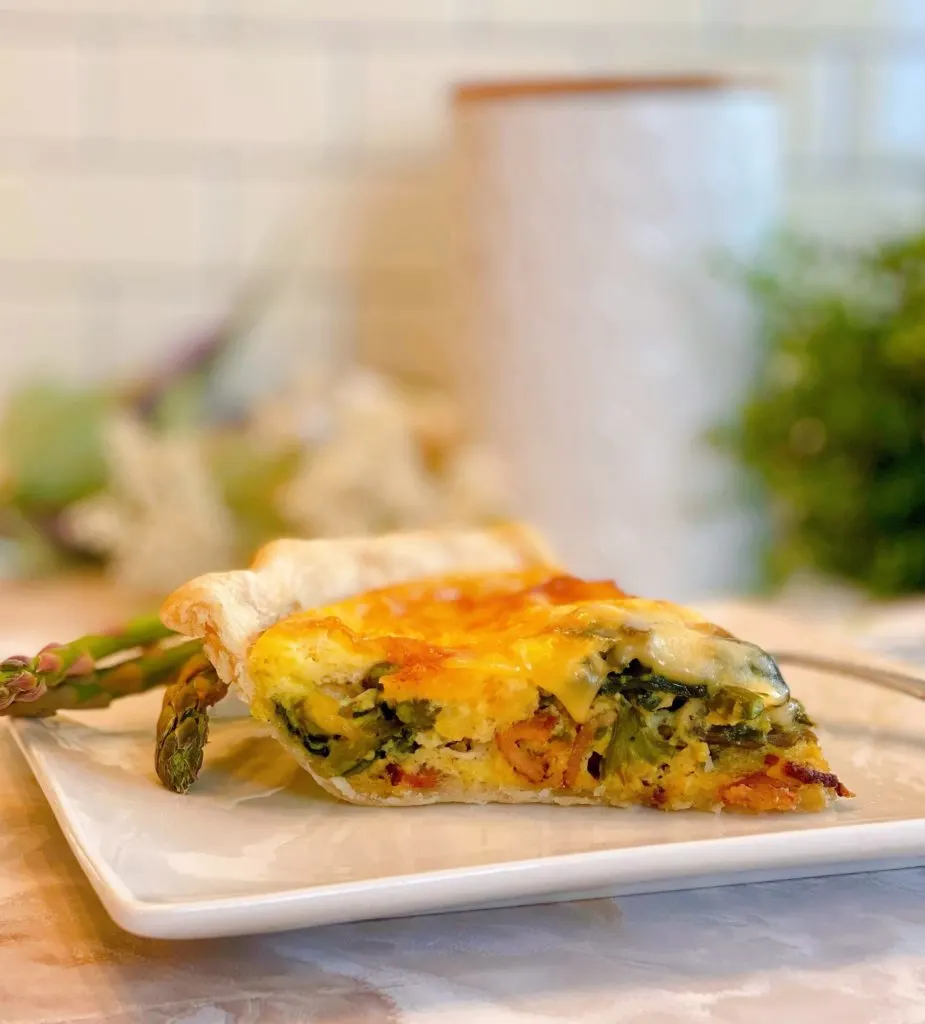 Other Delicious Breakfast Recipes
Thanks for stopping by today! I hope you and your family enjoy this delicious Easy Quiche Recipe as much as we do!
Happy Nesting!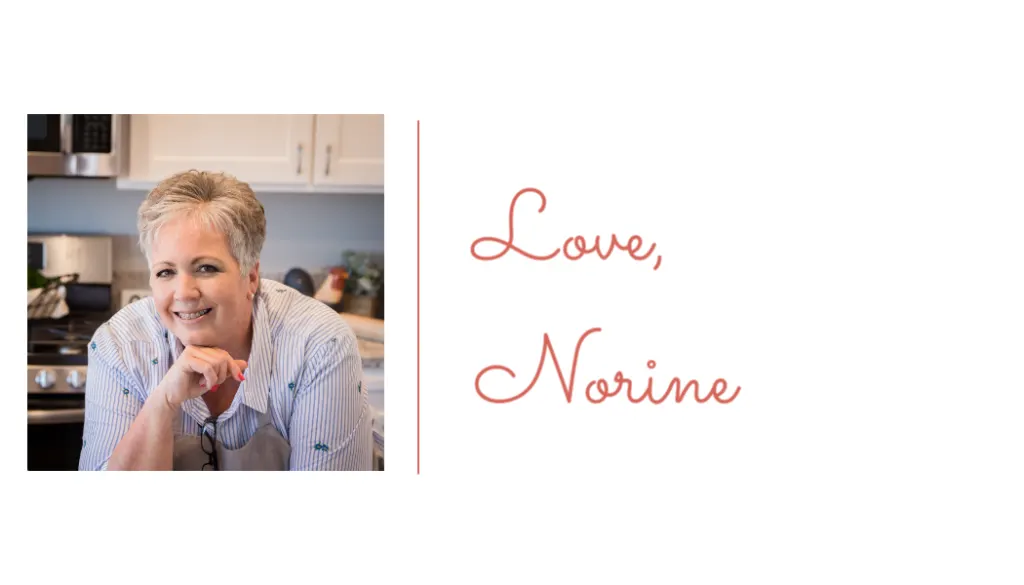 Yield: 8 servings
Easy Asparagus, Mushroom and Bacon Quiche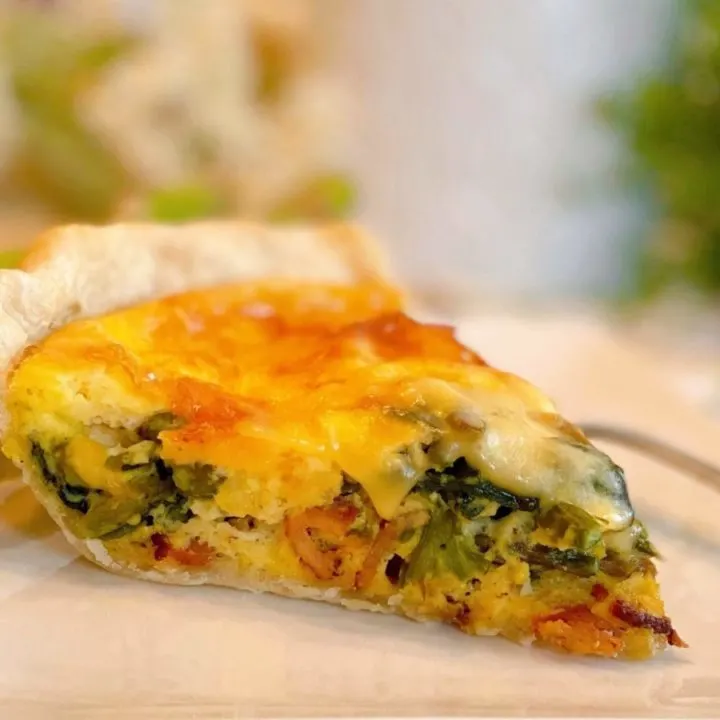 Loads of fresh, tender asparagus pieces, mushrooms, onions, applewood bacon, and gouda cheese come together in a symphony of flavor in this creamy quiche that's perfect for Easter brunch!
Total Time
1 hour
5 minutes
Ingredients
4 slices thick sliced applewood bacon, cooked and crumbled
1 - 9 inch pie shell (uncooked)
2 Tablespoons reserved bacon grease
1 cup chopped asparagus
1 cup sliced mushrooms
1/4 cup chopped white onion
1 cup fresh spinach leaves
1 cup shredded Gouda cheese
3/4 cup half and half
4 large eggs
1/8 teaspoon garlic powder
1/8 teaspoon onion powder
salt and pepper to taste
Instructions
Pre-eat oven to 350° (180 Celsius)
In a large skillet over medium-high heat, cook 4 slices of bacon until crispy. Place bacon on paper towel lined plate to drain. Reserve 2 Tablespoons bacon grease. Crumble cooled bacon. Sprinkle bacon crumbles in the bottom of a prepared 9-inch uncooked pie shell.
In the same large skillet you cooked the bacon in, with the reserved bacon grease, over medium heat, Sautè chopped asparagus, mushrooms, and onions until fork tender. Add spinach leaves. Cook until slightly wilted.
Add sauteed vegetables on top of bacon in prepared pie shell. Sprinkle the vegetable mixture, evenly, with grated Gouda.
In a medium size bowl combine 4 large eggs with half-and-half. Add in garlic powder and onion powder. Mix until well combined. Add in salt and pepper to taste. About 1/8 teaspoon of each.
Place Quiche on baking sheet in pre-heated oven and bake for 45 minutes until center is firm. Remove from oven and cool 15-20 minutes before serving, or allow to cool completely.
Recommended Products
As an Amazon Associate and member of other affiliate programs, I earn from qualifying purchases.
Nutrition Information:
Yield:
8 servings
Serving Size:
1 slice
Amount Per Serving:
Calories:

224
Total Fat:

14g
Saturated Fat:

7g
Trans Fat:

0g
Unsaturated Fat:

7g
Cholesterol:

121mg
Sodium:

277mg
Carbohydrates:

15g
Fiber:

2g
Sugar:

5g
Protein:

11g