Cedar Bay Grilling Company Cedar Planked Atlantic Salmon marinated in sugar and spice paired with an absolutely scrumptious Green Apple Slaw loaded with tart dried cranberries and chunks of Granny Smith Apples. It's a little sweet, a little tart…and a whole lot of yummy…and it pairs beautifully in this Grilled Salmon and Green Apple Slaw.
I created this recipe as another entry in the Cedar Bay Grilling Company Planked Atlantic Salmon recipe contest.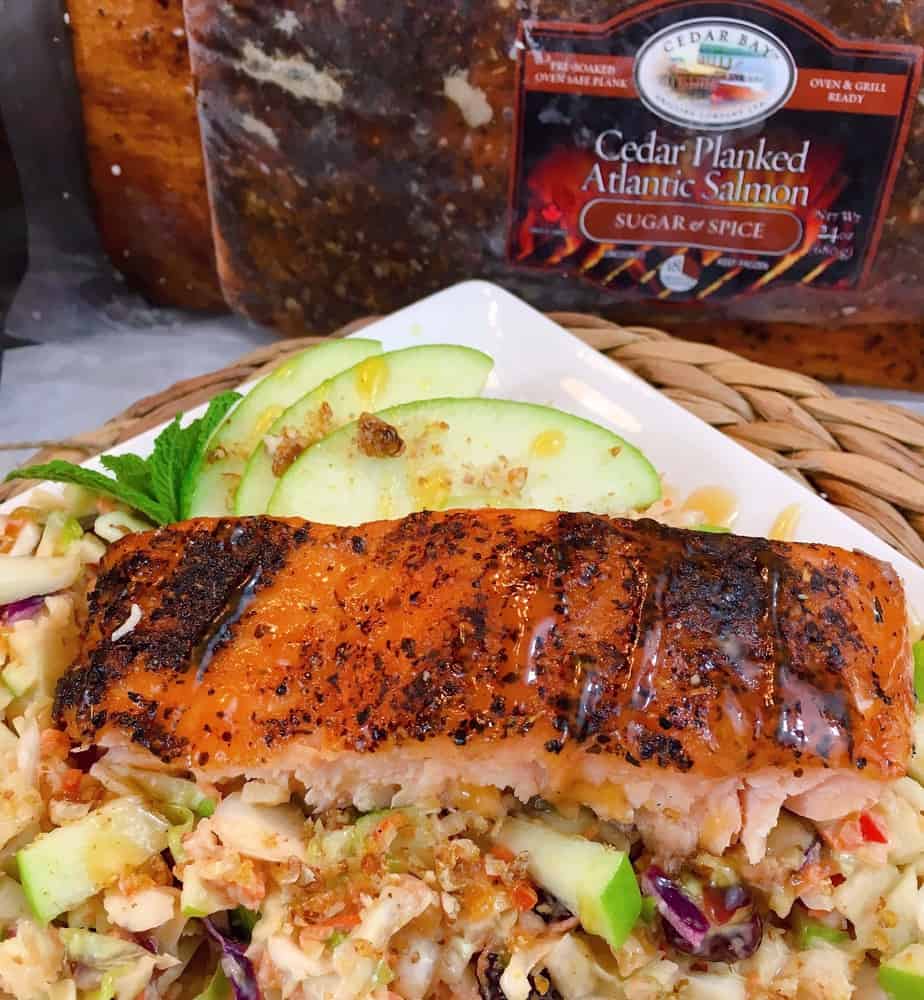 I had so much fun coming up with this Grilled Salmon and Green Apple Slaw main dish. My taste testers had a hard time putting their forks down once they took a bite of this simple scrumptious dish.
There's just something so great about a simple dish that allows the star attraction to shine! The savory flavors from the marinated sugar and spice Salmon that's been grilled to perfection blend perfectly with the crunchy sweet and tart green apple slaw.
This slaw is one of the VERY best ever! So let's start with the slaw shall we?
How To Make Green Apple Slaw
To keep it simple I used 3 cups of shredded cabbage mix! I'm all about taking the easy road as long as it doesn't compromise on taste!
TIP: Place shredded slaw in a strainer and sprinkle liberally with salt. Allow to sit 30 – 45 minutes. This will help extract any extra water in the cabbage and leave it extra crispy for your slaw.
I chopped this shredded cabbage into small bite size pieces. Kind of like the Colonel does at that Fried Chicken place! It makes it easier to enjoy devouring this dish…bite of slaw with a chunk of stunning grilled salmon!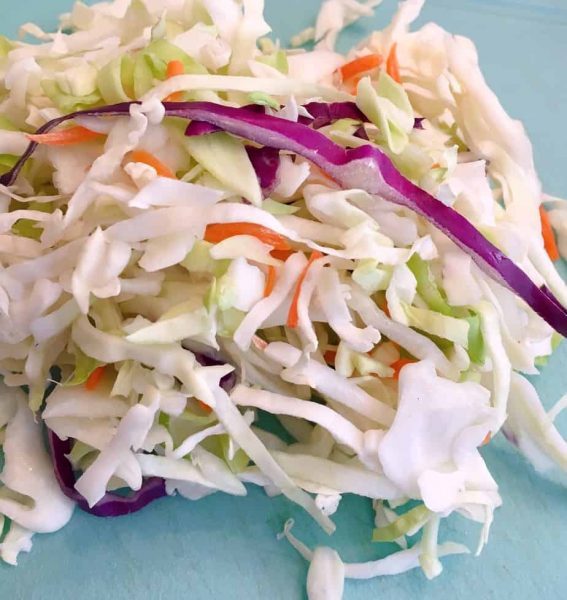 Place the chopped cabbage into a medium size bowl. Add one finely grated carrot. (Yep, I know the mix has 4 slivers of carrots in it…we need more!) 1/4 cup finely chopped red pepper, 2 green onions chopped, 1/2 cup dried cranberries, and 1/4 cup chopped walnuts.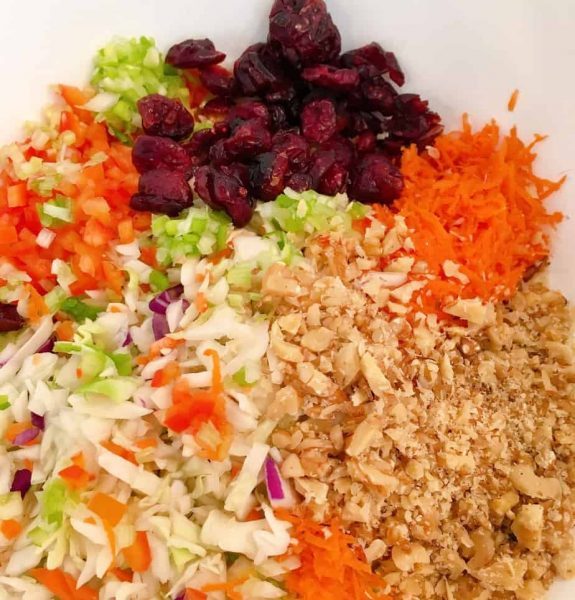 Now for the "dressing"….it's life changing and SO simple! 1/3 cup mayonnaise and 1/3 cup brown sugar. That is it! So many fantastic elements in this simple slaw.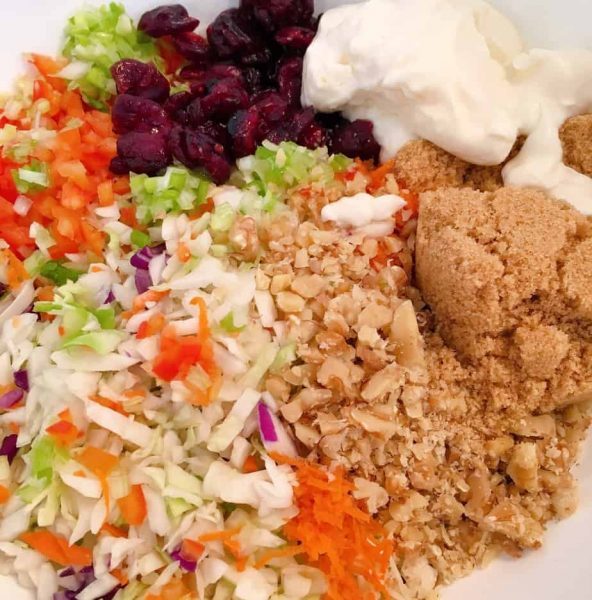 Add 1 Tablespoon lemon juice! This will help keep the apples from turning brown and add a little kick to the coleslaw.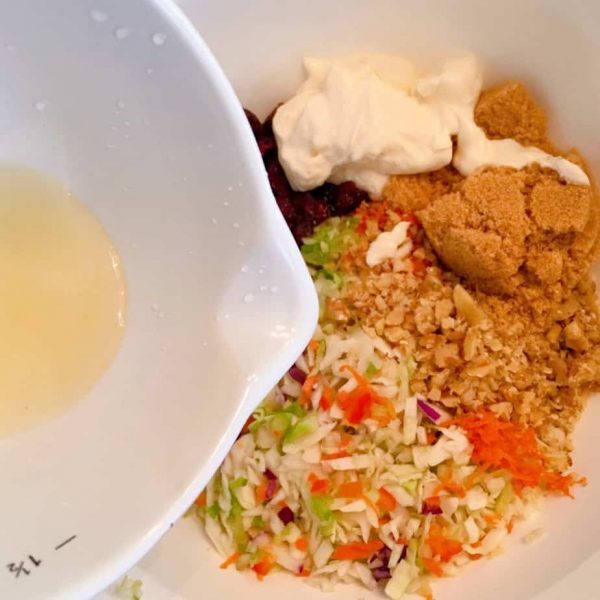 Stir all the apple slaw ingredients together and add 1 granny smith apple, cored and chopped. BAM! There's the kick and star of this slaw!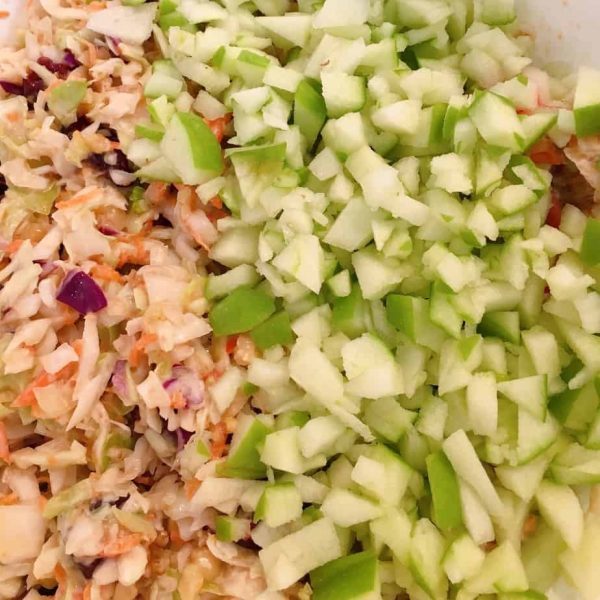 Combine and chill until ready to serve! It may not look like much…but honestly this coleslaw is LIFE. CHANGING! Take a taste… and then I double dog dare ya to stay out of it!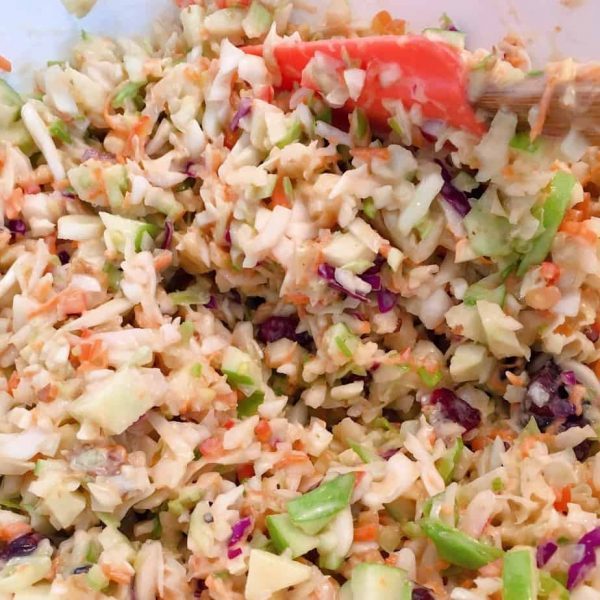 That's the most difficult part of this dish!
How is that possible? Because thanks to Cedar Bay Grilling Company and their amazing planked Salmon all that's left for you to do is heat up the grill, follow the cooking directions on the back of the package, and in 12 – 18 minutes you'll have an outstanding, perfectly seasoned, grilled piece of Salmon!
Cedar Bay Salmon can be found at Kroger and Smith's and other local retailers so check their website to find a location near you. I just can't rave enough about this Salmon! Non-fish-eating friends will L.O.V.E. this Salmon!!! I know because my non-fish-eating friend couldn't stop talking about it!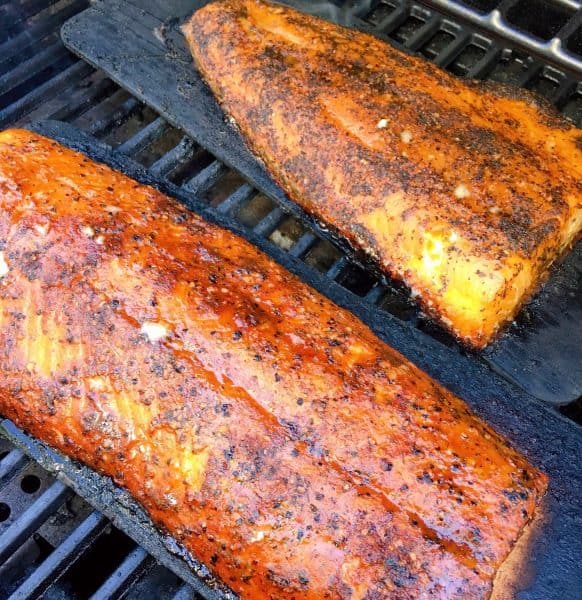 Remove Salmon from the grill and allow it to rest for about 10 minutes!
In a small bowl mix 2 Tablespoons of Orange juice with 2 Tablespoons of honey. Stir until well combined.
Slice the salmon into 6 even slices. Carefully slide a spatula between the meat and the skin of the Salmon. Place a large scoop of the green apple slaw on a dinner plate. Place a slice of the grilled salmon on top of the slaw.
Drizzle a small amount of the Honey Orange sauce over the top of the salmon and across the plate. Top with additional chopped walnuts.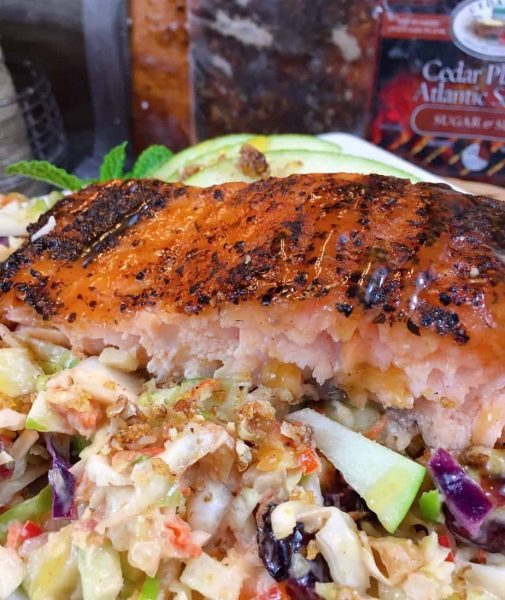 Isn't that a beautiful piece of Salmon! Tender, flaky, moist, and loaded with flavor. I love the tiny little bits of char from the grill and the additional smokey flavor that comes from the cedar plank during grilling.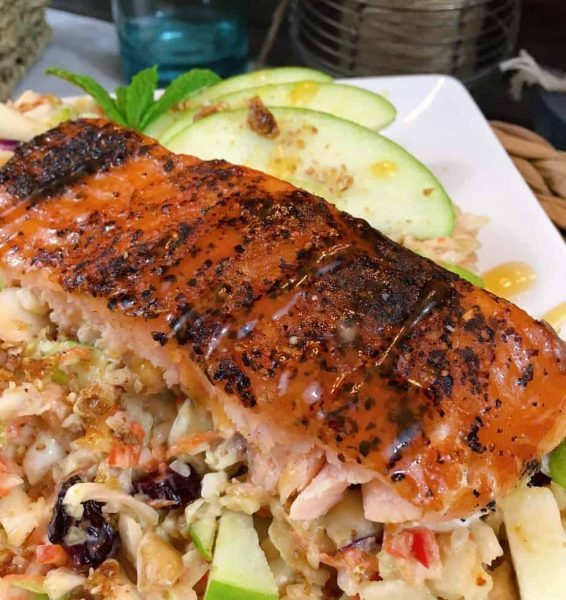 This is a wonderful summer entree for a dinner party or a family gathering! My guest licked the plate clean! I kid you not! They couldn't stop raving about the combination of the crunchy apple slaw with the mild tasty salmon!
I could have made a dish that went the direction of Pasta or potatoes in combination with the fish…but I wanted a light refreshing summer dish.
I love that the Green Apple Slaw can be made ahead of time allow the different flavors to marinate together. It also allows you to spend less time in the kitchen when entertaining! Anytime I can serve up a world class dish like this and not spend hours and hours in the kitchen…it's a WIN in my book!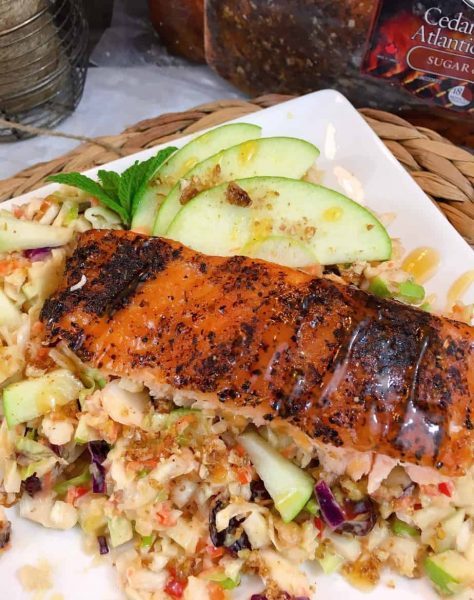 I hope you'll make this dish! It's absolutely amazing! Clean fresh flavors shine through in every mouth-watering bite.
Other Great Fish Recipes
The printable recipe is below! Thanks so much for stopping by my Nest!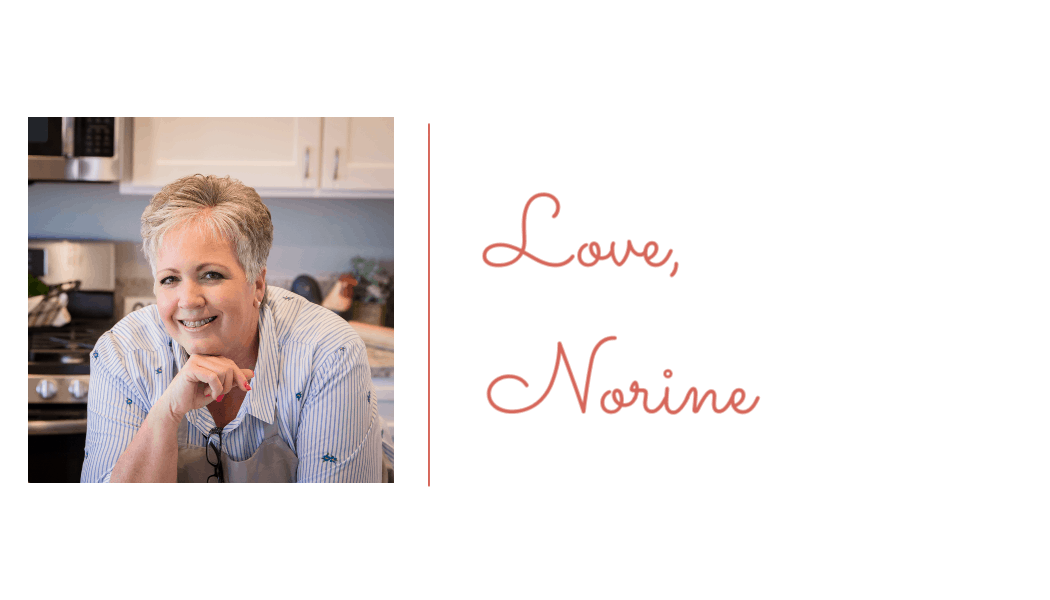 Yield: 6 servings
Grilled Salmon With Green Apple Slaw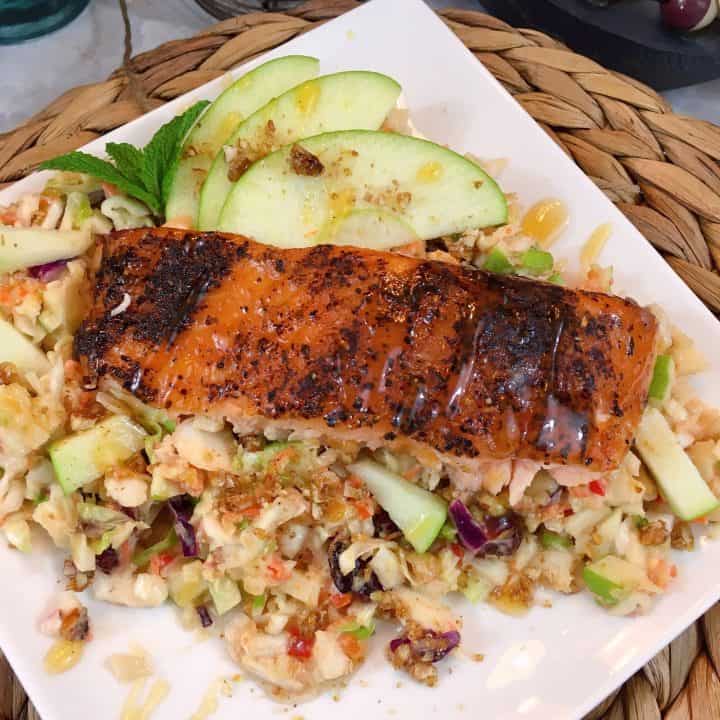 Fresh crisp delicious apple slaw pairs with grilled salmon to create a beautiful easy delicious entree that will impress your guests.
Ingredients
3 Cups cabbage mix
1 unpeeled Granny Smith Apple, Cored & Chopped
1 Carrot finely grated
1/4 Cup finely chopped red pepper
2 green onions chopped
1/2 Cup dried cranberries
1/4 Cup chopped walnuts
1/3 Cup Mayo
1/3 Cup Brown Sugar
1 Tablespoon Lemon Juice
2 Tablespoons Orange Juice
2 Tablespoons Honey
1 Full Fillet Sugar and Spice Cedar Planked Cedar Bay Grilling Company
Instructions
Chop cabbage mix into small bite size pieces. Place in a medium size bowl.
Add grated carrot, red bell pepper, green onions, dried cranberries, and walnuts. Add brown sugar and mayonnaise. Mix until well combined.
Add chopped green apple and Lemon Juice. Mix all ingredients together. Cover and chill until ready to plate.
Grill Full Salmon Fillet on cedar plank in a pre-heated 425° grill or oven for 12-18 minutes or until internal temperature reaches 158°.
Remove Salmon from grill and allow to cool for 10 minutes. While Salmon is resting whisk together honey and orange juice until well blended.
Cut Salmon into 6 equal slices. Carefully remove Salmon from skin.
Place a large scoop of chilled green apple slaw on a dinner plate, top with a slice of salmon, drizzle with honey and orange mixture and sprinkle with additional chopped walnuts.
Nutrition Information:
Yield:
6
Serving Size:
1
Amount Per Serving:
Calories:

255
Total Fat:

13g
Saturated Fat:

2g
Trans Fat:

0g
Unsaturated Fat:

10g
Cholesterol:

5mg
Sodium:

93mg
Carbohydrates:

37g
Fiber:

3g
Sugar:

31g
Protein:

2g