Fresh sliced ripe tomatoes, avocado, grated mozzarella and shaved Parmesan cheese drizzled with a delicious Italian dressing combine to create this quick, easy, and delicious Fresh Tomato & Avocado Italian Salad.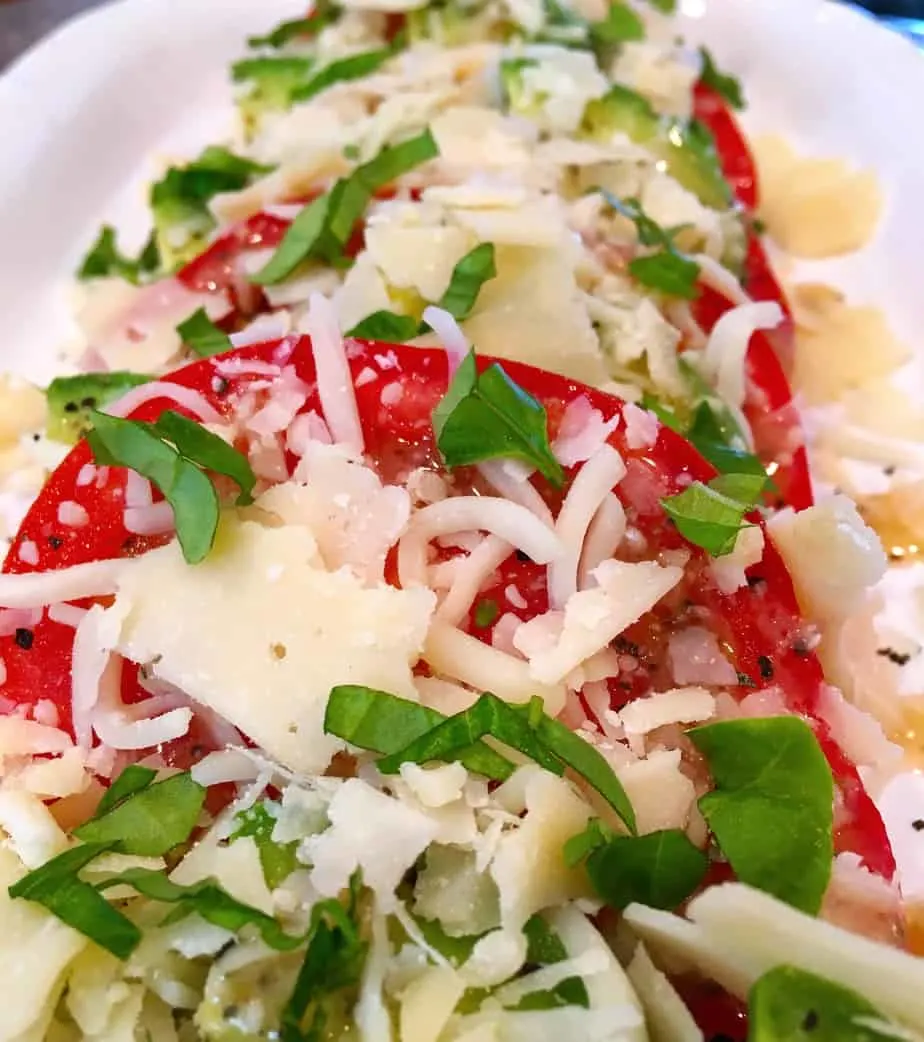 I hope you had a great weekend! I know I did!
Mars did a ton of mowing while I was baking! He and I also had a great pizza dinner date Saturday evening at our local favorite, the Pizza Cart. If you are ever in Cedar City, Utah you have to stop and have pizza there! We also had a wonderful family Sunday dinner and a Face time chat with our Virginia loves! See…GREAT weekend!
Let's be real though…all great weekends involve great food.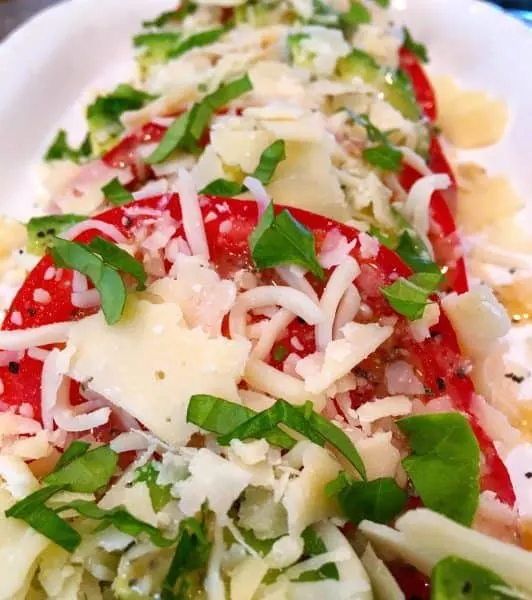 Another reason my weekend was so great… this salad was part of my life! Fresh Tomato and Avocado Italian Salad. YUM!
How To Make A Fresh Tomato Summer Salad
I love vine ripened tomatoes! They're amazing! I came up with this recipe about 3 years ago, one Sunday, when the thought of washing and tearing lettuce was too much for me to handle! (Pathetic I know!)
I had a bowl full of ripened tomatoes and a couple of ripe avocados. I also had a tub full of fresh basil. I thought…"I can do something with this!" (This was long before I knew what Caprese was! Sad…I know!)
What resulted is this amazingly simple yet beautiful salad. It's not a true Caprese salad because of the lack of balsamic vinegar. Regardless…. It's a favorite at this Nest!
You will need one or two large ripe "meaty" tomatoes! I found this beauty at the Farmer's Market. My tomatoes are not ready yet. We got our garden in a little late this year, so they're coming…I hope! (Fingers crossed and prayers to the tomato Gods!) Slice the tomato into nice even slices about a 1/4 inch thick.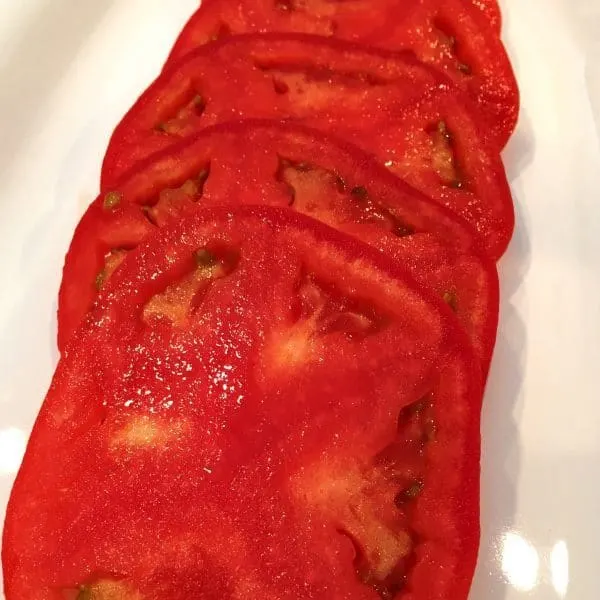 I sliced up two Hass Avocado's for this salad. You can never have too much "green" in my opinion!
Layer the slices in-between the tomatoes for a colorful display! One of the things I love about this salad…besides its amazing flavor… is its presentation! It really steals the show at the dinner table.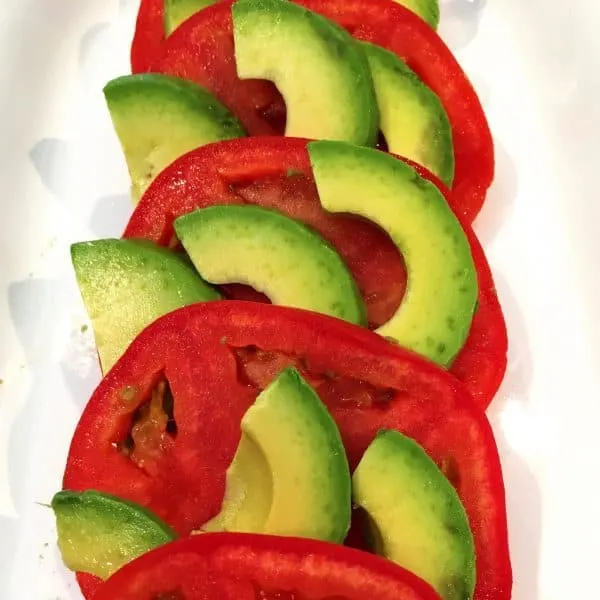 Once you have your tomatoes and avocado slices all arranged on your serving platter, sprinkle generously with cracked pepper and salt if you like.
Now for some cheese! Let's sprinkle, down the center of the salad, with grated mozzarella cheese!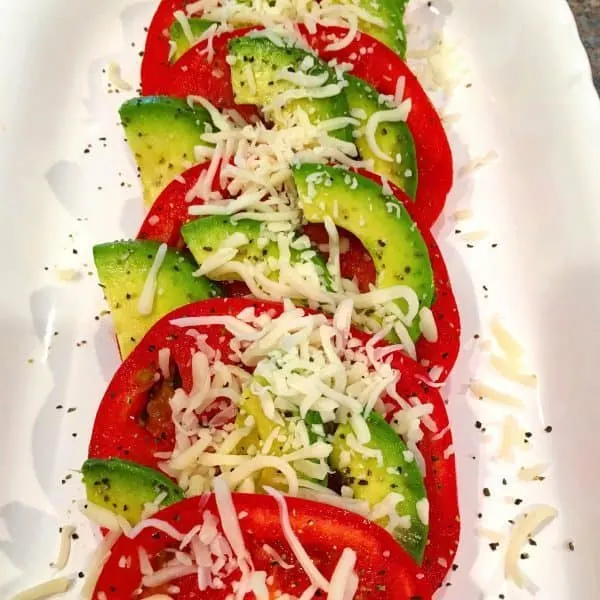 Since this is an Italian salad let's do a little more cheese!!! How about shaved Parmesan cheese!
Can you have too much cheese? I think not! (I love cheese! Pretty sure there will be cheese in heaven!)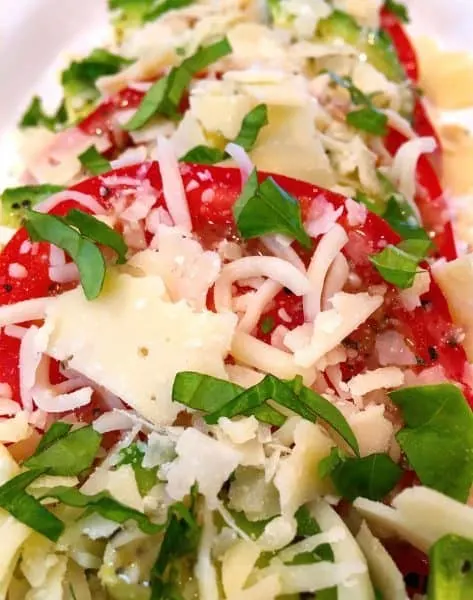 To top it off … some fresh-cut Basil! I love the smell of fresh-cut basil! Isn't that beautiful? Yummy! Hang on…we have one more thing…
Now it's ready for the final touch…remember my favorite dressing? Yep, that one! Time for a heavy drizzle of the Kraft Sun Dried Tomato dressing! Bam! That is it!!!
TIP: If you can't find the Kraft dressing just use your favorite Italian dressing or even Cheese Fantastico works wonders on this salad!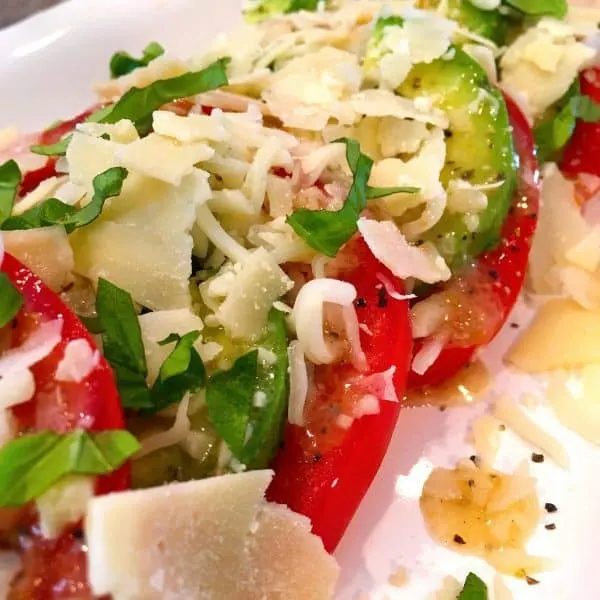 Beautiful! I realize not everyone is a tomato and avocado fan. I mean they have found life on Mars right? (Just teasing ya! I have non-tomato loving birds at this Nest! I get it!… Okay, not really! What's not to like?)
If you are a fan of both… you will absolutely adore this salad! You really don't need a recipe for this one but, I'm going to give you a printable below just in case.
Get creative with it. Throw on some olives or banana pepper rings! Even a little red onion would be good. Remember cooking is about personal taste and being creative! Go for it! This salad is a quick side salad that goes with any meal!
Other Favorite Summer Salad Recipes
I've got so much I want to share this week! I'm backed up with recipes. Fall is right around the corner and I have some AMAZING Fall recipes and crafts I want to share, so I need to get caught up!
Thanks for stopping by! You are my favorite friends! I love sharing my Nest with all of you! Have a FANTASTIC Monday!
Happy Nesting!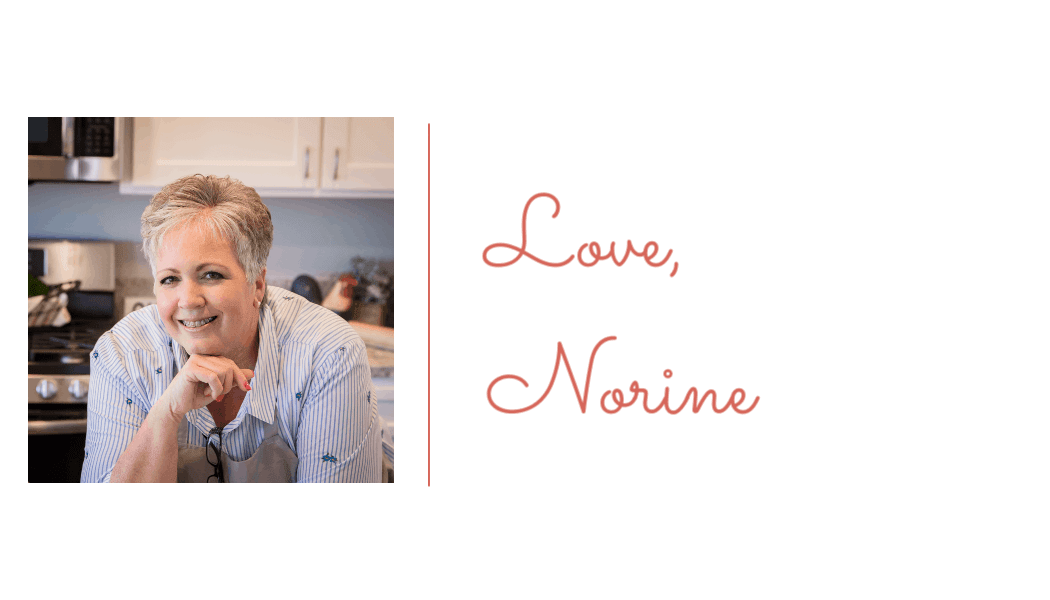 Yield: 4 servings
Fresh Tomato and Avocado Italian Salad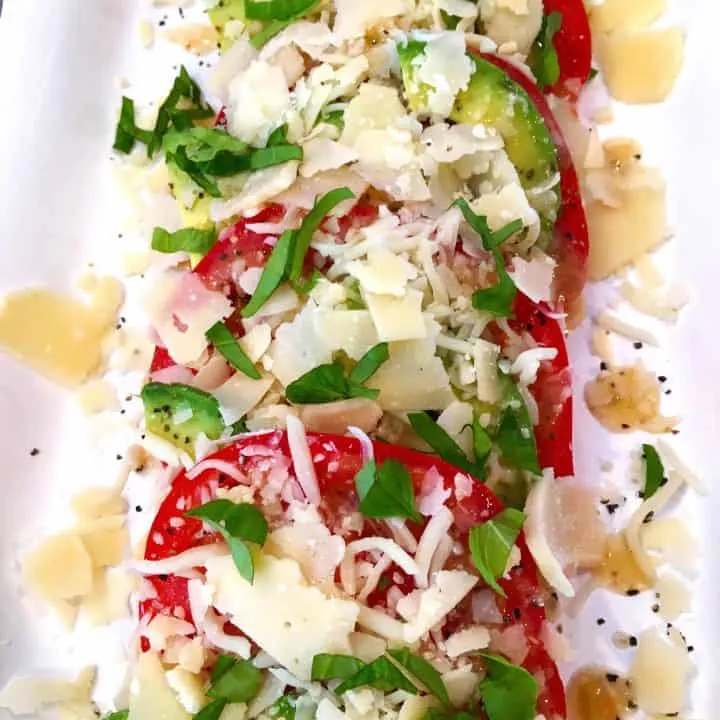 Fresh Tomato and Avocado Salad topped with Italian Cheese's and fresh basil. The perfect way to serve those garden fresh tomatoes and the perfect side dish to all your summer meals.
Ingredients
1-2 large meaty vine ripe tomatoes, sliced
2 ripe hass avocados, sliced
Cracked Black Pepper, to taste
1/2 cup grated mozzarella cheese
1/2 cup shaved fresh Parmesan Cheese
1 Tablespoon Fresh chopped Basil
Kraft Sun Dried Tomato salad dressing or your favorite Italian dressing
Instructions
Layer your tomatoes and avocado slices on a serving dish.
Sprinkle with pepper to taste.
Top with grated mozzarella cheese and Parmesan Cheese.
Sprinkle with chopped fresh Basil.
Drizzle with Kraft Sun Dried Tomato dressing or your favorite Italian Dressing.
Serve immediately or can be refrigerated for up to 2 hours; covered.
Recommended Products
As an Amazon Associate and member of other affiliate programs, I earn from qualifying purchases.
Nutrition Information:
Yield:
4
Serving Size:
1/2 cup
Amount Per Serving:
Calories:

260
Total Fat:

21g
Saturated Fat:

6g
Trans Fat:

0g
Unsaturated Fat:

13g
Cholesterol:

24mg
Sodium:

426mg
Carbohydrates:

11g
Fiber:

5g
Sugar:

2g
Protein:

9g