Linzer Lemon Raspberry Cookies cookies are a delightful Holiday treat! A buttery shortbread cookie slightly flavored with lemon zest, filled with delicious raspberry jam, and dusted with confectioners sugar.
I think we all have that "one" Christmas cookie we dream about making "someday". Linzer cookies are mine!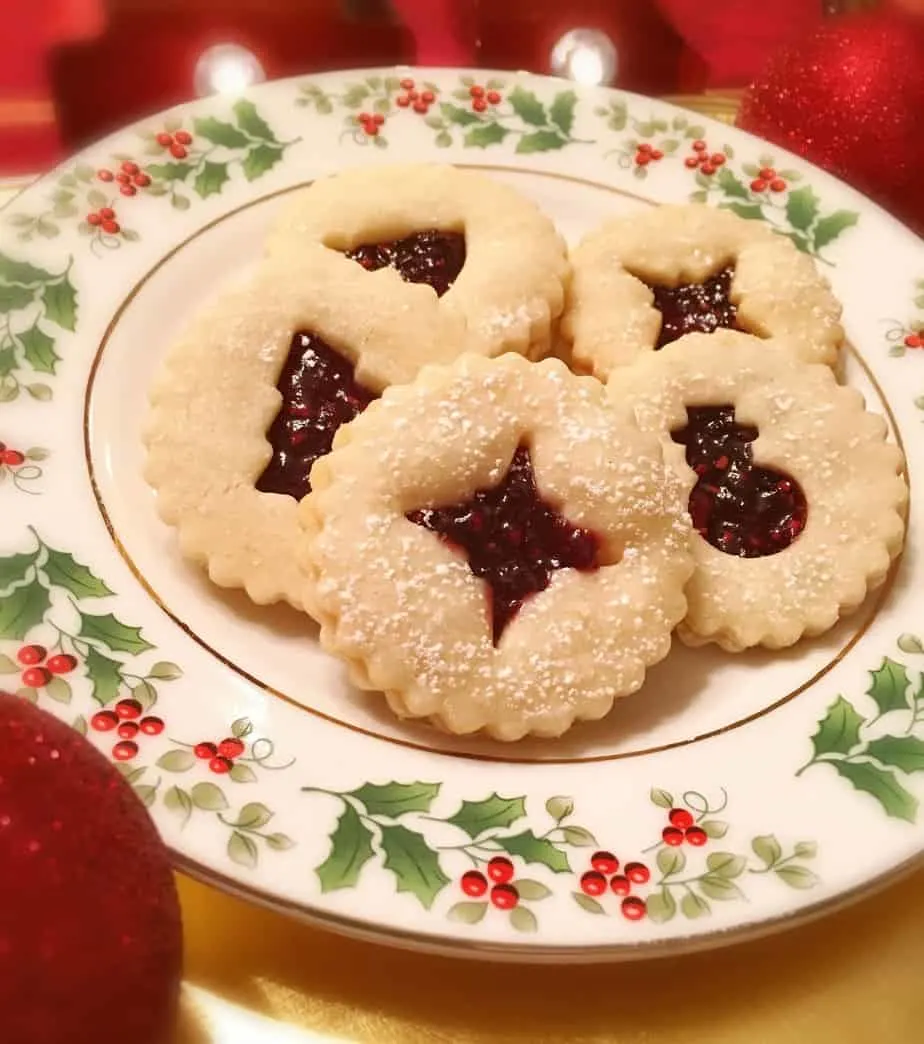 Yesterday was my world wind Holiday Cookie baking day! At the top of my list…Linzer cookies!
I've been drooling over pictures of them for years! (It's the raspberry jam filling. I'm a sucker for anything with raspberry filling!) I even have a Linzer cookie cutter set! So how pathetic is it that I've never taken the time to actually make them? Really pathetic! I know!!!
However, yesterday I did it! I jumped in with both feet and "Ta-da! I present Linzer Cookies!"
Every bit as good as I dreamed they would be! I found a fantastic recipe on "My frugal adventures". (If you'd like to go visit Charlene over there you can click right here for the link.) She had a great recipe that called for lemon zest and almond extract. I loved the thought of lemon with raspberry! I'm so glad I used her recipe! It was awesome!!!
I know these cookies look difficult, but they aren't! The hardest part… you must have two cookie halves to make one cookie. Oreo kind of put to rest the whole "two cookie halves are better than one" argument! What I'm trying to say is…these are totally worth the effort of two cookies to make one!
How To Make Linzer Raspberry Lemon Cookies
To make the dough you will need 1 1/2 cups of butter, at room temperature. Place softened butter in your mixer with the paddle attachment and whip till light and fluffy.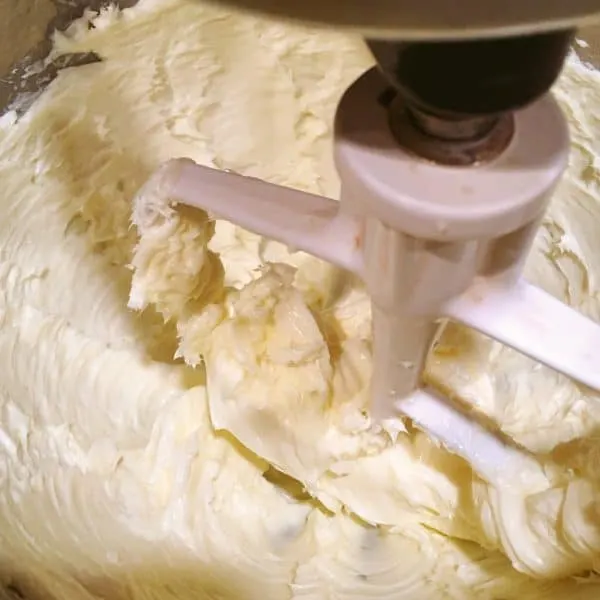 Add in 1 cup of white sugar and 1 teaspoon of almond or vanilla extract. (I used vanilla because my daughter is allergic to almond extract. I didn't think it would be fair to use the almond, but I would love to taste the difference. I'm sure it's amazing)
Beat in the zest from one medium lemon. Add 3 1/2 cups of sifted flour and 1/4 teaspoon of salt. Beat until well blended and dough comes clean off the sides off the mixer.
Gather dough into two separate balls and place on top of plastic wrap.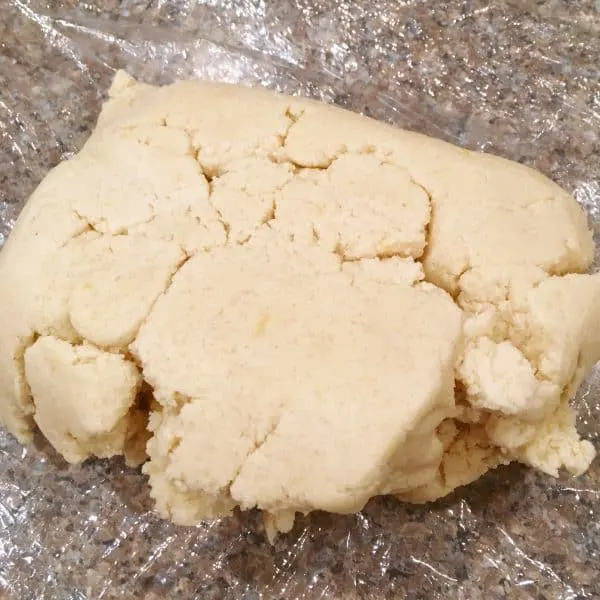 Fold the plastic wrap over the gathered dough. Press down into a "disc" shape and cover with another piece of plastic wrap making sure dough is completely covered. Chill in Refrigerator for 30 minutes.
TIP: The "disc" shape makes it easier to roll the cookie dough after it has chilled.
Roll the dough out on well floured surface or your dough disk. (I told you…I use it ALL the time!) Roll dough a little thinner than 1/4 an inch. Cut out solid circles first , then cut out your cookie tops.
My linzer cookie cutter is pretty simple and basic. The red plastic center pushes down and gently pushes out your cut cookie. The center "hole" cutters switch out easily. Since this is a tool you will use maybe once or twice a year, unless you're a Linzer cookie addict, I don't think you need to spend a ton of money on one.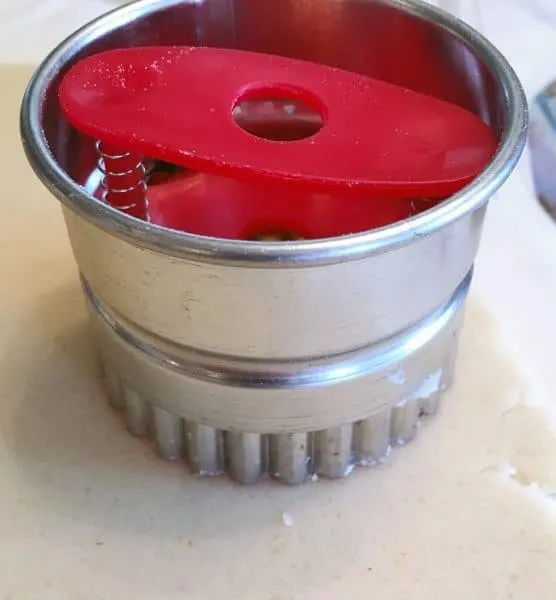 I tried to do a dozen bottoms and then a dozen tops so that I ended up with an even number of tops and bottoms.
Once they are cut out you can place them on your silicone mat (I was using mine…they were just in the oven and I'm waiting on my second set of mats to get here!) or parchment paper lined baking sheets.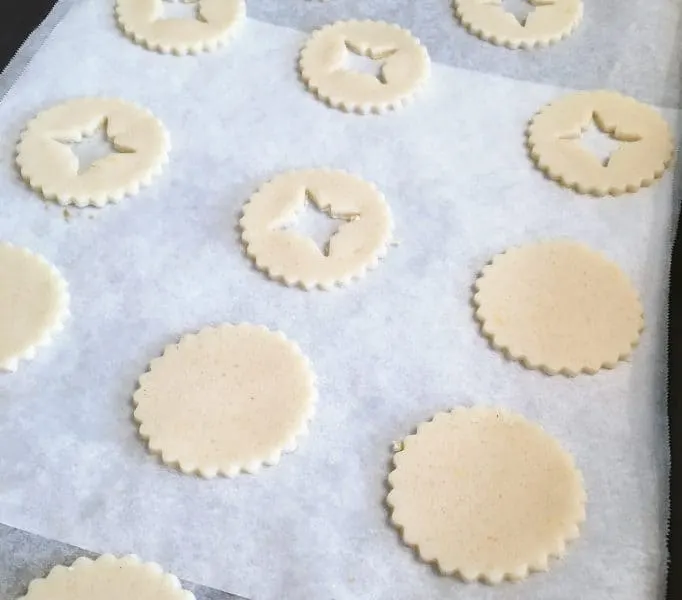 Bake at 350° for 10-12 minutes. Until firm in oven and just gently turning brown. The lighter these cookies the better!
Once done baking place on a cooling rack and cool completely. Then stack and get ready to stick the tops and bottoms together!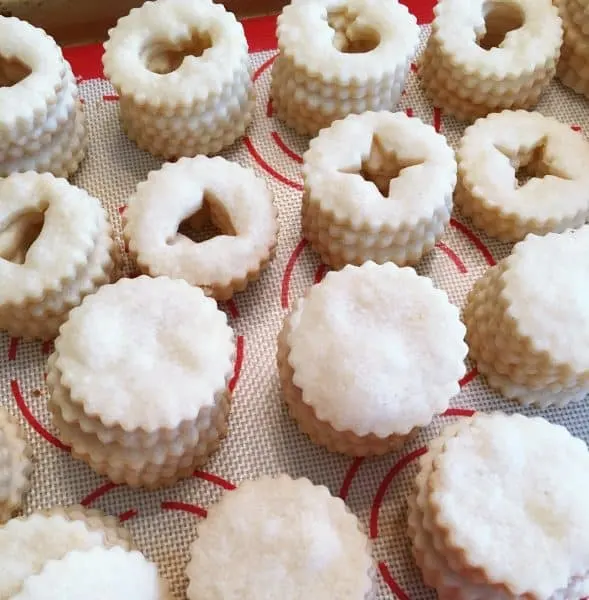 Before filling the cookies you want to "dust" the tops with confectioners sugar. You can line all your tops out on parchment or wax paper and dust them with the sugar.
Before filling the bottoms make sure you have a good quality Raspberry jam. The flavor of the jam is important for the overall taste of this cookie. (I may have snuck into the pantry and taken "Mars" favorite unopened raspberry jam…It's a serious crime in this house! Pray for me!)
I used a disposable plastic Wilton 12 inch decorating bag that I cut the end off of. It worked beautifully for filling these cookies! Place a quarter size dab in the center of each cookie. Using the top half of the cookie, or your finger, spread it out just a little bit so that it is flat and will show through the cut-out opening.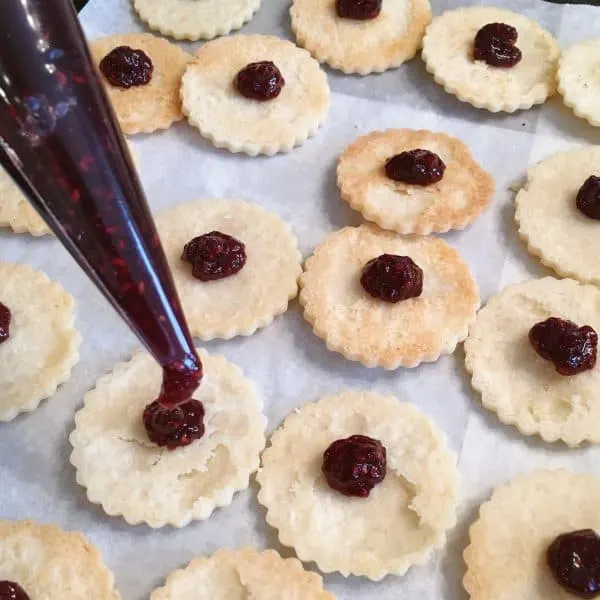 Carefully place the dusted cookie top on top of the filling. Aren't they pretty?! I just love the way these look.
Now I'll be honest. I forgot to dust my tops first so I had to dust AFTER I put them together. This is not good because then your beautiful glistening red jam get's sprinkled with the sugar. You don't want that. I had to take a toothpick and mix the sugar sprinkling back into the jam. Ugh! Pain.
A true Linzer cookie is COVERED with powder sugar! The top is completely dipped into powder sugar. I just wanted to do a soft sprinkling. Like snow had fallen on them. So I used my powder sugar shaker and just lightly went over the tops of them. I love the results. What do you think? Sprinkle or entire dunk?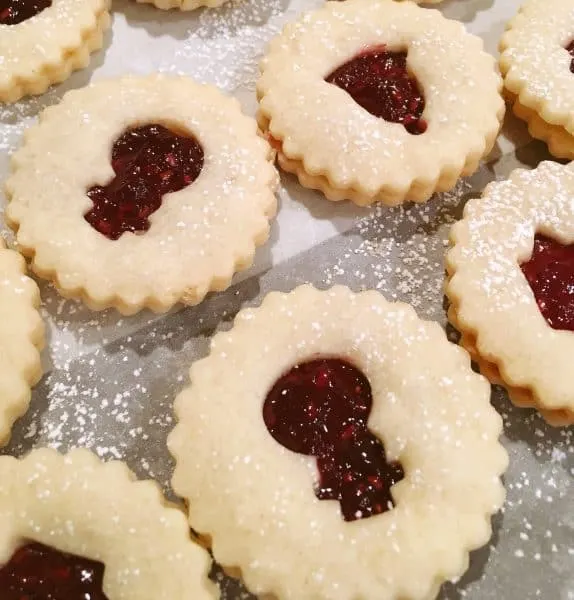 There you have it! Just like that…Linzer cookies!
See…not so hard at all! I even managed to watch one of my all time favorite Christmas movies, "Elf", while putting these together! Good Ol' Buddy… "We elves try to stick to the four main food groups: candy, candy canes, candy corns and syrup." I think even Buddy would add in these beauties!
How about you? Are you adding these to your Holiday baking list? Have I made a believer out of you?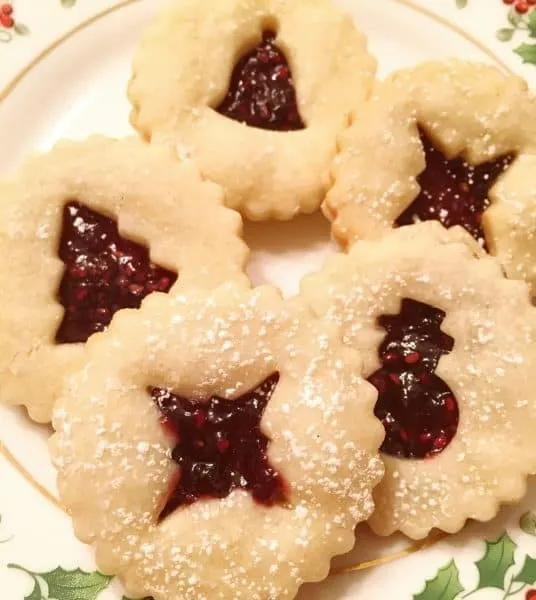 The printable recipe is below! These beautiful buttery lemon raspberry gems are so delectable! You can trust me on that! I've repeatedly "taste tested" them for you!
I'm so glad I finally took the plunge and made them. They are going to be beautiful on my Holiday cookie trays and a regular hit on the cookie parade list!
Delicious Unique Christmas Cookie Recipes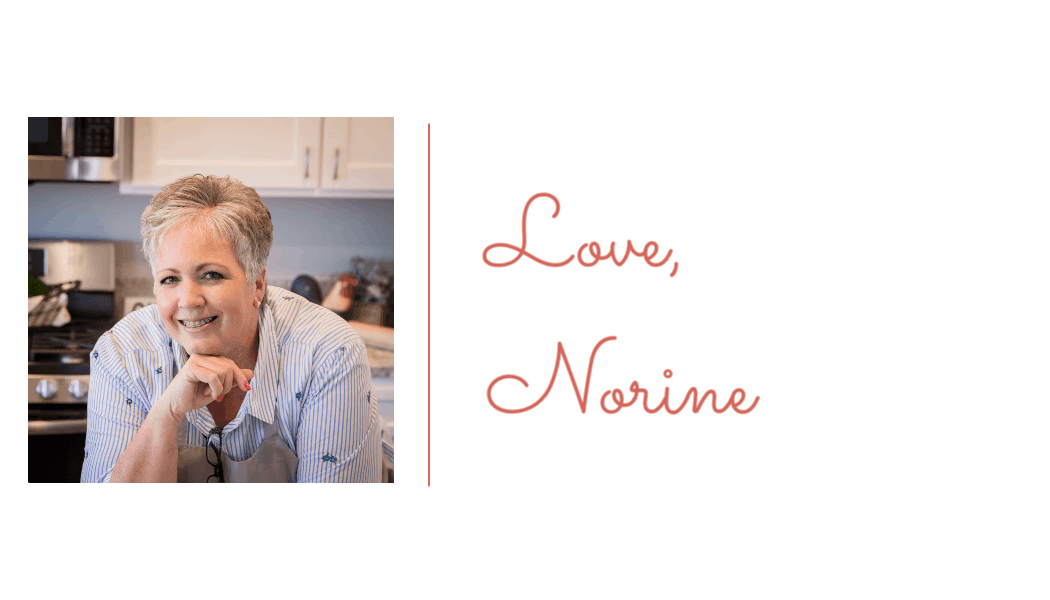 Yield: 30 cookies
Lemon Linzer Raspberry Cookies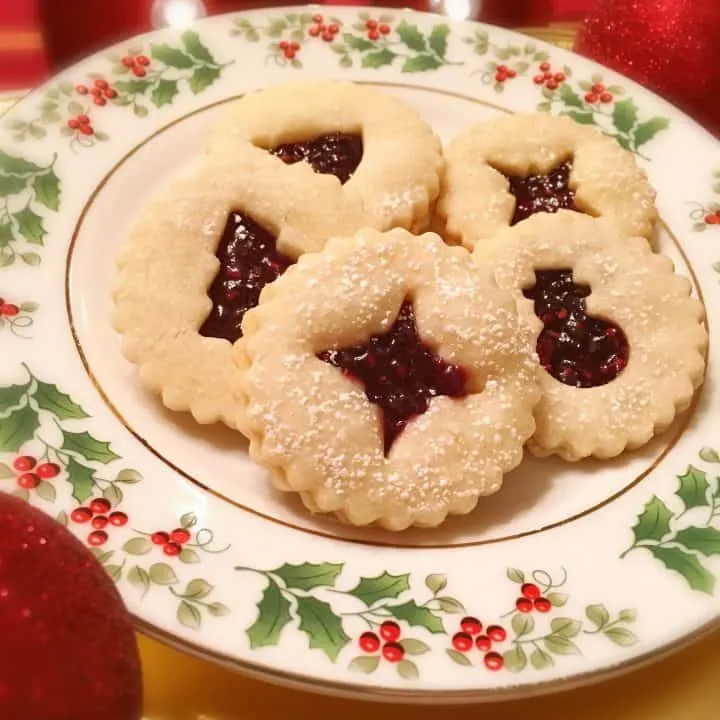 Linzer cookies are a delightful Holiday treat! A buttery shortbread cookie slightly flavored with lemon zest, filled with delicious raspberry jam, and dusted with confectioners sugar.
Total Time
1 hour
27 minutes
Ingredients
1 1/2 cups of butter, room temperature
1 cup white sugar
1 teaspoon almond extract (or vanilla)
zest from 1 medium sized lemon
3 1/2 cups of flour, shifted
1/4 teaspoon salt
1/2 cup raspberry jam.
confectioners sugar for dusting
Instructions
Start by adding the butter to your mixing bowl and mix just until light and fluffy.
Add sugar and mix until combined
Add almond extract and lemon zest and mix until combined.
Slowly add sifted flour and sprinkle of salt.
Mix until incorporated and you have a nice dough texture.
Divide dough in half and wrap in plastic wrap. Chill for 30 minutes in the fridge.
Remove one disc and roll out on floured surface. Roll to a little less than 1/4 inch thickness.
Use your Linzer cookie cutter to cut the shapes for the bottom of the cookie.
Place on parchment paper lined or silicone lined baking sheets. Bake at 350 degrees for about 12 minutes.
Remove once they start to appear firm in the oven. Just before they start to gently brown.
Set aside and cool on cooling rack.
Take the second disc of dough and roll it out.
Cut equal numbers of the top of the Linzer cookie with the small center cut out shape.
Place on lined baking sheet and cook for 8-10 minutes until they start to gently brown.
Place on cooling rack. Once cooled sprinkle lightly with powdered sugar.
Place the raspberry jam into a plastic pastry bag or zip lock bag with corner cut off. Pipe a quarter size amount of jam onto the bottom cookie.
Carefully place top cookie on top.
Enjoy!
Recommended Products
As an Amazon Associate and member of other affiliate programs, I earn from qualifying purchases.
Nutrition Information:
Yield:
15 servings
Serving Size:
2 cookies
Amount Per Serving:
Calories:

384
Total Fat:

19g
Saturated Fat:

12g
Trans Fat:

1g
Unsaturated Fat:

6g
Cholesterol:

49mg
Sodium:

186mg
Carbohydrates:

51g
Fiber:

1g
Sugar:

27g
Protein:

3g