A light delicious flavorful Sweet Blood Orange Roll topped with blood orange glaze. A slight hint of orange and raspberry make this one of the yummiest sweet rolls ever!
Ever since I first saw these delectable fruits and their vibrant orange and red colors… I have been dying to make something with blood oranges.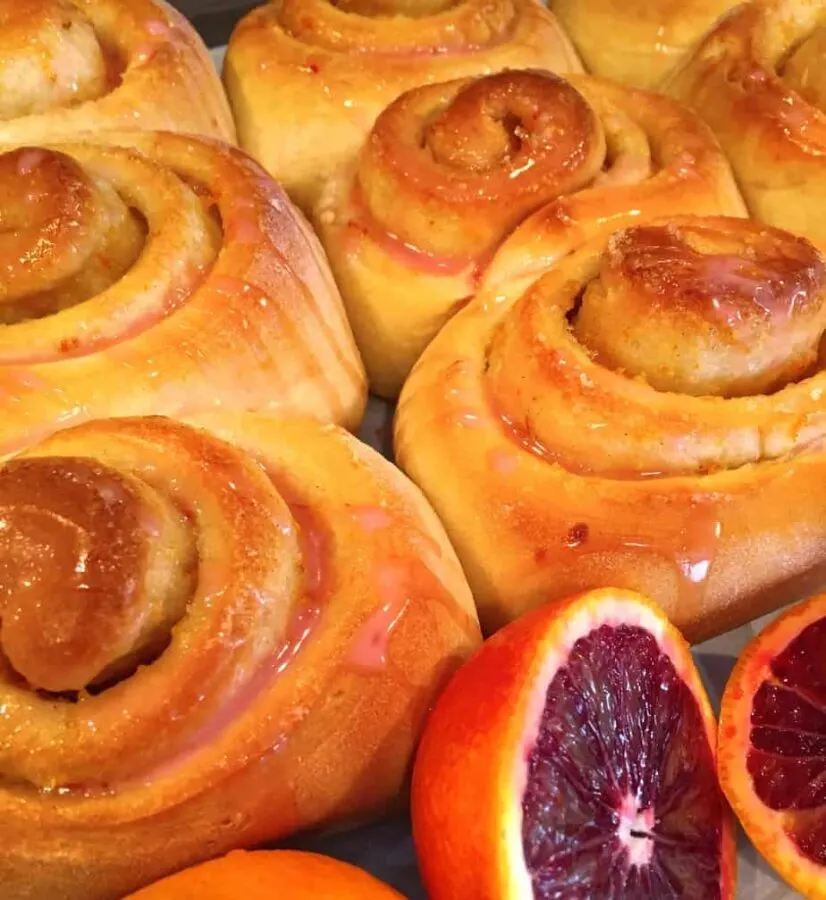 First I had to find them! I hunted in my sweet little country town. Not one blood orange was to be found. I'm no quitter! On our anniversary trip I finally found them at my favorite market, Harmon's! (I was literally hugging them… and getting odd stares! I guess not everyone hugs their fruit? Go figure!)
Now that I had them… I had to figure out what I wanted to do with them. Then it came to me the other morning when I remembered the orange rolls my mother used to make.
As a youngster I didn't really appreciate orange rolls (that may be a bit of an understatement… I gagged when I tried my first orange roll!) , however I suddenly found myself craving them!
So I took my favorite roll dough recipe, Lion House Rolls, that are made in your bread machine. (WAIT! Do not stop reading…you can make them without a bread machine.) I made a batch of that dough and then got to work figuring out a simple easy recipe for my precious Blood Oranges.
How To Make Blood Orange Sweet Rolls with Orange Glaze
You're first going to need to whip up a batch of the Lion House Rolls. The recipe for the Lion House Rolls is right HERE.
TIP: If you don't have a bread machine…make the dough in your mixer using the dough hook.
Allow to rest and rise. Punch dough down and rise again. Then proceed…
You will need the zest of one blood orange. To zest the orange, finely grate the orange peel of one blood orange on to a paper plate.
In a medium size bowl add 1/2 cup of granulated sugar. Add the zest from the blood orange and 1/4 tsp cinnamon. If you like a really strong "orange" flavor add the zest from one more orange. I think they are perfect the way I originally made them, but I know some of you will want a stronger orange flavor.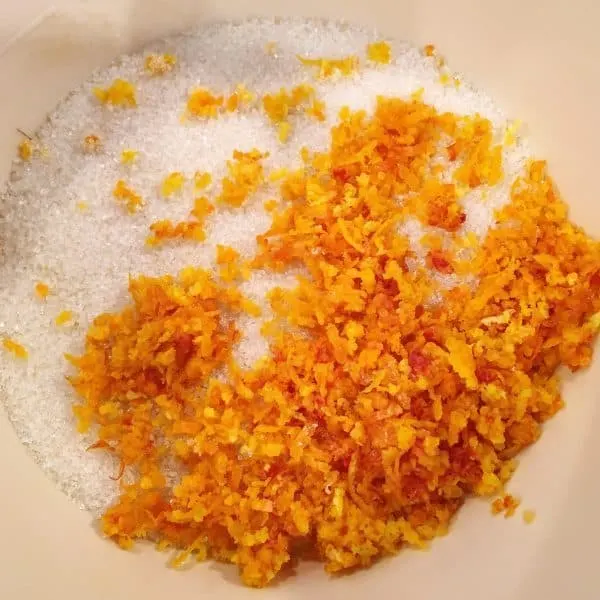 Mix the sugar, 1/4 tsp. of cinnamon, and orange zest together. This will infuse the orange zest with the granulated sugar. Set aside until you have the dough ready. It smells SO good and refreshing!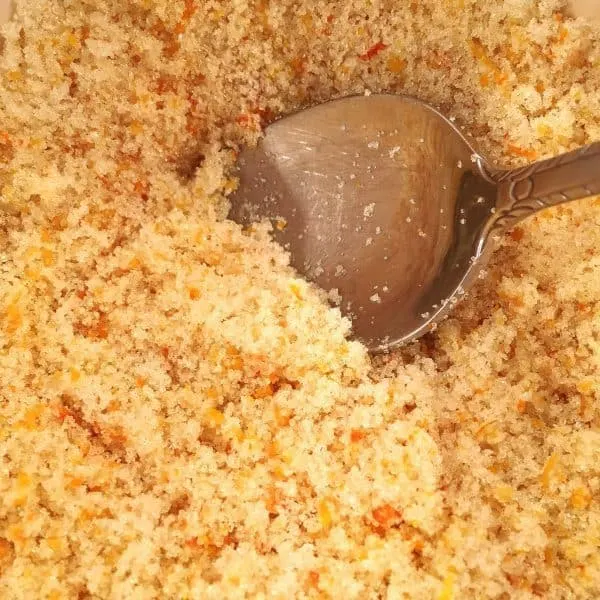 Preparing Roll Dough
Place the dough ball onto a floured surface and allow to rest for about 10 minutes.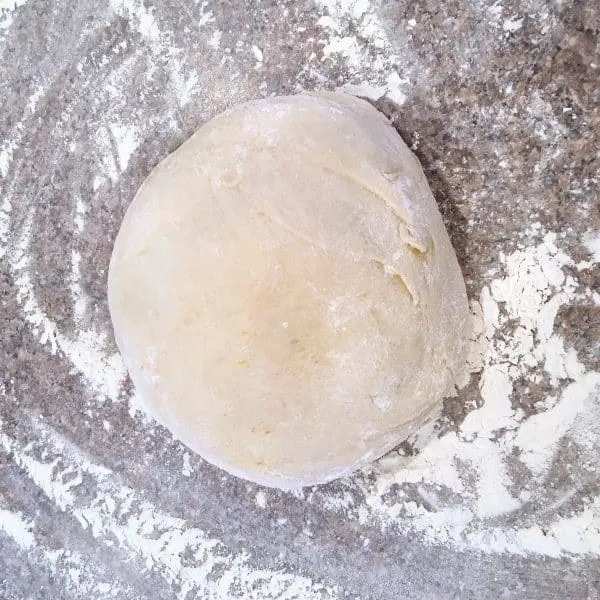 Roll the dough into a large rectangle and 1/4 inch thick.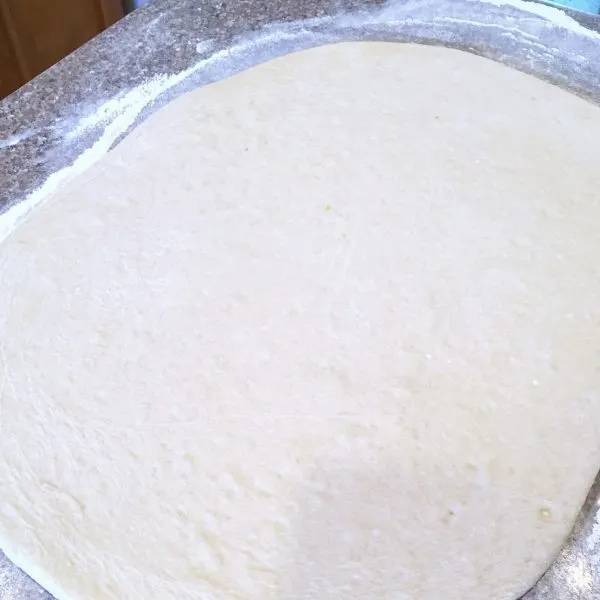 Butter dough with 1/4 cup of melted butter. I use a pastry brush to spread it evenly and get the butter to the very edges.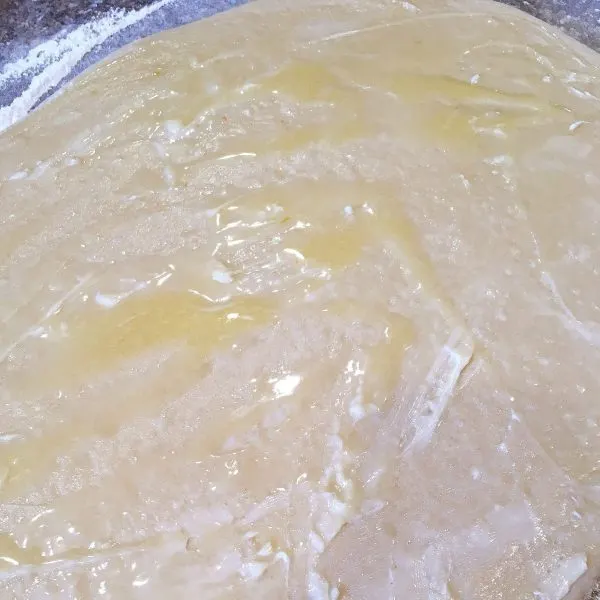 Sprinkle top with infused Orange Cinnamon Sugar. Doesn't that look delicious? I love the deep color of the blood orange zest!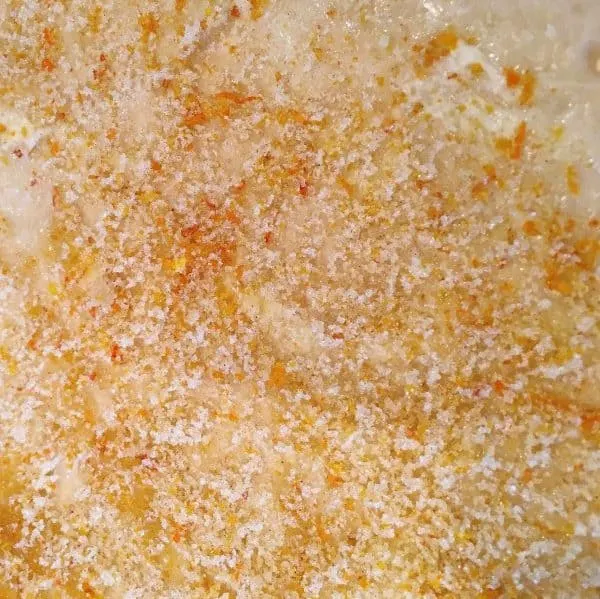 Roll the dough starting from one long end to the other end. Using a long piece of dental floss cut the cinnamon roll into 9 – 10 rolls 1 1/2 inch thick.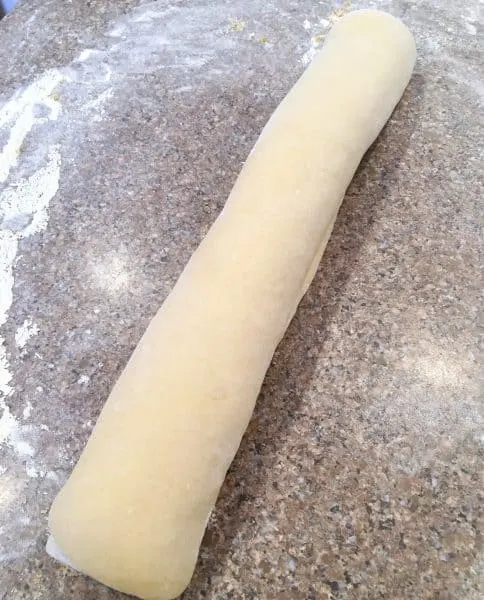 Place sliced rolls into a 9 x 13 pan that has been sprayed with baking spray. Baking spray is a combination of oil and flour. Cover and allow to rise for 30 minutes.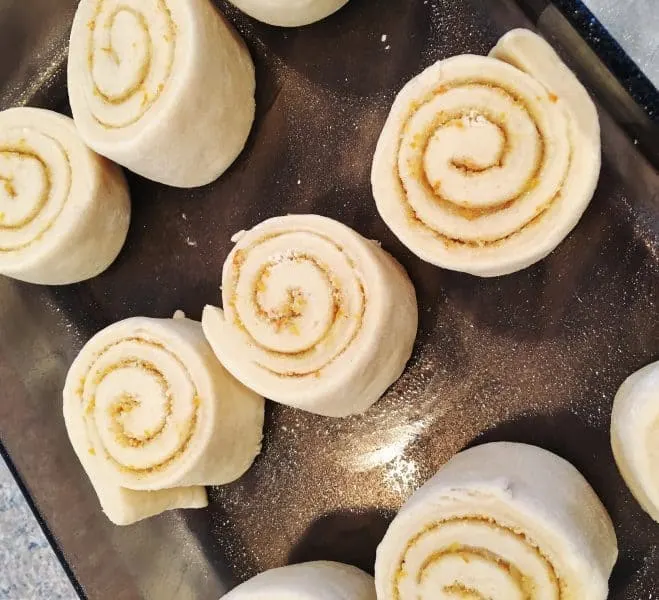 Baking Orange Rolls
Place the rolls in a 325° oven and bake for 25–30 minutes, until lightly golden brown. Remove from the oven and allow to cool slightly on a baking rack.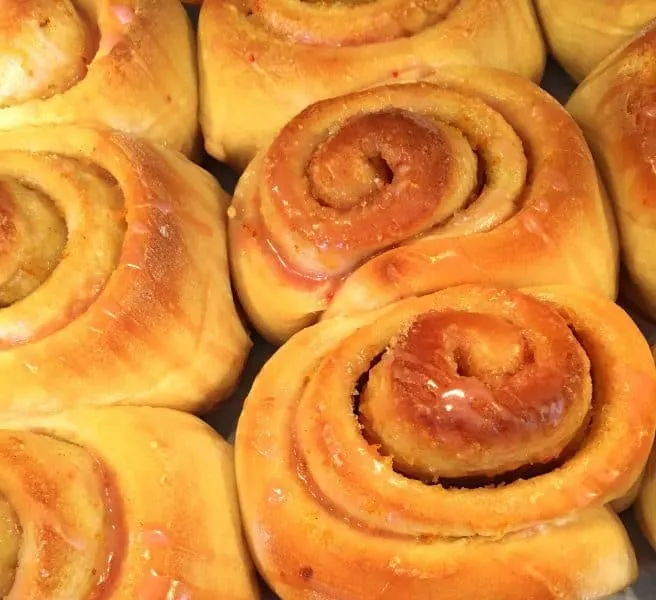 Blood Orange Glaze
To make the glaze…juice one blood orange. This is really fun!
It is so exciting to cut into one of these beautiful oranges, squeeze, and watch bright red juice flow from all the plump glittery gems inside. I honestly kept waiting for it to turn orange! It's a little mind-blowing!
Tip: I added 1 Tablespoon of regular orange juice to kick up the flavor of orange. Blood Oranges have a very mild orange flavor with a hint of raspberry. They are delicious by themselves, but I wanted to kick up that orange flavor, so I did add 1 Tablespoon of orange juice.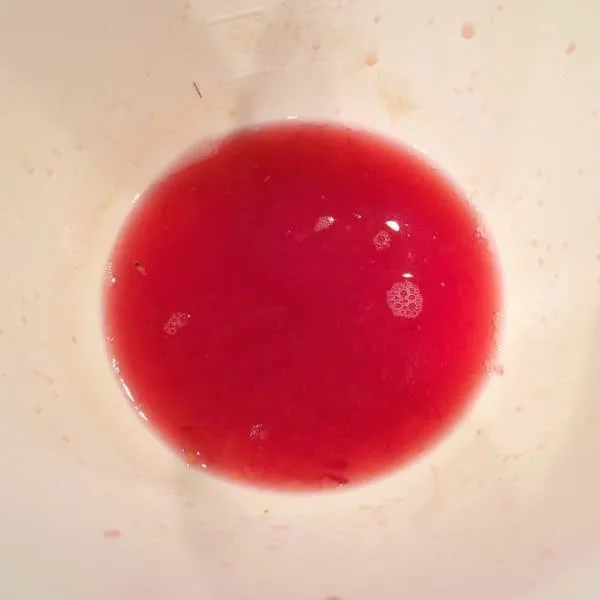 Add 1 cup of powder sugar to the blood orange juice. Mix together to form a beautiful pink glaze. If you want the glaze thicker add more powder sugar. It's up to you and how thick you like your glaze.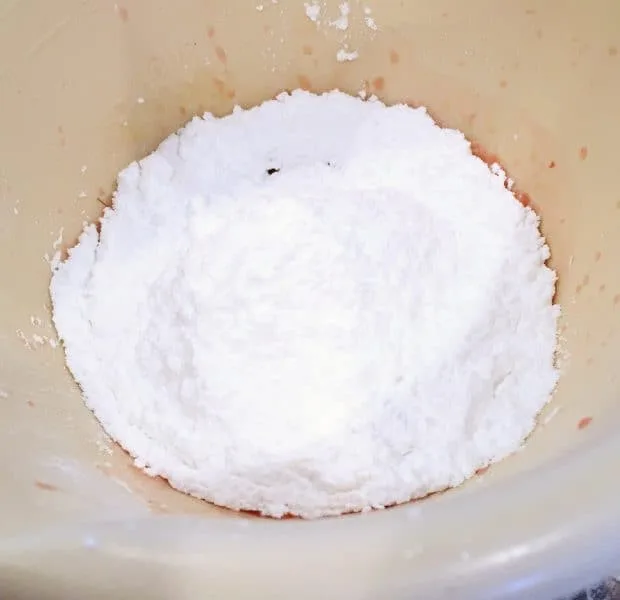 Drizzle the glaze over the top of your cooled sweet orange rolls.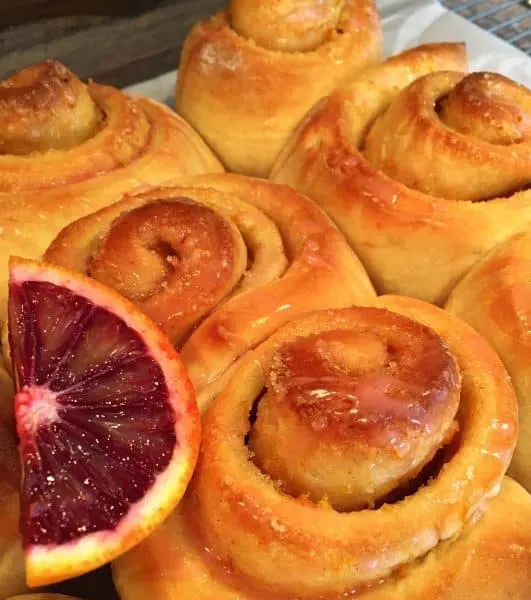 The orange zest and light hint of cinnamon is the perfect marriage of flavors! I honestly believe that subtle is best in some baking situations and this is one of those situations. Flavor of orange"pops" with every bite! The drizzle, or glaze, is…well…the icing on top! (No pun intended!)
I can't believe I'm going to say this, but I love these even more than traditional cinnamon rolls and I LOVE cinnamon rolls!
These however were so sweet and refreshing. The Lion House recipe makes the perfect roll…light, fluffy, buttery, and hearty! They melt in your mouth! Everything you want a yeast roll to be and more.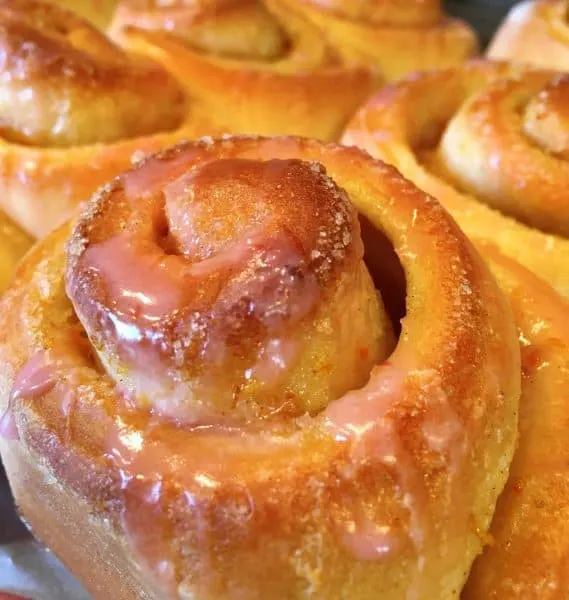 Maybe this weekend with scrambled eggs and a side of bacon! Maybe for Easter morning? All I know… they are perfect for spring! You'll close your eyes and smile with every single bite.
Like these delicious Orange Rolls? You may enjoy these other Breakfast Bread Recipes
If you haven't signed up for my Free weekly Newsletter be sure you do! You'll find out everything I'm baking or cooking each week plus sharing fun little tidbits about life here at my Nest! You can also follow me on Instagram, Facebook, Pinterest, and Twitter!
Thanks for stopping by my Nest! I love visiting with you and sharing my love of all things' food!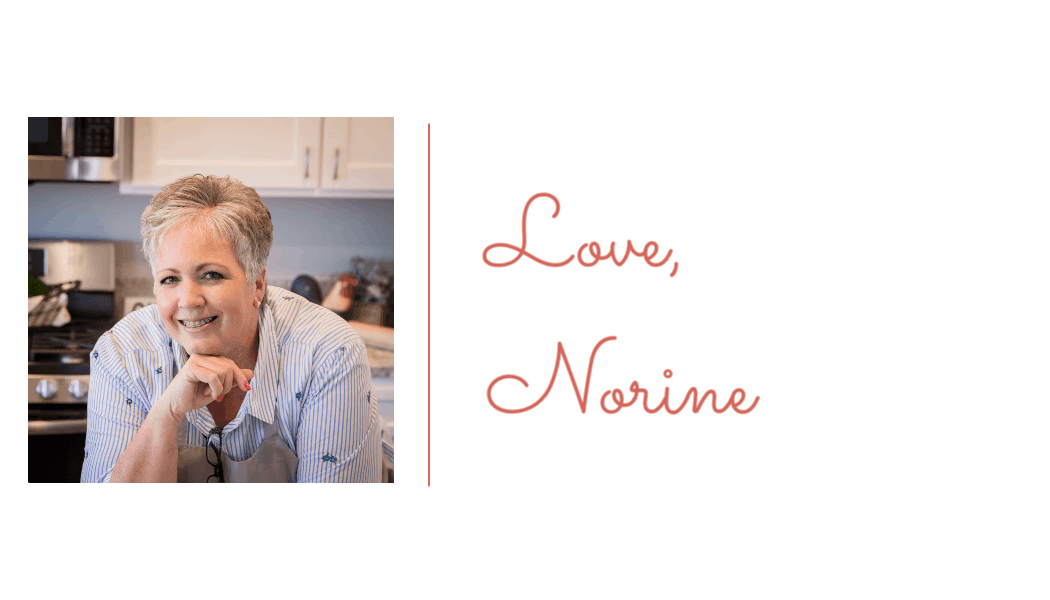 Yield: 9 - 10 rolls
Blood Orange Sweet Rolls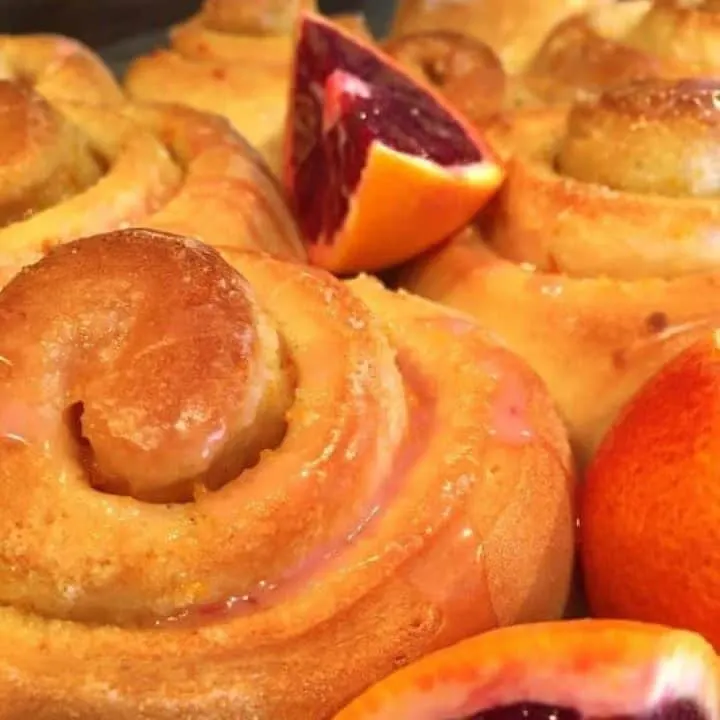 A light delicious flavorful sweet blood orange roll topped with blood orange glaze. A slight hint of orange and raspberry make this one of the yummiest sweet rolls ever!
Prep Time
1 hour
30 minutes
Ingredients
Lion House Rolls (Bread Maker)
1 c. warm water
2 1/2 Tbsp. butter
1/3 c. instant dry milk
3 1/4 c. all-purpose flour
1 Tbsp. yeast
1 tsp. salt
1 egg, beaten
1/4 c. sugar
Orange rolls
zest of one blood orange
1/2 cup of sugar
1/4 tsp. cinnamon
1/4 cup melted butter
Glaze
Juice of one Blood Orange
1 Tablespoon regular Orange Juice
1 Cup Powder sugar
Instructions
Lion House Rolls
Layer ingredients in order listed. Mix on bread dough cycle (1 1/2 hours). After finished, roll out dough as described below.
Orange Sweet Rolls
In a small bowl mix together sugar, orange zest and cinnamon until well blended. Set aside and allow to infuse while you roll out dough.
Roll dough out on well floured surface into a large rectangle about 1/4 inch thick. Pour melted butter over top of rolled dough and spread evenly to the edges.
Preheat oven to 325°
Sprinkle with orange infused sugar. Roll dough starting from outside of long edge to the other end. Using dental floss cut dough into rolls 1 1/2 inch thick.
Place in a 9 x 13 baking dish sprayed with baking spray.
Allow to rise 30 minutes. Bake at 325° for 25-30 minutes until lightly golden brown.
Cool on baking rack.
While rolls are cooling mix the juice of one blood orange, 1 Tablespoon Orange Juice, and 1 cup powder sugar until smooth. Drizzle glaze over the top of semi-cooled sweet orange rolls.
Serve immediately.
Recommended Products
As an Amazon Associate and member of other affiliate programs, I earn from qualifying purchases.
Nutrition Information:
Yield:
10 servings
Serving Size:
1 roll
Amount Per Serving:
Calories:

396
Total Fat:

9g
Saturated Fat:

5g
Trans Fat:

0g
Unsaturated Fat:

3g
Cholesterol:

39mg
Sodium:

329mg
Carbohydrates:

75g
Fiber:

2g
Sugar:

42g
Protein:

7g