A collection of easy to prepare recipes using pantry and freezer stored foods that your family will love!
When times get tough, whether it's from a job loss, health concerns, or you're just waiting for pay day and things are tight, these easy meal ideas are great! They use basic pantry and frozen food items. Groceries we all generally store and have in our kitchen's.
*As an Amazon Associate I earn from qualifying purchases. This post may contain affiliate links, which means that I may make a commission from any purchases at no additional cost to you. Thank you for your support!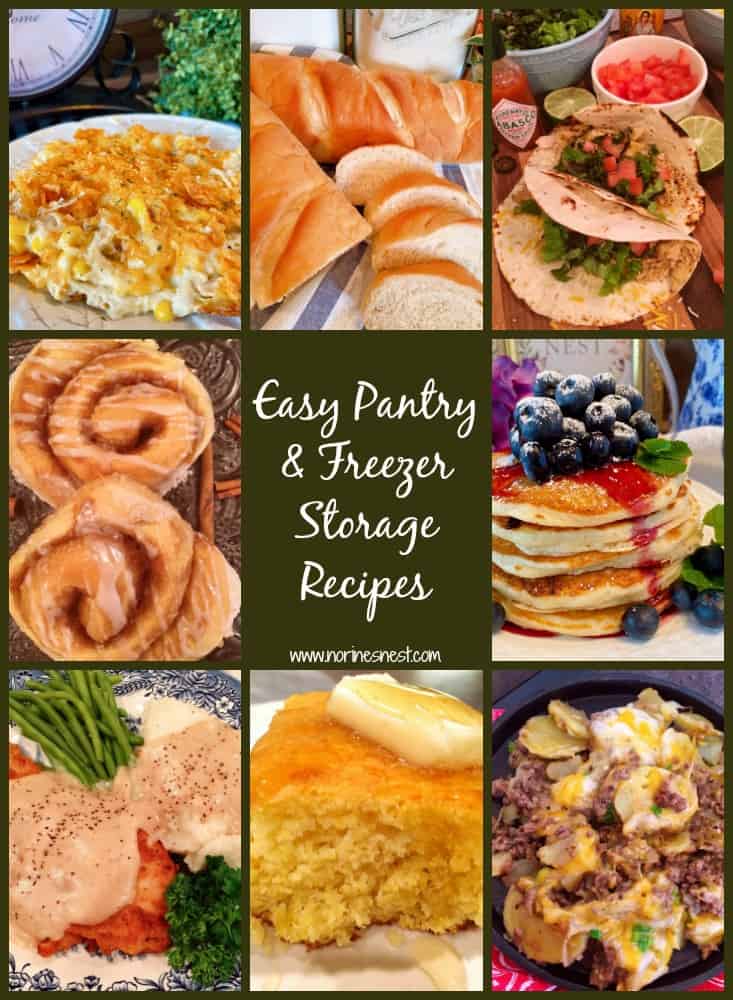 So many of these delicious recipes are tried and true classics. The kind of meals that our Grandma's used during the wars and great depression. They're not fancy, but they're one hundred percent comforting, and during difficult times we all want one thing…comfort!
The great thing about basic simple recipes is that substitutions can easily be made without changing the dynamics of the recipe.
A few simple tips to help you with Pantry Meal Prep
Go through your pantry, freezer, and refrigerator. Take inventory of what you have. Remove any food that is out of date, or out of code. You'll be surprised to learn that you have more food on hand than you realized. Have your children help you with this task, it can bring them peace and teach them a valuable skill.
Use your "inventory list" to create a weeks worth, or more, of dinner menus. I like to do two weeks at a time. Start with dinner ideas and then move to lunch and breakfast. It's best to save the majority of your ingredients for your main meal. Cereal and a peanut butter sandwiches can always fill in for breakfast and lunch.
Think outside the box! Peanut butter and jelly sandwiches can be a breakfast. Leftovers can be made into another meal. Leftover roast can be used in Quesadillas for lunch the next day. Leftover roasted chicken can be taken off the bone and used in a casserole the next night. Breakfast for dinner! Always a favorite at this nest.
Go meatless! Macaroni and cheese, Cooked spaghetti with butter and parmesan cheese, a salad bar, or veggies about to turn can be used to make a great vegetable stock.
Post your meal plan on the refrigerator where your older children and teens can see. Knowing there is a plan can bring great peace of mind to your children when they are hearing the news stories during a health crisis and help advert anxiety.
Let your children help you prepare at least one meal a week or take turns preparing meals. Learning to cook is a skill that will benefit them their entire life. Have them help with the menu plan. If they create the menu they're more likely to eat it.
Easy Pantry and Freezer Storage Recipes
A collection of easy to prepare recipes using pantry and freezer stored foods that your family will love!
Hope these long standing family favorite recipes will help you out when the cupboard's are running a little low and you need some help trying to come up with an easy recipe that requires ingredients found in your pantry and freezer.
Thanks so much for stopping by today and I hope you have a wonderful week. I'd love to have you follow me on Pinterest, Facebook, and Instagram where I share more family friend recipes each and every day!