Tender, moist, loaded with flavor crumb topped Pumpkin Streusel Muffins! The perfect Fall treat!
I decided this week I was going to actually make one of my "pins" from one of my Pinterest boards! "Say WHAT?!!Who does that? Is THAT what pinning is all about?" lol Amazing right?! Who knew!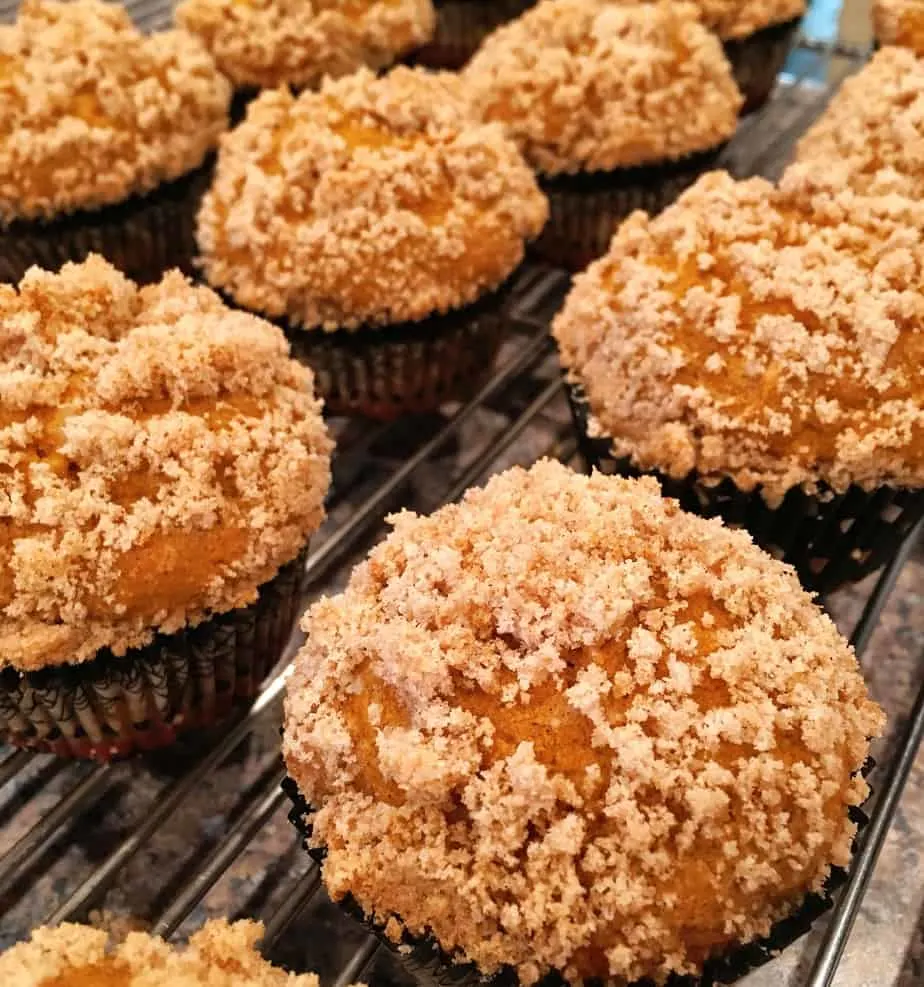 Remember the days of sitting in the doctor's or dentist office and trying to obscurely tear out a recipe and sneak it into your purse! No? Okay, Fine! I'll openly admit I was a recipe kleptomaniac! That's right I would steal recipes from magazines. Pinterest has saved me from my life of crime! (Whew!)
I was in the mood this week for something pumpkin and carbalicious! I found it thanks to Rachel over at bakedbyrachel.com. You can find her site by clicking here. (You'll love her website! So many yummy things to choose from.)
Rachel has this recipe for these amazing "to die for" pumpkin streusel muffin. I wasn't sure mine could turn out as beautiful and as good as hers…but they did! They turned out absolutely perfect! One of my new favorite pumpkin recipes!
How To Make Pumpkin Streusel Muffins
Start out by lining a muffin tin with muffin wrappers. I will admit I was a little skeptical about this step. Generally speaking muffins tend to "stick" to a muffin liner and then half your muffin is stuck to the paper. I decided to trust her 100% and lined my muffin tin with these cute Halloween wrappers!
Tip: I always by my cupcake wrappers after the Holidays when I can get them for a fraction of the cost. I have a big container I store them in!
Then I made the streusel topping! I don't know how you can ever go wrong with a muffin that is topped with cinnamon and brown sugar streusel? I could just inhale the crumb topping and be happy! I made mine using a fork and then my fingers to break it up into a fine crumb.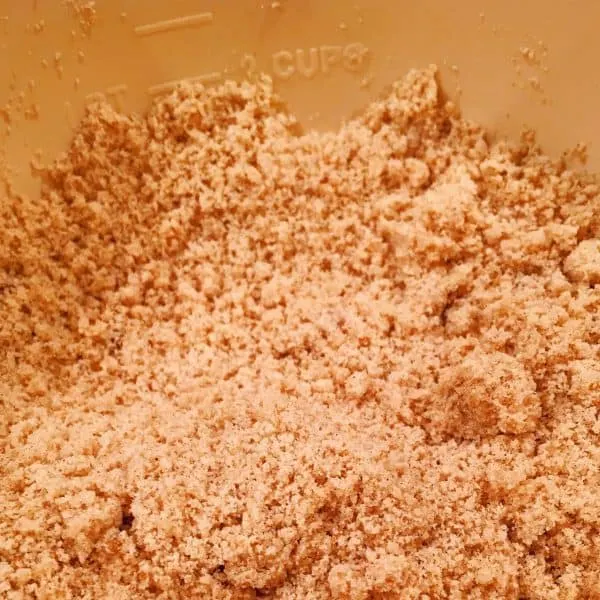 Next whip up your batter! Guess who was too excited and forgot to take a picture of that luscious pumpkin spice batter?(Me…the klepto!) Sorry folks…my enthusiasm gets the better me of sometimes.
Then top with the streusel. You'll note that my muffin cups are pretty full. I was a little worried they would run over but…they didn't! Not a one!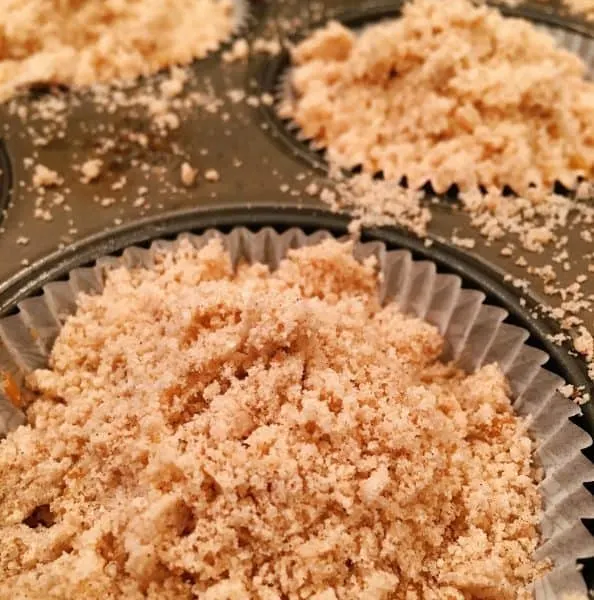 Look at those muffins! Okay seriously though…aren't they gorgeous? They look just like Rachel's on her blog! That is the sign of a really GREAT recipe! When you can have it turn out just like the original. These muffins are masterpieces! They rose to great round heights and not a one ran over the side of the muffin paper! Gotta love it!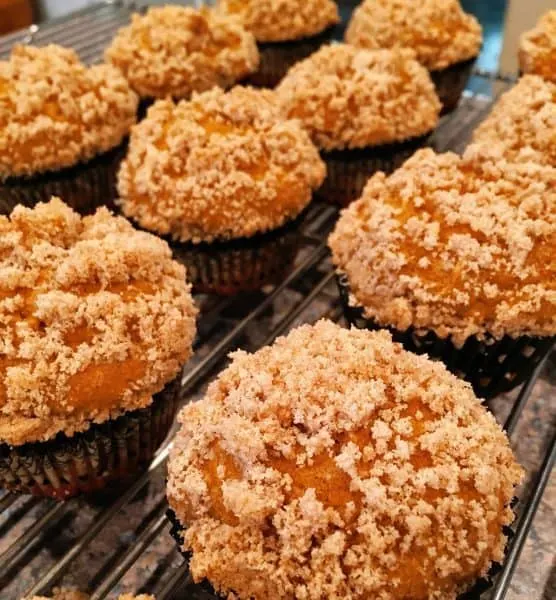 You want to allow them to cool completely before finishing them off with the drizzling of icing!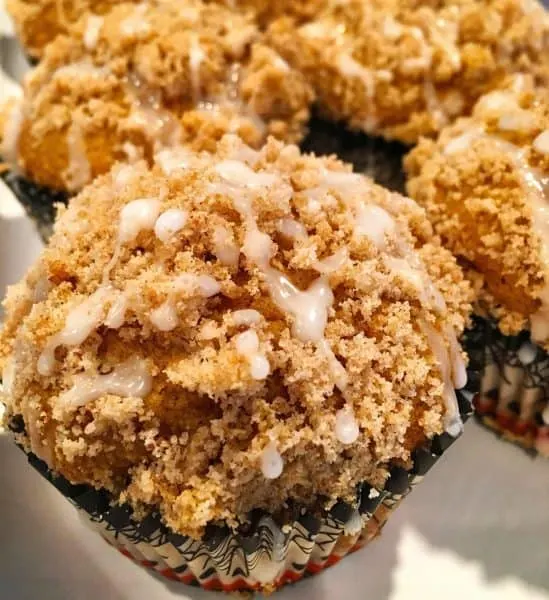 Remember my concern over the muffins sticking to the inside of the wrapper? I don't know why I even wasted my time with that! These pumpkin streusel muffins are so moist that they practically jump out of the wrapper!
Every detail of these gems are pure pumpkin bliss! The actual muffin is moist and full of all the wonderful spices of Fall. The streusel topping…out of this world! As it falls onto the plate you are licking your finger to do the "dab it, grab it" routine! Then that little bit of icing on top…tears from the baking angels because they can't have any!
If you are looking for a wonderful breakfast quick bread to serve give these muffins are a must! They are easy to make, are wonderfully delicious, impressive to serve to guests, and would be perfect for Thanksgiving breakfast…but don't wait that long! Try'em this weekend!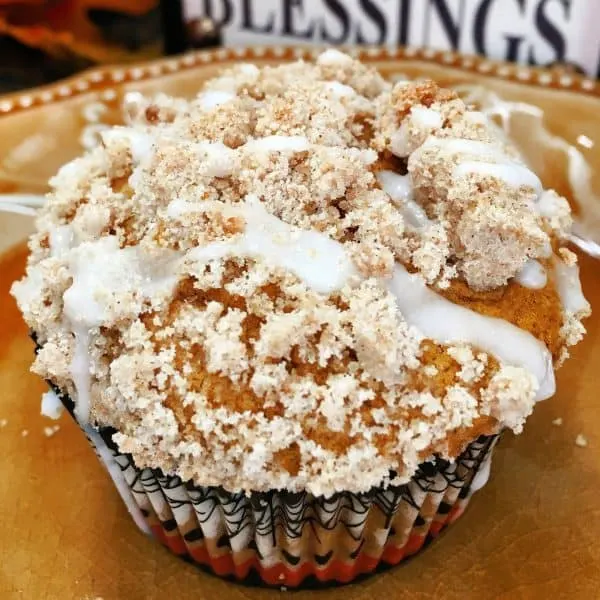 Thanks for stopping by the Nest today! I'm working on some of my all time favorite Fall and Autumn recipes for this coming week! I can't wait to share them with you. These pumpkin streusel muffins though…they are a keeper! Going in this Grandma's cookbook for generations to enjoy!
I'm sharing this yummy recipe on a couple of my favorite link parties. Click the links to join the fun and find loads of delicious recipes. Meal Plan Monday and Weekend PotLuck.
Favorite Pumpkin Recipes
Psssst…the printable recipe is below! Thanks so much for stopping by and visiting my Nest!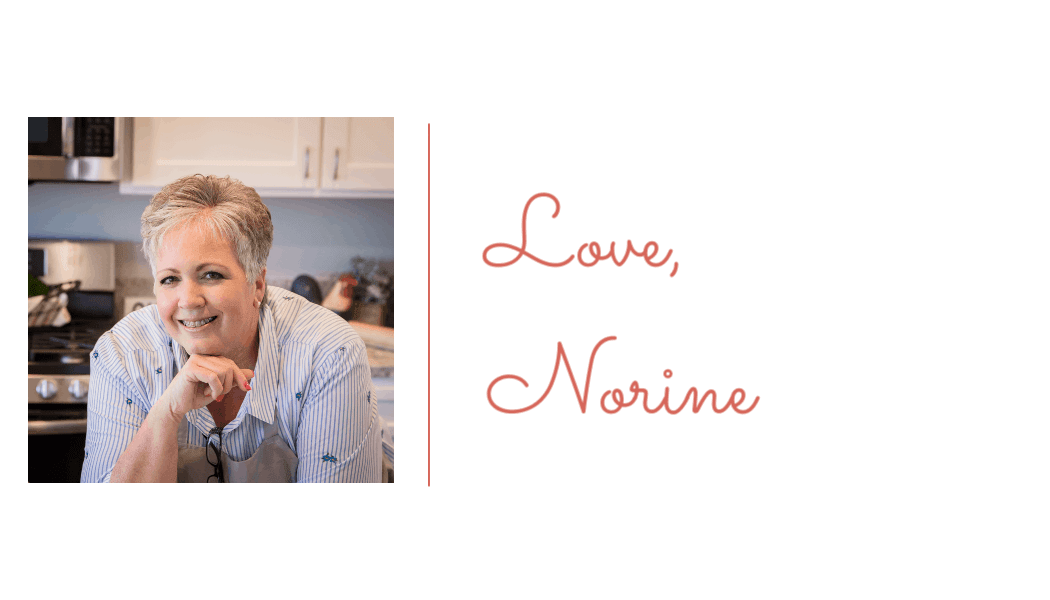 Yield: 12 servings
Pumpkin Streusel Muffins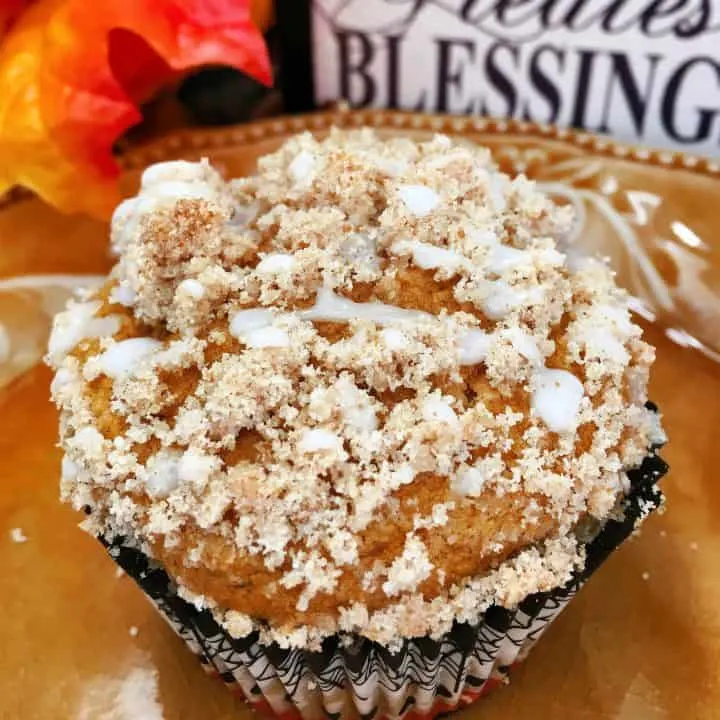 Moist pumpkin muffins spiced with the flavors of Fall and topped with a streusel crumb topping and vanilla glaze. The perfect Autumn breakfast or snack!
Ingredients
Streusel topping:
2 Tbsp light brown sugar
2 Tbsp granulated sugar
1/2 tsp cinnamon
3/4 C all purpose flour
1/4 C unsalted butter, melted
Muffin:
1/2 C unsalted butter, softened
1/2 C granulated sugar
1/2 C light brown sugar
2 eggs
1 tsp vanilla extract
1 C pumpkin puree
1/4 tsp salt
1 tsp baking soda
1/2 tsp baking powder
1 1/2 tsp cinnamon
1/2 tsp all spice
1/4 tsp nutmeg
Pinch ground cloves
2 C all purpose flour
Glaze
6 Tbsp powder sugar
1 Tbsp milk
Instructions
Preheat oven to 350 degrees. Line a muffin pan with 12 liners
In a medium bowl, combine streusel ingredients using a fork and then your fingers to break into pieces no bigger than the size of a pea.
In a larger bowl or stand mixer, cream together butter and sugars. Mix in eggs, vanilla and pumpkin until smooth. Finally add remaining dry ingredients, mixing until no streaks remain. Immediately divide between prepared liners using a large cookie scoop. Sprinkle well with streusel mixture.
Bake at 350 degrees for 20-25 minutes.
Cool completely in pan.
Meanwhile, beat together powdered sugar and milk. Drizzle over cooled muffins.
Enjoy immediately or store in an airtight container.
Recommended Products
As an Amazon Associate and member of other affiliate programs, I earn from qualifying purchases.
Nutrition Information:
Yield:
12
Serving Size:
1 muffin
Amount Per Serving:
Calories:

328
Total Fat:

13g
Saturated Fat:

8g
Trans Fat:

0g
Unsaturated Fat:

4g
Cholesterol:

62mg
Sodium:

192mg
Carbohydrates:

50g
Fiber:

2g
Sugar:

26g
Protein:

4g