A Great breakfast idea loaded with crispy potatoes, veggies, steak, ham, and sausage. Add cheese, farm fresh scrambled eggs, seasonings, and sliced avocado! It's a hearty delicious country breakfast that is a great way to use up leftovers!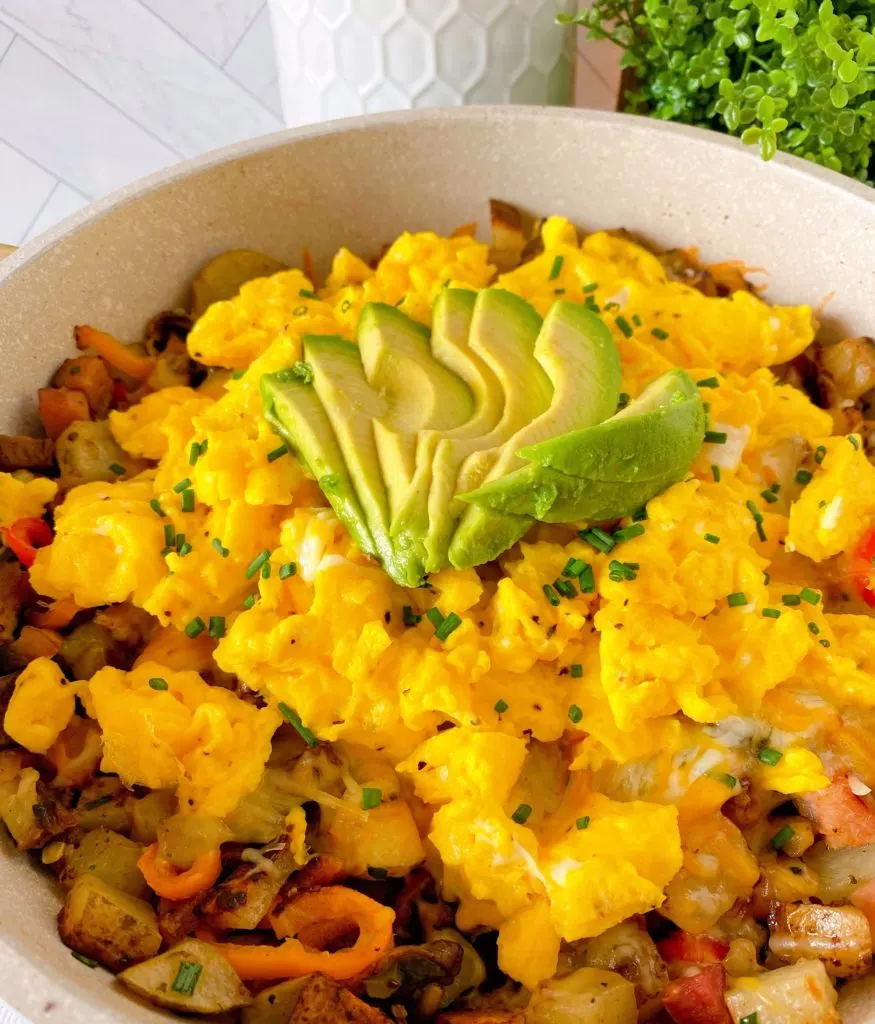 Years ago my husband and I were traveling and stopped for breakfast at Denny's! They were advertising a new breakfast menu item. "Country Skillets"!
They looked so good. Small cast iron skillets were piled high (at least on the menu photo) with diced potatoes, peppers, mushrooms, onions, scrambled eggs and cheese! There were three or four versions, including a delicious Mexican one with jalapeño peppers, salsa, and pepper jack cheese.
I ordered one of the four versions and was pleasantly surprised. It was really tasty. However, I knew a homemade version would be even better. Especially if the homemade version was loaded with a lot of meat, cheese, and of course beautiful dark yellow farm fresh eggs!
A fantastic dish for using up leftover baked potatoes, steak, ham, sausage, bacon or any meat you may have on hand. Rummaging through the refrigerator digging around finding all sorts of yummy ingredients. I generally emerge with an arm full of various fixings'.
I encourage creativity with this dish! Please vary from my original recipe and don't think this is a breakfast dish only! This dish is often made this for dinner, on nights when I've forgotten to pull something out of the freezer.
How To Make Country Breakfast Skillet
As I mentioned above, I love to gather things needing a "do-over". A leftover baked potato, half a leftover steak, ham slices, 3-4 sausage links, leftover veggies, even if they've been cooked.
However, if you don't have any leftovers, do not click on that "x" and leave! I'll give you lots of substitutions that work just as well, if not better. Example, Frozen country hash browns, or shredded hash browns, can be used in place of dicing up a baked potato.
In a large skillet, over medium-high heat, melt 3 Tablespoon butter and add 1 Tablespoon olive oil. To the melted butter add 2 diced cooled baked potatoes or 2 cups of country hash browns. Fry until golden brown.
Once the potatoes are golden brown, for the meats, you can add 1 Cup diced ham and/or 1 cup diced steak. 4 slices of chopped cooked bacon, OR 1/2 store bought packaged bacon crumbles. You can also add 1 cup cooked sausage crumbles, or diced up sausage links. Add all the meats, or just one or two. Grilled Chicken would even be good.
Add 3-4 sweet sliced peppers, 1/4 cup chopped onions, and 2 cups fresh sliced mushrooms. If you like a little kick you can add one finely minced jalapeño! Next add 1/2 teaspoon garlic salt, 1/2 teaspoon onion powder, and freshly ground black pepper.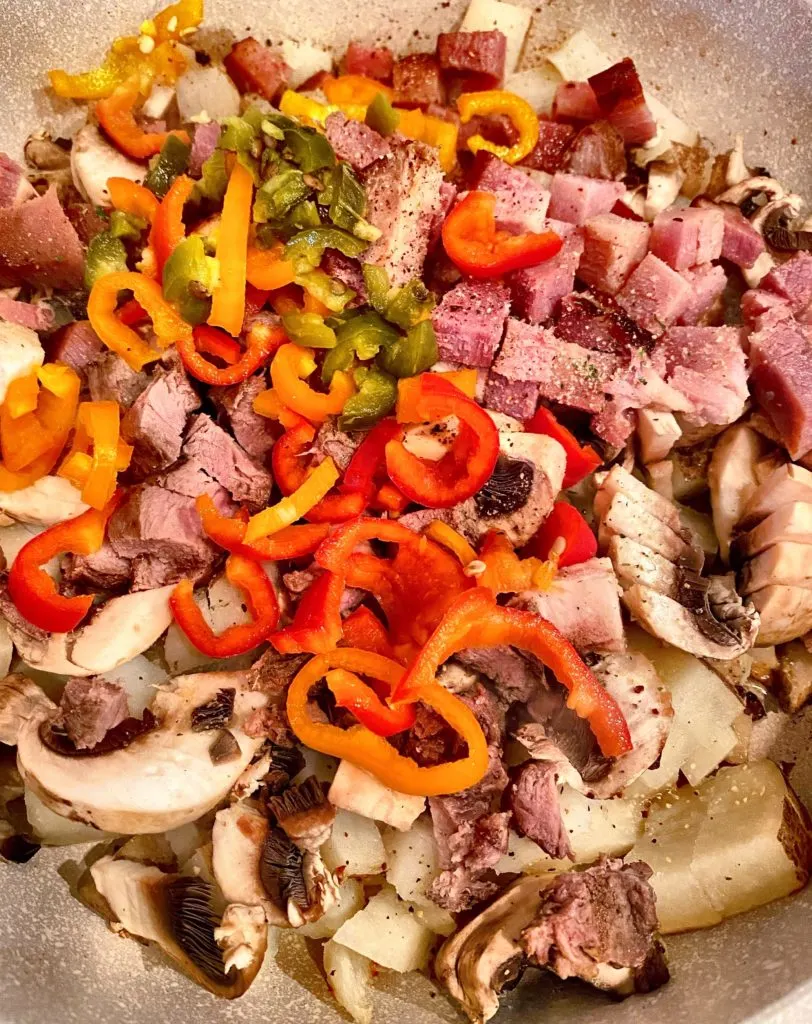 Cook, stirring occasionally, over medium heat until peppers, onions, and mushrooms are tender. Add 1 tablespoon chopped chives during cooking for an extra punch of flavor.
Once the meats and veggies are cooked, sprinkle with 1 cup of grated cheddar cheese. Cover, turn off heat, and set aside to allow the cheese to melt while you cook the eggs.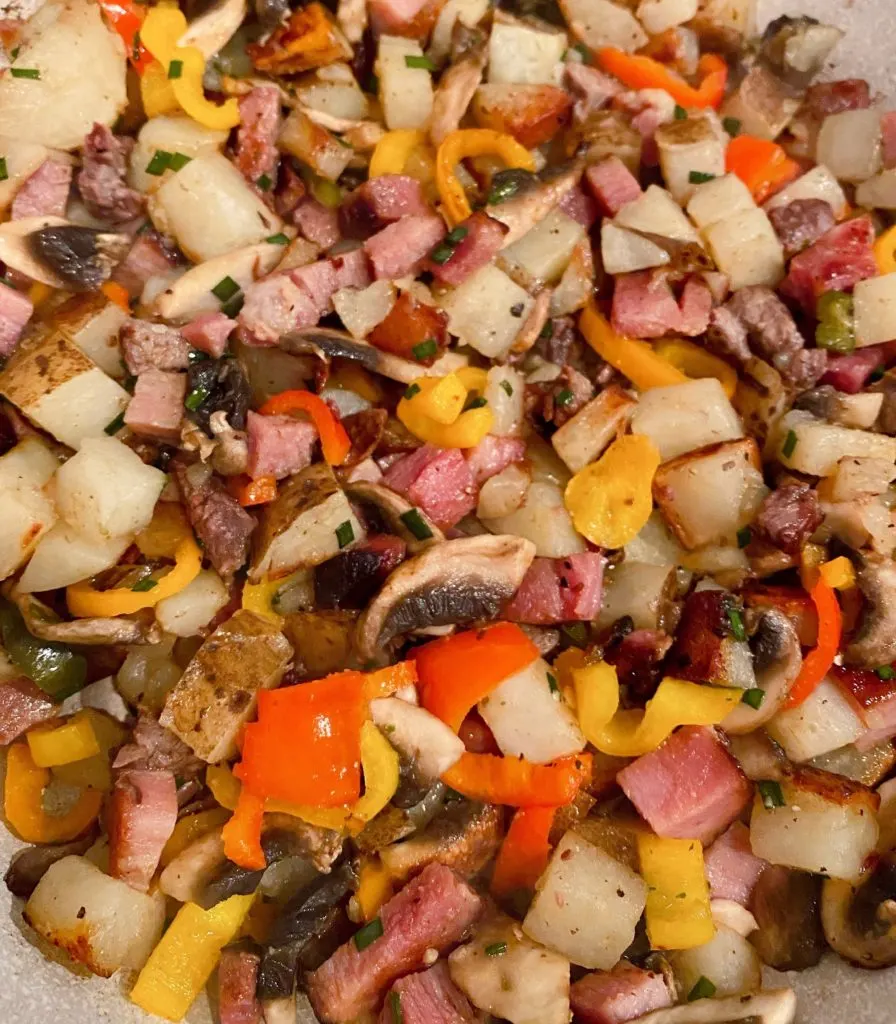 Adding Scrambled Eggs to Skillet Breakfast
In a medium bowl add 8 large eggs. I happened to have Farm Fresh Eggs on hand which is why my eggs are so yellow in these photos! Thank goodness for Friends with chickens!
Add 2 Tablespoons of water, salt and pepper to taste. Using a fork, or whisk, beat the eggs until fluffy and well combined.
Place a medium non-stick skillet over medium heat. Melt 1 Tablespoon of butter in the pan. Slowly add the scrambled eggs. Using a rubber spatula slowly scrape the bottom of the pan lifting the cooked egg from the bottom to the top. Continue until the eggs are done to your taste.
Place scrambled eggs on top of the cooked veggies and melted cheese. Top with more chopped chives.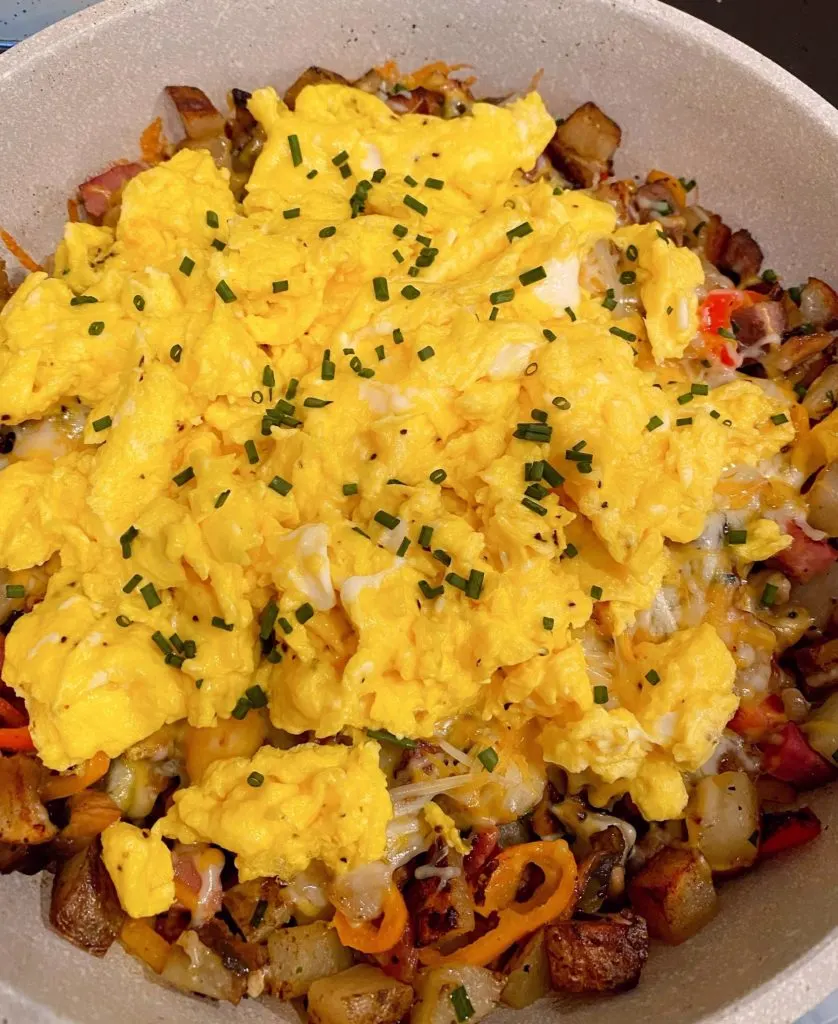 Finishing Off A Breakfast Skillet
To finish this dish off, add half a ripe avocado thinly sliced and fanned out. You could also top it off with salsa, sour cream, salsa Verde, or freshly chopped parsley, or serve it on the side. There are no hard fast rules to this dish!
Serve this skillet right to the table! It is a beautiful and impressive presentation.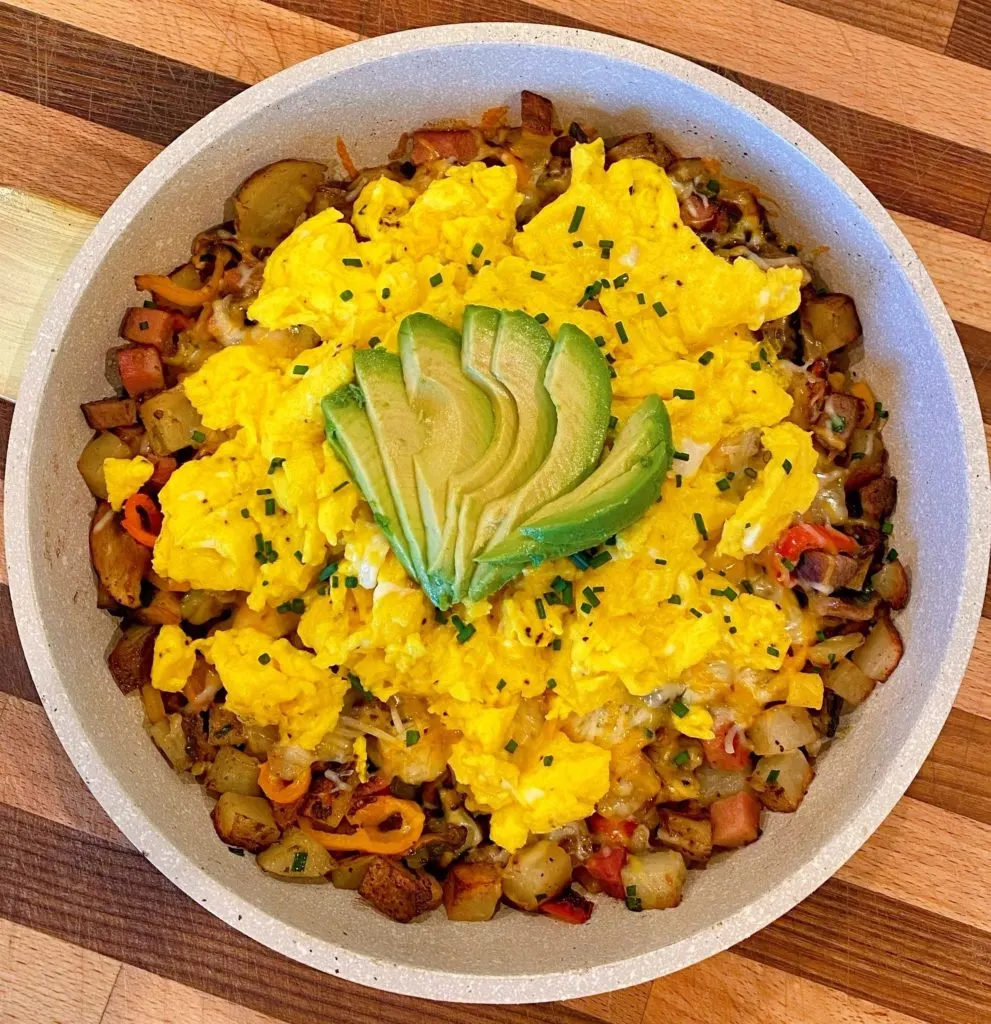 This is a fantastic "serve yourself" breakfast or brunch idea! The rustic flavors from the meats, crispy potatoes, veggies, and ooey-gooey melted cheese make this a wonderful hearty recipe.
Serve with fresh fruit, scones, or biscuits for a complete meal idea. Like my Cranberry Orange Scones!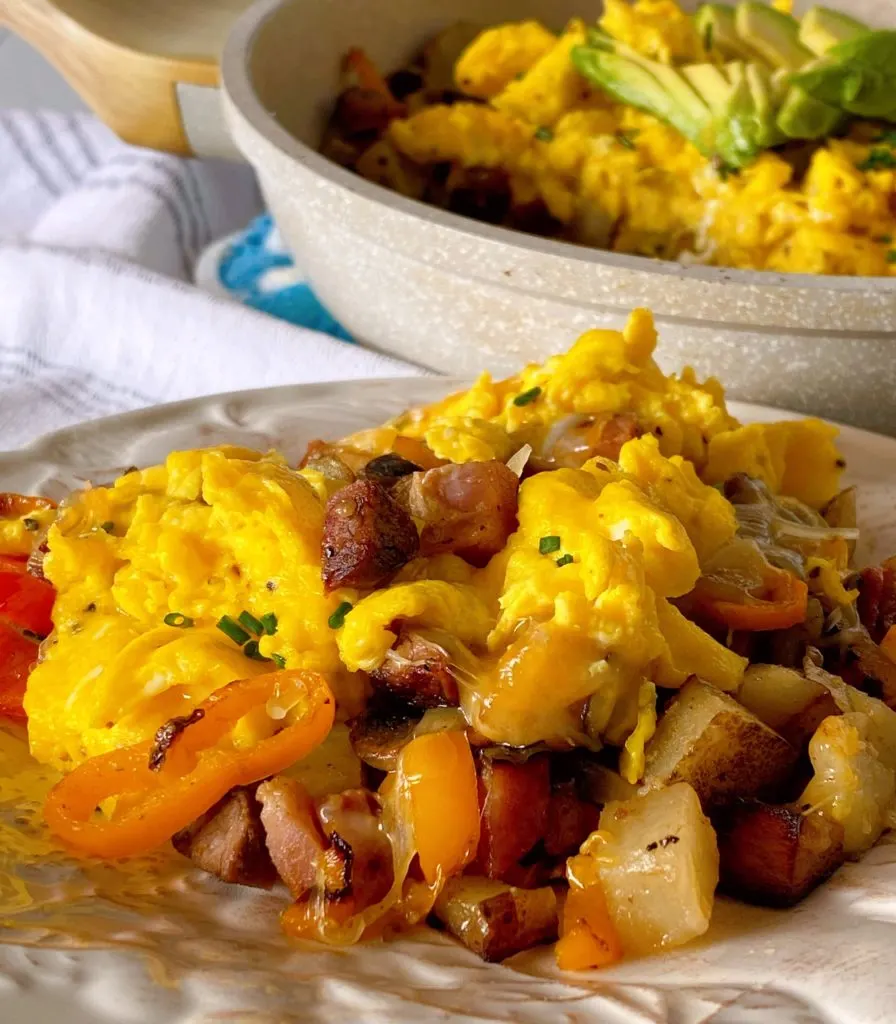 Other Family Favorite Breakfast Recipes
This is my favorite weekend breakfast recipe. It comes together in minutes! Leftovers can easily be reheated and made into breakfast burritos, or put on top of toast! (Now that really is funny! Leftovers! You're dreaming if you think there will really be leftovers. I'm just here feeding bellies and dreams).
A recipe like this can easily be adjusted if you need to increase or decrease the amounts. Remember…make this recipe your own! You can use any meats you have on hand and any vegetables. It's an extremely flexible recipe! One I hope you'll enjoy!
Happy Nesting!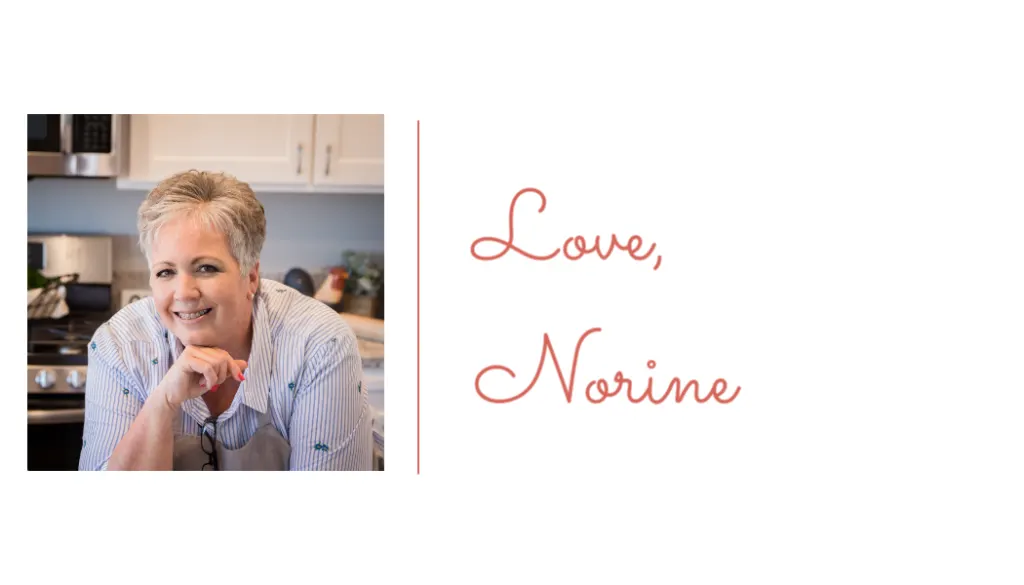 Yield: 4 servings
Country Skillet Breakfast Scramble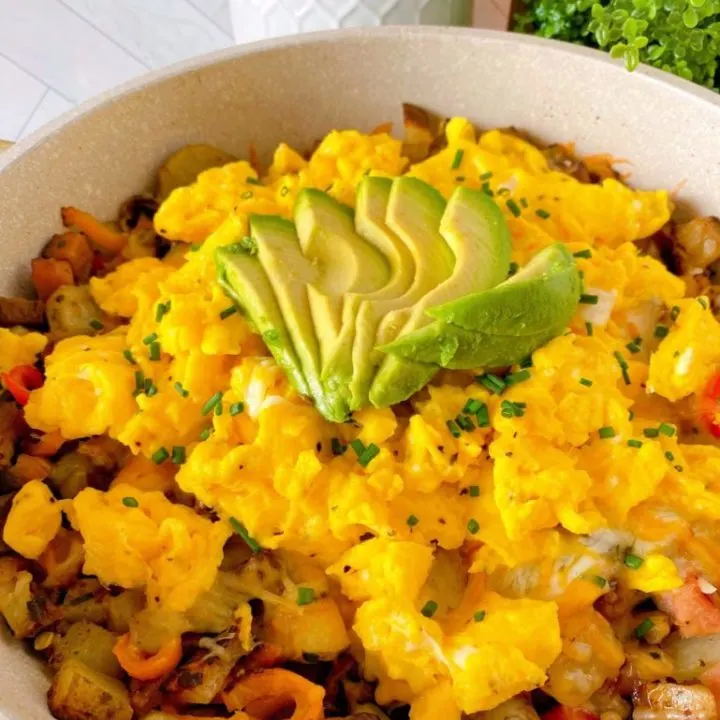 A Great breakfast idea loaded with crispy potatoes, veggies, steak, ham, and sausage. Add cheese, farm fresh scrambled eggs, seasonings, and sliced avocado! It's a hearty delicious country breakfast that is a great way to use up leftovers!
Ingredients
4 Tablespoons Butter
1 Tablespoon Olive Oil
2 cups cubed baked potatoes or 2 cups frozen country hash browns or shredded hash browns
1 Cup cubed Ham, Steak, or Crumbled Sausage, or 1/2 cup of each.
1/2 cup bacon crumbles
4-6 sliced Mini sweet peppers
1 jalapeno, diced (Optional)
1/2 cup Onion, diced
2 Cups Fresh mushrooms, sliced
1/2 teaspoon onion powder
1/2 teaspoon garlic salt
1/2 teaspoon coarse ground black pepper
1 Cup grated cheddar cheese
2-3 Tablespoons fresh chives, diced
8 Large eggs
2 Tablespoons water
Salt & Pepper to taste
1/2 a Ripe Avocado, sliced
Instructions
In a large skillet, over medium-high heat, melt 3 Tablespoons butter and 1 Tablespoon Olive Oil.
Add potatoes and cook until golden brown. Add meats and vegetables, garlic salt, onion powder, black pepper, and 2 Tablespoons chopped chives. Cook until vegetables are tender. Sprinkle with grated cheese, cover, and remove from heat.
In a bowl add 8 large eggs, 2 Tablespoons water, and salt & pepper to taste. Whisk until light and fluffy.
In a medium skillet, over medium heat, add 1 Tablespoon butter.
Slowly add beaten eggs. Using a rubber spatula carefully lift and scrape the bottom of the pan, turning the eggs over, until scrambled and cooked to personal taste.
Place scrambled eggs on top of cooked vegetables and cheese. Top scrambled eggs with remaining chopped chives.
Fan sliced avocado over the top of the eggs. Serve immediately.
Nutrition Information:
Yield:
4 servings
Serving Size:
2 cups
Amount Per Serving:
Calories:

1107
Total Fat:

74g
Saturated Fat:

24g
Trans Fat:

1g
Unsaturated Fat:

44g
Cholesterol:

476mg
Sodium:

2253mg
Carbohydrates:

70g
Fiber:

12g
Sugar:

8g
Protein:

45g