Pesto Stuffed Chicken Breast are tender thick chicken breasts marinaded and then stuffed with Pesto and cheese and grilled to perfection! Simple, Easy, and Delicious!
A few weeks ago things were a little low in the pantry! Ever have this happen to you?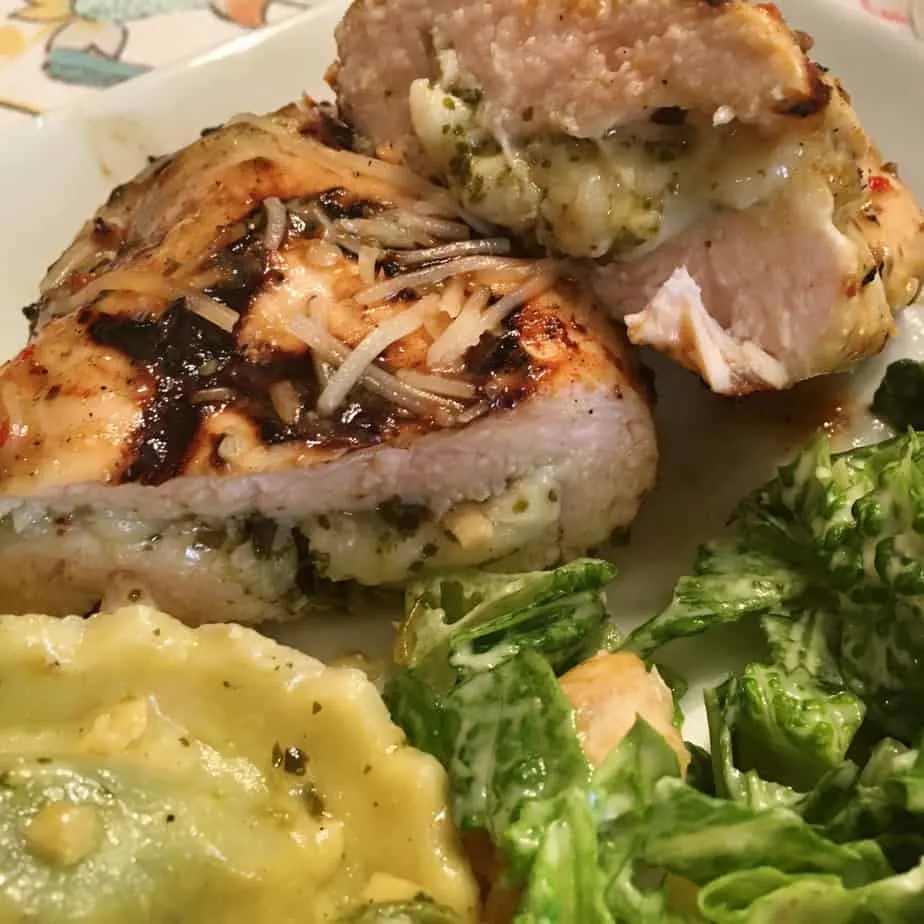 It was blazing hot, (Thank you Mother Nature!) and the last thing I wanted to do was drive into town and fight the crowds at the market. I don't know about your market…but ours is managed by the devil himself, and he sets the thermostat at 80! Honestly it's so stinkin' hot in that store I wanna smack someone! (In all fairness I feel that way often when grocery shopping in the summertime. lol)
Going to the market wasn't happening!
Blessings come in all different ways. This time…my lack of ambition was a HUGE blessing! (I wish I could say the same when it comes to the laundry!) This is a dish that is good enough to serve at a dinner party and simple enough for any weeknight.
How To Make Pesto Stuffed Chicken Breast
Start with four boneless skinless chicken breast. Place them in a large zip lock bag and marinade in 1 cup of Kraft Sun Dried Tomato salad dressing. Marinade them in refrigerator for 4 hours.
Tip: If you can't find Kraft Sun Dried Tomato Salad Dressing you can use another favorite Italian dressing.
When you're ready to cook dinner… remove the chicken breast from the refrigerator. Slice a pocket length wise along one side of the chicken breast to create a pocket.
Using a knife spread one Tablespoon of prepared Basil Pesto inside the bottom of the pocket. (I used Prego…any pesto sauce will do.) Add 2-3 Tablespoons of grated mozzarella cheese. Press down and cover with the top of the chicken breast.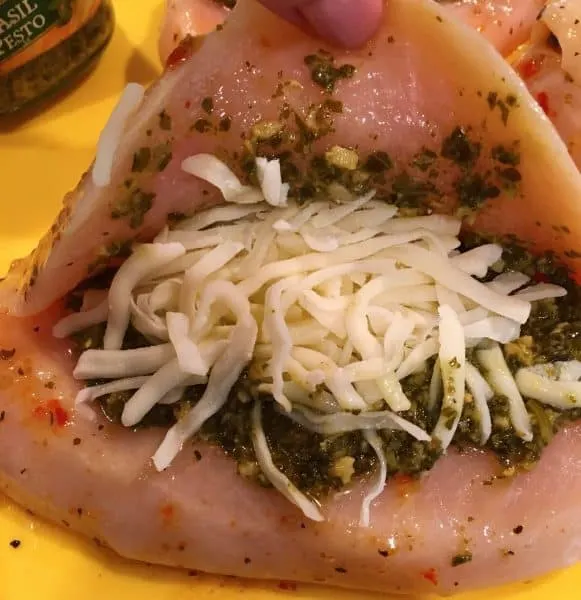 Using toothpicks or metal skewers secure the top to the bottom. Closing the opening to the pocket. We don't want all that YUM slipping out and down into the BBQ! (Ya can't really lick the bottom of the grill without some major burn implications!)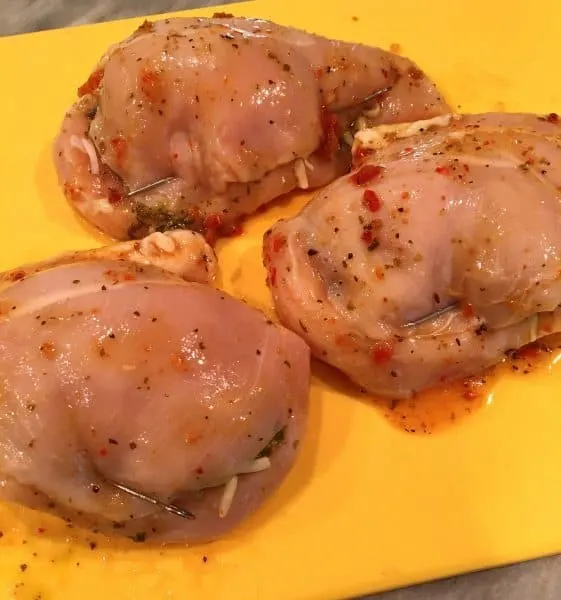 Let's recap… Chicken Breast, Italian Dressing, Pesto, and Cheese! That's it! Awesome right?!
Grill the chicken over medium heat for 30 – 40 minutes or until juices run clear. Baste with extra Italian Dressing while grilling for added flavor and to add moisture to the chicken while grilling.
Be sure you get those beautiful grill marks in the top of that chicken breast. Okay I was shocked I managed to do that!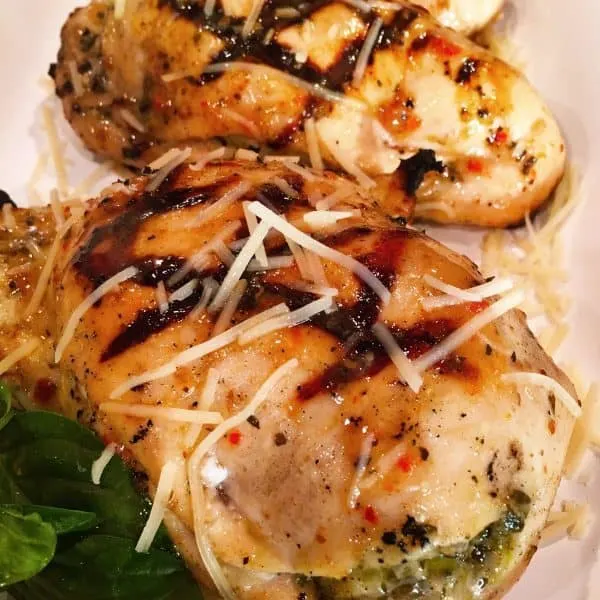 This chicken is insanely good! It's tender. It's juicy. It's LOADED with flavor! It's packed with all that melted cheese and garlic pesto. Isn't it beautiful?
Can you believe how simple this dish is to prepare! I absolutely LOVE a dish that is easy and spectacular without a lot of fuss and ingredients. Both have their purpose and place. It's just nice, in the summertime, to have a quick easy meal.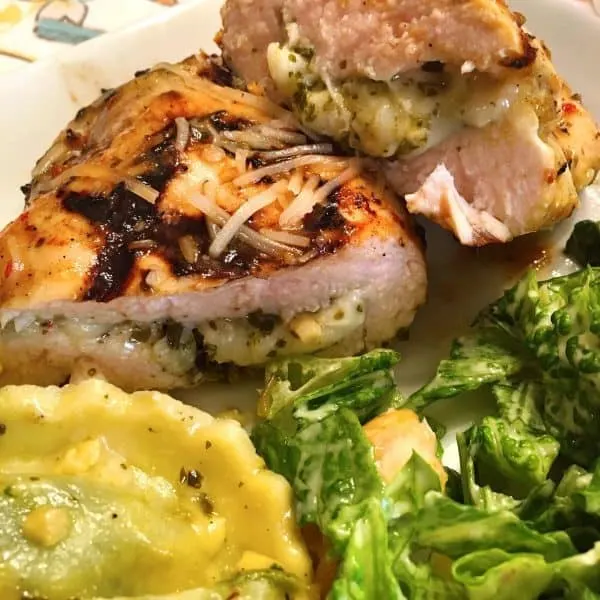 I served this main course with a side Cesar Salad and Spinach and Cheese Stuffed Ravioli with with butter and a little dab of Pesto sauce. (It was a stuffed kinda night!) It was heavenly!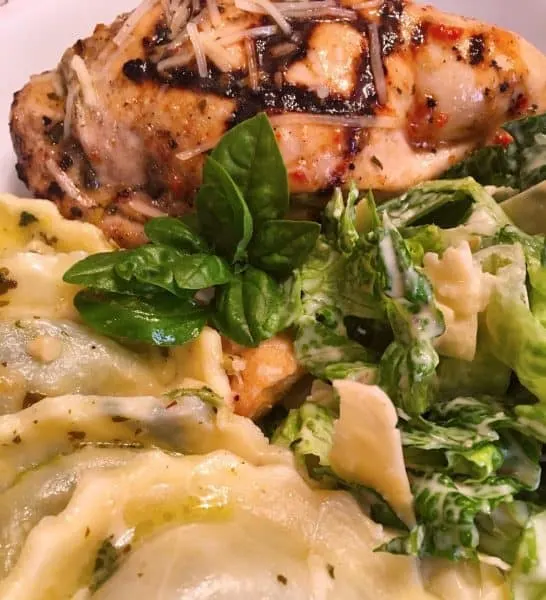 It's summer friendly. It's delicious. And your family will LOVE it! Especially if they love Italian food.
If you like this recipe you might want to try these other Grilled Chicken Recipes
Thanks for stopping by my nest and checking out this wonderful dish. Next time your pantry is low…get creative. You never know what might happen!
Be sure to sign up for my weekly newsletter and you can also follow me on Instagram, Facebook, Twitter, and Pinterest. I also have a cute Etsy Shop, Norine's Country Nest, where you can find original designed kitchen ware and decor.
Have a FANTASTIC day!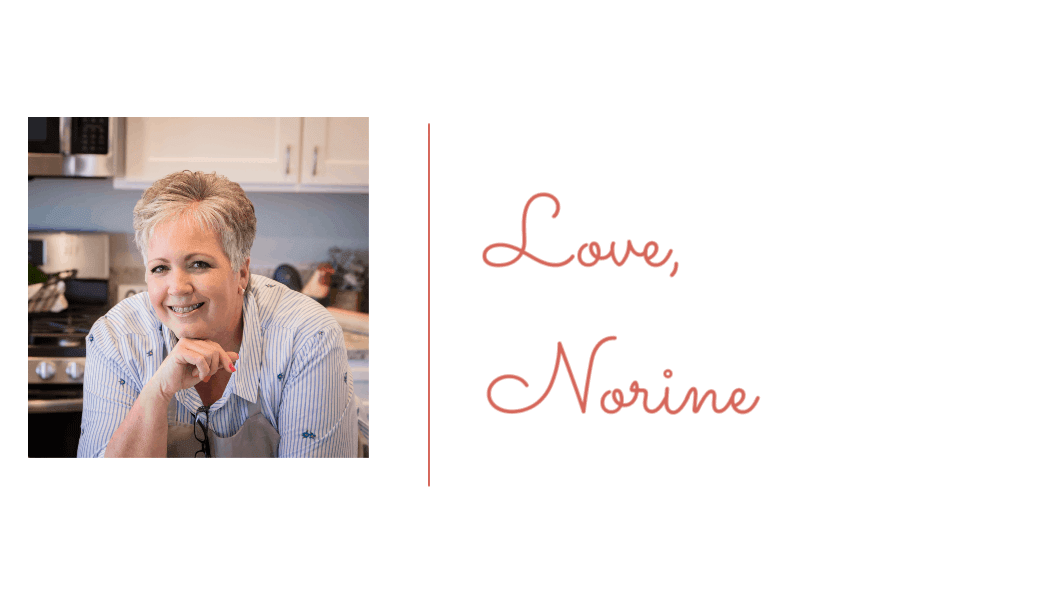 Yield: 4 servings
Pesto Stuffed Chicken Breast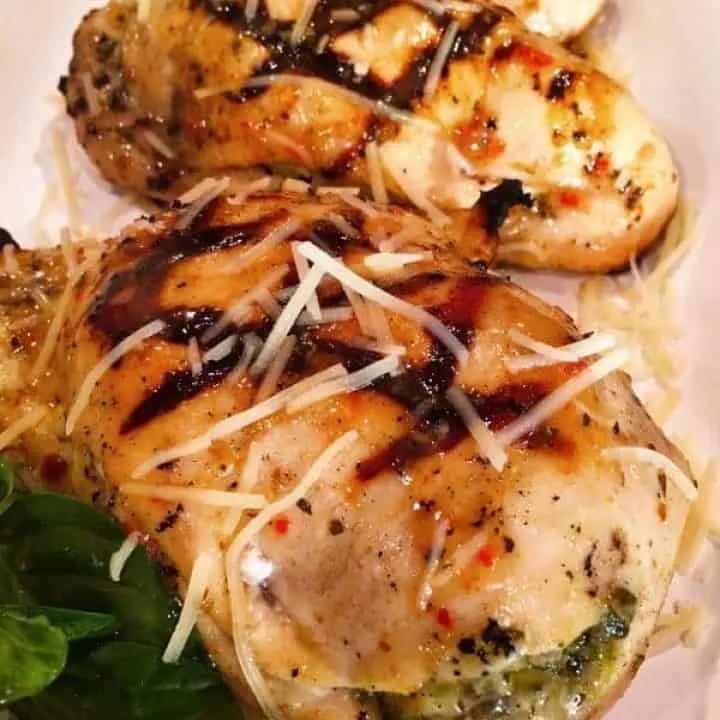 Tender thick chicken breasts are marinaded and then stuffed with Pesto and cheese and grilled to perfection! Simple, Easy, and Delicious!
Prep Time
4 hours
5 minutes
Total Time
4 hours
35 minutes
Ingredients
4 boneless, skinless chicken breasts
1 1/2 cups of Kraft Sun Dried Tomato Salad dressing, or your favorite Italian dressing.
4 Tablespoons of prepared Pesto
1 cup grated mozzarella cheese
Grated Parmesan as Garnish
Instructions
Rinse and Dry Chicken Breast.
Place in a large Zip Lock Bag and marinade with 1 cup of Kraft Sun Dried Tomato Dressing.
Place in Refrigerator and marinade for at least 4 hours.
Preheat grill to medium high heat.
Using a sharp knife cut a slit, lengthwise, into each chicken breast being careful not to cut all the way through the chicken breast. This will create your pocket.
Spread 1 Tablespoon of prepared Pesto onto the inside bottom of the chicken breast.
Stuff 2-3 Tablespoons of grated mozzarella cheese into the pocket of the chicken breast.
Secure the pocket closed using a toothpick or metal skewer.
Place chicken bottom side down on the grill.
Cook for 30-40 minutes turning during grill time. Use reserved 1/2 cup of Italian dressing as a basting sauce during cook time.
Remove from heat when juice run clear.
Notes
Preparation time includes marinating time.
Nutrition Information:
Yield:
4 servings
Serving Size:
1 chicken breast
Amount Per Serving:
Calories:

462
Total Fat:

24g
Saturated Fat:

7g
Trans Fat:

0g
Unsaturated Fat:

14g
Cholesterol:

131mg
Sodium:

492mg
Carbohydrates:

14g
Fiber:

3g
Sugar:

9g
Protein:

49g