Home Garden Pizza A Quick and Easy Delicious Homemade Pizza thanks to Wewalka Classic Pizza Dough and some fresh ingredients from your garden!
I'm not sure which is worse…getting ready to leave on vacation or coming home? (I'll let you know next week! lol) All I know is that trying to cook dinner and get ready to leave… is hard!
*As an Amazon Associate I earn from qualifying purchases. This post may contain affiliate links, which means that I may make a commission from any purchases at no additional cost to you. Thank you for your support!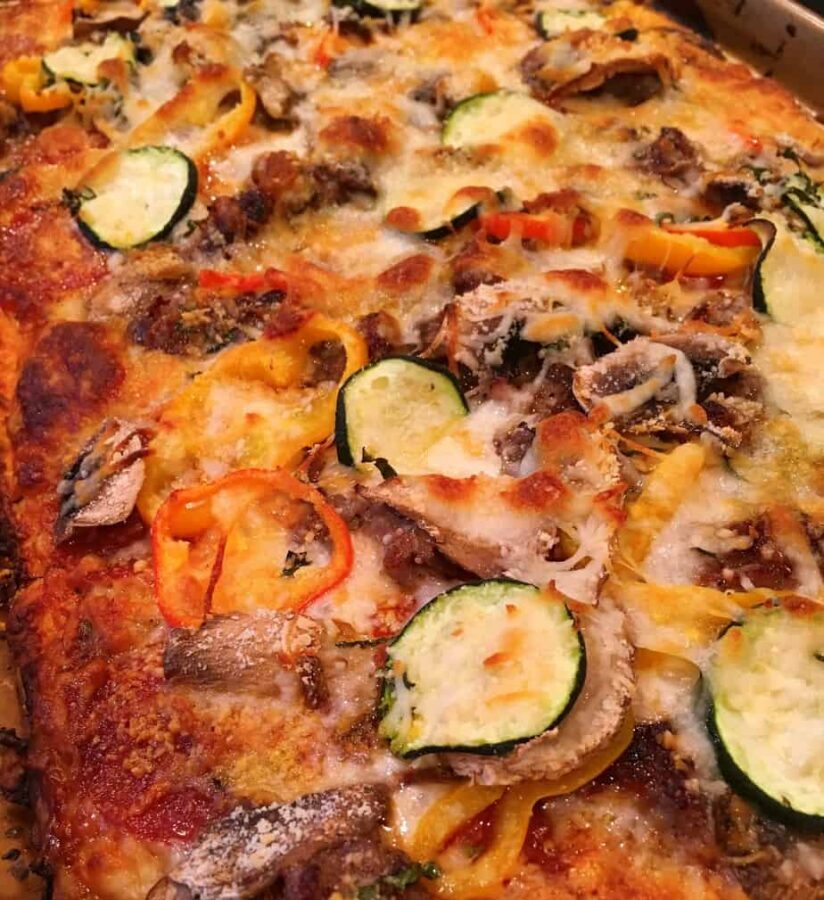 What did I decide to do? I'll tell you! I decided to make homemade pizza. What? Let me explain…I didn't make the crust! (I'm not totally crazy!)
I decided to give the fresh Classic Pizza dough by Wewalka a try. If their puff pastry is good, surely their pizza crust had to be good! (I know…I should be their spokesperson!)
Friends it was L.O.V.E. at first bite! The crust is thin and crispy! In a word… AMAZING! If you're looking for a great new pizza place…try your very own kitchen!
How To Make Homemade Garden Pizza
Start by preheating the oven. Preheat the oven to 375°. I know the package says 400°, but because this pizza is loaded with lots of veggies we need a slower cooking time. It also says to cook for 20 minutes.
DO NOT DO THAT! Follow my simple directions and you'll have one spectacular pizza!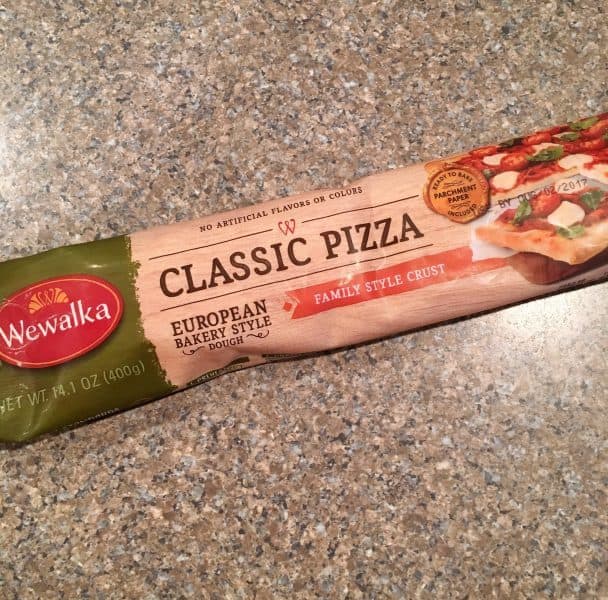 Roll the dough out on a baking sheet, keeping it on the attached parchment paper.
You can bake right on top of that! Awesome right? (It's so awesome! This took me less than a minute to have ready!)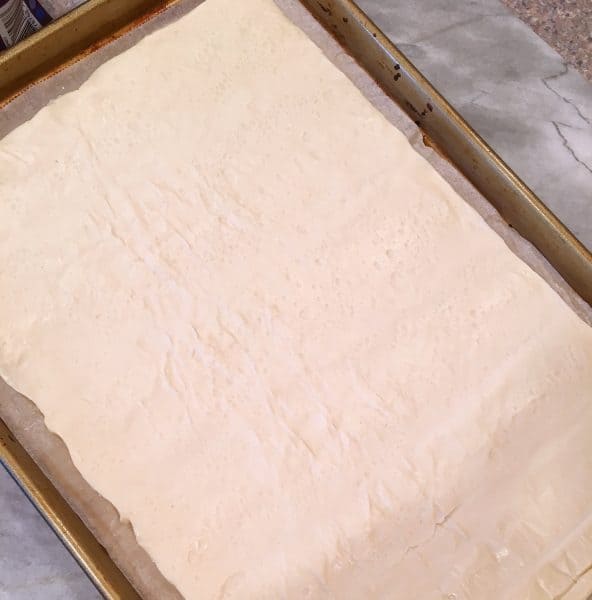 Hold on sauce time. This sauce is going to seem a little strange. Just open a small can of tomato sauce and spread a thin layer over the crust. Use as much or as little as you want. I used about 3/4 of the small can.
Then sprinkle it with a blend of Italian Seasonings, Pepper, and Garlic Salt. Season to your taste.
I know! I can hear ya all the way over here. "What is she doing? You need to simmer the sauce and spices together for hours." My reply…"No ya don't!" In fact this was my first time making it like this, and it will be the only way I do it from now on. I loved this sauce. So yummy!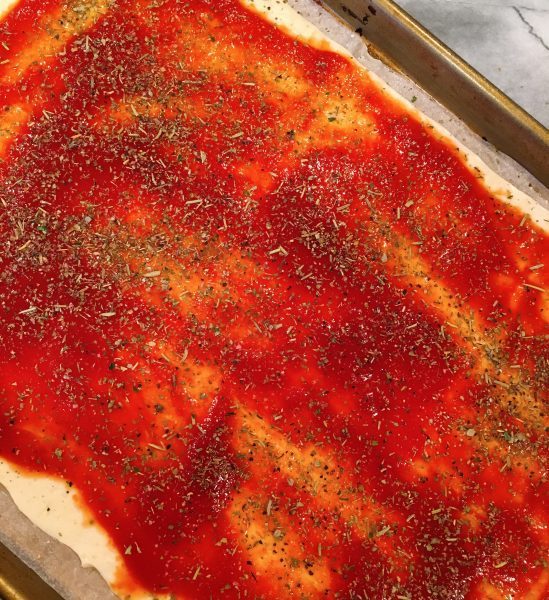 Sprinkle with 1 cup of cheese. If you're half mouse…put more cheese on. No one is going to judge you here.
Time to start loading this baby up! You can add any toppings you want. I will, not so modestly, tell you that my combination of toppings were…Spot On!
Start with a layer of pepperoni, sprinkle with pre-cooked natural Jimmy Dean Sausage, and Sliced sweet Italian Pepper rings.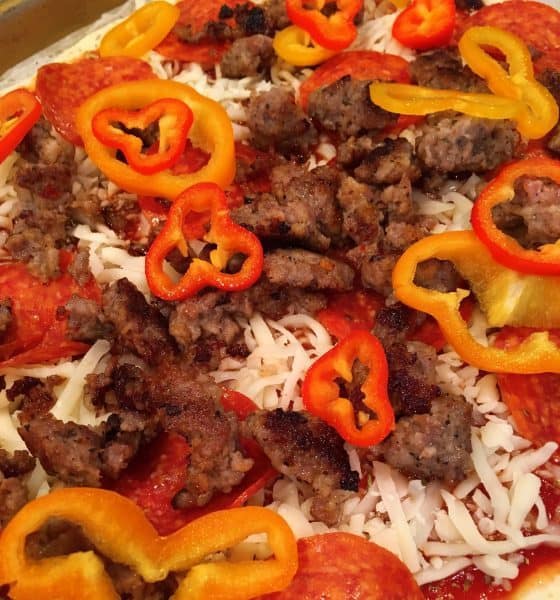 You didn't think we were done did you? HA! Hello…Norine's making this pizza!
Top it off with fresh sliced mushrooms and thinly sliced, garden fresh, zucchini. Next add about 2 Tablespoons fresh chopped basil out of your herb garden…(lol…that sounded so snob-ish! Friends I have three herbs…chives, mint, and basil! Yep…Just call me Martha!)
Sprinkle with a half of a cup of Mozzarella cheese and all the grated Parmesan your little heart desires!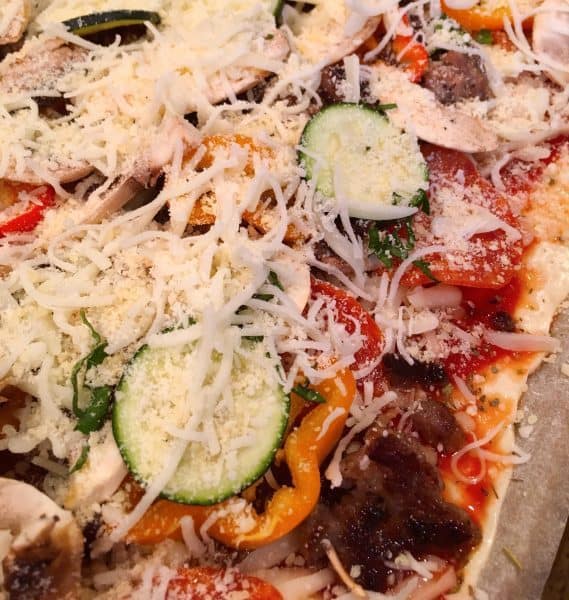 Pop that beauty into your preheated oven. Bake for 12-13 minutes. I did 13 minutes and it was perfect for us. The cheese was bubbly and golden, the crust brown and crispy, the vegetables tender crisp. It wasn't watery at all. It was scrumptious!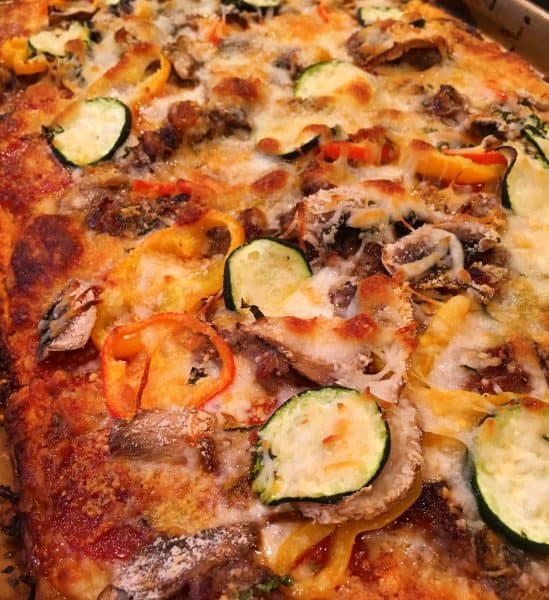 I'd like to tell you I let it rest before I cut into it…but that'd be a lie! My hand was shaking I was so excited to cut into this slab of yum!
It cut beautifully. I was worried that with a crust that thin it would bend the minute I picked up a slice, and all my pretty toppings would end up on the floor… with me diving after them. (Such a visual…you have no idea!)
I didn't have a thing to be worried about. Straight as a board and delectable to boot!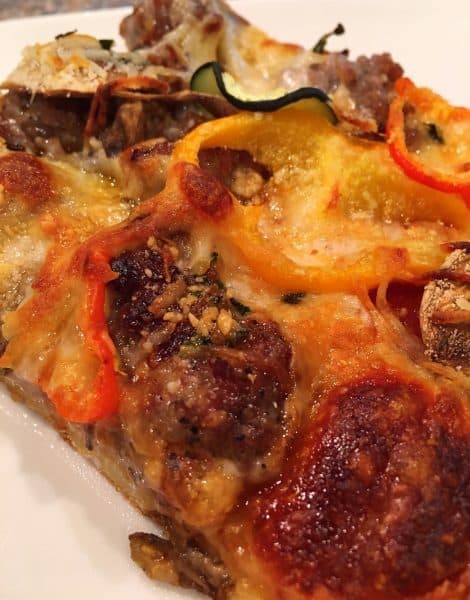 I can hardly wait to make this again. I loved the flavors, the crunch, and the ease of making this dish! Took mere minutes to put this all together and mere seconds for it all to disappear!
I know the birds at your Nest will love this pizza as much as the two old birds who live at this Nest did! It is truly spot on in every aspect.
Favorite Italian Recipes
Thanks for visiting…please always feel free to leave me a comment. I love chatting with ya!
Please follow me on Pinterest, Instagram, and Facebook to get all my latest recipes, and some of my favorite finds from fellow bloggers. It's always about good eats for your peeps here at Norine's Nest!
Happy Nesting!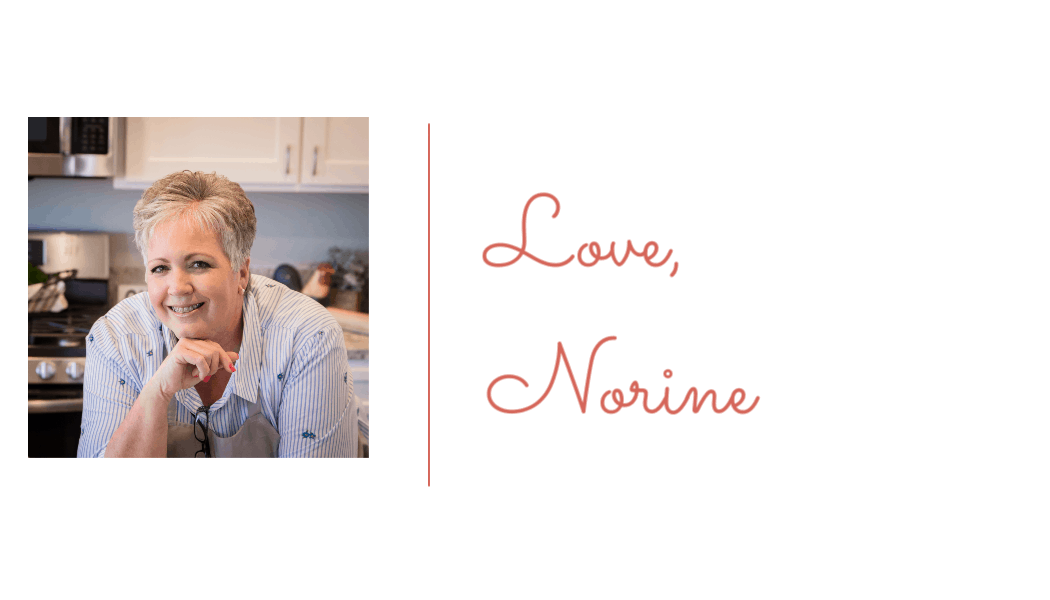 Yield: 4 servings
Homemade Garden Pizza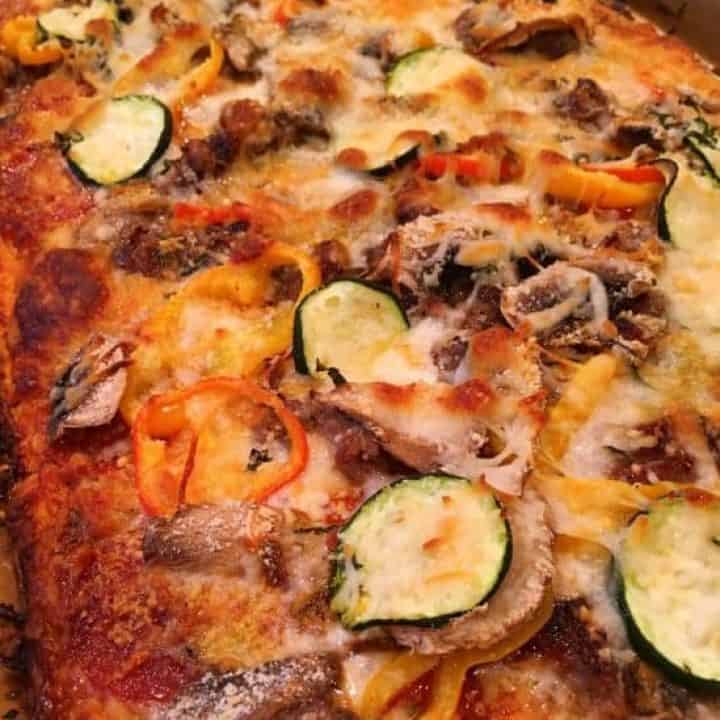 A Quick and Easy Delicious Homemade Pizza thanks to Wewalka Classic Pizza Dough and some fresh ingredients from your garden!
Ingredients
1 - 14.1 oz package of Wewalka Classic Pizza European Pizza Dough -found in the refrigerated dough section of your grocery store.
1 - 8 oz. can of tomato sauce
1 tsp Italian Seasonings
Garlic Salt and Coarse black pepper to taste
1 1/2 cups grated Mozzarella Cheese
16 slices of Pepperoni
1 cup cooked, and drained, Natural Jimmy Dean Sausage.
3 small sweet Italian Peppers, yellow and red, sliced thinly
1/2 a cup thinly sliced fresh mushrooms
1/2 cup thinly sliced zucchini squash
2 Tablespoons chopped fresh basil
Grated Parmesan Cheese
Instructions
Preheat oven to 375°
Roll out pizza crust, keeping it on the attached parchment, on to a baking sheet.
Spoon Tomato sauce over top of crust.
Sprinkle with Italian Spices, Garlic Salt and Coarse Black Pepper.
Cover pizza with 1 cup of grated Mozzarella cheese.
Top with Pepperoni, Sausage, Peppers, Mushrooms, Zucchini, Basil, the rest of the Mozzarella cheese and sprinkle with grated Parmesan Cheese.
Place in preheated oven and bake for 12-13 minutes until cheese is lightly golden brown and bubbly and crust is crispy.
Cut and serve.
Recommended Products
As an Amazon Associate and member of other affiliate programs, I earn from qualifying purchases.
Nutrition Information:
Yield:
4 servings
Serving Size:
2 large slices
Amount Per Serving:
Calories:

680
Total Fat:

45g
Saturated Fat:

18g
Trans Fat:

0g
Unsaturated Fat:

23g
Cholesterol:

92mg
Sodium:

1423mg
Carbohydrates:

44g
Fiber:

4g
Sugar:

5g
Protein:

27g