A Rich Creamy Deeply Flavored Garlic Spinach Sauce with Fettuccine and Juicy Pork Tenderloin Medallions. These Pork Tenderloin Medallions with creamy Garlic Spinach Sauce and Pasta is the perfect dinner dish for the Pasta Lovers in your family.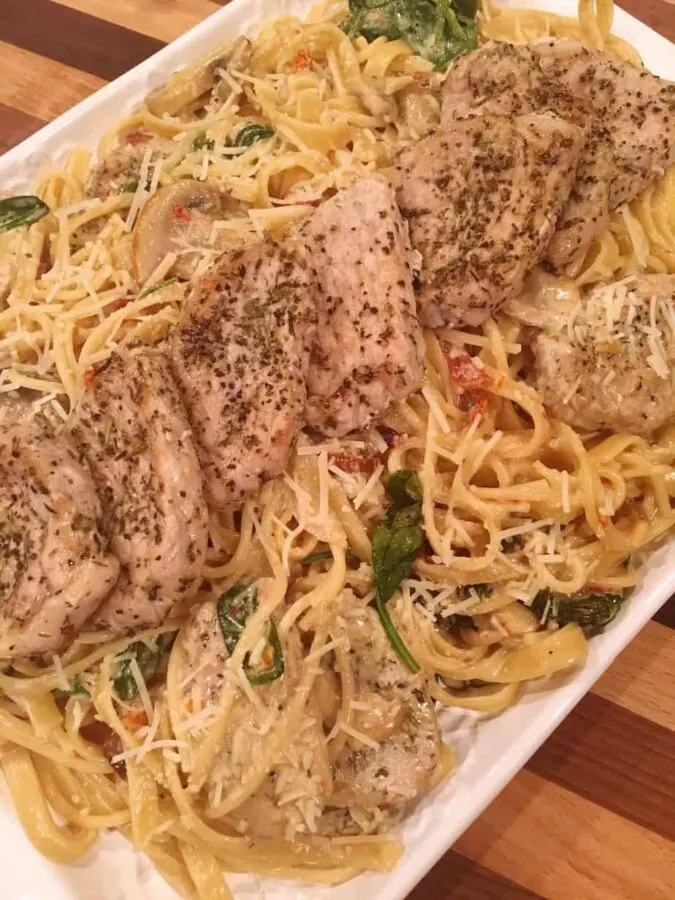 A few weeks ago I found a screaming deal on a Pork Tenderloin Fillet. I love a deal! (I'm not picky about what kind of deal…just give me a deal! I'll be flying high for a good week!)
Any who… I digress. I put the tenderloin away in the freezer for another day.
I don't know why I even bothered putting it in the freezer? That little ol' piggy kept a callin' to me! Which means I went to work…have I mentioned how much I LOVE my work! I do!
I really love it when the jumble in my brain comes out SO good on the plate! The flavors of this dish are going to have your eyeballs rolling back in your head, so you can see the drool behind ya!
How To Make Pork Tenderloin Medallions with creamy Garlic Spinach Sauce and Pasta
You'll need a small, 1.8 to 2.0 lb, Pork Tenderloin Fillet.
TIP: Do not confuse a Pork loin Roast with Pork Tenderloin! They are two different beasts!
TIP 2: Start your water to boil so that your pasta and sauce will be done at the same time.
Rinse and pat dry the Pork Tenderloin.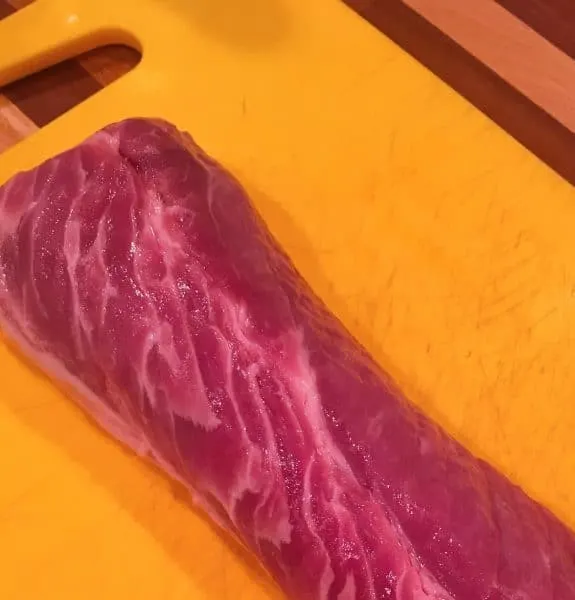 Using a sharp knife… (Those are getting hard to come by in my kitchen. I'm about ready to start calling for Edward Scissor Hands!)…cut the Pork Tenderloin (or massage it with your dull bladed knife like I did) into thin slices about 1/4 thick.
This will create your "Pork Medallions".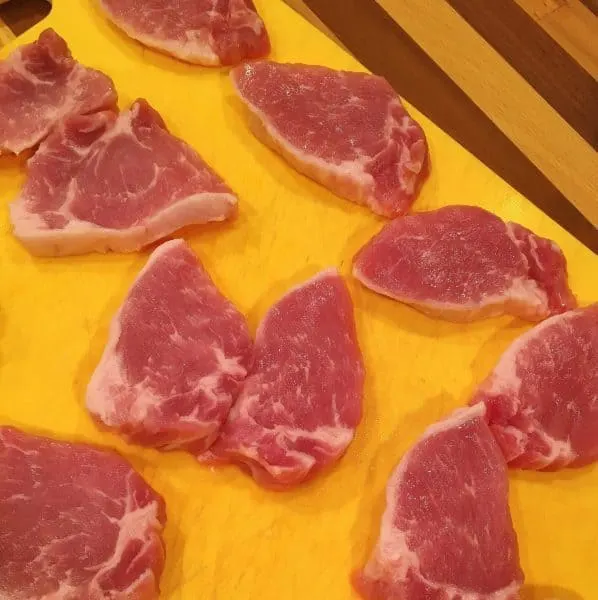 Season with Garlic Salt, Pepper, and Italian Seasonings.
Flip 'em over and do the same on the other side.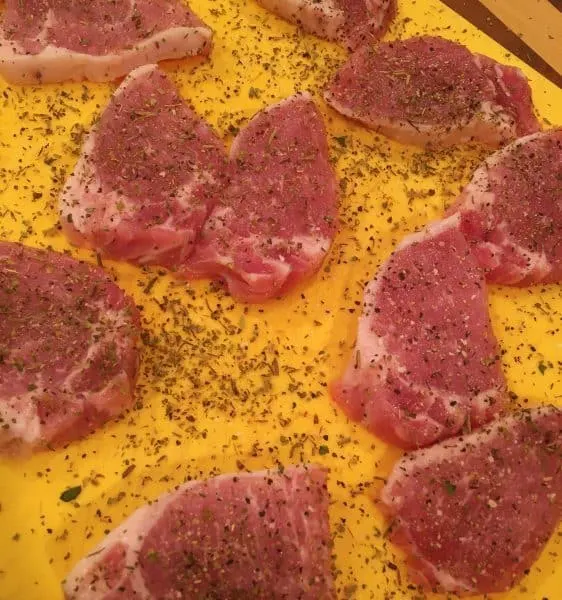 In a large skillet, over high heat, place 2 Tablespoons of Olive Oil.
Once Oil is hot add the Pork Medallions one at a time.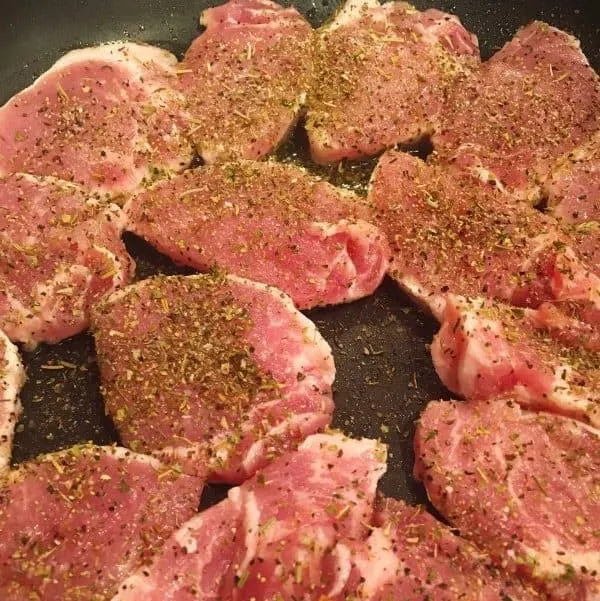 Cook until edges have a nice sear on them, like your skin in the summer time… when your floating in the pool and forget what "reflection" does to your blinding white skin!
The only difference is the Medallions will be golden brown…you'll be bright red and extra crispy! Lol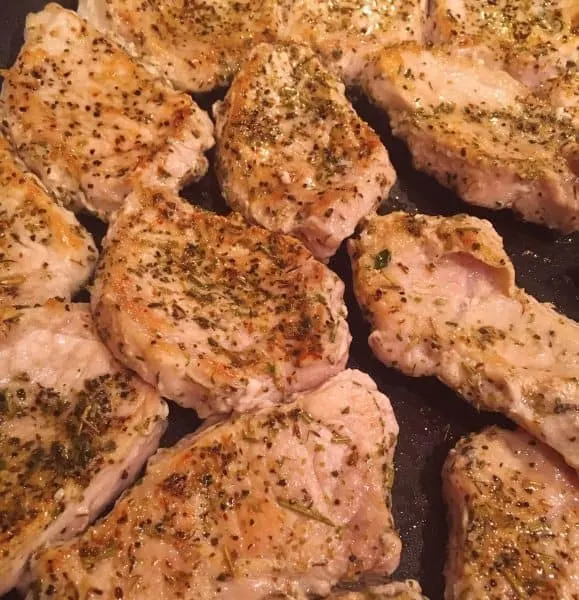 Remove the medallions from the skillet. Cover with Foil to keep warm. Leave the juices in the pan, and set the pork medallions aside.
In the same skillet, over MEDIUM heat add 2 teaspoons minced garlic, 1/2 cup sliced onions, and 3 heaping Tablespoons of Sun Dried Tomatoes with oil.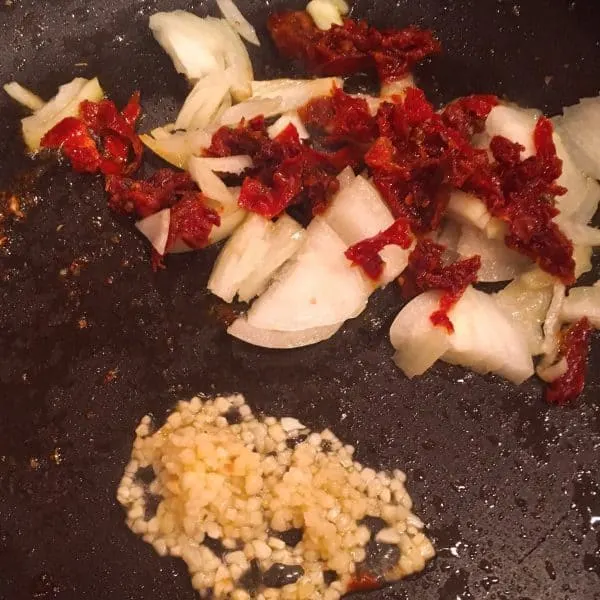 Cook until tender.
Add 2 Cups sliced fresh mushrooms. Sautee until tender.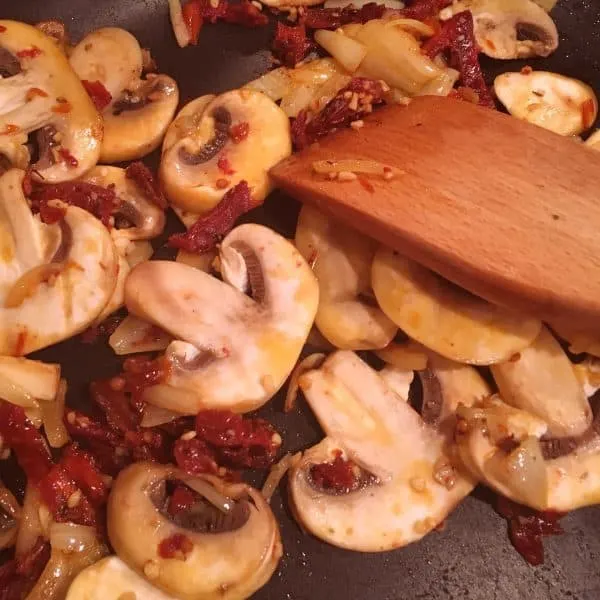 Add 1 cup of white cooking wine.
Allow mixture to simmer for 5–10 minutes over medium-low heat.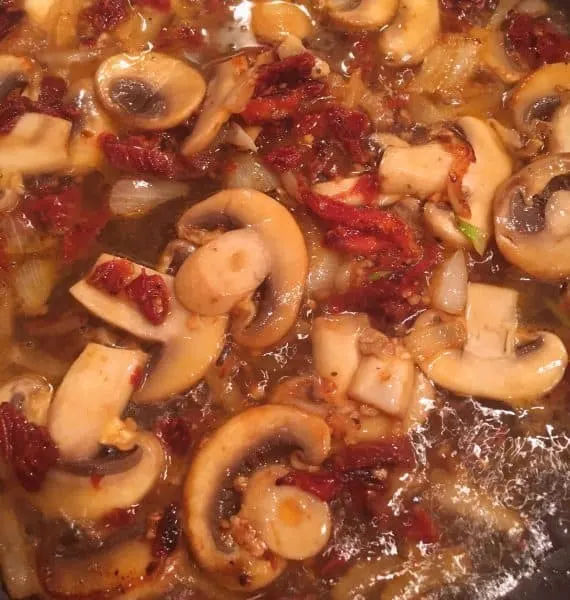 Add 1 cup of heavy whipping cream, and 1/3 cup grated Parmesan Cheese!
"Come to Momma honey!" Seriously can we just pause for a minute and talk about the EXPLOSION of flavors going on in this sauce!!
The mushrooms, garlic, and sun-dried tomatoes were not enough. I went and added wine and Parmesan Cheese!
SHUT THE FRONT DOOR! Crazy I know!!! The flavor of this creamy sauce will knock your sock off! But WAIT! It's about to get even better….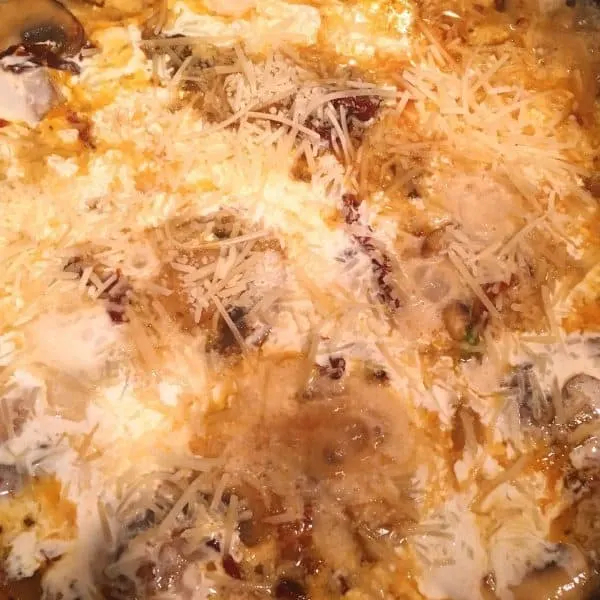 Stir the sauce continually over medium heat until cheese is melted and sauce is smooth and creamy.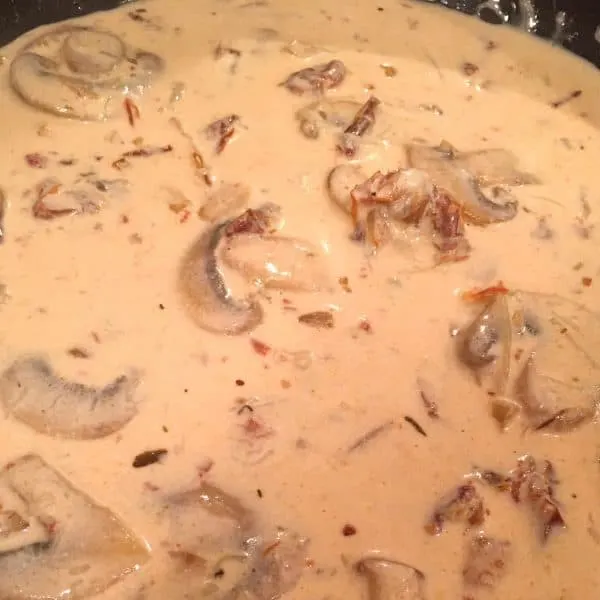 Honestly you could just lap this sauce up right now and call it good!
DON'T! You want to keep going.
Add your pasta to your boiling water.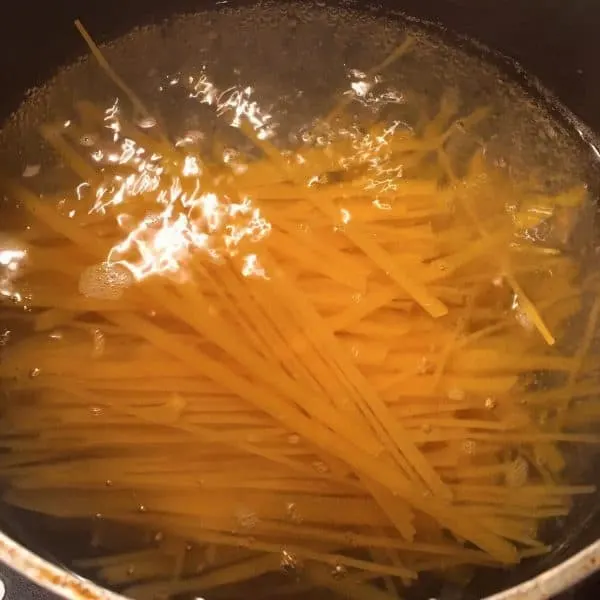 Cook until …wait for it…my favorite word…"Al Dente"! Okay…fine…till it's just about cooked…but not totally cooked.
Okay back to the sauce that is simmering away on the stove. Add One big heaping handful of fresh baby spinach. (Yep…that's the measurement! Don't like spinach…leave it out. Love it…add a little more. This is a pretty forgiving dish.)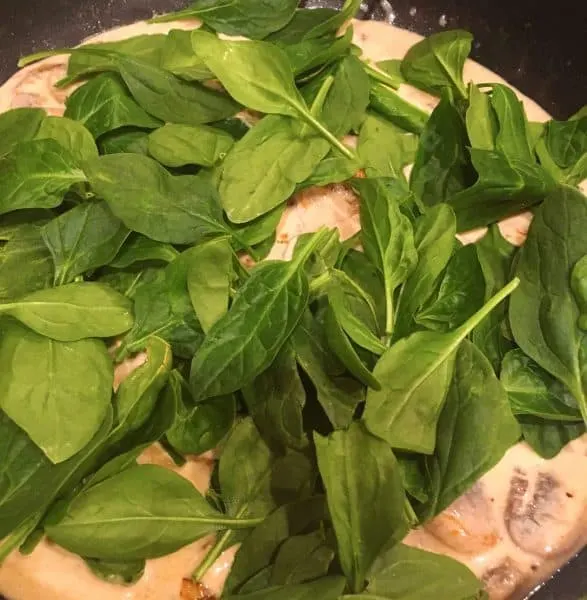 Place half the pork medallions on top of the spinach.
Pour any juices from the plate back into your skillet. Cover with lid and cook for 7 minutes.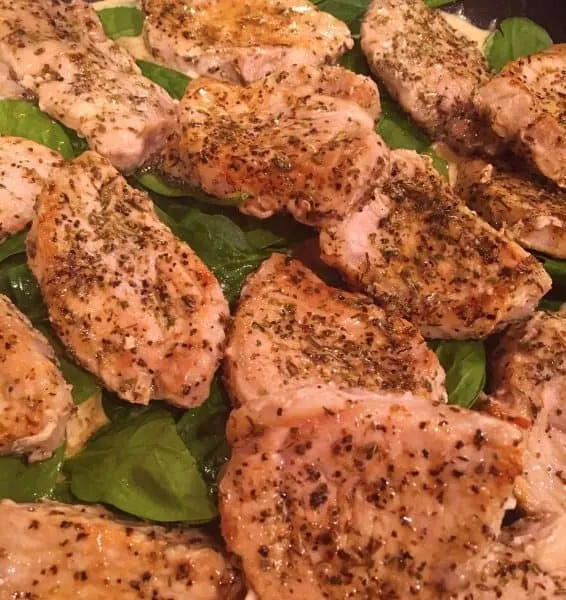 Remove lid and gently stir ingredients together.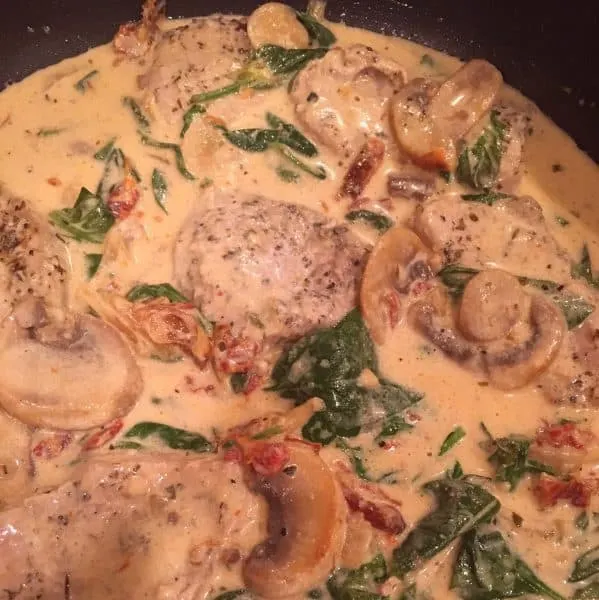 Remove al dente Pasta from the pan and drain.
Now I know what you are thinking! You're thinking "What kind of pasta is that?" I'll tell you what kind of Pasta that is! It's the kind where you were cleaning out the pantry and combined Angle Hair with Fettuccine. Any Questions? I didn't think so!
You don't have to be as "cool" as I am. You can use only one kind of pasta. Just remember…you won't be as cool as me! Lol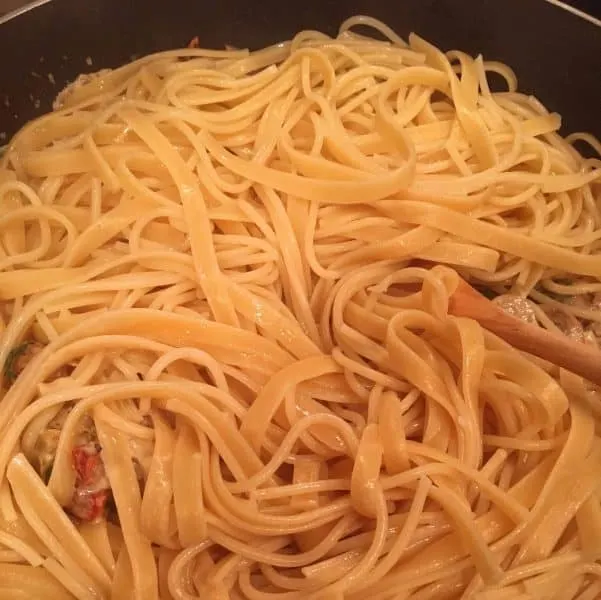 Add your Al dente Pasta directly into the pan with the sauce and Tenderloin Medallions. Stir until well combined. Cover and cook an additional 5 minutes.
TIP: This will allow your pasta to absorb some of that lip licking sauce!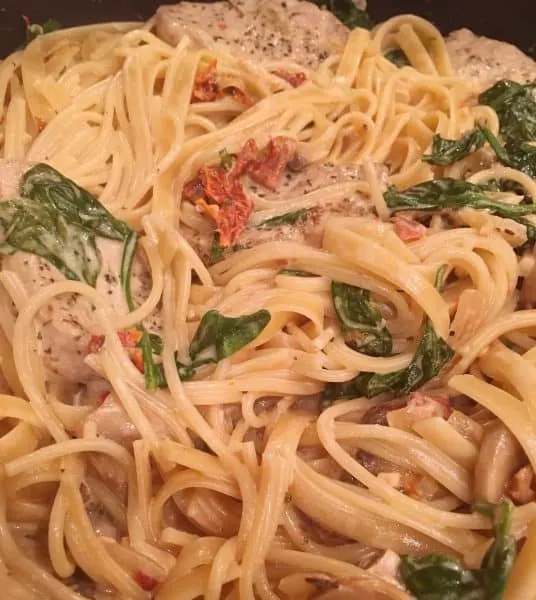 Remove Pasta from Stove and place on a serving platter. Sprinkle with Parmesan Cheese.
If you want a pretty presentation…place remaining Medallions down the center of the pasta. You don't have to though…you can just lay them on top of the pasta and sauce.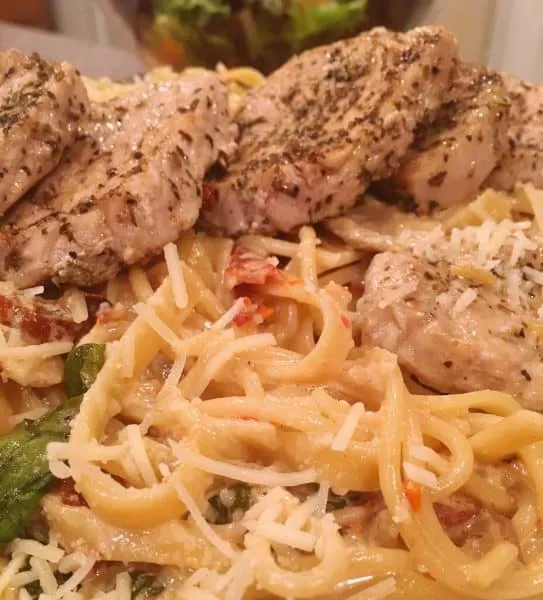 I love how beautifully this dish presents!
This is a dish that could be served at a dinner party or a weeknight family dinner.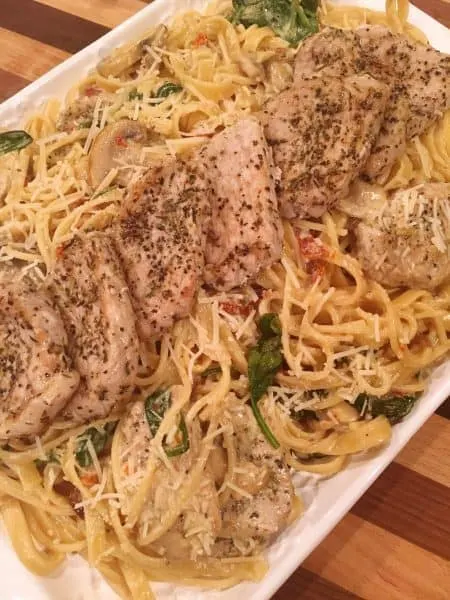 The Pork is tender and juicy. The pasta cooked to perfection, smothered in that amazing Garlic Spinach Cream Sauce.
It's the Mother Load of Flavor on one dynamic plate!
I promise this dish will not disappoint and have you going back for seconds and thirds!
If you liked this recipe, you might also enjoy these other Pasta Recipes
Remember to follow me on Pinterest, Instagram, Twitter, and Facebook. If you haven't joined my "Best Of Your Nest" Group Page on Facebook Please do! It's my favorite new place to hang out. My foodie friends and I share our latest and greatest recipe and craft ideas. It's a fun place to be!
Happy Nesting!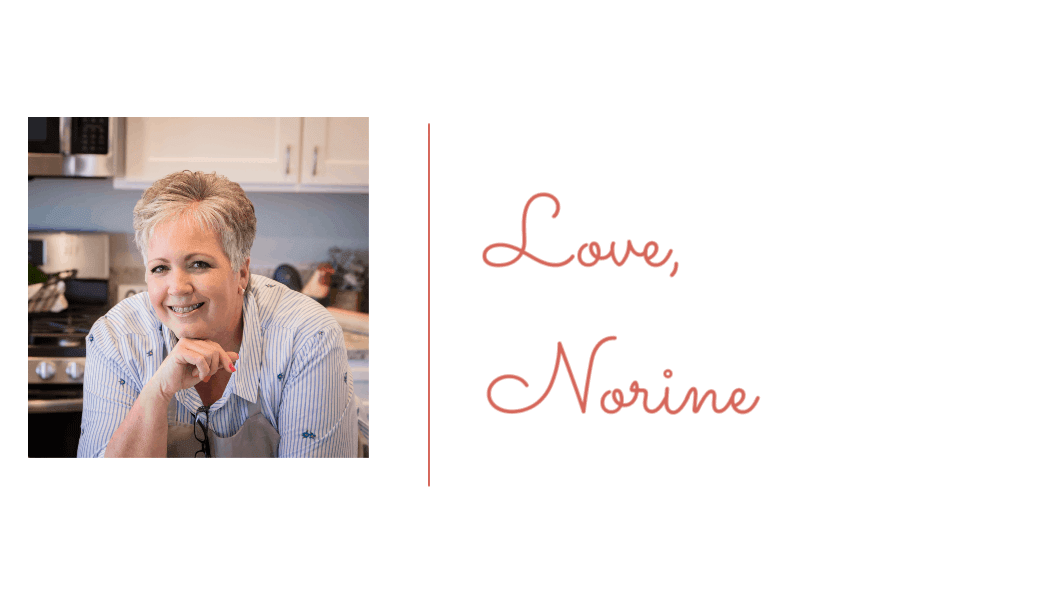 Yield: 6 servings
Pork Tenderloin Medallions With Creamy Garlic Spinach Sauce & Pasta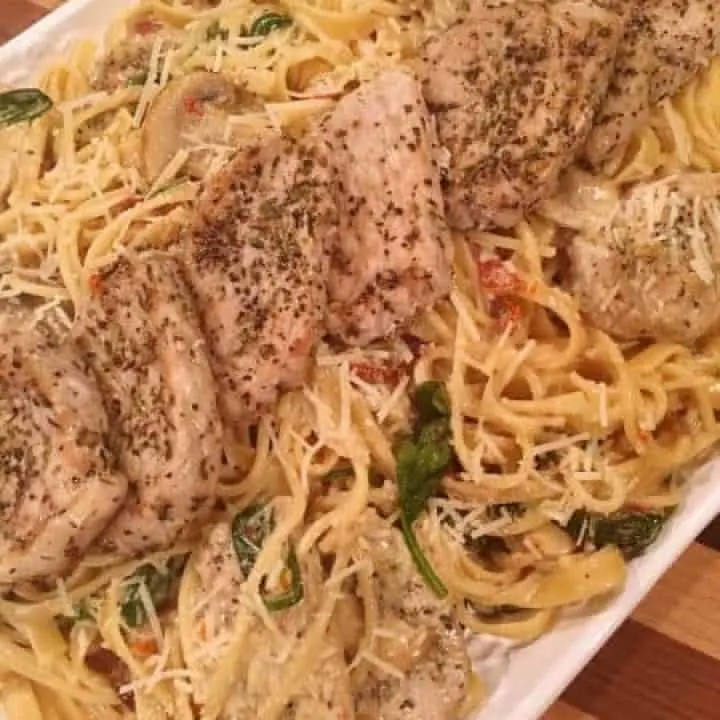 A Rich Creamy Deeply Flavored Garlic Spinach Sauce with Fettuccine and Juicy Pork Tenderloin Medallions. It's the perfect dinner dish for the Pasta Lovers in your family.
Ingredients
1.8 - 2.0 lb pork tenderloin fillet
Garlic Salt, Pepper, and Italian Seasonings to taste
2 Tablespoons Olive Oil
2 teaspoons minced garlic
1/2 cup sliced onions
3 Tablespoons Sun Dried Tomato's with oil
2 cups sliced mushrooms
1 cup white cooking wine
1 cup heavy whipping cream
1/3 cup Grated Parmesan Cheese
1 cup Fresh Baby Spinach (or a good handful)
Additional Grated Parmesan Cheese for Garnish
4 - 5 cups cooked, al dente, Fetuccine or Pasta of your choice
Instructions
With a Sharp Knife, Slice Pork Tenderloin into Medallions 1/4 inch thick.
Season both sides of each Pork Tenderloin Medallion with Garlic Salt, Pepper, and Italian Seasonings.
In a large skillet, over high heat, add 2 Tablespoons Olive Oil.
When Oil is Hot, carefully place each Medallion and sear until Meat is golden brown. About 5-7 minutes. Turn Medallion over and cook the other side.
Begin preparing your al dente pasta.
Remove Medallions from Skillet, cover, and set aside. Leave remaining liquids in skillet.
Reduce the heat to medium.
Add Garlic, Onion, and Sun Dried Tomatoes. Sautee until tender.
Add 2 Cups of Mushrooms. Cook until tender.
Add 1 cup of White Cooking Wine. Cover skillet and cook over medium-low heat for 5 minutes.
Add 1 cup heavy whipping cream, 1/3 cup grated fresh Parmesan Cheese. Stir over low heat until ingredients combine to make a smooth creamy sauce.
Add one handful or one cup of fresh baby spinach, lay on top of the sauce. Lay half the cooked Pork Tenderloin Medallions on top of the baby spinach and pour in any juices that have collected on the plate. Cover Skillet with lid and cook on low for 7 minutes.
Remove lid and gently stir the steamed spinach and Pork Medallions into the creamy garlic sauce.
Add al dente, drained pasta into the spinach garlic sauce. Cover and let cook over low heat for an additional 5-7 minutes.
Remove lid, place pasta and sauce on serving platter. Add remaining Pork Tenderloin Medallions.
Garnish with additional Parmesan Cheese.
Serve Immediately.
Recommended Products
As an Amazon Associate and member of other affiliate programs, I earn from qualifying purchases.
Nutrition Information:
Yield:
6 servings
Serving Size:
1 1/2 cups
Amount Per Serving:
Calories:

1330
Total Fat:

38g
Saturated Fat:

15g
Trans Fat:

1g
Unsaturated Fat:

18g
Cholesterol:

249mg
Sodium:

358mg
Carbohydrates:

135g
Fiber:

10g
Sugar:

6g
Protein:

99g