Muffuletta Olive Pasta Salad is loaded with Orzo Pasta, Olives, tomatoes, artichoke hearts, fresh creamy mini mozzarella pearls, feta crumbles, fresh chopped basil and a sun-dried tomato vinaigrette. They come together to create one amazing flavor fest! It's quick, easy, and sure to be a summer favorite in no time!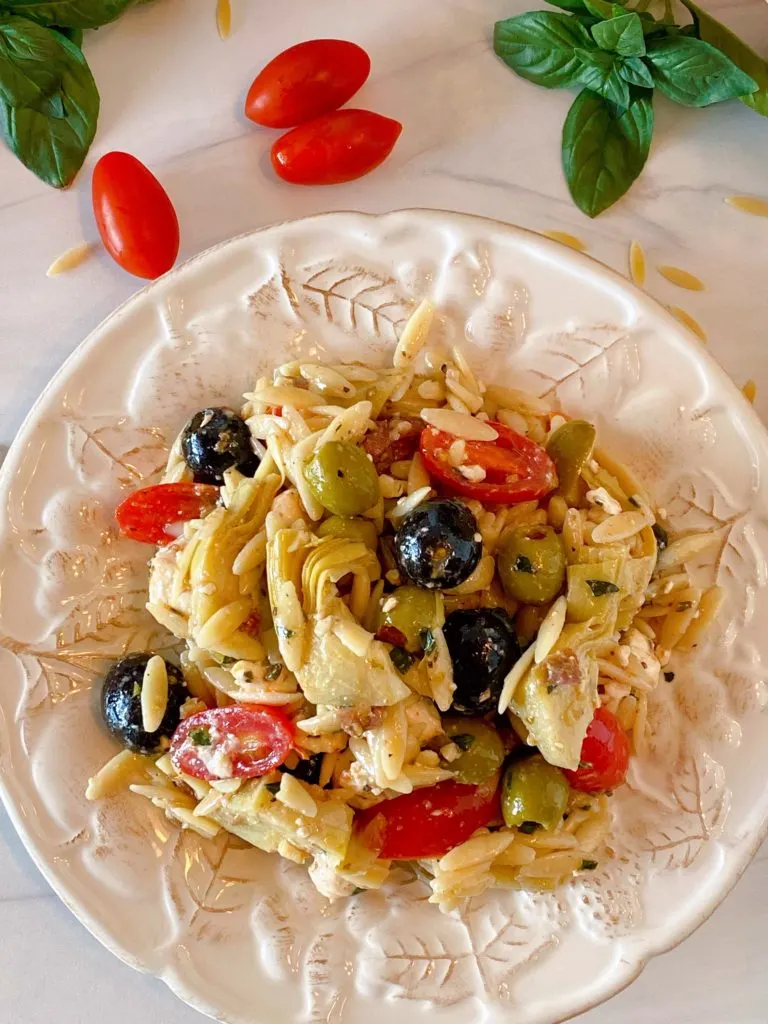 A few weeks ago I had friends over for a late spring get-together. The main course was nailed down, a salad, and dessert, but I was missing some type of "tapas" to serve at the beginning of the meal.
Tapas are small plates of food, or appetizers, generally served with wine or beer. Although the strongest drink at this Nest is Dr Pepper. They originated in Spain. They can be served cold, or hot, and generally consist of olives and cheese.
So you can understand why I would want a beautiful Tapas to serve to my friends before our meal!
Since the meal I was serving was "Italian", I wanted my Tapas to be immersed in the flavors of Italy! I didn't have time to run to the market. Time to go digging in the refrigerator for ingredients I could use to create a simple delicious beginning to our meal.
I immerged from the refrigerator with a special jar of marinated Greek olives, I had purchased at Costco, marinated artichoke hearts, mini mozzarella pearls, and fresh basil. It wasn't much…but it was a great start.
I quickly combined all the ingredients, added some freshly ground black pepper… and a heavy drizzle of my favorite Sun Dried Tomato Vinaigrette, tossed it, and added a sprig of fresh rosemary. Ta-Da! Country Girl Tapas!
IT. WAS. AMAZING!!!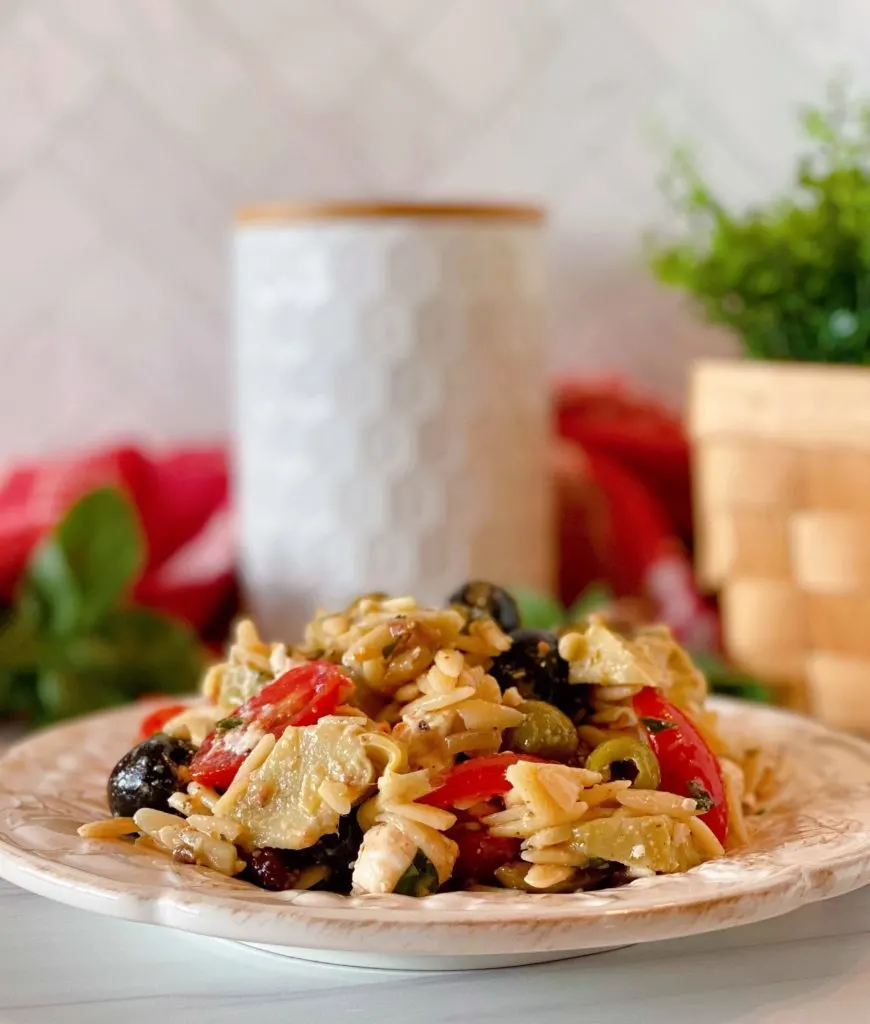 My friends loved it! They loved it so much, they continued eating it with the main course. On a Caesar Salad it's Epic! We couldn't get enough of that little last minute Tapas! (This is why they're my friends!)
Fast-forward to the 4th of July! I had been brewing on that Tapas…and knew I could transform it into a wonderful Summertime pasta salad!
One problem… I couldn't find the Greek Olives at Costco, but I did find a beautiful jar of Solestado prepared Olive Muffuletta. Needless to say, my Pasta Salad dreams came to life thanks to that jar of Muffuletta! You'll love this salad…as much as we do…and we REALLY love this new salad!
How To Make Muffuletta Olive Pasta Salad
Prepare the Orzo according to the package directions, drain and cool.
I used 1-1/2 cups of Orzo cooked in 6 cups of boiling water with 1/4 teaspoon salt. Boiled for 10–13 minutes until the Orzo is just slightly past "al dente". Remember the pasta will absorb the vinaigrette.
In a large bowl add 1 (6 ounce) can of drained, large, black olives… and 1 (7 ounce jar) of Manzanilla Green Olives, drained.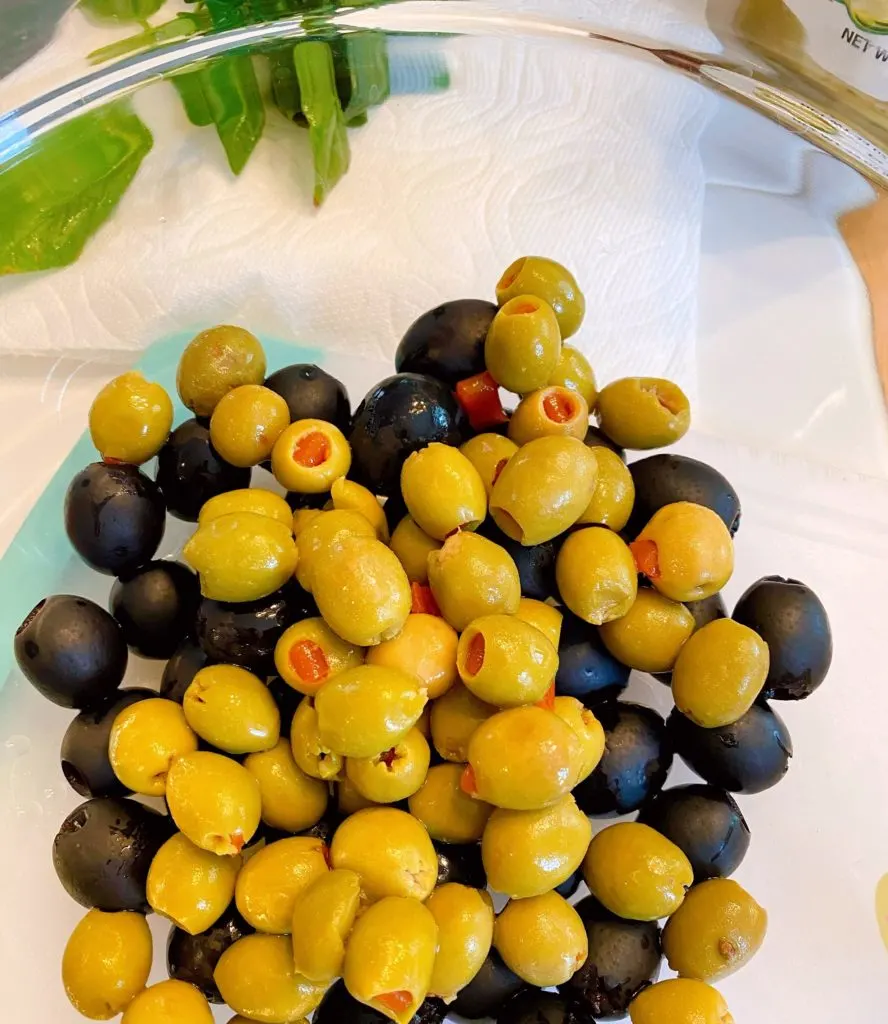 Add 15-20 grape tomatoes, sliced in half lengthwise.
Already the colors are stunning! It's so important to remember when cooking, that we eat with our eyes first! Which means colorful salads are always a wonderful visual treat! (No more hungry eyes! Yippee!!!)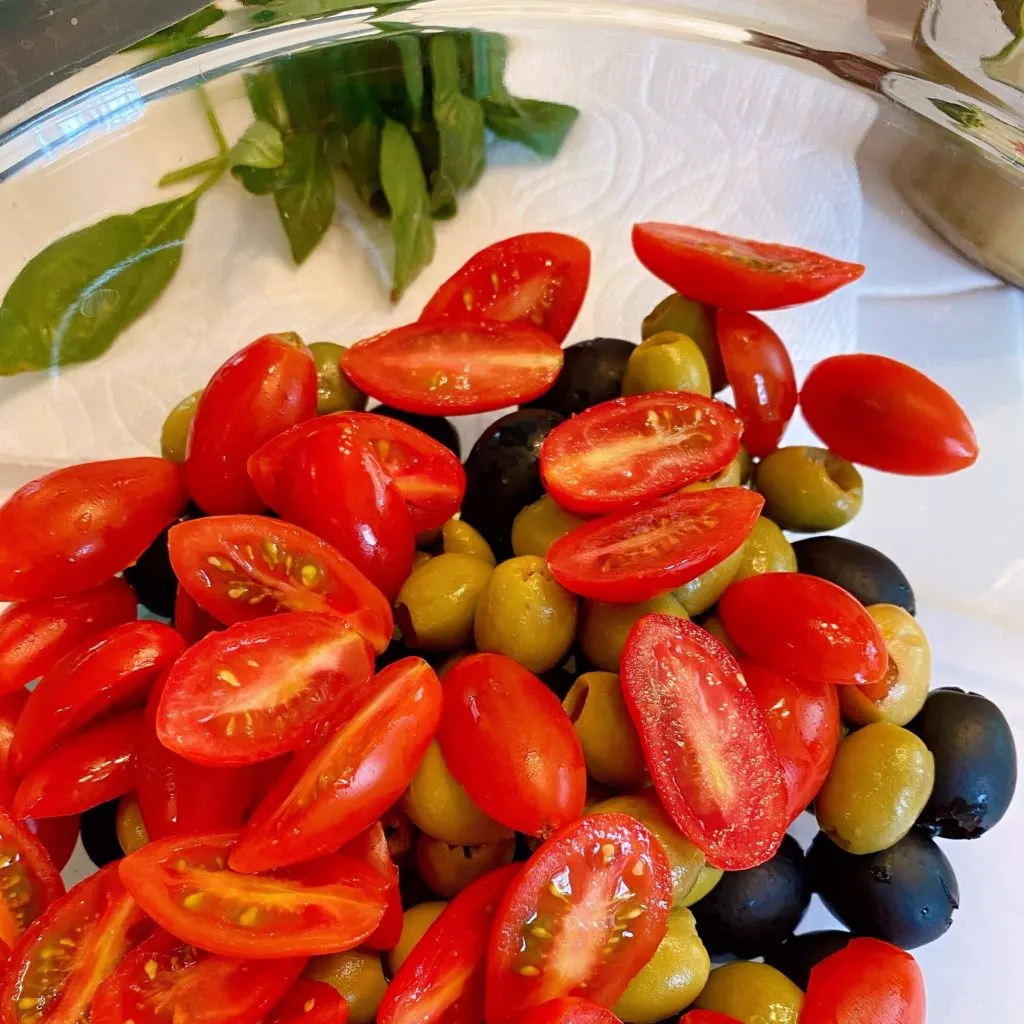 Next up… the marinated artichoke hearts. Drain them and then cut them into smaller slices. Bite size pieces are always good in a salad. Each bite should hold as many flavors and textures as possible.
I cut them up smaller than they come in the jar, and remove any outer leaves that may be tough! Have you ever had the misfortune of eating a marinated artichoke heart that has tough, sharp, outer leaves? It's awful! (Like watching a cat hack up a fur ball! Only it's your dinner guests on an artichoke leaf. Not pretty my friends!)
I slice every artichoke heart in half, lengthwise. The larger hearts may even get three to four cuts, if necessary. The goal is to have hints of the artichokes without having them overpower any single bite.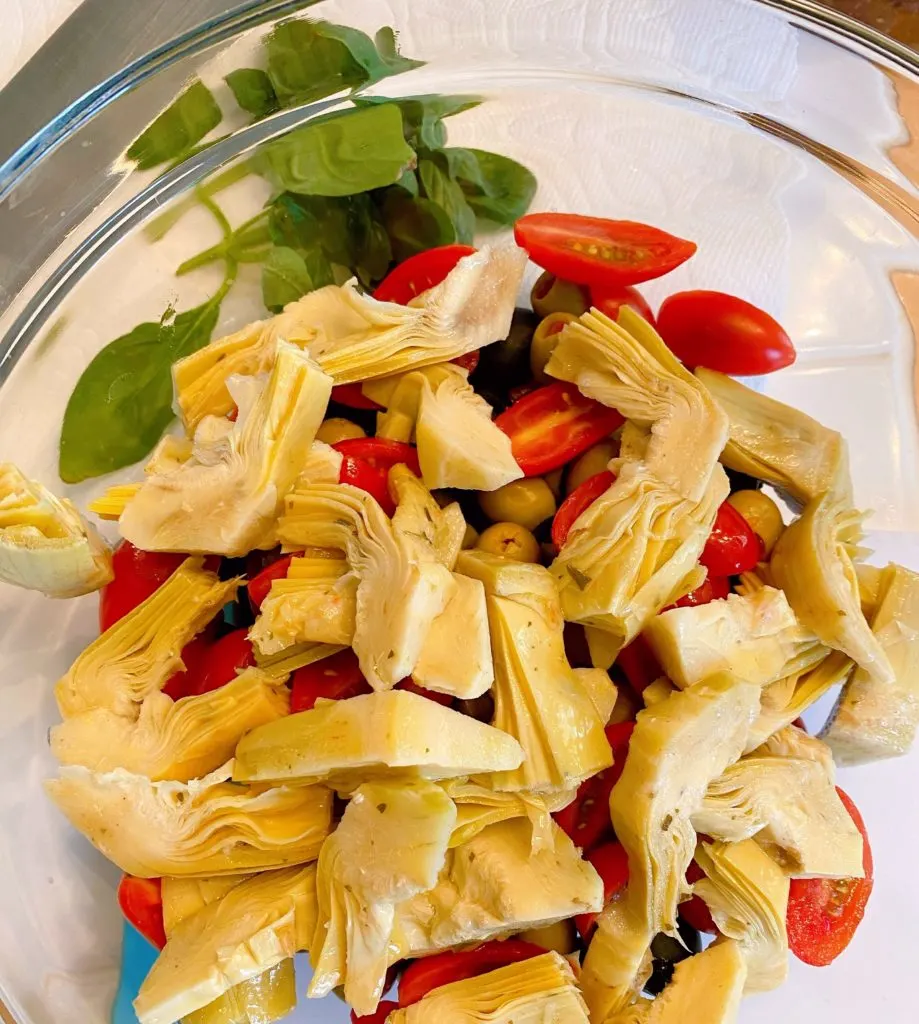 Add 1 (8 ounce) package of fresh mini mozzarella pearls. Let's pause for a minute! Do NOT make this salad without these little gems! The creamy goodness of these little balls of cheese is heavenly!
TIP: Break the individual Mozzarella Pears apart as you add them to the salad! It's a great way to make sure those little balls of happiness are spread throughout the salad.
My favorite step is next. I love the smell of fresh basil. The minute I start chopping it, I feel like a "real" chef! (It might be the muppet chef…but I'm still feeling it!) Add the 2 Tablespoons chopped fresh basil! (Feel free to excessively sniff at this point, inhaling all that fresh basil smell!)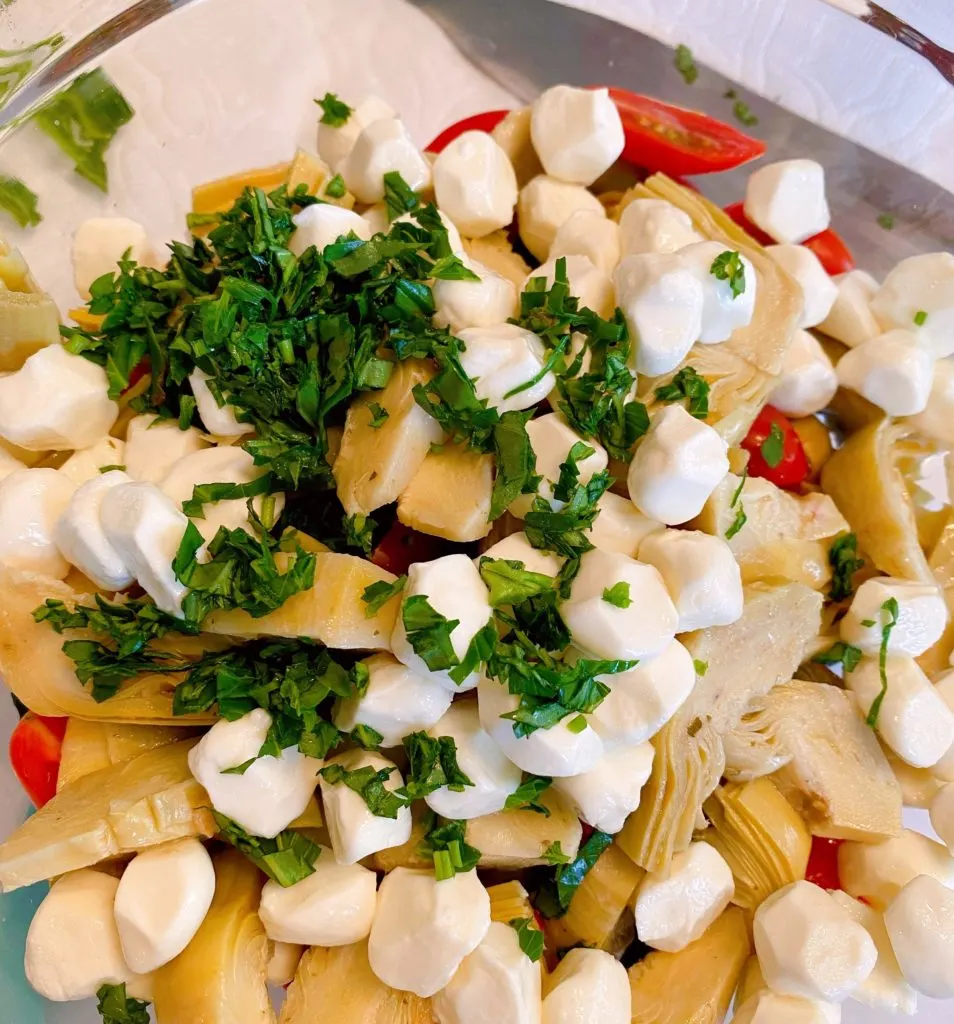 The Muffuletta is standing by, ready to shine in this salad!
Before adding the Olive muffuletta, add 1/4 cup Feta Cheese Crumbles. Then add 1/4 – 1/2 cup of Muffuletta.
Why am I not precise on my measurements with the Muffuletta? Because Muffuletta has HEAT! It can have LOTS of heat! Only you can decide the level of heat you prefer. I went with just a little over 1/4 of a cup! (Can you see the explosion of peppers in that Muffuletta below! WOWZA! )
Muffuletta is made from a variation of olives, cauliflower, carrots, pepperoncini's, garlic, and more. It's a concoction of flavor delight! You can make it from scratch…but I prefer to go the easy route when making my Summer salads! No one wants to spend lots of time in the kitchen in the summer. I get that!
This is a great time to add a few cranks of your pepper mill! Again it's a preference thing! You add as much as you like. I wouldn't add any other seasonings. With all the marinated ingredients in this salad…you have loads of flavor. What's remarkable is how well it all blends together!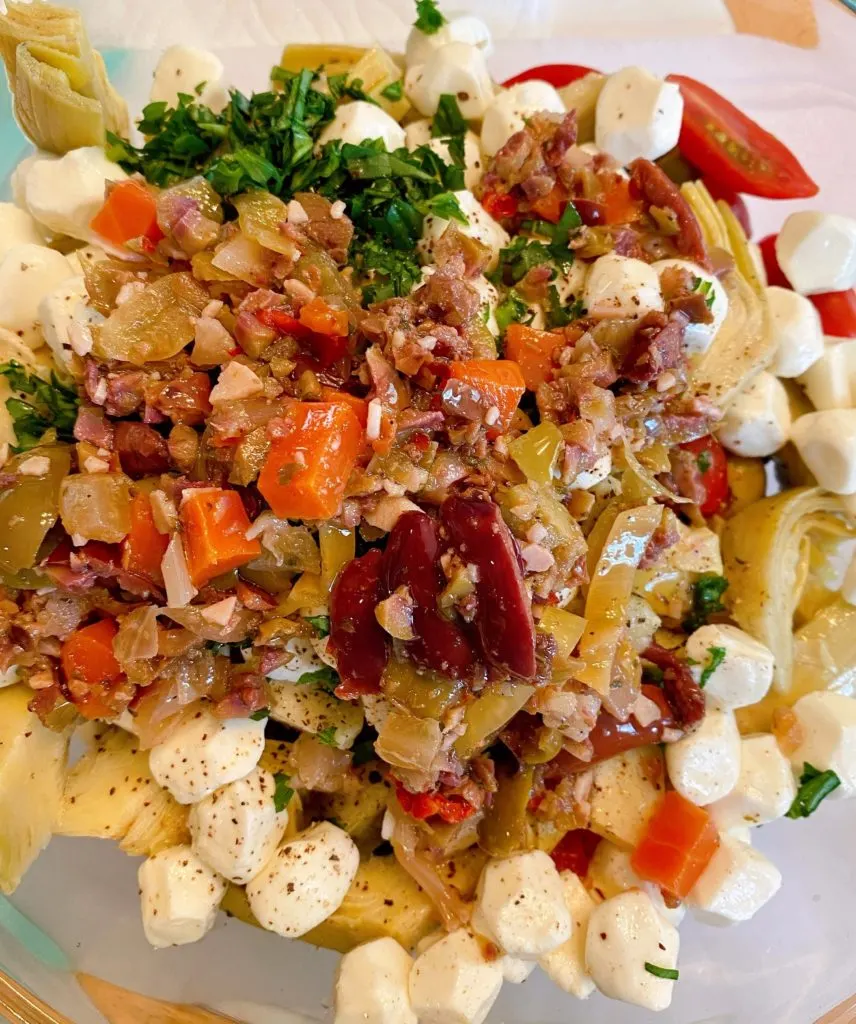 Adding Orzo and Dressing to Salad
Honesty time! As a cook, I had never worked with Orzo before making this salad. I purchased a package at Kroger and decided it would be perfect in this salad. It's small enough to take its proper place, but not over power all the other ingredients. Most Pasta salad recipes, the pasta is center stage as the main character! It's all about the Pasta! That is not what this salad is about!
Orzo is a great supporting cast member in this ensemble. It allows all the other ingredients to shine equally! Every bite is perfection.
Drizzle 1/2 cup of Kraft Sun Dried Tomato Vinaigrette over the top of the entire salad. If you need, or want more, feel free to add more. There are no rules.
Using a wooden spoon gently toss the salad from the bottom to the top until all the ingredients are well combined.
Cover and chill the Salad at least 2 hours, or overnight. This salad gets better with each passing hour! It will hold up to 5 days in your refrigerator. Hooray!!!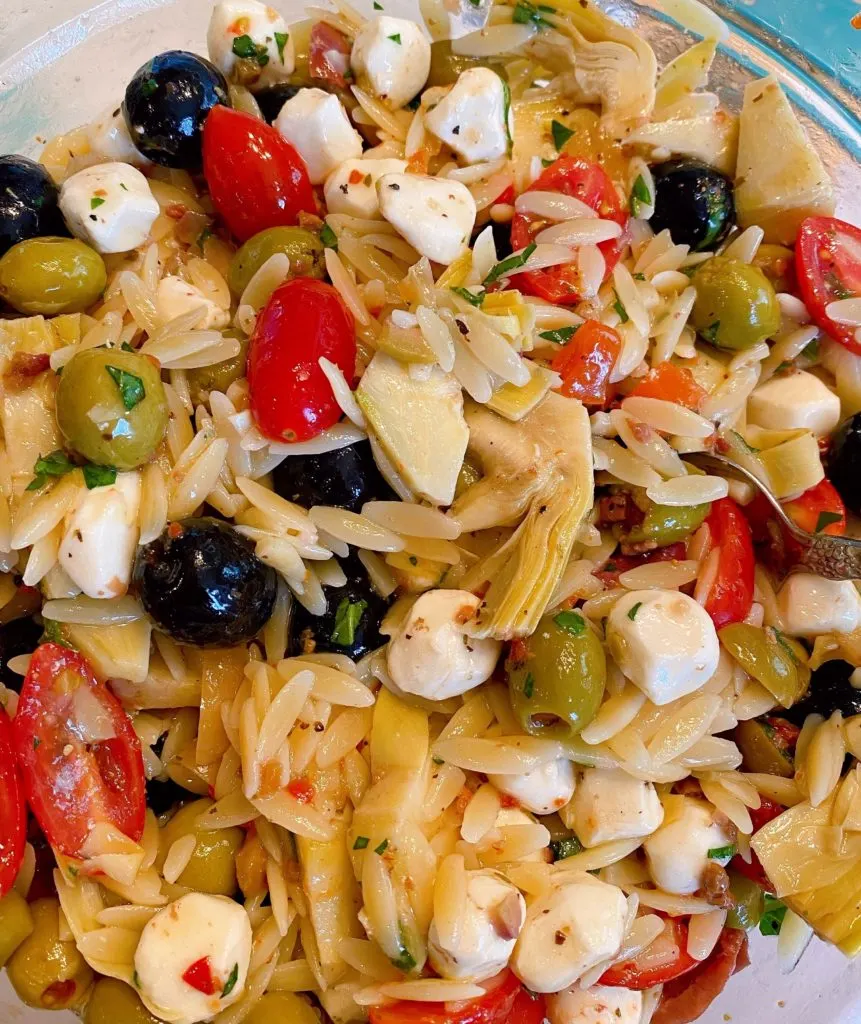 How To Serve Muffuletta Olive Salad
Like any great Pasta Salad, this Muffuletta Salad is a fantastic side dish. It's also a great main course! It's excellent for Lunch, but it is also a wonderful companion to grilled chicken, tri-tip, grilled pork chops, ribs, and more.
It would also be a great Tapas on a Charcuterie board. So many great options for this incredibly delicious salad. I hope you'll give it a try and let me know what you think!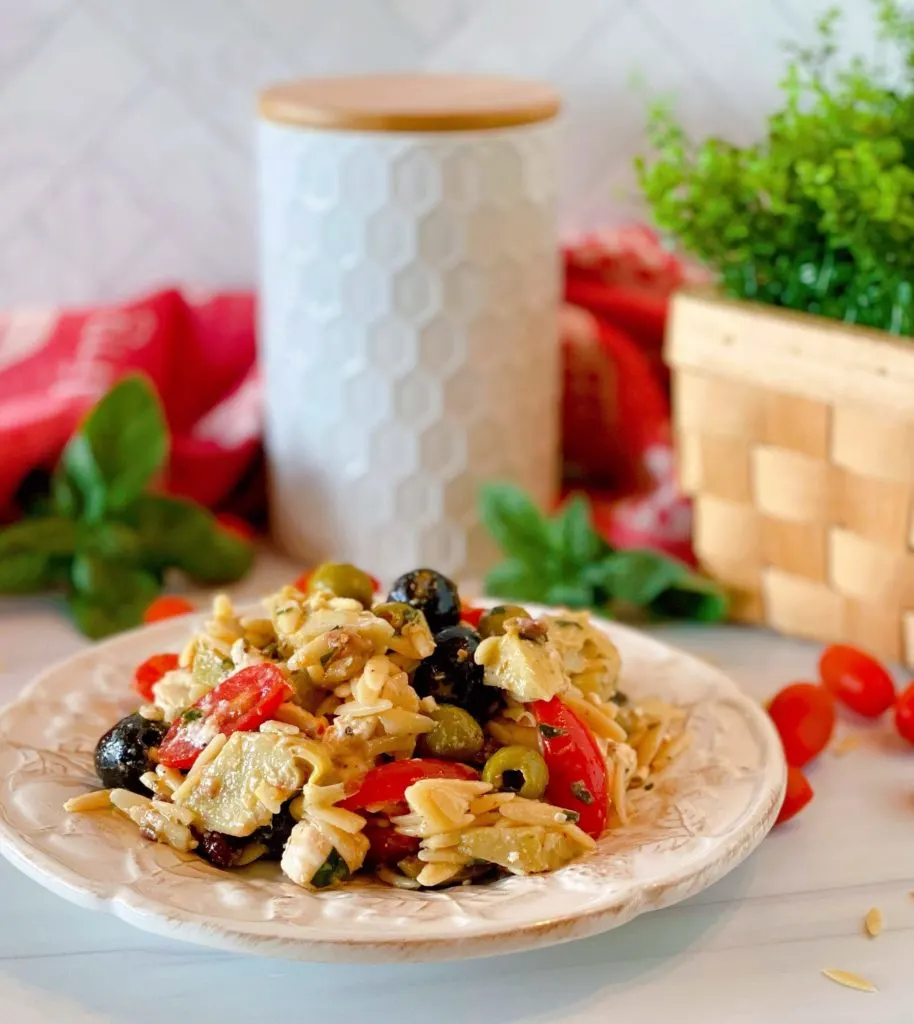 Other Amazing Pasta Salad Recipes
As always…thanks for stopping by! I hope you'll follow me on Pinterest, Facebook, and Instagram where I share my favorite recipes every day!
Happy Nesting!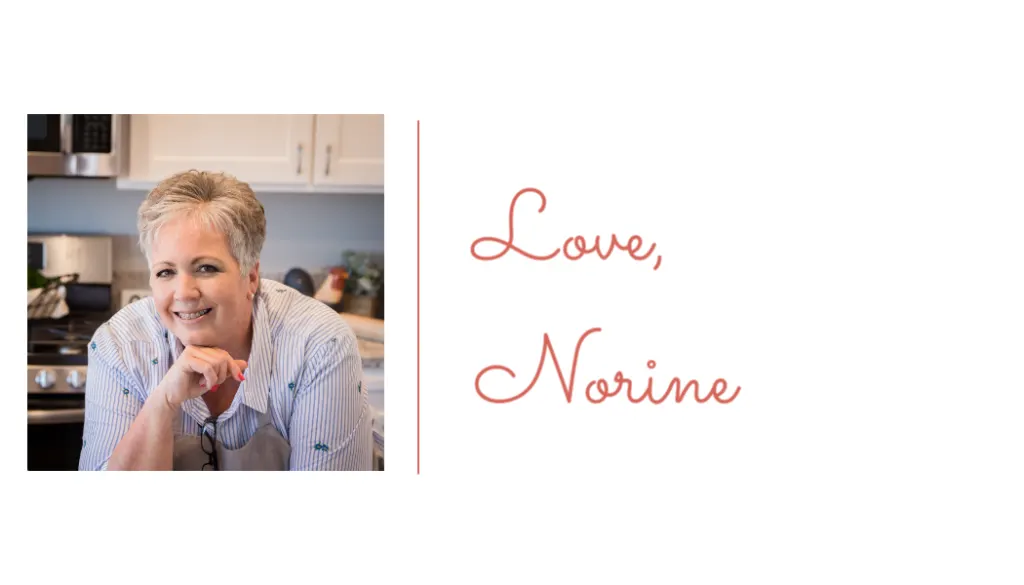 Yield: 12 servings
Muffuletta Olive Pasta Salad Recipe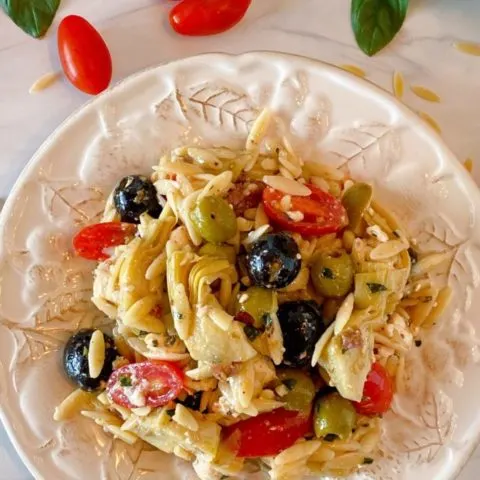 Muffuletta Olive Pasta Salad is loaded with Orzo Pasta, Olives, tomatoes, artichoke hearts, fresh creamy mini mozzarella pearls, feta crumbles, fresh chopped basil and a sun-dried tomato vinaigrette. They come together to create one amazing flavor fest! It's quick, easy, and sure to be a summer favorite in no time!
Total Time
2 hours
28 minutes
Ingredients
1-1/2 cups Orzo Pasta, uncooked
6 cups water, for pasta
1/4 teaspoon salt, to boil with pasta
1 (6 ounce) can large black olives, drained
1 (7 ounce) jar Manzanilla green olives, drained
15-20 grape tomatoes, sliced in half lengthwise
1 (12 ounce) jar marinated artichoke hearts, sliced in half
1 (8 ounce) package fresh mozzarella pearls
1/4 cup Feta cheese crumbles
1/4 - 1/2 cup prepared Muffuletta Olives
2 Tablespoons fresh basil, chopped
1/2 cup Kraft Sun Dried Tomato Vinaigrette
Coarse black pepper to taste
Instructions
In a large pot add 1/4 teaspoon salt and 6 cups of water, bring to a boil over medium-high heat. Slowly add Orzo, stirring while adding. Boil 10-13 minutes, just past the "al dente" stage, stirring occasionally. Drain. Set aside until cool.
In a large bowl add black olives, manzanilla olives, sliced tomatoes, artichokes hearts, mozzarella pears, feta, Muffuletta, and chopped basil. Add coarse black pepper to taste. Add cooled cooked Orzo and drizzle salad with sun dried tomato vinaigrette dressing.
Stir until well combined. Cover and chill 2 hours, or over night. Store in air tight container up to 5 days. Serve salad cold.
Recommended Products
As an Amazon Associate and member of other affiliate programs, I earn from qualifying purchases.
Nutrition Information:
Yield:
12 servings
Serving Size:
1/2 cup
Amount Per Serving:
Calories:

227
Total Fat:

6g
Saturated Fat:

1g
Trans Fat:

0g
Unsaturated Fat:

4g
Cholesterol:

5mg
Sodium:

160mg
Carbohydrates:

36g
Fiber:

2g
Sugar:

2g
Protein:

7g