Pasta Shells, salami, pepperoni, olives, bell peppers and cheese all combine in an amazing dressing to create this amazing Antipasto Pasta Salad!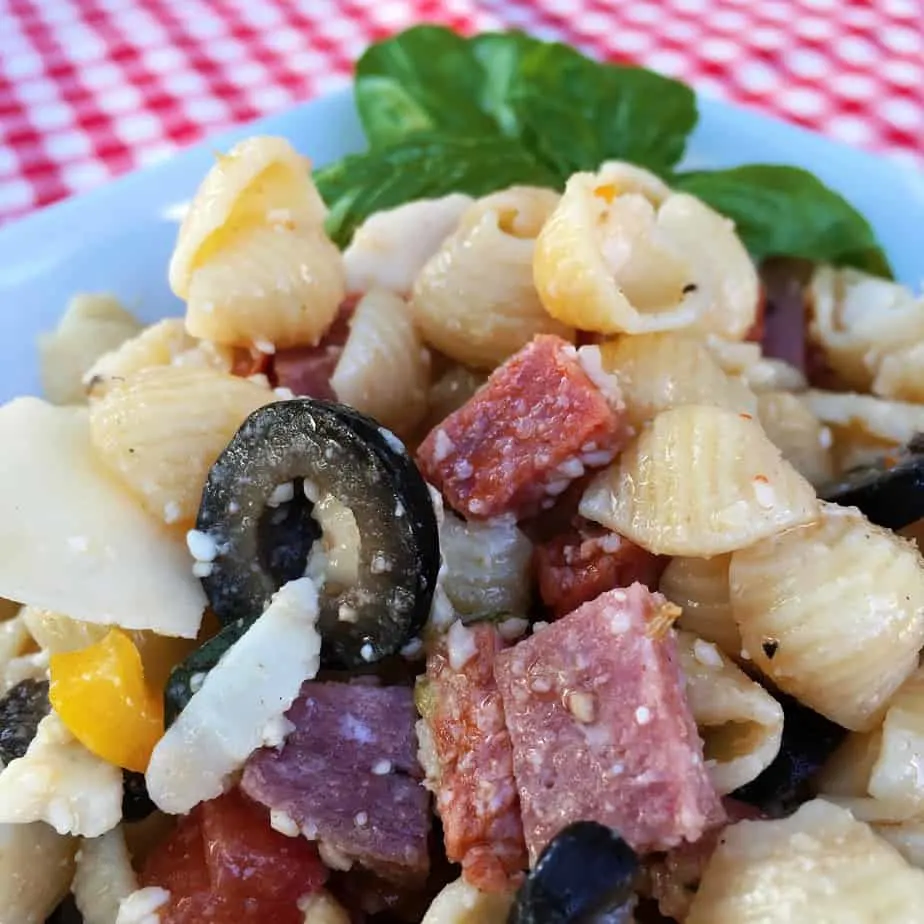 This past weekend we had a family reunion they are always packed with amazing "eats"! Everyone brings a side dish or dessert. The host provides the main dish.
My daughter and I divided and conquered! She took the salad and I took dessert! There were so many goodies and it was all so yummy!
My daughter brought the Frito Corn Salad … She makes a mean Frito Corn Salad! It's a HUGE family favorite…so much so that my Sis-in-law brought one too! If I had brought a salad, instead of the dessert, I would have brought this Antipasto Pasta Salad.
It's just one of my very favorite pasta salads. Don't get me wrong, I love the corn salad, like…like… everyone under the age of 24 loves Pokémon Go right now… but, this one…Mama Mia! Talk about flavor!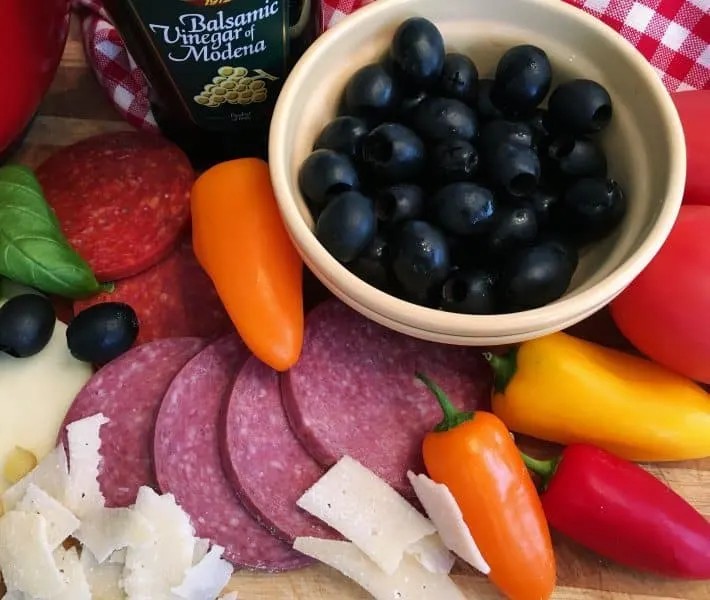 Look at all the amazing ingredients in this salad! This salad is over the top on the flavor scale! (You know the "flavor scale"…the one where you take a bite and you drool simultaneously! It's not impossible, and I may, or may not, have mastered it!)
Pepperoni, Hard Salami, Diced Mild Peppers, Slice Black Olives, Provolone Cheese, Parmesan Cheese, Fresh Basil, Pasta and my favorite dressing… Kraft Sun Dried Tomato with a splash of Balsamic Vinegar! WOW-ZAAAA! Let's do this!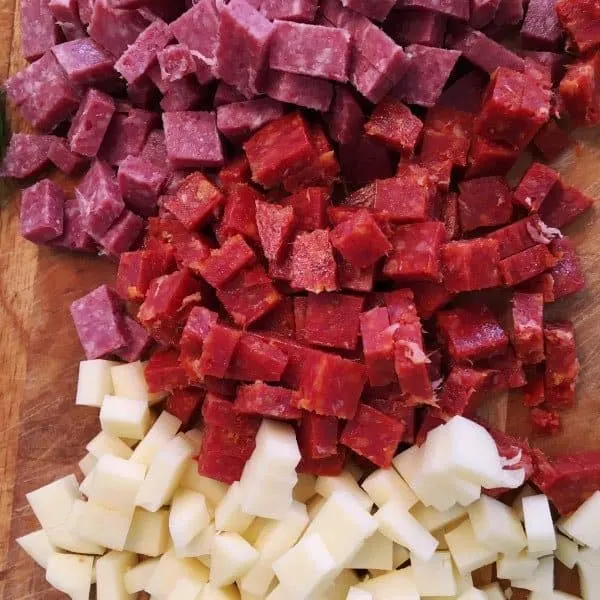 How To Make Antipasto Pasta Salad
Place a large pot, filled halfway with water, on to boil! You'll want to cook your pasta shells Al Dente (fancy word for just enough to retain a firm texture…a memo my skin did not get!) they should be semi cool and well drained.
I like the small shell pasta. It just fits, size wise, with everything else in this salad. This is a salad where you want as many ingredients to hop on that fork as possible!
Next you'll want to dice your meats and cheese. I purchase my Salami, Pepperoni, and Provolone from the deli and ask them to slice it on a 2 or 3.
This way you'll have nice chunks of meat and not flimsy little slices that stick together. Once you have it all chopped just throw it in a large bowl. This is a one bowl salad! Hooray!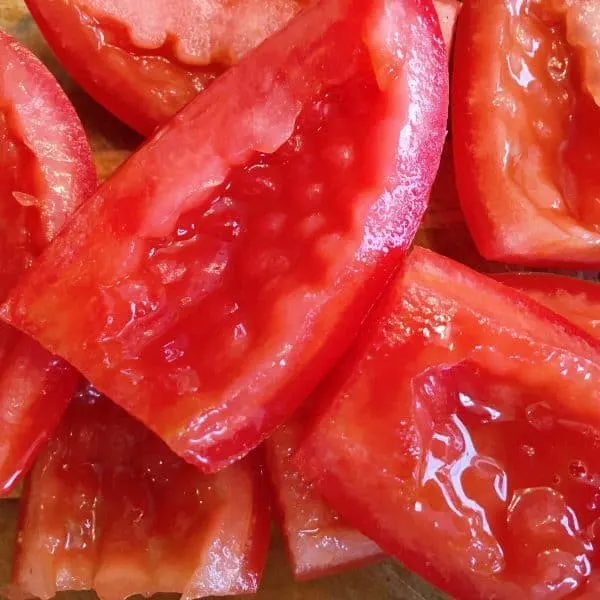 Roma tomato's work best for this salad and I seed them. The flavor and ease of using Roma Tomatoes can't be beat. I love how easy they are to seed so that you don't end up with a water tomato seed salad! (Not a huge fan of tomato water!)
After you have your tomatoes all seeded you can dice them into small cubes. Dice your mild peppers making sure to remove the seeds. Dump that in your bowl. (Dump? There's a delicate cooking term!) Now add your can of sliced olives, chopped basil, and fresh Parmesan Cheese.
Your bowl should be looking pretty colorful by now! Time to add in your drained pasta, salad dressing, and balsamic vinegar. Mix it all together and chill for several hours!
When ready to serve you may want to add a little more dressing. The Al Dente Pasta will soak up a lot of that dressing, so don't be afraid to give it another hit right before serving.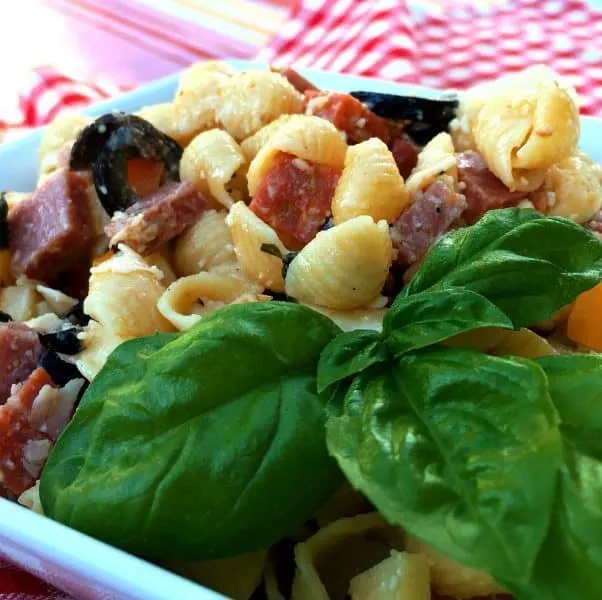 Such a beautiful salad! I really love taking this salad to pot lucks or family picnics. It makes a big bowl full! It's great at a BBQ. It's perfect to keep in the refrigerator and have for lunch or a "midnight snack"! It's just so nummy! (Can you tell I'm a tad obsessed with this salad!)
If you really want to make this salad even more show stopping, and money isn't an object, add in a 1/2 cup of diced Asiago Cheese! Holly Molly! (I may be licking my lips right now?)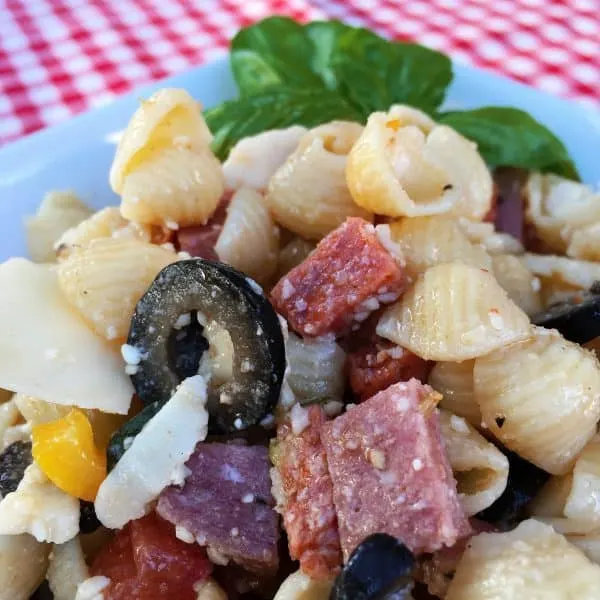 It really is a meal! It's packed with meat, cheese, veggies, pasta and then that amazing dressing! So good! If you love Antipasto Salads you need to give this one a try! The printable is right below, so you can add it to your collection.
If you love this Pasta Salad you might enjoy these other Amazing Recipes!
Thanks for stopping by…we are going to have a FANTASTIC week here at the Nest! Be sure to check back to for more amazing ideas to make your Nest Happy and Delicious!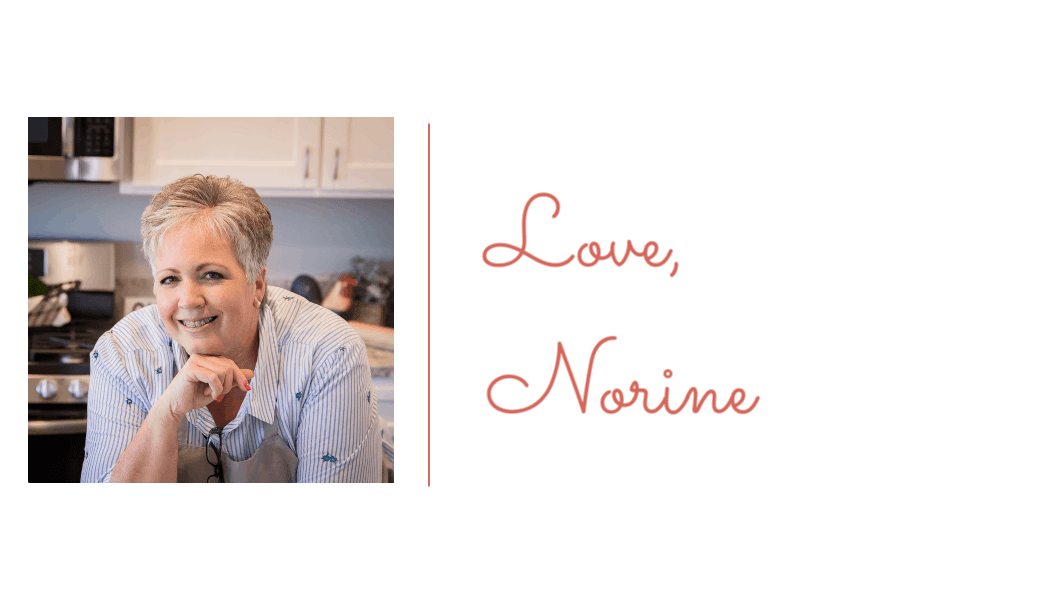 Yield: 10 servings
Antipasto Pasta Salad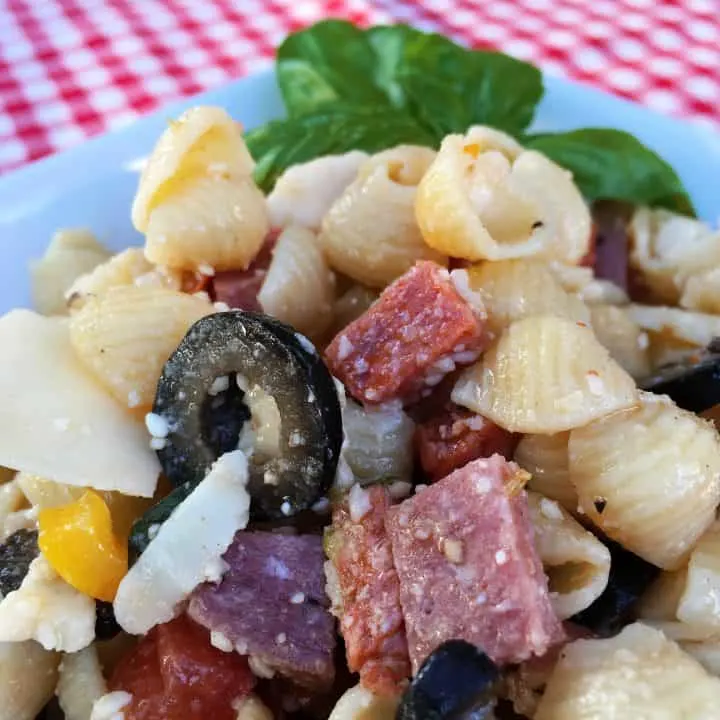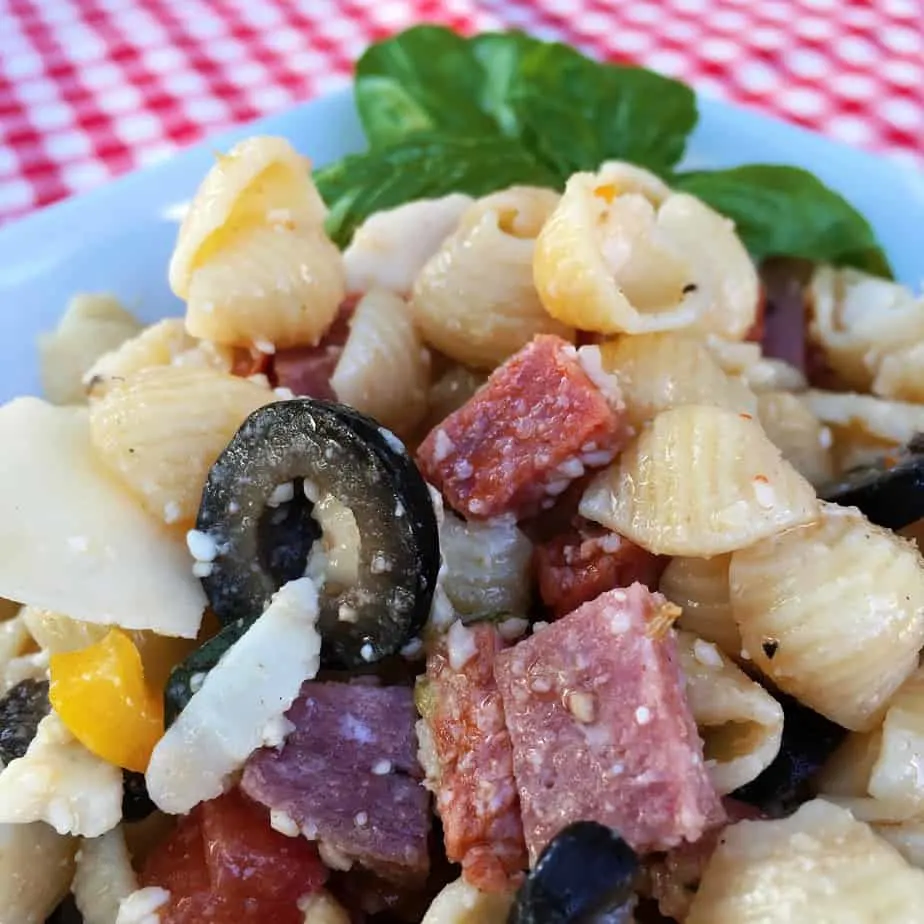 An Outstanding Antipasto Pasta Salad! All the wonderful rich flavors of regular Antipasto, pasta, meats, cheese and homemade dressing in one great summer time pasta salad! Great for feeding a crowd!
Ingredients
1 bag small pasta shells
1 cup diced hard salami
1 cup diced pepperoni
1 cup diced Provolone Cheese
1 cup shredded or grated Parmesan Cheese
1/2 cup diced Asiago cheese (optional)
3/4 cup sliced black olives
3/4 cup diced Roma Tomatoes
3/4 cup diced mild yellow, red or orange peppers
1 tablespoon diced fresh basil (optional)
1 1/2 cups Kraft Sun Dried Tomato dressing (can substitute any Italian dressing)
1 Tablespoon Balsamic Vinegar
Salt and Pepper to taste
Instructions
Fill a large pot half way full with water and bring to boil. Add small pasta shells. Cook Pasta till Al Dente. Drain, rinse, and cool.
In a large bowl add your diced meats, cheeses, olives, tomatoes, peppers, basil and cooled pasta.
In a glass liquid measuring cup add the Balsamic Vinegar to the Sun Dried Tomato dressing. Pour over all the salad ingredients. Mix till well blended and everything is coated. Add salt and pepper to taste. Cover and Chill for at least 3 hours.
You may need to add additional dressing right before serving as the Al Dente Pasta will soak up a lot of the dressing while chilling.
Nutrition Information:
Yield:
10
Serving Size:
1 cup
Amount Per Serving:
Calories:

396
Total Fat:

33g
Saturated Fat:

11g
Trans Fat:

0g
Unsaturated Fat:

20g
Cholesterol:

58mg
Sodium:

1186mg
Carbohydrates:

9g
Fiber:

1g
Sugar:

2g
Protein:

16g