Rich creamy Spinach Artichoke Dip is the perfect dip for your Holiday Parties! Served warm on crackers it's a tasty treat everyone will love!
I can't believe tomorrow is New Years Eve!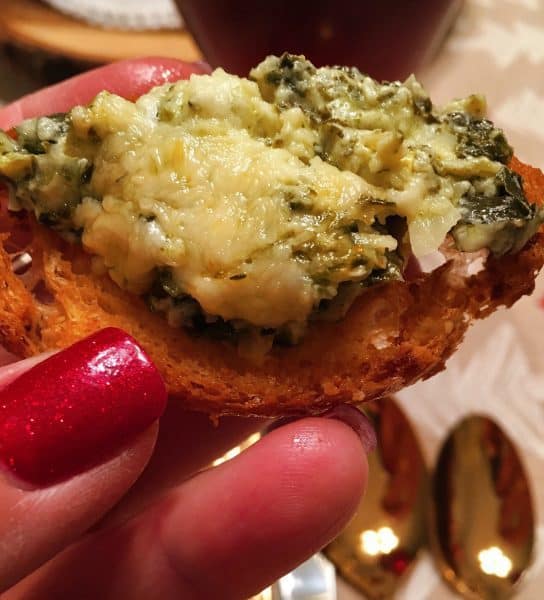 Hot Spinach Artichoke Dip will be the star of the evening! No doubt about it!
I know that we've all had this dip before so what is the big deal right? Well, what really kicks it up a notch is the delectable little slices of Crostini garlic toast!
If anything could make time stand still…this would be it! Mars and I could not get enough of this on Christmas Eve. The only downside to this dip is that eventually it's all gone! (This is when my sniffing is appropriate!)
TIP: I found my toasted garlic crostini toast at my favorite specialty market, Harmon's. Any market with their own bakery should have toasted crostini.
This recipe is super easy and can be made ahead of time. When it's party time…just pop it into the oven about 30 minutes before and it's hot and ready to serve when your guests arrive…if you haven't eaten it all before they get there!
How To Make Hot Spinach Artichoke Dip
Thaw one 10 oz. package of frozen chopped spinach. Drain well.
In a food processor, or with a sharp knife, chop one can of drained baby artichoke hearts. Add the spinach and artichokes to a medium size bowl.
Add in one cup Best Foods Mayonnaise, or Hellman's… depending what part of the country you live in. To those ingredients you will add one cup grated Parmesan Cheese. (Not the green shaker can…the real stuff!)
Lastly add 2 cups shredded Monterey Jack Cheese. Mix it all together, until well combined, and pour into a sprayed non-stick 8 x 8 casserole dish or pie plate.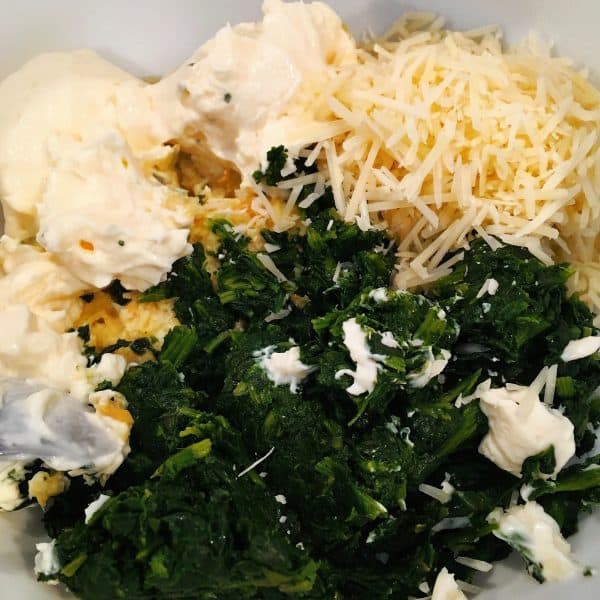 Top with remaining 1/2 cup grated Monterey Jack Cheese.
TIP: If you are preparing this in advance this is when you will want to cover it with foil or plastic wrap and refrigerate until ready to use.
If you want to serve immediately place in a preheated 350° oven for 30 minutes until dip is bubbly and the cheese has melted.
TIP: If you'd like your cheese a little brown on top you can place under the broiler for a minute. Just be sure to keep an eye on it.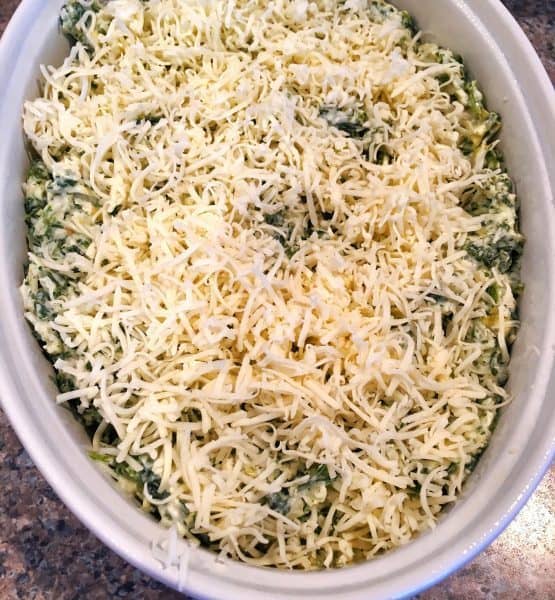 The cheese is melted and gooey. The edges are nice and golden brown.
It's ready for Party Time! All you need now are a few of those toasted garlic crostini's to serve this warm delicious dip on top of. It's also great with corn tortilla chips…just like they serve at Applebee's.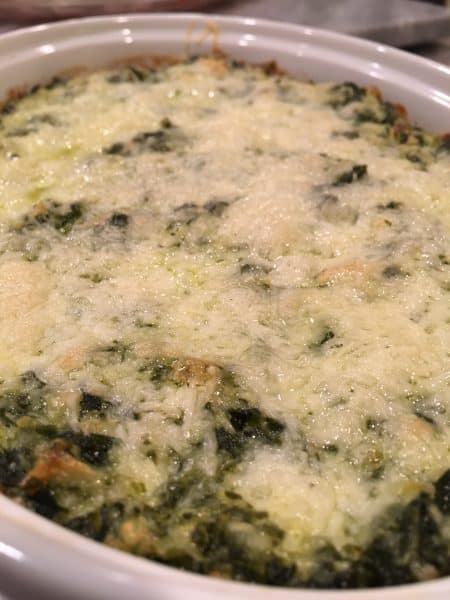 The combinations of flavors and textures is out of this world!
The crispy buttery garlic crostini is the perfect fit for this creamy cheesy flavorful dip, loaded with spinach and chopped artichokes!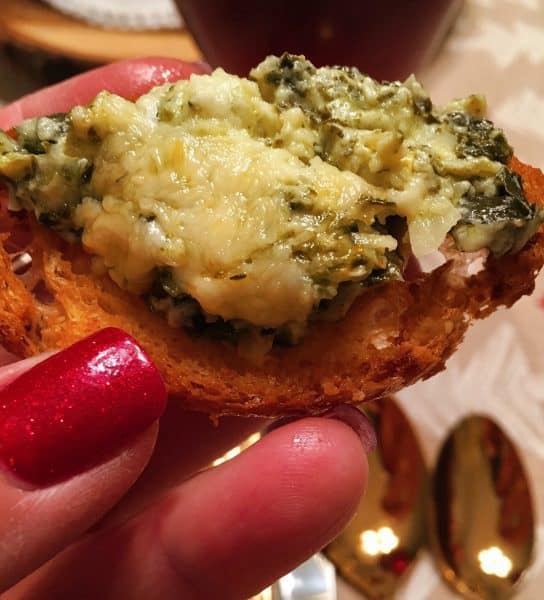 Even in my Tylenol Cold Drug induced coma this looks drool worthy! (Okay, so I might be drooling cause I'm sick and can't breathe, but it still looks delectably drool worthy!)
I simply placed the small casserole dish with the hot dip next to a basket filled with the crostini's. It was truly our favorite dip of the night! It's sure to be a hit!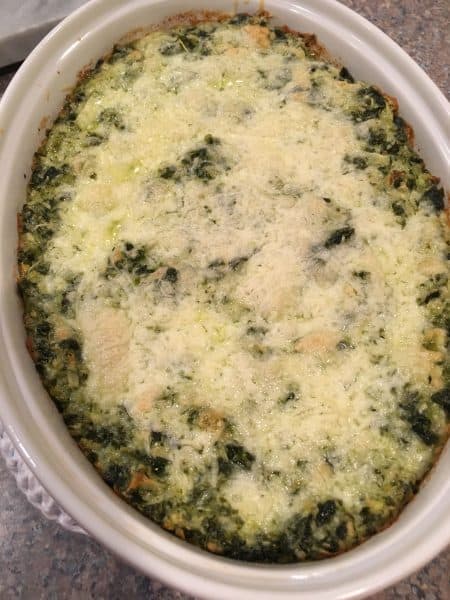 You definitely want to serve this dip hot. You can reheat it in the microwave if it should cool down, or keep it on a hot plate set to warm.
Other Favorite Holiday Appetizers
I know your guests will enjoy this dip as much as we did. It's a classic and one you just can't go wrong with. I realize it is usually served with corn chips but step it up and serve it with those toasted crostini's. You'll be so glad you did.
Thanks for stopping by. The printable, as always, is just below. Have a Wonderful Happy SAFE New Years Eve! Let's ring in 2017 in style!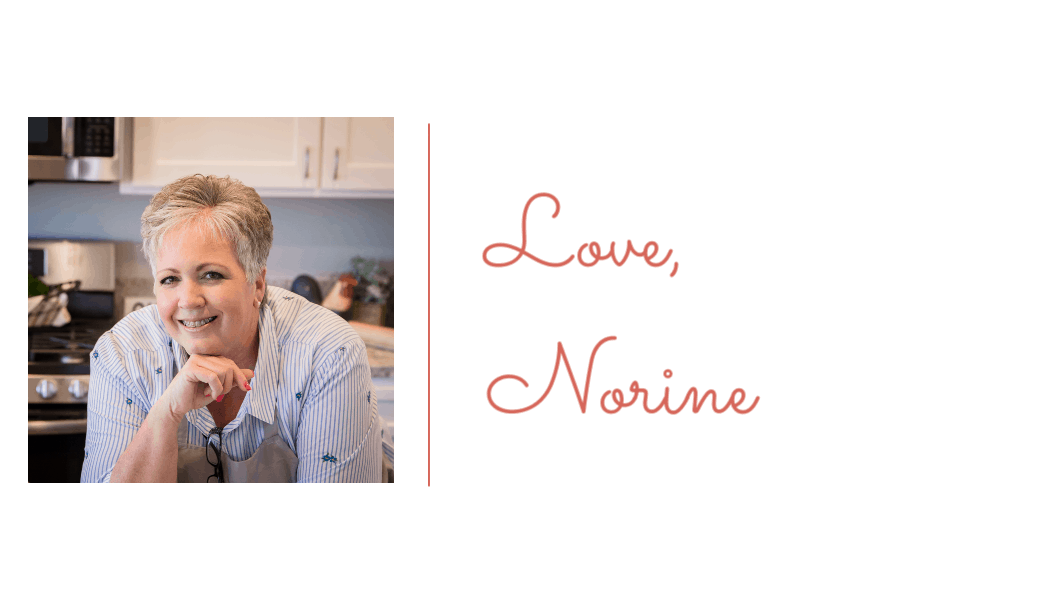 Yield: 10 servings
Spinach Artichoke Dip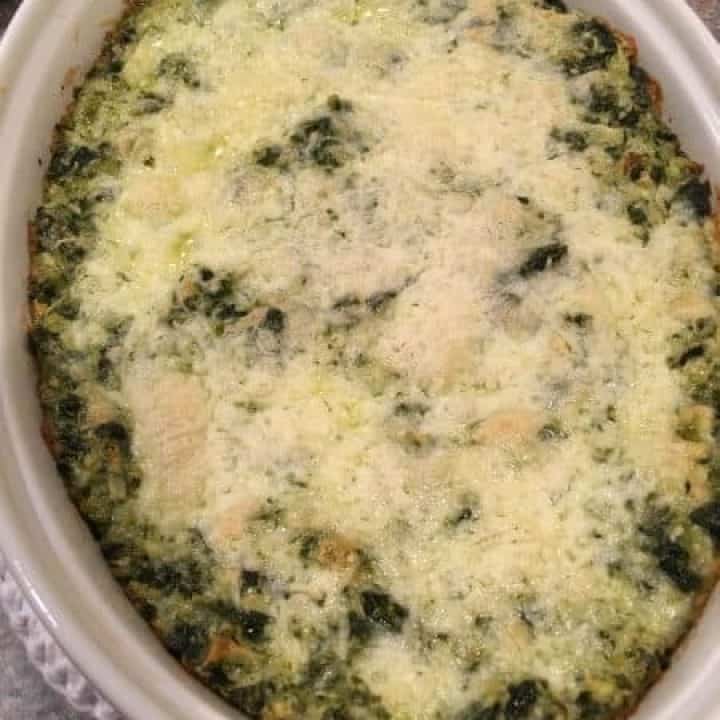 A delicious classic hot dip loaded with chopped artichokes, spinach, and loads of creamy cheese. Serve on top of garlic toasted crostini for the perfect party appetizer!
Ingredients
1 (14 ounce) can baby artichoke hearts, drained and chopped
1 (10 ounce) package frozen chopped spinach, thawed and drained
1 cup real mayonnaise
1 cup grated Parmesan cheese
2 1/2 cups shredded Monterey Jack cheese
Instructions
In a medium bowl combine all ingredients, reserving 1/2 cup of the Monterey Jack Cheese for topping.
Mix all the ingredients until well blended.
Place in a sprayed 8 x 8 glass or ceramic dish or pie plate. Top with remaining Jack Cheese.
Place in a preheated 350° oven for 30 minutes until dip is hot and bubbly and cheese is melted.
Serve warm with crostini toast or corn chips.
Recommended Products
As an Amazon Associate and member of other affiliate programs, I earn from qualifying purchases.
Nutrition Information:
Yield:
10
Serving Size:
4 Tablespoons
Amount Per Serving:
Calories:

303
Total Fat:

28g
Saturated Fat:

10g
Trans Fat:

0g
Unsaturated Fat:

17g
Cholesterol:

43mg
Sodium:

504mg
Carbohydrates:

3g
Fiber:

1g
Sugar:

0g
Protein:

11g