Before I talk about these spectacular drool worthy Tropical S'mores… made with Lindt Coconut White chocolate, Creamy Coconut Pineapple Smash Mallow's, and Crispy Buttery…slather 'em on yer thighs… Tates Coconut Crisp Cookies.
Let me explain why I've been a little M.I.A. the past two weeks.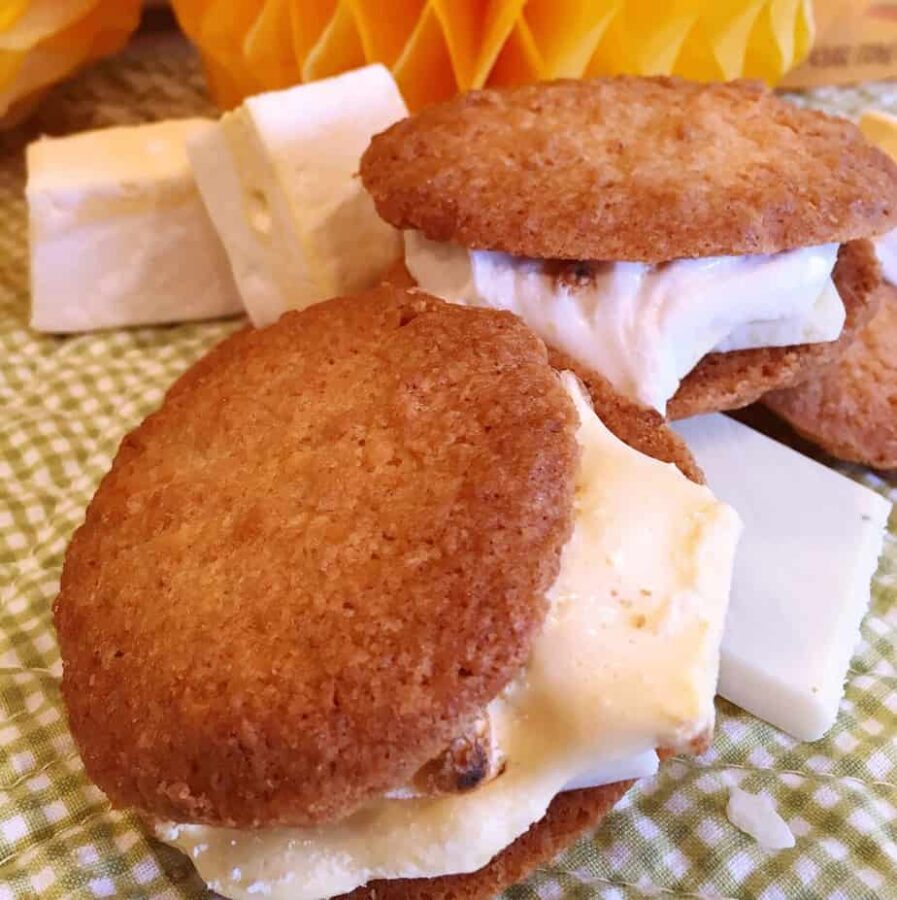 My Sister-in-law passed away after a long and valiant battle with breast cancer. We made a quick 3,000 mile road trip to Texas to support my brother and his children after their loss. Rebecca loved to cook and bake. She was very supportive of my blog and I appreciated that support.
Right about now she'd be saying…let's get on with this recipe already!
How To Make Tropical S'mores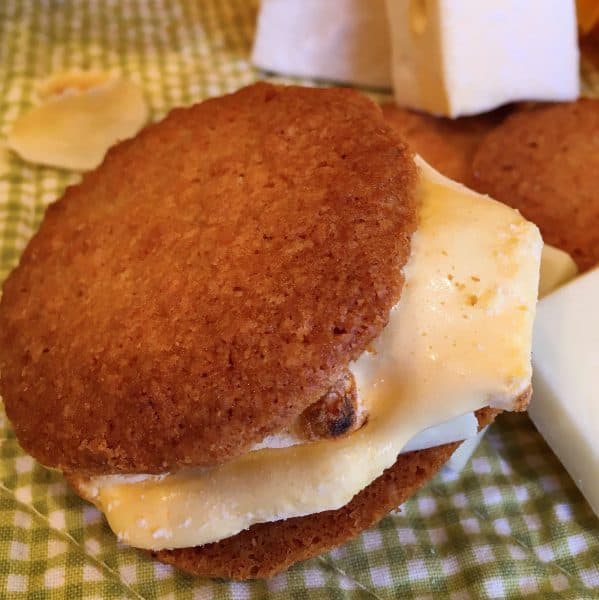 A few weeks ago I mentioned that I had been poking around in my favorite grocery store for some "inspiration" and ran across the most amazing display of marshmallows!
That's right…Marshmallows! They're called "Smash Mallow's"…or as I like to call them … "Puffy little clouds of happiness".
Instantly I knew…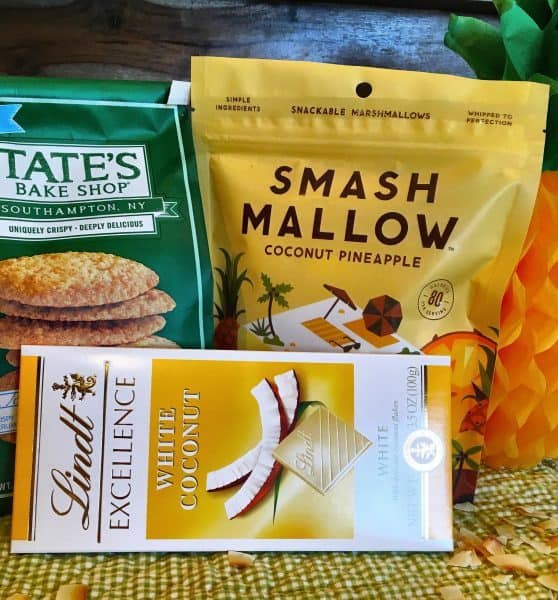 I needed a delicious Crispy Buttery Coconut Cookie. Allow me to introduce you to "Tate's Bake Shop" Coconut Crisps! (I'm pretty sure they're 100% butter!…Sing his praises!)
Next, a White Chocolate with Coconut… Enter the BEST! Creamy Dreamy Lindt White Chocolate Coconut!
Lastly… I just needed a perfectly toasted Coconut Pineapple Smash Mallow's! BAM! Tropical Vacay around the campfire…or in my case…the gas range stove top! (Hey…I didn't stink from Camp Fire!)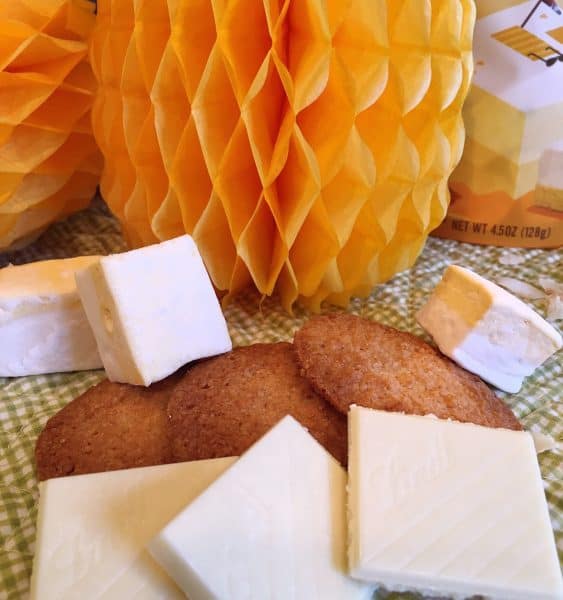 I realize this is another recipe that is so easy I shouldn't even be posting about it…but when I had my first bite of this treat…I was swooning! I'm not even a huge S'mores fan. Like a lot of people…I could take 'em or leave'em. So with swooning involved I knew I had to share them with you.
Toasting Marshmallows Inside or Outside
The first thing ya need to do is find is a good toasting stick! I used my metal Kabob Skewers. (I'm fancy like that! lol) You could use a hanger. I just find it hard to bend those plastic suckers into a straight line and then there's the melting issue. (Sorry that was too good to pass up! lol)
I made two so I placed two marshmallows on my skewer. These are nice big plump marshmallows. You'll only need one per S'more.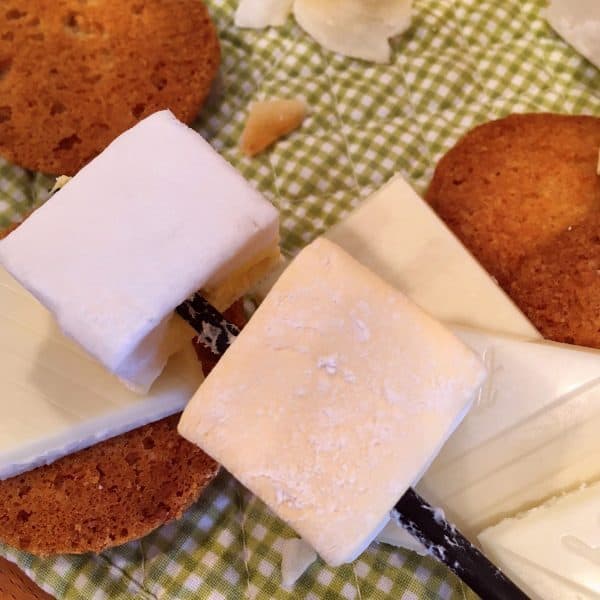 Toast the marshmallow over an open flame.
Now if you're making this recipe "in the house" I don't recommend a camp fire. If that thought skipped through your mind for one second…I want you to get up and go find the nearest living human.
Find one? Good. Now ask them to nicely lock you in a room! This may not be the recipe for you.
I have a gas range so I toasted mine over the gas range. You could…IF you're camping OUTSIDE do it over an open flame.
If you have a fire-place you can toast them over the fire. I just don't want to get any emails saying you built a camp fire in the middle of the family room!
Look at the perfect "Toast" on those Marshmallows! They smell heavenly when toasting too!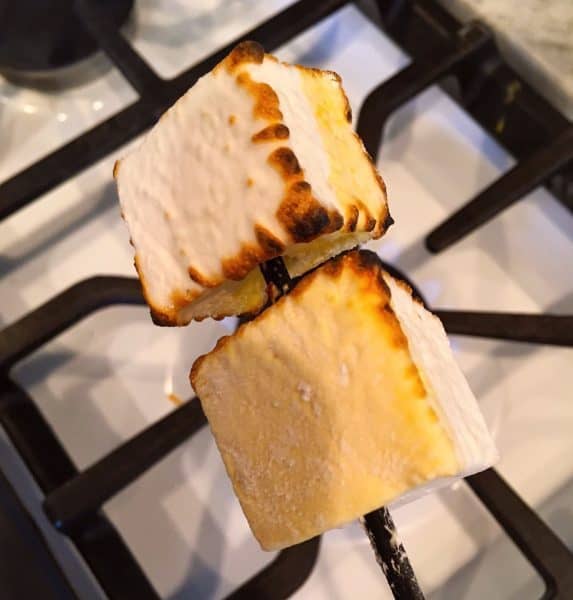 How To Assemble a S'more
Now for the fun part! Place a cookie face down and lay a square of that creamy Lindt Coconut White Chocolate down.
Slide one perfectly toasted Coconut Pineapple Marshmallow on top of the chocolate.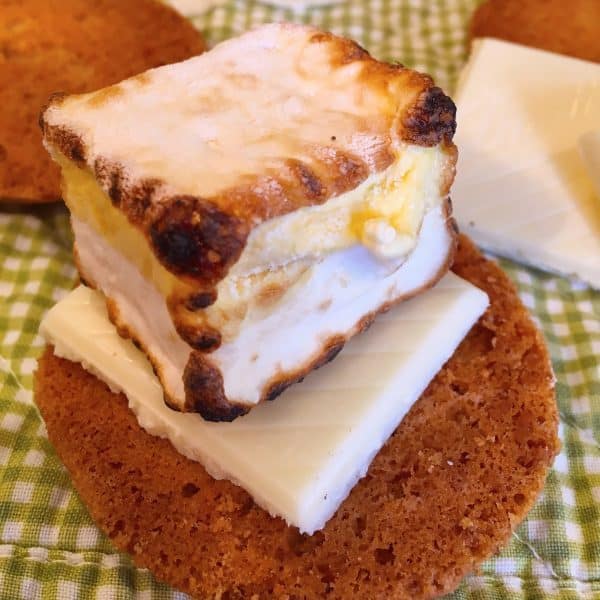 Grab another Tasty Tates Buttery Coconut Crisp cookie and press it down on top of the ooey-gooey melted marshmallow!
Feel the happiness bubbly up from your finger tips as that yummy flavorful marshmallow squishes out the sides! It's the BEST!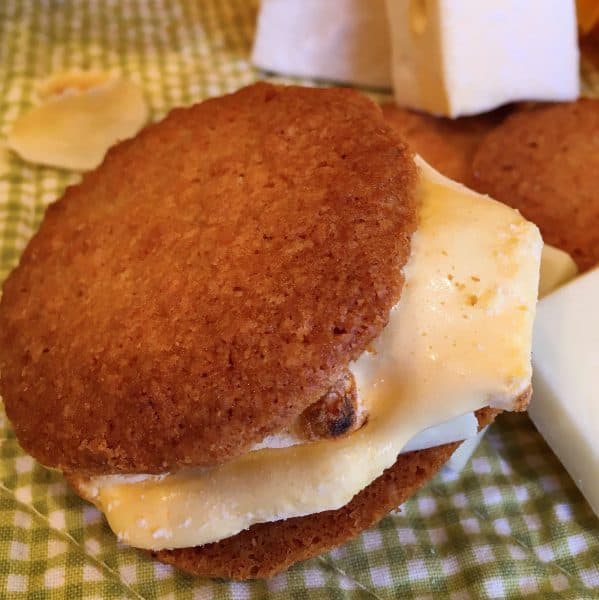 That's it! It's ready! Grab a hold and slide that cookie between your teeth and take a Great Big Ol' bite!
Honestly… if you are not a S'mores fan…you'll become one! Quickly!
This is NOTHING like your typical Graham cracker and chocolate S'more. Nothing! They don't even compare! This S'more is buttery, it melts in your mouth.
It's subtle hints of pineapple and coconut meld together with the crispy rich flavor of that coconut crisp cookie and the creamy goodness of the Lindt chocolate to create a taste treat like you've never had.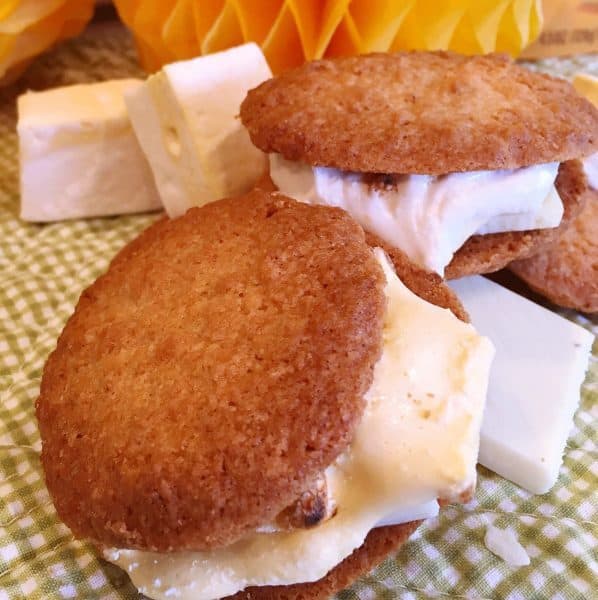 It's such a simple recipe, yet it packs such a flavorful punch! This is a "Grown-Up" S'more! The perfect rich dessert to end your summer BBQ's with.
I dream about these they're so good! Yes the ingredients are a little pricey, but worth every penny! No joking. So delicious!
Give 'em a try! Join me on my new Tropical S'more love affair! What's summer without a little "S'more" loving! (You knew a pun was coming at some point!)
Here are a few other Favorite Treat and Snack Recipes your family might enjoy
Remember to sign up for my Newsletter and you can always follow me on Facebook, Twitter, Pinterest and on Instagram where I share what's cooking in my kitchen!
Have a GREAT day and Happy Nesting!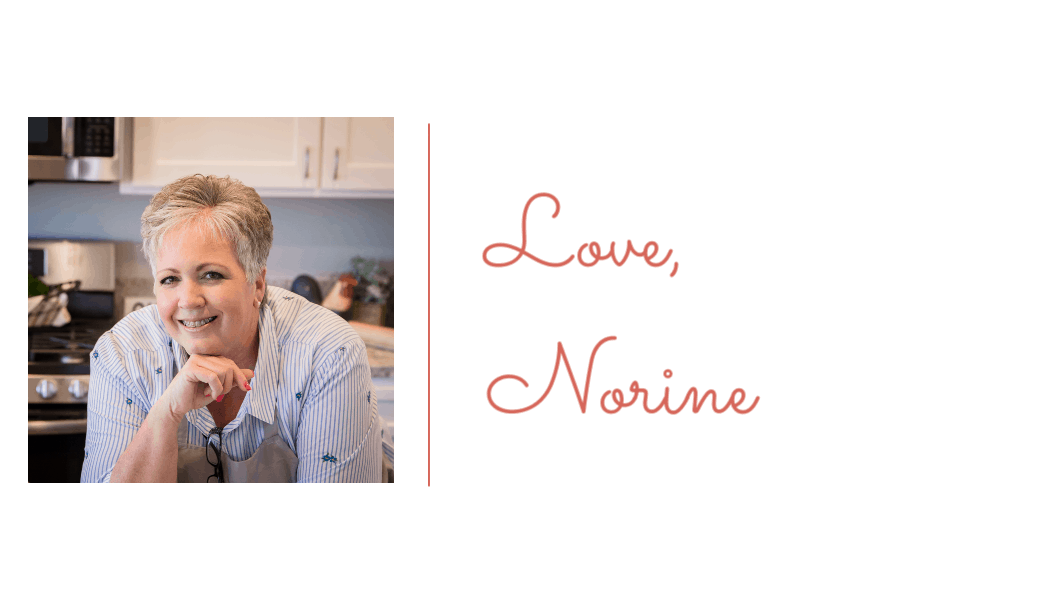 Yield: 4 individual S'mores
Tropical S'mores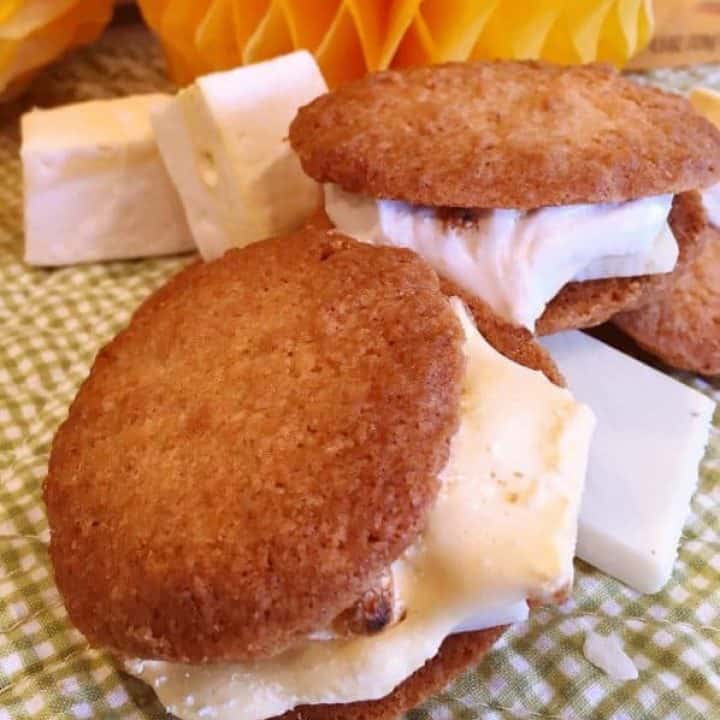 Buttery Crispy Coconut Cookies are filled with creamy white coconut chocolate and topped off with a toasted coconut pineapple smash mallows to create the perfect tropical S'more.
Ingredients
8 Tate's Coconut Crisp Cookies
1 Lindt White Chocolate Coconut Bar
4 Smash Mallows Coconut Pineapple Marshmallows
Instructions
Break the Lindt White Chocolate Coconut Bar into 4 2 inch squares.
On a metal skewer place 2 Coconut Pineapple Smash Mallows. Over low flame toast until crispy and golden all around on the outside.
Place One Tate Coconut Cookie face down. Add one square of Lindt Coconut White Chocolate. Slide off one perfectly toasted smash mallow. Top with another cookie and gently press down.
Repeat until you have made 4 "S'mores".
Eat immediately while hot.
Nutrition Information:
Yield:
4 servings
Serving Size:
1 S'more
Amount Per Serving:
Calories:

1197
Total Fat:

71g
Saturated Fat:

61g
Trans Fat:

0g
Unsaturated Fat:

9g
Cholesterol:

4mg
Sodium:

692mg
Carbohydrates:

141g
Fiber:

22g
Sugar:

100g
Protein:

9g