Shredded frozen hash browns are kicked up with butter, sour cream, green onions, and lots of cheese to create this Cheesy Party Potato side dish! A family favorite at this Nest and sure to be one at yours too!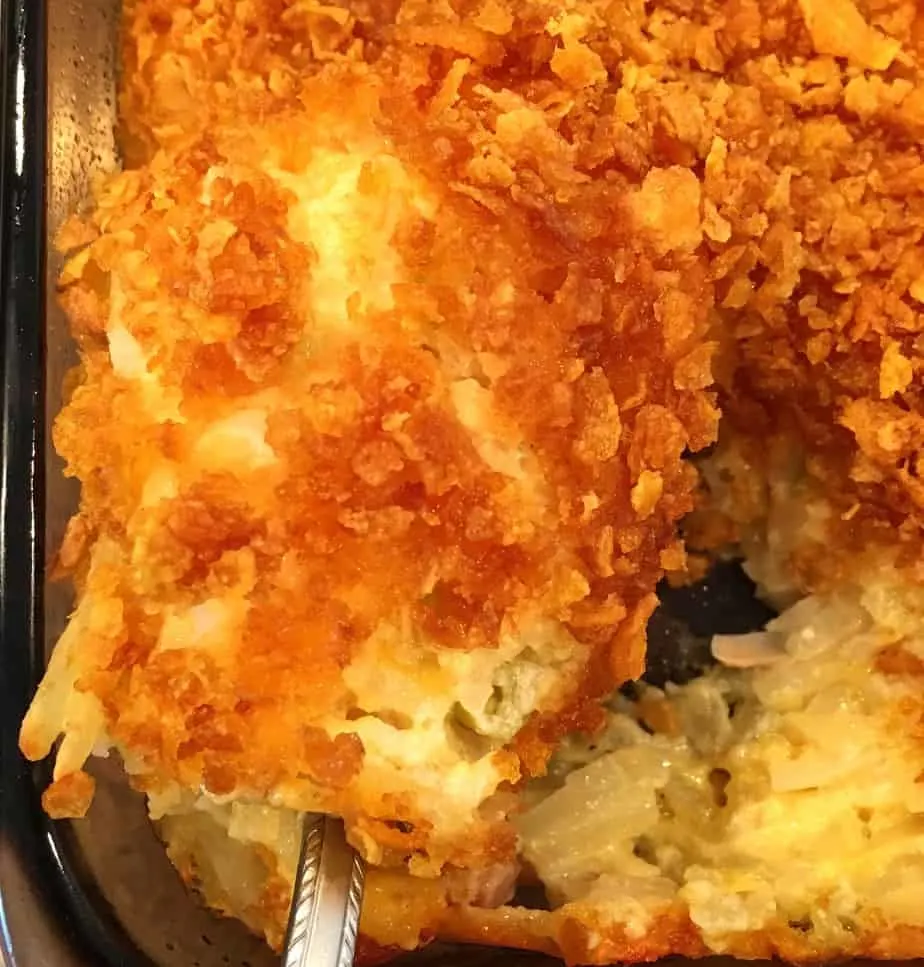 I'm a huge believer in Family Dinners. Every other Sunday we have our married kids over for Sunday dinner. One week they come to our house, the next week to our Son-in-laws house. Some weeks our college son is home visiting. Now we have the addition of baby "B", in a high chair, jabbering away at us. It's the BEST!
If you're not having family Sunday dinners…think about it! It's a fun tradition!
I try to make Sunday dinners a little special. I have a table full of "meat and potato" guys. So, I'm always looking for ways to serve up those spuds! I love this recipe for "Party Potatoes".
These differ from "Funeral Potatoes". (If you don't know what those are…you don't live in Utah! We like to name our dishes after special occasions…like Funerals? Huh?…. Oooookay!)
I think Cracker Barrel stole this recipe…but, it's a bit different. I love the ease of using the frozen shredded hash browns and I really LOVE the buttery crunchy corn flake topping! Baby "B" gave these taters two fists up and a lot of drool and "mmmmmm's"!
How To Make Cheesy Party Potatoes
Start off by melting the butter. I just pop it in the microwave. Covered.
Tip: Always cover butter when melting, so you don't have a mess to clean up in your microwave!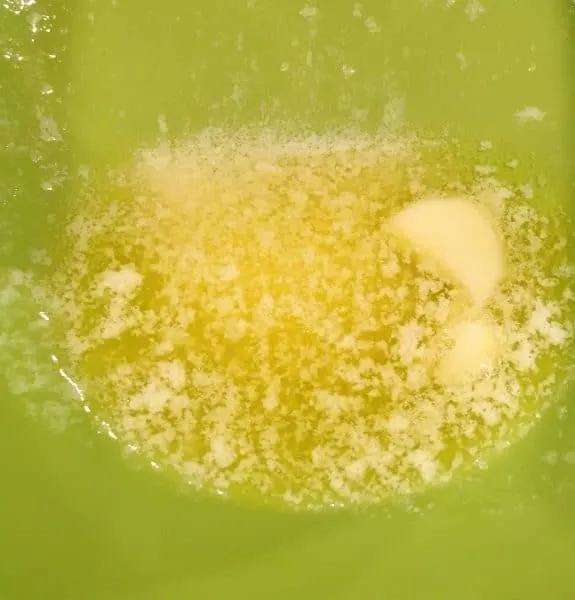 Next add the soup, sour cream, and diced green onions. (Those onions add lots of flavor!)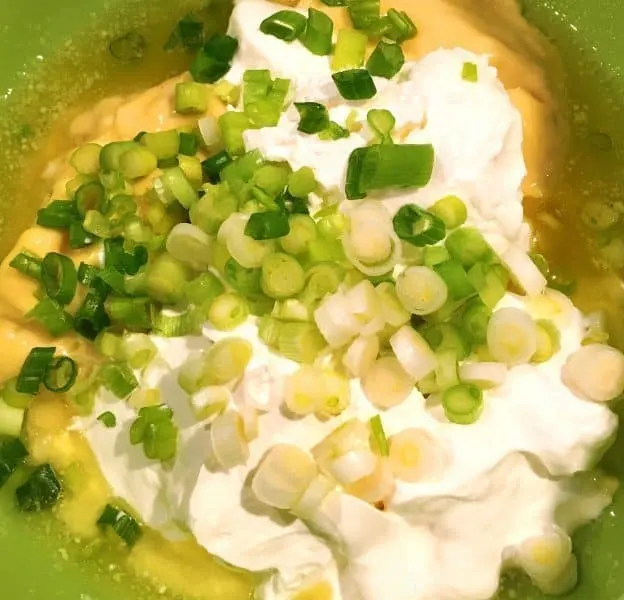 Blend it all together till it's a nice smooth mixture.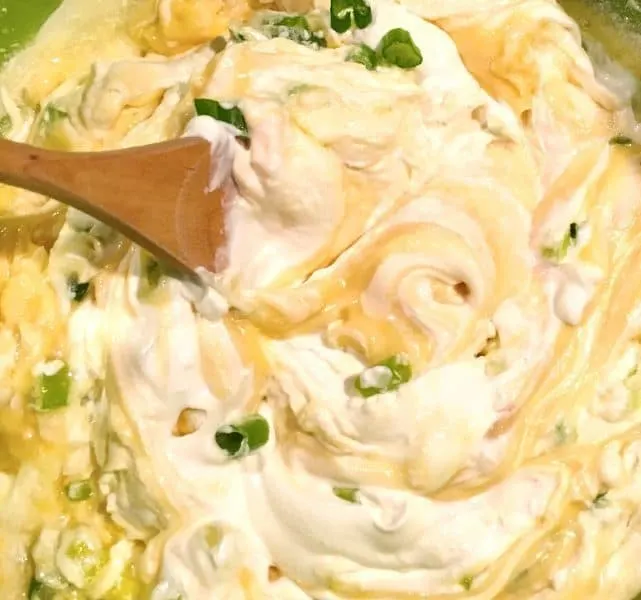 Did someone say "Cheese"? Add in your cheese! We can't have potatoes that "party" without cheese! It's just not possible. EVER! (wink-wink)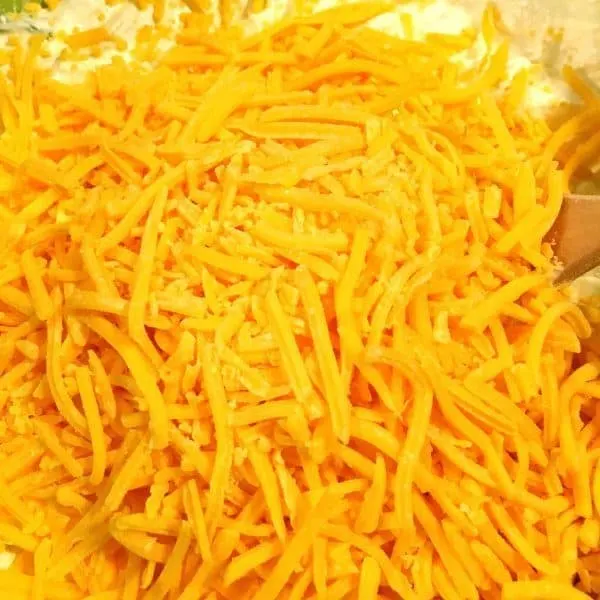 Add in your bag of thawed shredded hash browns. Stir it all together.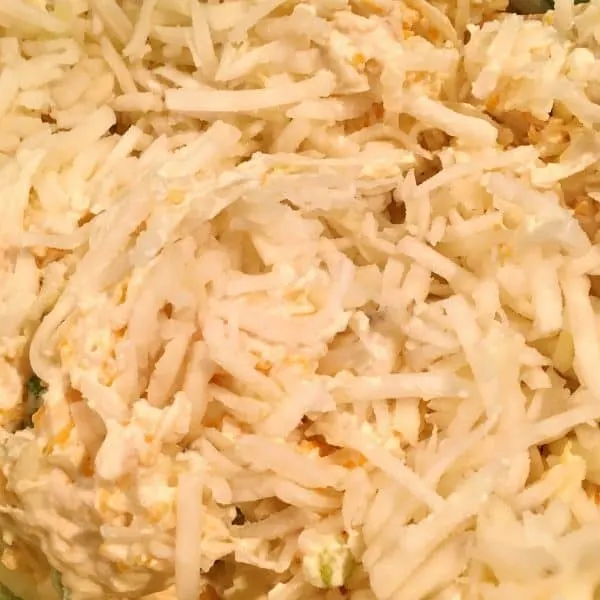 Spray a 9 x 13 inch casserole dish with non-stick cooking spray. Spread the potato mixture evenly in the dish.
Add another sprinkling of cheese. About 1/2 to 3/4 a cup. It's just a little extra step I do. I love melted cheese on top! You can never have too much in my humble opinion!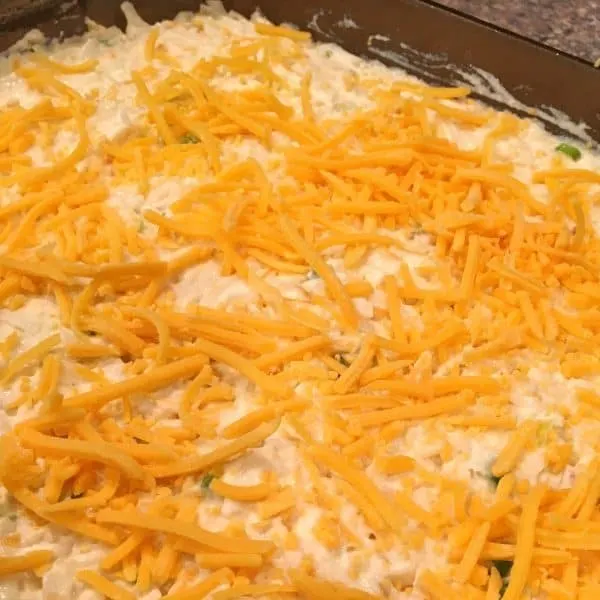 Let's get rid of some frustrations! (Not saying I have any but, on some days this turns into corn ash!) Smash up your corn flakes.
TIP: I place mine in a zip lock bag and use my rolling pin to crunch them all up. This way I can just toss the bag when done and have less mess to clean up!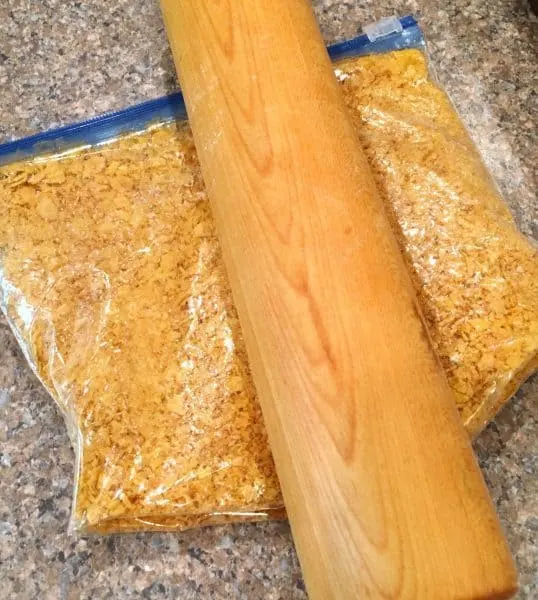 Sprinkle the crushed corn flakes over the top of the potato and cheese mixture.
Melt the remaining butter in a glass measuring cup and slowly pour over the top of the corn flakes trying to cover as much of the top as possible. You want those corn flakes as buttery and crunchy as you can get them. It's the "gold" on top!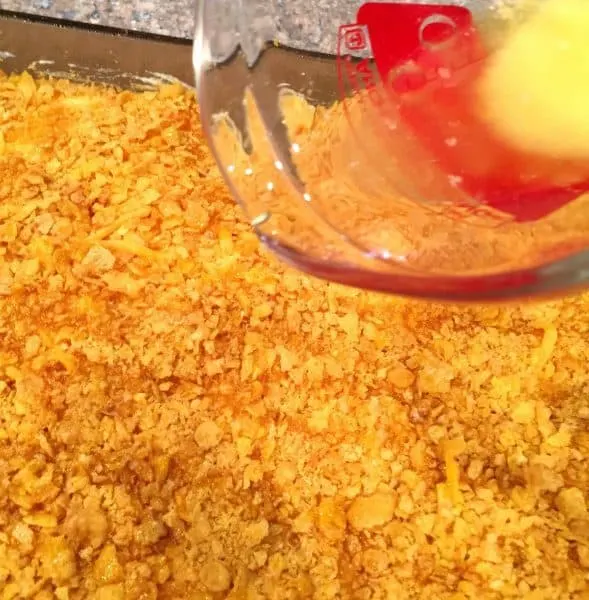 Pop them in the oven at 350 for 45 minutes. Tick-tock… Tick-tock…all that yummy goodness cooking away! See the "gold" on top…crazy crunchiness going on there!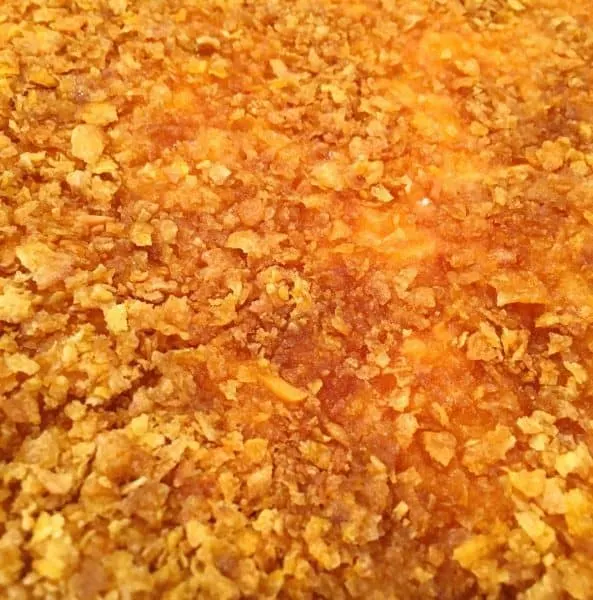 It's time to Par-tay! We can celebrate with these Ooey-gooey cheesy party potatoes that will go beautifully with our Sunday Family Dinner!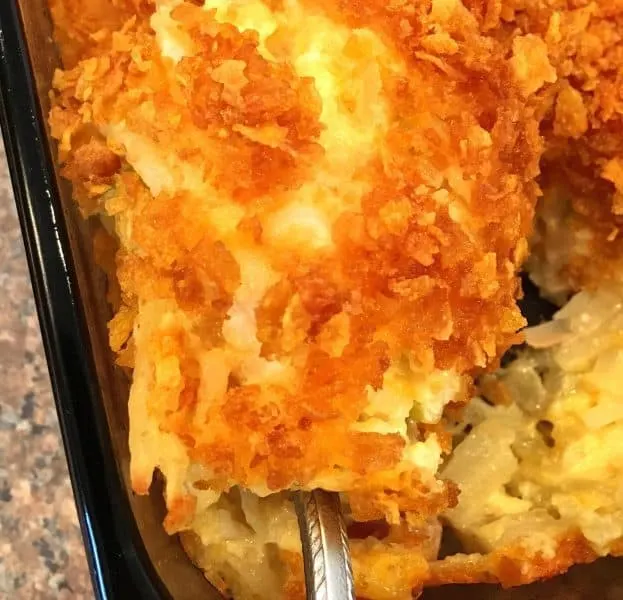 They're fantastic served with roasted chicken, pork roast, steaks, ham, you name it. Such a comforting side dish that is gobbled up in a flash by all!
Somehow comfort foods and family just seem to go together! Don't you agree?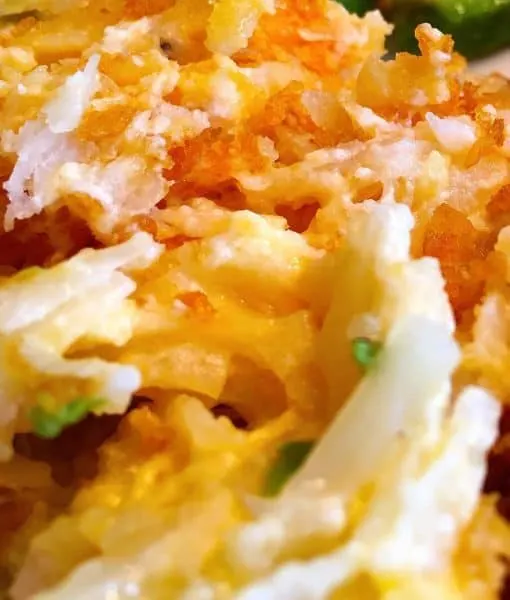 That's our family recipe for Party Potato Casserole.
It was actually given to us, years ago, from a church friends Mom. She was an amazing cook. I love those wonderful little church cookbooks! They contain the BEST family recipes handed down from generation to generation. NO ONE cooked as good as Grandma and the Church ladies cooked!
Here are a few other Great Side Dish Recipes for you to try!
Have a FANTASTIC DAY! Find something to be joyful about! Life is about being the little things! Thanks for stopping by my Nest!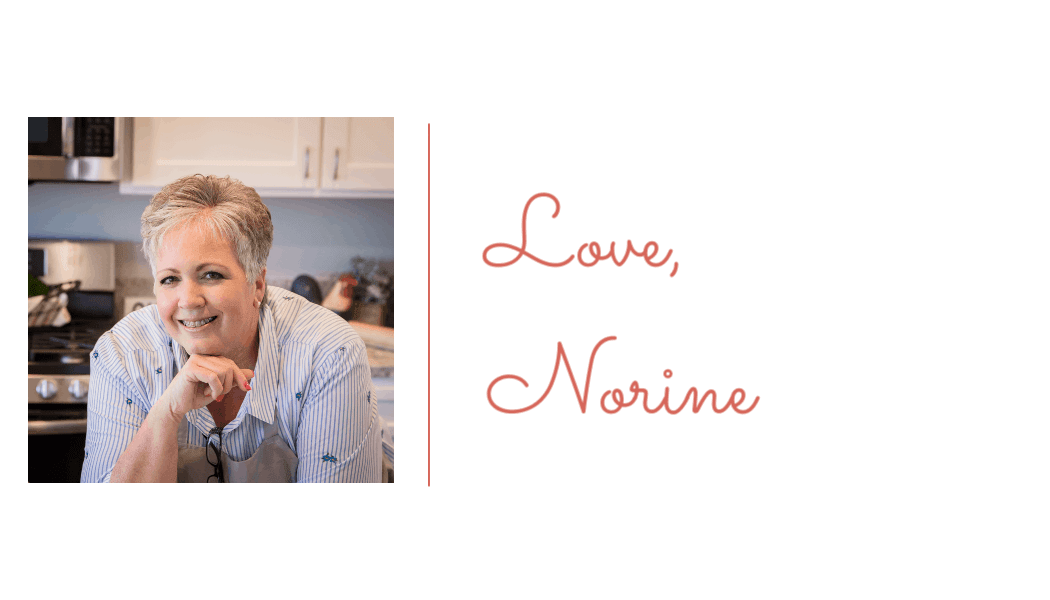 Yield: 10 servings
Cheesy Party Potatoes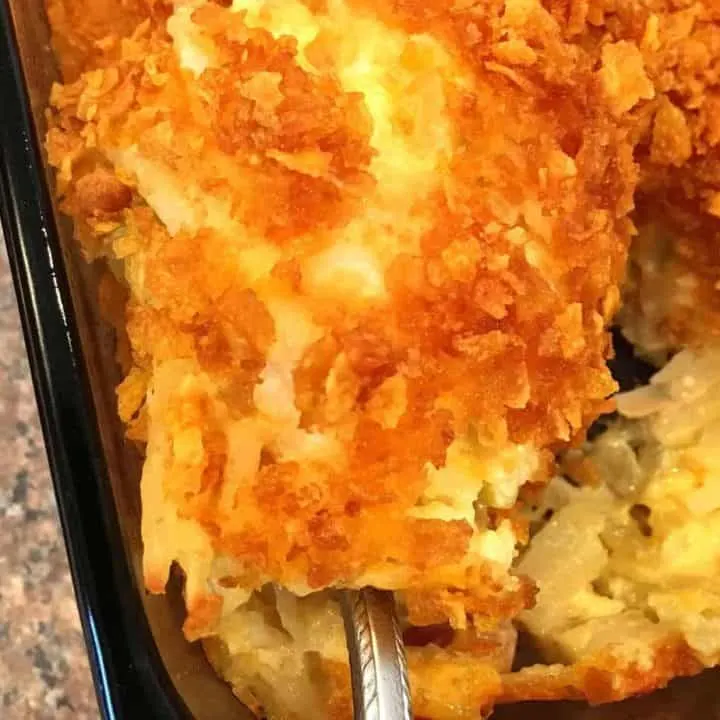 Cheesy Party Potato Casserole is the perfect side dish for any main course. Serve year round at Sunday Family Dinners or special occasions. Enjoy!
Ingredients
1 bag frozen shredded hash browns
1/4 cup butter
1 can cream of chicken soup
1 pint sour cream
1/2 cup chopped green onions
1 1/2 cups shredded cheddar cheese, plus 1/4 cup more for on top
Corn Flake Topping
2 Cups Corn Flakes Crushed
2 Tablespoons melted butter
Instructions
In a microwave safe bowl melt the butter.
Stir in the soup, sour cream, and onions. Mix well.
Add in the 1 1/2 cups of cheese.
Spray a 9 x 13 casserole dish.
Place mixed ingredients into the casserole dish.
Top with the extra 1/4 cup grated cheese.
Top with the crushed corn flake topping
Drizzle with butter.
Bake at 350 degrees for 45 minutes
Recommended Products
As an Amazon Associate and member of other affiliate programs, I earn from qualifying purchases.
Nutrition Information:
Yield:
10
Serving Size:
1 cup
Amount Per Serving:
Calories:

219
Total Fat:

19g
Saturated Fat:

10g
Trans Fat:

1g
Unsaturated Fat:

6g
Cholesterol:

48mg
Sodium:

372mg
Carbohydrates:

11g
Fiber:

0g
Sugar:

2g
Protein:

3g