These whimsical cauldron parfaits are the perfect addition to any Halloween Party, blending rich layers of chocolate pudding, Oreo crumbs, whipped topping, and playful sprinkles of the holiday season.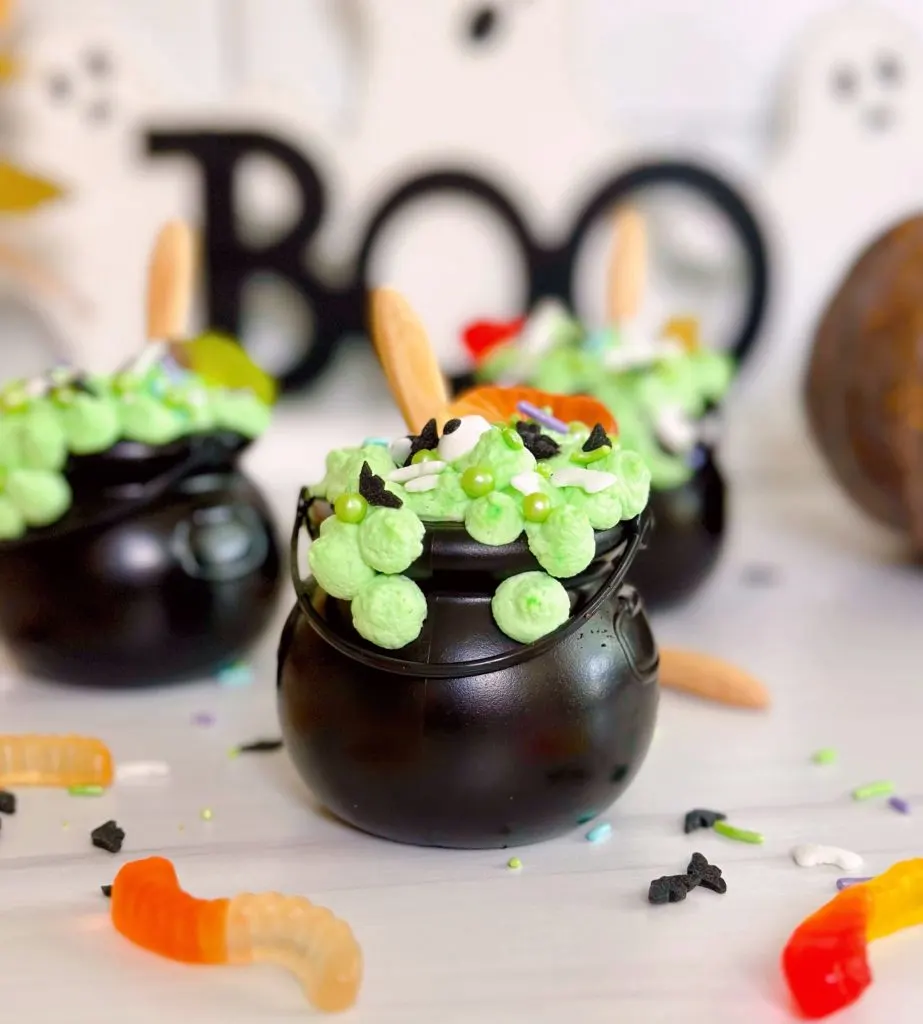 Halloween! It's that time of the year when we get to let our creativity run wild in the kitchen. From eerie decorations to ghostly treats, there's something enchanting about concocting spooky dishes that capture the spirit of the season.
If you're on the hunt for a dessert that's both delicious and devilishly delightful, look no further than my Halloween Cauldron Oreo Chocolate Pudding Parfaits.
They're the perfect Halloween Treat for your family and friends this Spooky Season!
This easy dessert is made in mini cauldrons, filled with chocolate pudding, crushed Oreo cookies, and topped off with "bubbly" green whipped cream, or cool whip! They make perfect individual serving dessert for your Halloween Parties, and they're perfect for little hands too!
Simple Ingredients for Chocolate Pudding Cauldron Parfaits
6 mini plastic cauldrons – washed and dried.
Instant Chocolate Pudding – 5.9 oz size.
3 cups cold milk.
½ cup crushed Oreo Cookies – You can use boxed Oreo Cookie Crumbs.
1 cup heavy whipping cream – Substitute with one 8 ounce container thawed Cool Whip.
2 Tablespoons powder sugar – Omit if using cool whip.
½ teaspoon vanilla – for whipped topping.
Green food coloring.
Gummy Worms and Halloween Sprinkles.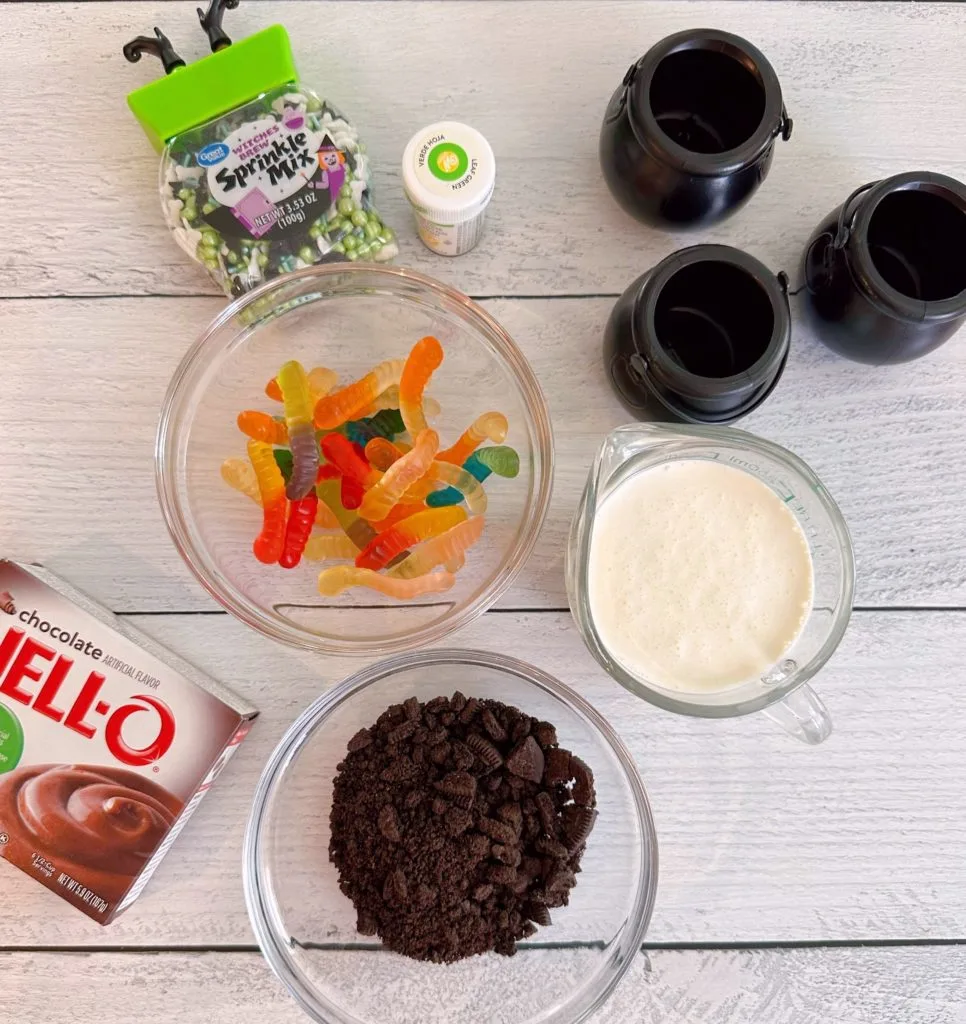 Steps for making Witches Brew Pudding Cups
Making Cauldron Oreo Pudding Parfaits is as easy as making the traditional "Dirt Cups" you've seen all over Pinterest!
The only thing we are doing differently is switching the "cups" for "cauldrons", and placing the Oreo cookie crumbs in the center of the pudding, rather than on top, to create a "parfait". It works best for the spooky bubbling whipped cream topping.
Pudding Mix
The Rich Chocolate Pudding for this recipe is super easy…because we're using a pudding mix! This is a kid friendly easy recipe! You can make homemade pudding, but I'm going with that family favorite…J.E.L.L.O.! Please note that you can use any flavor you like. Chocolate happens to be a favorite at this Nest!
In a large bowl combine one package of Instant Chocolate Pudding with 3 cups ice-cold milk!
Using a hand mixer, or whisk, mix the two ingredients together until it begins to thicken. (I love whisking by hand. This way the family not only gets a favorite dessert…but a show as they watch my chicken wing arms flap all around! Talk about a horror show! Lol)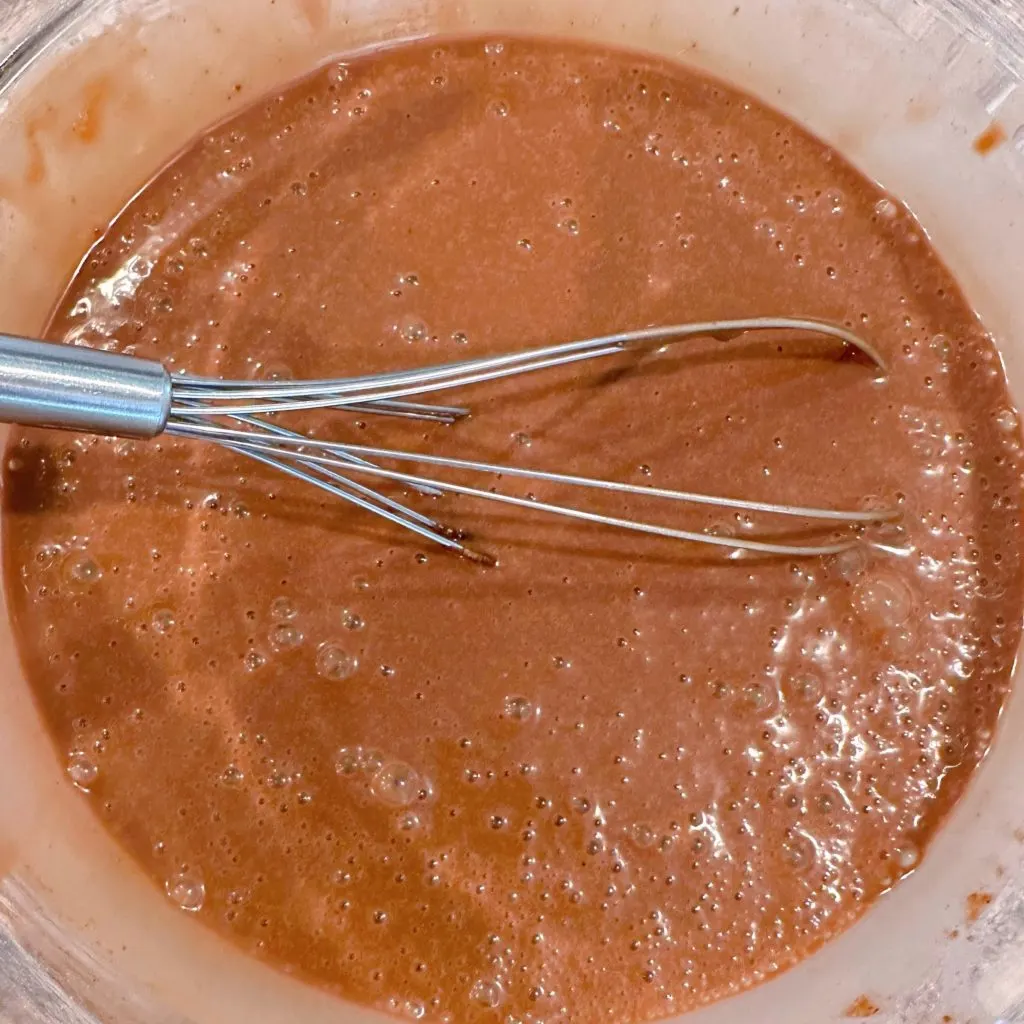 Place pudding cups in the refrigerator while you making the green whipped cream frosting for the "bubbly brew"!
How to Make Sweetened Whipped Cream Frosting
Before beginning this next step, if you want, make this an even easier recipe, by using Cool Whip. I prefer the flavor, and texture, of real whipped cream with my pudding! It's the best part in my ever so humble opinion.
In the bowl of your stand mixer add 1 cup cold heavy whipping cream, 2 Tablespoons of powder sugar, also known as confectioners sugar, and ½ teaspoon of vanilla.
TIP: Why use powder sugar and vanilla in the whipped cream? This adds flavor to the whipping cream! It isn't sweet without it…and who wants a treat that isn't sweet! It also helps the whipped cream stabilize without all the work of stabilized whipped cream. If using cool whip, omit this step!
Use the wire whisk attachment, beat on high until whipping cream is stiff. It should hold a peak when the wire whisk is pulled out of the whipped cream.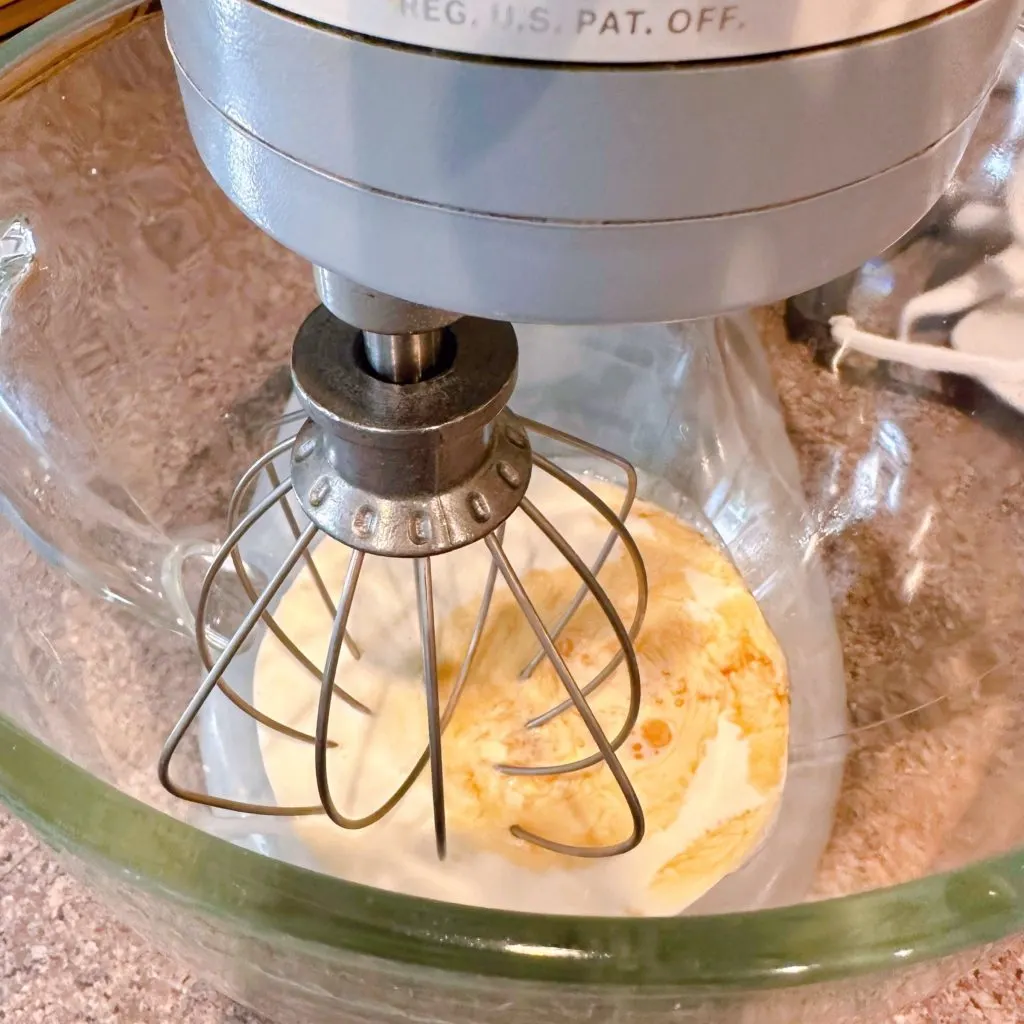 Add 2-3 drops green food coloring to Whipped Cream. Mix until combined. If the mixture isn't green enough for your witches brew, add a drop, or two more!
Place green whipped topping in a pipping bag with a small round decorating tip, I used a Wilton #12 tip, or use a large Ziploc bag with a small portion of the corner snipped off.
TIP: You can spoon the frosting on top of these spooky treats and use a butter knife to create texture and swirls. Do what works best for you and your budget!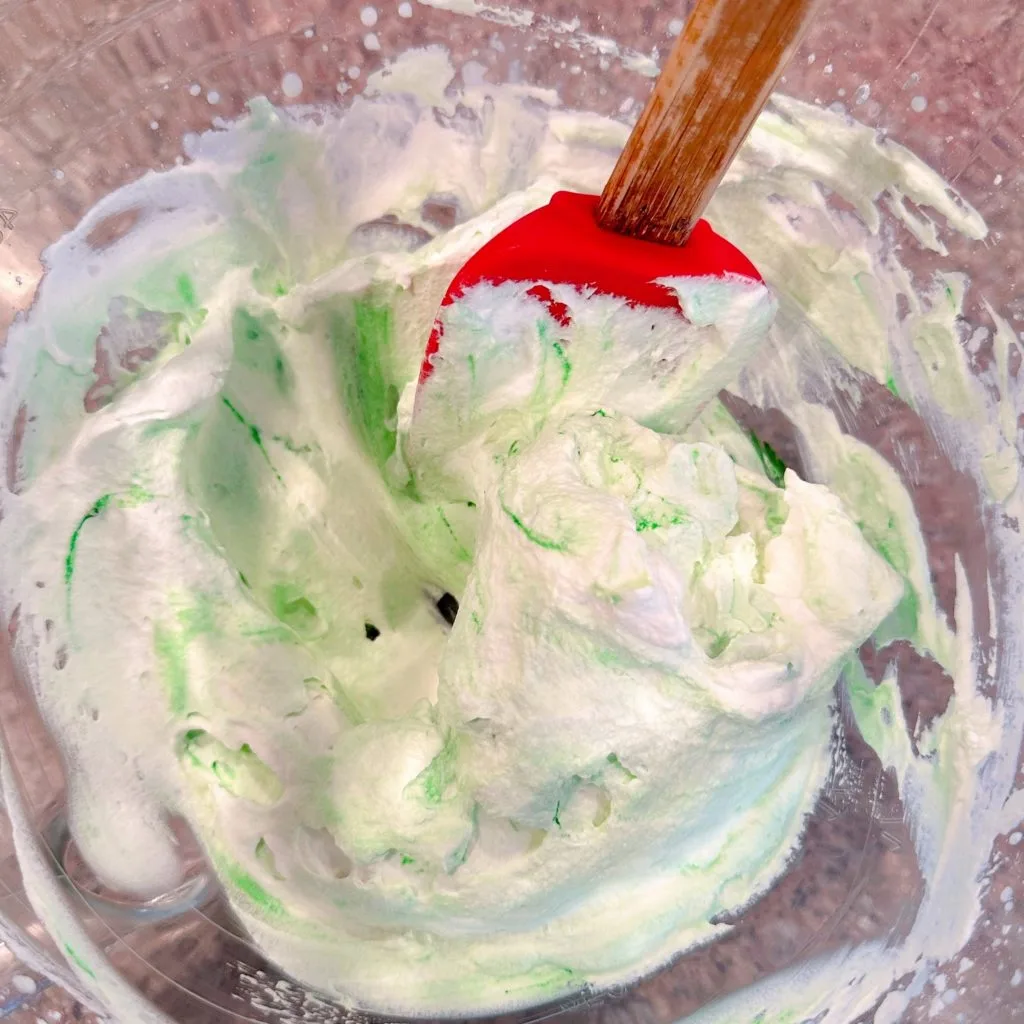 Creating Witches Pudding Parfaits! Bringing it all together.
Gather all your ingredients together, so you can assemble this fun dessert! Chocolate pudding, green frosting, crushed cookies, and fun decorations! Don't forget the Cauldrons! This is the FUN part!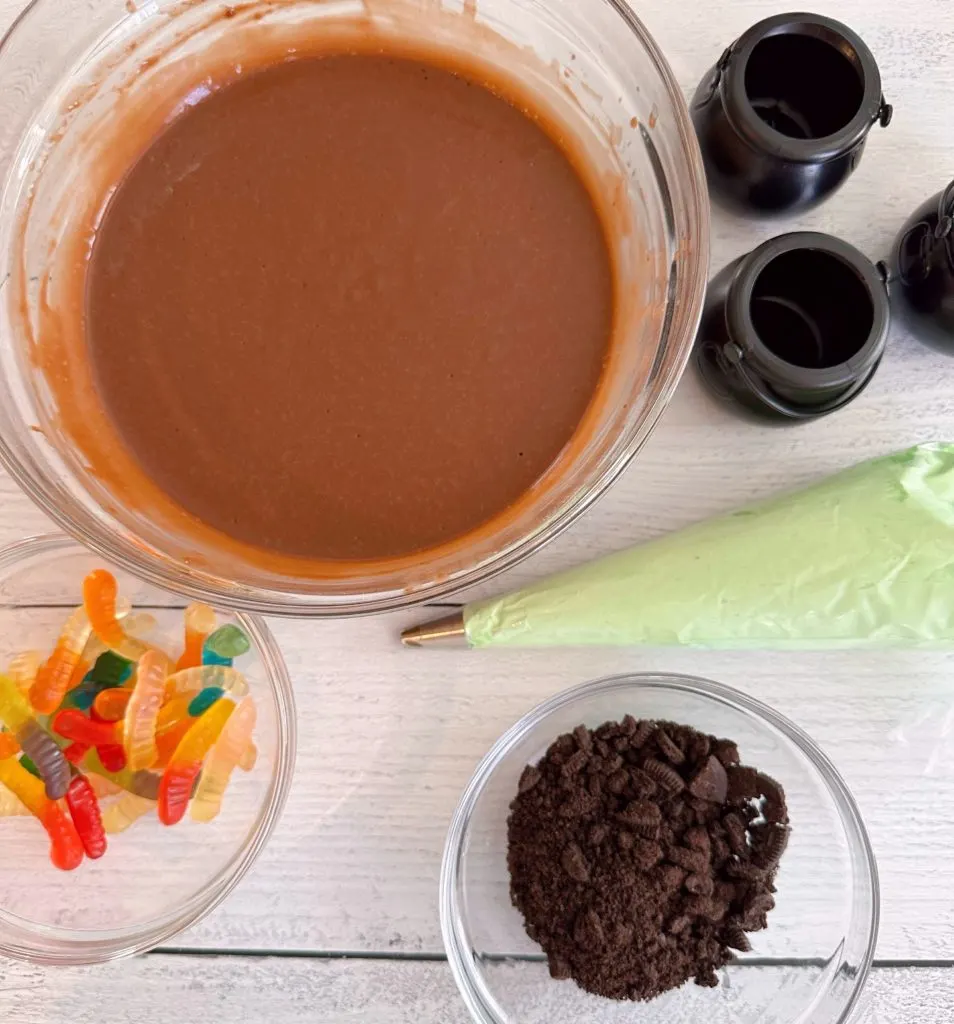 Using a teaspoon, place approximately one-fourth cup of Oreo pudding in the bottom of each cauldron, or baking cup. Gently pat the cup on your work surface so that the pudding settles to the bottom.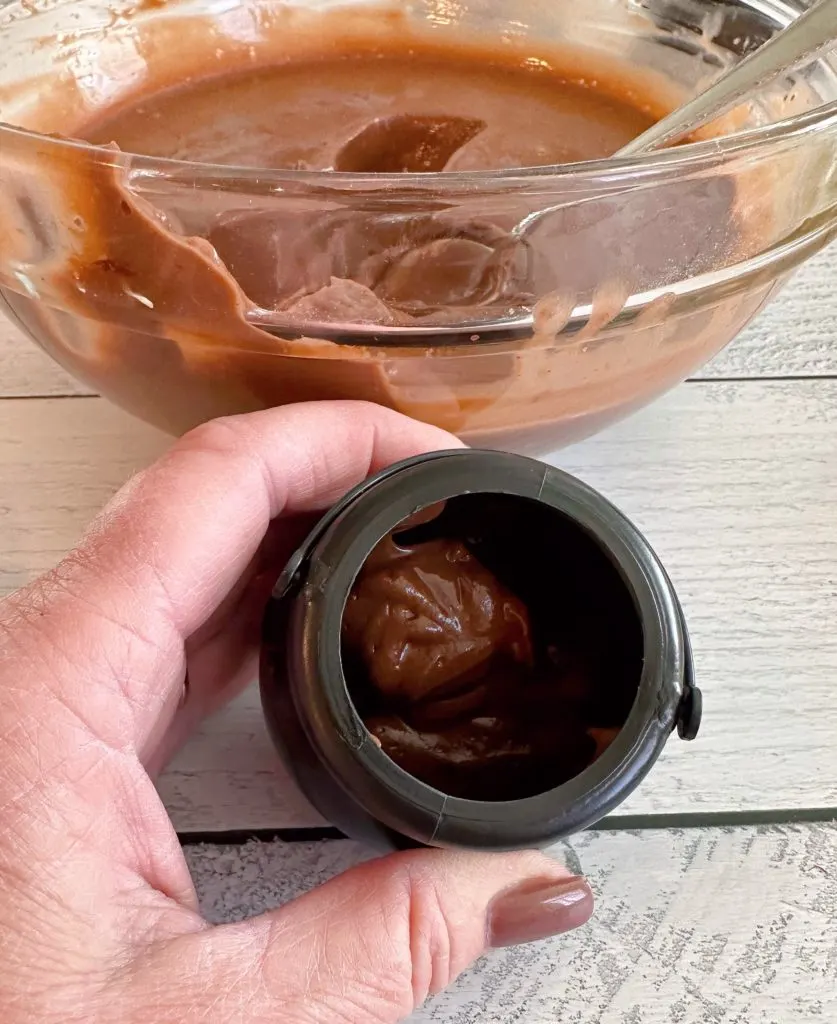 Top with a ½ Tablespoon of crushed cookies. This creates the middle layer of your parfait. You can omit this part, or add a layer of whipped cream. Get creative! You could even add a drizzle of Caramel Ice Cream topping, or go gory with a layer of red raspberry pie filling! Buwahahaha!!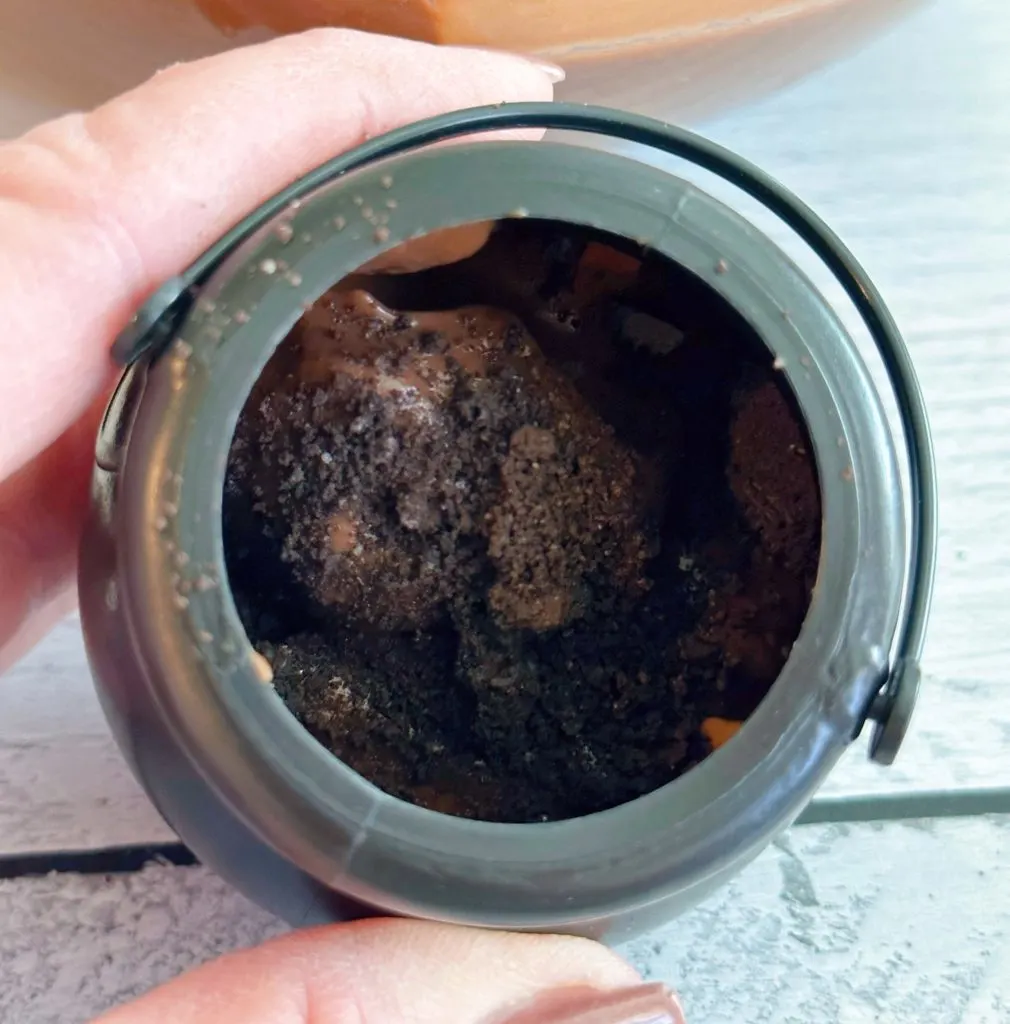 Add another layer of chocolate pudding on top of the Oreo cookie crumbs. Fill the cauldrons to the top! As an honorary "Sanderson Sister", you must have your cauldron full this Holiday Season!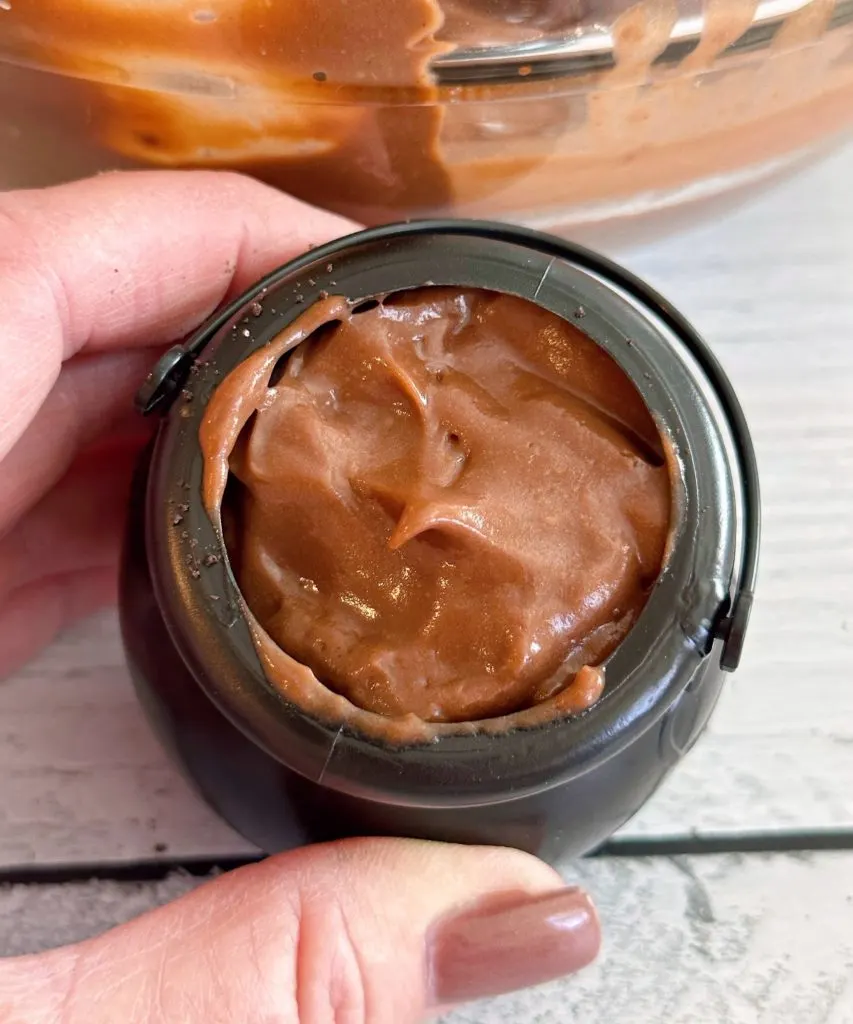 If you want to finish your brew with "bubbles" it's as easy and making different sized whipped cream "dots" all over the top of the pudding, and down the sides of the cauldron!
Begin with just a few large dots in the center of each pot of brew!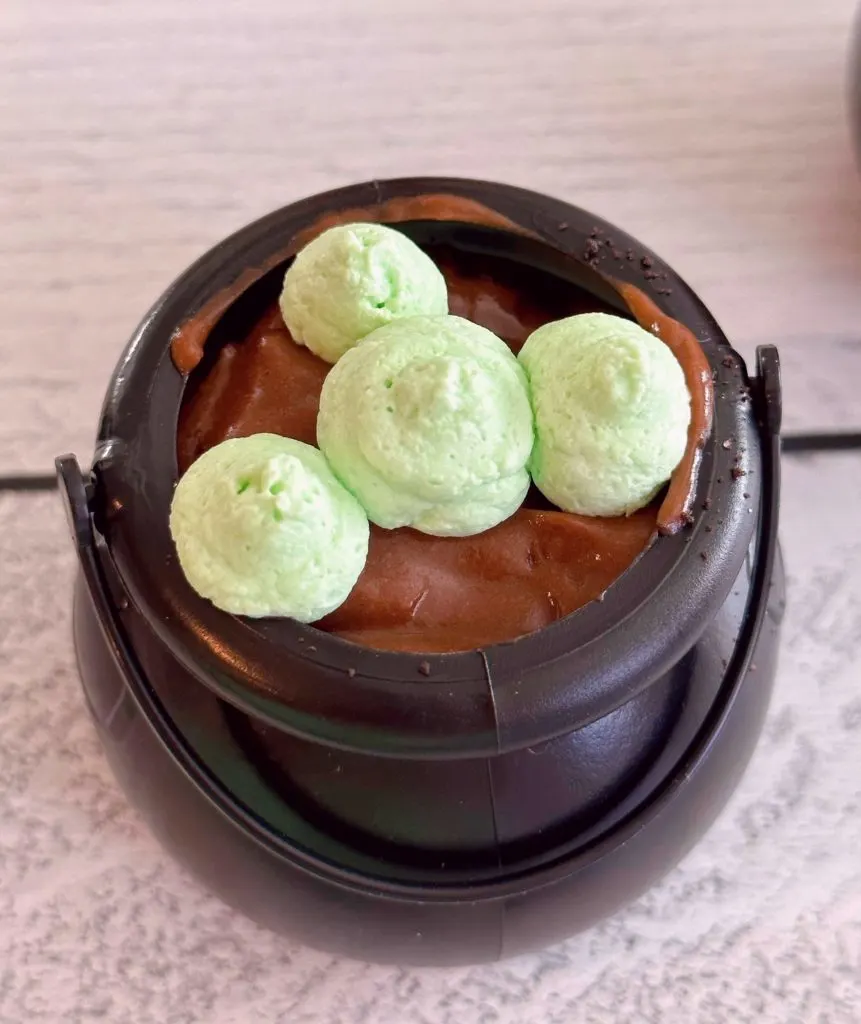 Continue making whipped cream dots all over the top and down the sides of each black pot.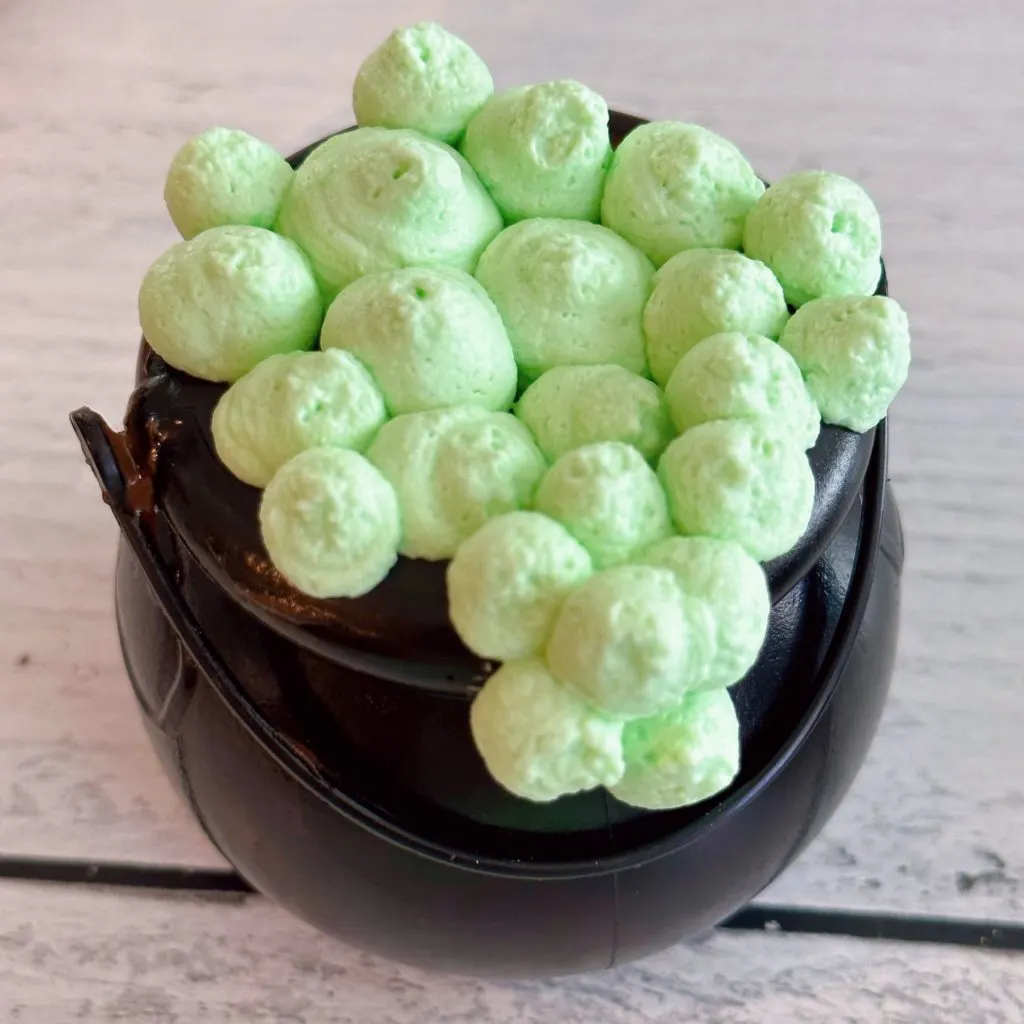 Now for the FUN!!! This is my favorite part! Stick a gummy worm or two into each pot. Then sprinkle with witches sprinkles. I found mine at Walmart!
The sprinkle mix comes with candy eyes in the mix! Each bubbling brew needs an eyeball or two. A few bones, bats, sprinkles, and tiny green bubbles! I had such a great time decorating these witches cauldrons.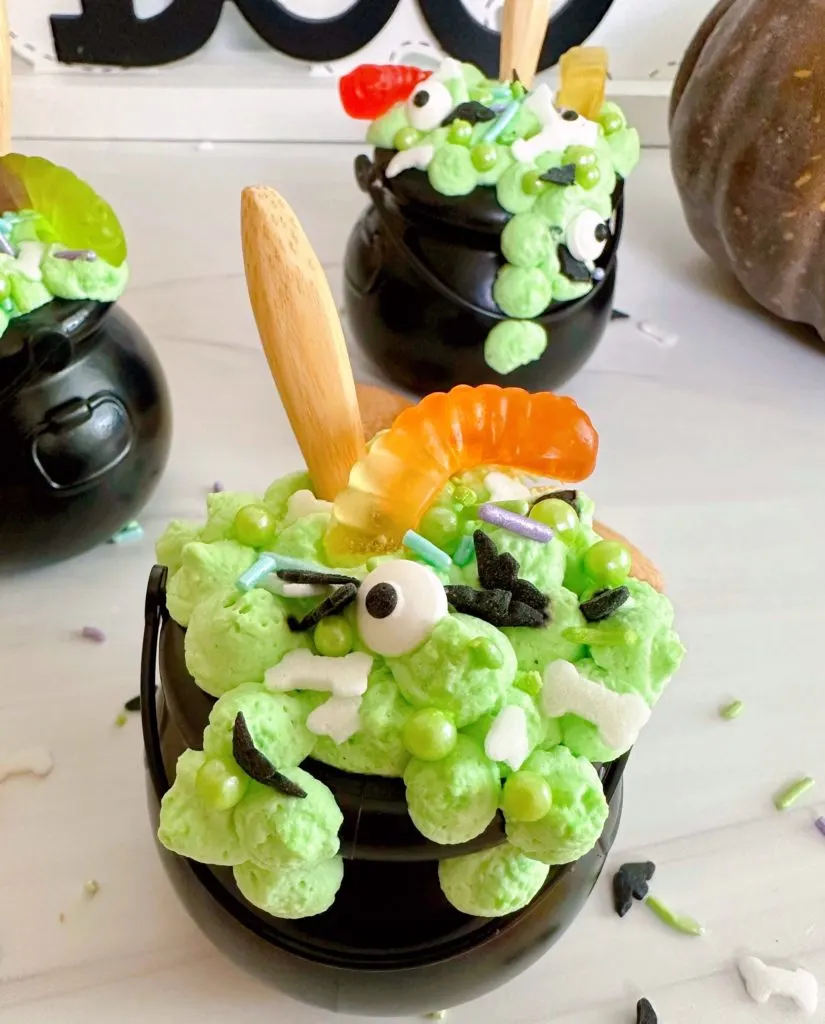 To keep this themed recipe on target … I used mini wooden spoons I found at Hobby Lobby! Every good witches brew needs a good stir with a wooden stick! Perhaps from an old broom! (Insert witches cackle)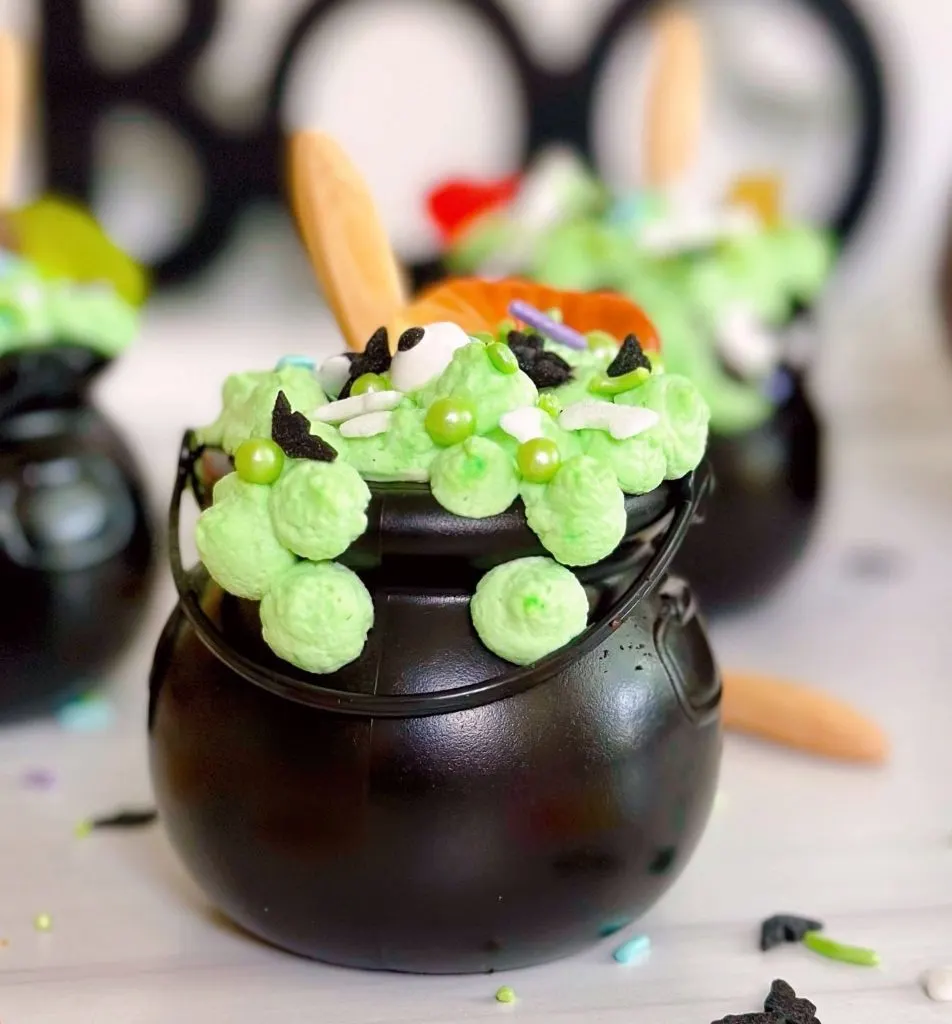 The only thing better than making this perfect treat for your spooktacular event…is eating it! Just ask my grandkids! They absolutely LOVED this fun, no-bake, Halloween dessert! I can't wait to make them again!
Halloween Cauldron Oreo Chocolate Pudding Parfaits are not only delicious but will be a visually stunning addition to this year's Halloween festivities.
Other Favorite Halloween Food Recipes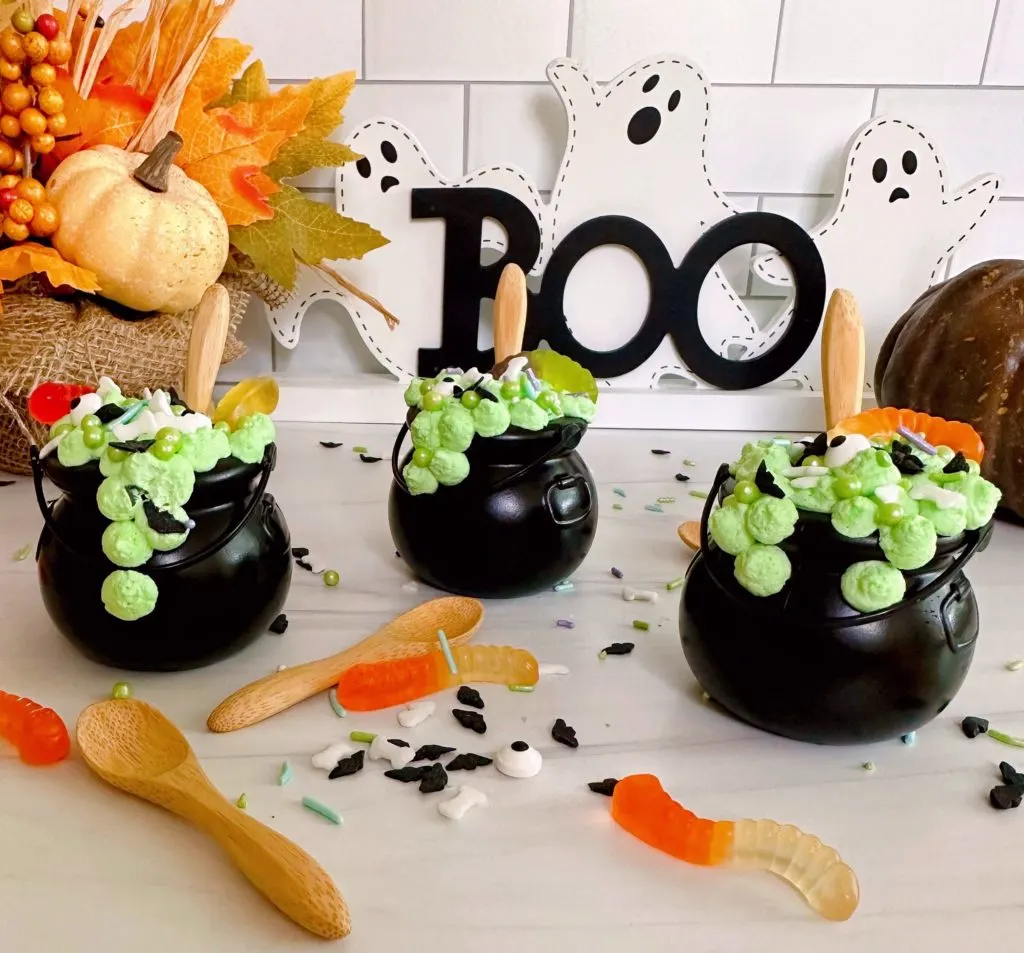 Whether you're hosting a spooky party, or simply looking for a creative dessert to enjoy with family and friends, these parfaits are sure to cast a spell on everyone who takes a bite. So, embrace your inner witch or wizard, whip up a batch of these magical treats, and let the cauldron bubble with delight this Halloween!
Happy Halloween… and as always… Happy Nesting!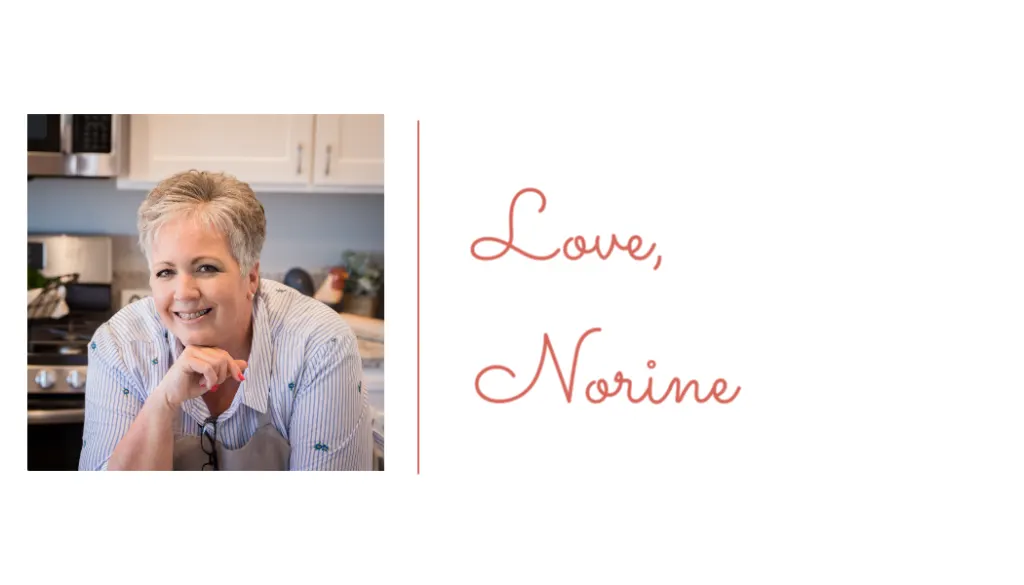 Yield: 6 servings
Halloween Cauldron Oreo Chocolate Pudding Parfaits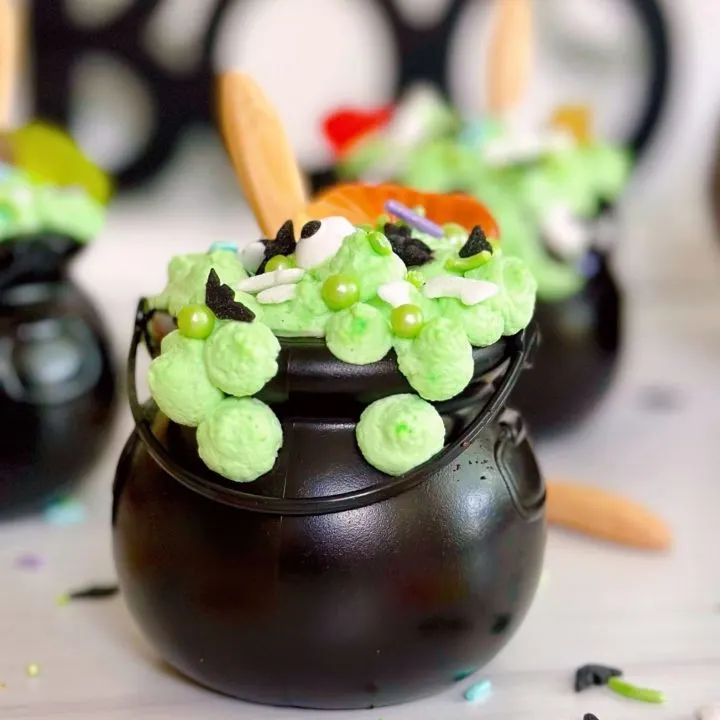 These whimsical cauldron parfaits are the perfect addition to any Halloween Party, blending rich layers of chocolate pudding, Oreo crumbs, whipped topping, and playful sprinkles of the holiday season.
Additional Time
10 minutes
Ingredients
6 - Mini Plastic Cauldron's, washed and dried.
1 (5.9 oz) Instant Chocolate Pudding
3 Cups Milk, Ice Cold
½ cup crushed Oreo cookies
1 Cup Heavy Whipping Cream
2 Tablespoons Powder Sugar
½ teaspoon vanilla
Green food coloring, 1–3 drops
Gummy Worms
Witches Sprinkles
Instructions
In a large bowl, combine instant chocolate pudding and three cups cold milk. Mix until thickened. Place in refrigerator and chill.
In the bowl of your stand mixer add 1 cup cold whipping cream, vanilla, and powder sugar. Beat on high using your wire whisk attachment until thick peaks form. Note you can substitute Cool Whip for whipping cream.
Add green food coloring to whipped cream. Mix until combined. Add additional food coloring if needed to create the depth of green you desire.
Place ¼ cup chocolate pudding in the bottom of each cauldron. Sprinkle with 1 Tablespoon Oreo cookie crumbs. Finish each cup by filling with remaining pudding.
Place colored whipped cream in a piping bag with a medium size round decorating tip, or a Large Ziploc bag with a tiny corner snipped off. To create a "bubbling" cauldron dot the top and down the sides of each cauldron with whipped cream. Add one or two gummy worms to the center of each pot. Top with witches sprinkles and a candy eye or two! Chill in refrigerator until ready to serve.
Nutrition Information:
Yield:
6
Serving Size:
1
Amount Per Serving:
Calories:

379
Total Fat:

21g
Saturated Fat:

12g
Trans Fat:

1g
Unsaturated Fat:

8g
Cholesterol:

55mg
Sodium:

175mg
Carbohydrates:

41g
Fiber:

1g
Sugar:

30g
Protein:

7g