Easy Chicken Pot Pie with a flaky homemade pie crust filled with tender chunks of chicken, mixed vegetables, potatoes, and a creamy gravy come together create this Perfect Country Chicken Pot Pie!
I know bloggers throw words around like, "Yummy and Comfort food"… a lot! We actually do have larger vocabularies than that. (Well…on good days we do!)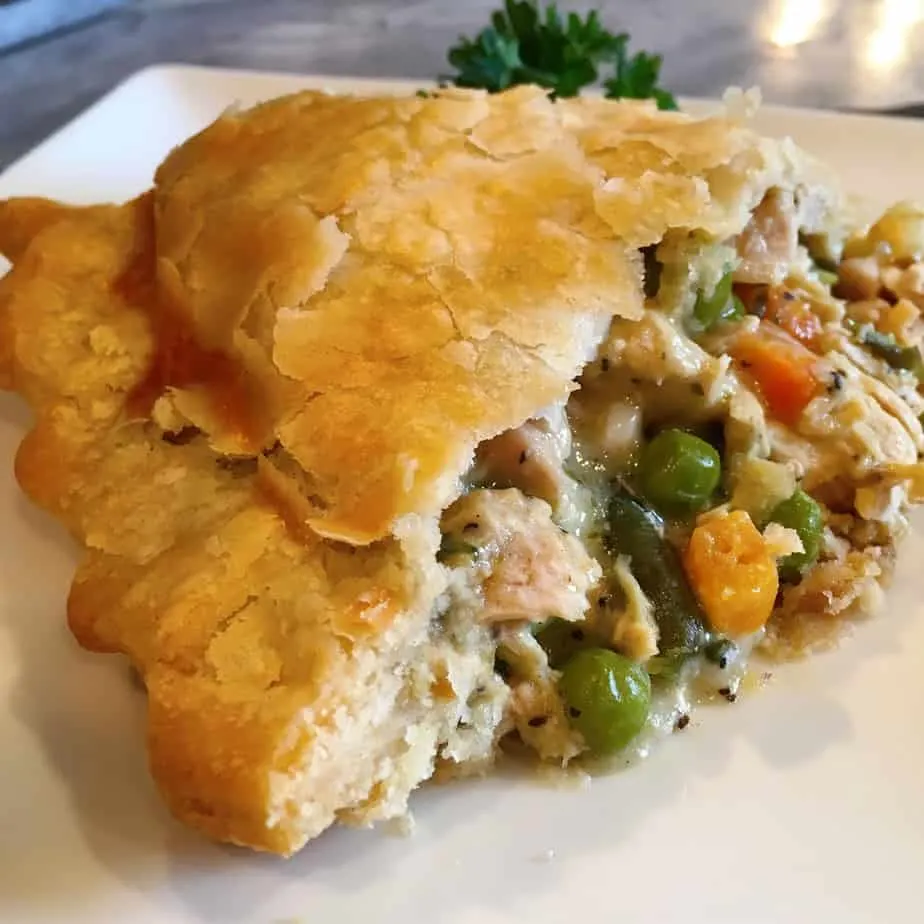 In our defense, I do believe there are some classic comfort foods! For example: Macaroni and Cheese, Chicken Noodle Soup, Pot Roast, Mashed potatoes, and Apple Pie, just to name a few. I think you would agree. Right?
If I were making an actual list I would have to add Chicken Pot Pie! It's a wonderful, classic, comfort food.
Chicken Pot Pies have been around since the Roman Empire! I bet you didn't know that. (I'm here all week folks! lol) Meat pies were served at banquets and sometimes even had "live" birds under the crust. I think we will stick with the cooked version! (I'm already on the bad side of chickens…I don't need to go shoving live ones in pies!)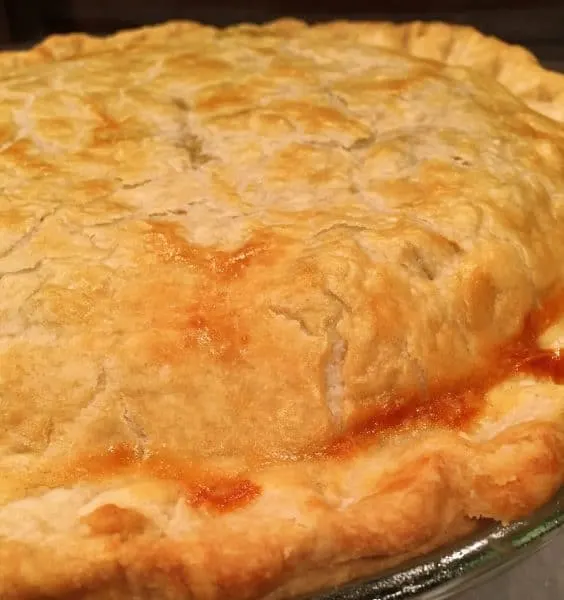 I'm sure you've seen hundreds of recipes for Chicken Pot pie. I know I have. Something was always a bit off for me. I wanted a pie stuffed…I mean jam-packed with the good stuff! So, I came up with this version about 5 years ago, and it really is one of the BEST!
It's also super easy to make. My husband absolutely LOVES this chicken pot pie recipe. I know the man cubs in your house will love it too. Let's get started. (Be sure to read through this post as I'm going to share some time-saving tips and alternatives you can use to recreate this delicious dinner dish.)
How To Make Easy Chicken Pot Pie with Homemade Pie Crust
Begin with 4 cups of cut up chicken. I boiled two boneless, skinless chicken breast and two boneless, skinless chicken thighs.
TIP: You can just use rotisserie chicken that you have diced up. I think the extra flavoring and seasoning will just add to the overall flavor of this dish.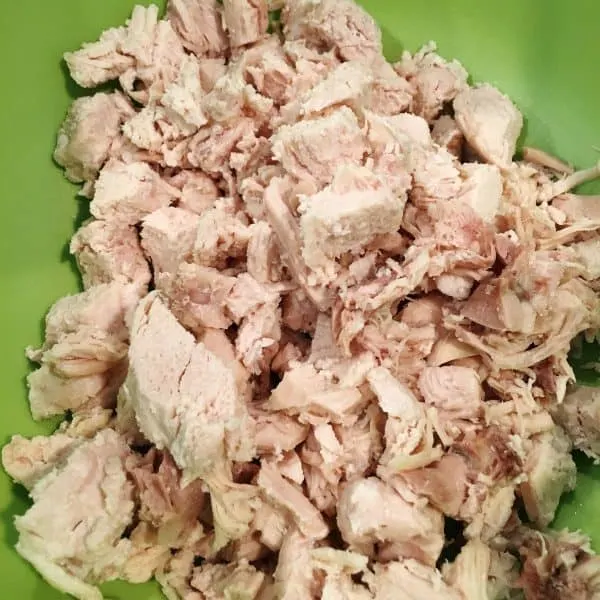 In a small skillet saute in 2 tablespoons of butter 3/4 cup diced celery, and 1/2 cup diced onion, until translucent.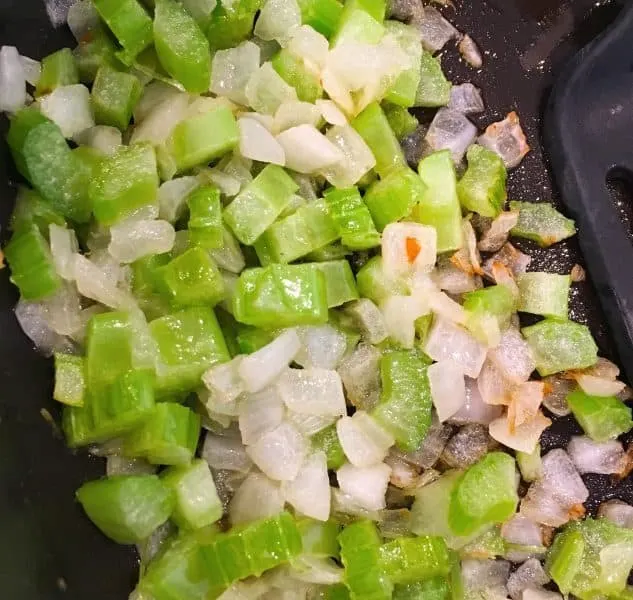 Dice two cold baked potatoes into bite size pieces. You can peel them or leave the skin on. As you can see, I left the skins on.
Tip: I always bake 2-3 more potatoes than I need when making baked potatoes for a meal. Then I store them in my refrigerator until I need them for fried potatoes or a recipe like this. You can also use 2 cups of frozen diced country potatoes.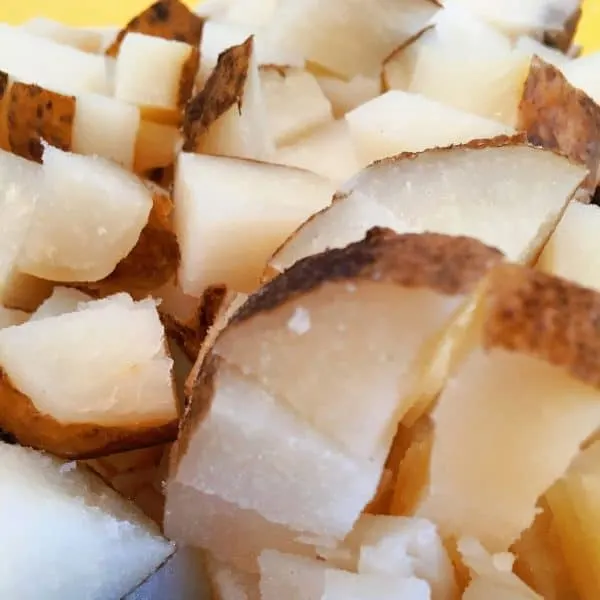 Add in 3 cups of frozen mixed vegetables. They do not need to be thawed. In fact it's better if they have not been thawed. The extra moisture is perfect in this filling.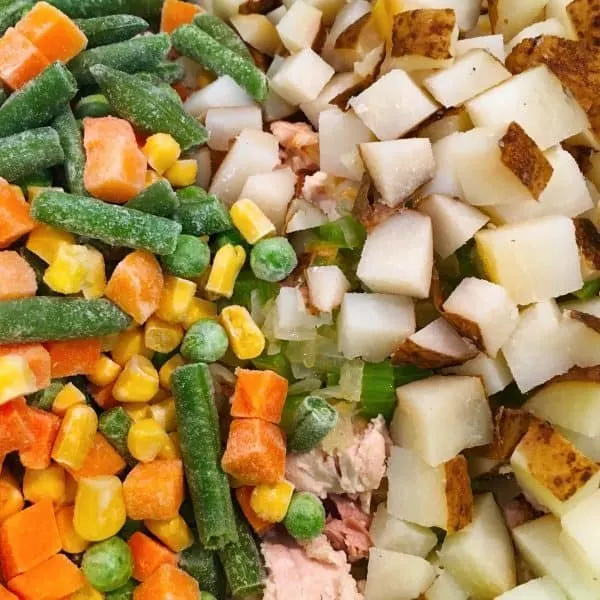 Next add in your spices. 1 teaspoon dried oregano, 1 tsp salt, 1/2 tsp coarse black pepper, 1/2 tsp dried thyme, 1/2 tsp. garlic salt, 1/4 tsp dried ground sage, and 1 Tablespoon chopped fresh parsley.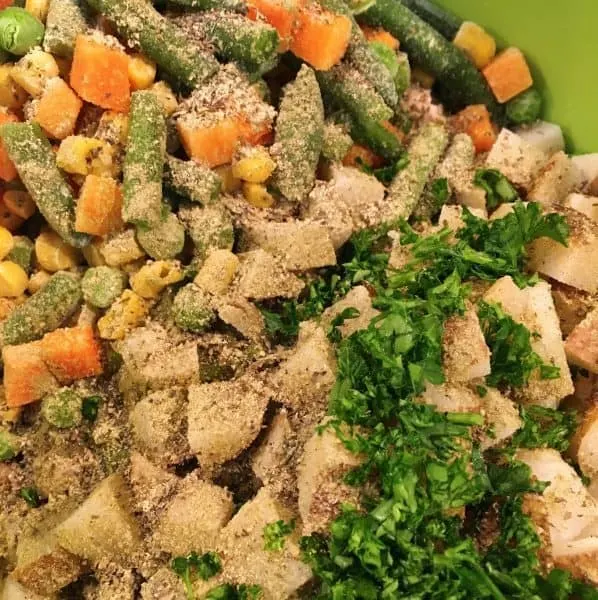 Add one can cream of chicken soup and one jar of Heinz Chicken Gravy 18 oz. value size.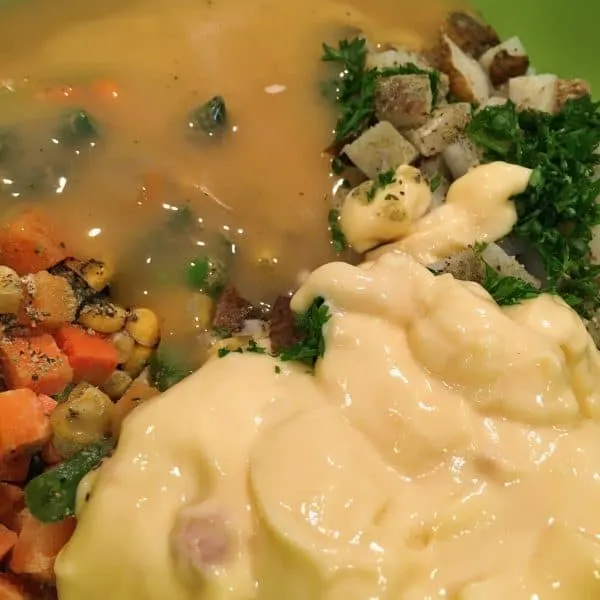 Mix that all together till combined. (It looks amazing already and we haven't even gotten to that flaky crust!)
What I love about making your own chicken pot pie is that it is loaded with chicken and fresh ingredients. There's a whole lot of flavor packed into that meaty filling!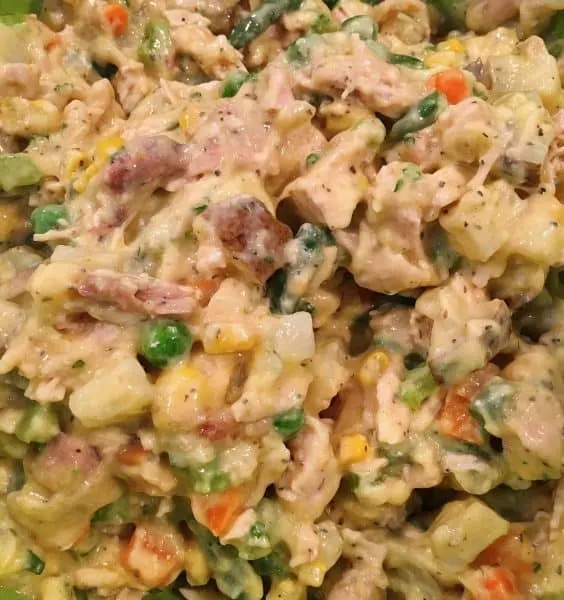 Next you want to make a double pie crust. You can make my traditional pie crust which you can find right HERE!
TIP: You can also buy the Pillsbury pre-made pie crust. Which ever is easiest for you.
Place your bottom crust into a deep 9 inch pie plate. It doesn't need to be perfect. No one is going to see the bottom. (You'll notice mine wasn't perfect.) Just be sure that pie dish is deep. We are going to stuff this pie with all that yumminess!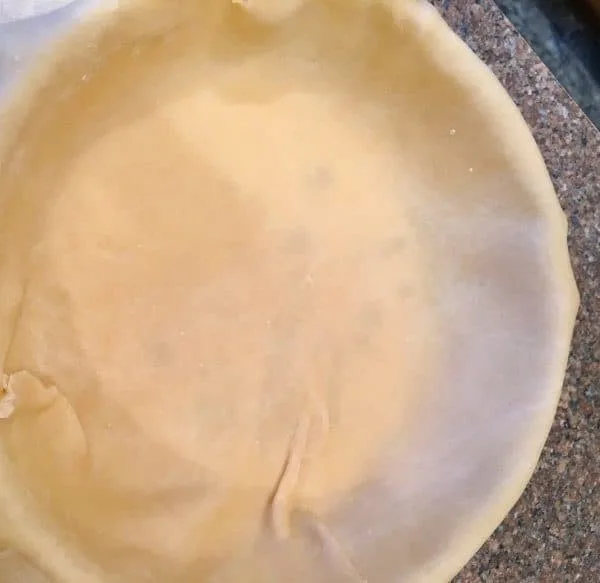 Pour your meat and vegetable filling into your crust lined pie plate. Spread it out evenly with a slightly higher mound in the center.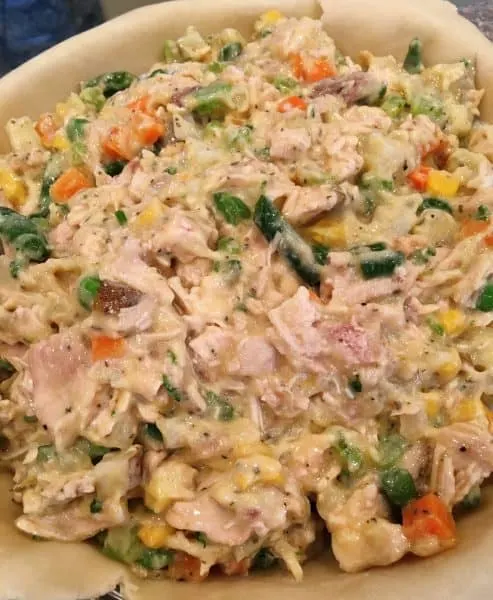 Roll out your top crust and lay it gently over the top of the meat filling. Trim your edges around the outside edge of the pie plate.
Fold the crust edge under all the way around, and then flute with your fingers. Using a sharp knife cut a few "vents" into the top of your crust.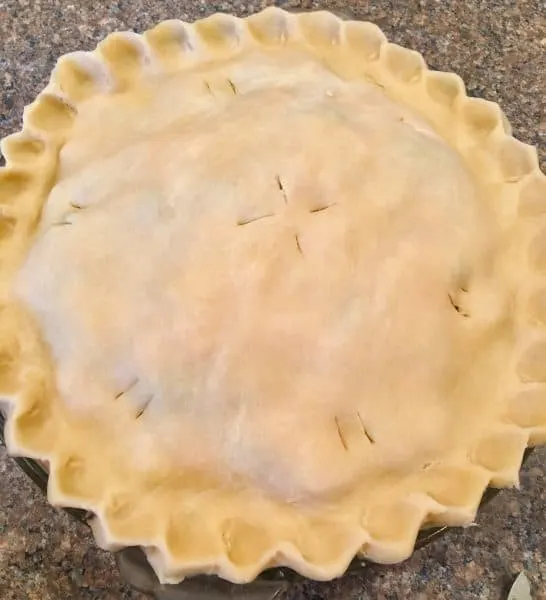 In a small bowl whip up one raw egg and 2 tsp. water. Using a pastry brush, brush top of pie with egg wash.
Place on a foil lined baking sheet. Pop into a 325° oven and bake for 45-55 minutes until crust is golden and filling is bubbling.
TIP: If your crust is getting too brown place a foil tent over the top and continue to bake until it is bubbling. You will see the gravy peeking up through the vent holes. (It's just saying "Whew! It's hot in here? Did someone move the time up on the doomsday clock? lol)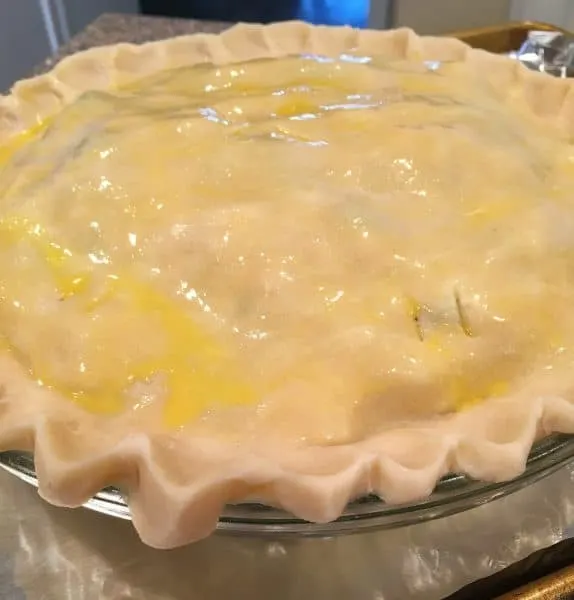 The egg wash will make your crust look as golden and deliciously flaky as the one below. Isn't it beautiful! When done remove from the oven and allow to cool for 10 minutes before serving.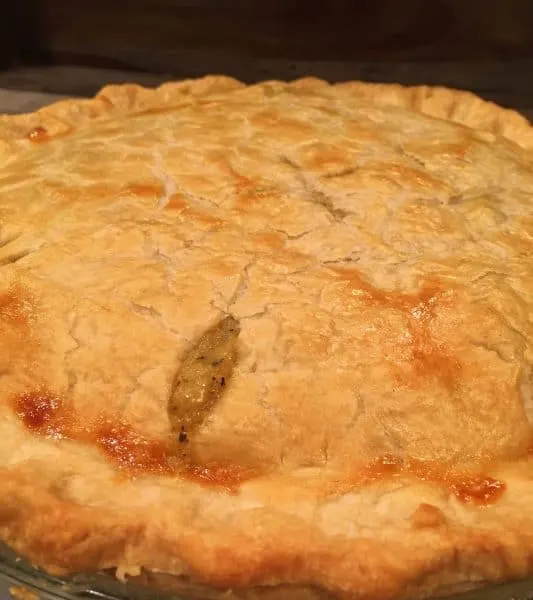 What about the inside? Does it look just as delicious? (wink)
I don't know what you think…but I think it looks AMAZING! Sorry Marie. We are kickin' ya to the curb for our version of homemade pot pie!
I mean this is pure comfort food! The crust is flaky and melts in your mouth. The filling is a flavor explosion party for your mouth! The spices blend perfectly with the moist chicken, mixed veggies, and potatoes.
The cream soup and gravy combine to make the most delicious mouth-watering cream sauce. Honestly, and I say this very humbly, I don't think you're going to find a better Chicken pot pie recipe out there!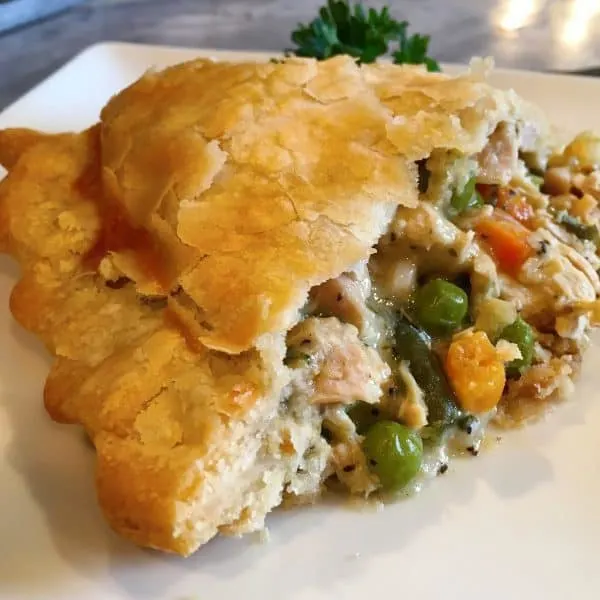 This is a large family size recipe. You could cut it in half and use a smaller pie dish for a smaller family.
This reheats beautifully! Mars has been eating it for a few days now and hasn't gotten tired of it. Keeps raving about how great my Chicken Pot Pie is! Take that Colonel Sanders! lol (Anybody else think the new Colonel is creepy? Yikes! lol)
I serve mine with a big tossed green salad, and a side of my buttery sweet corn bread!
The perfect dinner for your family this winter! Chicken Pot Pie is like a mini Thanksgiving meal inside a crust! Who doesn't love Thanksgiving dinner?
This recipe is easy to throw together. I know it may seem like a lot of work, seriously though it took me about 30 minutes, including making the crust, to get it into the oven.
Remember my tips and you can have it made and baking in no time at all. You can make it in the morning and wait to bake it till dinner time. Whatever works best with your time schedule.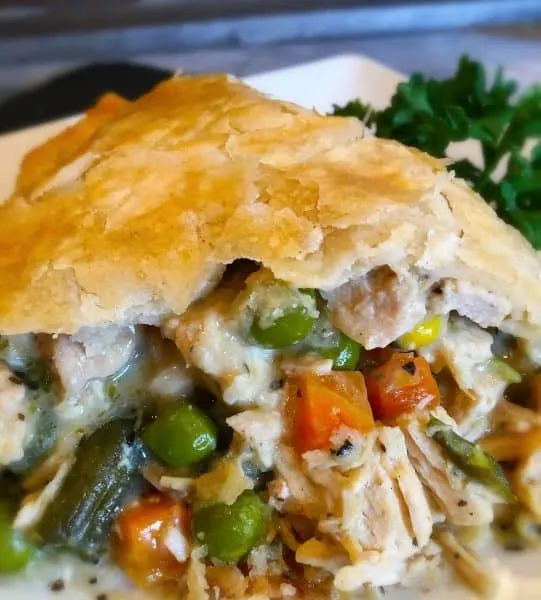 Find a fork! It's time to dig into this Perfect Country Chicken Pot Pie!
Other Family Favorite Chicken Recipes
The printable is below. If you have any questions please don't hesitate to comment and I'll get back to you in a Jiffy! I absolutely LOVE hearing from you.
You can follow me on Facebook, Instagram, Instagram Stories, and Twitter! Come join the party! I'm always sharing, and searching for, lots of wonderful recipes and fun ideas.
Happy Monday! I have a fantastic week planned and a NEW segment coming that I'm SUPER excited about! I'd LOVE to have you join me!
Hugs and Love from My Nest to Yours!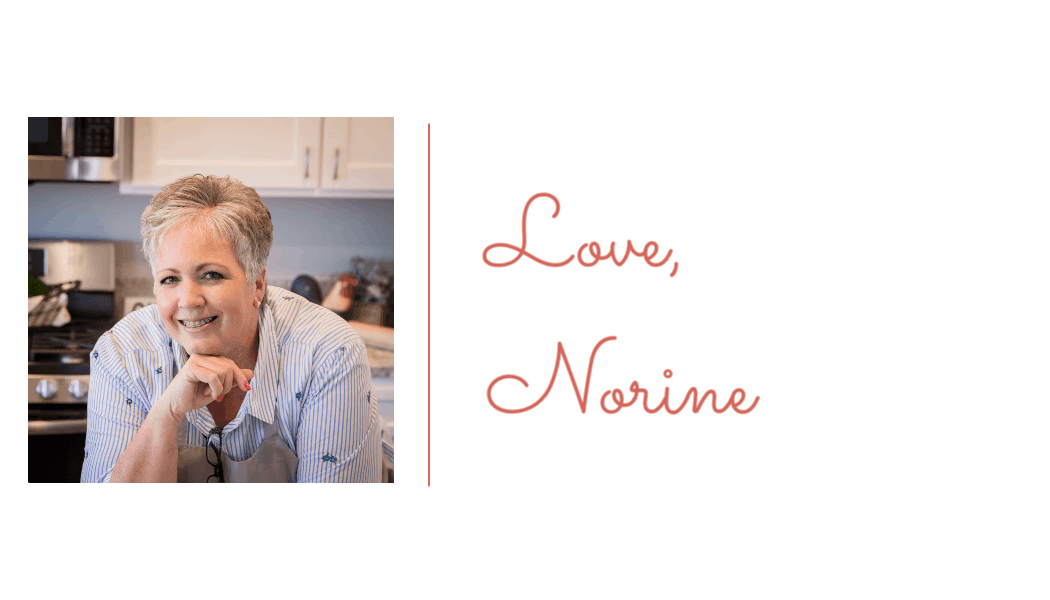 Yield: 10 servings
Perfect Country Chicken Pot Pie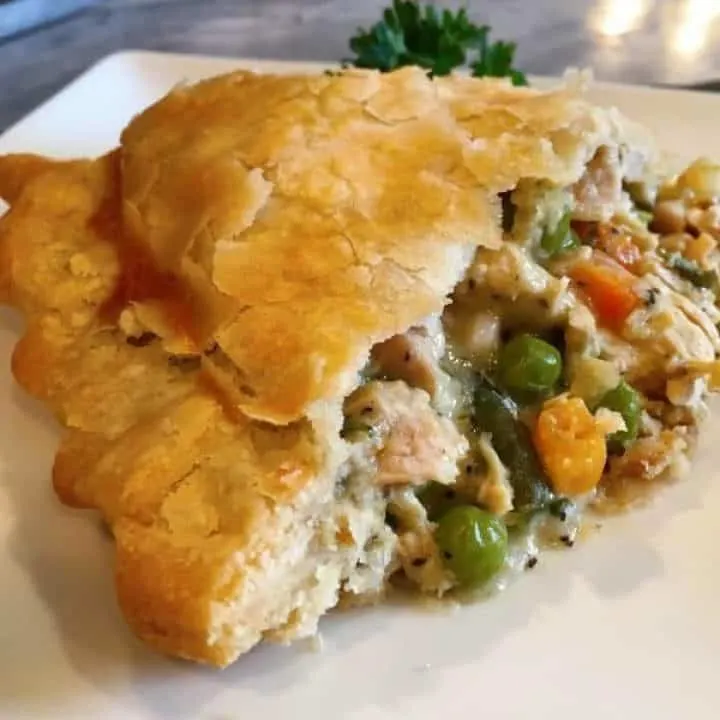 One of the purest forms of comfort food is Chicken Pot Pie! This recipe for Perfect Country Chicken Pot Pie is...well...Perfect!
Total Time
1 hour
25 minutes
Ingredients
4 cups of diced cooked chicken
2 cooked, cooled, diced potatoes
3/4 cup diced celery
1/2 cup onion
2 Tablespoons butter, melted
3 cups frozen mixed vegetables
1 can cream of chicken soup
1 18oz. value sized Heinz chicken gravy
1 tsp salt
1/2 tsp coarse black pepper
1 tsp dried oregano
1/2 tsp dried thyme
1/4 tsp dried ground sage
1/2 tsp garlic salt
1 Tablespoon chopped fresh parsley
double pie crust
1 egg, beaten
2 tsp water
Instructions
In a small skillet melt 2 Tablespoons butter. Add in 3/4 cup chopped celery and 1/2 cup diced onion. Saute till translucent.
In a large bowl add 4 cups chopped chicken, sauteed celery and onions, diced cold potatoes, 3 cups of frozen mixed vegetables, salt, pepper, thyme, oregano, sage, garlic salt and fresh parsley. Mix.
Add in 1 can cream of chicken soup and the 18 oz. jar of chicken gravy. Mix till well blended.
Roll bottom pie crust out. Place in deep pie plate.
Fill with meat and vegetable filling. Spread out evenly with slightly mounded center.
Roll out top pie crust. Gently place on top of filling. Trim around outside edge of pie plate. Fold excess crust under. Flute crust edges with fingers. Cut small slits for vents in the top of the crust.
Beat egg with water. Using a pastry brush, brush top of crust with egg wash.
Place pot pie on top of foil lined baking sheet.
Place in preheated 325° oven and bake for 45-55 minutes.
Pie is done with golden brown and filling is bubbly. (If crust begins to brown to soon cover with foil tent.)
Allow to cool for 10 minutes. Slice and serve.
Recommended Products
As an Amazon Associate and member of other affiliate programs, I earn from qualifying purchases.
Nutrition Information:
Yield:
10
Serving Size:
1 slice
Amount Per Serving:
Calories:

343
Total Fat:

18g
Saturated Fat:

6g
Trans Fat:

0g
Unsaturated Fat:

10g
Cholesterol:

80mg
Sodium:

894mg
Carbohydrates:

28g
Fiber:

4g
Sugar:

4g
Protein:

18g