Parmesan, Mozzarella, and Cheddar Cheese join forces in this Easy Three Cheese Garlic Bread. Made on Artisan French bread with all that luscious cheese, mayonnaise, garlic, chives, and lots of buttah! It's Epic!
I know what you're thinking! You're saying to yourself, "Why does the world need another Cheesy Garlic Bread?". Because mediocre garlic bread is unacceptable!
*As an Amazon Associate I earn from qualifying purchases. This post may contain affiliate links, which means that I may make a commission from any purchases at no additional cost to you. Thank you for your support!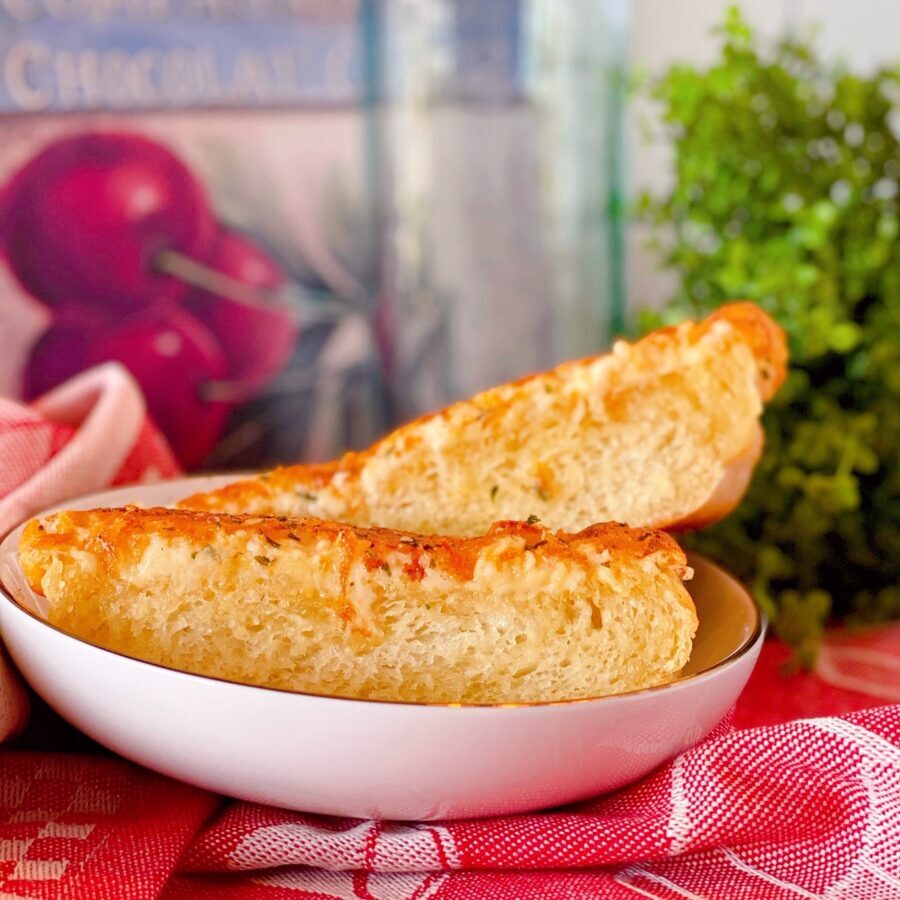 We have more discretionary taste buds than that! (Are we bread snobs? Sounds like it huh? lol)
I thought all Garlic cheese bread recipes are created equal. They are not! Not even close.
Last week I made a couple loaves of my Easy Homemade French Bread to go along with my Slow Cooker Loaded Potato Soup! Soup and crusty bread just go together don't they? The recipe makes two good size loaves of the best French bread and it's so easy to make. You don't have to use homemade bread, store bought will work.
I had a loaf and half left over, so a few days later when I made Slow Cooker Meatballs and spaghetti, I decided it would be great to have some garlic bread as a side. I tossed around the idea of making my typical Garlic bread. A little butter and some garlic salt, wrapped in foil, tossed in the oven.
I wanted to kick it up the homemade French bread I had leftover! I've made cheesy garlic bread in the past. I just didn't love any of those recipes. They were okay…just not great! I wanted GREAT!
How To Make Great Easy Three Cheese Garlic Bread
The majority, if not all, of the garlic cheese bread spreads begin with soften butter. However, even soften butter is hard to mix with mayonnaise and cheese and then spread on bread without tearing the bread to smithereens.
This recipe begins by semi-melting a half cup of butter in a microwave safe bowl. Add 3/4 cup of Real Mayonnaise and mix together until well blended.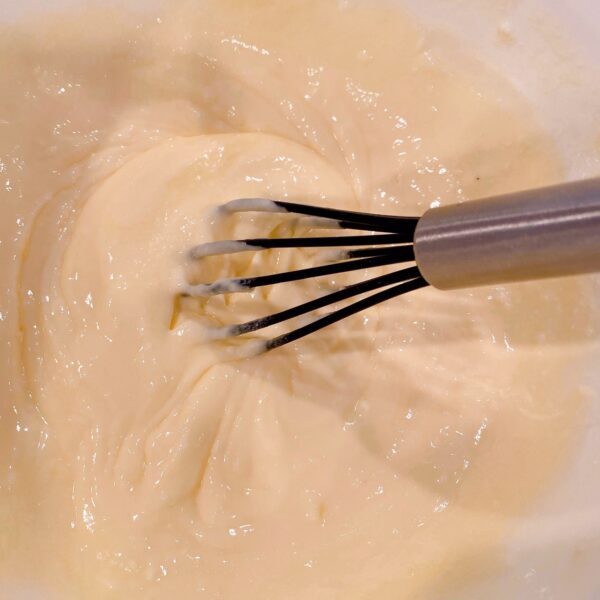 Add 1 cup of grated Parmesan Cheese, 1 cup of Mozzarella Cheese, and 1 Cup grated Cheddar Cheese, 1 Tablespoon chopped chives, and 2 teaspoons minced garlic.
TIP: If you can't find chives, you can use chopped green onion. I love the subtle flavor of the chives. It doesn't over power the bread like onions can, but you can use green onions.
Full disclosure…I never said this is a "Low-Cal" recipe. This is not an every day recipe! I openly admit that…but it is so good that it's worth the extra calories once… or five times a year!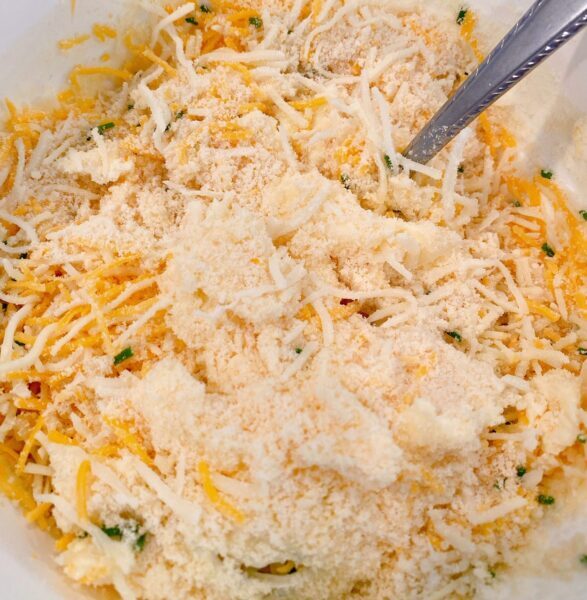 Using a spoon, mix all the garlic cheese spread ingredients together until well blended. Since the butter is slightly melted it creates a fantastic soft spread to place on top of your French Bread.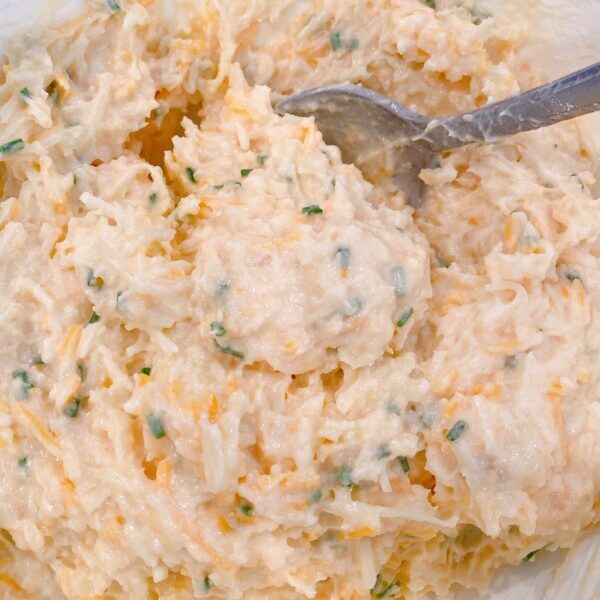 Cut the French bread in half length wise and in half width wise. You can only cut it in half length wise, but I have found that it fits better on a parchment, or silicone mat, lined baking sheet.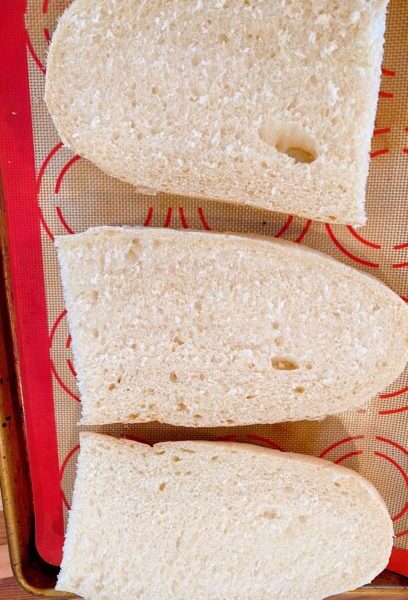 Spread the garlic cheese spread 1/4 inch thick on top of each half of French Bread, making sure to cover the entire top of each half of loaf of bread.
Sprinkle with dried parsley. It adds a little pop of color to each loaf.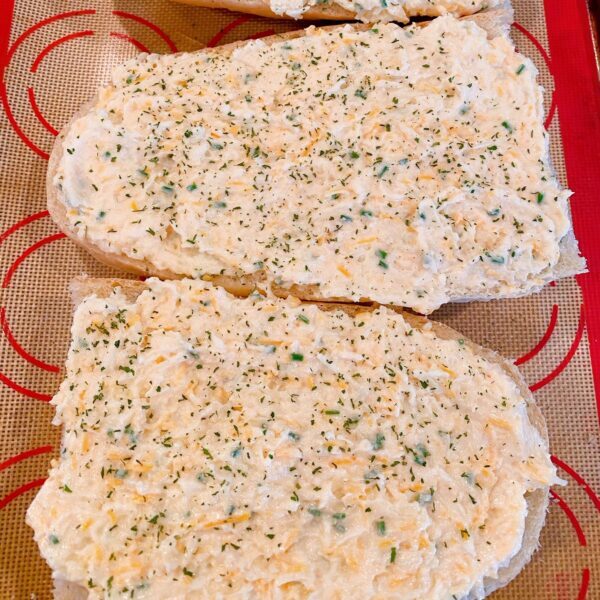 Bake in a preheated 350° oven for 20-25 minutes or until cheese is melted and bubbly. To add a touch of color place the bread under the broiler for 3-5 minutes until the tops are golden brown.
Don't worry if a little bit of that cheese slides on over the edge of your bread! It just makes it even better! (I'm officially drooling! Y'all…this bread is AMAZING! Okay back to the recipe!)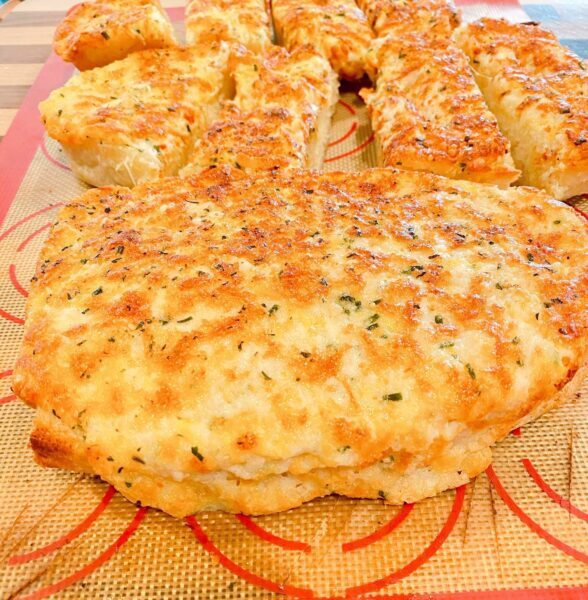 Now for the tricky part…to slice this piping hot Garlic Cheese Bread without burning your fingertips…use a fork and carefully stick it into the hot cheesy garlic bread. Hold it in place, using a serrated bread knife, slice each loaf into individual slices.
This is the recommended serving size…however if you don't want to waste your time slicing, and know you're going to eat half a loaf…I totally support that decision! Whole heartedly!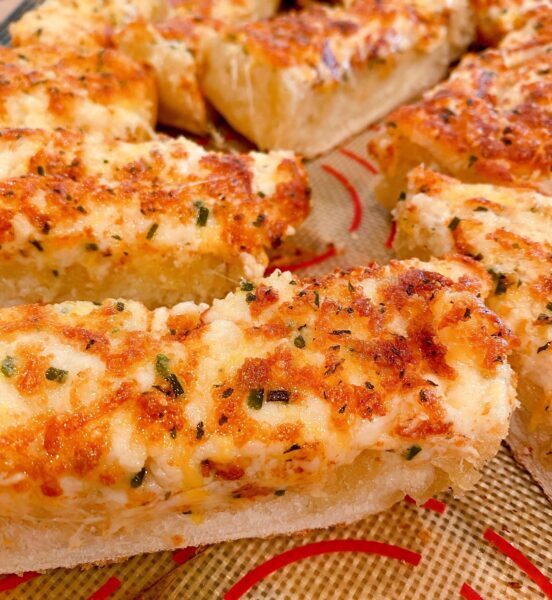 Isn't this a beautiful cheesy garlic bread recipe? And it's made from scratch! The three cheeses in this recipe blend together perfectly! It's buttery and full of flavor…LOADS of flavor!!
Flavor (that's what I'm calling the butter…flavor! Say it with me…Butter is flavor!) soaks down into the French bread creating the BEST Cheesy Garlic Bread! I did say we were making the "Best"!
It was L.O.V.E. at first bite! I may be understating that a tad. Oh my goodness this bread is LIFE! That's what they say right?!! Bread is life! So imagine Toasty Cheesy Garlic Bread on Homemade French bread! This bread is beyond this world…it's out of this world!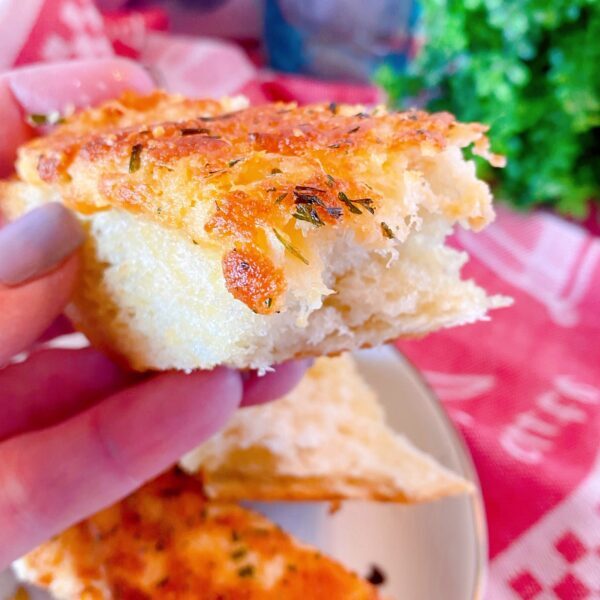 I couldn't stop going on and on about this bread over on my Instagram account! A few followers instantly made it and had it for dinner! It received rave reviews!
Honestly dunking slices of this in marinara sauce would make an amazing meal!
I told my husband "When I die, place a loaf of this in each of my hands…and I'll come back for it!" It's Just. That. Good!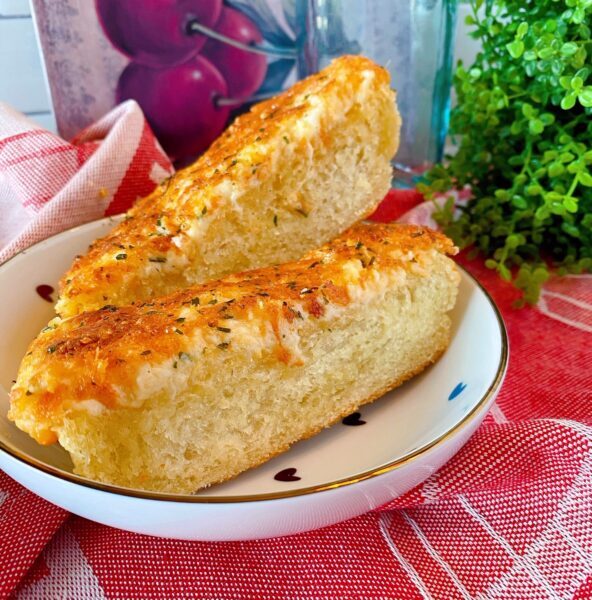 Whether you make your own homemade French bread or use store bought French Bread, this is a fantastic recipe!
Other Favorite Easy Homemade Bread and Muffin Recipes
Thanks so much for stopping by and visiting with me today! I hope you and your family enjoy this recipe.
I'd love to have you follow me on Facebook, Instagram, and Pinterest where I share my favorite recipes every day!
Happy Nesting!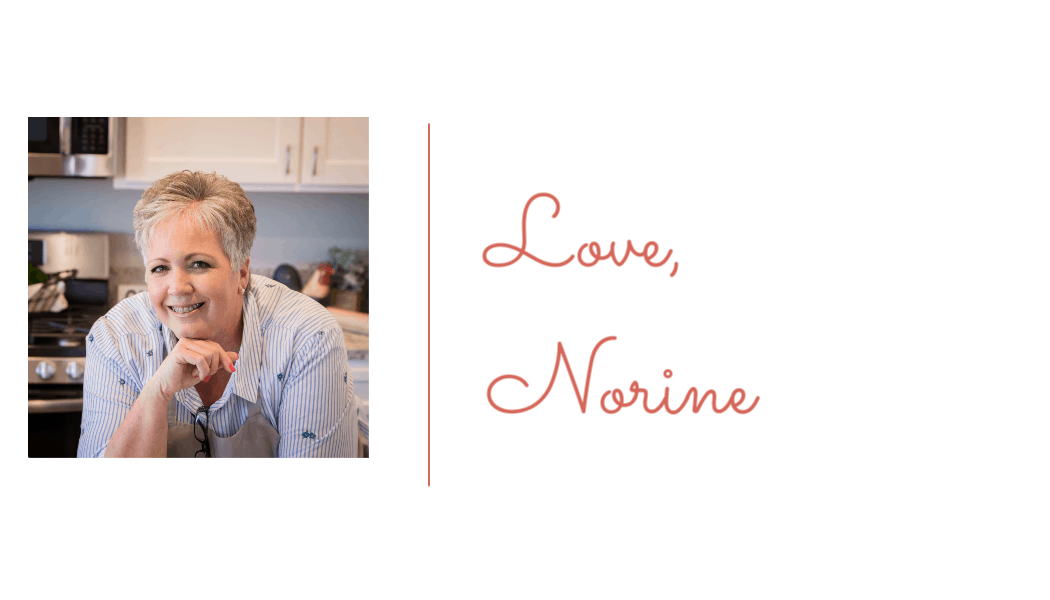 Yield: 20 slices
The Best Three Cheese Garlic Bread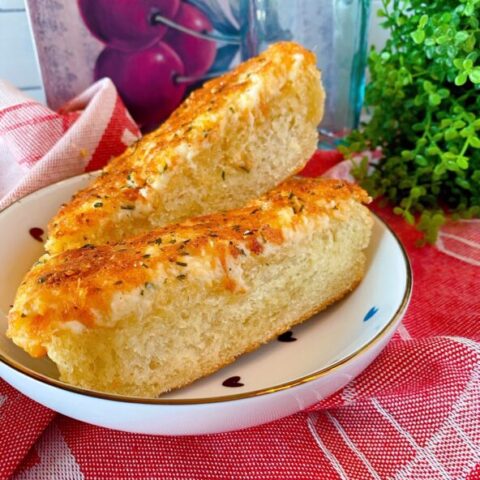 Parmesan, Mozzarella, and Cheddar Cheese join forces in this Easy Best Three Cheese Garlic Bread. Made on Artisan French bread with all that luscious cheese, mayonnaise, garlic, chives, and lots of buttah! It's Epic!
Ingredients
1 loaf French bread
1/2 cup butter, melted
3/4 cup mayonnaise
1 Tablespoon chives, chopped
2 teaspoons minced garlic
1 cup grated Parmesan Cheese
1 cup grated Mozzarella Cheese
1 cup grated Cheddar cheese
Dried Parsley for garnish
Instructions
Preheat oven to 350°
Slice French bread in half length wise. Place each half of the bread on a parchment lined large baking sheet.
In a microwave safe bowl, melt butter. Add mayonnaise, cheese, chives, and garlic. Mix together until well combined.
Spread garlic cheese mixture 1/4 inch thick on top of each slice of bread. Sprinkle with dried parsley.
Bake for 15 minutes, or until cheese is melted. Switch oven to broil. Broil for 3-5 minutes until the top of the cheese is golden brown.
Remove from oven and cut into slices. Serve hot.
Nutrition Information:
Yield:
10 servings
Serving Size:
1
Amount Per Serving:
Calories:

444
Total Fat:

32g
Saturated Fat:

13g
Trans Fat:

1g
Unsaturated Fat:

16g
Cholesterol:

60mg
Sodium:

785mg
Carbohydrates:

27g
Fiber:

1g
Sugar:

2g
Protein:

13g