Air Fryer Lobster Tails drizzled in a scrumptious lemon butter are so easy to prepare and so delicious you'll never want to cook them any other way.
Several weeks ago I jumped on board the "Air Fryer" band wagon! I'm always a hold out on new cooking fads. I don't want to invest until I know they're gonna hang around for the long run! Plus I think the products improve after the initial release. Remember the first Microwave? (We've come a long way baby!)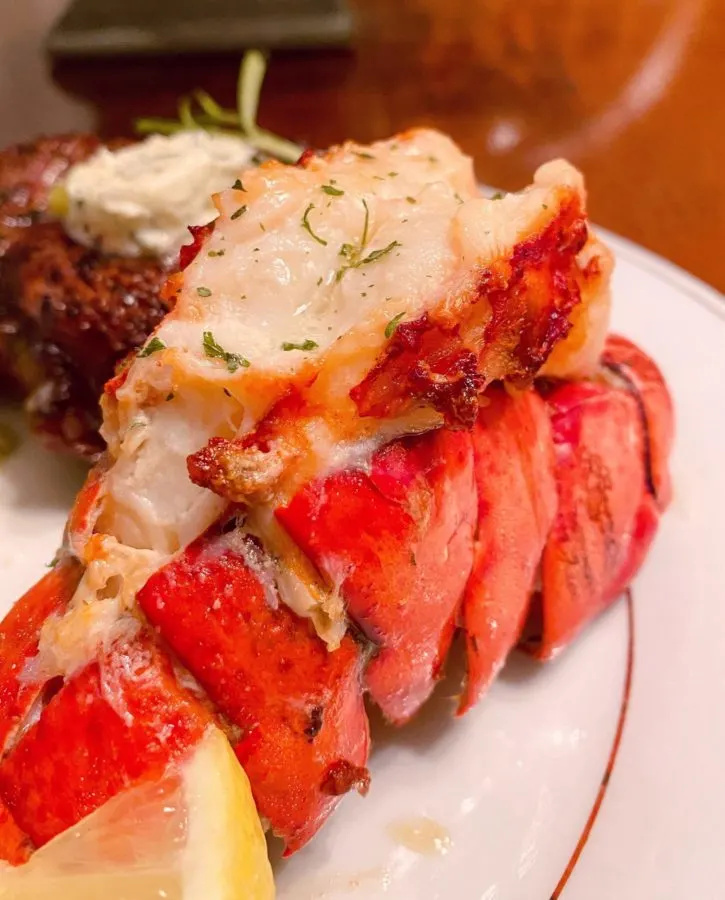 My husband bought me a mini air fryer for Christmas. I decided it was too small. I wanted a larger one that would hold two steaks… or lots and lots of wings! ( There are fries, and onion rings…I do have a certain priorities that must be met!)
We returned the mini air fryer and I went in search of the perfect Air Fryer! I'm really happy with my purchase…and after realizing how easy it is to make perfectly cooked lobster tails….I went from happy to LOVE! Yep, I'm in love with my new Air Fryer! Head over heels! (I'm placing the link for my favorite Air Fryer in the recipe card below.)
How To Cook Lobster Tails in the Air Fryer
Traditionally lobster tails are boiled or steamed. Live fresh lobster are always better, but I'm a wimp and live nowhere near the ocean, so I purchase frozen lobster tails from my local market, or Costco.
Before preparing the lobster tails for baking in the air fryer, you'll need to make the lemon butter.
This is a really simple lemon butter recipe. In a microwave safe bowl melt 4 Tablespoons salted butter with the juice of half a lemon, about 1 Tablespoon of juice. Set the lemon butter aside for a minute while you prepare the Lobster tails.
You'll need two 6-ounce lobster tails, thawed. Before air frying, you'll need to Butterfly the lobster tails. Many lobster tail recipes call for the lobster tails to be butterflied. Butterflying a lobster tail is nothing more than cutting the shell and lifting the lobster meat out to rest on top of the shell.
How To Butterfly Lobster Tails
To butterfly the lobster tail… Hold the lobster tail in one hand with the top of the shell facing up, the tail fins away from you. Using a sturdy pair of kitchen shears, cut through the top of the shell, right down the center, through the top of the lobster meat. Stop cutting just before the bottom of the shell where the tail fans out.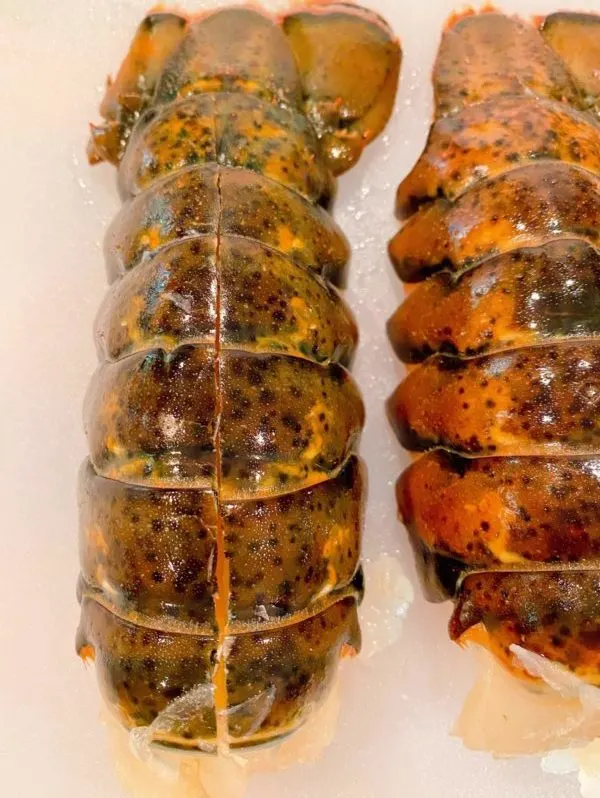 Using your thumbs and fingers, gently spread the shell apart, keeping the meat attached near the end of the tail.
Lift the meat over the shell by separating the meat from the back of the lobster tail. Make sure to keep the lobster meat attached at the bottom. Lift the meat over the shell and push the shell halves back together beneath the meat so that the meat rests on top of the shell.
TIP: I find sliding a butter knife under the lobster meat at the bottom of the shell will help release the meat and create a pocket for your to slide your fingers under the meat to lift.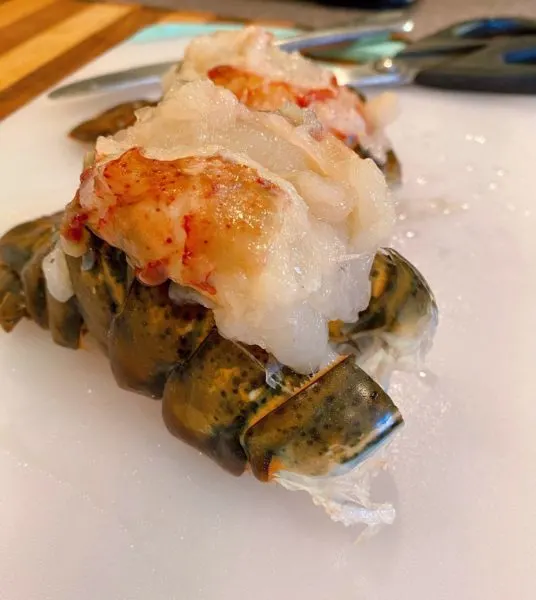 How to Air Fry Lobster Tails
Preheat your Air Fryer to 380 °F for 5 minutes.
Carefully remove the air fryer basket and place two lobster tails in the bottom of the air fryer basket. If you are doubling this recipe and have room in your basket you can do more than two at one time.
Drizzle 1 Tablespoon of lemon butter over the top of each lobster tail. Cook for 6–8 minutes on 380° degrees. After 4 minutes of cook time, check the lobster tails and drizzle with a little bit more lemon butter.
TIP: Lobster tails are done when the meat is no longer translucent.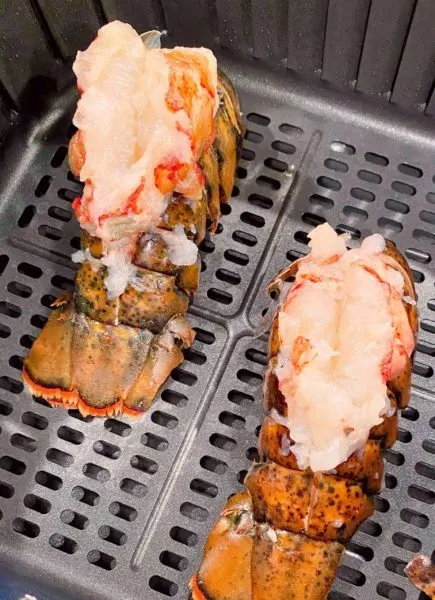 After 8 minutes remove lobster tails using tongs and plate. For a final touch, brush a little bit of the lemon butter onto the lobster and sprinkle with some parsley for a little pop of color.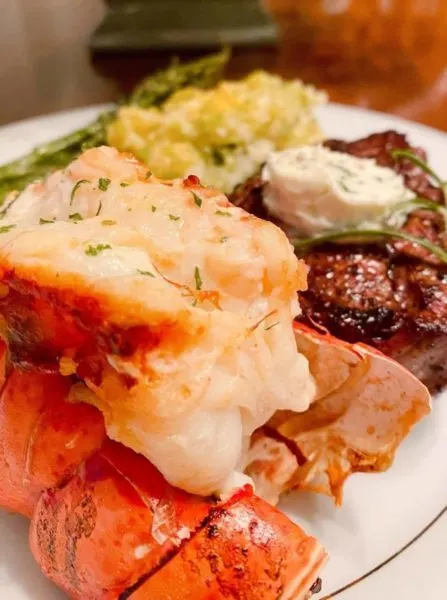 I was a little skeptical about this baking method for Lobster Tails. I'm not sure why? Air Fryers are just mini convection counter top ovens. The lobster turns out tender and juicy! It has the perfect texture.
I love serving lobster tails with a perfectly cooked skillet Filet Mignon, with extra Lemon butter for dipping! Cause you can never have too much butter!! EVER! lol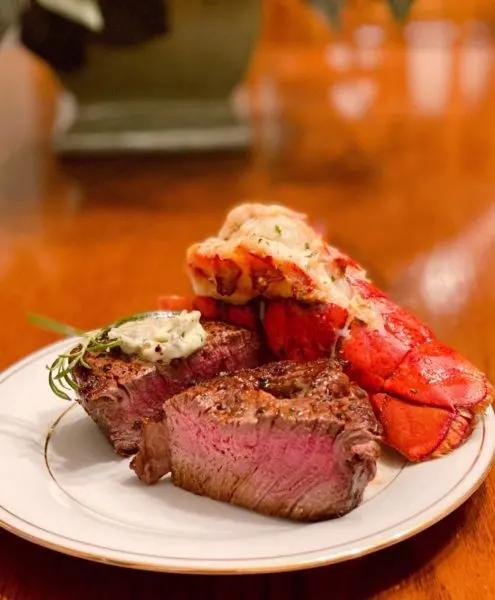 Surf and Turf can be expensive when served at your favorite Steak or Seafood House. However, when making it at home, it's more affordable, and the two compliment each other beautifully! Nothing better than steak and lobster.
It may not be a weekly meal, but it is a great "in-home" romantic dinner for two when dinning out is not an option. Whether it's for Valentine's Day, an Anniversary, or Birthday this is a wonderful easy dinner to prepare. It's also a way to treat yourself…and we all deserve to treat ourselves to something special occasionally.
Now that I've made Lobster Tails in the air fryer…I'll never make them any other way! It's such a quick and easy way to create a fantastic elegant dinner.
If you enjoyed this recipe you might also enjoy these other seafood recipes.
Favorite Seafood Recipes
Thanks so much for stopping by and visiting today! I hope you'll stop back by soon…and I hope you'll give this Air Fryer Recipe a try! It's a new favorite at this Nest!
Happy Nesting!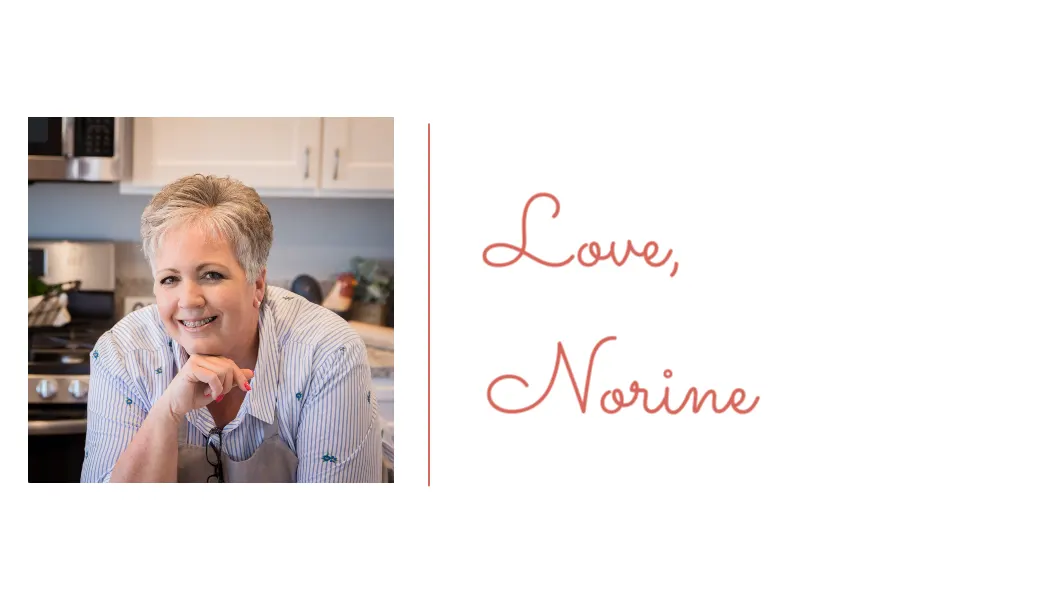 Yield: 2 servings
Air Fryer Lobster Tails with Lemon Butter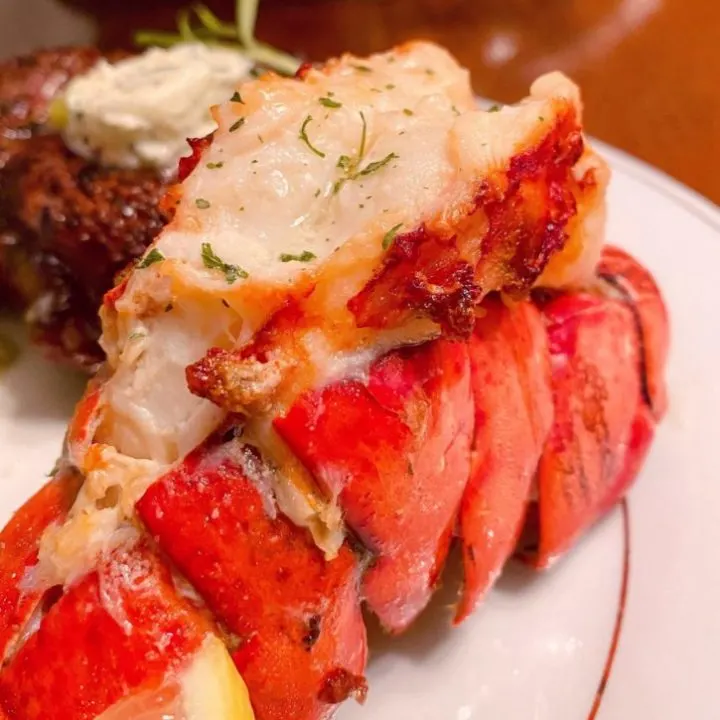 Air Fryer Lobster Tails drizzled in a scrumptious lemon butter are so easy to prepare and so delicious you'll never want to cook them any other way.
Ingredients
2 - 6 oz. Lobster Tails, thawed
4 Tablespoons salted butter, melted
1 Tablespoon Fresh Lemon juice
Fresh chopped parsley for garnish (optional)
Instructions
Prepare lemon butter by combing melted butter and lemon. Mix and set aside.
Rinse lobster tails and drain on paper towel. Butterfly lobster tails by cutting through the shell, remove the meat, and rest it on top of the shell.
Preheat Air Fryer to 380° for 5 minutes. Place prepared lobster tails in Air Fryer Basket, drizzle with 1 Tablespoon melted lemon butter over the lobster meat. Close the Air Fryer basket and cook on 380° F for 8 minutes, or until lobster meat is no longer translucent. Half way through the bake time, open air fryer, and drizzle with additional lemon butter. Continue baking until done.
Carefully remove lobster tails, garnish with chopped parsley if desired, and plate. Serve with extra lemon butter for dipping.
Recommended Products
As an Amazon Associate and member of other affiliate programs, I earn from qualifying purchases.
Nutrition Information:
Yield:
2 servings
Serving Size:
1 tail
Amount Per Serving:
Calories:

449
Total Fat:

26g
Saturated Fat:

15g
Trans Fat:

1g
Unsaturated Fat:

9g
Cholesterol:

214mg
Sodium:

570mg
Carbohydrates:

6g
Fiber:

0g
Sugar:

0g
Protein:

45g