Thick tender juicy Pan-Seared Filet Mignon with a well seasoned golden crust and a Fresh Homemade Herbed Butter finished off in the oven to perfection!
This nest is full of Carnivores! We're country and we love our steaks! Especially if those steaks are the KING of steaks … nice thick tender Filet Mignons.
*As an Amazon Associate I earn from qualifying purchases. This post may contain affiliate links, which means that I may make a commission from any purchases at no additional cost to you. Thank you for your support!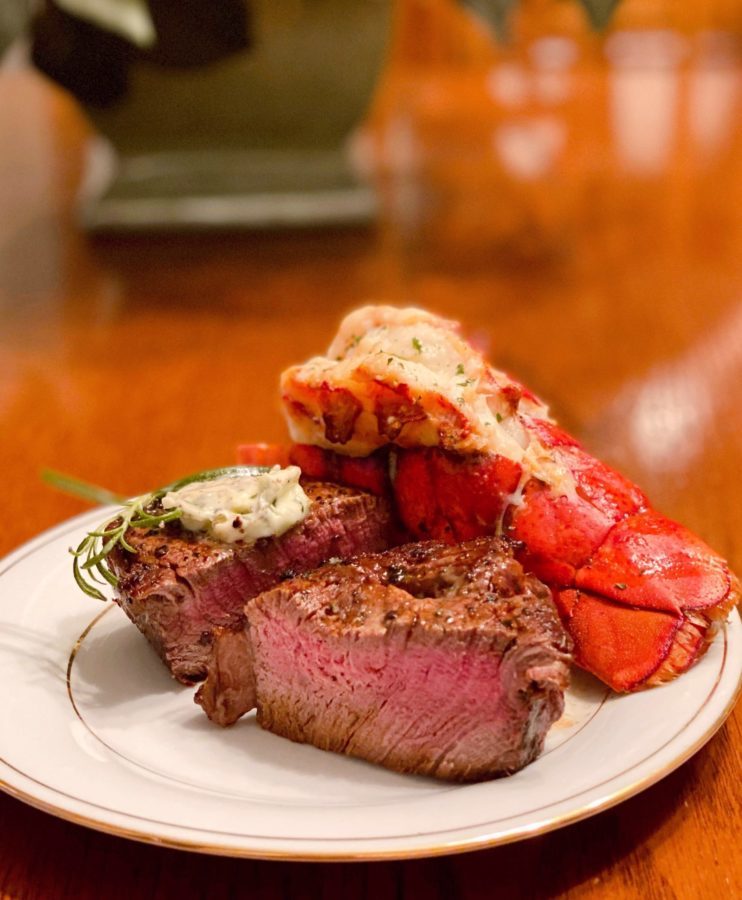 The only problem with purchasing outstanding Filet Mignon, here in snow country, is that grilling outdoors isn't really something the Grill Master wants to do in the dead of winter. In the past I've been terrified of ruining top quality steaks by cooking them on the stove-top!
After watching good ol' Gordon (We're buddies…he doesn't that…but we are!) show the "how to's of pan-searing a steak"… I was suddenly a highly trained Chef, armed with knowledge, and ready to master the "beast"! (Don't you love my false sense of selfconfidence!)
In all sincerity, pan-searing a steak is not as difficult as I thought it would be. There are a few hints and tips I'm going to share with y'all, so you to can achieve "Gordon" status! These tips will produce the BEST pan-seared steak for your special Anniversary or Valentine's Day Steak Dinner.
How To Make Pan-Seared Oven Roasted Filet Mignon
There are a few things you'll need before beginning. If you have a Cast Iron Skillet this is the time to use it! You'll need a pan that can go from stove top to oven. A well-seasoned Cast Iron skillet heats up beautifully and gives the steaks a nice crispy even sear, while still holding the heat, allowing the steaks to continue cooking.
TIP: If you don't own a cast iron skillet just make sure the pan you use is Oven Safe.
I highly recommend a digital instant thermometer. This allows you to achieve the perfect temperature on your steak. It removes all the guess work out of cooking the perfect steak! It's a kitchen tool I highly recommend every cook or baker have on hand. I'll share a link to my favorite one below in my recipe card.
Make your Homemade Fresh Herbed Butter before beginning to cook your steaks. This will allow the butter to "set" before cooking the steaks.
Remove your steaks 20-30 minutes before cooking so that they'll reach room temperature. This allows a the "muscle", or meat, to relax before it hits the heat. You have to remember that steaks are muscle. Muscles contract if they are cold and hit an extremely hot surface, thus creating a tougher steak. Room temperature keeps the steaks from contracting when they are laid in a hot skillet.
Always allow your steaks to rest 5-10 minutes, on a serving plater, after reaching the desired cook temp so that the juices retreat back into the meat keeping your steak nice and juicy.
How To Make Homemade Fresh Herbed Butter
By hand, or in a small food processor, place 1/2 cup softened salted butter. Add 5-6 Fresh large basil leaves, 2 sprigs of tender young rosemary and 1 teaspoon minced garlic.
TIP: If mixing by hand, be sure to chop all your herbs before hand. If using a food processor chopping the herbs is not necessary.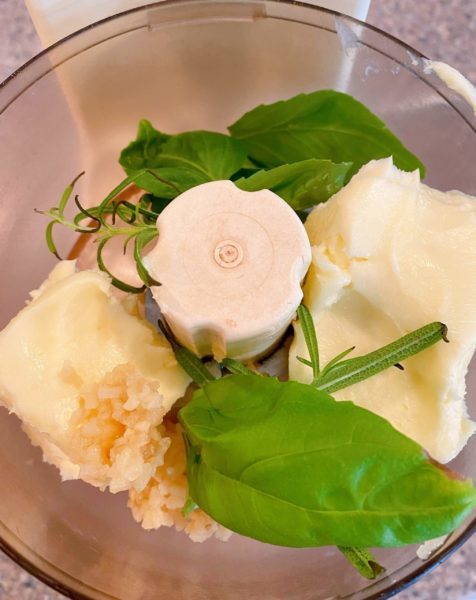 Blend on high for 2-3 minutes until the herbs are finely minced and well incorporated into the the softened butter.
Isn't that beautiful? I love the smells of the fresh herbs and garlic as they blend into the butter. You just know it's going to be fabulous on your steaks.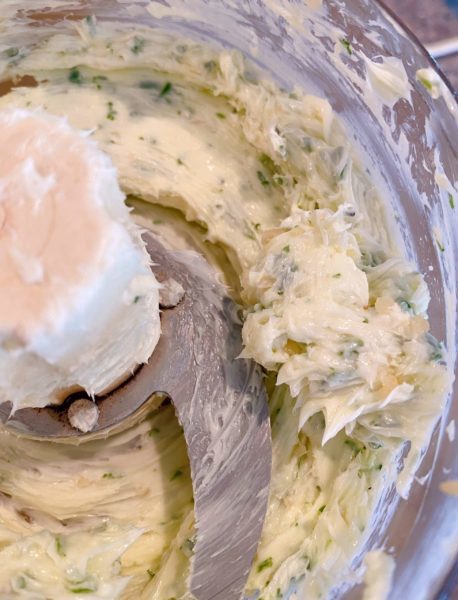 Lay a large piece of saran wrap out on the counter. Place the Herbed butter down the center of the plastic wrap. Fold the wrap over the butter and roll it back and forth to create a long tube of butter and 1-1/2 inches wide and about 6 inches long. Twist the ends and fold under.
Place the prepared butter in the refrigerator to firm up.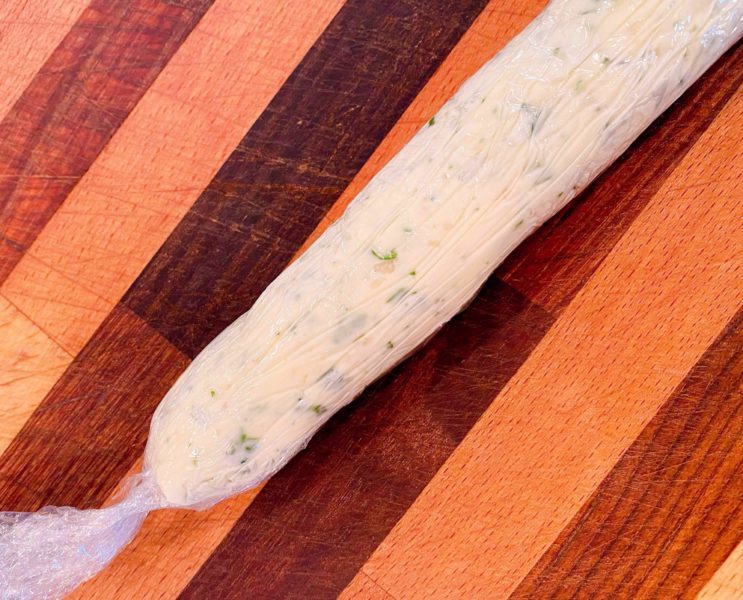 How To Pan-Sear Steaks
Preheat oven to 415°F.
Remove steaks from the refrigerator and allow to sit 20-30 minutes.
When it comes to seasoning a top quality steak, like a Filet, I highly recommend you keep it simple! Let the meat speak for itself. If it has beautiful marbling, which a good steak should, through out the steak, it will have all the delicious natural flavor you are seeking. (Put the season salt back in the cupboard! Trust me on this!)
Season the steaks with salt and coarse black pepper! I always use a coarse black pepper on steaks. You want that "punch" of pepper to hit your taste buds with the juices from the steak.
Over a medium-high heat, preheat your cast iron, or oven safe skillet. Add 3-4 half-inch pats of homemade fresh Herbed butter and 1-2 tablespoons of olive oil. Heat until butter begins to foam, but not burn.
TIP: Adding olive oil prevents the butter from burning.
You want a nice hot skillet to achieve a beautiful golden crust on your steak, basically "sealing" the juices into the steak.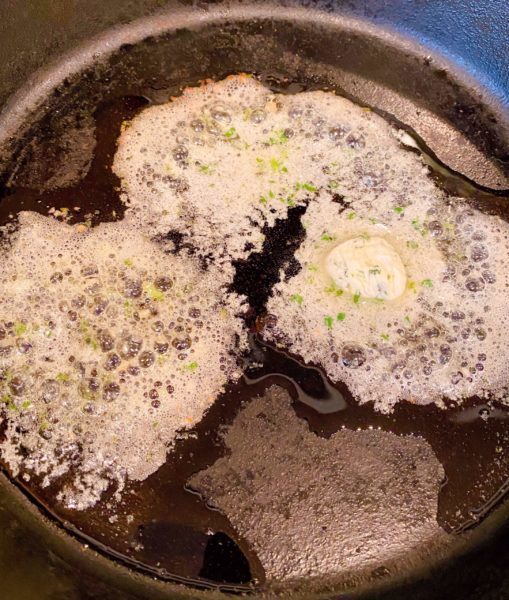 Begin with the outside edges of your steak! Using tongs, carefully hold the outside edges of your thick steak to the hot skillet until they are seared. Begin on one side and switch to the other, being careful not to burn yourself.
After you have seared the edges, lay each steak away from you, to prevent the butter from splattering & burning you. Allow each steak to cook until meat releases from the pan and is golden brown. About 2 minutes per side. You are NOT cooking the steaks, only searing them.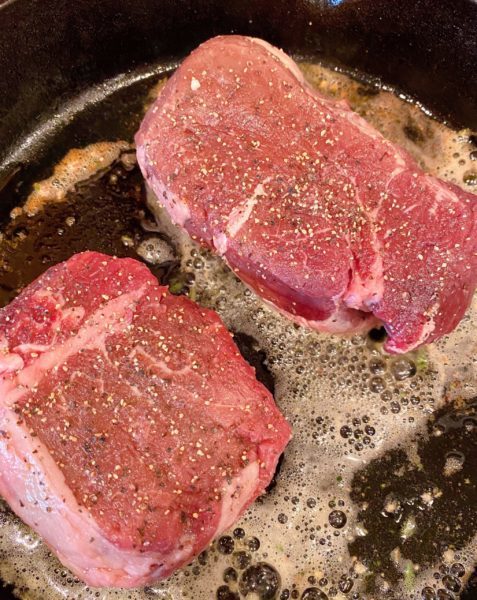 Once the steaks are turned over, using a large spoon, spoon the pan juices over the top of each steak as they finishing searing. This will allow the flavors from the Herbed butter to seep down into the steak.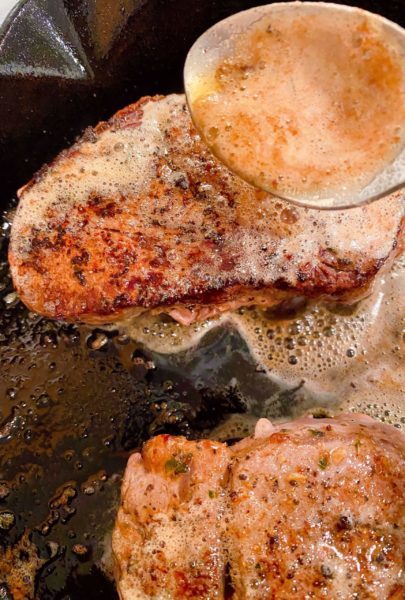 Before popping the steaks into the oven to finish cooking…decide how you like your steaks cooked. I'm including a cooking chart below so you know what internal temp they should reach before removing from the oven.
Cooking Chart for the perfect Steak
Stake Doneness Internal Temperature Center Color
Rare 120-130° F /2.30 minutes per side Red
Medium Rare 130-135° F/ 3:30 minutes per side Pink
Medium 135-145° F / 4:30 minutes per side Some Pink
Well 145-155 ° F/ 5:30 minutes per side Sliver Light Pink
Well Done 155-165° F / 6:30 minutes per side Brown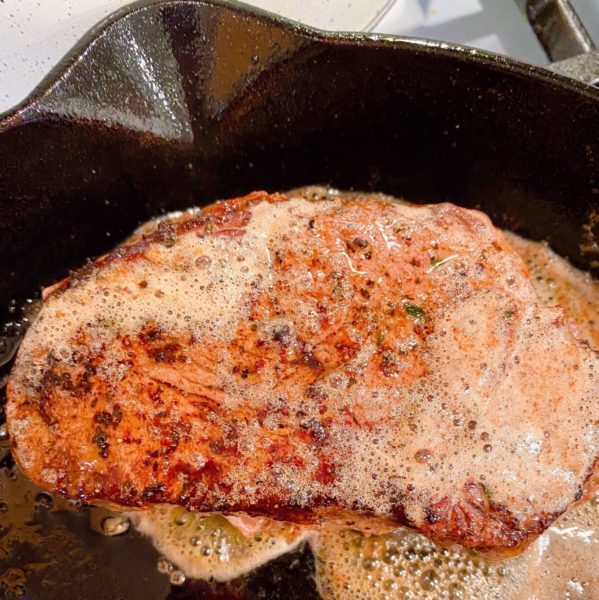 Half way through the cook time, using tongs, being very careful, flip the steaks over in the skillet and continue to bake until the desired internal temperature is reached.
Remove steak from the oven and place on a serving platter. Place a pat of Herbed butter on each steak. Cover with foil and allow to rest 5 minutes.
Serve steak with an additional pat of butter if desired. This steak was cooked medium well. It's slightly pink inside with a nice ring of brown. It is tender and juicy! Slices easily with a steak knife and melts in your mouth! The subtle hints of herbs is present with each and every bite.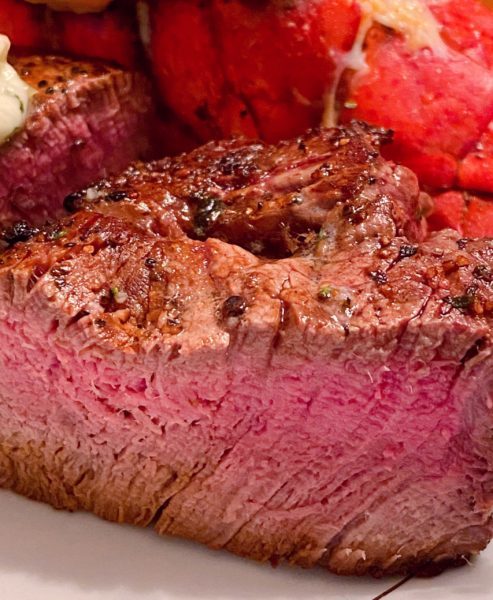 This steak pairs beautifully with my Air Fried Lobster Tails! It's a match made in heaven!
This method works well with any cut of steak! You don't half to use Filet Mignon. It's great for Ribeye steak or a New York Steak!
Doesn't that look like the most delicious steak! Made right in your own kitchen and served pipping hot.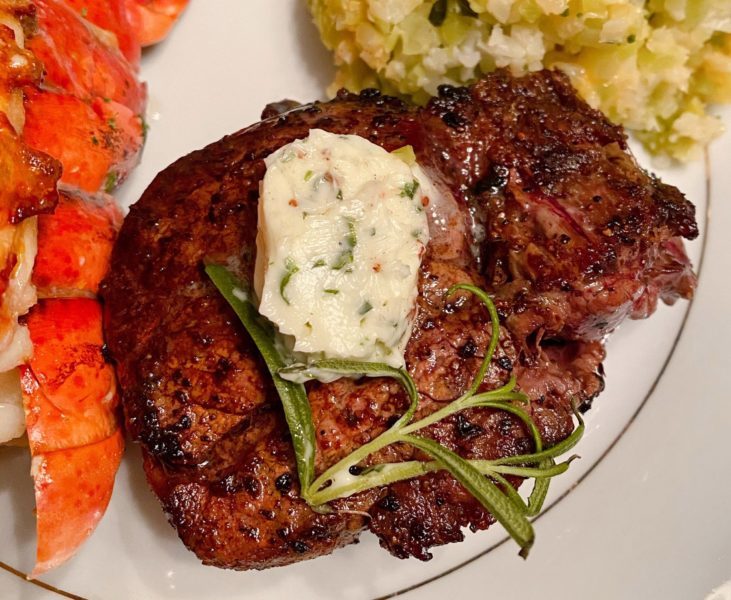 All the years I've avoided pan-searing steak! I regret that! (Kind of like I regret getting rid of all my old Donna Summer and Barry Manilow 8 track tapes…sigh! I realize most of you don't even know what an 8 track tape is…it's like the great-great-great-grandfather to the CD! Let me go find my cane now!)
While the steaks don't hold the same "smokey" flavor your get from an open air grilled steak, they're still loaded with all the savory flavor you've come to expect from a delicious cut of meat like a Filet Mignon. Within just a few minutes you have an amazingly perfect steak.
If you enjoyed this recipe, and I hope you do, you may also enjoy these other delicious steak recipes.
Family Favorite Steak Recipes
I hope you'll bust out that skillet and pan-sear that favorite steak of yours! Don't wait like I did. I promise you'll be surprised at how amazing that steak can turn out when cooked on the stove top and finished off in the oven. It will remind you of your favorite steak house steak!
Thanks so much for stopping by and visiting with me today! I hope you'll come back again soon!
Happy Nesting!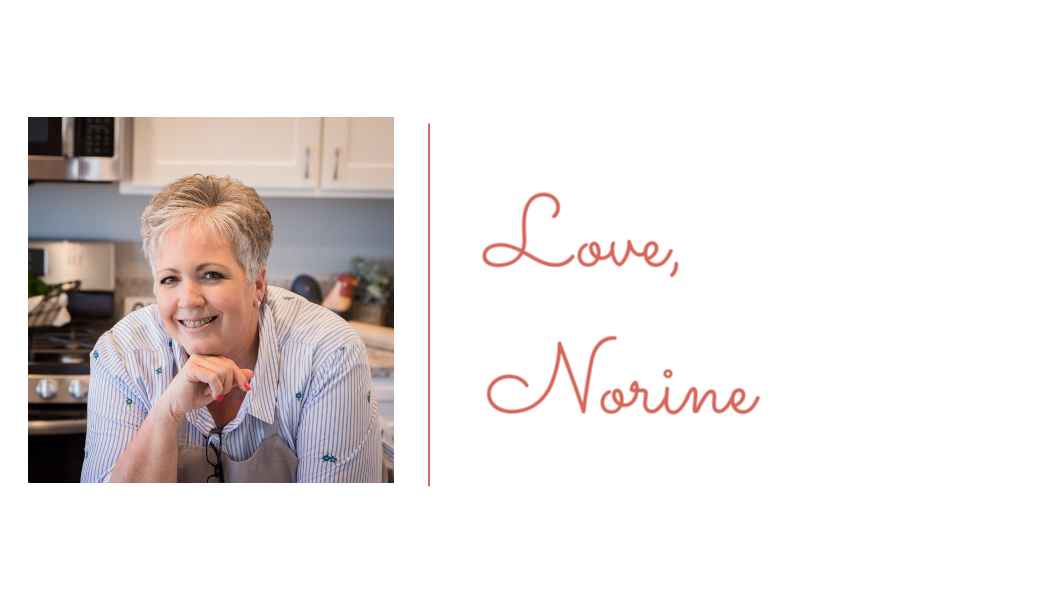 Yield: 2 servings
Pan-Seared Filet Mignon Recipe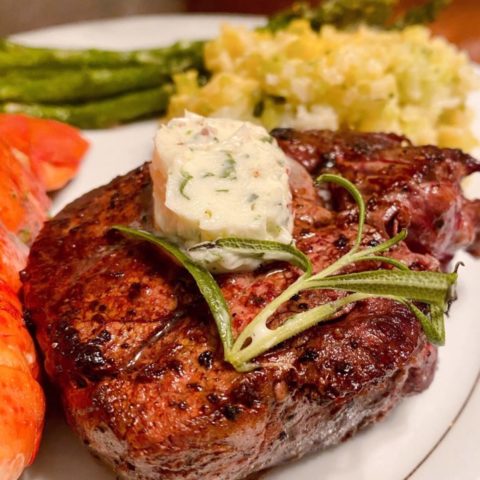 Thick tender juicy Pan-Seared Filet Mignon with a well seasoned golden crust and a Fresh Homemade Herbed Butter finished off in the oven to perfection!
Ingredients
2 - (6 oz.) filet mignon, room temperature
2 tablespoon extra-virgin olive oil
2 Tablespoon Herbed Butter (see ingredients below)
Salt, to taste
Ground coarse Black Pepper, to taste
Homemade Fresh Herbed Butter
1/2 cup softened butter
5-6 Fresh Basil leaves
2 small sprigs of baby rosemary
1 teaspoon minced garlic
Instructions
Preheat oven to 400° F.
In a large skillet over medium-high heat, heat olive oil and melt herbed butter. Season room temperature steaks with salt and coarse black pepper. When butter is frothy and oil is just about to smoke, add steak. Using tongs sear the edges of the steak on both sides. Sear both sides of the steaks. Lay the steak away from you and sear 2 minutes on each side. Baste with butter while searing.
Transfer skillet to preheated oven and cook to your liking, about 5 minutes for medium. Tip: Check the temperature of meat before transferring to the oven to see how far you are from the desired temperature. You may need less time if you are about 10 degrees from desired temperature. Flip the steak over half way through the cook time.
Remove pan from oven, place steaks on a plate, cover with foil, let rest 5 minutes before serving. Garnish with an additional pat of butter and a sprig of rosemary.

Homemade Herbed Butter
In the bowl of a mini food processor add soften butter, herbs, and garlic. Process on high until well incorporated. Place a sheet of saran wrap on the counter top and place mixed butter down the center. Fold saran wrap over and roll. Should be 6 inches long and 1 inch wide. Twish ends of saran wrap and fold under. Chill until ready to use.
Nutrition Information:
Yield:
2 servings
Serving Size:
1 steak
Amount Per Serving:
Calories:

811
Total Fat:

80g
Saturated Fat:

40g
Trans Fat:

2g
Unsaturated Fat:

33g
Cholesterol:

220mg
Sodium:

748mg
Carbohydrates:

2g
Fiber:

1g
Sugar:

0g
Protein:

23g