A delicious Spinach Wrap filled with Peppered turkey, Crispy Bacon, Avocado, Havarti cheese, Tomato, Lettuce and Ranch Dressing. California Club Turkey Wrap…perfect for Lunch or Dinner!
Lunch!! I'm always looking for new lunch idea's! I mean a girl can only eat so many leftovers, salads, and tuna sandwiches before it's time to change things up!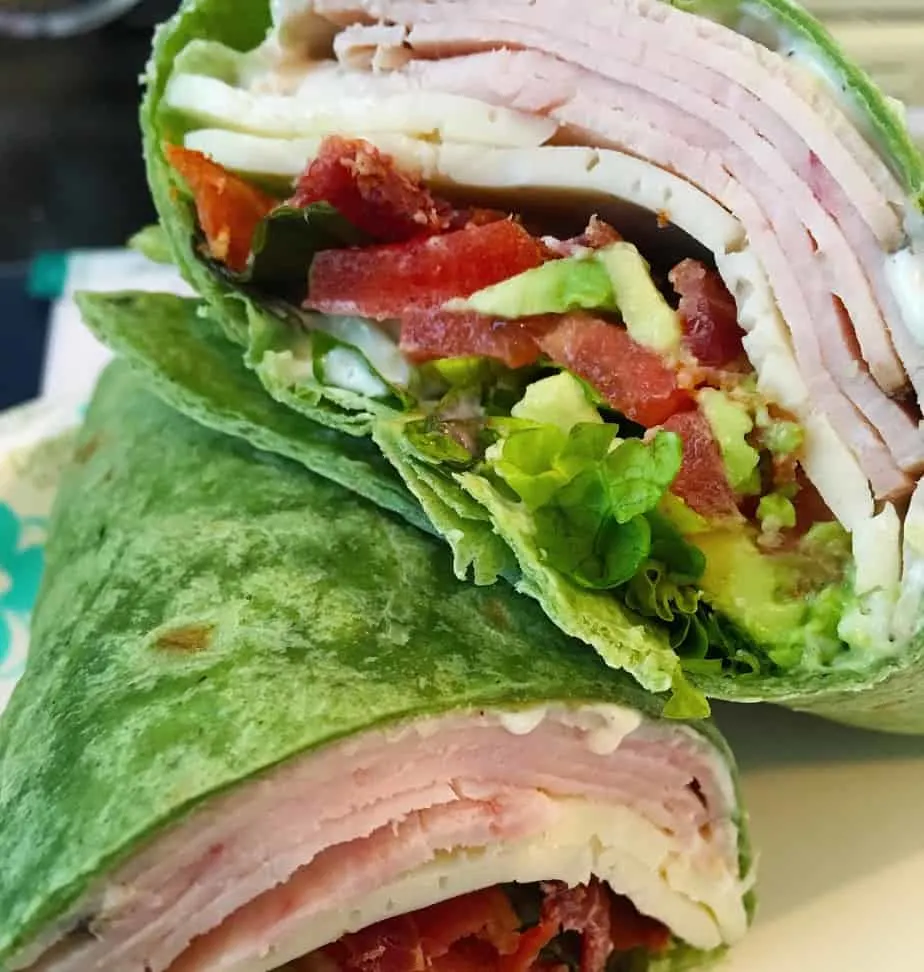 I believe that just because we are stuck at home doesn't mean we shouldn't treat ourselves!
My latest obsession (I have many…trust me!) are Sandwich Wraps! I do L.O.V.E. a good Spinach Wrap or Sun Dried Tomato Wrap. Especially when it's stuffed full of all kinds of yumminess…like this California Club Turkey Wrap.
How To Make California Turkey Club Wraps
I make this California Club using Spinach Wraps. Spinach wraps are my favorite. Start out by laying your wrap on a flat surface. You can briefly warm it up in the microwave if you want, but it's not necessary.
TIP: You can find wraps in the bread aisle by the flour tortilla's.
Start with a squirt of Ranch dressing down the middle of your spinach wrap. If your watching your calories you can use reduced Ranch dressing, or skip it all together. I went with regular Ranch on this wrap. (Translation…I'm not on a diet! lol)
I like peppered turkey as the meat choice in this wrap. Place a layer of turkey meat on top of your ranch dressing, followed by a layer of Havarti cheese!
If you have not had Havarti cheese…we will hold a moment of silence for you! ……….Okay it's over! Go buy some Havarti! Seriously!!!! Havarti is the creamiest and most wonderful cheese on the planet for sandwiches.
TIP: The deli lady now hates you! (Sorry! Blame me…I can take it.) Why? She has to layer paper in between each slice of Havarti cheese, but just keep smiling at her every time she glares over her shoulder at you! (Practice that smile before you go…you're gonna need it! Those ladies have arms on them…they're scary!)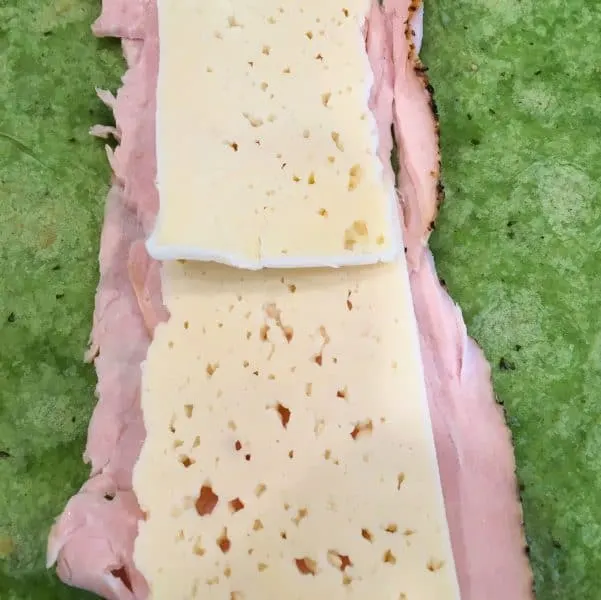 Add a layer of crisp bacon, sliced avocado (Say "Hi" to the California portion of this wrap!), and a layer of sliced tomatoes.
TIP: I always cook extra bacon during the week to use in salads and sandwiches then store it in a zip lock bag. (Yeah, THAT'S why I do it! Wink-wink!) Works fantastic and your house is only "baconized" for one day!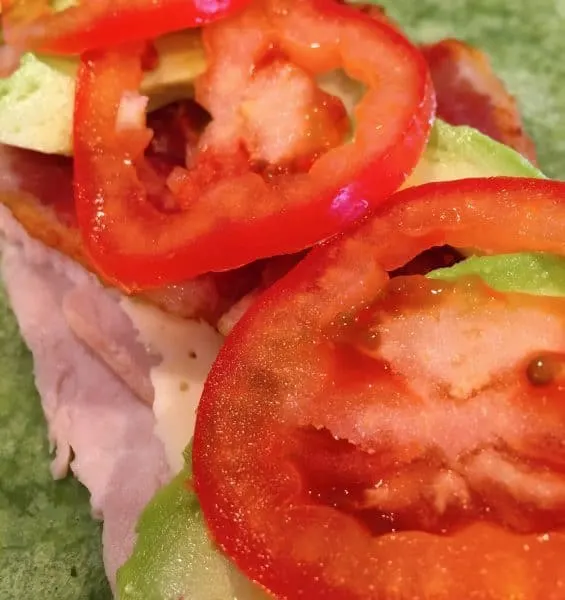 Sprinkle with salt and pepper to taste, and lastly, add a layer of shredded green leaf lettuce.
TIP: When making sandwiches or wraps use a nice darker leafy lettuce like green leaf or red leaf. They have more nutrients and flavor than our old faithful friend "Iceberg"!
In a wrap like this it's all about freshness, quality of ingredients and flavor!
Time to "roll"…or wrap…Yep, wrap it all up, just like a bean burrito, and slice it in half!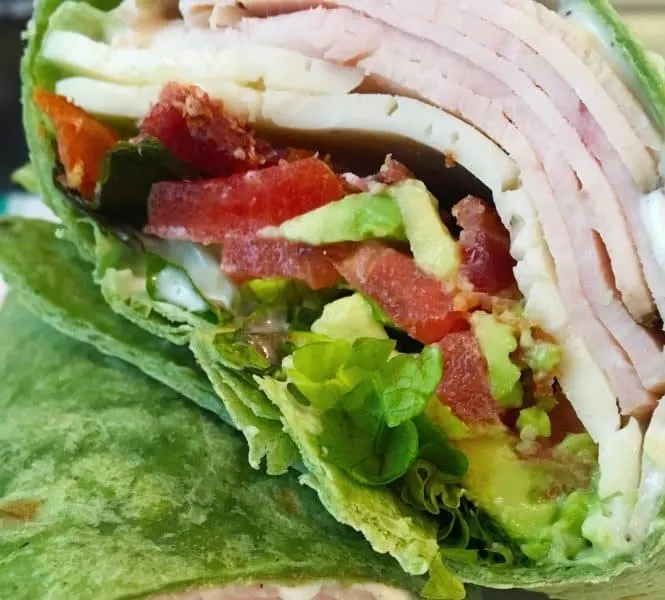 How's that for a simple easy delicious meal? Best part…you can even make these delicious Club Sandwiches for dinner.
Substitute the sliced turkey for grilled chicken breast and have it warm rather than cold. The perfect summer meal.
You have so many options. That's the beauty of a wrap. It's like a blank canvas calling you to create something wonderful.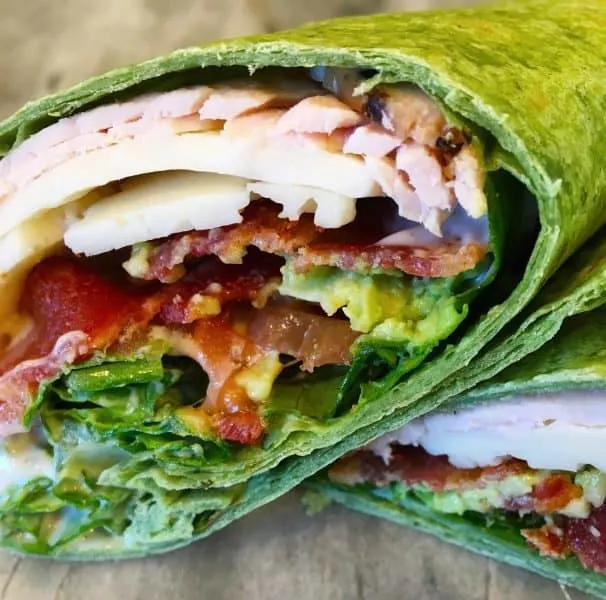 Look at the dressing in your refrigerator and the toppings you have. Then get in the kitchen and start creating all sorts of delicious wraps.
This is a fantastic lunch. It's the also the perfect dinner for busy Mom's after a long day. You could add my Tortellini Olive Salad and you have a complete meal!
If you like this Wrap you might like these other delicious Sandwich Recipes
Remember to follow me on Instagram, Twitter, and Facebook to see more of my favorite recipes and shares.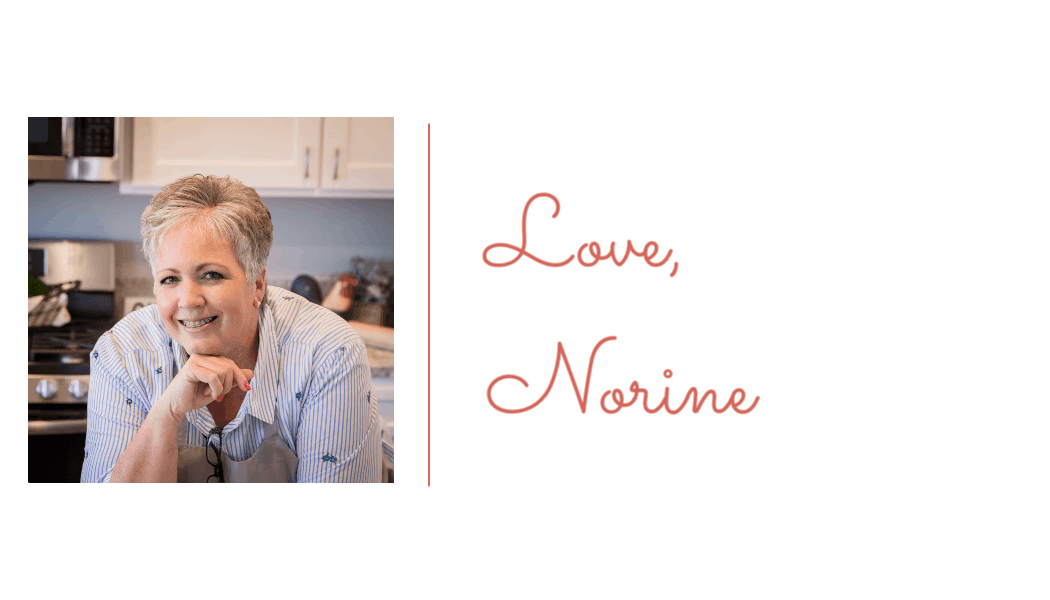 Yield: 4 servings
California Club Turkey Wrap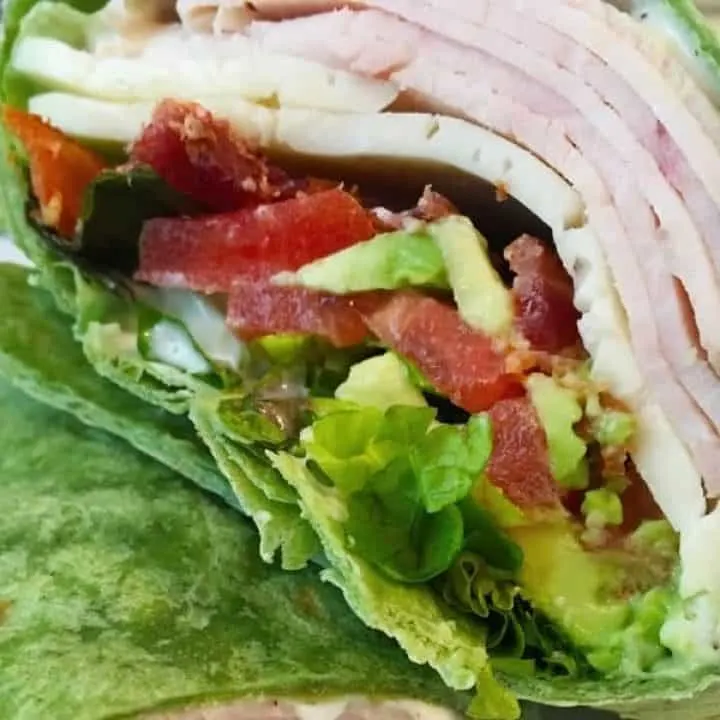 A delicious Spinach Wrap filled with Peppered turkey, Crispy Bacon, Avocado, Havarti cheese, Tomato, Lettuce and Ranch Dressing. Perfect for Lunch or Dinner!
Ingredients
4 large spinach wraps
1/2 pound slice peppered turkey
4 slices of Havarti cheese
2 roma tomatoes thinly sliced
8 slices of cooked bacon
1 large avocado sliced thinly
2 cups shredded green leafy lettuce
Ranch Dressing
Salt and Pepper to taste
Instructions
Lay your spinach wraps on a flat surface. Squirt a line of Ranch dressing down the middle of the wrap.
Layer 3-4 slices of peppered turkey down the center of the wrap on top of the Ranch Dressing.
Follow with a layer of Havarti Cheese, Avocado slices, 3-4 slices of tomato, sprinkle with salt and pepper to taste.
Top with 1/2 cup of shredded lettuce.
Roll the wrap up by folding the ends up towards the center. Then roll from one side to the other. Slice in half and serve.
Recommended Products
As an Amazon Associate and member of other affiliate programs, I earn from qualifying purchases.
Nutrition Information:
Yield:
4 Wraps
Serving Size:
One Wrap
Amount Per Serving:
Calories:

622
Total Fat:

34g
Saturated Fat:

11g
Trans Fat:

0g
Unsaturated Fat:

21g
Cholesterol:

82mg
Sodium:

1066mg
Carbohydrates:

48g
Fiber:

7g
Sugar:

2g
Protein:

30g