Delicious Grilled Marinated Shrimp on the BBQ is a great summer meal that pairs beautifully with grilled steak or chicken.
The hubs and I spent the weekend working on, what I like to call, so I do… my outdoor living area! Technically it's the deck.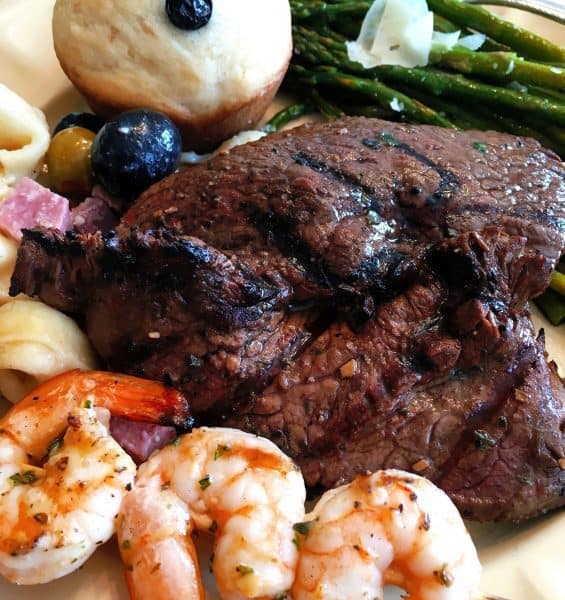 Outdoor living area just sounds so Better Homes and Garden-ish! Fancy like! (Oh yes! I'm nothing if not fancy! Nothing shouts class like throw away plastic cups and paper plates! Yeee-haw!)
One of my FAVORITE things about summer time is late evening grilled dinners on the deck. Especially if all the kiddo's are home, and cell phones have been forgotten, and it's just conversation, laughter, good food, and our glorious Southern Utah sunsets!
I L.O.V.E. our deck!
So with summer coming I've been busy in the kitchen creating new grilling recipes. I can't think of anything better in the summer than cooking out doors! The smells and the flavors are beyond intoxicating. (Bonus Points…It's a really subtle way to torment the neighbors!)
A few weeks ago I decided it was warm enough to crank up the grill. (Little did I know Mother Nature would strike back…but she and I had a little "Come ta Jesus meeting" and she understands now!) First item up…a little something we refer to as "Surf and Turf" at this Nest. The hubs and I both hail from Southern California and we love seafood. Especially Shrimp. In honor of our "roots"… I threw together a simple marinade and we grilled an entire pound of shrimp. Yep…it was Heavenly!
How to Make Marinated Grilled Shrimp
The beauty about marinating shrimp…it doesn't take much marinade.
Marinade Recipe
To make the marinade, in a small bowl, place 3 Tablespoons of Olive Oil, 1 Tablespoon of Orange juice, the juice of half a lime, 1/4 tsp. coarse black pepper, 1 Tablespoon fresh chopped parsley, 1/4 tsp dried oregano, 1/2 tsp minced garlic. Whisk together well.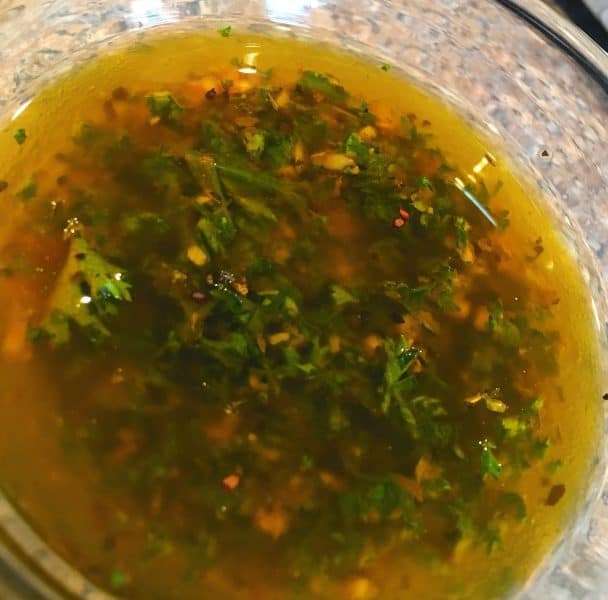 Wash and clean 1 pound of deveined shrimp. Place shrimp in a large zip lock bag. Pour in marinade and allow to set in the refrigerator for at least 30 minutes to 2 hours.
Tip: Soak bamboo skewers in water for 10 minutes. This will prevent them from catching on fire…which I always think is a huge plus when cooking on a grill that is next to your house. It's just a personal preference for me. Totally your choice.
How To Prepare Shrimp Kabobs
Thread the shrimp on the skewers by going through at the bottom of the tail and out at the top of the shrimp. You want the top and bottom of the shrimp secured securely. (Huh?) We can't have any of those slippery bad boys trying to escape the heat!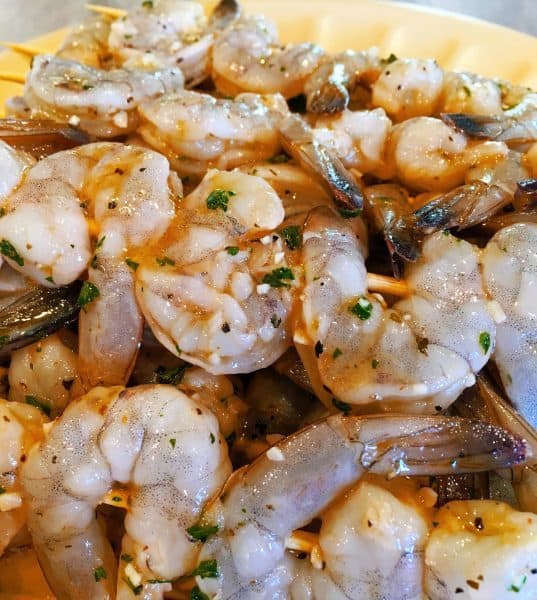 How To Grill Shrimp
Grease your grill with an oiled paper towel and tongs. Run the oiled paper towel up and down the grates of the grill. This will help keep the shrimp from sticking.
Place the Shrimp kabob on the grill. Keep a close eye on them. They will cook quickly!
Have the heat on your grill lower than you do for steak or chicken. As soon as you can see they are turning pink on the one side, flip the skewer over and allow the other side to cook. You can baste the shrimp with any left over marinade. In fact I highly recommend it.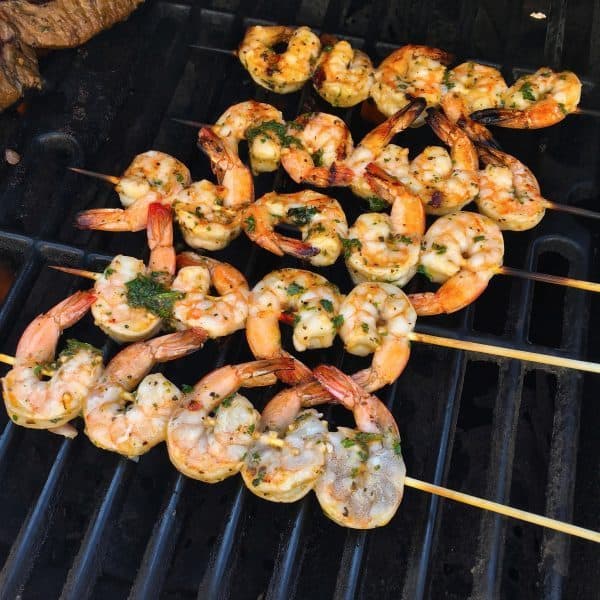 That is all there is to this mouth-watering dish! The smoke from the grill is going to do a lot of the work. The shrimp are loaded with amazing flavor!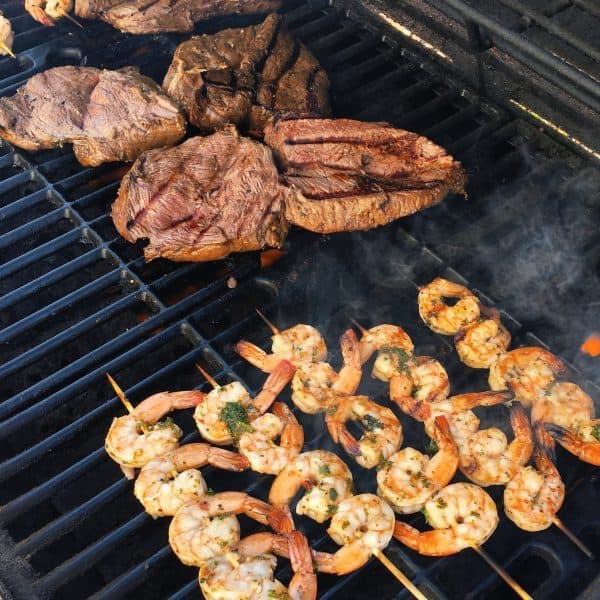 I paired ours with butterflied grilled steaks, pan roasted Parmesan asparagus, fresh old-fashioned traditional blueberry muffins, and the olive tortellini salad. Both the muffin and olive salad can be found in my recipe collection here at Norine's Nest.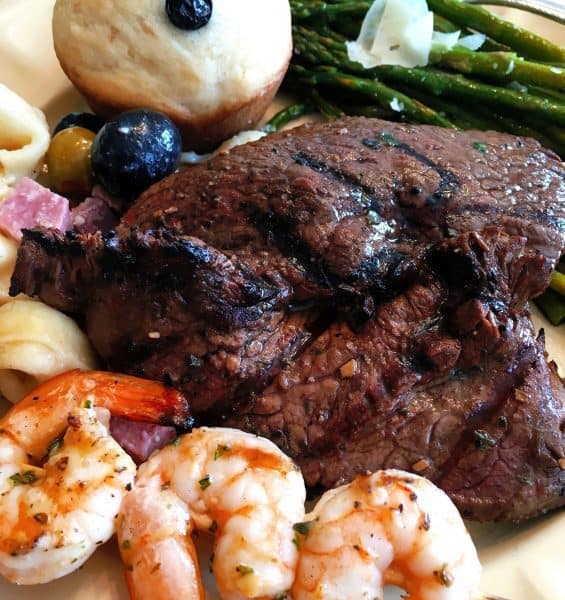 It was a great meal and these shrimp will be making many return appearances this summer! So juicy and yummy! The shrimp doesn't need anything more than the marinade they were cooked in.
Keep it simple. Don't over complicate this one. It's summertime and ain't nobody got time for that! 😉
Other great BBQ Recipes you might enjoy
Remember to sign-up for my weekly newsletter. I send it out every Monday evening and trust me…I won't bombard you with more than one a week. I don't want to be "THAT" person! Yikes!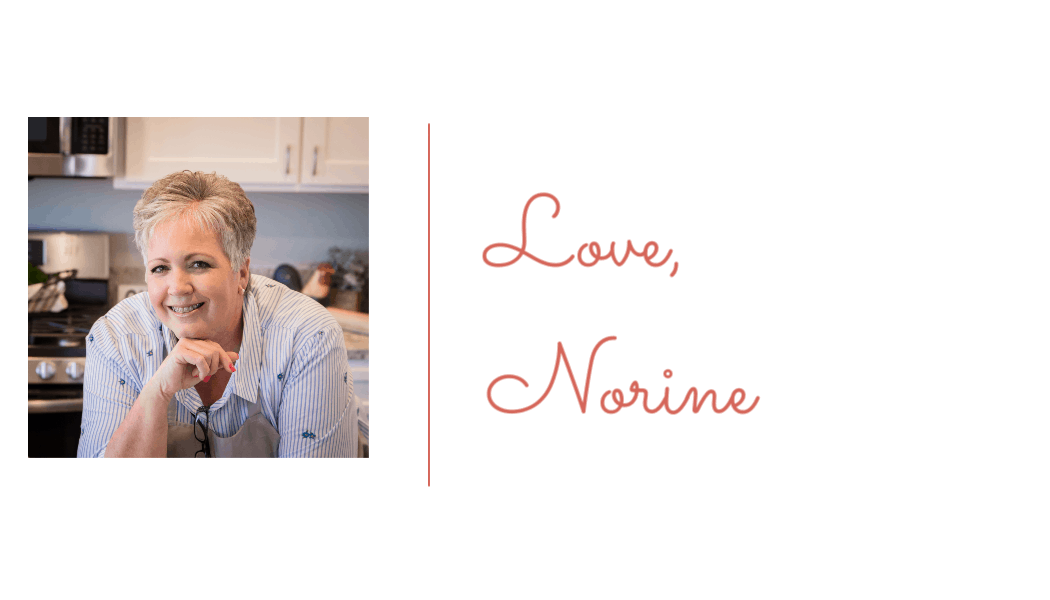 Yield: 5-6 servings
Marinated Grilled Shrimp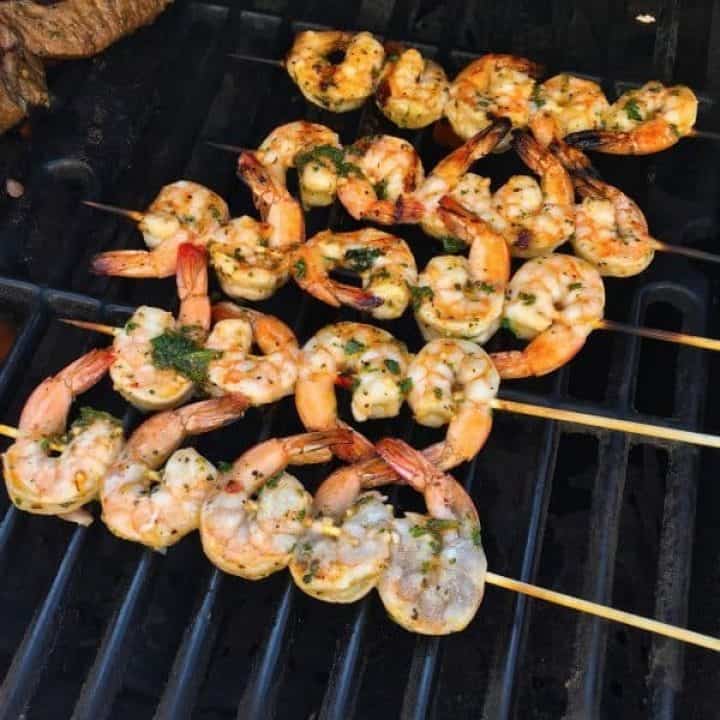 Juicy Succulent Shrimp are marinated in a citrus garlic marinade and then grilled to perfection.
Ingredients
1 pound 31-40 count raw shrimp, deveined tails on, thawed
3 Tablespoons Olive Oil
1 Tablespoon Orange Juice
Juice of 1/2 a lime
1/4 tsp. coarse black pepper
1 Tablespoon fresh chopped parsley
1/4 tsp. dried oregano
1/2 tsp. minced garlic
5-6 Bamboo Skewers
Instructions
Rinse and drain thawed shrimp.
In a small bowl mix together Olive Oil, Orange Juice, lime juice, coarse black pepper, chopped parsley, dried oregano, and 1/2 tsp minced garlic.
Place shrimp in a large zip lock bag. Pour marinade over shrimp. Place in the refrigerator and marinade for at least 30 minutes.
Soak Bamboo Skewers for 10 minutes in warm water.
Thread shrimp onto bamboo skewers. Poke one end through the tail portion and then poke the "head" end through the other end. Each skewer will hold about 5 shrimp.
Grease grill. Place shrimp skewers on the grill over medium heat. Once one side is pink, flip the skewer over and cook the other side. Brush with any remaining marinade.
Ready in about 10 minutes.
Recommended Products
As an Amazon Associate and member of other affiliate programs, I earn from qualifying purchases.
Nutrition Information:
Yield:
6 servings
Serving Size:
1 skewer
Amount Per Serving:
Calories:

113
Total Fat:

7g
Saturated Fat:

1g
Trans Fat:

0g
Unsaturated Fat:

6g
Cholesterol:

50mg
Sodium:

251mg
Carbohydrates:

7g
Fiber:

0g
Sugar:

5g
Protein:

6g