Pasta Shells Stuffed with flavorful creamy cheese and topped with a delicious slow cooker meatballs and sauce.
I'm super excited to share this recipe with ya! Last week I made one of my all-time favorite recipes. My Slow Cooker Meatballs with sauce. (You can find that recipe by clicking HERE.)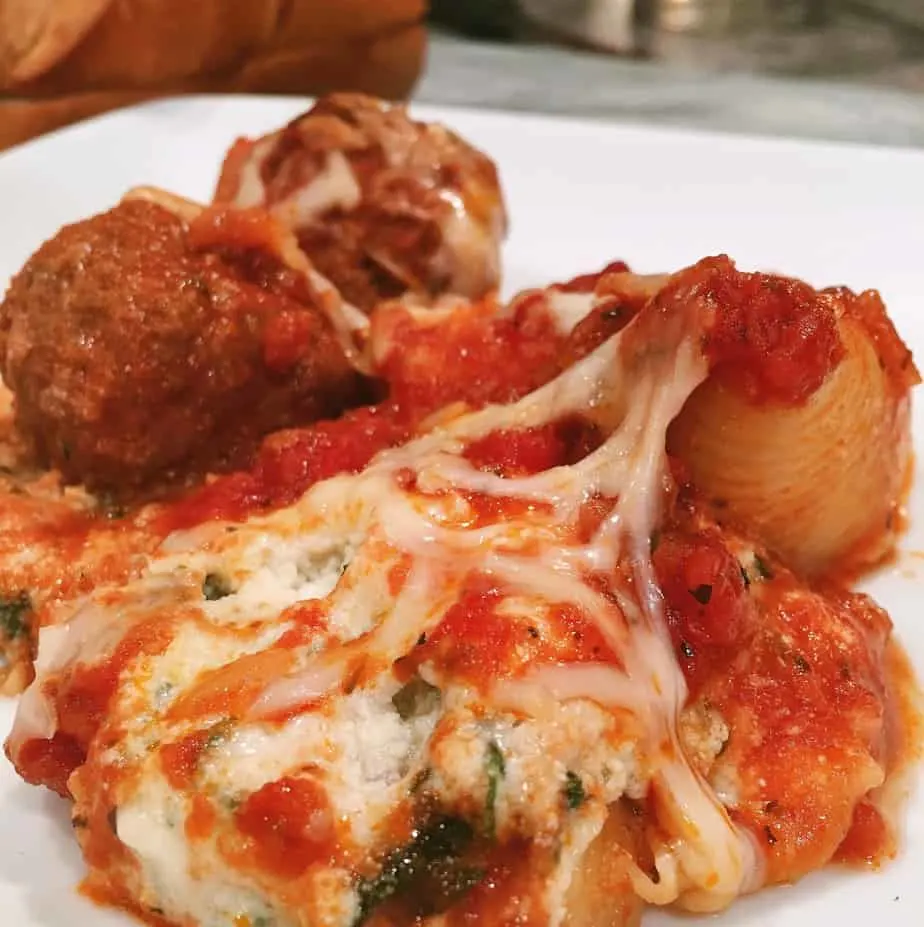 I did so intentionally, knowing I could get two different meals out of one recipe of my slow cooker meatballs. It worked perfectly! I think that's one reason I'm so excited to share it with you. Who doesn't love easy week night dinners?
One night we had spaghetti and meatballs. A few nights later I made these deliciously cheesy stuffed pasta shells with meatballs and sauce. They were to die for! (Well…maybe you wouldn't really want to die…but you'd seriously want to take someone out for a couple of them!) 😉 lol
This recipe goes together super quick, and it's super easy!!! Another big perk of this meal! Honestly the BEST stuffed shells ever! I'd never made them with the meatballs and sauce before, and I'm so glad I did, and so sad I waited so long to try it.
How To Make Stuffed Pasta Shells with Meatballs and Sauce
First things first. You need to make a batch of slow cooker meatballs. Just be prepared for your house to smell Aaaaa-mazing! (Like drool worthy smells all day long!)
Next in a bowl mix together 2 cups of ricotta cheese, 2 cups grated mozzarella cheese, 1 egg, 1/3 cup chopped spinach (this is optional), chopped parsley or dried parsley flakes, 1 tsp salt and 1/2 tsp coarse black pepper.
Why the egg? The egg is "binding"….helps hold it all together! Just a little cooking knowledge for those who don't understand why we add an egg to a cheese mixture.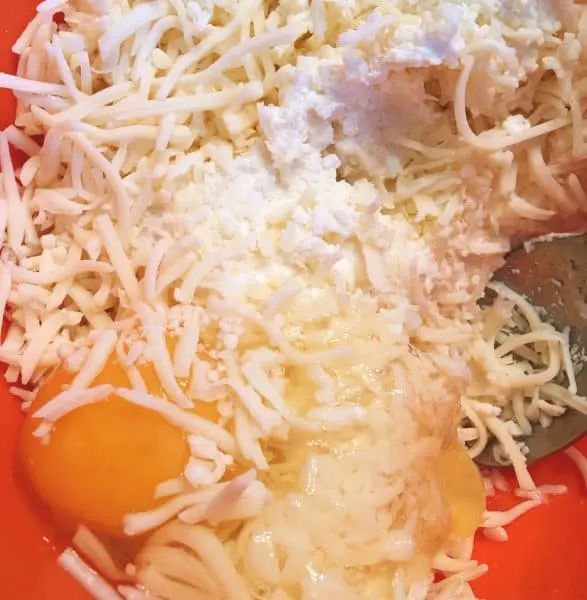 Mix it all together until well blended. Set aside.
In a large pot bring 8 cups of water to a boil. Add large shell pasta noodles, about 16-20, and cook until al dente. Rinse and drain.
*Tip: Follow cooking instructions on the box. You will end up with perfectly cooked pasta.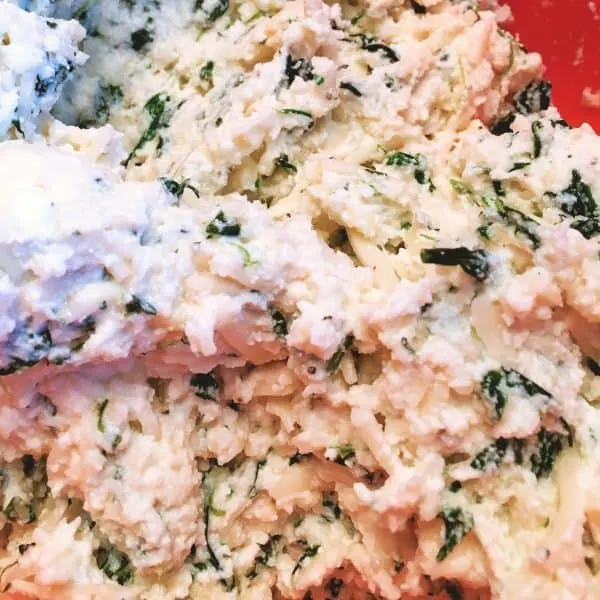 Stuff your shells with the cheese mixture. I find a large tablespoon or soup spoon works best. Holding a pasta shell in one hand gently hold it open and stuff with the cheese mixture.
Place stuffed shell in a 9 x 13 casserole dish. Be sure to place them cheese side up.
Continue stuffing shells until you have used all the cheese mixture. You should have enough filling to make between 16-20 stuff shells.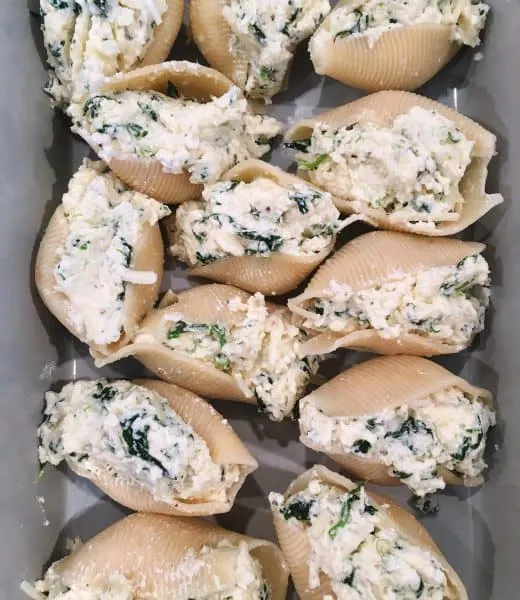 Gently spoon the sauce over the stuffed shells. Using a large spoon tuck the meatballs in the gaps between the stuffed shells.
Look at that beautiful deep rich red sauce! It is perfect with these stuffed shells. Just one more thing.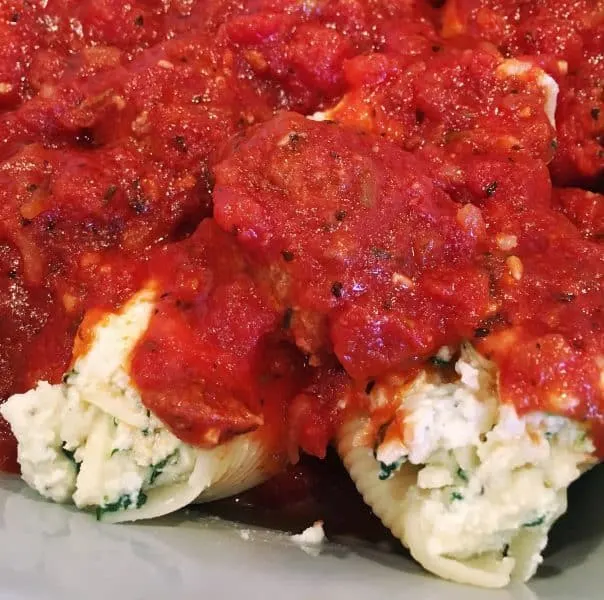 Top with more mozzarella cheese!
Can we ever have too much cheese my friends? NO! No we can't!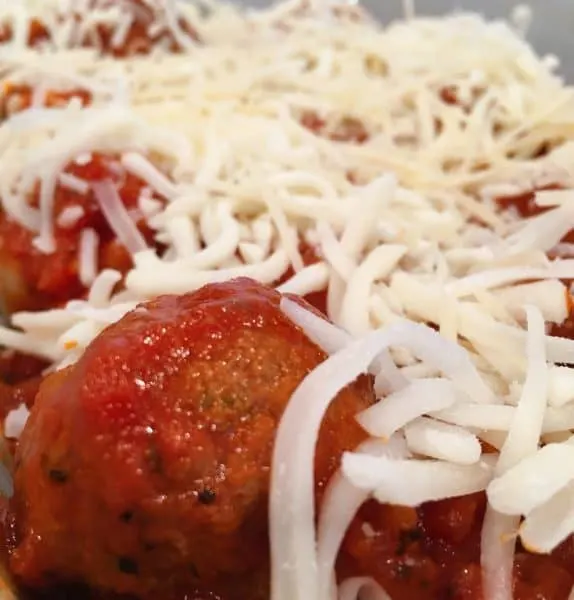 Once you have your shells stuffed, covered in sauce and meatballs, and blanketed with more cheese…it's time to throw those babies in the oven!
Bake in a 350° oven uncovered for 35–40 minutes or until sauce is bubbly and cheese is melted.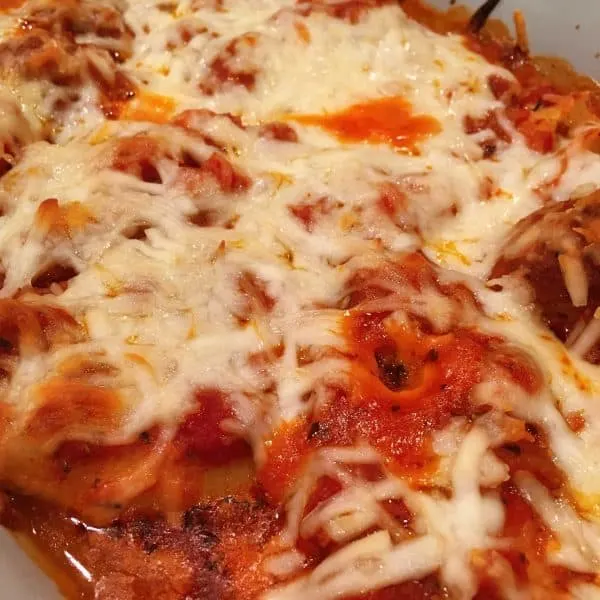 Gently scoop out the number of shells you'd like… grab a few meatballs to go with them… and dinner is served!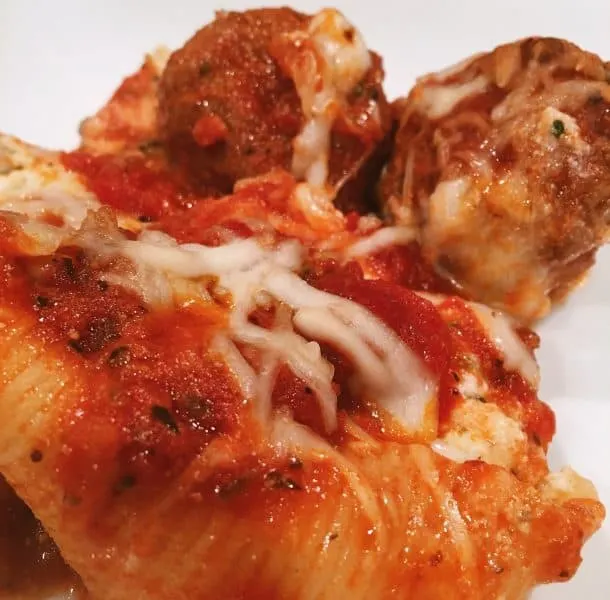 The rich robust flavor of the sauce, with the delicious tender Parmesan meatballs, added to the luscious cheese stuffed shells… equals one perfect Italian dinning experience.
These are incredible! I think the perfection of this dish comes down to two things…the sauce and the filling inside the shells. It's just a flavor marriage made in heaven!
Start your week out right with this easy "two for one" recipe! As Moms and busy working ladies we love when we can simplify life! Make the meatballs for either spaghetti and meatballs, or meatball subs one night, then do the stuff shells another night!
I had enough meatballs and sauce to make two 9 x 13 pans. I doubled the stuffing mix and used one full box of shells.
Then I shared a pan with my daughter who wasn't feeling well. It's a great recipe to share with a friend or neighbor.
Favorite Pasta Recipes
Hope you enjoyed this recipe share as much I have enjoyed sharing it with you! It's going to be another fantastic week here at Norine's Nest, so I hope you'll stop by again and check out the other wonderful recipes I have coming your way! Until then…have a great day, and thanks for visiting!!!
Love from my Nest to Yours!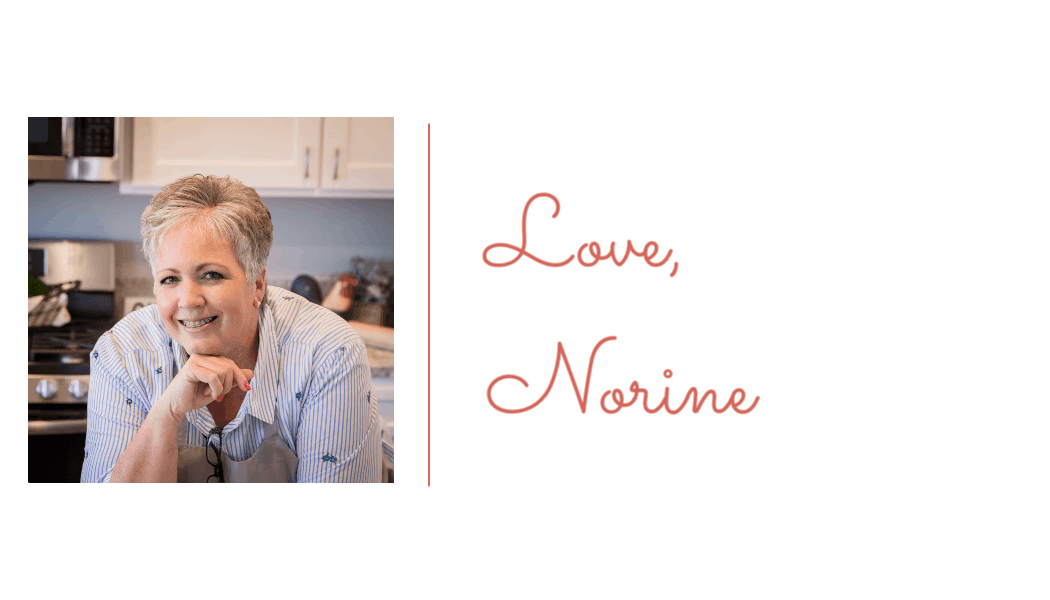 Yield: 8-10 servings
Stuffed Pasta Shells With Meatballs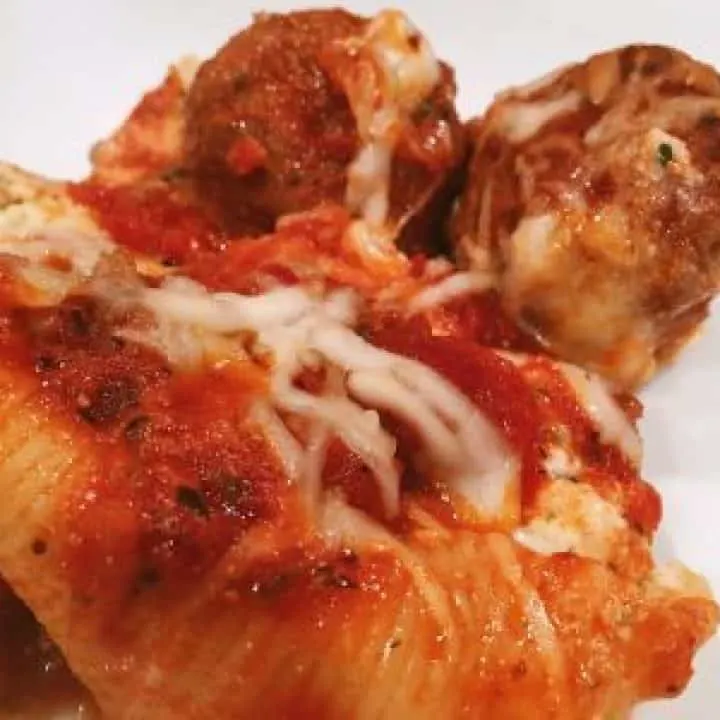 Combine Crock Pot Meatballs & Sauce with these delicious stuff pasta shells for one amazingly easy weeknight dinner!
Ingredients
2 cups ricotta cheese
2 cups shredded mozzarella cheese
1 egg
1 Tablespoon fresh chopped parsley or 1/2 Tablespoon dried parsley
1 tsp. salt
1/2 tsp. coarse black pepper
1/3 cup chopped thawed frozen, drained, spinach (Optional)
16-20 cooked pasta shells, al dente
1 jar prepared spaghetti sauce OR 1/2 recipe of Norine's Nest Slow Cooker Meatballs With Sauce
1 cup grated mozzarella cheese for topping.
Instructions
In a large pot bring 8 cups of water to a boil. Cook 16-20 pasta shells al dente. Drain and rinse.
In a medium size bowl combine the grated mozzarella, ricotta cheese, spinach, egg, parsley, salt, and pepper. Mix until well combined.
Gently stuff pasta shells one at a time with one large heaping Tablespoon of cheese mixture.
Place in a 9 x 13 glass baking dish, cheese side up.
Spoon sauce over stuffed shells. Gently tuck meatballs in and around pasta shells.
Sprinkle with 1 cup of grated mozzarella cheese.
Place in a pre-heated 350 ° oven, uncovered, and bake for 35-45 minutes until cheese is melted and sauce is bubbly.
Recommended Products
As an Amazon Associate and member of other affiliate programs, I earn from qualifying purchases.
Nutrition Information:
Yield:
10 servings
Serving Size:
2 stuffed shells
Amount Per Serving:
Calories:

620
Total Fat:

16g
Saturated Fat:

7g
Trans Fat:

0g
Unsaturated Fat:

6g
Cholesterol:

62mg
Sodium:

683mg
Carbohydrates:

88g
Fiber:

6g
Sugar:

4g
Protein:

30g