Named after my husband, the creator of this recipe, comes delicious All Beef Polish Dogs, cut and grilled to perfection, topped with diced banana peppers, Roma tomatoes, cheese, and a mustard of your choice! A Sunday favorite at this Nest!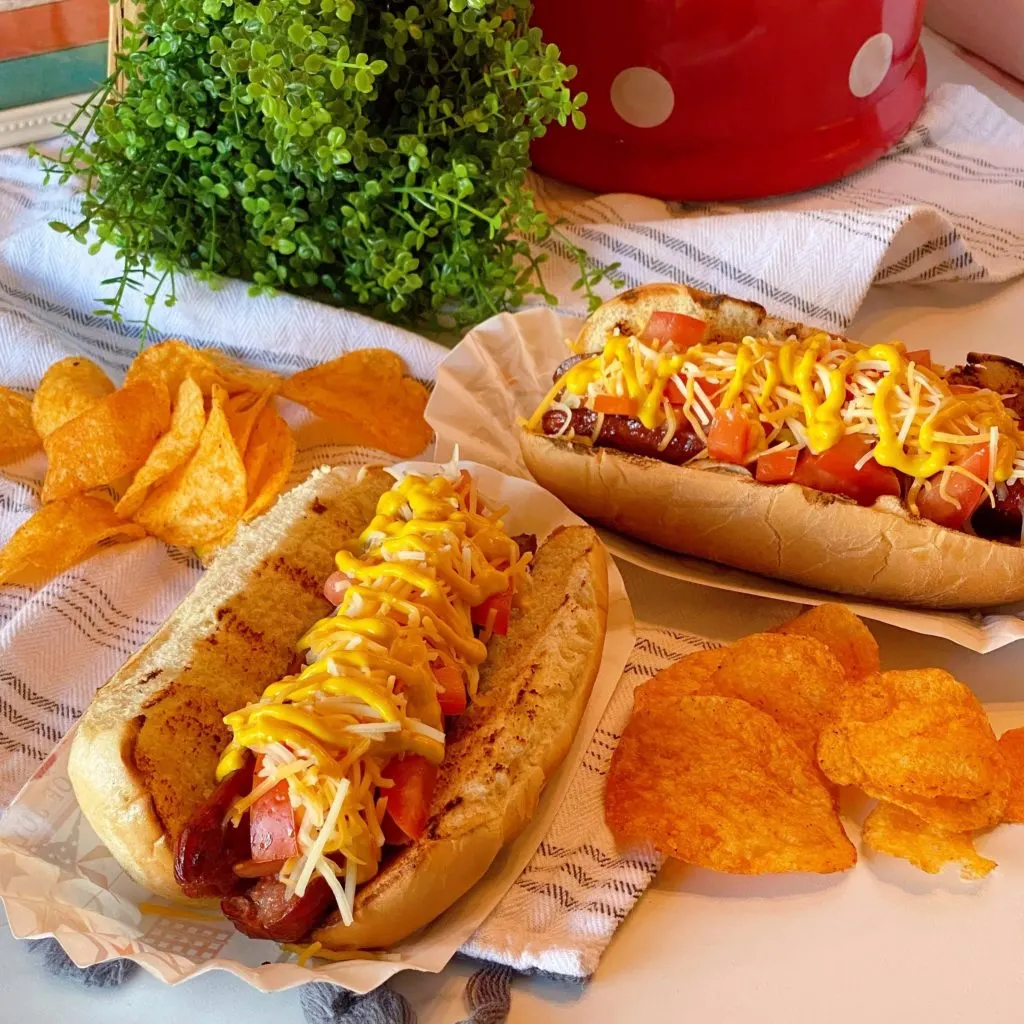 Several months ago, on a Sunday after church, we were hungry, and I was tired! (Honestly Sunday's are my crash day!) My husband offered to whip us up something for lunch! (My Mom didn't raise a fool. I didn't have to cook! Heck Yes! I was all in! I had no idea what was on the menu…and that was okay!)
It had been a really long weekend, and I was too tired to give it much thought. So I snuggled down in my recliner and closed my eyes as he got busy in the kitchen!
I listened as the refrigerator opened and closed. There was chopping too! This was getting serious! I recall mumbling answers to a few questions. Then I heard him go out back to the grill! Whatever was going down, was going to be good because that man of mine, is after all, the Grill Master. (At least at this Nest!)
A few minutes later, one of our finest paper plates was being presented to me, with two of the most delectable looking Grilled Polish Dogs! Piled high with chopped banana peppers, tomatoes, grated cheese, and mustard. My eyes grew wide with delight!
Now I know what you're thinking! You're thinking "Norine…this isn't a really complicated recipe!"…and you'd be right! Never underestimate the power of a well-made simple hot dog recipe!
A tradition was born that day! From the very first bite I was swooning! The combination of these particular simple ingredients creates the most delicious "hot dog" I've EVER had! EVER!!! It's so good it should win some type of "hot dog" award!
I knew from that first bite that this simple easy recipe was going to be on the blog! It's the perfect summertime BBQ treat!
How To Make All Beef Sunday Polish Dogs
A few weeks ago, on a Sunday of course…as my husband was preparing my now weekly Polish Dog, I asked him to share with me all his "step-by-step" instructions, so I could share it with all of you! I quickly learned, like with any recipe, there is a reason for the steps he takes in preparing this scrumptious delight. So let's get cooking!
Preparation is key with this recipe. Dice 1/3 cup banana pepper rings and 1/2 cup (approx. 2 Roma's tomatoes) diced Roma tomatoes. Dicing the tomatoes and peppers provides bits of flavor in every bite!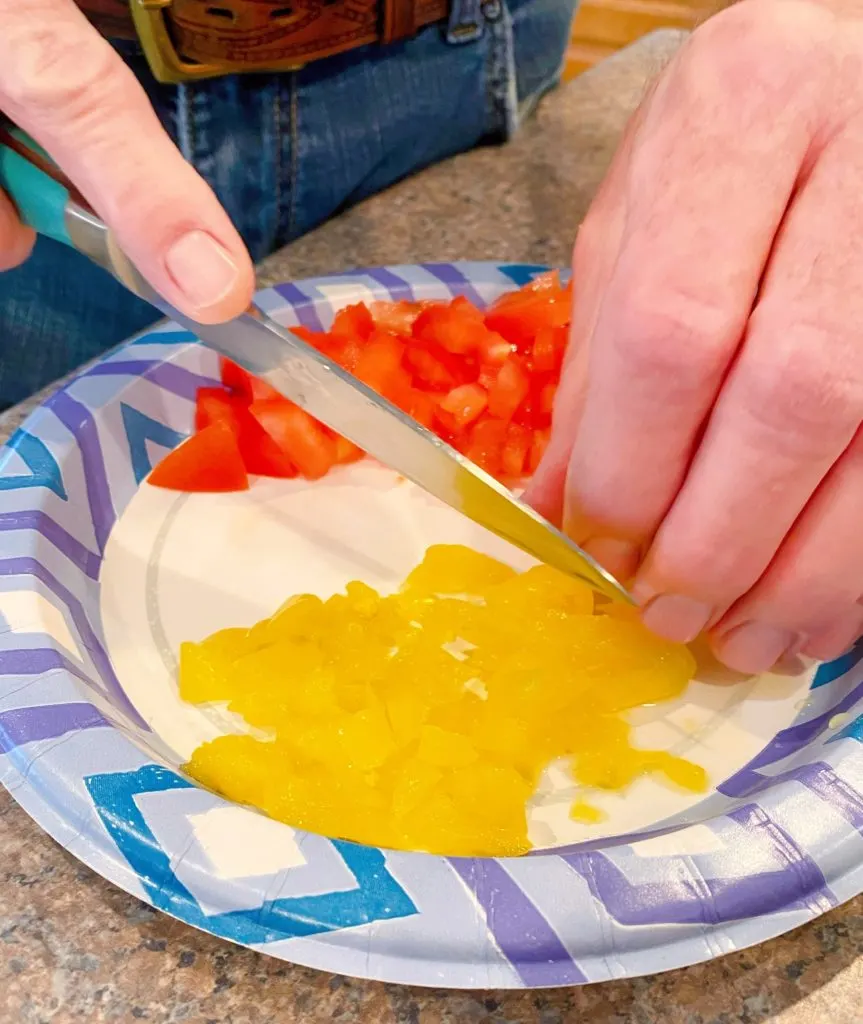 Polish Dog Preparation for Grilling
You'll need four All Beef Polish Dogs. We use the Teton Polish Dogs from Costco. They are grass fed and all beef. Loaded with great flavor!
TIP: If you can't find Teton Polish Dogs in your local market, a really top quality all beef hot dog will work for this recipe as well.
Alan cuts each dog in half lengthwise but not all the way through the skin on one side. Just a nice deep slit. I asked him why he does this? He said "This way I can grill the Polish sausage inside and out and get a nice golden crisp on the edges, and it allows me to sprinkle the ingredients down the center of each hot dog creating a bed for them". (There ya go…the expert has spoken!)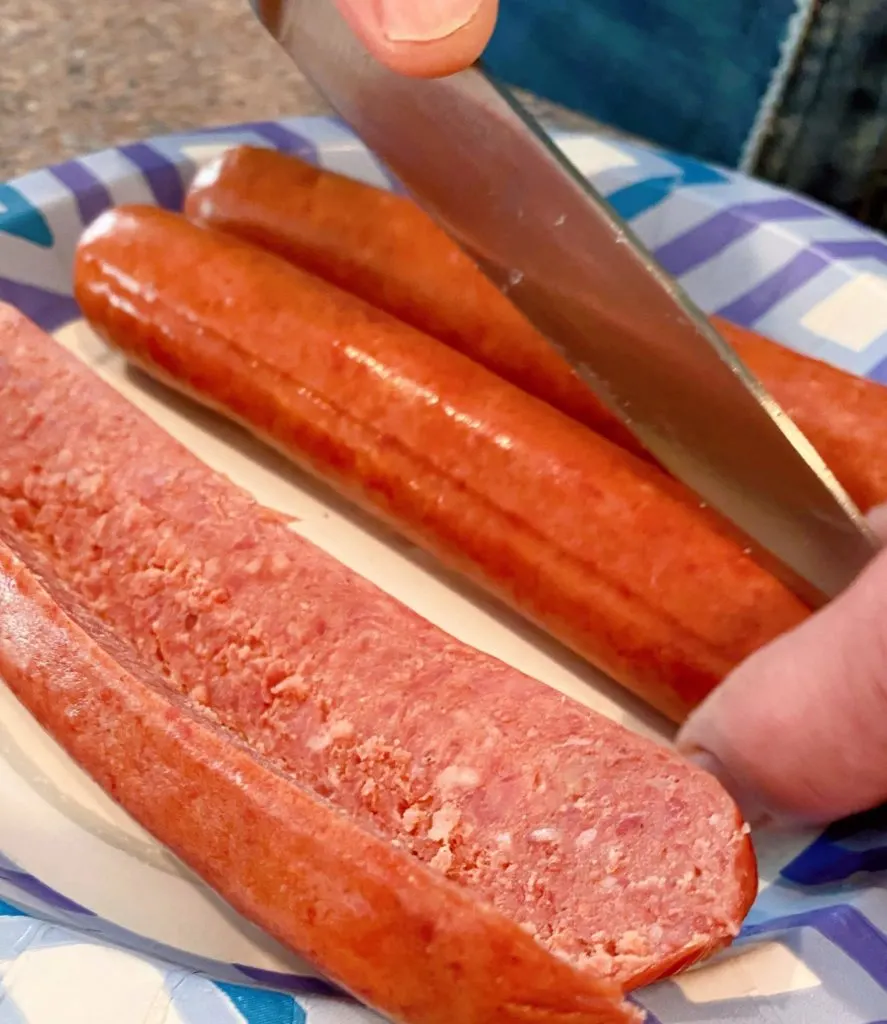 Once the toppings are ready, so that everything can come together quickly, it's time to grill the polish dogs.
Preheat your grill to medium-high heat. Place the Polish sausages cut side down first. It helps sear in the juices and create a delicious lightly smokey flavor on the dogs.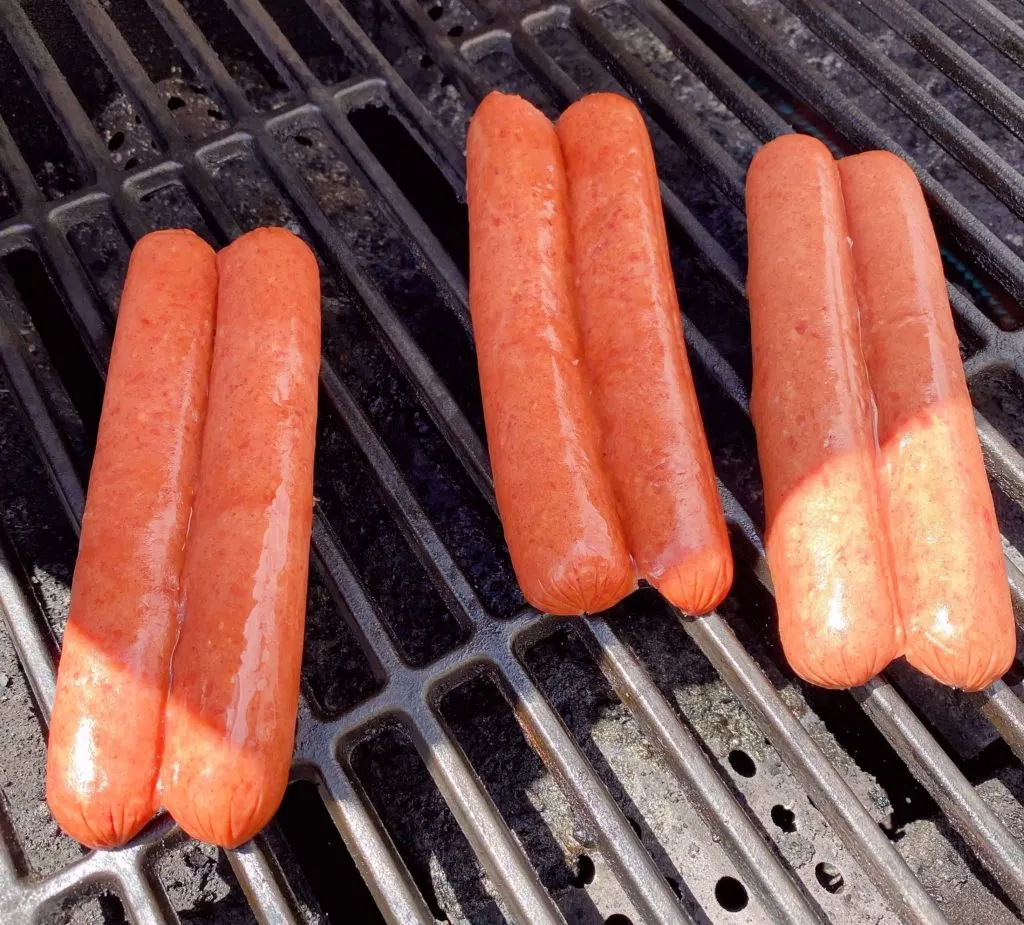 Once the dogs are golden on the inside, flip them over and grill the backside, which is really the outside.
When the sausage dogs are grilled to your preference, remove the hot dogs from the grill.
I want you to take a good long look at these sausage dogs! Can you see how amazingly juicy they are? Honestly one of the BEST dogs made!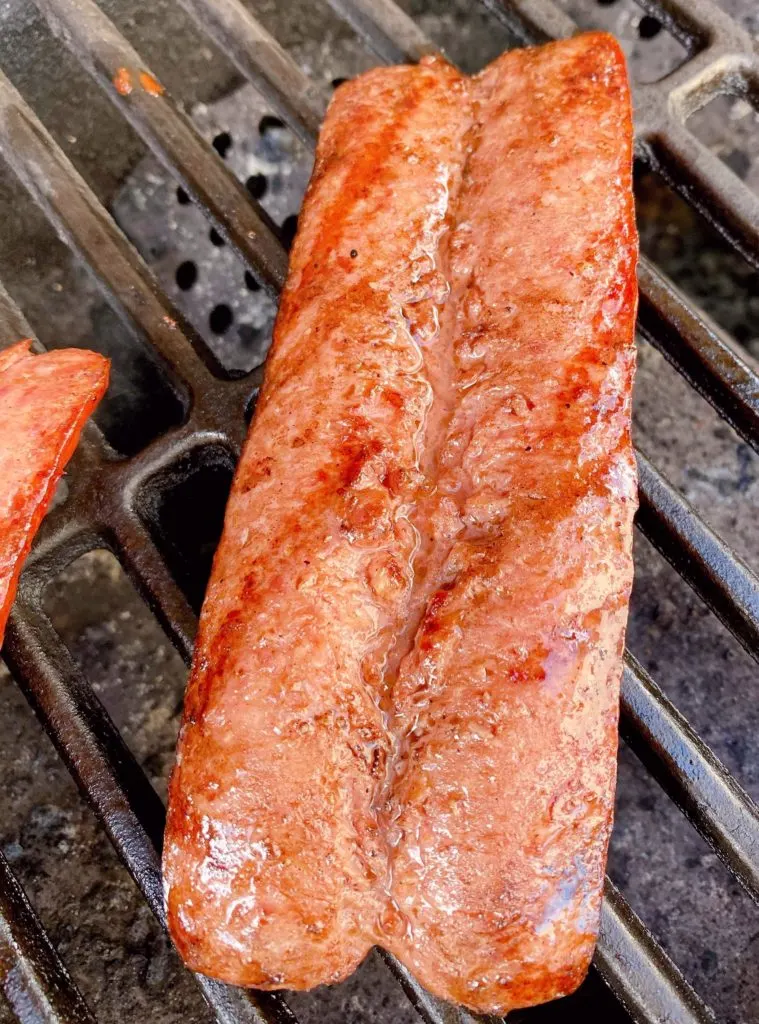 Hot Dog Buns!
I know we are all trying to save a few pennies right now…but don't skimp on the buns! There's a reason some packaged buns are $1.00 and some are $2.97- $3.50. Quality! The dollar package of buns are fine, but when you're making a specialty hot dog, go all out! Get a really good potato bun or a top-notch bakery bun.
The Master Chef likes to toast the buns too! I'm a fan of toasted buns, so I highly recommend toasting them for this recipe! You don't have to, but it really adds to the overall finished product.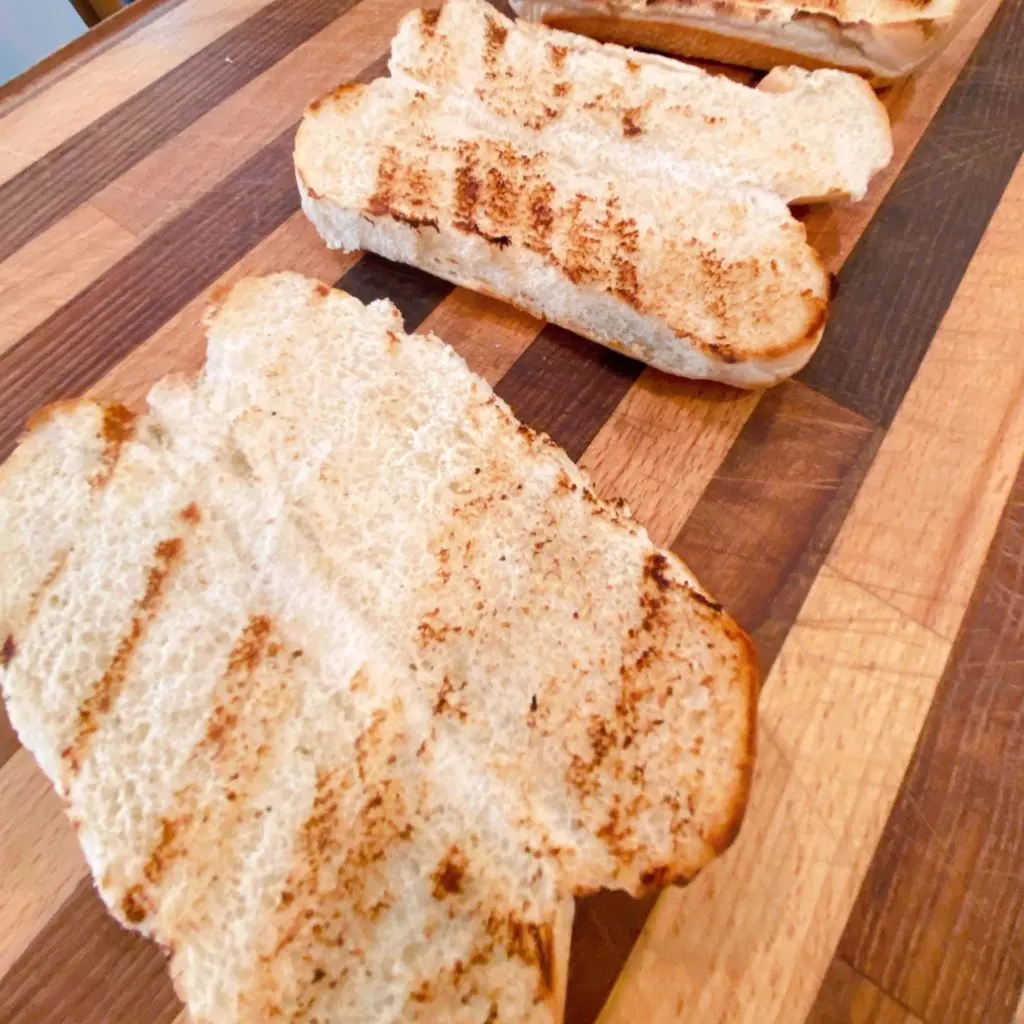 Bringing it all together to create the BEST Sausage Dog!
Place the grilled sausage dog in the center of each toasted bun. (These are not the best photos…sorry! Little grease got on my lens during the grilling, and I'm an old blind woman!)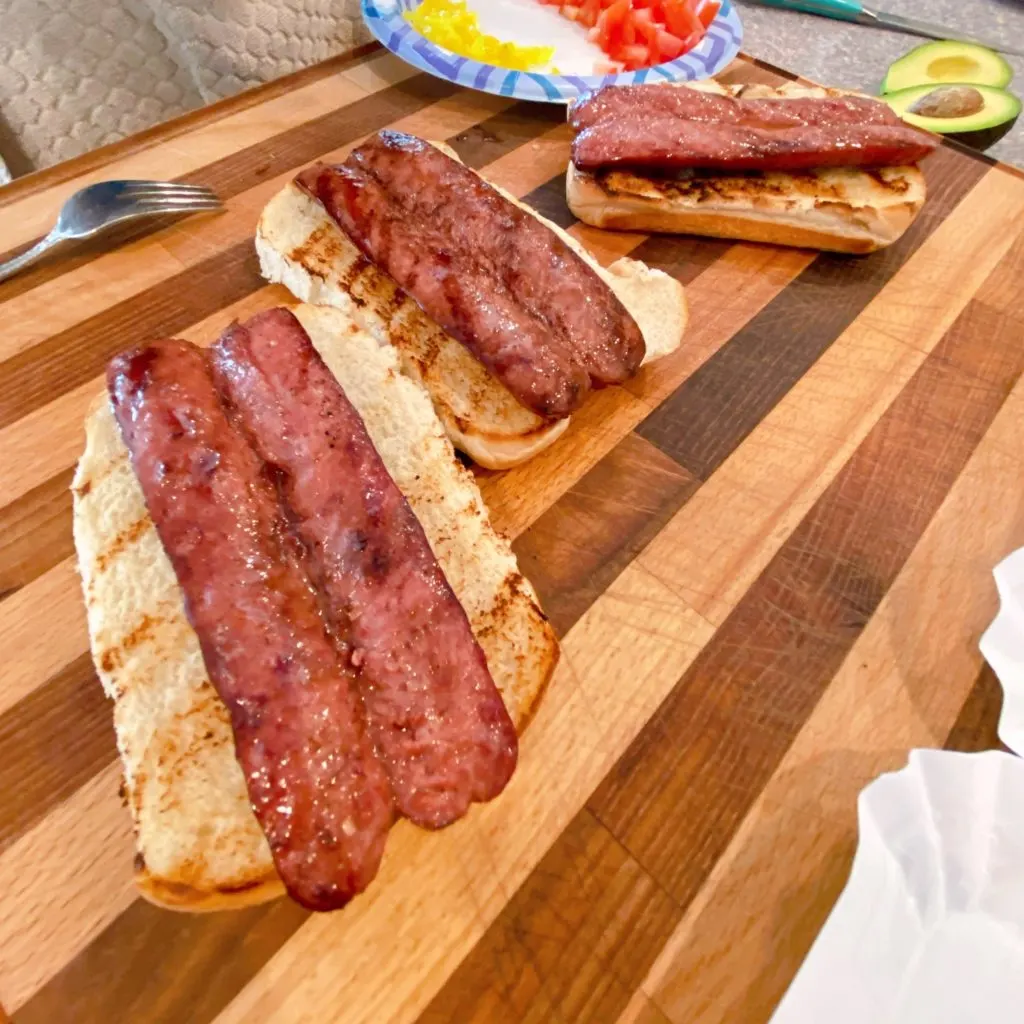 Place a good sprinkle of diced tomatoes and diced banana peppers down the center of each sausage dog!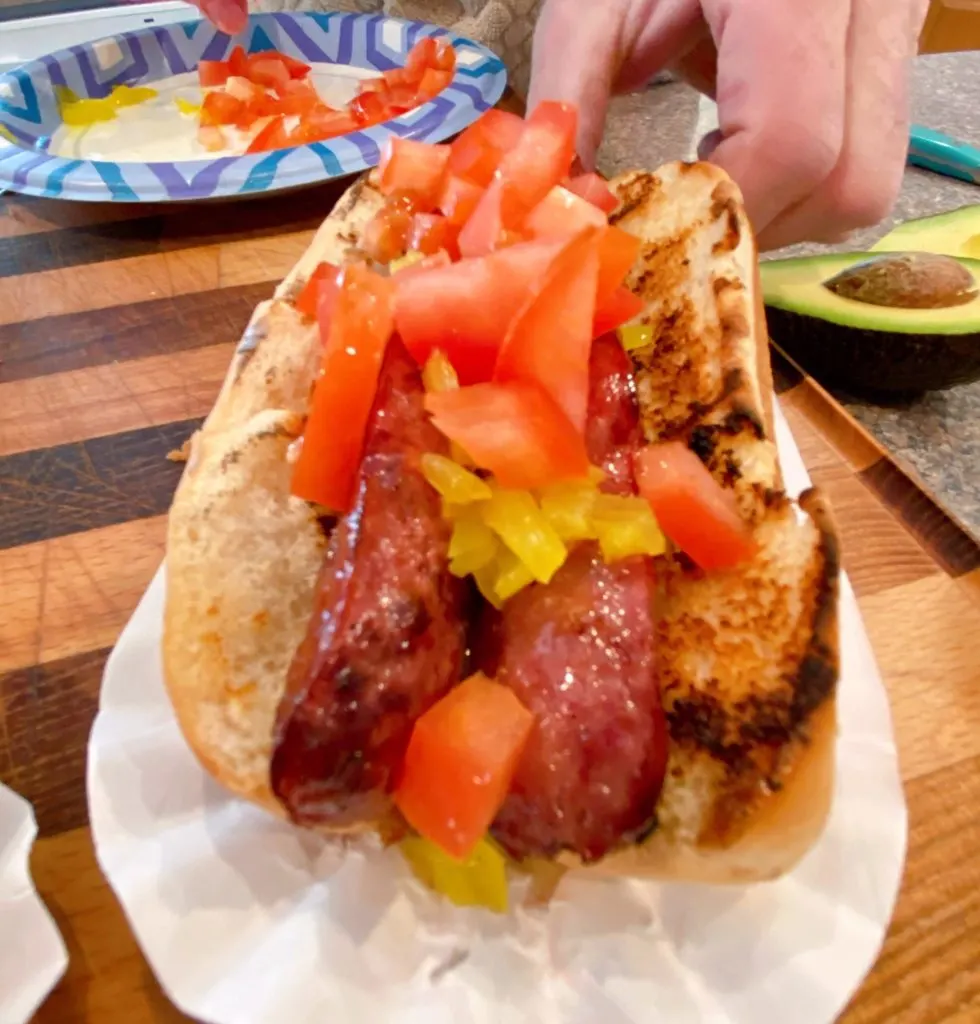 Next up…a healthy sprinkle of grated cheddar & jack cheese. You could spice it up by using a Pepper Jack cheese…but we use a combo of cheddar and jack.
The last step is a hefty drizzle of traditional yellow mustard. Why is the mustard last? (I asked!) Because it holds all the toppings down on top of the polish dog! (Trust me…there's a reason for everything! Lol) You can use a brown mustard or a spicy mustard. I love the "tang" that the yellow mustard brings to this recipe.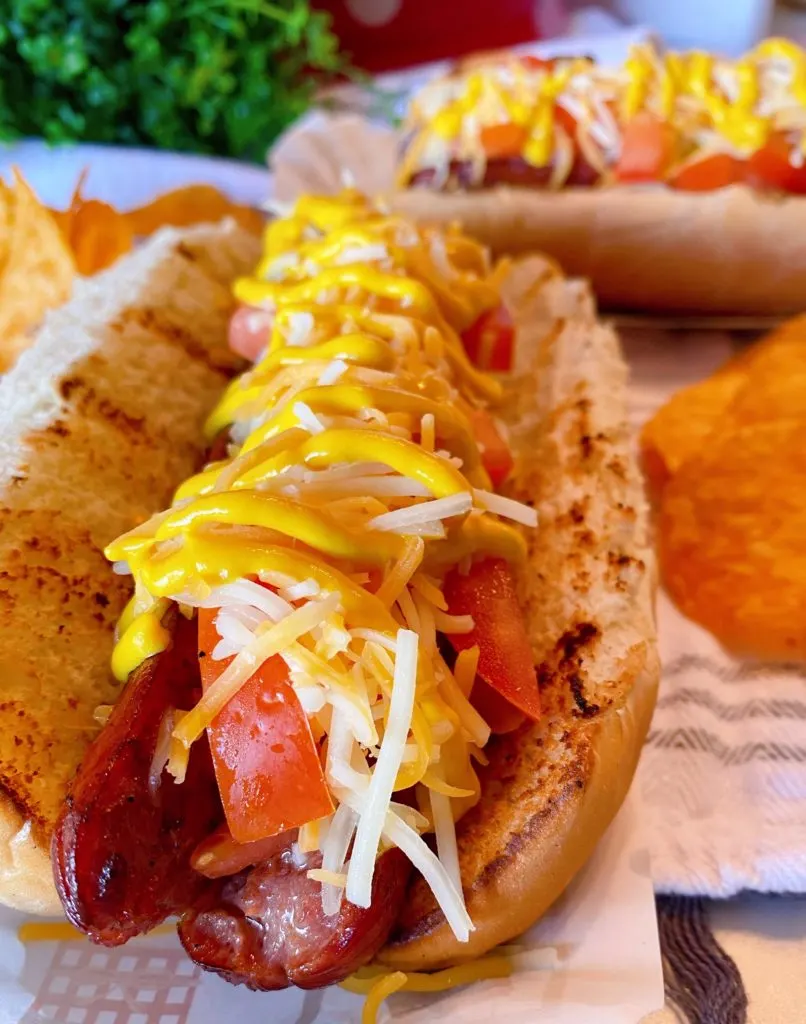 It doesn't seem like a lot goes into this recipe…and frankly there isn't a lot! Simple is Okay! My non-cooking husband created it! He felt like a first class Chef though after I took my first bite and was truly shocked at how amazing the flavor combo was.
I don't generally eat tomatoes on my hot dogs…as in NEVER! It's just not my thing! Banana Peppers? I would never have thought of it! Polish dogs have a different flavor than a hot dog, so if you can find a polish dog, I recommend it. The cheese adds a level of creaminess to this creation. It's a Polish Dog at it's finest!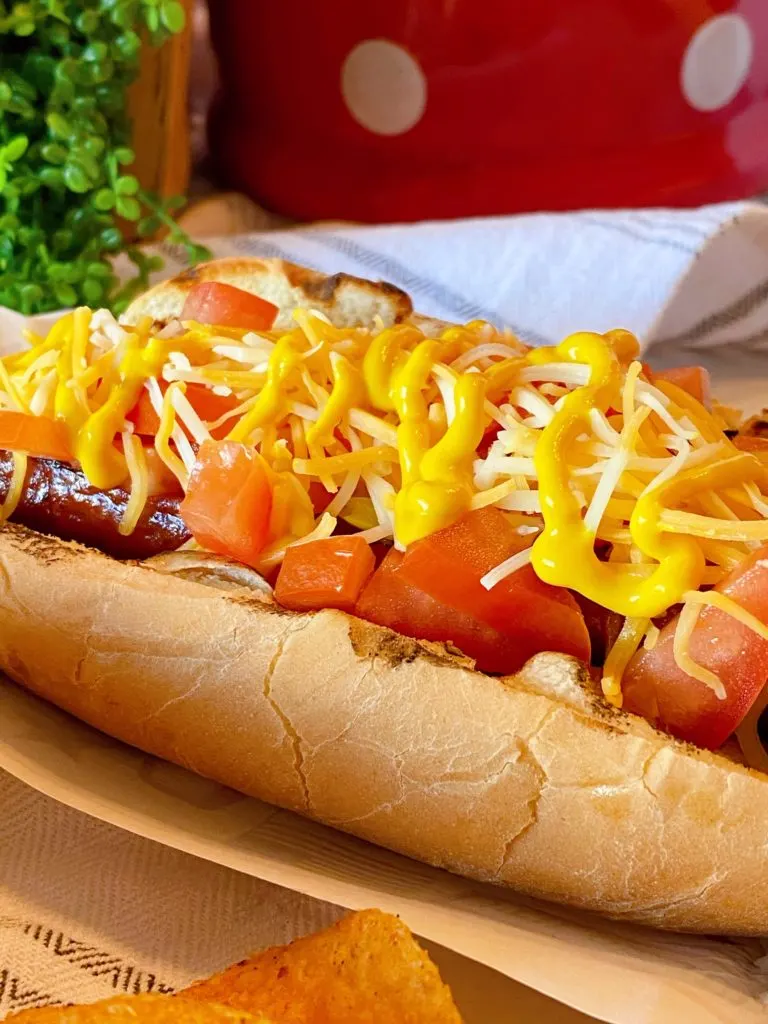 If you're hosting a BBQ or Pot Luck this summer…you need to give this recipe a try! You could even do a Hot Dog Buffet with different toppings and allow everyone to get creative.
What I learned…that when a "non-cook" is given the opportunity to get creative with the ingredients on hand…really GREAT things can happen.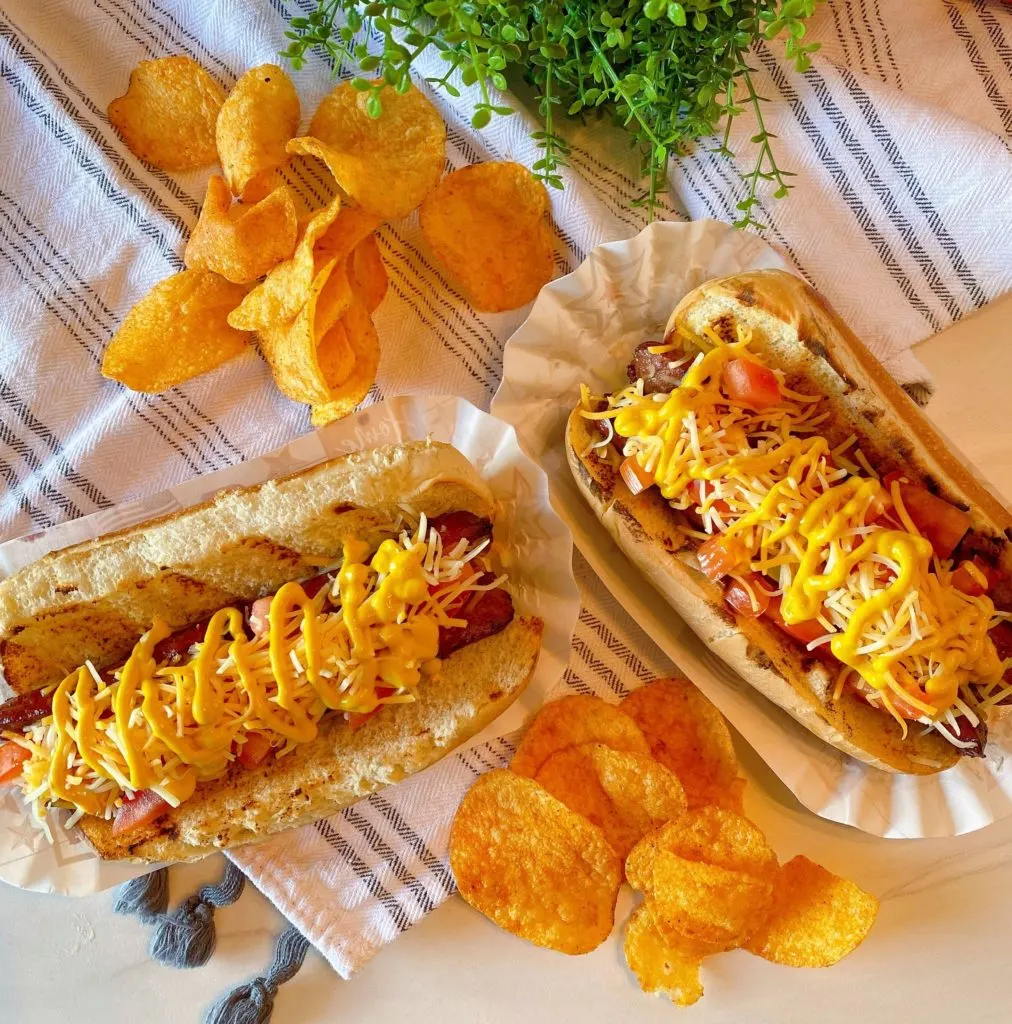 Other Hot Dog and Hamburger Recipes you might enjoy!
I love these Polish Dogs so much that my sweet husband generally makes them for me every Sunday! I look forward to them all week long and can proudly say I can polish off two of them…easily! Every bite is pure bliss! Biggest perk…I don't have to cook them and clean up is a breeze!!!
A quick easy lunch or dinner idea your birds are sure to love!
Thanks so much for stopping by! You can follow me on Facebook Page, Pinterest, and Instagram where I share my favorite recipes every day!
Happy Nesting!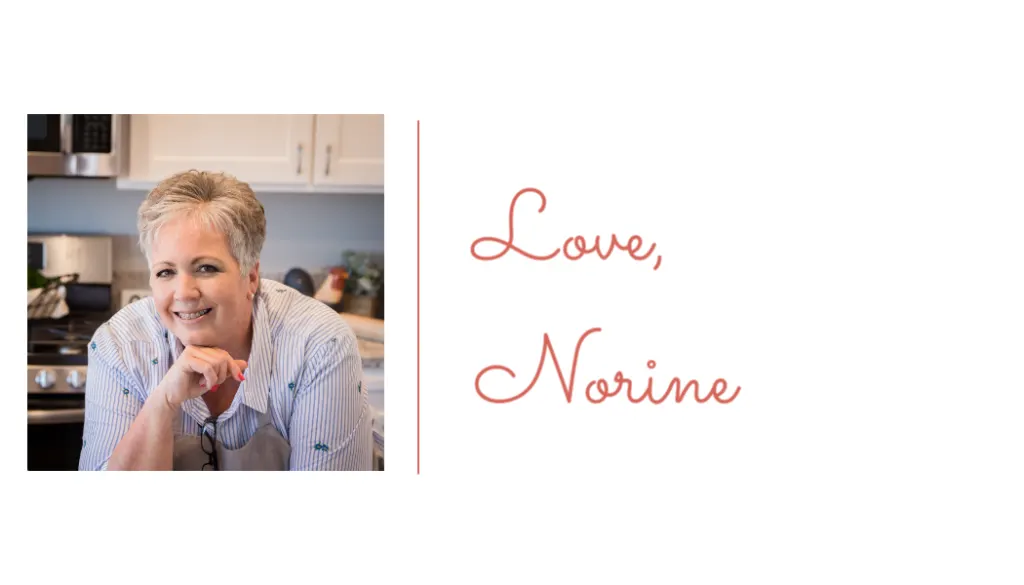 Yield: 4 servings
Al's Sunday Polish Dogs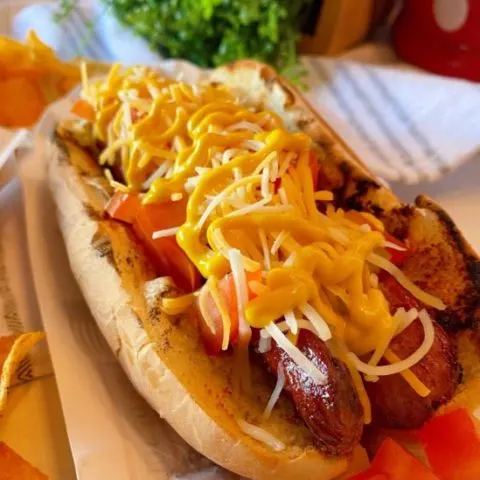 Named after my husband, the creator of this recipe, comes a delicious All Beef Polish Dogs, cut and grilled to perfection, topped with diced banana peppers, Roma tomatoes, cheese, and the mustard of your choice! A Sunday favorite at this Nest!
Ingredients
4 All Beef Polish Sausage Dogs, or 4 all beef top quality hot dogs.
4 Hot Dog Buns
1/3 Cup Banana Pepper Rings diced
1/2 Cup Diced Roma tomatoes
1 Cup grated Colby Jack cheese, or Cheddar jack cheese
Yellow Mustard
Instructions
Preheat Grill to medium-high heat.
Cut a long slice down the center of each sausage dog, lengthwise without cutting all the way through the skin on one side. Just enough so the hot dog can lay flat on the grill but still held together.
Place polish dogs open and flat, inside down, on the hot grill. Grill until golden brown around the edges. Turn the polish dog and cook the outside of each dog. Remove from sausage dogs from the grill and toast the inside of each hot dog bun. Remove the buns and plate buns.
Place hot dog down the center of each bun, slit side up. Sprinkle diced peppers and tomatoes down the center of each hot dog. Top each dog with a hefty sprinkle (about 1/4 cup) of grated cheese. Drizzle yellow mustard down the top of the cheese over the top of all the ingredients. Serve immediately while still warm.
Nutrition Information:
Yield:
4 servings
Serving Size:
1 hot dog
Amount Per Serving:
Calories:

922
Total Fat:

59g
Saturated Fat:

26g
Trans Fat:

0g
Unsaturated Fat:

26g
Cholesterol:

212mg
Sodium:

1145mg
Carbohydrates:

30g
Fiber:

1g
Sugar:

5g
Protein:

65g