Salmon Bowls are a delicious, easy, and flavorful low carb one bowl meal! Perfect for those watching their carb intake and so easy to prepare!
I heard ya! That's right… I begrudgingly took a poll … I asked if you'd like me to sprinkle the blog with more low carb recipes for Two. You overwhelmingly said "YES!" (Who are you people? lol wink, wink)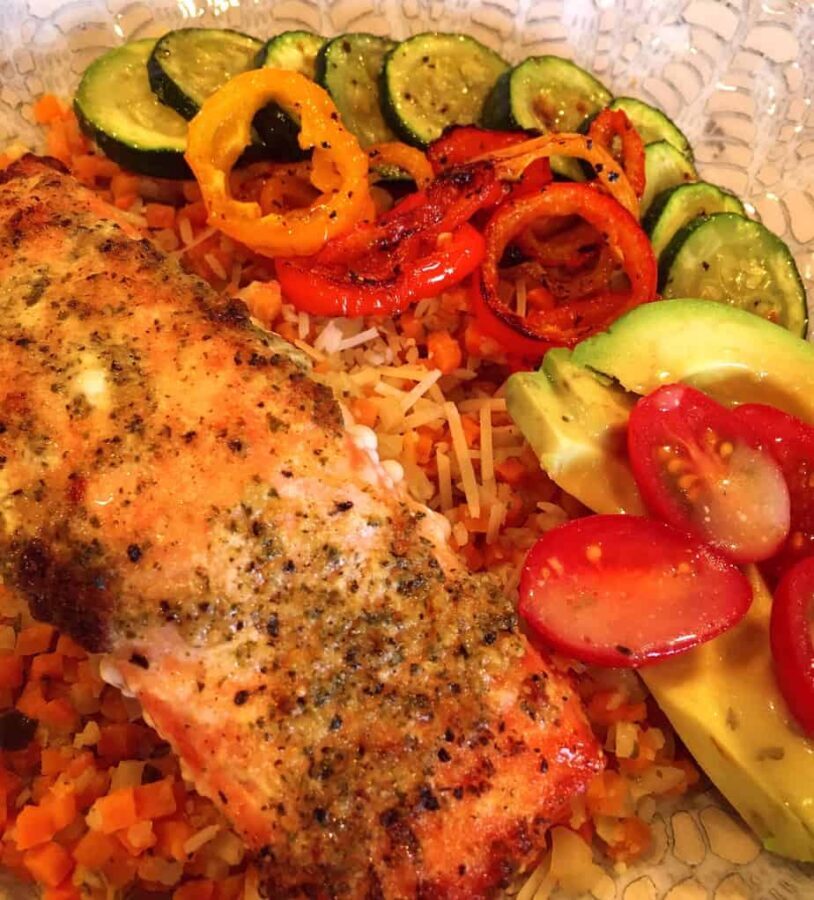 So here I am…running to catch up with the "band wagon"! (I'll admit I'm coming kicking, screaming, and out of breath!)
Before we begin…and my friends know this about me…I am a FIRM believer that Cauliflower is CAULIFLOWER! It's not a pizza crust, taco shell, buffalo wing (Awww Lawdy NO!), or RICE!
Frankly, if I was cauliflower I'd be really TICKED being turned into a chicken wing! (Have you seen chicken's wings? Would you want to be downgraded to a skinny ol' floppy wing? I think not!)
So, when I say my hand quivered picking up the bag of frozen Cauliflower and Sweet Potato "Rice"… I'm not exaggerating! I put it in my shopping cart and did the walk of shame all the way to the check stand!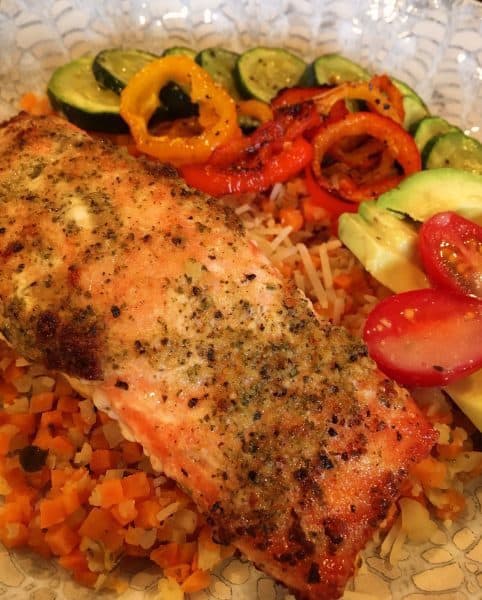 So you could say…I went into this dish extremely skeptical. I knew one thing though…if I was going to add "carb friendly" recipes to the blog they were going to be AMAZING! I wasn't going to skimp on portion or flavor! So here's to nothing…
I'm SO Happy to say this is one FANTASTIC Carb Friendly meal! Not only is it fantastic…it's SO easy and quick to pull together. It combines sheet pan baking with a bowl meal. Win-win Right? YES!!!
How To Make Salmon Bowls
Preheat your oven to 350°. Line a baking sheet with parchment paper.
TIP: They make pre-cut parchment sheets! They're so handy and make clean-up a breeze!
I purchased my Salmon from Wal-Mart in their fresh fish section. It came with two fillet's of Farmed Salmon and two pats of Pesto Butter.
Rinse, and pat dry, the Salmon. Place on one side of your baking sheet. Season with a sprinkle of Season Salt. Lay the two pats of Pesto Butter on top.
TIP: If you can't find the Salmon with the Pesto Butter…make your own. Two Tablespoons soften butter and 1 teaspoon prepared pesto. Mix together and place 1 Tablespoon per Salmon Fillet.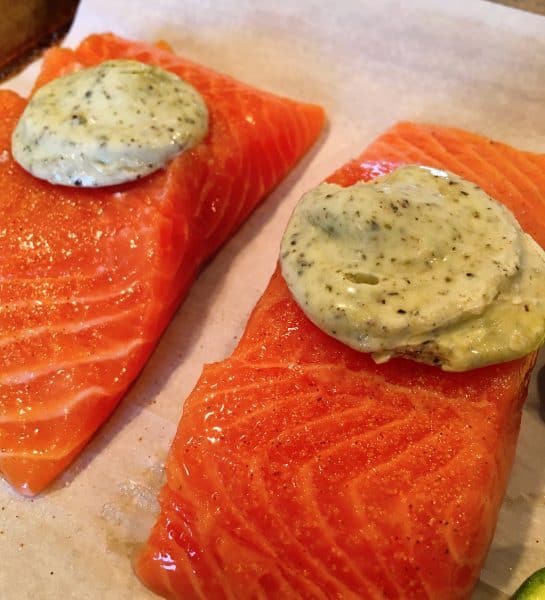 Preparing Vegetables for Roasting
Wash and slice one small zucchini squash. Place the squash next to the Salmon on the prepared baking sheet.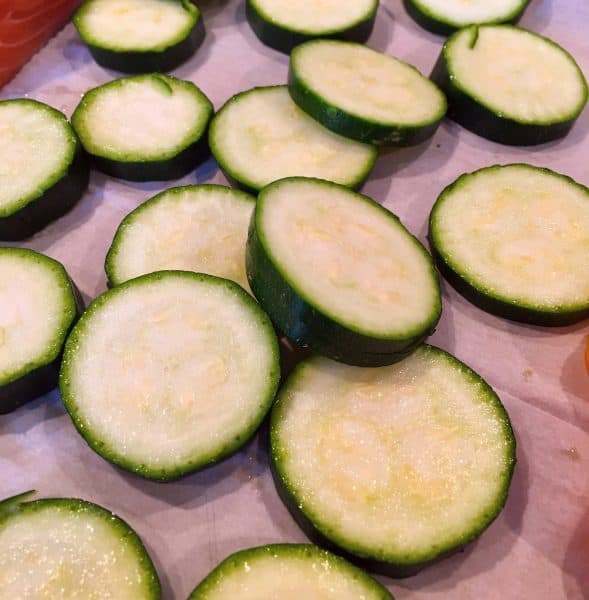 Next to the squash place 4-5 sliced sweet peppers.
Drizzle with Olive Oil and season with coarse black pepper, garlic salt, and Italian seasonings.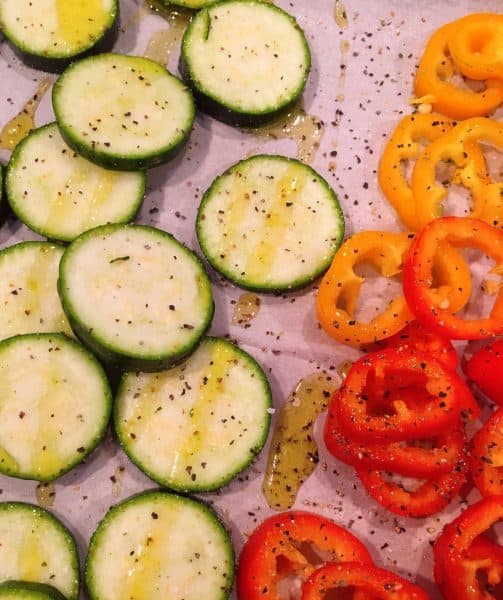 Toss the veggies to coat.
Keep in mind you can use any vegetables you want. I chose the squash and peppers because this Salmon bowl leans towards and Italian dish.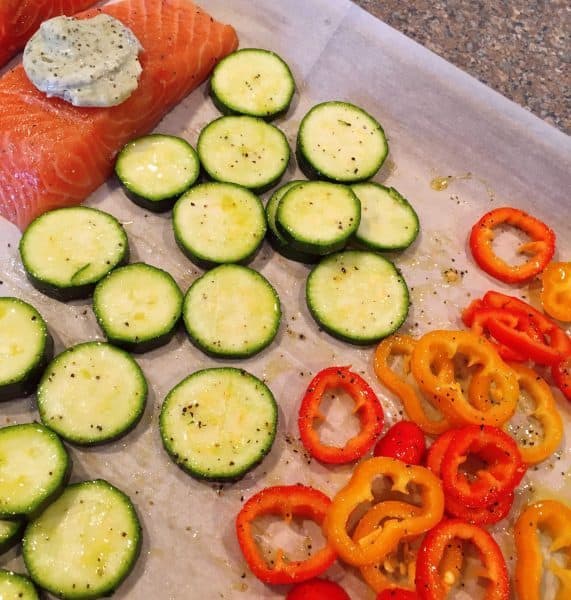 Pop the baking sheet into the oven for 15 minutes. Turn the vegetables over, brush the pesto butter over the top of the Salmon, and return to the oven for an additional 10 minutes.
Preparing Cauliflower and Sweet Potato Rice
Place the Cauliflower and Sweet Potato Rice in the Microwave and cook per package instructions.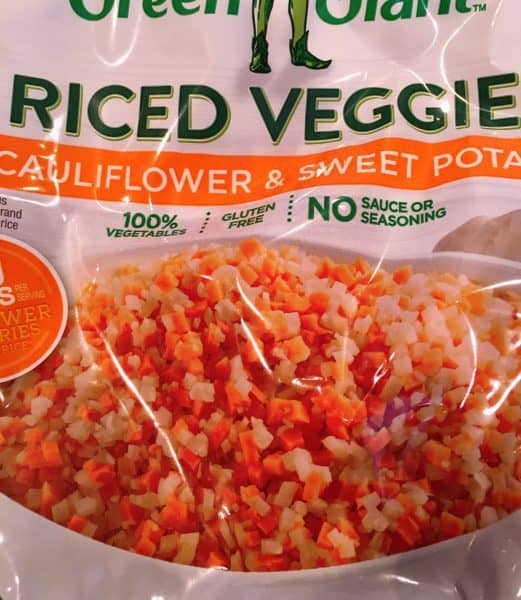 Remove from oven. Add 1 Tablespoon of Butter, and 1 Tablespoon of Prepared Pesto.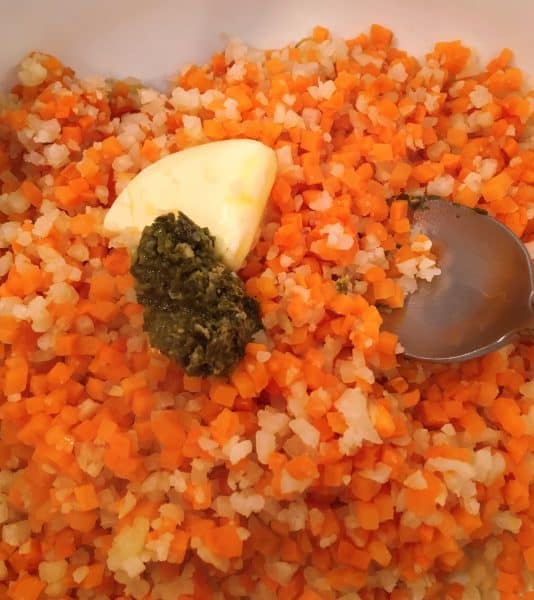 Season with Salt and Pepper. Mix in butter and pesto sauce until well combined. Cover to keep warm.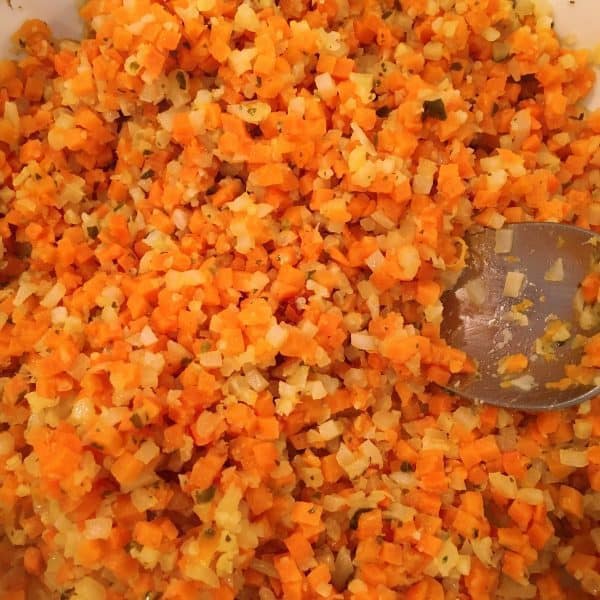 Remove Vegetables from the baking sheet, set aside. Place Salmon under the Broiler for an additional 5 minutes until edges are crispy and golden.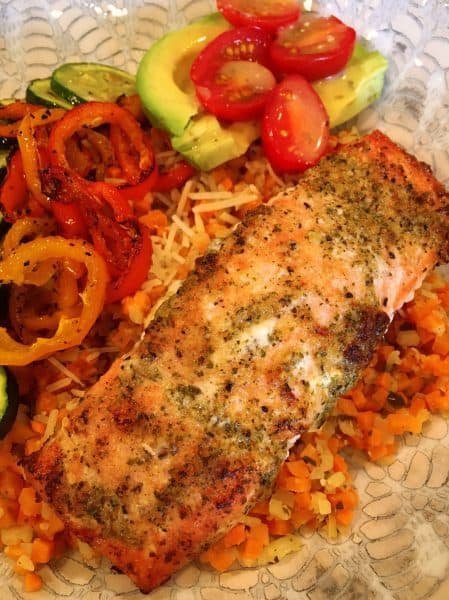 Serving Salmon Bowl
To serve, divide cauliflower and sweet potato rice in half, place in 2 shallow medium bowls. Sprinkle lightly with Parmesan Cheese.
In each bowl, place one piece of Salmon on top of cauliflower rice, on one side place half the squash and half the roasted peppers in each bowl.
For a small side salad…add three slices of Avocado with 3-4 sliced grape tomatoes, drizzled with Italian Dressing.
There ya have it! A colorful, flavorful, low carb meal!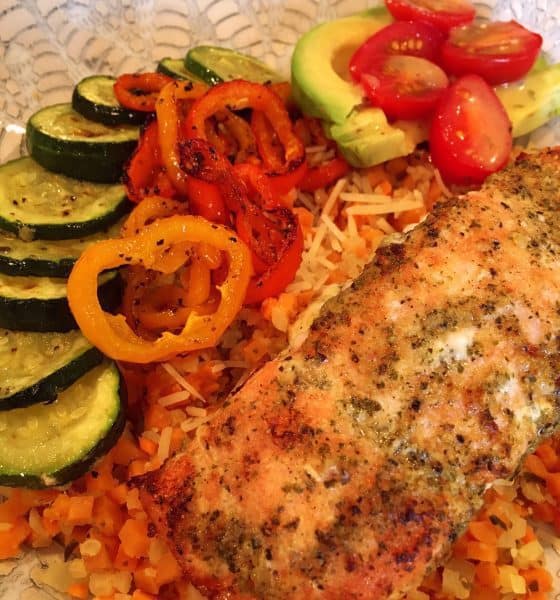 "Mars" LOVED this meal! I'll admit…I was cautious as I took my first bite…but in no time… I had eaten every last morsel! (Okay fine! I was licking my lips! Ya'll win! lol)
Not a fish fan…substitute a boneless skinless chicken breast fillet! It will work just as well with the Pesto Butter.
This is a truly great Low Carb Meal! I'm even a fan of the Cauliflower and Sweet Potato Rice! With the butter, pesto, and seasonings it was superb. I still don't think it tastes like Rice…but its a great substitution.
The vegetables are tender crisp, and jam-packed with flavor. The Salmon is moist and flaky. All the textures and flavors blend beautifully.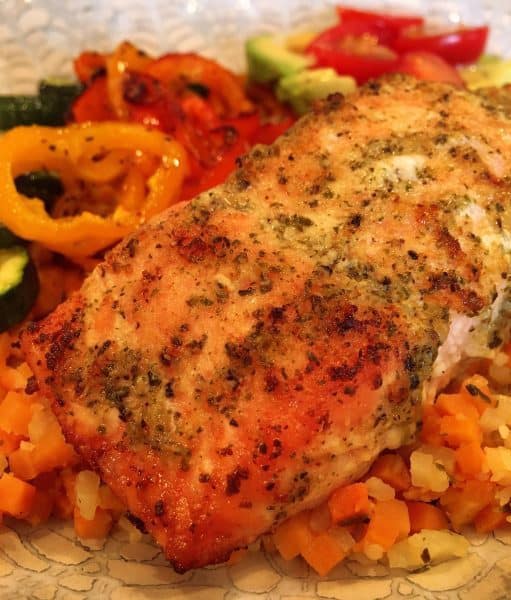 The bonus to "Bowl" and "Sheet Pan" cooking is that it makes clean-up a breeze! It also creates limited portion sizes … another huge plus!
If you're watching your "Carbs" you'll love this dish! Come join me on the band wagon! My blog isn't changing! There will still be plenty of carb loving recipes…I'm just trying to balance things out a little to help meet everyone's varying dietary needs.
Healthy-ish Recipes
Remember to sign-up for my bi-weekly Newsletter and see all the YUM before everyone else does!
Happy Low Carb Nesting!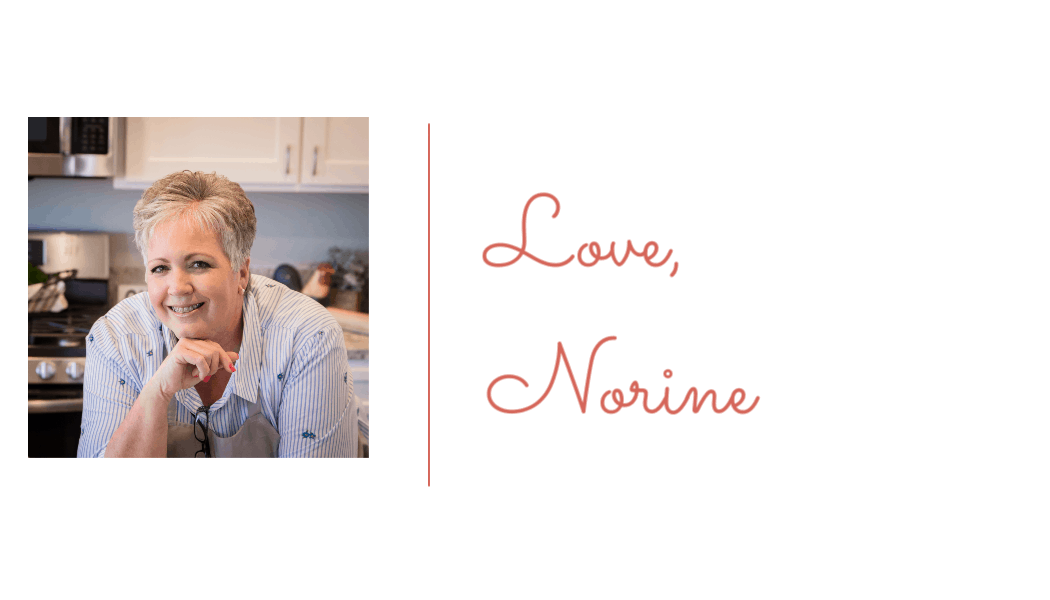 Yield: 2 servings
Salmon Bowls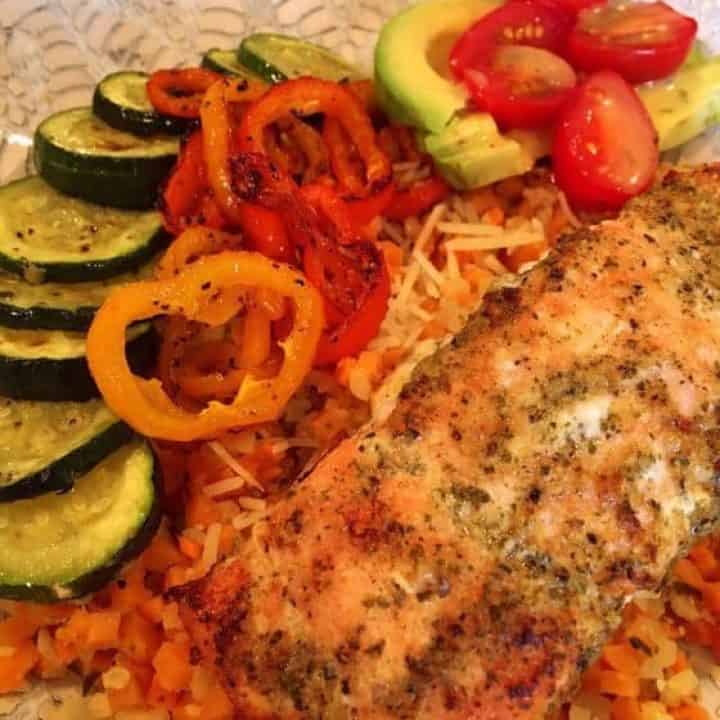 A delicious, easy, and flavorful low carb one bowl meal! Perfect for those watching their carb intake and so easy to prepare!
Ingredients
2 Salmon Fillets with Pesto Butter (See notes for Pesto Butter)
1 small Zucchini Squash sliced
4-5 sweet red and yellow peppers, sliced.
1 Tablespoons Olive Oil
1/4 tsp Garlic Salt, Coarse Black Pepper, Italian Seasonings
Dash of Seasoning Salt
1 - 12oz. Package Green Giant Riced Cauliflower and Sweet Potato
1 Tablespoon Butter
1 Tablespoon Prepared Pesto
2 Tablespoon Grated Parmesan Cheese
6 slices of Avocado
8 sliced red grape tomatoes
1 Tablespoon Italian Dressing
Instructions
Preheat Oven to 350°
Line baking sheet with Parchment Paper
Rinse and Dry Salmon Fillets. Sprinkle with Seasoning Salt. Place on onside of prepared baking sheet.
Place 1 Tablespoon patty of Pesto Butter on Top of each Salmon Fillet.
Lay sliced zucchini Squash next to Salmon.
Lay sliced sweet peppers next to squash.
Drizzle Squash and Peppers with Olive Oil. Season with Salt, Coarse Black pepper, and Italian seasonings. Toss to coat.
Place in preheated oven for 15 minutes.
Check Vegetables, turn them over to cook other side. Brush melted Pesto Butter over Salmon.
Return to oven for an additional 10 minutes.
While Salmon and Vegetables continue to roast, place package of "Riced" Vegetables in Microwave and cook per package instructions.
Remove riced vegetables from Microwave and place in a large bowl. Add 1 Tablespoon butter and 1 Tablespoon of prepared Pesto, Salt and pepper to taste. Mix until well blended.
Cover until ready to plate.
Remove Vegetables from Baking sheet.
Place Salmon in broiler for an additional 5 minutes until edges are crispy and golden.
Remove Salmon from oven.
In two shallow bowls, divide the "riced" vegetables in half. Sprinkle with Parmesan Cheese. Place a Salmon Fillet on top of each bowl of riced vegetables. Add Roasted Veggies. Arrange them on the opposite side of the Salmon Fillet.
Add 3 slices of Avocado to each Salmon Bowl and top with sliced tomatoes and drizzle of Italian Dressing.
Serve immediately.
Notes
If you can't find Salmon with pre-made Pesto Butter make your own by Adding 1 teaspoon prepared pesto sauce to 2 Tablespoons softened butter.
Nutrition Information:
Yield:
2
Serving Size:
1
Amount Per Serving: