A tender juicy spiral cut ham cooked in the slow cooker and covered with a delicious peach spiced glaze come together for a delicious Holiday dinner. Slow Cooker Peach Glazed Ham Recipe!
I feel I need to take a minute, before digging into this luscious Peach Glazed Ham recipe, and share a little about myself. I realized this past weekend I may have offended a few readers with my "canned soup snob" comment.

I grew up the only girl in a household full of boys, and a Dad, that were/are quick-witted, sarcastic, and teased a LOT! Self-preservation demanded I hold my own! (It still demands it! Lol)
So if my sarcasm goes too far sometimes, I apologize. Please know offending someone is never my intention. I grew up bullied horribly in elementary school and High School!!
Hurting others is something I try to avoid at all costs. I understand we all have different nutritional needs and desires. I respect that. I just love to see humor in everyday life. I hope that is one of the things you love about me!
I'm a down to earth country gal who wears jeans, tennis shoes, cotton shirts with the sleeves rolled up and drives a minivan. I'm a "What ya see, is what ya get!" kind of girl. With the exception of make-up! Cause it just ain't pretty if I don't! (Ain't nobody needing to see that!!!)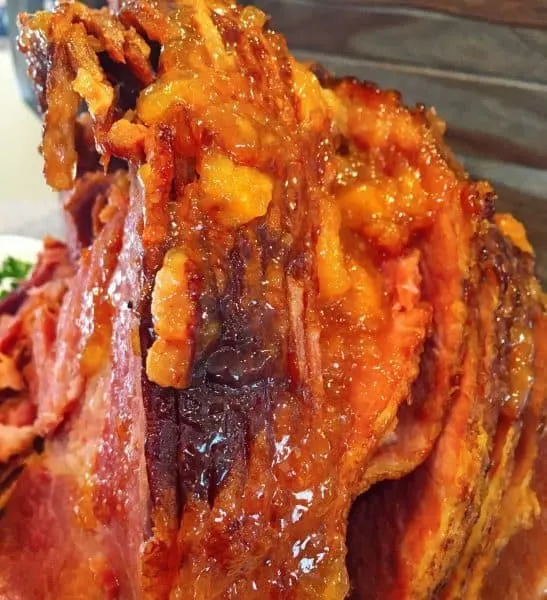 So getting back to this AMAZING Peach Glazed Ham! I live for the day that I have double ovens and my dream kitchen…until that day… I have to get creative when it comes to Holiday cooking.
There is NEVER enough room in my oven! This year I'm doing this delicious Slow Cooker Peach Glazed Ham! It's phenomenal and SUPER easy!
This was a 6 lb spiral cut ham. It wasn't a fancy brand, it was just what they had at Wally World the day I was shopping. (That is code for "The price was right!" Can ya feel me?)
How To Make Slow Cooker Spiral Ham With Peach Glaze
Place the ham large side down in your slow cooker. Sprinkle the ham with 1/2 cup of light brown sugar and 1 tsp of pumpkin pie spice. That's right! Pumpkin Pie spice. Yes! I realize this is Spring and not Fall. The beauty of this Ham recipe is you can use it ALL year round!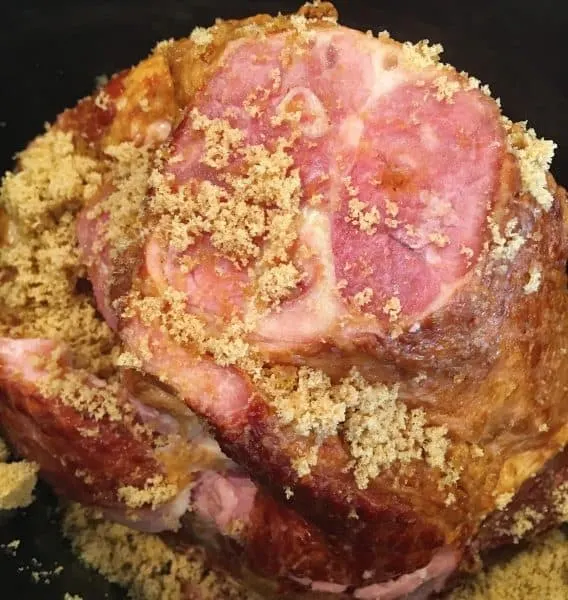 Time to take that yummy peach jam you canned at the end of last summer. What? You didn't can peach jam last summer. 😉 That's fine…you just need one cup of any brand of Peach Jam.
TIP: You could even use a healthier "Fruit Spread" if you are watching your sugar intake. I happened to have canned peach jam on hand. (I know… I was impressed with myself too! Trust me it rarely happens!)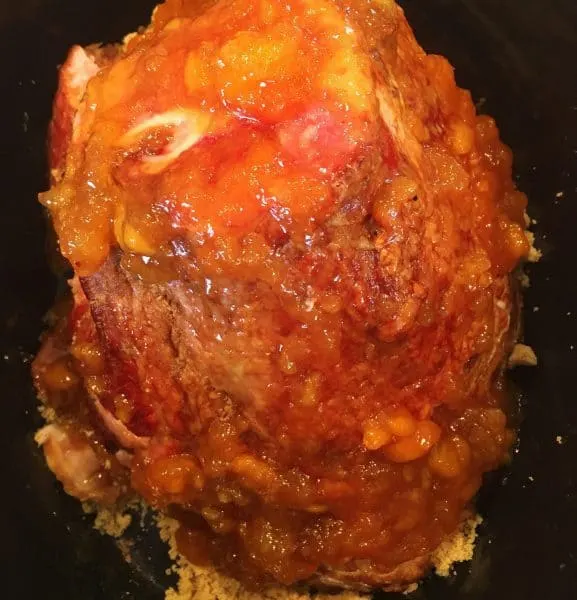 That is it ladies and gentlemen! Seriously…that is it! Put the lid over the top and cook on low for 3.5 – 4 hours. It will depend on how hot your slow cooker actually cooks.
You could even do the "warm" setting if your cooker cooks at a higher temp. Just be sure the internal temp is 140°.
Tip: If your lid won't fit down tight because your ham is a little too big…cover the pot with heavy-duty foil and crimp it down around the edges nice and tight creating a "lid" and then place your other lid on top. It will cook up beautifully. No worries.
I loved making this dish. My house smelled DIVINE!
Every time someone came home they would say "What are you cooking? The house smells amazing!" That is what every Mom loves to hear! It's so much more pleasant than "Oh YUCK we're having that again! Guess I'm not eating dinner!" (Me: Guess you're lucky to be breathing!)
When your cook time is complete…don't be surprised if the ham is literally falling off the bone! (It made beautiful photography impossible! I went for flavor over presentation this time!)
Carefully remove the ham from the slow cooker and place it on your serving platter.
TIP: Take 1/2 cup more of the peach preserves and spread it over the top of the ham. The heat of the ham will melt that fresh spread in a matter of minutes.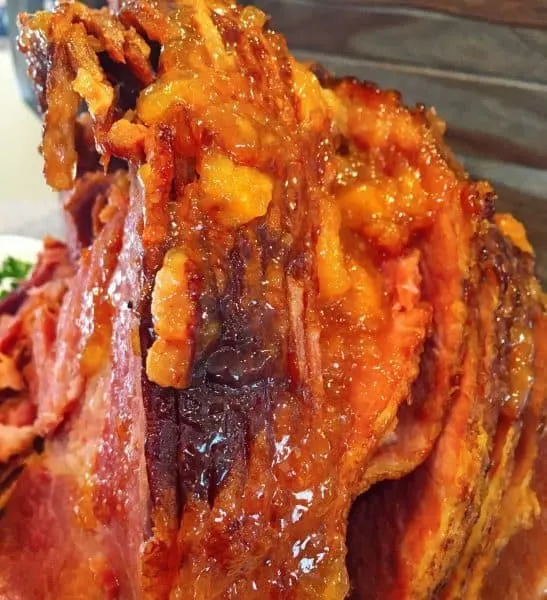 This ham is filled with a wonderful smokey peach spiced flavor. It's tender and juicy. It has subtle hints of springtime thanks to that fruity glaze, but it isn't too sweet. It is the perfect balance of smokey and sweet. It's a really nice change from the typical pineapple and clove ham.
I'm absolutely in LOVE with this recipe! It's quick, easy, delicious, and made in your slow cooker freeing up space in your oven.
This Peach Glazed Ham pairs beautifully with these Fantastic Side Dishes
I hope this recipe finds it way to your Easter dinner table! That Broccoli Puff is a delicious side dish for this main course too! So many options. Isn't it wonderful!
I've got a GREAT week planned here at my Nest now that I'm getting over my sickness. (Thank you for all your kind thoughts and comments on Instagram and Facebook.)
I can hardly wait to share everything with ya. Be sure to sign up for my newsletter if you haven't already. It's the perfect way to find out what is heading your way, and it's FREE!
Thanks for visiting my Nest! See ya soon!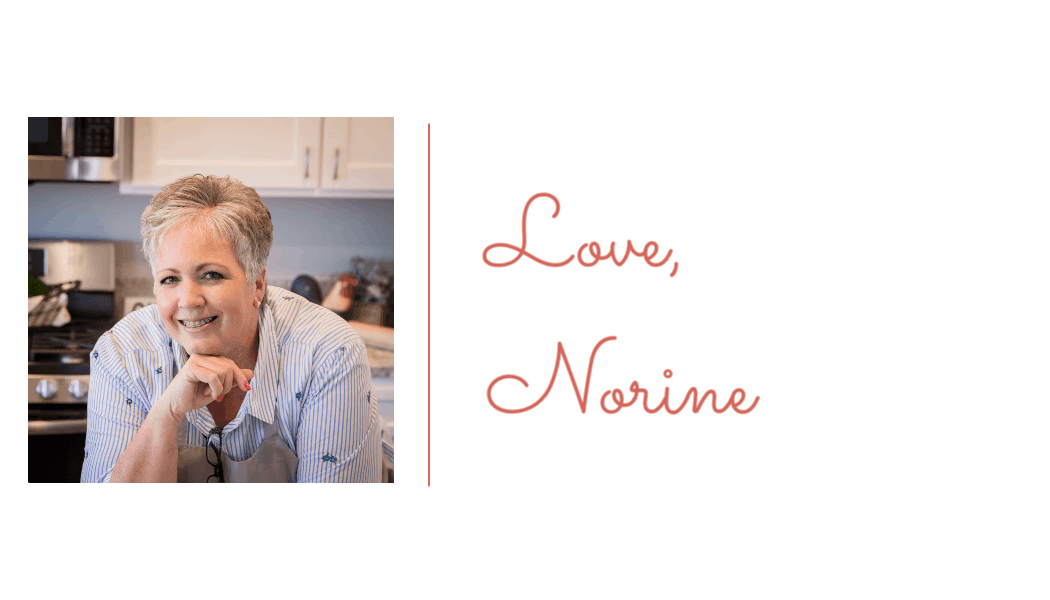 Yield: 8-10 servings
Slow Cooker Peach Glazed Ham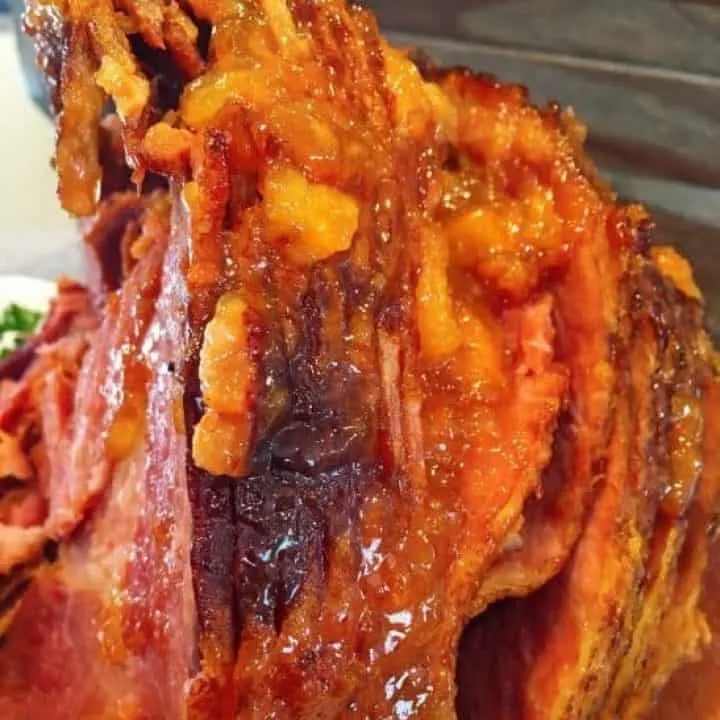 A tender juicy spiral cut ham is cooked in the slow cooker and covered with a delicious peach spiced glaze.
Total Time
4 hours
5 minutes
Ingredients
1 6-lb spiral cut ham
1 1/2 cups peach preserves (jam)
1 tsp Pumpkin Pie spice mix
1/2 cup light brown sugar
Instructions
Place spiral cut ham large end down.
Sprinkle ham with 1/2 cup of light brown sugar and 1 tsp. Pumpkin Pie Spice Mix.
Spoon 1 cup of Peach preserves over the top of the ham.
Cover and bake for 3.5 - 4 hours on low heat in your slow cooker. (Please note if ham is too tall for lid to go down over cooker cover with foil and crimp down around the edge of the slow cooker baking bowl. Then place with glass lid.
Remove ham from cooker and place on serving platter. Spread the other 1/2 cup of peach preserves over the top and serve immediately.
Recommended Products
As an Amazon Associate and member of other affiliate programs, I earn from qualifying purchases.
Nutrition Information:
Yield:
10
Serving Size:
2 cups
Amount Per Serving:
Calories:

547
Total Fat:

14g
Saturated Fat:

3g
Trans Fat:

0g
Unsaturated Fat:

7g
Cholesterol:

174mg
Sodium:

2677mg
Carbohydrates:

45g
Fiber:

1g
Sugar:

35g
Protein:

61g