Tiramisu Cheesecake is a rich flavorful cheesecake with wonderful hints of kahlua and coffee…everything you love about Tiramisu in a cheesecake. A decadent delightful dessert!
If you've been by my "Nest" before, you know that my love affair with dessert started in the womb!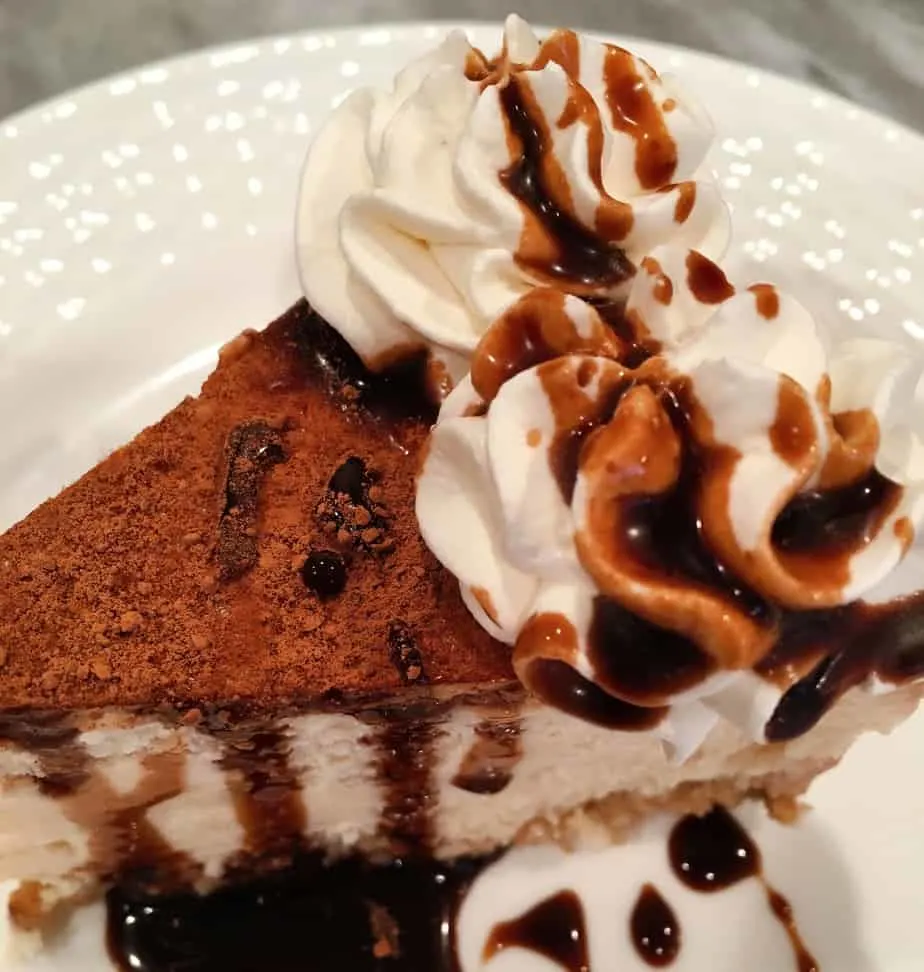 Okay…maybe not THAT early, but you get my drift! When I first got married I assumed my husband and I would be holding hands skipping down the yellow brick road to the magical City of Sugary Bliss! Boy, was I wrong!
The first dinner I ever cooked in our teeny tiny one-bedroom apartment was complete with a Hershey's French Silk Pie with chocolate butterflies dotting the edges for dessert! It was a masterpiece screaming to be devoured!
So…you can imagine my shock, and hurt, when prince charming declined said dessert, and replied …"I'm really not much of a dessert eater! Every once in a while maybe a chocolate chip cookie or slice of chocolate cake. Otherwise, I don't really care for it!"
WHAT? You mean to tell me all those times we went out to dinner, and you skipped the dessert tray you were serious?!!! WHO ARE YOU?!!! I was suddenly married to a one eyed unicorn!
So for years I baked desserts, and everyone but my husband ate them. Now, when it came to cheesecake I was okay with that. More for me!
So you can imagine my surprise when one spring evening I pulled out one of my Tiramisu Cheesecakes, and he said "Hmmmm. That looks good. Mind if I have a bite?" I laughed and said "Sure" knowing full well he would hate it.
Strange thing happened…he took one taste, then another, and another, and yet another! (Whoa cowboy!!! What is going on here?) He looked up and said "Oh my goodness this is amazing! Is all cheesecake this good?" I wanted to lie so badly, it just wasn't in me. Ever since…this has been "Hop-a-longs" #1 Favorite dessert! He hides the entire cheesecake folks!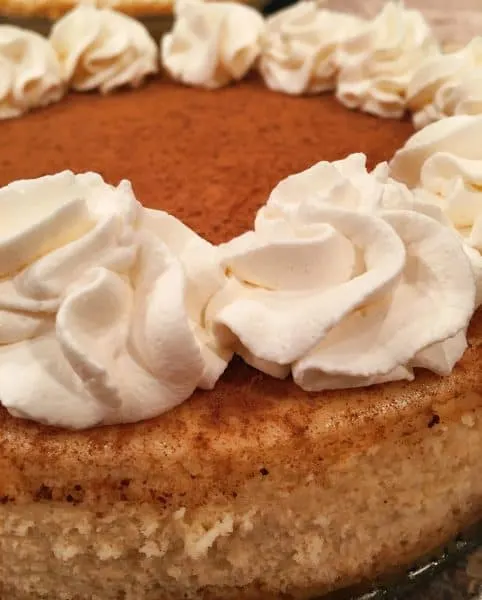 I really can't blame him. This cheesecake is SO good! If you love Tiramisu, and who doesn't, then you will love this cheesecake! It's adapted from a recipe on All Recipes. However, as is usually the case, I've changed it a bit. I think the changes have only made it better. Let me know what you think.
How To Make Tiramisu Cheesecake
Start by preheating the oven to 350 degrees.
Make sure to prepare your pans for the "water bath" method. This will prevent the cheesecake from splitting. If you're not sure how to do that, you can find the instructions under the Pumpkin Chocolate Chip Cheesecake recipe. Click here.
How To Prepare The Crust
The crust for this cheesecake is made from Keebler Sandies! Yep, those Elf's know what they're doing when they make a butter cookie!
Place them in a zip lock bag and then use a rolling-pin to crush them. I know what you are thinking. "Hey shouldn't the crust be out of mashed up lady fingers? That is what's in regular tiramisu." You're right it is, but I'm not a fan of mushy soggy cake for my cheesecake crust. Cheesecake needs something a little more substantial. This works beautifully!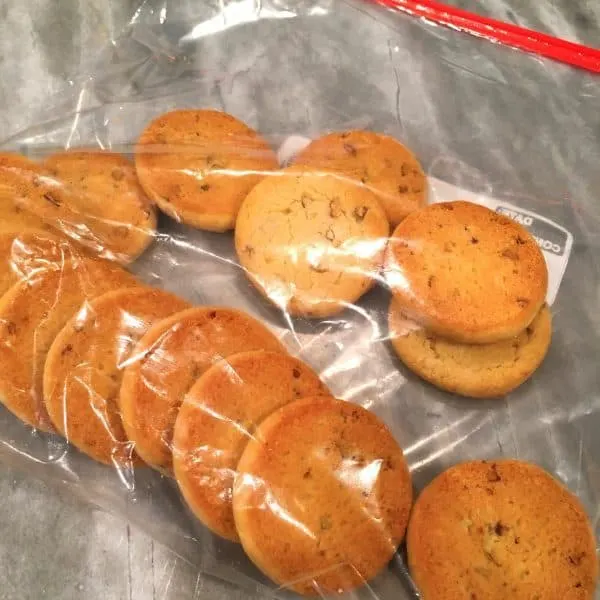 Once the cookies are crushed place them in a small bowl. Add in 1 Tablespoon melted butter and 2-3 Tablespoons Coffee flavored liqueur. Like Kahlua. Mix that all together and place in the bottom and slightly up the sides of a 9-inch spring form pan.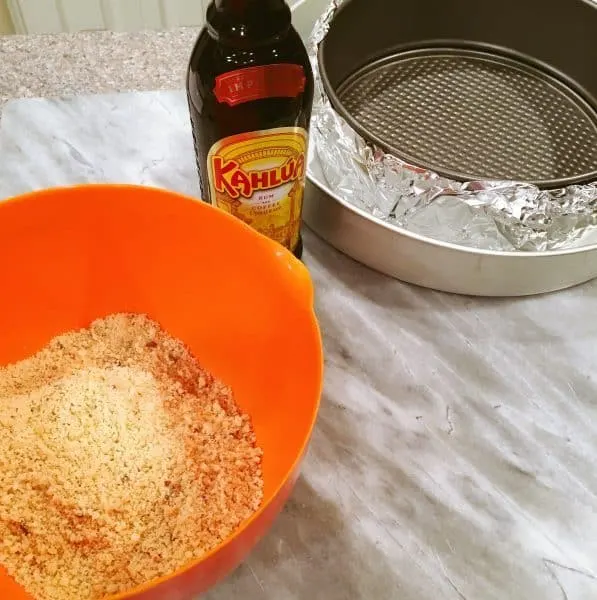 Your cookie crumbs should be course. You don't want to add too much melted butter because the cookies for this crust are already very buttery.
Use your fingers to gently press the crumbs into the bottom and up the sides of your spring form pan. Set the crust aside until you have the cheesecake batter mixed together.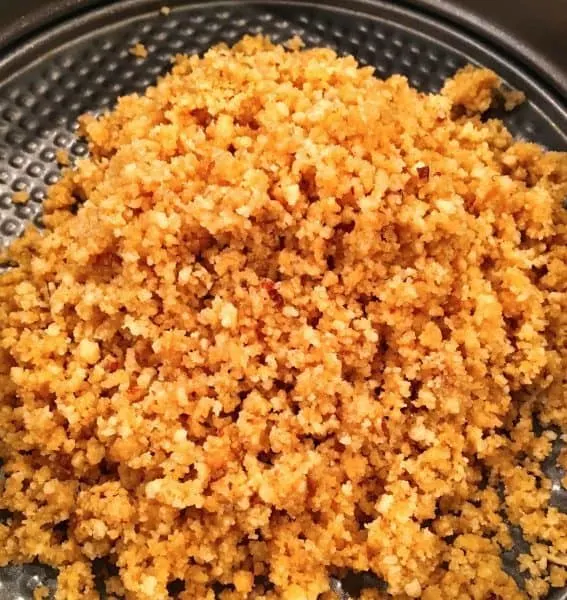 Tiramisu Cheesecake Filling
Next in your mixing bowl place 3 packages of cream cheese, 1 container of mascarpone cheese…this can be found at your grocery store by the specialty cheeses and meats, sugar, and 4 Tablespoons of coffee liqueur. Mix until smooth.
Tip: If you cannot locate mascarpone cheese don't worry. You can mix 4 oz. of soften cream cheese with 1/8 cup real whipping cream and 1/4 cup sour cream.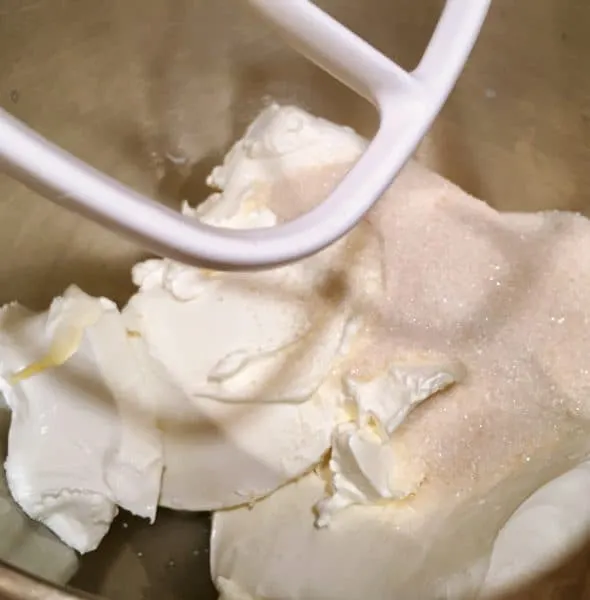 Add in the eggs and flour; mix slowly until just smooth. Please note that the consistency of the mascarpone can vary. If the cheesecake batter is too thick, add a little cream. Do not over mix at this point.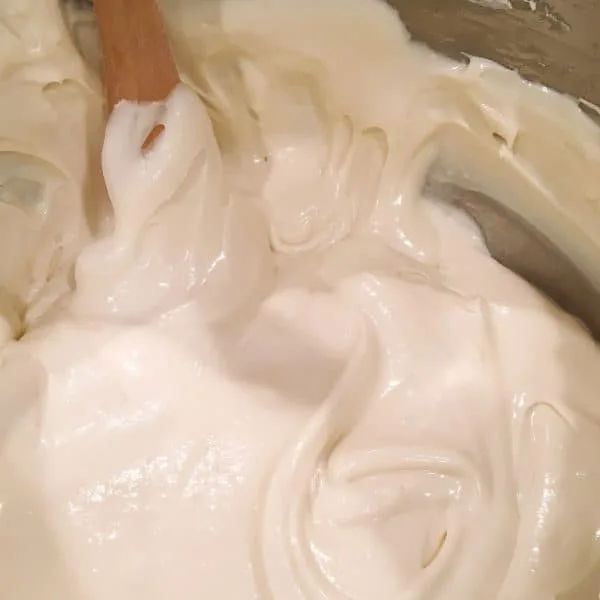 Scrape down sides and mix together. Your batter should be smooth and creamy. Pour the batter into crust. (Be sure there is water in the water bath before you begin baking the cheesecake.)
Using your rubber spatula spread it around evenly making sure to go to the very edge of the pan.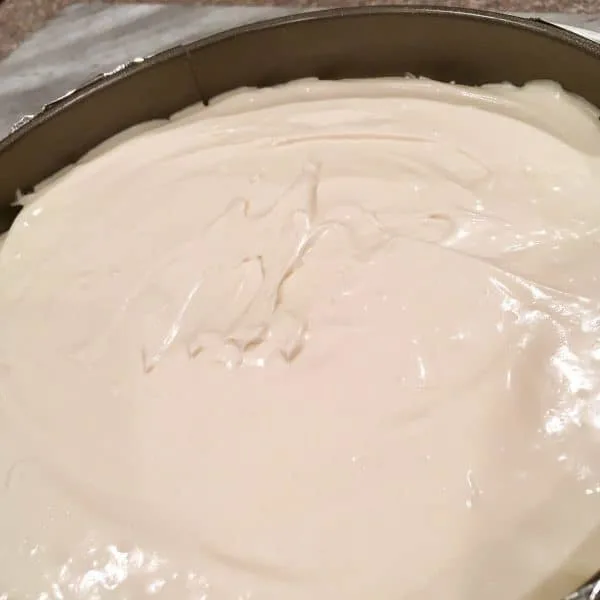 Place in the oven on a middle rack and bake for 40–45 minutes, or until just set. Open the oven door a crack, and turn off the heat. Leave cake to cool in the oven for 20–30 minutes. Remove from oven, and let it finish cooling.
Refrigerate for at least 3 hours, or overnight.
Look at that beautiful "crack free" cheesecake! (Just say "No" to crack! It's not just for plumbers! Lol) Isn't it remarkably beautiful! It turned out so perfect! You just can't wrong with the water bath method for preventing cracking.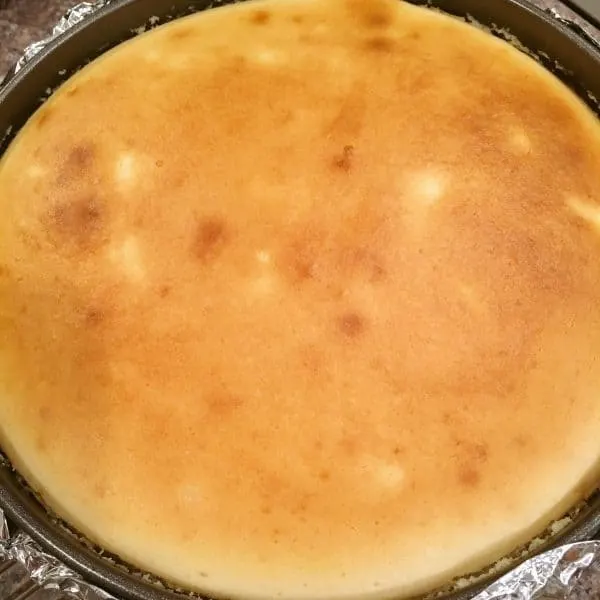 Right before serving sprinkle the top with coco baking powder.
TIP: I place mine in a wire mesh strainer and gently shake it over the top of the cheesecake. Don't worry about going to the very edge. Around the edges I pipe on whipped cream topping. (If you have the powder chocolate under the whipped cream it will just fall off.)
The whipped cream mixture is one cup heavy whipping cream, 3 Tablespoons powder sugar, 1/2 tsp. vanilla. Whip till stiff and then pipe along the edges. The powder sugar in the whipped cream will keep it from going flat and melting.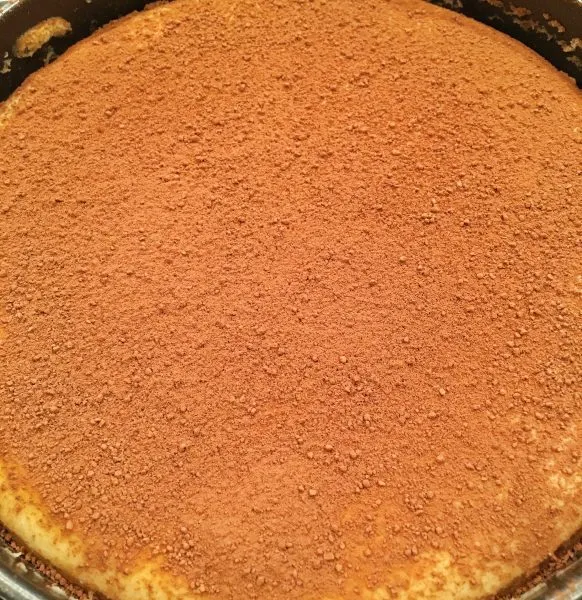 The "cherry" on top of this dessert is the chocolate kaluha sauce I made to drizzle over the top of each slice.
One night I was thinking that one of the things I love about regular Tiramisu is that there is always a little bit of tiramisu sauce in the bottom of the serving dish. I love that aspect of that dessert and felt this one needed that same little sizzle of "bling" to take it to an entirely new level. It worked and, I'm happy to report, it does!
How to Make Chocolate Kahlua Sauce
To make the sauce place 3 Tablespoons of Kahlua in a sauce pan and heated it to boiling. (This was to cook out all the alcohol. That was a personal preference. You do not have to do this step.) Then add it to 1/4 cup dark Hershey's chocolate syrup! Mixed it together really well.
Drizzle desired amount over each slice of cheesecake.
Isn't that a beautiful elegant dessert!
The best part is the texture and flavors of this cheesecake. The crust is moist and buttery with hints of coffee flavor. The cheesecake itself is decadently rich and creamy with the mascarpone cheese and hints of mild coffee flavoring. The powdery chocolate topping mixes together to create an exotic blend of flavor with each bite.
Add in the finishing touches of the chocolate kahlua sauce, and you have one elegant delectable dessert perfect for any holiday dinner party!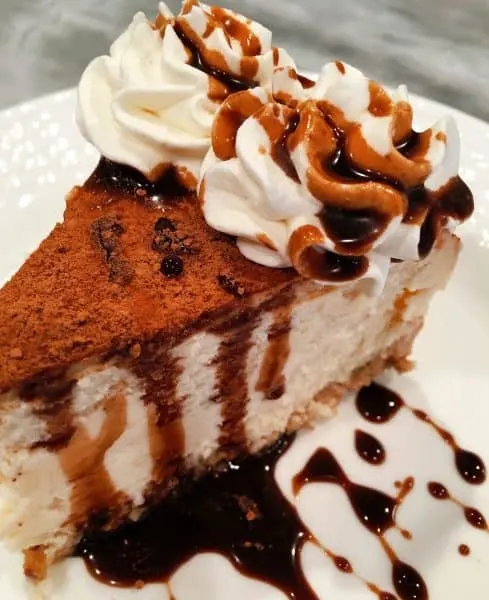 I hope you'll add this elegant delicious dessert to your Holiday baking list! It will be worth your time and effort! It is as good as any dessert you'll find at any 5-star restaurant.
Believe it or not it is one of the easiest cheesecakes to make! Who knows maybe you'll convert a non-cheesecake lover like I did. Just be careful…you never know where they'll hide it!
Fantastic Dessert Recipes
Have a Fantastic Day. As always, THANKS for visiting my Nest and sharing your time with me!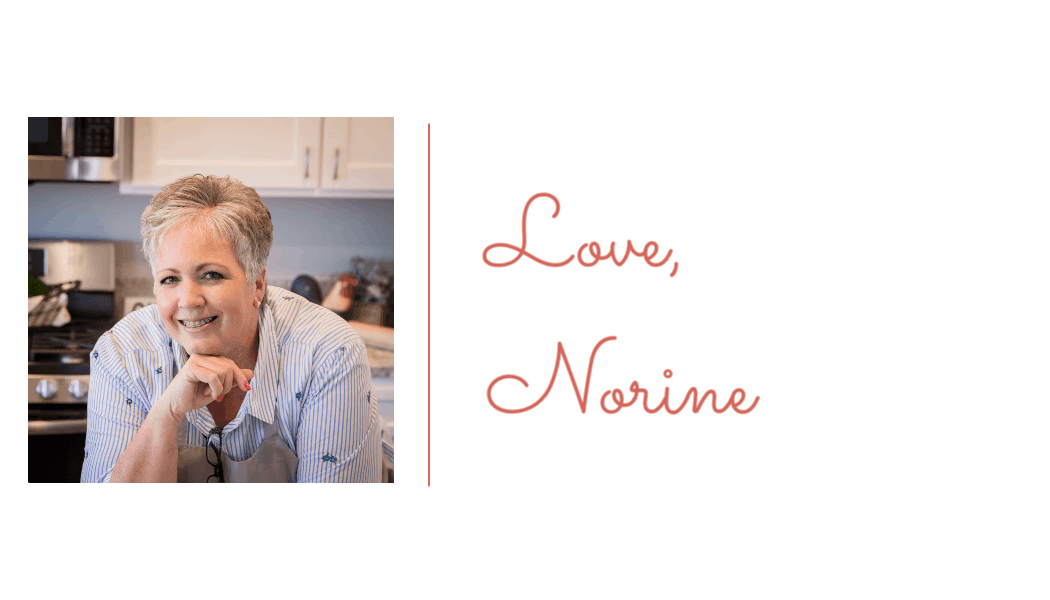 Yield: 12 servings
Tiramisu Cheesecake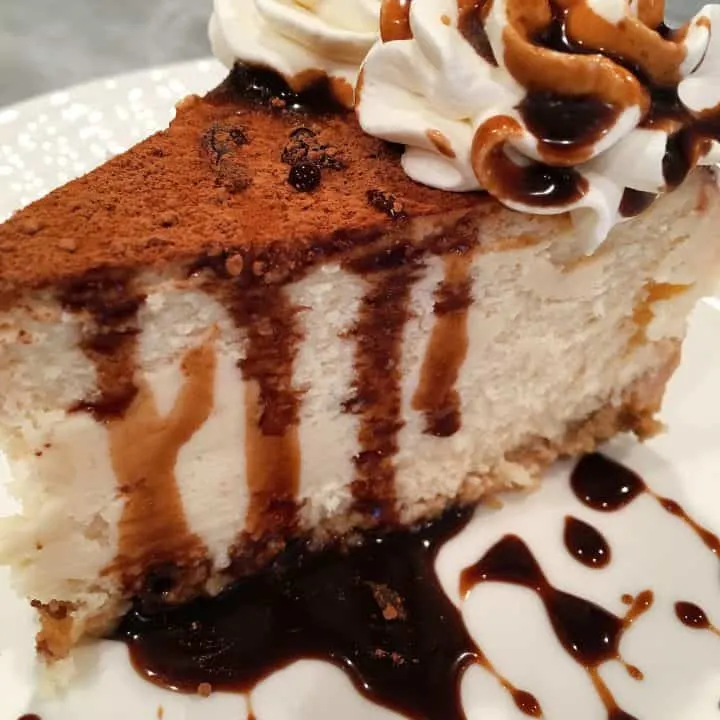 An elegant creamy rich cheesecake with hints of coffee and chocolate flavoring make this the perfect Holiday cheesecake! As good as any dessert at your favorite 5 star restaurant!
Total Time
1 hour
30 minutes
Ingredients
1 package Keebler Pecan Sandies. You will only need to use 14-15 cookies.
1 Tablespoon melted butter
3 Tablespoons coffee flavored liqueur
4 Additional Tablespoons of coffee flavored liqueur
3 (8 ounce) packages cream cheese
1 (8 ounce) container mascarpone cheese *see substitution under notes
1 cup white sugar
2 eggs
4 Tablespoons of all purpose flour
1/4 cup cocoa baking powder
Whipping cream for decoration
Chocolate Coffee drizzle
1/2 cup Hershey's chocolate syrup
3 Tablespoons, boiled and cooled, coffee flavored liqueur
Instructions
Preheat oven to 350° degrees (175 degrees C) For the water bath method, wrap your spring form pan in aluminum foil so that water cannot get into the spring form pan. Place your wrapped spring form pan inside another larger pan. Fill outer pan with 2 inches of water right before baking.
Crush the Sandie cookies by placing them inside a gallon size zip lock bag and rolling over them with a rolling pin. Crumbs should be coarse. Place the crumbs in a medium size bowl. Add 1 Tablespoon melted butter and 3 Tablespoons of Coffee Liqueur. Mix until well coated. Press crumb mixture in bottom and slightly up the sides of a 9 inch spring form pan.
In a large bowl, mix cream cheese, mascarpone, and sugar until very smooth. Add 3-4 Tablespoons of coffee liqueur, and mix. Add the eggs and the flour, mix SLOWLY until just smooth. The consistency of the mascarpone can vary. If the cheesecake batter is too thick, add a little cream. Do not over mix at this point. Pour batter into crust.
Place pan on middle rack of oven. Bake for 40-45 minutes, or until just set. Open oven door, and turn off the heat. Leave the cake to cool in the oven for 20-40 minutes. Remove from oven, and let it finish cooling. Refrigerate for at least 3 hours, or overnight. Right before serving sprinkle with cocoa powder and garnish with whipping cream and drizzle with chocolate coffee sauce.
Chocolate Coffee Sauce
Mix chocolate syrup with boiled and cooled coffee liqueur. Drizzle over sliced cheesecake.
Notes
If you can not locate Mascarpone cheese you can substitute 4 oz. of cream cheese, 1/4 cup sour cream, 1/8 cup heavy whipping cream.
Recommended Products
As an Amazon Associate and member of other affiliate programs, I earn from qualifying purchases.
Nutrition Information:
Yield:
12 servings
Serving Size:
One Slice
Amount Per Serving:
Calories:

388
Total Fat:

15g
Saturated Fat:

6g
Trans Fat:

0g
Unsaturated Fat:

7g
Cholesterol:

42mg
Sodium:

209mg
Carbohydrates:

56g
Fiber:

2g
Sugar:

38g
Protein:

4g