A Big Thick Handmade Grilled Burger loaded with melted blue cheese, topped with Gouda cheese, a blue cheese dressing, thick crispy applewood bacon, and yummy sauteed baby Portobello's and shallots. It's a Fantastic juicy hamburger perfect for a summer night meal!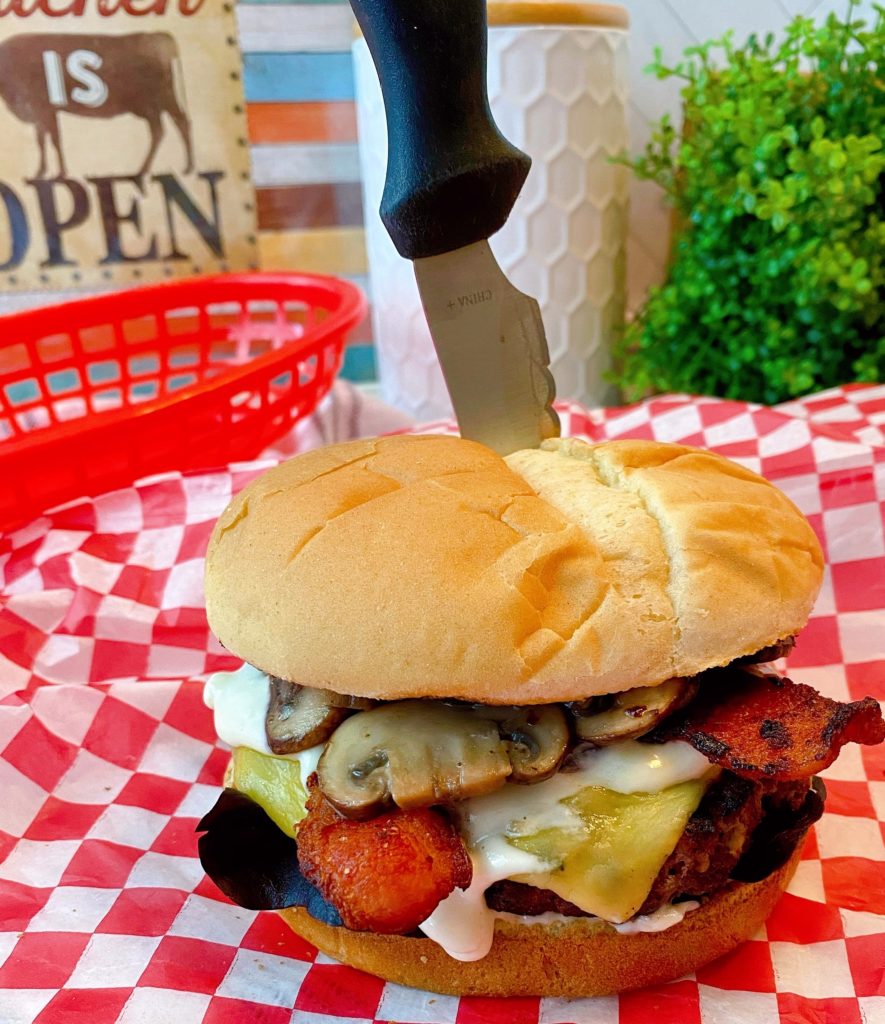 This time of year I crave homemade grilled hamburgers! It must be a summer thing. Who knows? I could eat one almost every day! (Not healthy…but my cravings rarely are!)
The classic ketchup, mustard, and pickle burger is great! However, I'm also a fan of a "specialty" burger loaded with creative or gourmet toppings! Mixing things up is what cooking is all about. It's all about flavor for me. Different toppings allow us to create all kinds of new flavor combinations.
My main criteria for an outstanding hamburger is a thick and juicy patty. No premade paper thin hamburger patties! I want a nice hand packed burger that you can sink your teeth into. Especially one with chunks of blue cheese! That sounds wonderful.
A few weeks ago I had a pound and a half of 80/20 ground beef sitting in the refrigerator just begging to be made into scrumptious burgers.
TIP: Ground beef with a little bit more fat is key when making a homemade hamburger. Fat is flavor! (I know I sound like a broken record…but I'm going to keep saying it…FAT= FLAVOR!) There is nothing worse than a dry hamburger patty! So… for me 80/20 is the perfect ratio. Follow my tip and you won't have any shrinkage either! This burger will go all the way to the edge of your bun!
This is one of the BEST Hamburgers I've ever had, so let's get to the recipe!
Before you begin…
Cook 8 slices of thick applewood bacon and drain on paper towel lined plate. Set aside until ready to assemble the burgers. You may also want to slice your mushrooms and mince your shallots!
Have your sliced Gouda on hand and 4 high quality hamburger buns.
How To Make a Blue Cheese Burger
In a medium size bowl break apart 1 and 1/2 pounds 80/20 ground beef. Breaking the beef apart makes it easier to mix in the ingredients.
Add 1/2 cup blue cheese crumbles, 1/2 teaspoon coarse black pepper, 1/2 teaspoon salt, 1 teaspoon garlic powder, 1 teaspoon onion powder, 1 Tablespoon Worcestershire Sauce (You know…that stuff you can't spell or say!), and 1/3 cup plain bread crumbs.
TIP: Here's that tip I was telling you about earlier and it really works! Adding bread crumbs keeps the meat from shrinking during grilling! It also helps to lock in the juices, thus the flavor, of these burgers!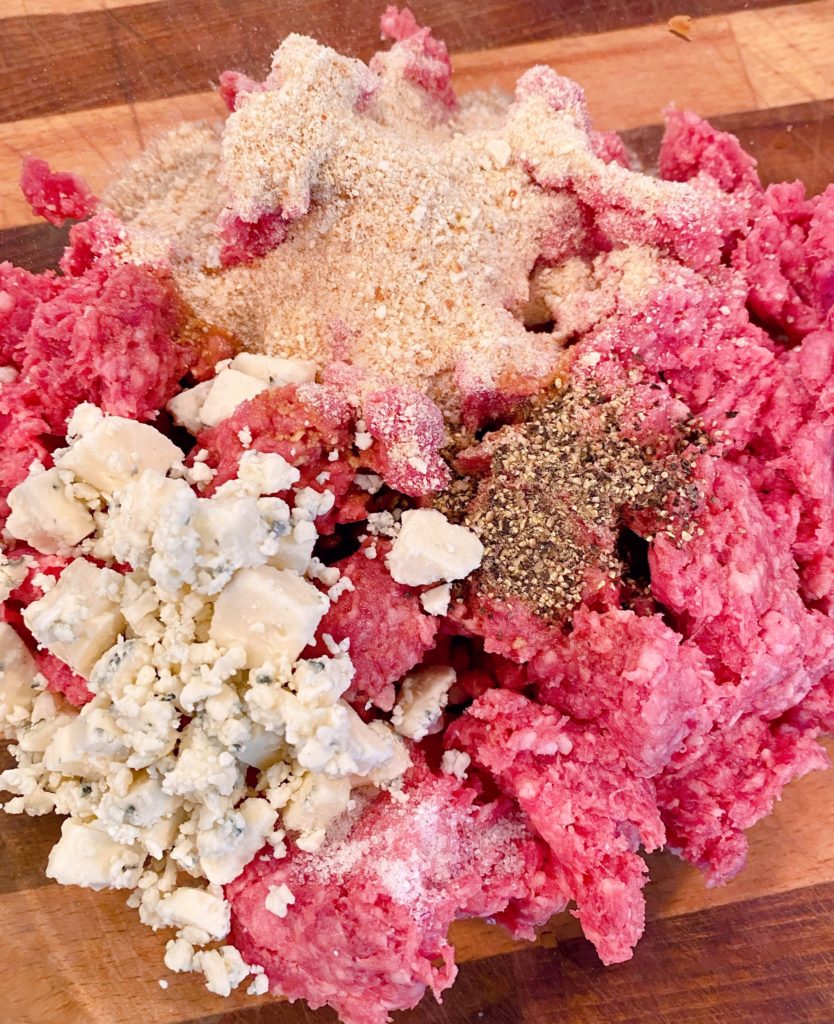 Using your hands, or a wooden spoon, combine all the burger ingredients. The blue cheese is going to slip out here and there. That's okay! Just do the best you can! You can poke it down inside the ground beef later.
Divide the mixed ground beef into 4 equal parts for four hamburger patties. Using your hands roll the beef into a ball then shape into a nice thick patty about 1/2 inch thick. This recipe makes 4 large patties…the ground beef is the STAR of this burger!
TIP: I layer my ground beef patties between wax paper and press down with the palm of my hand. then shape the edges with my hands. It makes a perfect patty every time and is a great way to keep them separated until grilling.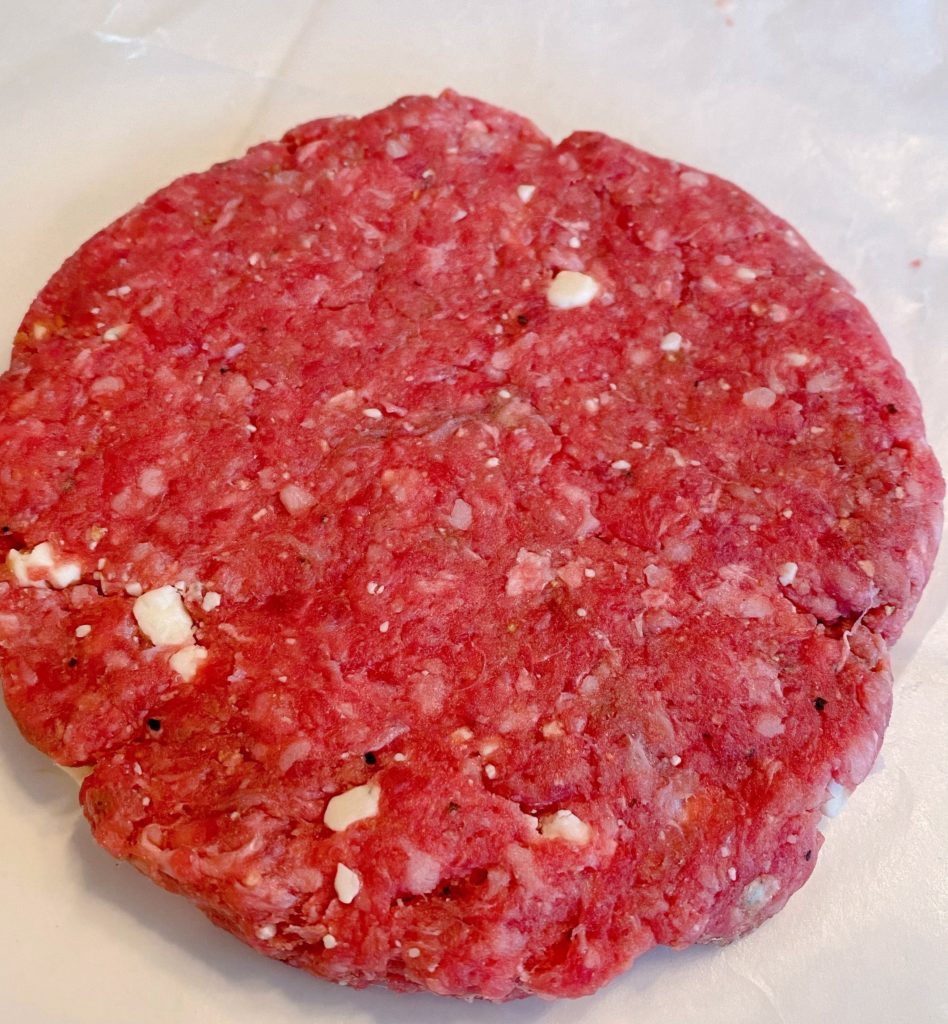 Mushroom and Shallots Topping
Set the patties aside while you prep the mushrooms and scallions.
Slice two cups baby Portobello mushrooms 1/4 inch thick. Mince one large red shallot. I love baby Portobello mushrooms. They have such a wonderful texture and flavor.
Shallots add a great punch of flavor to meats and seafood! So they work perfectly in this recipe!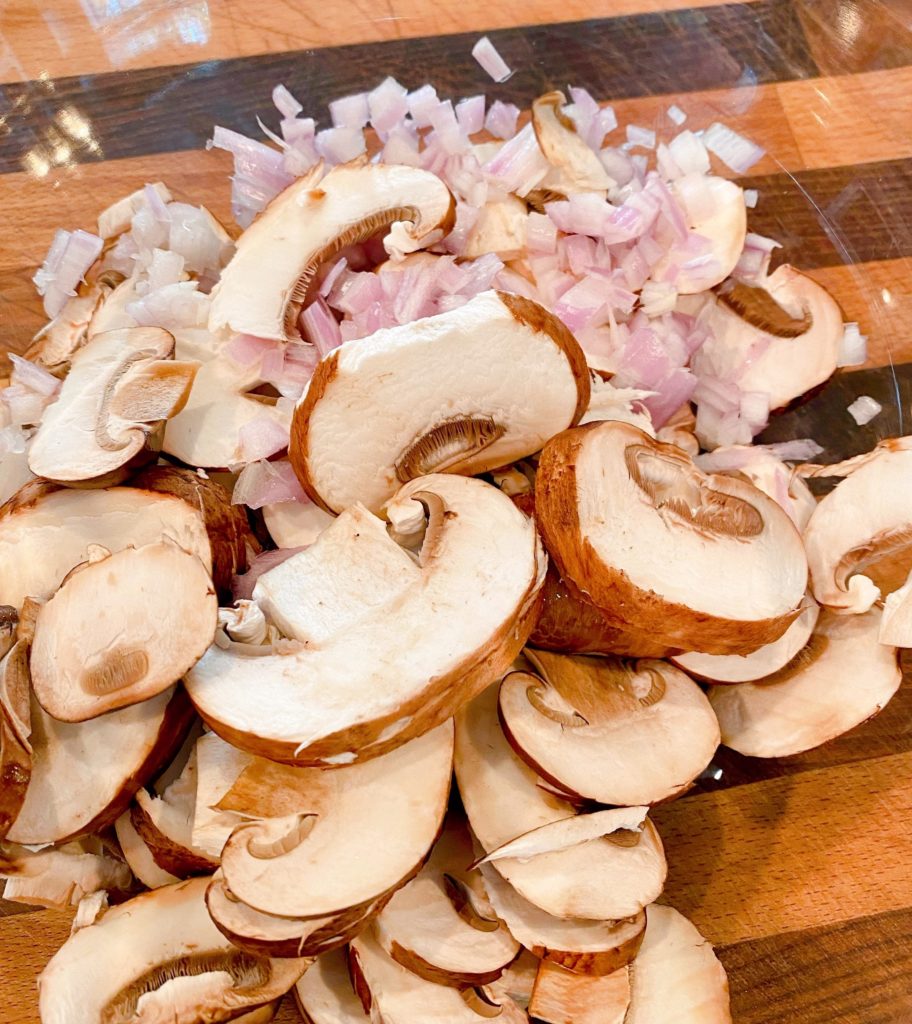 In a medium skillet, add 1 Tablespoon butter and 1 Tablespoon olive oil. Why do I combine the two? It prevents the butter from burning!
Heat skillet over medium-high heat. Sautè until mushrooms are tender and shallots are translucent.
Set mushrooms aside until ready to assemble burgers.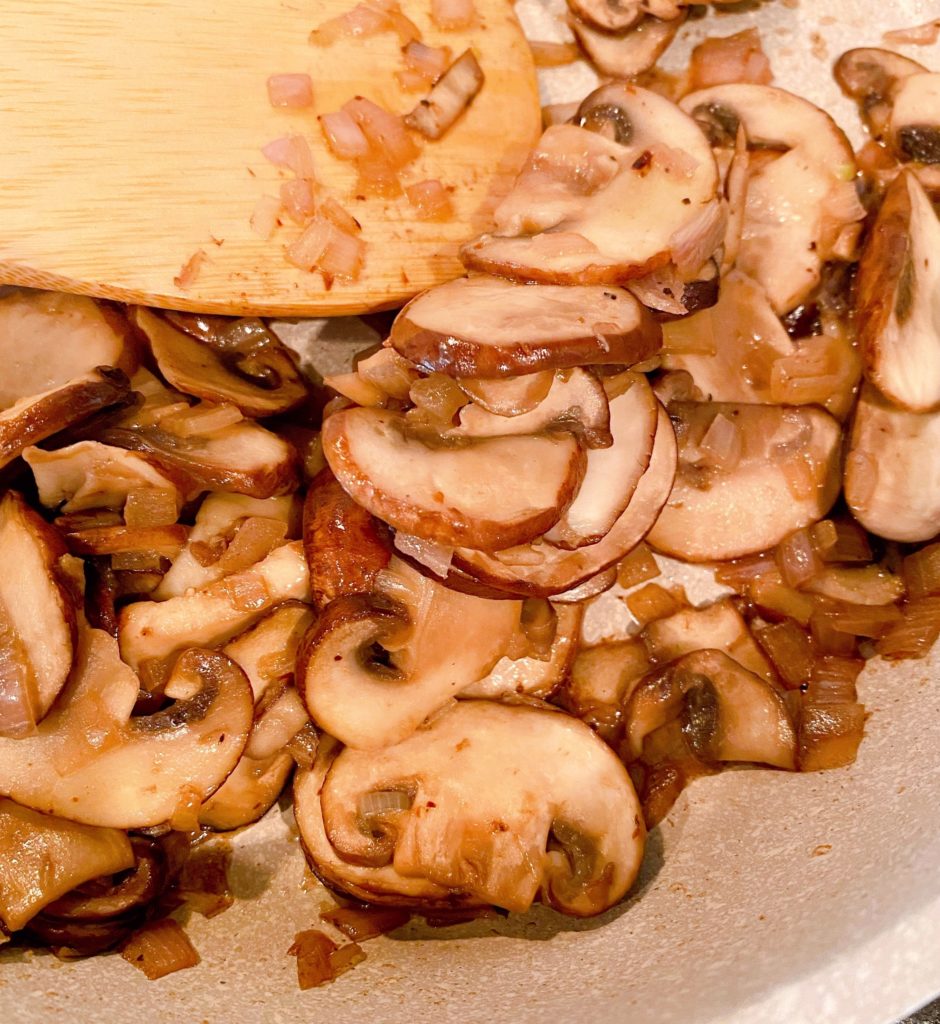 Grilling Blue cheese hamburger patties
Preheat BBQ to medium-high.
Place prepared hamburger patties on hot grill. Close the lid, momentarily, and allow the smoke to permeate the patties. That light smokey flavor is golden!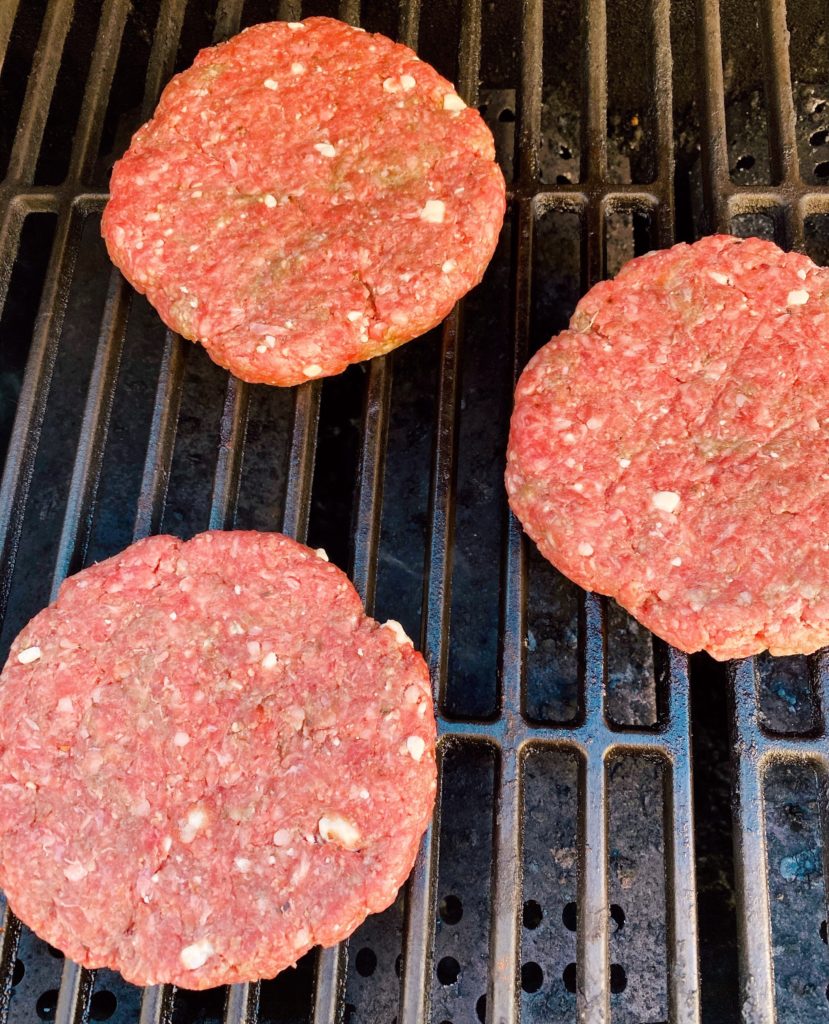 Check the hamburgers from time to time, making sure they're not burning, and turn them over when golden brown and cooked halfway through. About 5-6 minutes per side depending the heat of your grill.
Note: Each BBQ grill cooks differently, so keep that in mind when grilling.
TIP: You may want to keep a water bottle near by to control the flames these juicy burgers drip on the fire. These are truly "charbroiled" burgers!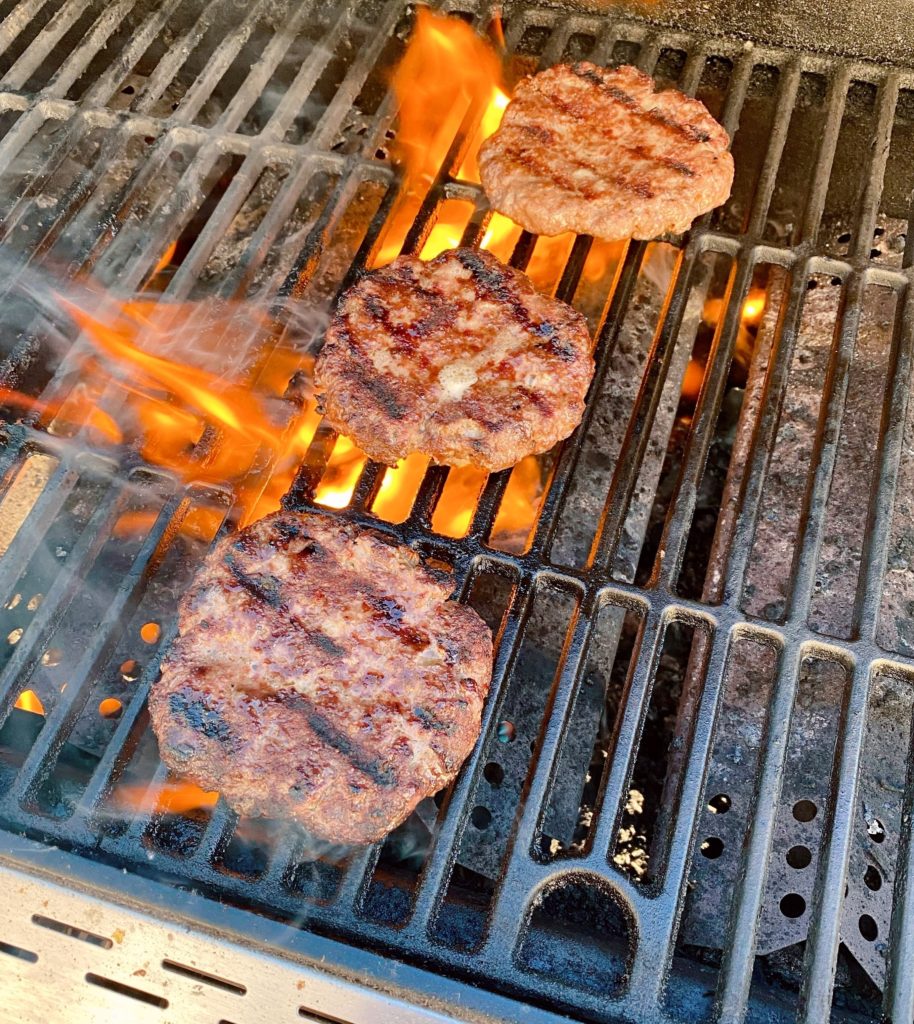 Add two slices of Gouda cheese on top of each patty, for the last 2 minutes of cooking, until melted. Note you can use another type of cheese, but the Gouda works beautifully with the blue cheese! A pair made in cheese heaven! (Please let there really be a cheese heaven!!!)
Remove patties from the grill. Toast your buns! (Well…not YOUR buns, but the hamburger buns! Toasting your buns would hurt!)
Toasted buns is an additional step that adds to the overall success of this recipe! If you're not a fan of toasted buns, feel free to skip this step! However, toasting the buns is another way to prevent them from getting soggy when you load your burger with all those delicious toppings. Just something to keep in mind!
Assembling Blue Cheese Mushroom Bacon Burgers
Spread a layer of mayonnaise on the bottom of the bun.
Place a layer of spring lettuce on the bottom portion of the bun right on top of that Mayonnaise! Lay theat perfectly grilled patty, with melted cheese, on top of the lettuce.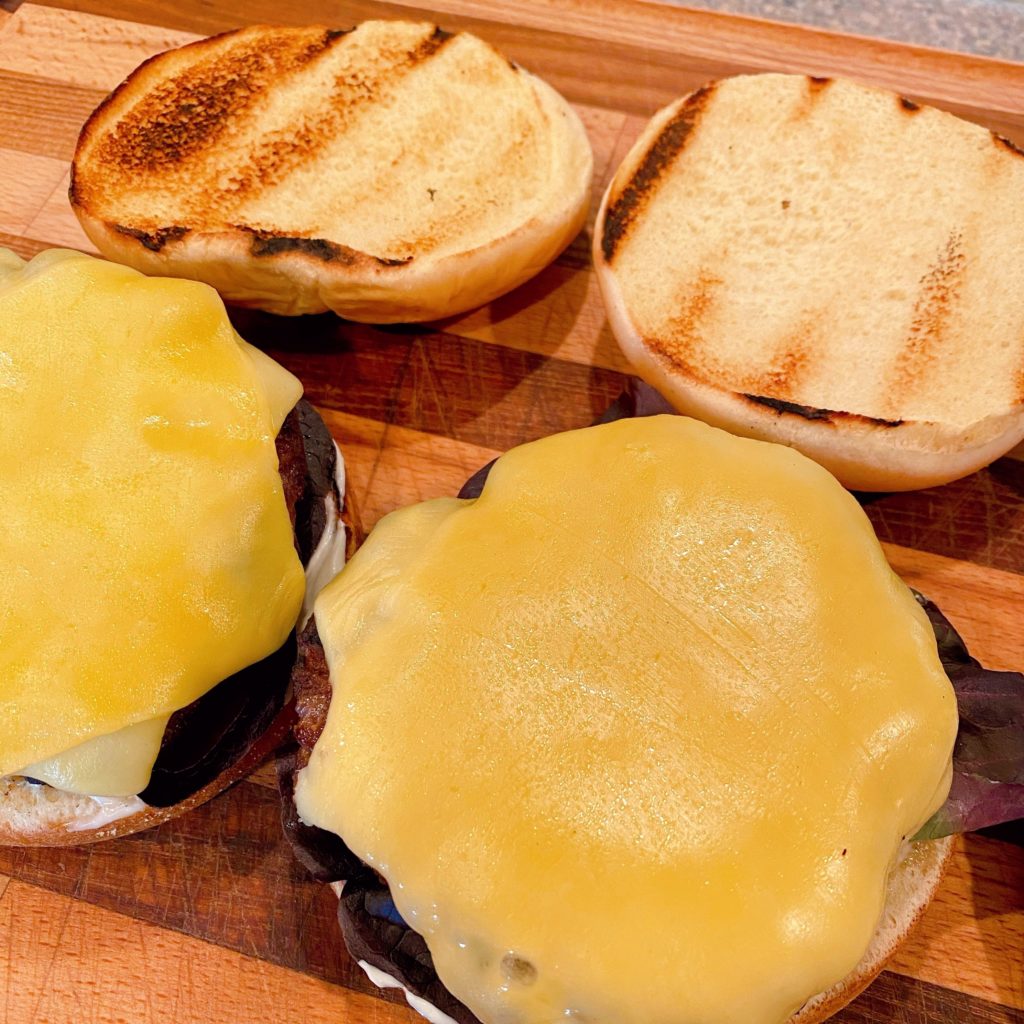 Add about 2 Tablespoons of top quality blue cheese dressing on top of the cheese of each burger. I used Bob's Big Boy Blue Cheese Dressing. You can use whatever your favorite dressing is.
Remember that bacon you cooked earlier in the day? This is where we slap it down on top of that blue cheese dressing and melted cheese! Are you starting to drool yet? I know I am!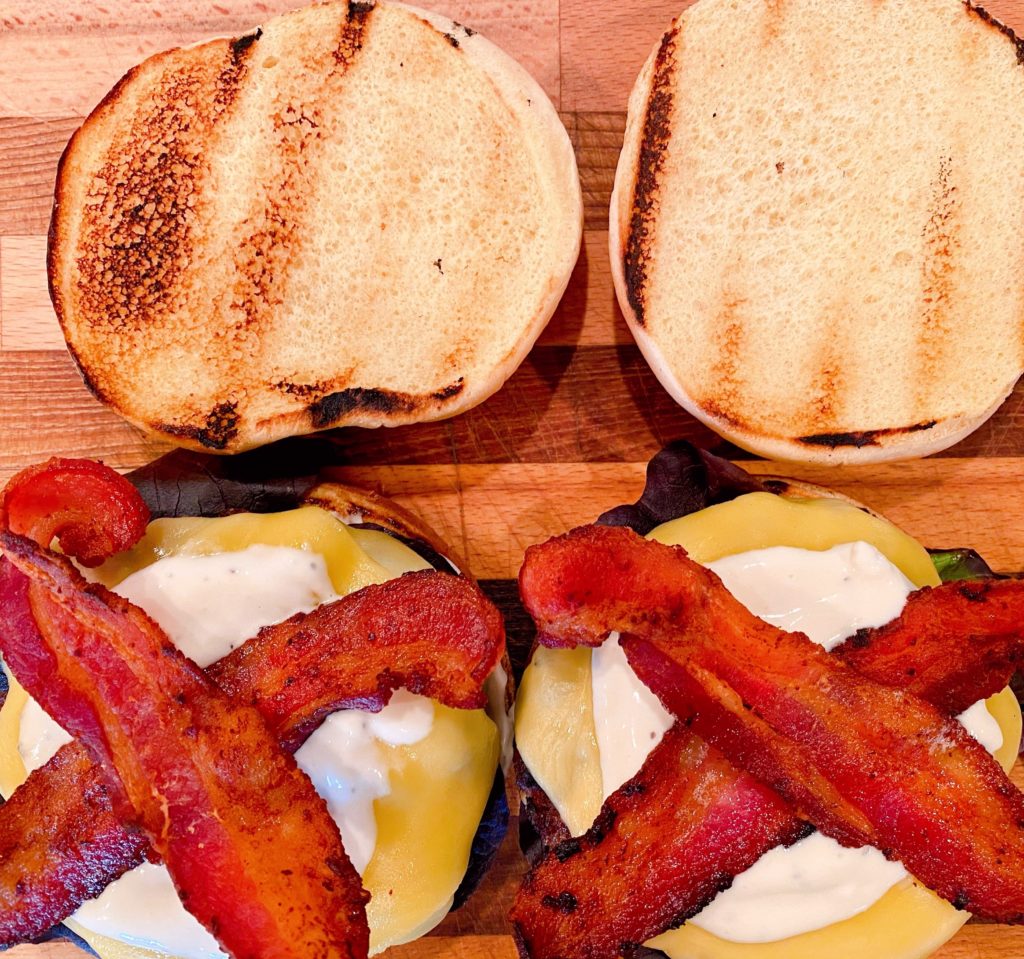 Add a heaping spoonful of the sauteed mushrooms and shallots on top of the bacon!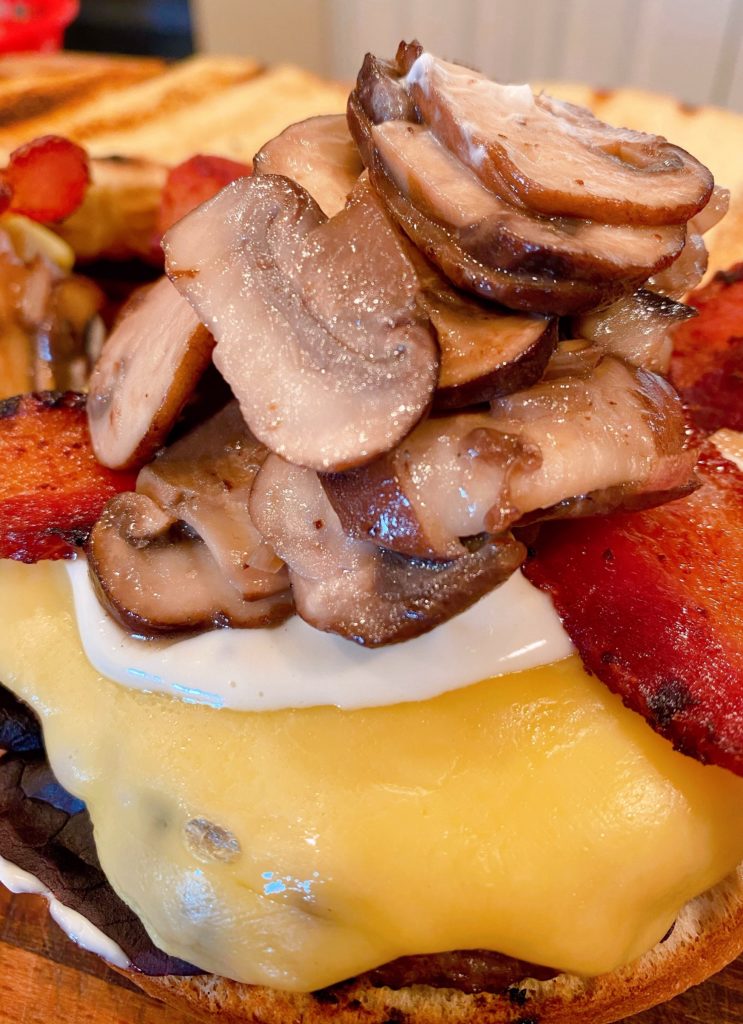 Time for the Grand Finale…the top bun! That's right…just place the toasted hamburger bun on top of all that Yum!
I like to give it a gentle press downward, not too much, to bind everything together. Losing any of the toppings would be beyond sad! Gut wrenching sobbing sad! (I take my burger experience very seriously! Pathetic I know!)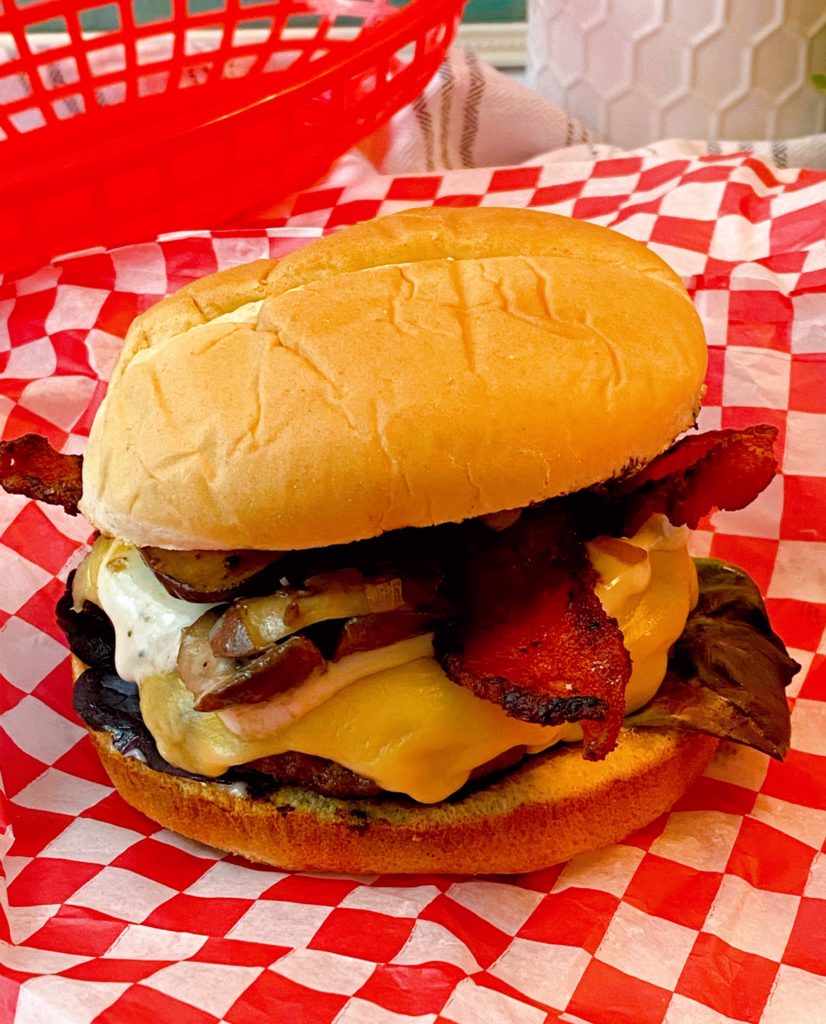 From the first bite to the last this burger had us both swooning! The mushrooms and shallots truly enhance the magnificent juicy flavors packed into that hamburger patty! Topped off with more cheese, like the smokey creamy flavor of Gouda, this burger is a show stopper!
This is a "grown-up" burger for those who love an extraordinary dinning experience!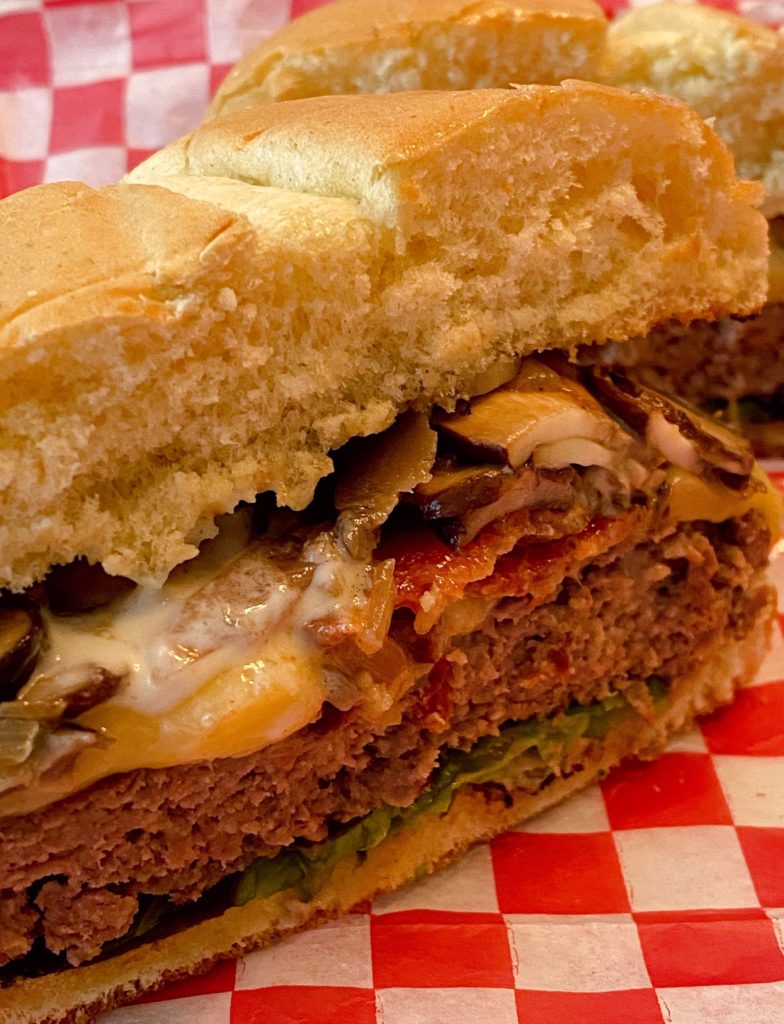 Other Favorite Sandwich and Burger Recipes
This recipe also pairs well with these Summer Salad Recipes
Thanks so much for stopping by today! Hope you'll give this scrumptious epic burger a try! It's sure to be a hit at your next BBQ and perfect for that 4th of July Party!!
Happy Nesting!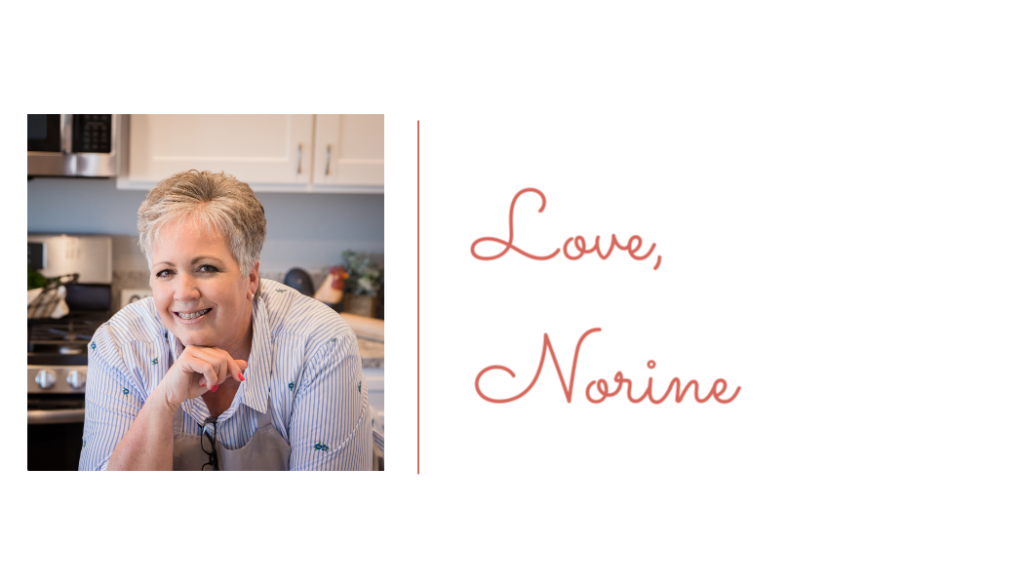 Yield: 4 burgers
Blue Cheese Bacon Mushroom Burger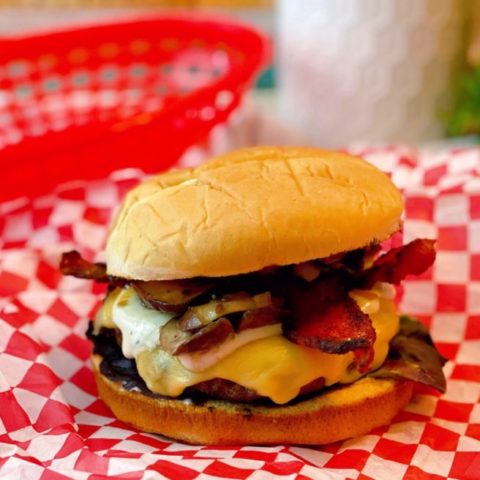 Big Thick Handmade Grilled Burger loaded with melted blue cheese, topped with even more cheese, a blue cheese dressing, thick applewood bacon, and yummy sauteed baby Portobello's and shallots. It's a Fantastic juicy hamburger perfect for a summer night meal!
Ingredients
4 Hamburger Buns
8 slices, thick cut, applewood bacon, cooked
1-1/2 pounds 80/20 ground beef
1/2 cup blue cheese crumbles
1/2 teaspoon coarse black pepper
1/2 teaspoon salt
1 teaspoon garlic powder
1 teaspoon onion powder
1 Tablespoon Worcestershire sauce
1/3 cup plain bread crumbs
2 cups baby Portobello mushrooms, sliced
1 red shallot minced
1 Tablespoon butter
1 Tablespoon Olive Oil
8 slices Gouda Cheese
8 Tablespoon Blue Cheese Dressing
Spring Mix
Instructions
In a medium size bowl, combine ground beef, blue cheese crumbles, black pepper, salt, garlic powder, onion powder, Worcestershire sauce, and bread crumbs. Mix until well combined. Divide ground beef mix into four equal parts and form into 1/2 inch thick hamburger patties.
In a medium skillet over medium-high heat, melt butter. Add olive oil. Saute mushrooms and shallots until tender. Remove from heat and set aside until ready to assemble burgers.
Pre-heat grill to medium-high. Grill burgers until golden brown on one side. Flip burgers over and grill other side. Add two slices of Gouda cheese to the top of each burger the last 2-3 minutes of grilling. (The burgers should take 10-12 minutes to grill)
Toast Hamburger buns.
To assemble burgers...Spread a layer of Mayonnaise to the bottom half of the bun. Place a layer of spring mix. Top with grilled hamburger patty. Spread top of burger, on top of melted cheese, with 2 Tablespoons of blue cheese dressing.
Add two slices of bacon to each burger. Add a heaping spoonful of mushroom and shallots on top of bacon. Place bun on top of the mushrooms and gently press down.
Nutrition Information:
Yield:
4 servings
Serving Size:
1 hamburger
Amount Per Serving:
Calories:

757
Total Fat:

51g
Saturated Fat:

21g
Trans Fat:

1g
Unsaturated Fat:

27g
Cholesterol:

122mg
Sodium:

1567mg
Carbohydrates:

40g
Fiber:

4g
Sugar:

9g
Protein:

35g