Cranberry Apple Pie is my new favorite fruit pie. A tender flaky lattice topped pie crust is loaded with a fresh cranberries, apples, sugar and spices.
A truly mouth-watering scrumptious dessert everyone will enjoy this Holiday Season…plus it's so purty!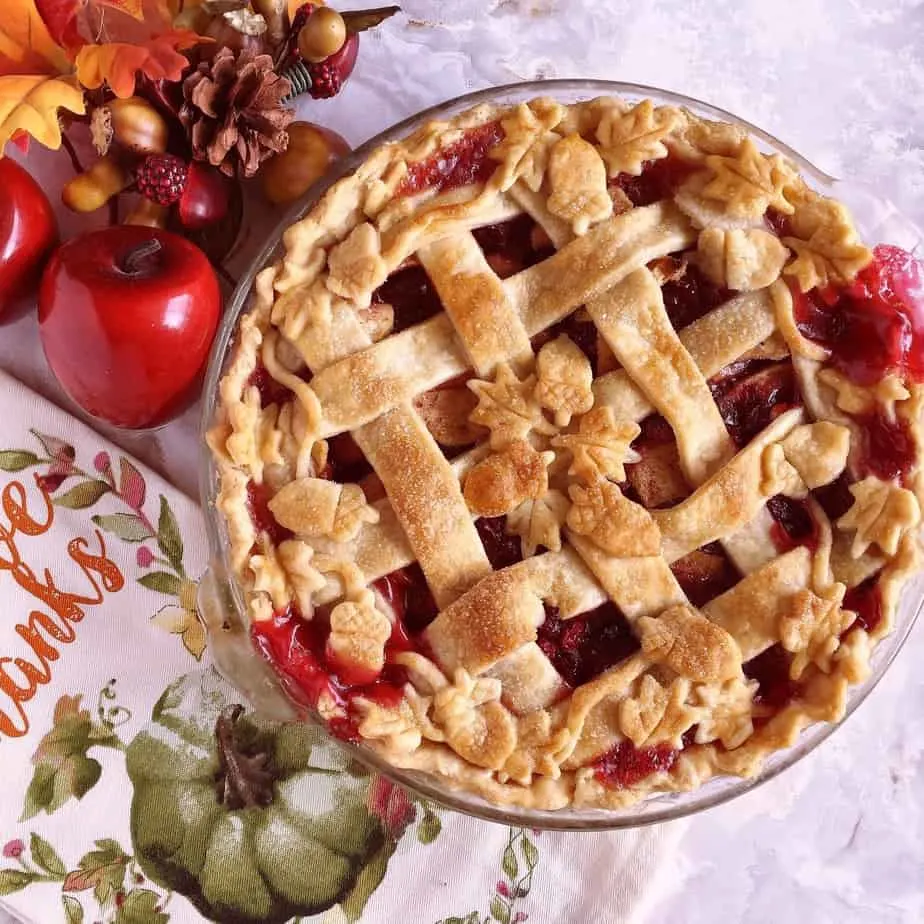 I know exactly what you are thinking. You're thinking…"I can't make a pie like that!" Can you play with play dough? Then you can make this pie!
It's SO much easier than it looks! Plus you know me…I'm going to give you easy handy baking short cuts!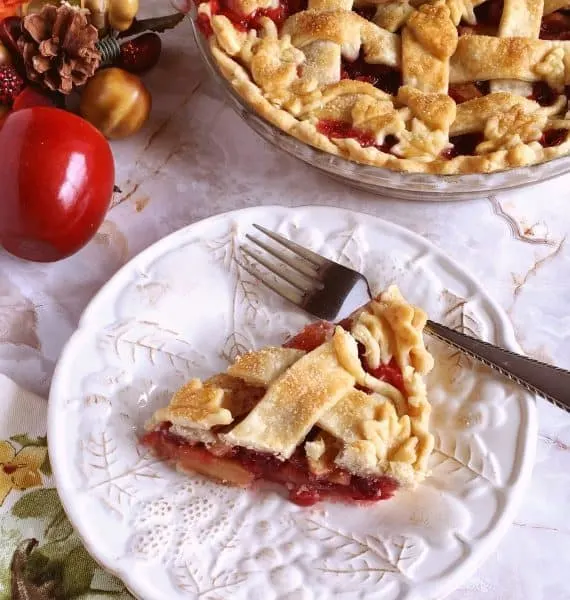 I made this pie last year for Thanksgiving. It's SO good! Super excited to share it with y'all. The cranberries and apples blend together to create the most flavorful filling with hints of warm savory Fall spices.
The filling is over the moon spectacular! You'll be swooning. (Well, it's Thanksgiving…you're gonna be swooning from exhaustion any way! This just makes it more delightful!)
How To Make Cranberry Apple Pie
You will need pastry for double-crust pie (9 inches). The crust can be made from scratch OR you can purchase already made pie crust. It's totally up to you.
If you'd like my tender flaky pie crust recipe I have step-by-step instructions and a video.
Peel and Slice 4 cups of Granny Smith Apples. Place in a large bowl. Add 2 cups of fresh or frozen, thawed, cranberries. Add 1 1/2 cups of sugar, 1/8 teaspoon ground nutmeg, 1/8 teaspoon allspice, 1/2 teaspoon of cinnamon, and 6 Tablespoons of cornstarch.
Mix together carefully and pour into bottom of pie crust. Dot two tablespoons of butter on top of pie filling.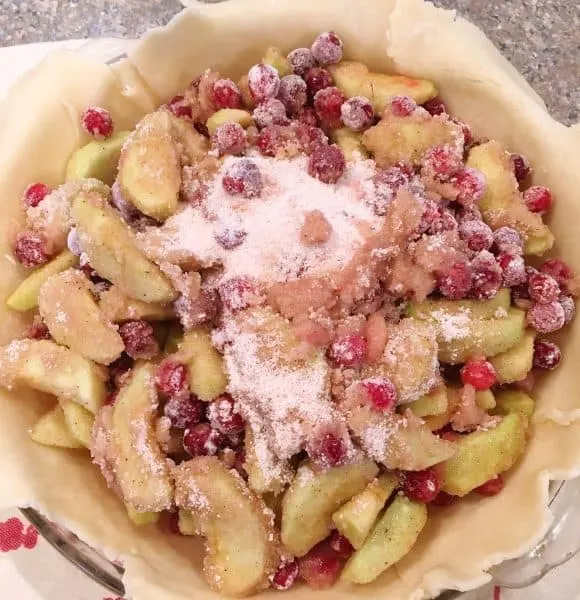 Trim edges off the pie crust by going around the outer edge of the pie plate.
TIP for Pie Edge: Fold the crust edge inwards toward the pie filling and press down. Flute the edges of the crust with your fingers by pinching, with your thumb and pointer finger on your left hand, along the outside edge, and pressing inward, toward the pinch of your fingers, with your pointer finger on the other hand. This will give you a nice edge to your crust.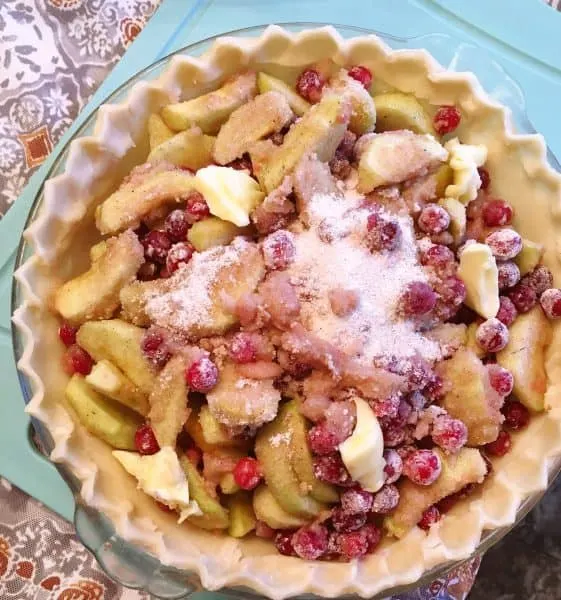 Roll your top pastry crust out about 1/8 to 1/4 inch thick. You'll want it thicker so that holds together as you weave your lattice together.
Use a pizza cutter, or a very sharp knife, cut pie pastry top into 1 inch strips. These will be the strips used for creating the lattice top.
Lay 5-6 strips across the pie in one direction. Trim strips to line up with the inside of the pie crust.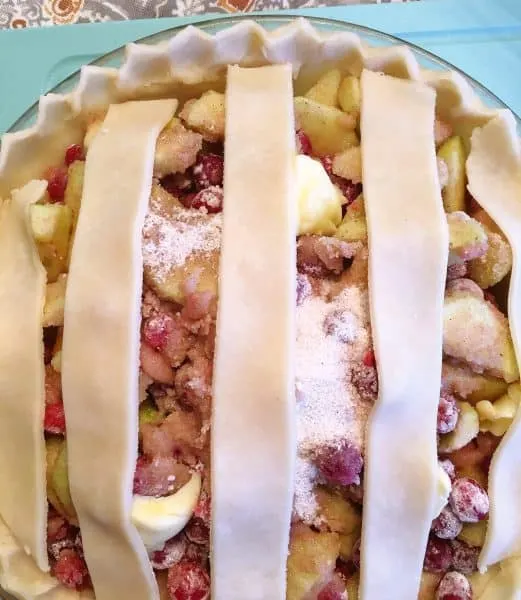 Weave another 5 strips over and under the first 5-6 strips. Again trim inside to the inside edge of the crust. (I'd like to be this pie crust and trim a few inches off of me that easily! Just saying'…)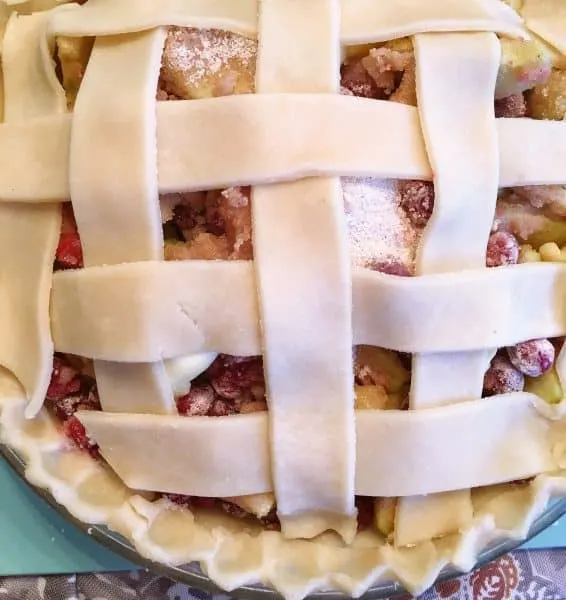 Now comes the Play dough part! ( I know your inner child was just waiting for this!)
Cranberry Apple pie really isn't as hard to make as it looks. This is NOT going to turn into one of those "pinterest" "nailed it" photos. You are going to be the master of your pie crust!
How To Do Decorative Pie Crust
Use the remaining pie dough pieces, combine them, and roll them out. To make the details on the pie use small shaped cutters, leaves, acorns, apples, etc. and cut out enough to go around the edge of the pie crust. A sharp paring knife is perfect for making leaf intents and acorn patterns. (Isn't this fun…I told you…just like playing with play dough!)
Take the remaining crust and roll into "vines" or as my grand-daughter calls them…"snakes".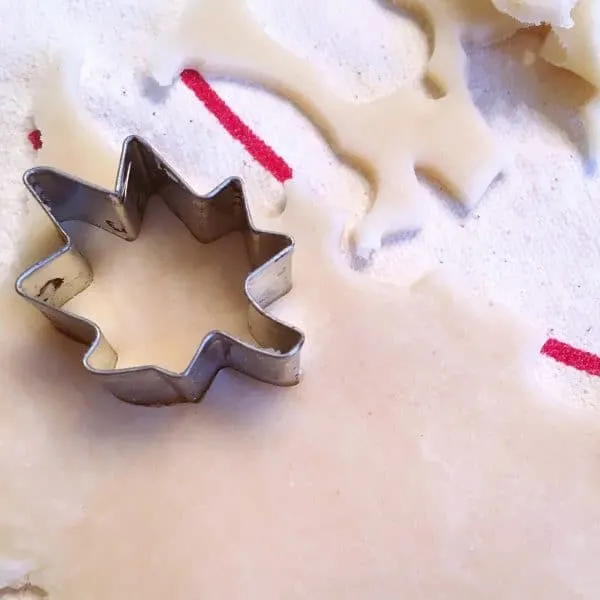 Along the edge of the lattice and fluted pie edge, using a pastry brush, brush milk along the crust.
WHY: This helps the cut-outs stick to the pie dough.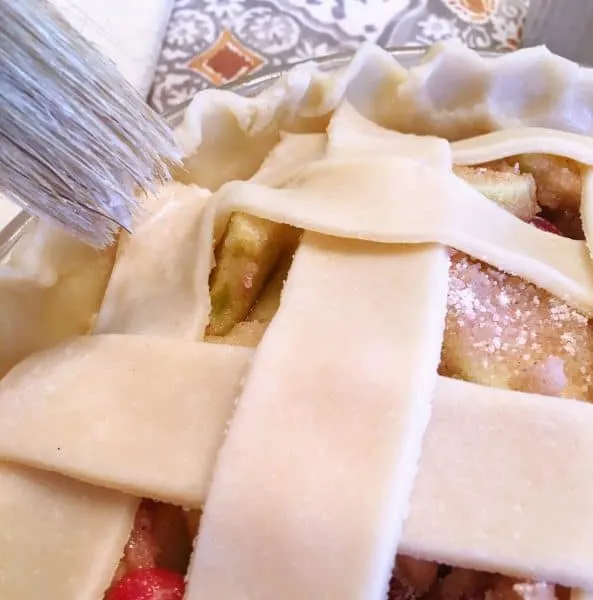 Place cut outs along the inside edges of the crust. (See it's just like nursery school play dough time! Don't eat that dough! lol)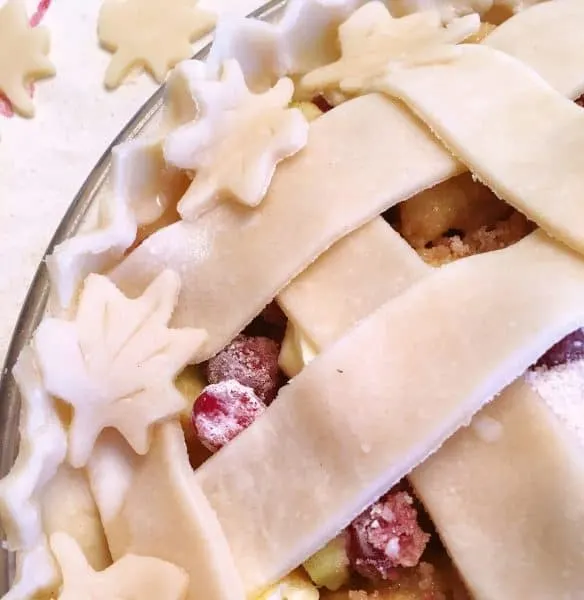 Start out with leaves… and cover the edges of the lattice strips. (It's like putting the kids in front of you in the family Christmas picture! Covers all the flaws! I suddenly realize… I need 10 children!)
Next fill in the spaces with another cut out…apples, acorns, etc. Use the "snakes" or "vines" to twist around the cut-outs. Tuck them gently under the leaves.
Place a few leaves and acorns, or apples, in the center of the pie. Carefully brush entire top of crust with milk. Make sure that every thing is brushed with milk.
WHY: This allows the crust to turn a beautiful golden brown. Yes you can use egg wash for a shinning crust…I prefer milk.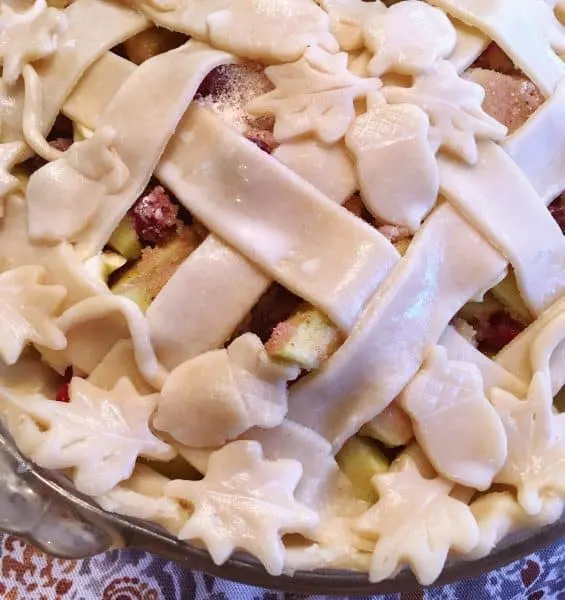 Sprinkle top with sugar. Place the pie on a cookie sheet.
TIP: Placing the pie on a cookie sheet prevents it from bubbling over to the bottom of the oven and burning…making your house stink! Plus there's that oven clean up! UGH!
Place pie in a preheated 350° oven.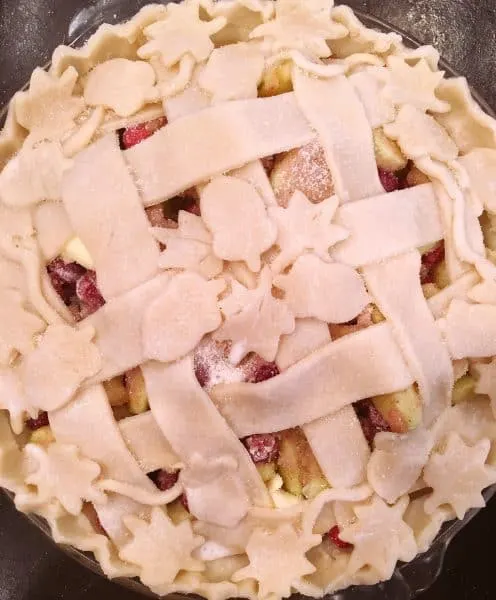 Bake for 55-65 minutes.
TIP: Check the pie at 45 minutes. If the top of the crust is golden brown… place a foil tent over the top of the crust to keep it from burning. You'll have a perfect pie crust every time if you use this method.
Continue to bake until filling is slightly bubbling up through the lattice.
This is my golden rule for the perfect fruit pie filling. Ooey-gooey beautiful bubbling filling coming up through the slits and openings is a must.
Allow pie to "set" and filling has cooled. The longer it cools the firmer the filling will be. Although it's really great served warm!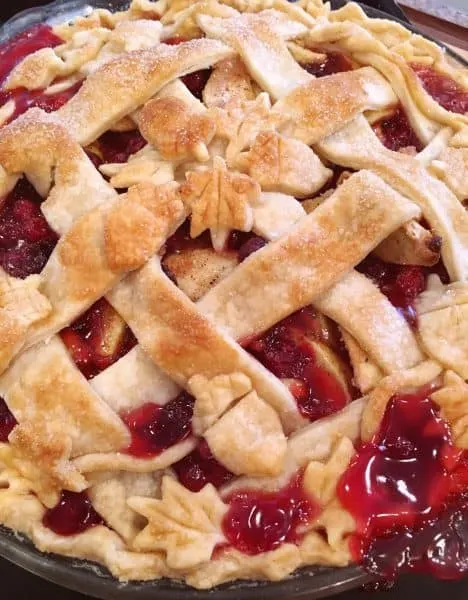 Isn't that a beautiful pie with beautiful filling? It tastes as good as it looks my friends! (If they're not doing the "licking to mop up every crumb with their finger"… your friends and family have dead taste buds! D.E.A.D. and you need to be questioning your relationships with them! lol)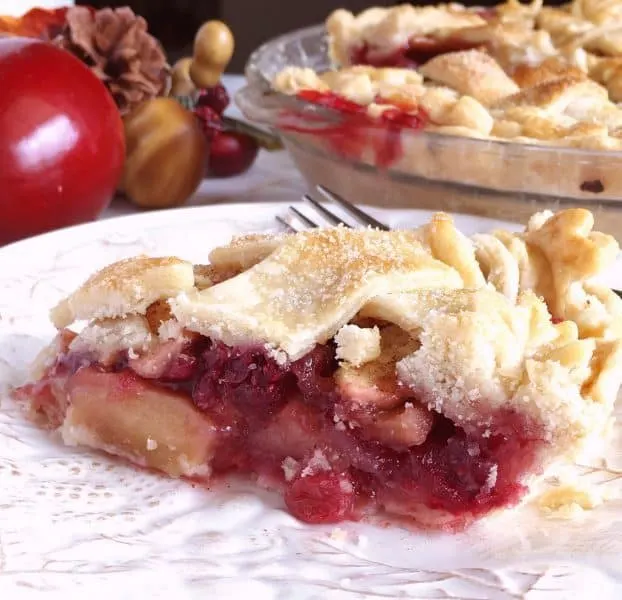 What makes this pie so tasty is that it's not overly sweet and it's not overly tart. It takes traditional apple pie to an entirely new level. Your guests will be swooning over this pie and requesting it for every Holiday.
Serve this delicious pie with vanilla ice cream or with a tasty cup of hot apple cider. If you're like me…all you'll need is a fork!
Plate? Well…I guess if ya want one!
If you love this recipe you might also enjoy these other Fall Dessert Recipes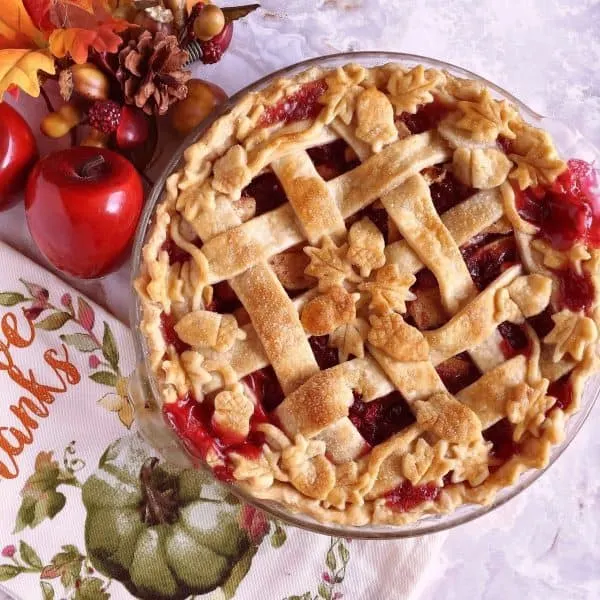 Enjoy! Thanks for stopping by and be sure to follow me on Pinterest, Facebook, and Instagram this Holiday Season for all my latest recipes! I'm going to have some fantastic recipes this year!
Happy Nesting!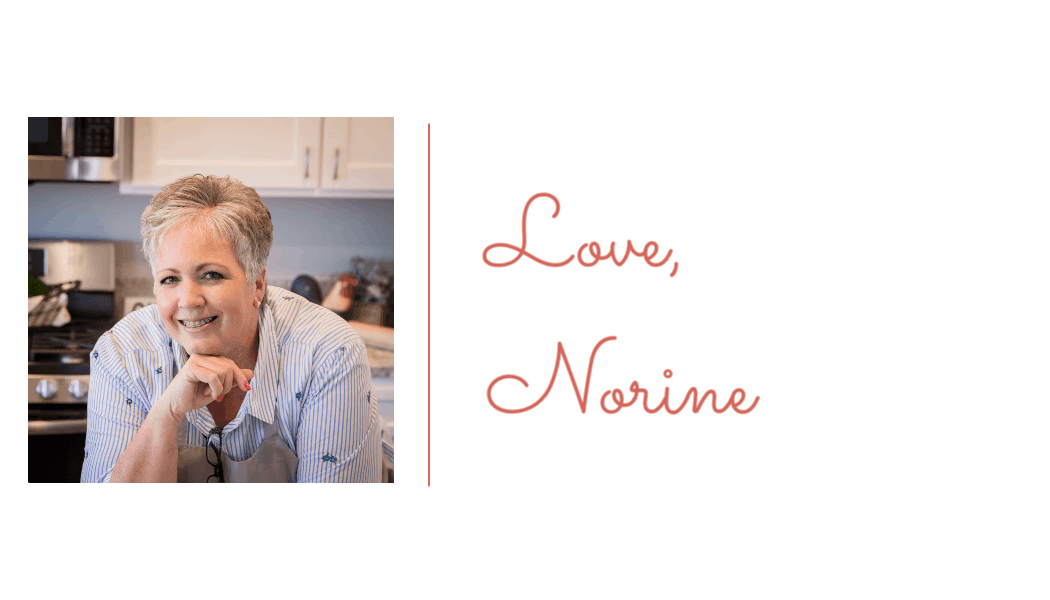 Yield: 10 servings
Cranberry Apple Pie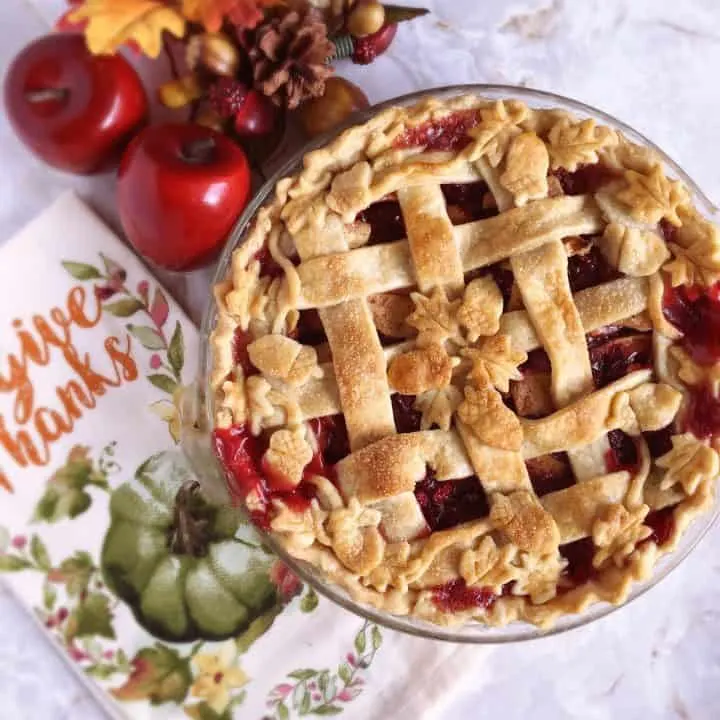 A delicious traditional apple pie with added cranberries makes for a spectacular Holiday Dessert!
Total Time
1 hour
25 minutes
Ingredients
Pastry for double-crust pie (9 inches)
1 1/2 cups sugar
6 Tablespoons cornstarch
1/2 teaspoon cinnamon
1/8 teaspoon allspice
1/4 teaspoon nutmeg
4 cups sliced peeled tart apples
2 cups fresh or frozen cranberries
2 Tablespoons butter
Sugar for garnish
Instructions
In a large bowl, combine sliced apples, cranberries, sugar, spices, and corn starch.
Line a 9-in. deep dish pie plate with bottom pastry. Trim crust to outer edge of the pie plate. Fold crust over and flute to create a pretty edge.
Add filling. Dot with 2 Tablespoons of butter.
You can just cover with top crust and cut slits to vent OR for lattice crust...
Roll the remaining pie crust on a flour surface about 1/8 -1/4 inch thick. Using a sharp knife or pizza roller, cut into 1 inch thick slices.
Lay 5-6 strips across the top of the pie with 1/2 inch space in-between. Trim strips to lay just inside the edge of the crust. Weave another 5 strips crosswise, weaving up and under the original strips. Switching every other strip. Trim strips again.
Take remaining pie dough and roll out 1/4 inch thick. Using small shape cutters, cut out leaves, acorns, etc. Brush strips and edge with milk using a pastry brush.
Starting with leaf cut-outs place at the edge of every strip. Fill remaining spaces with other cut outs. Roll scraps into long "vines" and weave in and around cut-outs.
Brush entire pie with milk. Sprinkle with sugar.
Place pie on baking sheet.
Bake in preheated 350° oven for 55-65 minutes. At 45 minutes check crust. If golden brown tent with foil. Continue baking until filling is bubbling.
Allow to cool.

Recommended Products
As an Amazon Associate and member of other affiliate programs, I earn from qualifying purchases.
Nutrition Information:
Yield:
10
Serving Size:
1 slice
Amount Per Serving:
Calories:

251
Total Fat:

5g
Saturated Fat:

3g
Trans Fat:

0g
Unsaturated Fat:

2g
Cholesterol:

10mg
Sodium:

74mg
Carbohydrates:

51g
Fiber:

3g
Sugar:

39g
Protein:

1g